Joseph Calleja

The Tenor From Malta
Malta Cultural Ambassador
Joseph Calleja is a Maltese born tenor.  His debut started at the tender age of 16 years.  He started by singing in a church choir.  He always loved singing as his great idol was Mario Lanza – who started in the 'The Great Caruso' and wanted to be famous like him. 
He started his training in 1977 with the Maltese tenor Paul Asciak.  His career started off and went on to win an award at the Belvedere Hans Gabor and a competition in Milan.

Disclaimer: On our website, you will find affiliate links from which we receive a small commission.
He has become a famous singer and well known tenor around the world.  He has sung in many places around the world.  At the age of 33 years he performed in New York, M Metropolitan Opera, London's Royal Opera House at Covent Garden and Vienna. His album has famously sold in the UK and Germany as being the best voice.

Joseph Calleja loves his country Malta and misses it too.  Every year he performs on the Floriana Granaries, this has been happening since 2009.  He makes it a point to be here and bring over international famous singers for an operata/classical concert.
The show is a popular one amongst the Maltese as tickets start selling out fast, 9 or 10 months before. 
He is also the Bank of Valletta ambassador for music.  It is a foundation and offers Maltese future new singers to study abroad.

Joseph Calleja has many fans around the world.  His greatest fan is Colette Males.  She had seen him sing and became fascinated with his strong voice.  She spoke to him after one of his performances and so far has become a great family friend, and visits Malta regularly.  She has even taught him French and he can also sing operas in French.

25,000 people usually attend for his concerts and the number is always increasing.  Either on the Granaries in Floriana or Luxol Grounds in Pembroke. Famous singers singing Pop/Classical and Operatic music with Joseph Calleja entertain the spectators with their beautiful vocal songs.
A 500 strong children's choir and the Malta Philharmonic Orchestra accompany the tenor.  The conductors are always internationally acclaimed like Maestro Paul Bateman, Maestro Steve Mercurio and Maestro Charles Olivieri-Munroe.

Joseph Calleja Concert Malta 2013

The performers during the concert:

- Zucchero Fornacari performances by Italian blues-rock singer.
- Rebecca Ferguson British X Factor finalist.
- Italian singer-songwriter Riccardo Cocciante.
- Gianluca Bezzina
- Local DJ duo Tenishia.
- The Malta National Philharmonic Orchestra under the baton of Mro. Steve Mercurio.
- Zucchero:
The Italian rock and blues legend. He came to Malta for the third time. He sang his famous songs Senzauna Donna, Diamante, Diavolo in Me, Baila (Sexy Thing) made him famous all over the world.

- Rebecca Ferguson a British X Factor finalist.
- Riccardo Cocciante:
Conductor Riccardo Cocciante is well known Italian singer-songwriter where his particular style and music interpretation contributes to an excellent performance. He is one of Italy's top selling artists and  have the greatest respect for his work.
- Gianluca Bezzina Malta's former Eurovision for 2013
Local electronic DJ duo Tenishia. Having achieved international acclaim, Tenishia will also be performing a song with Joseph Calleja on the night Miserere.
Joseph Calleja Concert Malta 2014
With the participation of the world renowned Leona Lewis, Claudio Baglioni and Bryn Terfel the concert was a great success. The Maltese participants were Clara Ghigo and Federica Falzon.

- Leona Lewis:
A British singer-songwriter and actress now a world-famous performer. She participated in the 3rd UK X Factor TV programme wining a recording contract.
- Claudio Baglioni:
An Italian pop singer-songwriter and musician.Considered one of the greatest songwriters/singers in Italy and world famous for various songs.
- Bryn Terfel:
A Welsh internationally renowned bass-baritone opera and concert singer. He amazes the audience with his energetic voice.

- Federica Falzon:
A mezzo-soprano Maltese girl from Malta who has already amazed audiences. During 2014 she came final for the Italian Rai Uno show Ti Lascio Una Canzone.
- Clara Ghigoa:
A Maltese mezzo-soprano was in Malta to participate in the concert. She has already performed at some of the biggest opera houses in Europe.
Joseph Calleja Concert Malta 2015
- Anastacia Lyn Newkirk:
An American singer-songwriter, producer and former dancer. She is best known for her electic pop music of the early 2000s.

- Red Electric:
A local rock band from Malta who made a name for themselves over the past seven years.
New aspiring Maltese tenors, Nico Darmanin and Cliff Zammit Stevens joined Jospeh Calleja to sing various pieces together.
Joseph Calleja Concert Malta 2016

Suzanne Vega

- Antonello Venditti:
Legendary Italian singer penning classics like Grazie Roma, BenvenutiIn Paradiso, In Questo Mondo Di Ladriand Amici Mai.
Conductor of this performance was Maestro Steven Mercurio conducting the Malta Philharmonic Orchestra.
Joseph Calleja Concert 2017

This year's concert will be held on 19th August at the usual Floriana  coming

- Andrea Bocelli:
The top performer for this year concert is Andrea Bocelli as a special guest. He is very popular all over the world especially with his hit Con TePartiro' released in 1996. He performs all over the world and finances his foundation who helps people with poverty, disability and social problems.
Other participants have not yet been announced.
He has brought fame to the Maltese people with his popular singing.  It is an honour to know that he has become so famous as it is not easy to find such a well known opera singer now a days.
Joseph Calleja Concert 2019

This year's concert was held on 24th August 2019 at the Fosos Floriana.
Special Guest: Andrea Bocelli
want to rent a car in malta?
We have used Discover Cars every time we rented a car. We highly recommend them due to their good service and good prices.
Get The Best Rates On Your Car Rental Now!
need to book a hotel for your malta visit?
Using Booking.com, enter your travel dates and number of occupants then rates will be available for hotels and apartments during your visit to Malta 
Book Your Hotel In Malta on Booking.com for the Best Rates!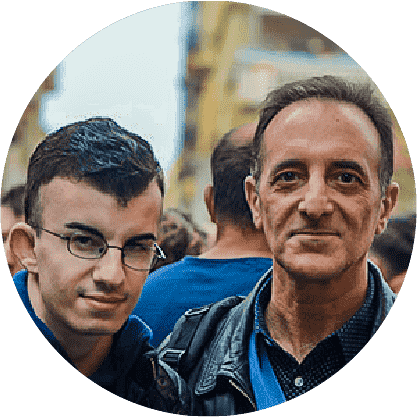 By Albert and Benjamin Magro