Malta Beaches - So Much
Diversity On A Small Island
Malta Natural Beaches - Sandy Or Rocky Beach,
Snorkelling, Sun Malta, The Choice Is Yours
Malta beaches! Are you looking for a particular one? Or are you new to Malta and wish to explore where you can enjoy yourself with your family or friends?
These beaches offers you a very good insight how to explore our beaches before you arrive for your holiday in Malta.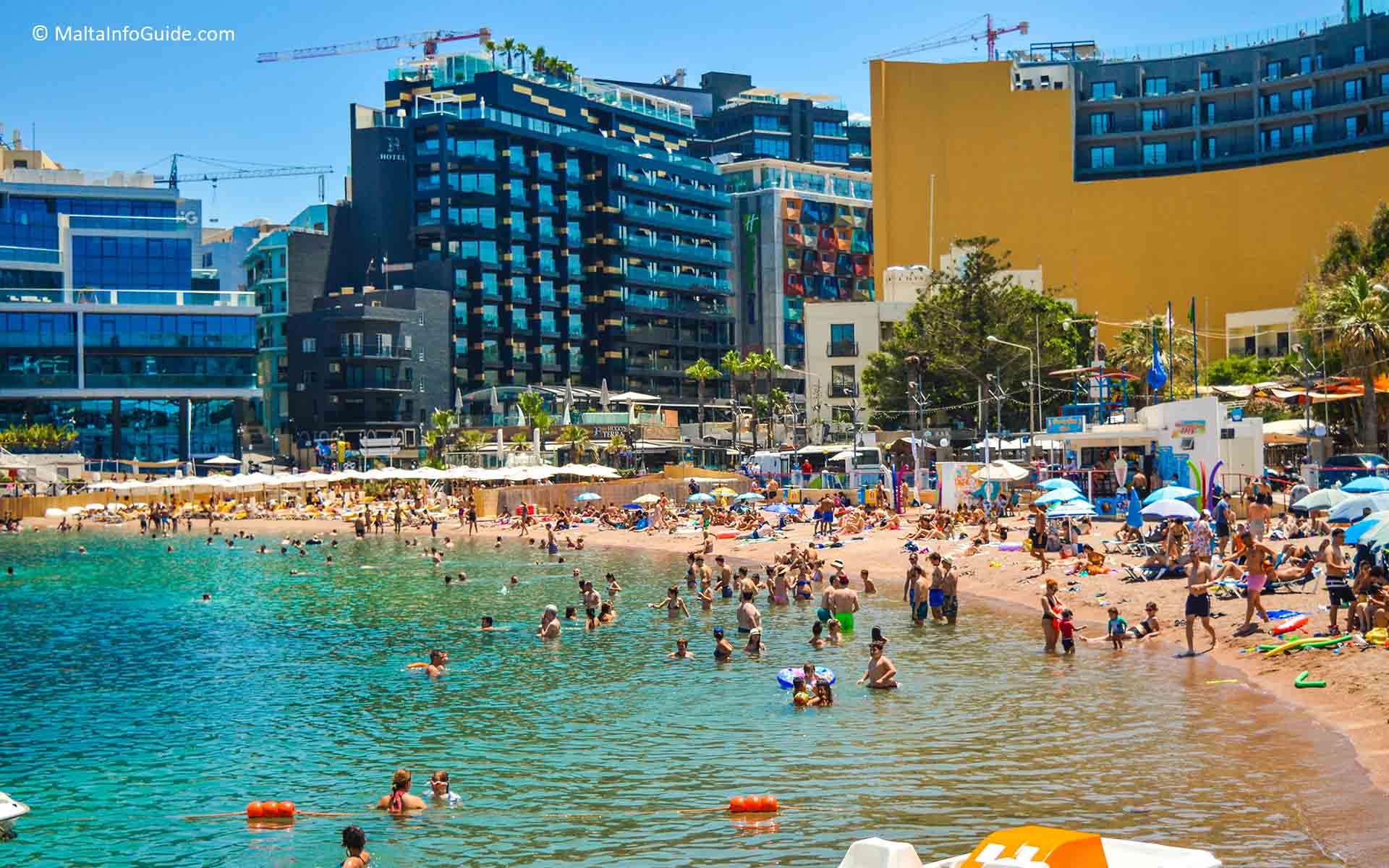 Besides enjoying the wonderful views and all the history Malta offers, one can escape to a beach, taking back lovely memories.

No summer holiday is complete without a visit to at least one of our variety of beaches.
Even if you do not swim, the Maltese coastline is unique and offers the possibility of many different walks along most of the coast. You can adventure afield and explore the versatility the various areas offer. That is why many return for many holidays in Malta.
Our guide lists the most popular and other hidden locations.
Have fun and enjoy our Malta beaches!
Sandy Beaches - Malta

- Armier Bay, Limits of Mellieha

- Balluta Bay, between Sliema and St. Julians

- Għajn Tuffieha Bay, also called Riviera Martinique, limits of Mgarr

- Gnejna Bay, limits of Mgarr

- Golden Bay, limits of Mellieha

- Mellieħa Bay, Għadira, Limits of Mellieha

- Mgiebah Bay, Limits of Selmun

- Mistra Bay, Limits of Mgarr

- Paradise Bay, Cirkewwa

- Pretty Bay, Birżebbuġia

- Tal-Bir Bay, limits of Mellieha

- Tal-Qortin Bay, limits of Mellieha

- Tat-Torri Bay, limits of Mellieha

- Rinella Bay, Kalkara

- St. George's Bay, Birżebbuġia

- Salina Bay, limits of St. Paul's Bay

- St. Thomas Bay, limits of Marsascala

- St. George's Bay, St. Julians

- Bugibba Perched Beach, Bugibba

Rocky Beaches - Malta

- Baħar iċ-Ċagħaq coast

- Delimara Point, limits of Marsaxlokk

- Dragonara Point, St. Julians

- Fomm ir-Riħ Bay, Limites of Rabat

- Għar Lapsi, Limits of Siggiewi

- Marsascala Bay, Marsascala

- Marsaxlokk Bay, Marsaxlokk

- Mistra Bay (including a small sandy beach), Limits of Mgarr

- Qajjenza, limits of Birżebbuġia to Marsaxlokk

- Salina Bay to St. George's Bay, St. Julians

- Sliema sea front from Gzira to St. Julians

- St. Paul's Bay, Buġibba and Qawra coast line

- St. Peter's Pool, Delimara

- St. Thomas Bay, Limits of Marsascala (also a small sandy bay)

- Wied iz-Żurrieq, limits of Żurrieq

- Xrobb l-Għaġin Bay, limits of Marsaxlokk

- Zonqor Point to St. Thomas Bay, Marsascala
The Google map is very easy to use in order to find your preferred beach. On the left top side there is a button, click on it and a window opens with four selections sandy, rocky, blue flag and quality beaches.
They are all checked open where you can unclick to see any of the selections by colour on the Malta Map.
Malta beaches have always been popular amongst us Maltese and tourists alike. Our weather is a great attraction for tourists who come and bask in the sun enjoying its warmth and the safety of the Mediterranean sea. Malta's beaches have  retained the beauty and appeal that existed many centuries ago.

In Malta you will find some quiet, secluded beaches where few people visit, whilst others are more popular and  heavily frequented by Maltese and tourists.
Sandy beaches are the most popular with families, but for those who wish to be a bit more adventurous, rocky beaches are an obvious choice. Maltese people love swimming, and our rocky coast with its low lying rocks allows easy access to our several Malta beaches.
At the same time caution is suggested as not all areas are safe and suitable for swimming for obvious safety reasons.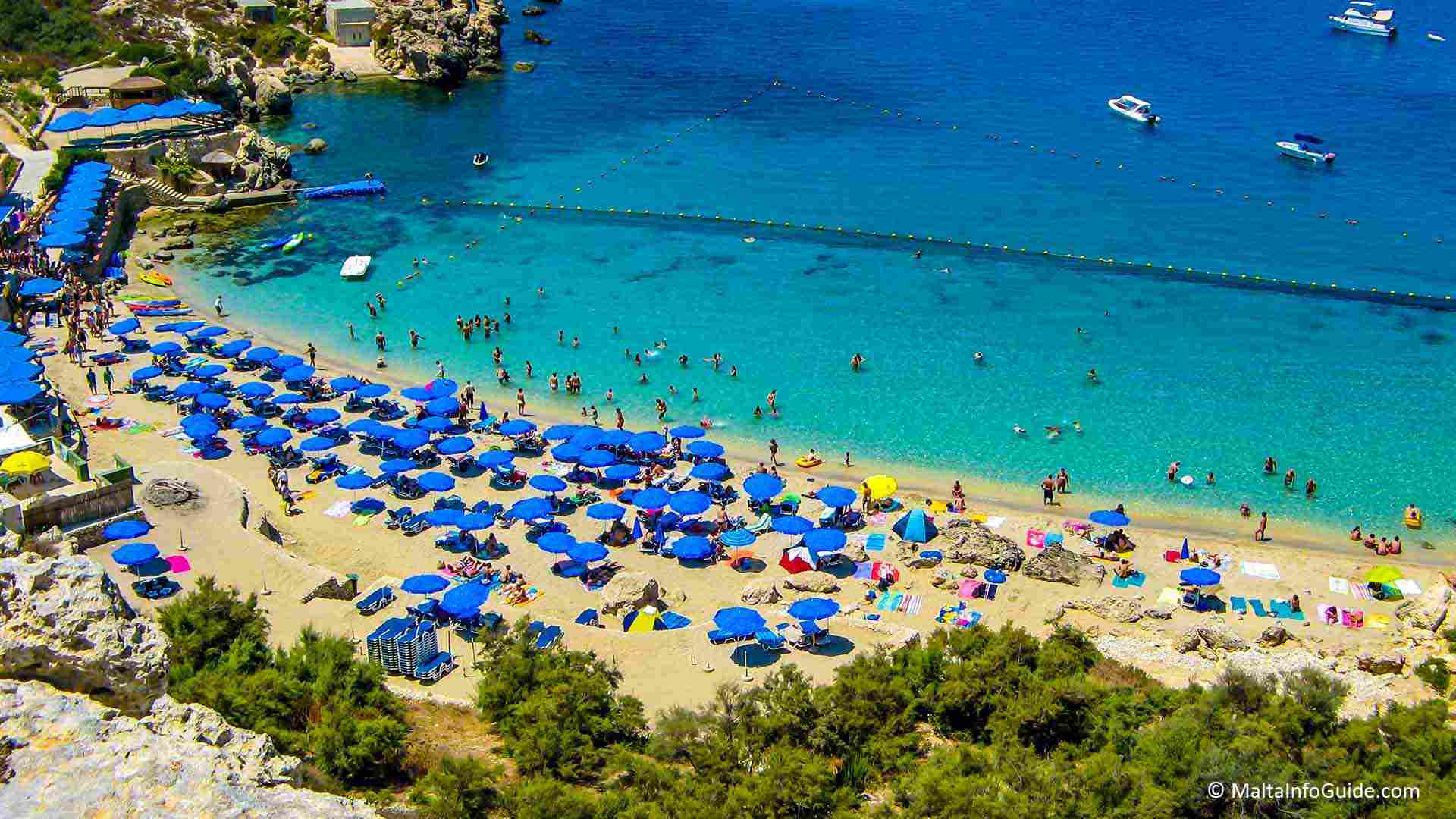 There are some rocky bathing spots where the coast is in the form of flat platform ideal for sunbathing. Over time there have been many interventions to smoothen the rock surface to enable people to swim and sunbathe in relative comfort.
The rocky coast is also ideal for scuba diving and snorkeling. Diving is a very popular sport in Malta. In fact many locals practice the sport and provide local restaurants with fresh fish everyday.

If you prefer comfort, there are various clubs and lidos which offer facilities with beach furniture and other facilities. Generally these charge a daily fee or a seasonal membership.
This would provide you with the use of an outside pool, beach furniture, facilities including toilets, showers, changing rooms and tiled deck areas. A bar and restaurant facility is usually also available.

The Most Popular Tourist Attractions Malta Offers
Quad Bike Tour Malta
From: €164
Duration: Full or Half Day
Departs: From your accommodation
Exploring Malta, if you like adventure this is for you to enjoy More info »
Beach Day in Malta
From: €20
Duration: Full Day
Departs: From your Accommodation
Swimming and sunbathing at the top Malta Sandy Beaches. More info »
In Malta these locations are very well frequented, are mostly offered in hotels and water polo clubs. Apart from obvious convenience, they also offer the added attraction of a bit of more space to yourself by avoiding the excessive crowds on the public beaches.

Malta Beaches On The Eastern Coast
All resorts are located on the eastern coastline due to the low lying land. All along from the south Marsaxlokk port to the north Armier Bay, there are various coves and harbours. Malta beaches also helps you to explore and choose the right beach for you close to your accommodation.
Since 2005 two Maltese beaches have undergone replenishment: St. George's Bay, St. Julians and Bugibba. These newly replenished beaches have become an added  attraction  to many people who are now able to enjoy swimming  and sunbathing on a beach where it was previously not possible due to the quality of the terrain.
During the Maltese summer months on such a small island we look forward to a swimming. As the sun is hot and the sea temperatures is cool you there is no better place than being by the water.
In fact, many people, after they finish work, go to the beach with family or friends.

Almost all beaches have facilities to rent out sunbeds, umbrellas and a bite to eat but as a majority of Maltese we have the habit of carrying with us chairs, umbrellas, picnic coolers, bar-be-ques and other gadgets; and we just have fun.

With the high number of tourist arrivals in summer many areas become a hive of activity and in itself is so welcoming to see and be part of it.

Come and discover for yourself what our Malta beaches have to offer to you.