Malta Hidden Gems Tour
Discover Hidden Locations of the island

Date Uploaded: 25th December 2019

If you are keen and curious to explore Malta's hidden gems this is the tour for you. We will take you to six iconic landmarks of Malta, some of the hidden gems that you will not find by yourself.
Whether if this is your first time to the Maltese islands, or you may be returning to see more of its gems, with your expert knowledge, fully accredited tour guide he will take you round and help you immerse in this.

This tour is not available any more
What You Need to Know About this tour

What do people say about this tour:
"Chris is a very knowledge, young and highly motivated individual. He is very passionate about his country's history and culture. He is very well organized, friendly and courteous. He has everything that it takes to be a guide and more." - 5 Star Review
"Well spent 1/2 day! Got to see places I never would have seen on my own, saw things that are not in the tourist book guides and learned unique things about Malta." - 5 Star Review
"We really enjoyed our private tour with Chris and got to efficiently see beautiful and interesting parts of Malta that we likely would not have seen otherwise. Chris is super friendly, knowledgeable and enthusiastic and the whole tour was a pleasure. I would highly recommend this tour during a trip to Malta." - 5 Star Review
Details about Malta Hidden Gems Tour
- Duration of the tour is 5 Hours

- Tour Days: Monday, Wednesday, Friday and Saturday
- Starting Time: 09:00
- Meeting Point: St. Catherine's Old People's Residence parking lot Attard
- Locations you will visit: Dingli Cliffs | Buskett Gardens | Verdala Palace | Ghajn Tuffieha | Popeye Village | Selmun Palace | Fort Campbell

During the tour you will visit the locations mentioned but there will be no time to enter any of them. Like Popeye village you have to go on your own and buy a separate ticket and enjoy the entertainment location.
- Price of tour: Adults (11+): €65 | Children (3 - 11 years): €32.50 | Infant (0-2): Free
Price List with Coupon Code (maltainfoguidemdm):
- 2 Adults: €130 (€123.50)
- 2 Adults & 1 Child: €162.50 (€154.38)
- Family (2 Adults 2 Children): €195 (€185.25)
- Group of 8 Adults: €520 (€494)
Inclusions and Exclusions of the Tour
Included:
- All tours are guided by a fully Maltese qualified tour guide who has lived on the island and know the surroundings very well. The tour company operates with the Malta Tourist Authority (MTA) Excursion Operator Licence.
- A fully air conditioned van or a car depending on the number of participants including a fully licensed driver.
- Snacks and drinks are offered during the tour which includes Maltese delicacies.
Excluded:
- Entrances to visited locations.
- Pick up and drop off which otherwise can be booked prior to the tour at €10 per person.
How To Book Malta Hidden Gems Tour
- First click here or click the "Book Now" button below to go the the booking page.
- Enter your personal details, number of participants and add any comments in the message box. In the message box it is important to mention whether any children or infants will be joining or whether anyone is wheelchair bound.
- Enter or copy the following coupon code maltainfoguidemdm in the coupon box on the right to get your 5% discount.
- After entering the coupon code, click Book It.
Learn More About the Visiting Locations
- Dingli cliffs are located along the western coast of Malta, off the village of Dingli. A very quiet location with the highest points around 253 metres above the sea level of Malta with sharp drops of the rocks with open sea and the view of the small island of Filfla. Perfectly ideal for walks especially all year round sunsets.
- The Buskett gardens is a woodland covered with a variety of trees planted by the Knights of Malta as a hunting ground. You find a variety of trees and shrubs like orange, cactus, pines and cypress trees. It is located to the south of Rabat and east of Dingli very easily reachable from Rabat. It is the greenest areas in Malta where the public visits very often all year round. It is a very relaxing completely quiet.
- Verdala Palace built by the Knight of Malta by Grand Master Hugues Loubenx de Verdalle in 1586 located within the Buskett Gadens. It was the location summer residence. Today it is the Malta's President summer residence. It is surrounded by gardens. It is not accessible to the public but one can see it form various locations.

- Ghajn Tuffieha also known as Riviera Martinique is a very popular, attractive sandy beach. During the hot months this beach is packed with locals and tourists. During the tour, visiting tourists are very happy to go down up to the beach, as many rarely experience the beach and sand. Even during the months of winter they are willing to go down to the beach.
When you arrive at this location you have three possibilities to choose from at what to do:
- Walk down to the beach
- Crossing over to the other ridge and see a glimpse of Gnejna Bay with a formidable view from high altitude,
- Walk up to the watch tower at the far end of the ridge.
The watch tower was built by the Knights of St John. It was one of many coastal towers spread around the coastline for watching attackers. Apart from the open sea around you, you can see the Ghajn tuffieha bay and the Golden Bay with its popular large sandy beach and the view of hotel Radison Blue. From here you take formidable photos and walking along the ridge.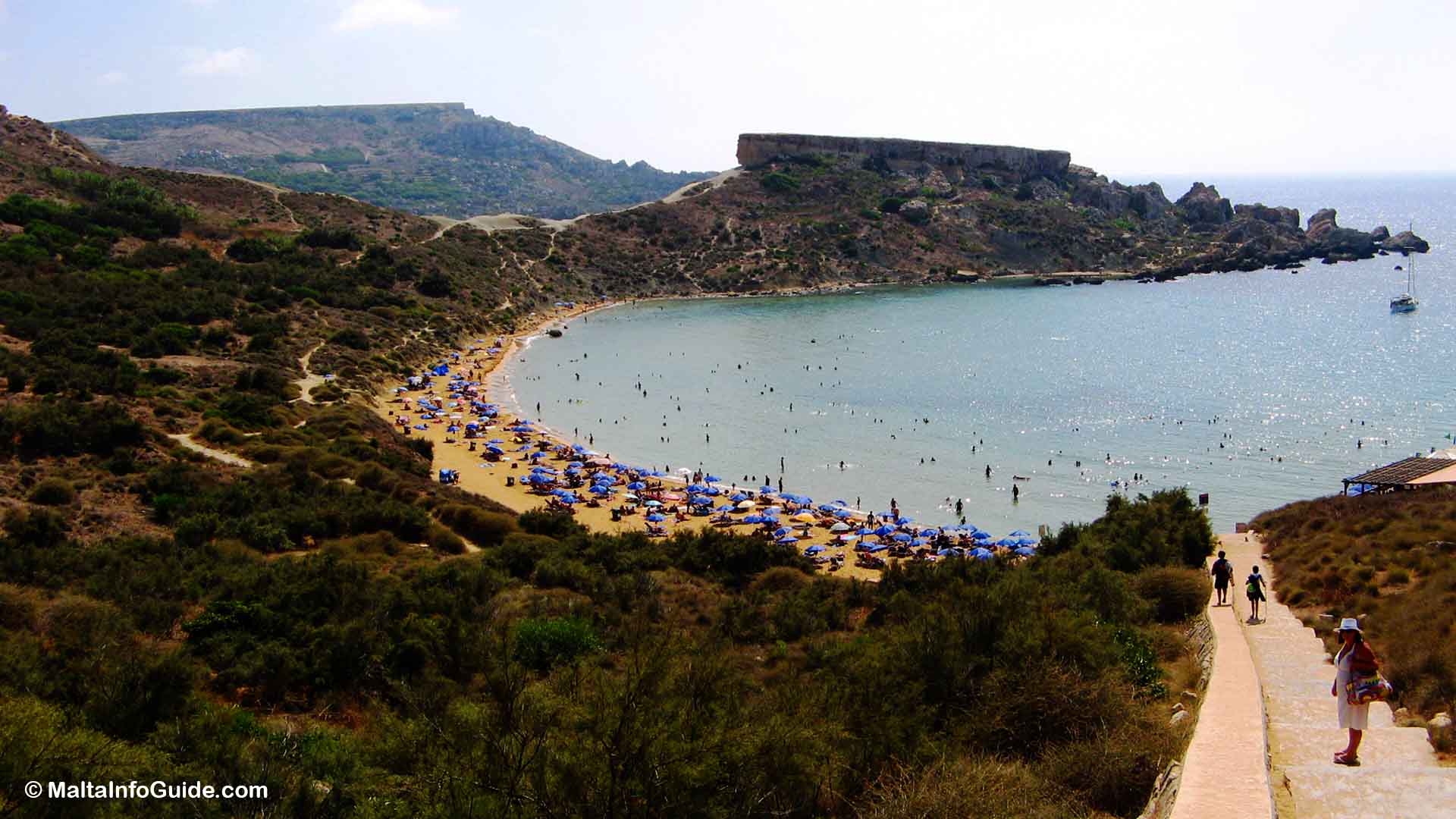 - Popeye Village is located in the north of the island at Anchor Bay. Very popular with tourists. An attraction for children as it was the film location for the popular Popeye by Walt Disney Productions staring Robin Williams, filmed here on this purposely built film set. Today it is converted into a small attraction fun park. It is also known as Sweethaven Village.

- Selmun Palace a baroque style villa surrounded by large tracks of land. Built by Caterina Vitale who died in 1619, who had a great wealth and large tracks of land at Selmun. She used to rent it to the Knights of St. John as a hunting lodge for rabbits. It is a fort style building. At the time there used to be many attacks and being located close to the Mistra bay this was a location for possible landings. It is a beautiful location for tranquillity, The building needs to be seen from close by and great for photos.
- Fort Campbell located over a high ridge overlooking St. Paul's islands. Located purposely for defence from where you can have a great view of the open sea and all the way along the coast from Bugibba, Qawra to Sliema sea front.
It was built by the British in 1937 and 1938 during their presence in Malta. Today it is in ruins. The location is ideal for photos from this high point.
Practical Information About Hidden Gems Tour
- Tours start exactly on time. If you will be coming by on your own it is important that you give extra time to arrive, especially if you are going by public transport.
- You are advised to wear comfortable shoes as the tour has a substantial amount of walking.
- If you are going during summer, do take sunblock and a hat as the sun will be strong.
- Do take a camera to capture beautiful pictures of the locations you visit. You will also be tempted to take a photo with your family or friends when you arrive at at the edge of a cliff overlooking Popeye Village.

- The tour is in English. You can book a private tour in Italian.
A little description about the snack offered:
- Kinnie is a carbonated soft drink produced in Malta since 1952. It is now a household name a very popular drink. It is a non-alcoholic drink made up from bitter oranges with aromatic herbs.
- The Pastizzi are a diamond-shaped delights, a traditional Maltese pastry filled with either ricotta (cottage cheese) or pizelli (peas). The Pastizzi are very popular among the population where you can find them very easily at various outlets ready cooked or uncooked frozen.
Getting To The Meeting Location
The meeting point is at the St. Catherine's Old People's Residence in Attard. The exact meeting point is in the parking lot of the premises.
Pick-Up and Drop-Off: The guide can pick you up from your accommodation at a fee of €10 per person.
Private/Rented Car: The meeting location is in Attard which is in the centre of the island. Getting here is very easy as you can take any main road. You can follow the signage on the way or write "St. Catherine's Old People's Residence" on Google maps and follow the directions.

Public Transport: The bus stop is called 'Marg'. It is located just outside the parking lot of St. Catherine's square.
- To 'Marg' bus stop (right infront of the meeting location): 186, 202
- From Valletta to Katarina bus stop: 54 - When you stop at the bus stop, you have 10 minutes walk up the hill to St. Catherine's Residence.
Taxi: You can also take a taxi, but it might come more expensive, depending from where you are catching the taxi and how many people you are.
Frequently Asked Questions
How do I book the tour?
- You can follow the instruction by clicking here.
Is the tour wheelchair accessible?
Yes it is. You will need to advice them beforehand. There might be areas where you will visit, that will not be wheelchair accessible. All vehicles are wheelchair accessible.
What languages is the tour in?
- The only languages are English and Italian. Italian is only available on request and in a private tour.
How many people can we be in each tour?
- Each tour takes a maximum of 8 people since the tour guide wants to have a close relation with each and every person in the group.
Is the pick up and drop off service from anywhere is Malta?
- Yes from all over Malta.
How much is pick up and drop off?
- It is €10 per person.
Is the tour refundable?
- Yes it is fully refundable until 7 days before the date of the booking. After 7 days you will have to pay 20% of the total fee. If you cancel within 24 hours of the tour it is then non-refundable.
What happens if it is bad weather?
- The tour will be cancelled, but it can be offered to be done on another day.