Mdina and Rabat Night Tour
Hear Ghost Stories that will make you shiver!
Date Uploaded: 16th February 2020

Is it in your vacation plans? Mdina and Rabat Night Tour is a unique planned personal experience.
History, culture, ghost stories that are known and which make you shiver. This will take you back into the atmosphere of people who lived here a long time ago a very different experience than the usual day tour.
For every location you will visit, you will listen to stories that made history, the old capital Mdina, the suburb of Rabat, Buskett gardens. The night gives you a different feeling of these places that makes this tour a moment to remember for quite some time.
In this page we outline what you need to know about this tour.
He will take you through the tour for you to remember
What You Need to Know About this tour

Disclaimer: We have affiliate links on this website where we receive a small commission at no extra cost to you.
Top Tours For This Summer
5% Coupon Code - 'maltainfoguide'
What do people say about this tour:
"My friends and I really enjoyed Chris' tour. It definitely added a unique twist to our stay in Malta. His stories both spooked and excited us - which was exactly what we were looking for! No matter how trivial or even bizarre the questions we asked, Chris was able to answer them all, even beyond the scope of his tour. Highly recommended if you're looking for something different and fun." - 5 Star Review

"Highly recommend this tour , Chris was amazing and extremely accommodating and helped us every step of the way. He was very knowledgeable and taught us so much about Malta!"  - 5 Star Review

"Chris was warm and friendly and gave us a lot of historical knowledge that is highly important to understanding Malta's past. Eating pastizzi and drinking a Maltese favourite at a local's spot was great. Thank you we felt like we learnt a lot and we could ask you anything. A lovely, relaxed host." - 5 Star Review

Details about Mdina and Rabat Night Tour
- Duration of the tour is 3 Hours

- Tour Days: Tuesday and Thursday
- Starting Time: Winter 19:00 and Summer 20:00
- Meeting Point: Mdina Main Entrance Gate
- Locations you will visit: Mdina | Rabat | Buskett Gardens | Verdala Palace
Since it is a night tour there will be no visits inside premises. This is an outside tour.

- Price of tour: Adults (11+): €35 | Children (3 - 11 years): €17.50 | Infant (0-2): Free

Price List with Coupon Code (maltainfoguidemdm):
- 2 Adults: €70 (€66.50)
- 2 Adults & 1 Child: €87.50 (€83.13)
- Family (2 Adults 2 Children): €105 (€99.75)
- Group of 8 Adults: €280 (€266)
Inclusions and Exclusions of the Tour
Included:
The tour leader is a fully qualified tour guide who has lived on these islands all his life and know the environment / background / ambiance very well.

The transport van is fully air conditioned and there is also the use of a car depending on the number of participants. This company operates with a Malta Tourist Authority (MTA) Excursion Operator Licence.
- During the tour Maltese delicacies such as snacks and drinks are provided.
Excluded:
- Since this tour is during the night there is no need of any entrance tickets and also because there are no buildings that need to be visited from the inside during the tour.
- The pick up and drop off are excluded but can be booked for both ways prior to the starting of the tour for a total fee of €10 per person both ways.
How To Book Mdina and Rabat Night Tour
- First click the "Book Now" button on this page and will take you to the booking page.

- Here enter your personal information, number of persons joining the tour and finally write any additional information in the message box provided. Remember to mention if there will be any children or infants or any persons with special needs so that the tour leader will know of all their necessities. 
- To gain your 5% discount remember to enter the coupon code in the coupon box maltainfoguidemdm.
- Then click Book It to finalise your booking.
Learn More About the Visiting Locations
- Mdina the old capital. Visiting it at day time or at night is a totally different thing. With its narrow streets, high palaces, churches and houses, with the dim lantern lights and flood lit buildings, it is attractive but also might bring you some nostalgic thoughts of old times.
Few people live within the bastions today, so you see very few around but today with several restaurants and wine bars not least a 5 star hotel attracts many locals and tourists for its charm.
It is the place where people look and are inspired for relaxation. It also holds its ghost stories. Today many are those who book such tours to listen to the tour guide recounting these old stories either true or not we leave it to your imagination.
- Buskett Gardens is a unique place which lies a few kilometres from Mdina and past the village of Rabat.
Arriving to these hidden away gardens by transport provided by the tour which are not really known to tourists. You will immediately realise how quiet it is at this late hour, in the dark where you will be taken around exploring the narrow pathways and passages among the trees with torches. An experience you will remember.
Many years ago during the 16th and 18th century these gardens were the private hunting grounds for the Knights of St. John which were purposely shaped and cultivated for this purpose.
From here the tour proceeds through the narrow surrounding roads of the gardens to the back gate of the Verdala Palace.
- Verdala Palace located within these gardens. It is floor lit where you can take a photo for your memories. Today it is the official President of Malta Summer residence.
It is also known to have its own ghost story that various visitors claim they have seen at various instances. Many are curious to listen to this story, not ideal to say it here better be with the tour leader listening to it while standing outside the closed gate of the boundary wall of the palace.
Practical Information About Mdina & Rabat Night Tour
- Arrive on time as the tour starts on time. Plan your arrival time depending on which transport you will be using.
- We suggest to come with comfortable shoes and clothing since there is considerable amount of walking apart from the transits from one location to another by transport provided by the tour.
- For winter it is advised to wear warm clothing especially if it is windy, low temperatures or raining.
- On rainy days you will surely need an umbrella, hat, a good cover in order to enjoy your tour . 
- Do not forget to take a camera or your mobile phone to take photos for memories and to show you family and friends.
- This tour is always in English. You can make a request to have the tour in Italian but it has to be a private tour as it cannot be conducted in two languages at one time.
Getting To The Meeting Location
The tour starts at Mdina main gate. See location on the map below.

You can be collected and taken back to your accommodation by the same tour company for a fee of €10 per person for both ways.
Private/Rented Car: Mdina is located in the central area of the island. There are many ways how to get here.
From Bugibba, Mellieha, Qawra area you come from Mosta side
If you come from the main touristic accommodation area being Sliema, Valletta, St. Julians, Swieqi, Gzira you come from the main roads, past Hamrun bypass, past Mriehel bypass, pass H'Attard from where you keep on going straight to Mdina through this main road.
There are many signs along to way to guide you.
Public Transport: The bus stop is called Mdina. You have to stop here and the meeting point is a few metres away exactly on the same pavement. Here you find a food kiosk this will help you to identify he location. Since this is a night tour, we would recommend that you get a transfer back to your accommodation, since the Public Transport stops at around 22:30 and the tour might not be finish by that time.
Frequently Asked Questions
Various questions are asked about the tour, we try to reply to various general questions that you might also have.
What is the best way to book the tour?
- You can book this tour by pressing on the BOOK NOW button and will be transferred to the booking site where you can immediately start filling up the information.
I am wheelchair bound, can I participate in this tour?
Yes for sure but you have to include details in the booking so that you will be contacted and to be sure that everything will be fine during the tour.

Is it possible that the tour might be cancelled for unforeseen circumstances, and what is the procedure then?
- Tours are only cancelled if the weather is very bad or for any circumstance out of control to the company. The tours conducted even if it rains or it is windy. We suggest that you bring with you a good cover depending on the weather conditions. The company will still be aware of the safety of the participants.
In what language is the tour carried out?

- It is always in English. The only alternative language is Italian but this can only be done only on request and will have to be a private tour.
What rules apply for refund?
- It is completely refundable until 7 days prior to the tour date. If less than 7 days you will loose 20% of the value you have paid. If you cancel twenty-four hours before no refund will be given back.
We have a difficulty to come over to the tour starting point, is it possible that we can be collected from our accommodation by the company organising the tour?
- The pick up and drop off costs €10 per person. This has to be booked beforehand and can be done from any location on the island.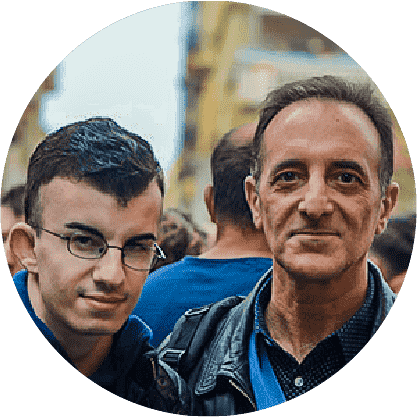 By Albert and Benjamin Magro
We have removed the Facebook comments to make the page load faster and also to improve your page experience.
If you have any queries or questions, you can send us a message through our MaltaInfoGuide Facebook Page or send us an email via our Contact Page.