Comino Malta Cruises
Various Cruise Operators To Comino And Cominotto,
Malta Boat Trip Attractions And Activities For Your Day Cruise
Comino Malta Cruises offers a variety of boat trips to Comino Blue Lagoon in one or more of the wonderful beaches surrounding the island.
When is it best to visit Comino?
What are the best cruises to take?
How can I find the best cruises?
These are some of the questions you will ask to yourself. It depends when you intend coming to Malta. In summer you find all the cruises you will wish to take. Read our information in these pages dedicated to various cruises and Captain Morgan where you surely can get a good picture of what is available.
We bring you the cruises of various operator for a general ideal of what they offer. Useful information to help you prepare for your holiday in Malta.

Weather - pros and cons
In summer all cruises are available but the Blue Lagoon is crammed with visitors.
Lean periods between May and June are the best time to take advantage of a cruise. Although the sea is still cold in May, with June being somewhat warmer, however the air temperature is already warm.
With less visitors you will be able to enjoy a more tranquil stay. This is certainly the case during late September and October when visitors are less numerous than May and June.
Cruises are organised depending on the weather conditions. In early mid September, or also later on, it is very common to have some bad weather by way of wind and rain although this tends to be very short lived. Once the storm passes, the weather turns summery again to late October. By this time the sea temperature starts to becoming more fresh although it is still pleasant to sunbathe.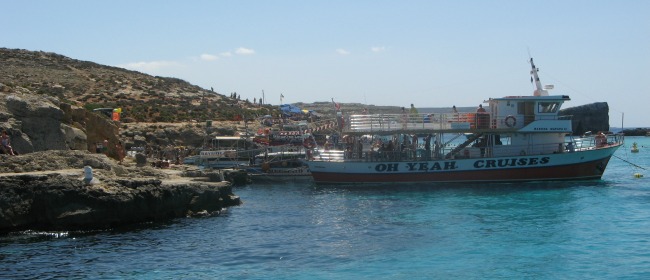 Comino Malta cruises - ferry departure locations
There are mainly three cruise locations with Sliema waterfront, being the most popular, followed by Bugibba and Mellieha.
The various ferries depart from Malta at Marfa and Cirkewwa and from Mgarr harbour in Gozo.
Although there are several operators who offer this service, Captain Morgan is the undoubtedly the largest operator with various sizes and variety of boats.
Operators departing from Sliema waterfront - longest trips to Comino 90 minutes.
Captain Morgan

Supreme

Luzzu

Hera
Bugibba – a much shorter distance.
Hornblower

Seahorse

Triton

Mermaid
Mellieha bay
Cirkewwa and Marfa – location very close to each other just in front of Comino, 10 minutes by speed boat ferry.
Comino hotel ferry boat.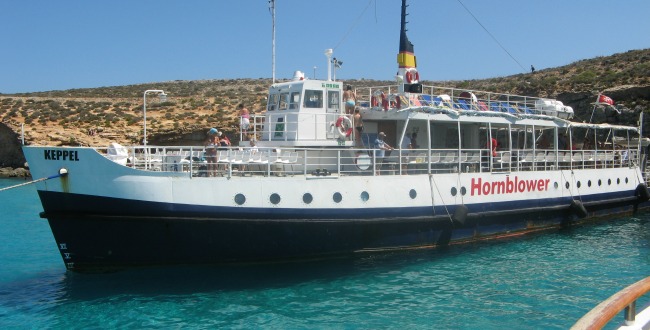 Seahorse cruises
Tour A – €20.00 - full day including Comino, Blue Lagoon and caves
               €28.00 - full package speed boat ride and extra caves
Tour B – €25.00 - full day including Gozo, Comino, Blue Lagoon & caves
               €25.00 - boat cruise (visiting Gozo at your own leisure) 
              €28.00 - boat cruise + mini bus/coach tour in Gozo
              €33.00 - boat cruise + open bus tour in Gozo
Departure from Bugibba jetty at 10.00 am and cruise along St Paul's Bay islands.
Booking +356 7700 8363
Bluewaves watersports at Ramla bay resort Marfa
Trip A - Comino caves, Crystal caves and stops at Blue Lagoon
Times:
Departure from Ramla Bay Marfa - 09:00 to 15:00 (Every day & hour)
Pickup from Blue Lagoon - 09:30 to 14:30 & 16:00, 17:00 (Every day & hour)

Price:
Adult: €10.00
Children: €5.00
Trip B – Trip round Comino and 2 hours stop at Blue Lagoon
Visit: St. Mary Fort, pass through the Arch Elephant Rock, explore the Ghemieri (east) hidden caves, drive past St. Mary Bay, St. Nicholas Bay, stop 2 hours at Blue Lagoon
Times: 11:00, 13:00 & 15:00

Price:
Adults: €16.00
Children: €10.00
Trip C – Speed boat trip to Blue Lagoon and explore hidden caves
Visit: Comino towercaves roofless cave rabbit's burrow (tunnel), Alex's cave, stop 2 hours at Blue Lagoon Comino tower Crystal Lagoon
Times:
Departure from Ramla Bay Marfa - 10:00
Pickup from Blue Lagoon - 12:30
Price:
Adults: €12.00
Children: €8.00
Booking +356 2152 5861

Mobile: +356 9982 6863
Adults (Age 12+)
Children (Age 2-11)

Comino Malta cruises with Supreme
Gavdos Star - Full day cruise to Comino.
Boat leaves Sliema waterfront at 10.30 am and back leaves at 16.00 hrs. Arrives back in Sliema at 17.30 hrs.
Prices: Adults €25.00; Children (5-15) €17.00 and Children under 5 years free.
Price Includes:
Transport pick up and drop off at any hotel in Malta.
Detailed commentary throughout the cruise in Maltese and English.
On board facilities; snorkeling equipment, showers, air-conditioned area, full stocked bar and toilet facilities.
Comino Malta cruises with Luzzu
Departing from the Sliema waterfront, the cruise goes straight to Gozo's Mgarr Harbour which is the main port in Gozo. From there you board a bus for a three hour sightseeing tour around the island. You will visit the Azur window, Inland sea, Fungus rock. Ta' Pinu Church and Victoria the capital city and the Citadel situated just above Victoria. This was once the old capital city of Gozo.
When the tour is over, visitors return to the boat at Mgarr harbour to board and leave to the Blue Lagoon for a 90 minute stay dedicated to swimming, sunbathing and snorkeling. The return journey includes a visit the crystal caves of Comino.
Departures every Monday, Wednesday and Friday at 10.00 and return at 15.30. June to October every day. In winter according to weather permitting.
Prices Adults €35.00; Children €20.00 including VAT.
Contact details +356 7906 4489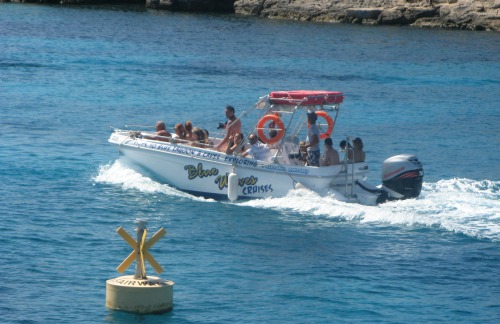 Comino Malta cruises with Hornblower
Trip A – Malta – Comino – Malta
Prices Adults €15.00
Trip B – Malta – Comino – Gozo Cruise
Prices Adults €20.00
Trip C – Malta – Comino – Gozo Cruise with minibus.
Prices Adults €25.00
Departures every Monday to Saturday at 10.45 from the Bugibba jetty.
Prices Adults €35.00; Children €20.00 including VAT.
Contact details +356 7989 9899
Comino Malta cruises with English Rose
Trip A – Day cruise around Comino
Prices Adults €15.00
Trip B – Comino BBQ night at Blue Lagoon
Departures from Mellieha bay from the Tunny Net jetty, every Wednesday at 17.45. The boat sails to Gozo Mgarr harbour to enjoy the view of the harbour with the ferry boat sailing in and out of the port. Then sail to the Blue Lagoon for the BBQ night. You can enjoy a dip at sunset whilst the food is being prepared. Later on dancing to disco music with free flowing wine. Returning back to Mellieha bay at around 23.15.
Prices Adults €19.00; Children from 10 years under €9.50
Contact details +356 9949 5842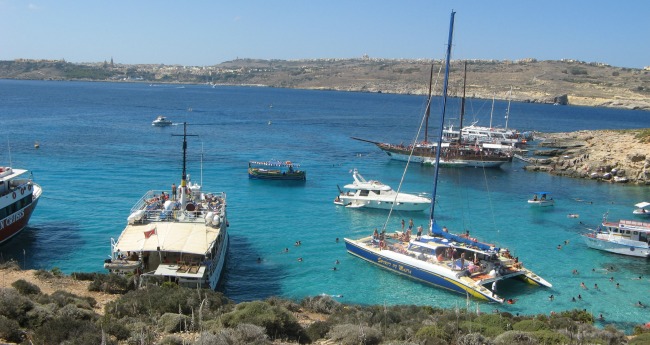 Comino Malta cruises with Oh Yeah
Departure from Mellieha Bay (Ghadira) at 11.00 with Hakuna Matata ll. The captain takes you for a visit along the coast to the different cavern features up to Comino and passing the lagoon on the way. Then on to Gozo crossing the channel between the islands to visit the Mgarr harbour. After that back to the Blue Lagoon for a three hour stop to enjoy swimming, snorkeling and lunch.
The boat offers light snacks and cold drinks as well as facilities for showers and toilets. The return trip includes a visit to the caves before  proceeding back to Mellieha Bay arriving by 4.30 pm.
Daily trips depart from Mellieha bay Tunny Net jetty.
Price: €12.00 per person.
Other Operators
Yellowfun Water sports operate from the Dolmen Resort Qawra, Hilton St. Julian's and Corinthia San George at St. Julian's
Barbarossa Excursions operating from Gozo and various locations
Blue Waves from Ramla bay
Hear Cruises
Mermaid Cruises
Triton Cruises
Comino Malta cruises is another opportunity to explore the beauties of the Maltese archipelago.
Travel & Weather Information