The Best Info Guide
To The Islands Of Malta

Plan Your Vacation By Someone Who Lives Here

Malta is one of the most beautiful countries in the Mediterranean region. It offers an exceptional blend of historical sites, beautiful beaches, modern attractions, excellent hotels and restaurants for all tastes. All through the year there are activities with many things to do and see.
Malta Info Guide is an independent travel and tourist guide. Our site contains a variety of information how to plan your holiday in Malta.
What's On in Malta for 2021
What To See & Do in Malta
There is a lot to see and do on the island. Malta is full of opportunities to discover. Being a small island you can visit as many locations and try as many activities as you wish in the time of your holiday.
Upcoming Events for 2020
For each month you will find a variety of things to see and do. They are filled with plenty of fun activities to enjoy whilst on your holiday. First of all Malta and Gozo are well known for the village feasts celebrated all through the year. Malta is well known for it international festivals, special events and marathons.
At the same time while you are here you can get a taste of the lengthy historical and cultural heritage, go on a cruise to Comino, enjoy a full day trip to Gozo, explore Malta's old and historical villages. Not least the capital city Valletta is the European capital of Culture with plenty of activities.
Our Malta Events gives you a glimpse of the activities throughout the year. Click on the links below to find and choose the best events to visit.
January | February | March | April | May
June | July | August | September
October | November | December

Special Upcoming Events for 2020
Special events are not least. Today we have international events celebrated on the islands. The Isle of MTV, Tomorrowland and Lost and found.
We have to mention our international tenor Joseph Calleja, for the past 20 years he has been part of a massive summer concert with international stars coming here every year and share the stage with him.
Holidays in Malta
The Maltese love their holidays. They take the opportunity to go for a weekend to Gozo or go on a small vacation. Each New Year kicks of with a massive celebration at Valletta together with a fireworks display and new year's eve parties all over the island. During the holidays there are plenty of fun things to do namely Christmas markets, pantos, live cribs and villages decorated for Christmas. Other top holidays we celebrate are Easter, Carnival, Halloween and Independence Day.
Best Places Around The Island
Malta is home to the Europe's smallest capital Valletta with around 5000 people. Further up the island is Malta's old capital, the Silent City of Mdina.
The other island, Gozo is the magic of Calypso island and with 7000 years of history the islands stepped in culture and heritage. A location everyone wishes to visit is the famous Blue Grotto located in Wied Iz-Zurrieq.
A visit to the one and only Marsaxlokk fishing village is a must as it offers a wide variety of picturesque scenes. A visit to the Sunday market is a unique opportunity to purchase fresh local fish.
Malta And Gozo Beaches
Malta offers the best beaches whether they are rocky, sandy, secluded or easy to get to. Tourists visit our beaches for its crystal clear waters. With around 300 days of sunshine and picturesque beaches one cannot resist the temptation of going for a dip at one of our beaches.
If you love diving then Malta is the right place for your as it is home to many world famous diving spots. From natural harbours to wrecks, reefs and cliffs. You find plenty of water sports at the main beaches namely jet skiing and kayaking.
The most famous beaches Blue Lagoon Comino, Mellieha Bay and Ramla L-Hamra.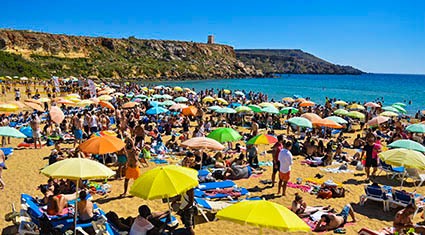 The Best Malta Beaches
About MaltaInfoGuide.com
Malta Info Guide is an independent travel and tourist guide. Our site contains a variety of information how to plan your holiday in Malta.
Our hospitality is unique. It has amazed many and returned many many times more. Others decided to settle here even on our sister island Gozo. Tranquility, peace of mind, reasonable prices even cheaper than Malta.
The Malta Info Guide will guide you for a pleasant stay.