experience the Hypogeum in
Malta tour
Amazing Trip Back Thousands Of Years! Book Early Not To Be Disappointed
Date Last Updated: 16th August 2023

Hypogeum in Malta, also known as Ħal Saflieni Hypogeum is one of Malta's oldest burial ground dating back to 4000 BC. Why not take the opportunity to visit the world's most fascinating underground burial site while on your holiday in Malta.
For those who love history, Hypogeum is a must. So if you intend travelling to Malta you have to book much in advance.

It is an unusual location where thousands of people visit each yearly. With only a limit of 10 people per tour, (Maximum 8 tours per day) we highly recommend that you book months before due to high demand.
It is recognised as one of UNESCO's World Heritage Sites for its outstanding prehistoric importance. It is the only known subterranean structure of the Bronze Age with three levels underneath each other.
Translated pages for Hypogeum in Malta:
What You Need To Know About Hypogeum in Malta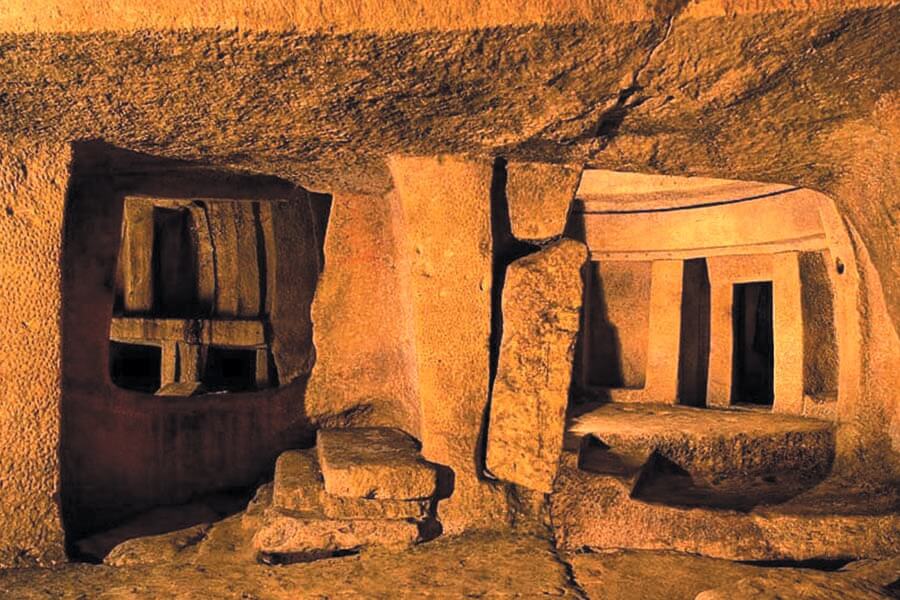 Photo By @maltastudy
How To Book Hypogeum Malta Tour
Firstly, select the date when you would like to attend this tour.

Enter 'maltainfoguide'

 in the coupon box to get a 

5% discount

.

Secondly, select the number of adults, teens, children and/or senior citizens which will attend the tour.

After you have selected the information, click confirm selection.

The next step is to fill up the form with your accommodation and personal details.


Choose your 

payment method.

In the comments section

you MUST enter the time

you wish to go on the tour. The times are 09:00, 10:00, 11:00, 13:00, 14:00 and 15:00.

After submitting the booking, you will receive an email from Malta Excursion to confirm with you that the time is available. If not, they will give you an alternative time if available or you can change the date. If you wish to cancel your booking since you prefered time and date is not available, then you may do so for free.

Then 

click Book & Pay

.


Secure Payments Guaranteed

Secure Payments Guaranteed
Enter 'maltainfoguide' in the coupon box to get a 5% discount
Tickets purchased are not refundable or exchangeable.
eTicket (Mobile Ticket) available

Ticket Prices To Hypogeum In Malta
Eight Guided tours each day.
Each tour can only allow up to 10 people.
Length of each tour is 50 minutes long.
Guided Tours Tickets

Adults: (18 - 59 years of age) - €35.00
Youths: (including aged 12 - 17) - €20.00
Children: (6 - 11 years of age) - €15.00
Seniors: (60 years and over) - €20.00
Infants: (1 – 5 years) – No admission
There is a service fee for every ticket purchased.
A valid Identity Card or Student card must be presented upon arrival for any students or seniors.
Audio Visual Show Tickets

The audio-visual show is not available on its own. You must purchase the full tour to be able to see the show. The tours begins by seeing the audio-visual demonstration. 
The narrations are very well done with articulate information and atmospheric sounds. This illustration helps you become part of this old experience before entering the underground burial site.
Are there last Minute tickets?
Yes, there are, but we DO NOT recommend them.

They are

€50

each for everyone, including children.

Last-minute tickets are only available for only two tours daily at

12:00

and

16:00.
When buying these tickets they are valid for the day after and not for that current day.

The tickets are not available online but you will need to purchase them the day before from Fort St Elmo in Valletta or the Hypogeum premises at Paola.
Are the last minute tickets worth it?
NO they are not. Why?
As it is a hassle while on holiday as you waste so much time in the queue and to get there, when you can pre-book your tickets from the comfort of your home by clicking this button and also you can also get a 5% discount on your total by entering 'maltainfoguide' in the coupon box.
People often start queuing at 06:00 am and the office opens at 09:00. At the same time you are not sure if you will get a ticket as only 20 tickets are available.
Your chance of getting a last-minute ticket is quite low.


Secure Payments Guaranteed

Secure Payments Guaranteed
Enter 'maltainfoguide' in the coupon box to get a 5% discount
Tickets purchased are not refundable or exchangeable.
eTicket (Mobile Ticket) available

Hypogeum Malta How To Get There
Private Car
Hypogeum in Malta is located at Hal Saflieni Street, Paola. It is around 400 meters away from Paola church.
Getting to Hypogeum is quite easy. Parking close to the premises might be slightly difficult as it is situated in a residential area. A parking area is not available so you will have to go round the neighbouring streets to find.
Malta Public Transport
Follow the signs from the bus stop. It is around 5 minutes walk away from the Paola Parish church.
The two bus stops closest to Hypogeum in Malta are 'Ipogew' and 'Pjazza'.
To 'Pjazza' Bus Stop (Direction to Valletta): Direct routes 81, 82, 83, 84, 88, 206, X2, X3.
To 'Ipogew' Bus Stop (Direction to the South of Malta): Direct routes 81, 82, 84, 85, 88, 206.
To/From Valletta: Direct Routes 81, 82, 83, 84, 88.
Hop-On Hop-Off Routes:

The Red South Route for both sightseeing operators namely Malta Sightseeing & City Sightseeing Malta pass from here with a stop at the main road a minute walk to the visitors centre.
Since the tour will be with a group and a guide they all start on schedule so leave substantial time to get there in order to be on time.
Click here for the Hypogeum Malta map
Admission to the Hypogeum Malta
We suggest that you consider booking the tickets from here. Often fully booked from weeks in advance.

opening hours
Monday to Sunday: 09:00 – 17:00
Last admission 16:00
Closed on 24th, 25th and 31st December, 1st January and Good Friday.

Practical Information About The Tour
Tours start exactly on time. You must arrive 15 minutes before. Late arrivals might be refused to enter.
Tours lasts for 50 minutes.
You are advised to wear comfortable closed shoes for safety reasons due to high humidity levels.

No sandals are permitted.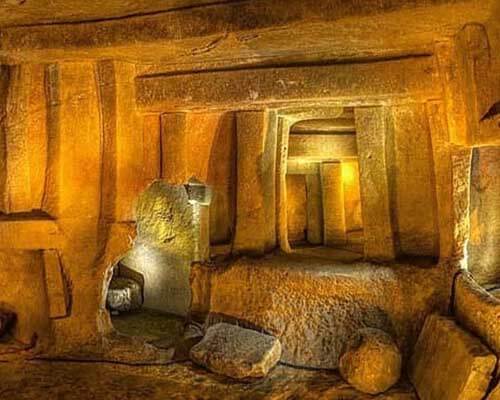 Photo By @maltastudy
No filming and photography are permitted inside the premises even without the flash.
Any backpacks you carry they will be locked up in lockers before you enter.
Children under the age of 6 years are not permitted inside the premises due to health and safety reasons.
If there are persons who might be sensitive to claustrophobia they might have some discomfort.
The audio-visual presentation is accessible to wheelchairs within the Visitors Centre. 
The Hypogeum in Malta archaeological underground temple is

NOT accessible

to wheelchairs.
For visitors who cannot use the audio guide provided at the Visitor's Centre, they may request a written copy of the script in English at least a week before their visit.
At the entrance there is a small souvenir shop where you can purchase a souvenir.
Hypogeum Malta is a unique must see attraction.

Get your Hypogeum Tour Tickets
want to rent a car in malta?
We have used Discover Cars every time we rented a car. We highly recommend them due to their good service and good prices.
Get The Best Rates On Your Car Rental Now!
need to book a hotel for your malta visit?
Using Booking.com, enter your travel dates and number of occupants then rates will be available for hotels and apartments during your visit to Malta 
Book Your Hotel In Malta on Booking.com for the Best Rates!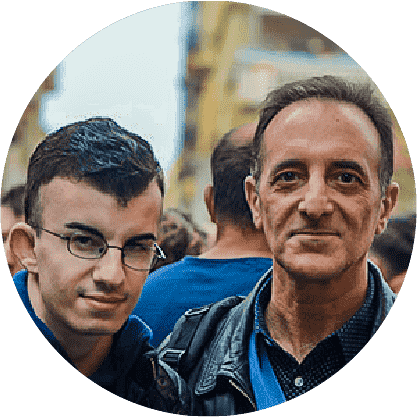 By Albert and Benjamin Magro