Blue Lagoon Malta
Snorkeling Experience, Day Cruises Malta, Dive Comino,
Dive Mediterranean, Cominotto Sandy Beach
Blue Lagoon Malta is an attractive location with wonderful turquoise blue sea located at Comino, a grand getaway during your holiday in Malta. Families with young children can swim and wade safely as the sea is shallow.
The treasure of the crystal clear waters of the Blue Lagoon attracts many tourists especially during the summer months. For seven months of the year there are tours organized almost every day. One cannot miss an opportunity of a visit while in Malta.
Find out about how to get to Blue Lagoon, what clothes, food and other things to bring. What questions do people ask about swimming, location and what are the tours that visit the lagoon.

Disclaimer: On our website you will find affiliate links from which we make a small commission.
How to get from Malta to the Blue Lagoon?
From where it is best to catch a cruise or a ferry boat to Blue Lagoon?
There are various ways from where to take a trip to the Comino Blue Lagoon.
from malta
From Sliema Ferries - Ideal cruises to book from here are: Comino & The Blue Lagoon, Spirit of Malta, Round Malta Day Cruise

From Cirkewwa Ferry Terminal - Small boat transfers beside the Gozo Ferry Terminal and from the jetty in front of Labranda Riviera Hotel & Spa.
From St. Julian's to the lagoon - no boat trips leave from this shore area. You have to take the public transport to Sliema ferries or the private transport offered by the cruise companies to the various departure points.

Tourists lodging at Bugibba, Qawra and St. Paul's Bay can make use of these boat cruises. From Bugibba jetty the Sea Adventure Catamaran, read a detailed review about their cruises. 
From Ghadira Bay also called Mellieha Bay beside the sandy beach.
Various hotels in the north part of Malta which are located along the coast offer a service of a private transfer to Comino. You have to contact the reception of the accommodation you are staying in for further details. I am referring to the Ramla Bay Hotel, Paradise Bay Hotel, db Seabank Resort & Spa, Labranda Riviera Hotel & Spa and any hotel situated at Mellieha village.
from gozo
From Mgarr Harbour a boat operator organizes regular daily trips. A complete schedule for all summer months.
From Xlendi Bay see the operators details and schedule
What to bring on your Comino Blue Lagoon Cruise?
Sunscreen, sunglasses and a hat - For the hot summer months surely creams, shirt or a thin summer sweat shirt to cover yourself especially if you are not acquainted to such hot weather. 

Camera and mobile phone - A great opportunity for photographs. You will be disappointed if you miss this opportunity to have your own memories.
Motion-sickness pills - For those who feel sea sickness you can take sea sickness pills such as Dramamine at least an hour before you leave port. In summer these are surely not required but from autumn to spring the sea might be rough especially during the winter months from November to April.
We recommend that you swim regularly while at the Blue Lagoon Malta. Try to stay in the shade as much as you can. If the beach is crowded make it a point to take shelter on your cruise boat or under an umbrella.
Clothing, Footwear and Suggestions
The hot months are surely May, June, September and October.
The hottest months are July and August. Just wear light clothes.
The leaner months are April, May and October. We recommend the same clothes as summer for those who feel hot during the day. Early morning and towards sunset the weather gets more fresh. 
For winter months sure warmer clothes and a light jacket and warm sweater. During the months November and April into May the sea will still be cold to swim. During this period you will not see anyone sunbathing, may be a few days during April and for May much more.

The coldest months are January and February. No cruises are operated between November and March.
Comfortable rubber-soled sneakers or shoes to walk on the rocky surface of Comino. Far better and more stable than sandals or flip-flops.
Flip-flops are recommended for those who will be swimming during summer.
What food to get?
There are various options for the summer hot months:

You can bring food and water with you but you have to be organised. You will surely find a place on the rocks probably exposed to the sun if you do not have your own umbrella, where you can sit down and eat.
You can also opt for the cruise tickets with buffet lunch.
You can buy something from the beach side kiosks. These kiosks are only available during summer months. During spring and autumn you might be best to take the buffet or bring with you a snack.
You can also make use of the Comino hotel during the summer months from May to October. There is a restaurant at the reception area where you can also take snacks. It is located about 20 minutes on foot from the Blue Lagoon.
Where do the boats anchor?
There are various anchoring points near each other for the various operators of the cruises.
All large boats anchor onto land from where you can walk around.
They are located at the lagoon but outside the swimming zone which is marked with red and yellow buoys on two sides of the bay between Comino and Cominotto islands between June and September.
best Comino & Gozo Cruises

The small boats that do the ongoing trips between Mgarr harbour Gozo and Cirkewwa ferry terminal in Malta and the Blue Lagoon also stop at Saint Mary's sandy beach small jetty. Before you embark on such trips it is advisable to phone or ask the operator about their schedule as this will vary depending on demand.
Apart from the ferry and cruise boats during the summer period you will see many private Maltese boats in the area and crossing the channel between the islands.
Swimming Snorkeling and Suggestions
If you can, it would be worthwhile swimming across the lagoon to the smaller, less crowded beach of Cominotto. The swim is gorgeous, about 300 metres each way, but watch out for the occasional jellyfish and underwater currents.

The lagoon offers a great snorkelling experience in the shallow water where most of it is only a few meters deep. However there are deeper areas towards the centre of the lagoon so swimmers are advised to take all precautionary care.
In summer from June to September there are life guards who watch people swim due to currents along the channel between Comino and Cominotto. Signals will indicate if the sea is not adequate for swimming.
For those visitors who prefer to keep their feet on dry land (terra ferma), one can explore  this small island and enjoy stunning views of the Blue Lagoon and the whole island from the top.
Questions people ask about the Blue Lagoon Malta
The beach is rather small in size and only minimal shade is available.

During the weekend the beach tends to be overcrowded so if you have the chance to visit during the week, this would be recommended for a quieter visit. Keep in mind that July and August are part of the peak season.
It is strongly advisable that you take a high protection sun cream with you and apply it often and at regular intervals throughout the day. It is also advisable to take bottles of water, sun-glasses and snorkelling gear if you have. Although all these are available from the kiosks on  the beach,  prices would be much more expensive.

When are the cruises on?

The cruises operate from April to November. The busiest period is from May to September. The peak is July and August. It is not excluded that operators have reduced schedules during the winter months and all depends on the weather conditions and demand.
How do I get from Malta or Gozo to Comino?

There are various boat trips operating from several locations in Malta. These are Sliema, Bugibba, Cirkewwa, Mellieha, St. Paul's Bay. From Gozo you depart from Mgarr Harbour and Xlendi.
When is the best time to go to Blue lagoon?

During summer but being that there are too many tourists it is advisable to try and avoid the peak months.
The best time is April and May as there are less tourists but the sea is still cold.
You can go late September and beginning October since the sea will still be warm enough to swim.
What can I do during my time at the Blue Lagoon?
Sunbathing or walk around the island.
Visit the watch tower of the knights of Malta.
Walk up to Santa Maria sandy bay and the small church adjacent.
Go to the Comino Hotel which is open between May and October where you can relax at the reception coffee bar area or take a snack.
What facilities are available at the lagoon?

There are public toilets during the summer season
A few kiosks selling cool drinks, ice creams and snacks.
For added comfort, one is also able to hire deckchairs and umbrellas. During peak season the area is rather crowded and you have to arrive early to find availability.
Is there another sandy beach apart from Blue Lagoon bay?

Yes! It is called Santa Maria Bay, located beside the Comino Hotel bungalows.
Another smaller sandy beach is beside the Comino Hotel but it is for private use of the hotel residents.
You can book a day stay at the hotel where you can make use of this sandy beach and the outdoor pool.  
How is the sea at lagoon?  How deep is the Blue Lagoon Malta?

The sea has a wonderful turquoise colour.
It is shallow at the sandy area but goes deeper to around a few metres. Apart from these areas the sea gets deeper very quickly.
What do most of the visitors prefer to do when they arrive at Comino?

The majority prefer to remain at the Blue Lagoon as that is where the cruise stops.
The beauty of this area spreads along the coast on both sides. Walk around and enjoy the scenery.
Blue Lagoon Malta Map
Blue Lagoon Malta Cruises
What we recommend for you: More Blue Lagoon Malta Cruises
need to book a hotel for your malta visit?
Using Booking.com, enter your travel dates and number of occupants then rates will be available for hotels and apartment during your visit in Malta 
See Malta Hotels on Booking.com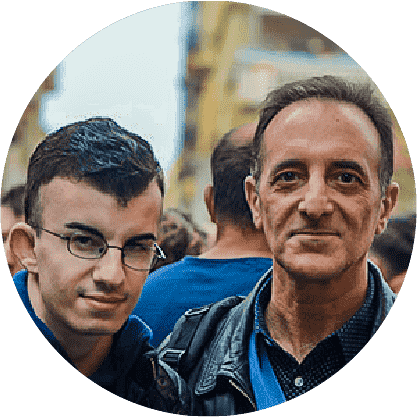 By Albert and Benjamin Magro