About Us at Malta Info Guide
We share with you a few words about us and our website
This page is about us and our MaltaInfoGuide website. Our names are Albert Magro and Benjamin Magro, the people who created this website.
We have lived here since we were born and love our country. We love sharing our passion for the Maltese islands together with tips and advice for those wanting to visit Malta.
We love being tourists in our own country while exploring and learning new things about the islands. We treat Malta as if we have come for a holiday to explore its culture and beauty.
What makes our website unique
There are many websites about Malta, but we wanted to do something different. We dedicate time and research on every topic we write about to make sure that we give the best information to our visitors.
Our purpose for creating this website was to open up and spread all the knowledge we know about the islands to both Maltese and foreigners. 
We are very passionate in what we do. We dedicate time to visit and tour several historical and cultural locations, participate in manifestations, learn and take at first hand information to communicate it to our visitors on our website pages.
All the photos except for a few are all ours and all credited by us. 
Having found a very friendly software known as SiteSell, we were able to understand how to build this website more easily. We discuss a variety of details on which we build our pages together. Now we are on this journey together, building this site of love. We love sharing our knowledge to help travellers come to the islands. It is fun to help people who share your interest. Benjamin is very passionate about the Internet and all that is around it. As a young person he inspires me with many fresh and original ideas.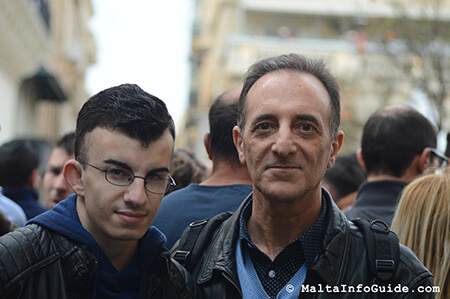 My family supports us all the way. It is our motto that we support each other in what we do. My wife and myself, with two children of whom we are very proud.

All the site photographs are original and not copyright-free images. They are not to be used unless you send us your request.
We do not have any connection with any other site related to Malta. The material on this site reflects our personal experiences and opinions.
So MaltaInfoGuide.com contains a wide spectrum of information that you require to help you plan your trip to these islands. New information is included on a regular basis and if there is something which you do not find please drop us a question, we will happy to send you our reply.
You can find:
History related pages, sightseeing information, ongoing activities.
We have lots of beaches both sandy and rocky where you can swim and sunbath more than six months during the year.
Essential information about the construction of Valletta.
Visit famous attraction around the islands like Azur Window, Blue Grotto, Blue Lagoon
Visit Malta's old capital city Mdina
Several unique tips you will find on these islands and what we suggest for you to try, food, locations...
We thank you for visiting Malta Info Guide. We hope it helped you get the information you wish to find and hope to visit us again to Malta! – come back soon!
We appreciate that you found the time to read this and hope it gave you some insight who we are and why we are doing this website.
Best of All,
Albert and Benjamin


If You Need To Contact Us?
Use the form below to keep in touch with us maybe you wish to know anything else. Fill it up and send it over. We will be happy to answer any questions you might have within 48 hours.