comino island malta

Visiting Comino Is One Of Malta's Top Attractions
Comino Island Malta, located between the two main island of the Maltese archipelago, is a swimming, snorkeling, diving, and hiking paradise. It is best known for its Blue Lagoon and its stunning blue waters, but Comino has so much more to offer.
Walk around the island, see St. Mary's Tower, swim at one of Comino's various beaches, and take in the tranquil scenery and sea views.
Located all over Comino, Kemmuna island is named after the lavish cumin plants (flowering plant). The island now serves as a wildlife sanctuary.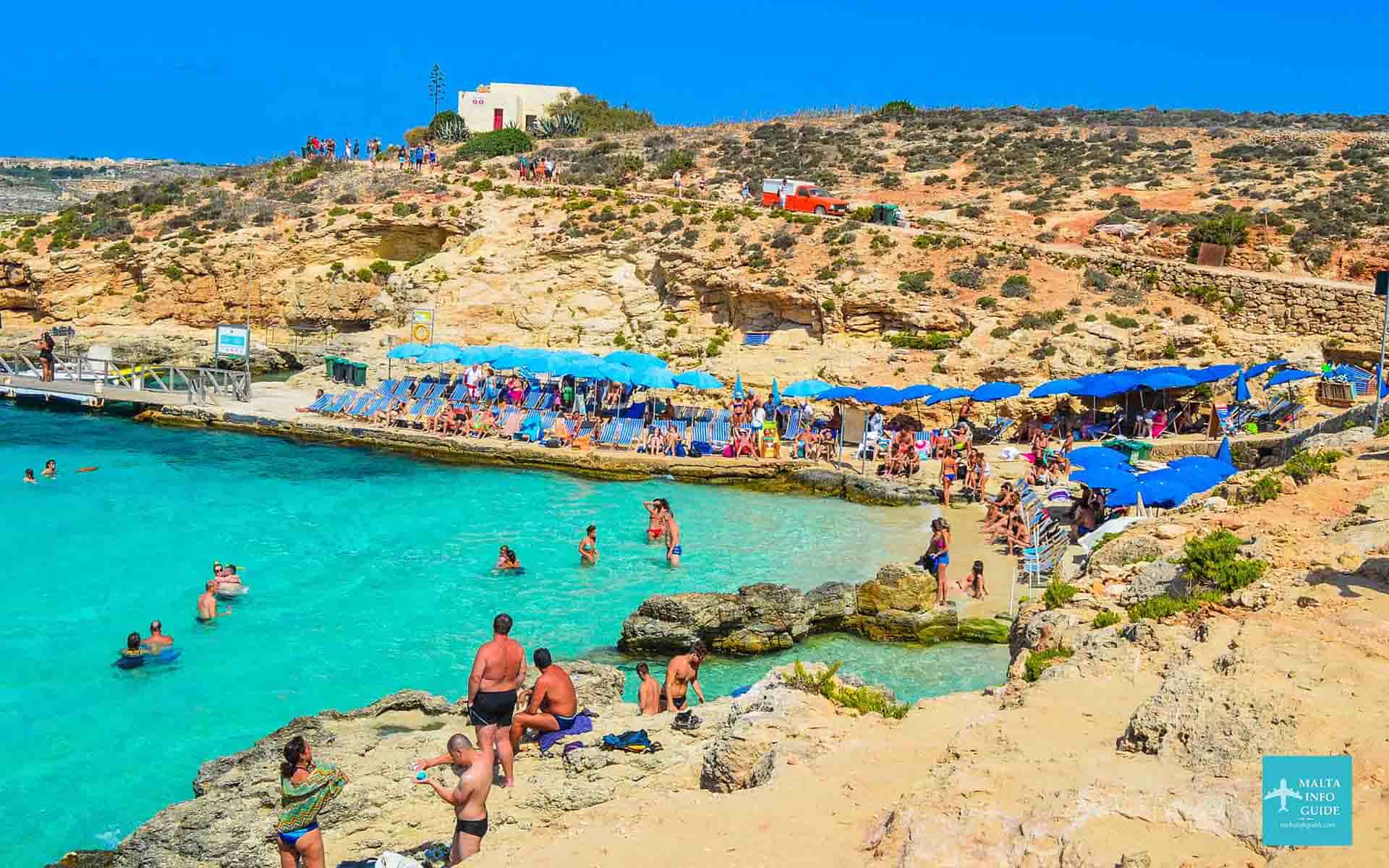 what to expect in this page
Facts About Comino Island Malta
Over 500,000 Instagram photos have been shared.
The place that attracts the most cruises all through the year.
The most popular spot is Blue Lagoon.
A popular destination for diving, snorkeling and swimming.
A car-free island with no roads.
Comino is the third largest island in the Maltese archipelago.
This island is a Natura 2000 site, which provides a high level of ecological protection.
How Big is Comino? The area measures 3.5 square kilometers (2.1 square miles).
Two people live on the island.

Comino is around 4 kilometers away from the island of Malta.
Kemmuna is the translated version of Comino in Maltese.
Many people try and visit Gozo and Comino in one visit. It all depends on your time and your priorities. We recommend visiting Gozo on a separate day as there is much to be appreciated. 

To spend a whole day especially during the high season, it is advisable to arrive with an early boat and not take a tour. Arriving early gives you an advantage as the sun will still be fairly mild and Blue Lagoon will not be crowded.

During the hot months the change is visible and the pulse of this tiny island quickens considerably with the scores of people crowding on its shores and swimming in the surrounding sea. Normally the island is visited for a day trip by tourists and many Maltese that love to come here during summer even with their private yachts and boats.

The island remains always the best gem in the archipelago.
Comino Island Malta Tours
A Handful Of Tours To The Island
There are plenty of Comino Blue Lagoon boat trips that go to the island on a daily basis.
comino and gozo boat trip
A joined boat trip to the island of Gozo and Comino on a beautiful wooden boat. Sail across the Mediterranean sea and see the island from a different perspective. This tour is operated by the Fernandes boats.

For the Italian version of the boat trip click here.
blue lagoon malta cruise
Want a full day at Comino while sailing on a beautiful catamaran? This is the perfect cruise for you. Spend a lovely day on the island of Comino and have the opportunity to sim in its crystal-clear waters.
For the Italian version of the boat trip click here.

underwater catamaran day tour
Sail to the island of Comino in a catamaran while glazing at the underwater species. A full day tour operated by the Sea Adventure Excursions is extremely worth it. See our full review as we also went on this tour and it was an unforgettable experience. You can also see our review in Italian.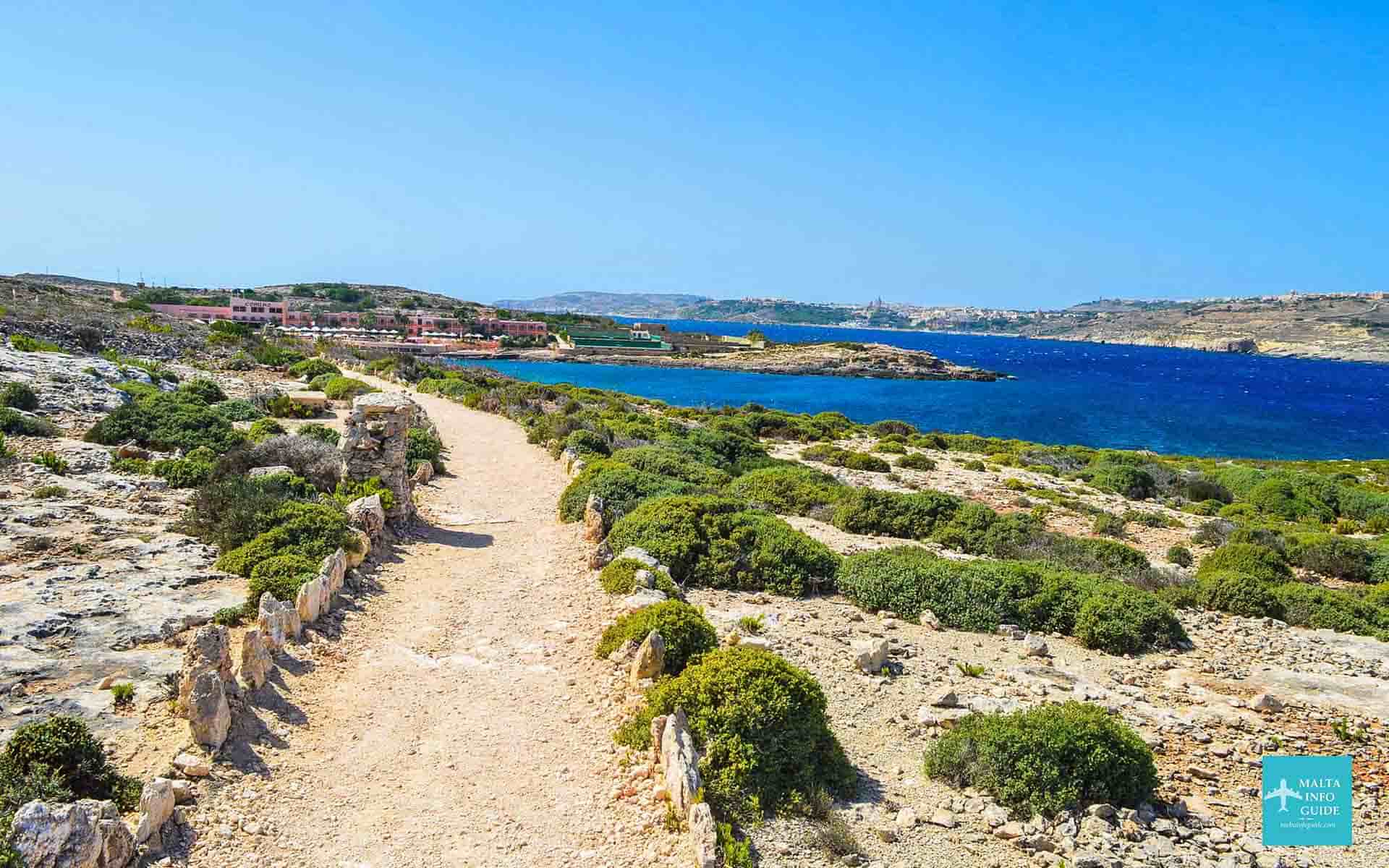 How To Get To Comino Island
The only way to visit the Comino island Malta is by sea. You can either take a day cruise from three different locations or by a 15 minute boat trip.
Do not confuse yourself with the Gozo Channel, as this only makes continuous trips between Malta and Gozo. It does not moor on the island of Comino as it can never do such trips as there are no facilities on the island for such big boats.

Below are different ways of how to get to Blue Lagoon Comino from a variety of locations. You can find the exact location of each departure point from the map below.
comino ferry from gozo
The only place to get a ferry to Comino, is from Mgarr Harbour ferry terminal which is located near the Gozo Channel. From here you will find the Ebsons Comino ferry, Bella Comino Ferry, Ozzi Cruises and the Comino Hop-On Hop-Off.
ferry from sliema to comino
Sliema is the most popular location for departures to Comino island. The departure point is from the Sliema Ferry promenade. The only ferry that departs from here is the Comino Hop-On Hop-Off. The rest of the departures are tours.
From here four main operators have their moorings: Captain Morgan Cruises, Hello Malta (Supreme Travel), Luzzu Cruises and Hera Cruises. Each one of them have a pier location along the Ferries promenade.
How To Get To Comino from Bugibba jetty
From Bugibba, the only ferry operator that has constant trips from Bugibba is the Comino Hop-On Hop-Off.
Apart from that, you can take one of the four cruise companies that operate from the Bugibba Jetty, namely Sea Adventure Excursions, Hornblower Cruises, Seahorse Cruises and Mermaid Cruises. The distance from here to the Malta Blue Lagoon is much shorter than from Sliema.
Sea Adventure translated pages: Italian, French, German, Spanish and Polish.
getting from valletta to comino
From Valletta, one does not find any cruises or sea transport to go to Comino. The best options are by taking a bus to Sliema Ferries or to Bugibba Jetty. The trip to Bugibba is much longer as there are several bus stops along the way.
How To Get To Comino from st. julian's
From St. Julian's there are no boat trips or cruises.
Tickets and embarkation for cruises can be bought in Sliema - either by walking for around 25 minutes, or by taking a bus that passes along the seafront promenade.
comino ferry from cirkewwa & marfa
Other boat trips to the island of Comino can be taken from Marfa (Opposite Labranda Riviera Hotel and Spa) and beside the Cirkewwa ferry terminal. The ferries that depart from here are the Ebsons Comino ferry and the Co-op ferry.
From these locations no tours depart to Comino.
Amenities On Comino Island
All the following facilities are at the Blue Lagoon central area.
Public Toilets. If you come with a day tour boat, they will have these facilities.

Showers.
Lifeguard and first aid services between 1st July to 30th September at the Blue Lagoon bay and Santa Marija Bay. Also included will be rescue vans with back-up lifeguards and a hydro-ambulance.

Deckchairs and umbrellas with limited number can be rented at the Blue Lagoon concrete area (pontoon area).

Lockers in multiple sizes to store your belongings. The prices range between €5 and €8 depending on the size of the locker.
Swimming zones - These designated restricted areas may be in place any time between Sunday 1st May 2022 and Friday 30th September 2022 designated by ropes which are kept afloat by coloured buoys.
Police Station: It is situated close to the Santa Maria bay.
what to bring and wear
Don't forget to pack your swimsuit, towel, and a change of clothes.
During the summer, bring sunscreen, sunglasses, and a hat to protect you from the sun.

This location is perfect for snorkeling.

Walking along the rocky shoreline of Comino will require comfortable tennis shoes.
If you feel seasick, bring motion-sickness pills.

Flip-flops are suitable for those who intend to swim, sunbathe, or take a shower.

Make the most of these photo opportunities with your camera or phone.
Laze around the Blue Lagoon on a 

floaty

.
Make sure you bring snacks and plenty of water.
Winter clothing and extra covering should be worn from November to April.
It is advisable to bring some first aid with you to Comino in the winter months because there are no facilities like in the summer months, such as lifeguards.
Food On The Island

Blue Lagoon vendors serve salads, burgers, fries, and even cocktails.

Many tours include a buffet which is served on the boat and is part of the package.
Restaurants are not available on the island.
Get a portable cooler if you're bringing your own food.
Is Comino Island Worth Visiting?
Why should we come here? Is it worth coming during our holiday in Malta?
'Yes', Comino Island is definitely worth a full day visit. This all depends on what your interests are and the time of year you will be visiting.
The main reason why you might want visiting Comino during the hottest months of the year is to swim at the Blue Lagoon and sunbathe under the intense sun and also to tick it off your bucket list.
the difference of comino in summer and winter
Summer Time in Comino
The island is a hot spot with it's peak season being between the months of June and August. People start swarming the island from early morning until mid-afternoon.
Since between the months of June and August, it will be the hottest time of the year, exploring the island in that scorching heat will be quite difficult.
winter time in comino
During this time the island will be much quieter and less crowded.
The sea will be colder and you must be aware of any undercurrents especially during the months of November until March.
Less boat tours will visit the island due to less demand.
Blue Lagoon Malta Beaches
blue lagoon malta
At the Blue Lagoon the sea is crystal clear, cyan water, with a brilliant white sandy base. This picturesque bay is a must see. It is a place very popular for day trippers to post photos on Instagram.
At the same time since it is heavily visited during the peak summer months, it tends to be very overcrowded during this time of year. There is a small sandy beach on each side of the Blue Lagoon.
Blue Lagoon will be very crowded during these months especially during July and August.

santa marija bay
Santa Marija Bay is small beautiful bay where you can sunbathe on the sand, stay under the trees for shade, swim or have a snack at the kiosk.
There is not much that you can do but you can walk up to the Santa Maria tower which will take you around 35 minutes, then the barracks, walk along the seashore cliffs, walking to the hotel on the other side of the island.
st. nicholas bay
St. Nicholas Bay is adjacent to the Comino hotel a fairly large inlet where at far inside there are two small bays. Crystal clear beautiful water which goes from very shallow sand to deep sea ideal for snorkelling. In summer this area is reserved for the hotel facilities with sunbeds and umbrellas for visitors.
Points Of Interest On Comino
There is not much what to do or what to see on the island apart from walking around and see the few sites along the island. Comino is pretty much nearly inhabited so you will not find any commercial shops.
santa maria tower
One can wander around and visit the Santa Maria Tower which is 35 minutes on foot from the Blue Lagoon.
The tower is located on a high vintage point purposely built by the Knights of St. John in 1618 for defence and to provide communication between the Cittadella Gozo and Mdina.
Today it is restored and can be visited on Wednesdays, Fridays, Saturdays and Sundays April to October. Opening hours 10:30 to 15:00 subject that the flag is flying and this will indicate that it is open for visitors.
The most historical location which will make you spark is the historical tower. You can go up on the roof for the great view and photos as memory of your visit.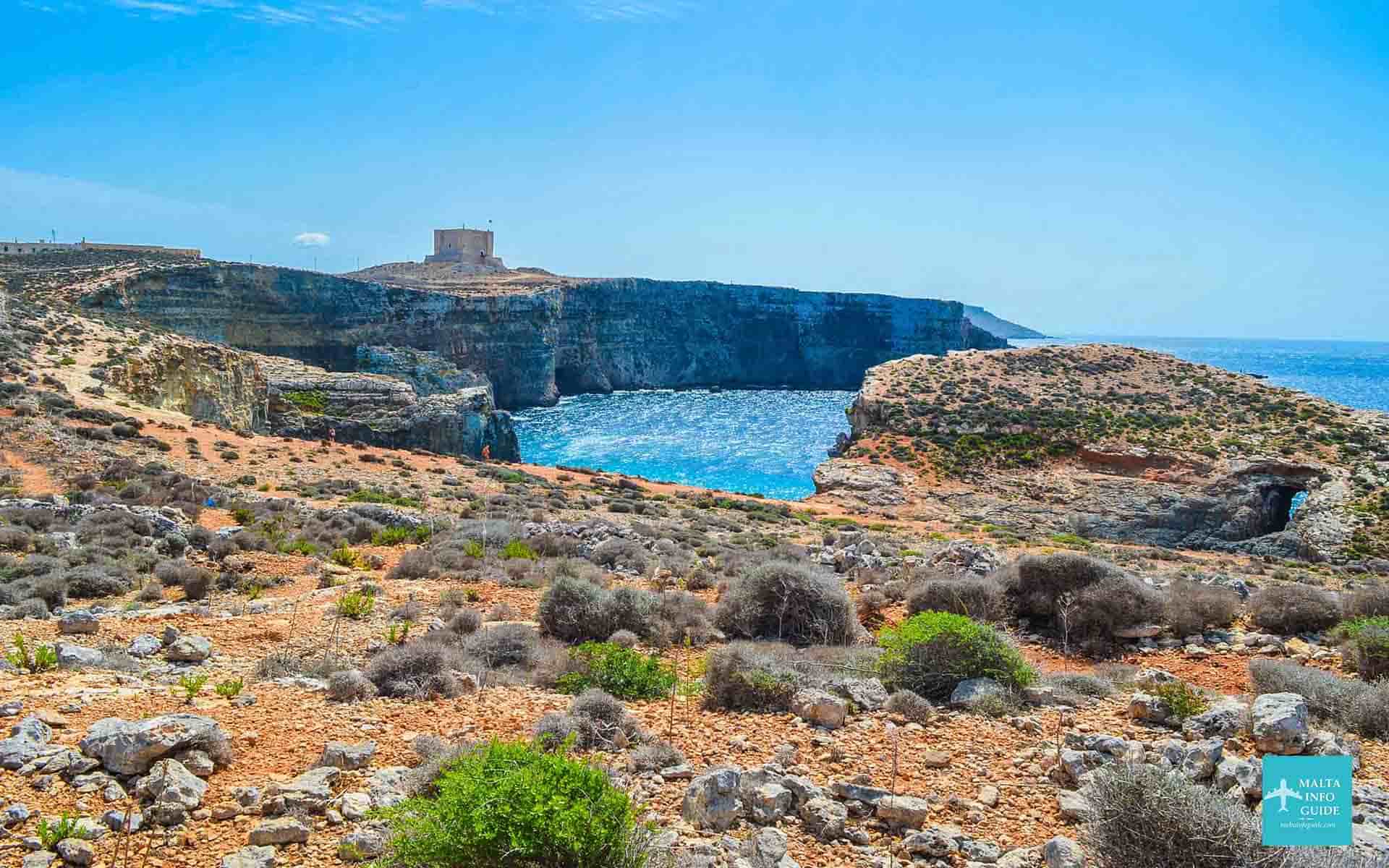 santa maria batteries
Saint Mary's Battery is located on the far end side to protect the south Comino channel between Malta and Comino. Built by the Knights of St. John between 1715 to 1716 as an artillery battery as part of the coastal fortifications. These coastal batteries keep enemy ship crews from disembarking.
Today it is restored and is open to the public all year round. It is a long walk for those wish to visit especially during summer due to the intensive heat and lack of shade.
st. mary's chapel
The small chapel is dedicated to the Return of the Holy Family from Egypt. It is located adjacent to Santa Maria Bay. It used to serve the local community but today it is still used for Sunday mass. It is a small chapel. It was built in 1618 during the same time when the tower was built.
Comino Barracks

Comino Barracks are located just north of Santa Maria Tower. They were built by the Knights of St. John sometime after the tower in 1618. During emergencies the garrison manning the tower counted up to 60 soldiers. The barracks located in such an isolated area, were subsequently used by the British as an isolation hospital. Later on also during WWI and WWII.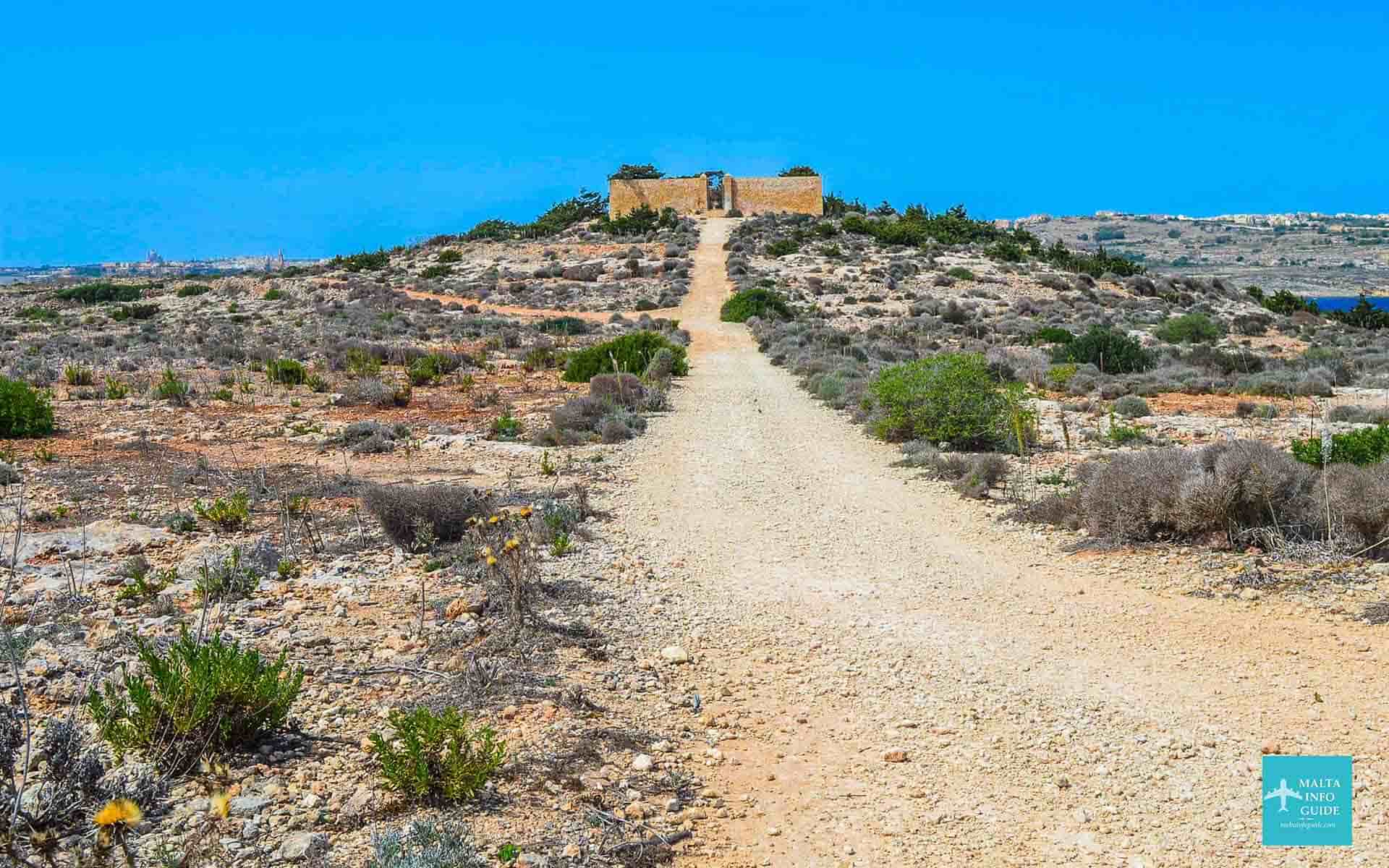 Cominotto Island

Cominotto is sometimes also referred to as Cominetto. Also in Maltese as Kemmunett. This little island is totally uninhabited and is very easily accessible by swimming over the very short distance from the shore of Comino to Cominotto sandy beach which is very small and the ideal location to land on this little island. 
diving in comino
If you love diving dedicate time to explore the exciting underwater world. Several Comino underwater dives are available especially the Santa Maria caves , Lantern Point, and Alex's Cave and the only wreck on the island the P31 patrol boat originally named Pasewalk built in Germany. One can see the rich marine life in the area in several caves hidden below the sea floor. 
snorkeling in comino
The island offers many beautiful locations besides the Blue Lagoon, where snorkeling is a worthwhile experience. If you wish to snorkel, make sure you bring your own goggles and snorkel with you when you go on your day trip to Malta. You can also take a guided snorkeling tour.
hike around the island
If you love trekking, during the winter months, Comino is considered as one of the places to hike. Roaming around Comino is considered as the best hiking trails.
If you wish to explore the island, it will be tough with high temperatures. To do so you have to be organized with water, hats, sunblock, and sunglasses. Even if you do not intend exploring around, do take what has been suggested. A mobile is always handy for photos but especially for safety reasons as you will be walking around in a new environment. Waling on the rugged landscape surely requires a closed shoes not a flipflop.

Camping on the island of comino
On the island you can find Tal-Ful Camping Site where you can set up tents and stay for the night on Comino.
Before planning and setting you camp, there are certain regulations you must obey. These laws are very specific, including noise decibel limits, a curfew for lights and electric power, and even a limit for the size of the groundsheet beneath your tent.
See the full list of rules here which were released in June 2022.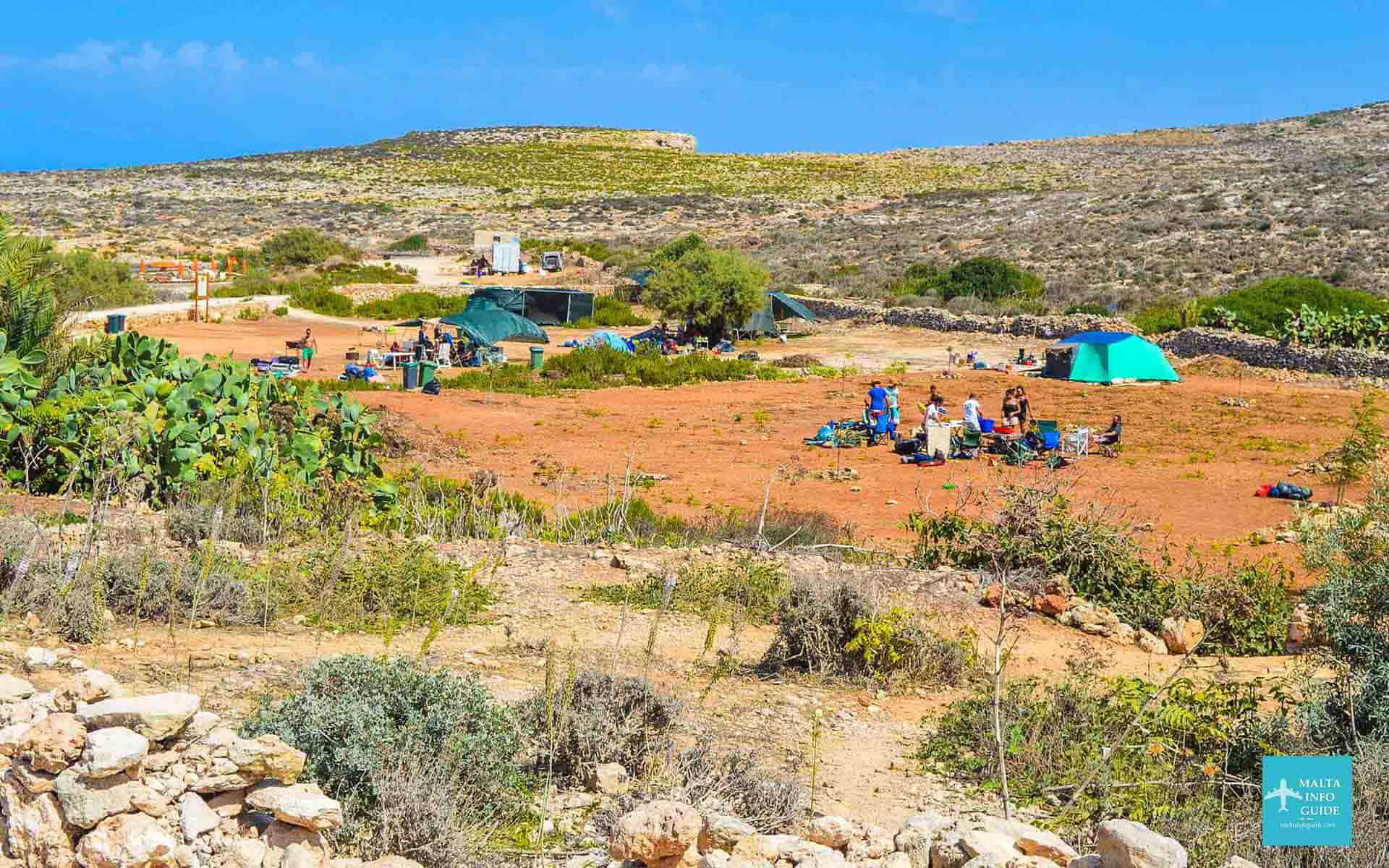 map of comino island malta
Underneath, you'll find a customized map with all the sites in Comino Island that you might like to visit. Simply open this page on your phone and tap the frame in the top right corner of the map. The Google Maps app will launch, and you can view all of the details. We hope you can find this useful.

Comino Hotel

The Comino Hotel is currently closed as another infrastructure is being developed.
The hotel and bungalows where both located on the other side of the island at St. Nicholas and St. Mary's bays.
History Of The Island Of Comino
Before being named Kemmuna, it was formerly called Ephaestia in Ancient Greek.
For many centuries, Comino Island Malta remained uninhabited as people were probably afraid to live here due to the frequent attacks and hostile landings from pirates, smugglers. It was also used as a base being in the centre of the Mediterranean Sea.
Malta and Gozo has great evidence of Neolithic (around 5000-4100BC) and Bronze Age times (around 2500-700BC) but Comino has nothing of this era.
We know for sure that it was inhabited by farmers since the Romans ruled the Maltese islands (218 BC-450AD)

The Knights of St. John went at great length to build proper defences to protect this island, serve as a deterrent for landings and attacks on Malta and Gozo but also for communications purposes between the islands.

During the French occupation of Malta from 1798 to 1800, it served as a quarantine and isolation hospital. It was also as a prison for those accused waiting for the verdict.
After WWII, Comino remained a backwater until its fortunes revived with tourism in the mid-1960s.
want to rent a car in malta?
We have used Discover Cars every time we rented a car. We highly recommend them due to their good service and good prices.
Get The Best Rates On Your Car Rental Now!
need to book a hotel for your malta visit?
Using Booking.com, enter your travel dates and number of occupants then rates will be available for hotels and apartments during your visit to Malta 
Book Your Hotel In Malta on Booking.com for the Best Rates!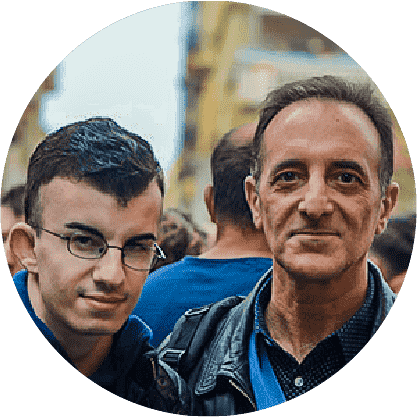 By Albert and Benjamin Magro