best Comino Malta Cruises
Find A Selection Of The Best Comino Boat Trips
Comino Malta Cruises offers a variety of boat trips to the island of Comino. Together with these boat trips you get to visit and also swim at the famous Blue Lagoon.
We bring you the best full-day tours and enjoy a day of swimming, sunbathing, snorkeling and much more.
Disclaimer: On our website you will find affiliate links from which we make a small commission.

St Paul's Bay: Blue Lagoon, Beaches & Bays Trip by Catamaran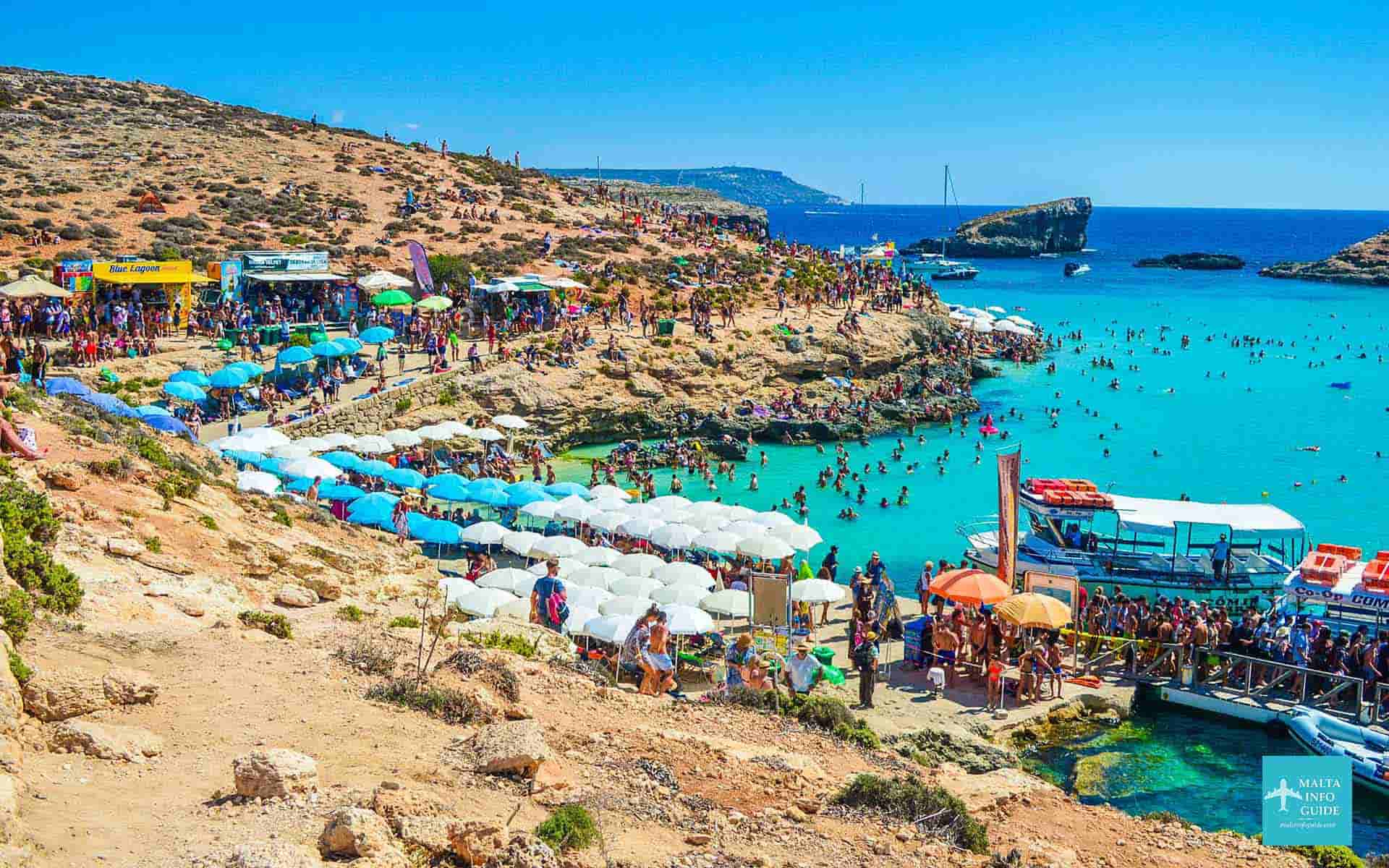 Set sail on a lively boat excursion along the coast in a new sailing catamaran. Swim in crystal clean waters, listen to music, and also enjoy an optional Barbeque.

The tour sets off from the Bugibba Jetty and heads to the Blue Lagoon. The boat will drop its anchor a bit further away from the crowd to experience the turquoise waters in a non-crowded area. Whilst the boat is anchored you can enjoy the cooked BBQ food (an optional extra).
If the weather permits, after Blue Lagoon the boats sets sail to the Crystal Lagoon where you can swim and snorkel around the steep cliffs, then head to some of Malta's most amazing beaches such as Golden Bay, Riviera Martinique and Gnejna Bay. As an extra stop, you could visit Popeye village which is overlooking Anchor bay.
The tour is set to last between 5 to 6 hours. This tour has a two tour selections, one of the is the Blue Lagoon and Beaches Day tour and the other is the Sunset cruise tour. When booking, you must specify which one you want to go to.
Comino Cruise Tour Details

Adults: €35
Children aged 11 and younger are not permitted.
Gozo by bus & comino by boat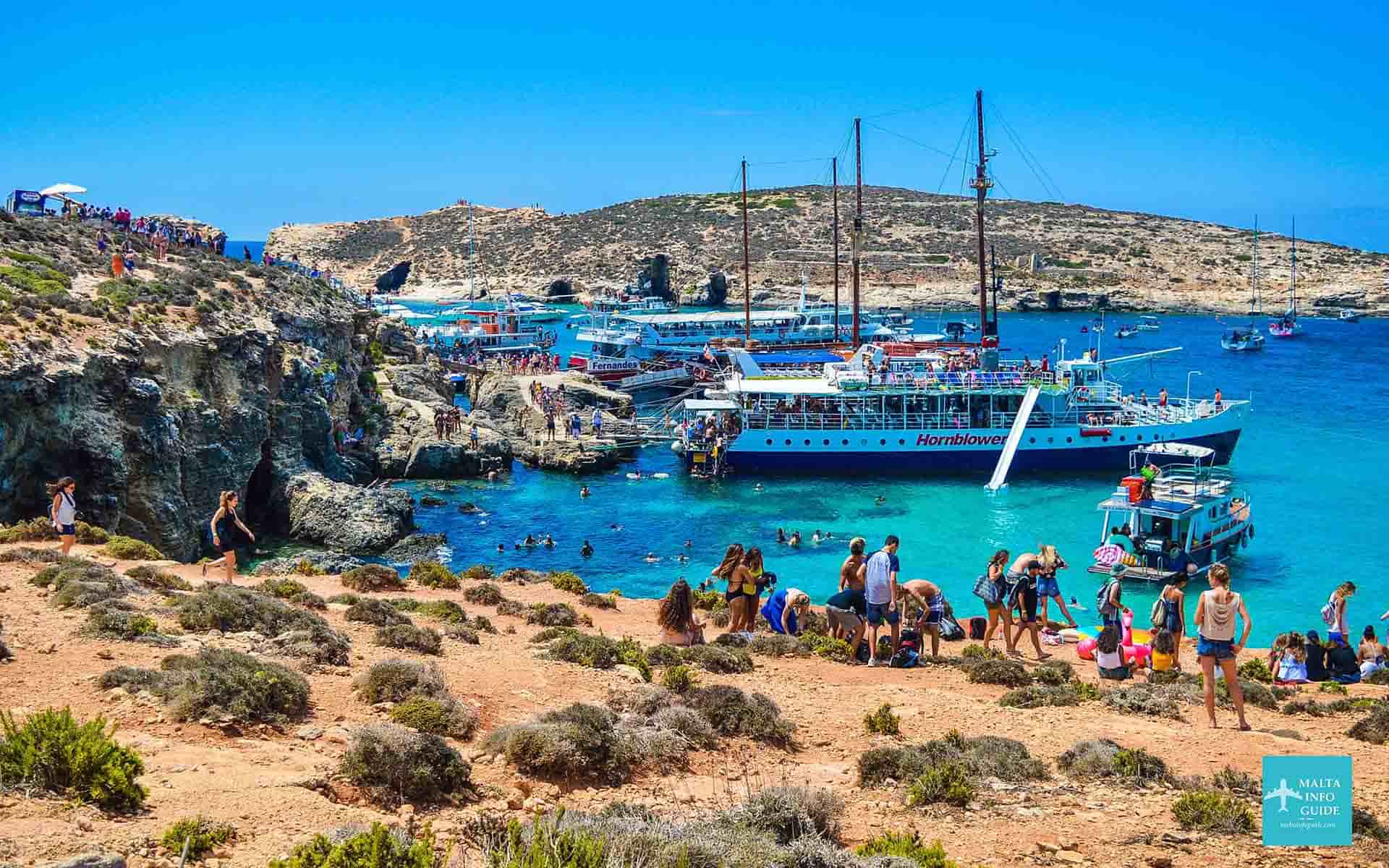 The tour starts by setting off from Sliema Creek and heading north to the island of Gozo. On arrival to the Mgarr Harbour, our official agent will meet and take you on a trip around Gozo. The tour round Gozo consists of boarding a Gozo Sightseeing Bus and spending 1 hour and 15 minutes seeing the highlights of the island.

Several highlights include Gozo's capital city Victoria, the medieval city of Cittadella in the heart of Victoria, Qala Belveder a location where you can capture a beautiful view of all the islands.
After finishing your trip around Gozo, you will head off to the island of Comino. The Blue Lagoon is the perfect place to sunbathe and swim, as well as explore the island on foot. When your tour concludes, you'll leave Comino and head north-east to Sliema.
Gozo By Bus & Comino By Boat Details
Gozo, Comino, Blue Lagoon, & Sea Caves: Full-Day Sightseeing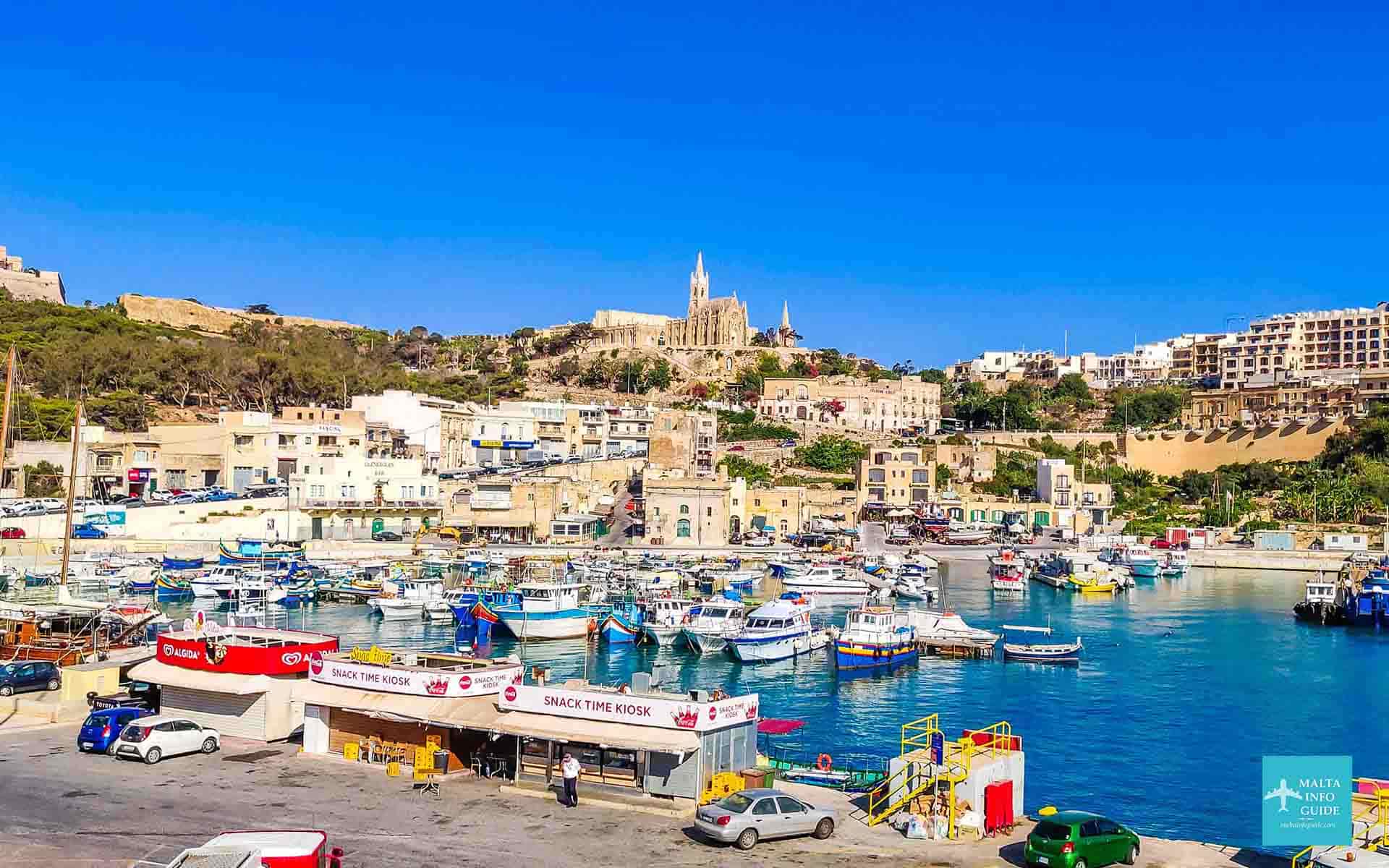 On this full-day boat cruise from Bugibba, you will visit Malta's two smaller islands, Gozo and Comino. The Crystal and Blue lagoons, with beautiful turquoise seas, are reached by cruising along the rocky shoreline.
The cruise sets sail from Bugibba and cruises along the coast to see Malta's spectacular naturally created coastline, which includes massive cliffs, rocky nooks, and crannies. While cruising you will also get the opportunity to visit stunning sea caves, which will allow you to capture incredible images.
During high season only, the boat will stop and visit the Crystal Lagoon (high season only), a hidden gem that few people are aware of. Witness the incredible clarity of the water, ideal for swimming, snorkeling, and diving.
From there you will head to the Blue Lagoon where it will still be early to avoid the crowds. Enjoy being anchored right next to it for an hour with a great view from the docking point.
Later you will set sail to Gozo Island for a three hour tour. Make your own arrangements or pay a nominal fee to hire land transportation from a local partner. With the time you have on the island you can choose to visit one of two places, wither Rabat (Victoria) which is Gozo's capital city or the fishing village of Xlendi.
As the day draws to a close, you'll cruise back to Bugibba, stopping to see the Santa Maria pirate caves and see the "Elephants Head," an incredible rock creation.

Comino, Blue Lagoon & Caves Boat Cruise Details
Adult (11+): €25
Children (Aged 5 - 10): €20
Infants (Aged 2 - 4): €0 
comino and the blue lagoon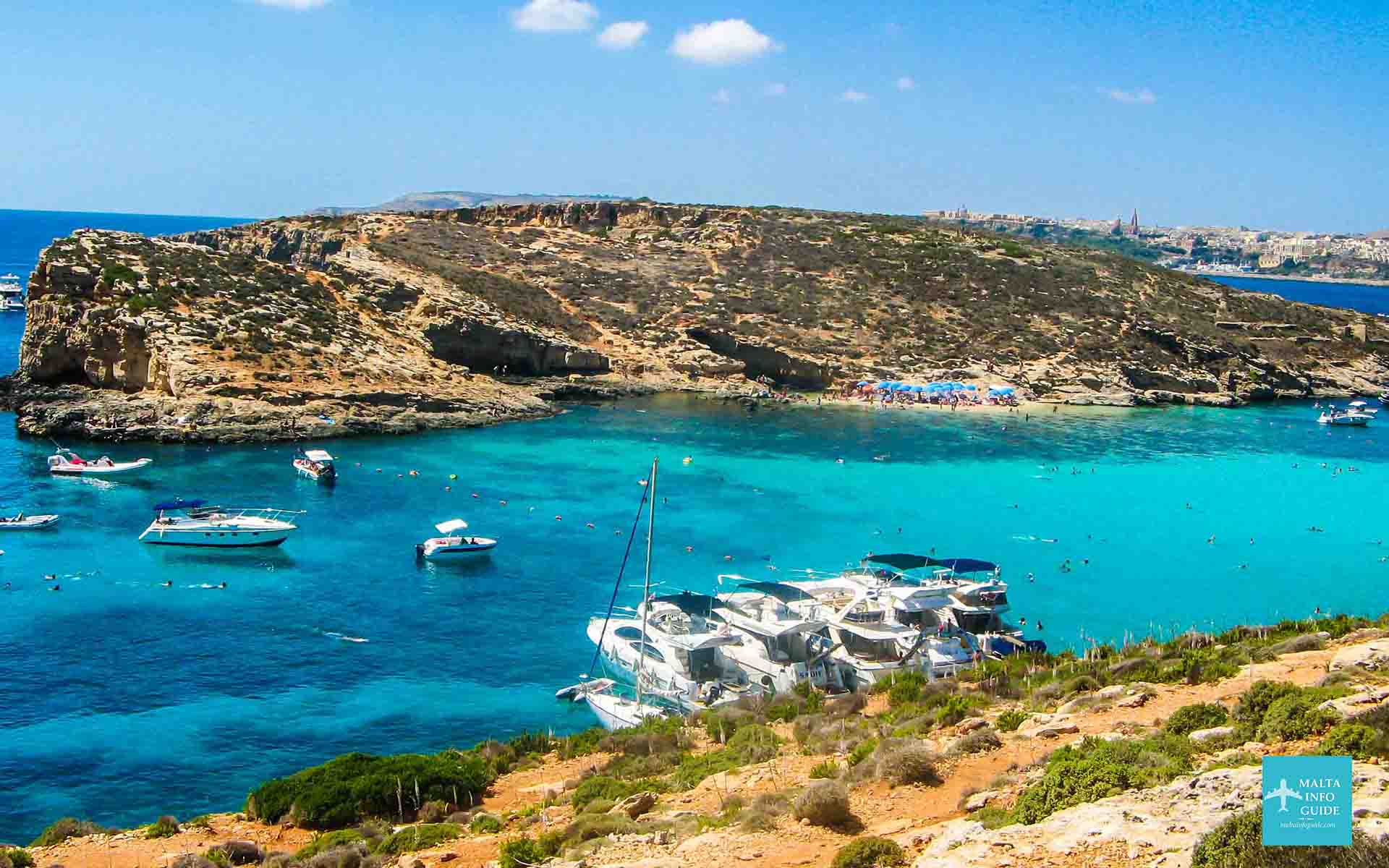 This cruise is specifically organized to allow you to spend as much time as possible in Comino, allowing you to enjoy the amazing crystal blue waters of the enchanting Blue Lagoon.

The tour departs from Sliema and heads up straight to Comino passing by St. Julian's, Salina Bay, the Island where St. Paul was shipwrecked in 60 A.D., Mellieha Bay, and finally arrives at Blue Lagoon.
Once you arrive, you have the rest of the day sunbathing, swimming off the boat, or walking ashore to a little white sand beach at one's leisure. The Stewards provide a snack (additional charge). We depart from the Blue Lagoon Malta at roughly 5.00 p.m. and return to Sliema Marina at 6.30 p.m during summer.
Comino And The Blue Lagoon Details
Adult: €19
Children (under 12): €14 
Transfer (additional cost): €6
Snack (additional cost): €5
Malta: Comino, Blue Lagoon & Caves Boat Cruise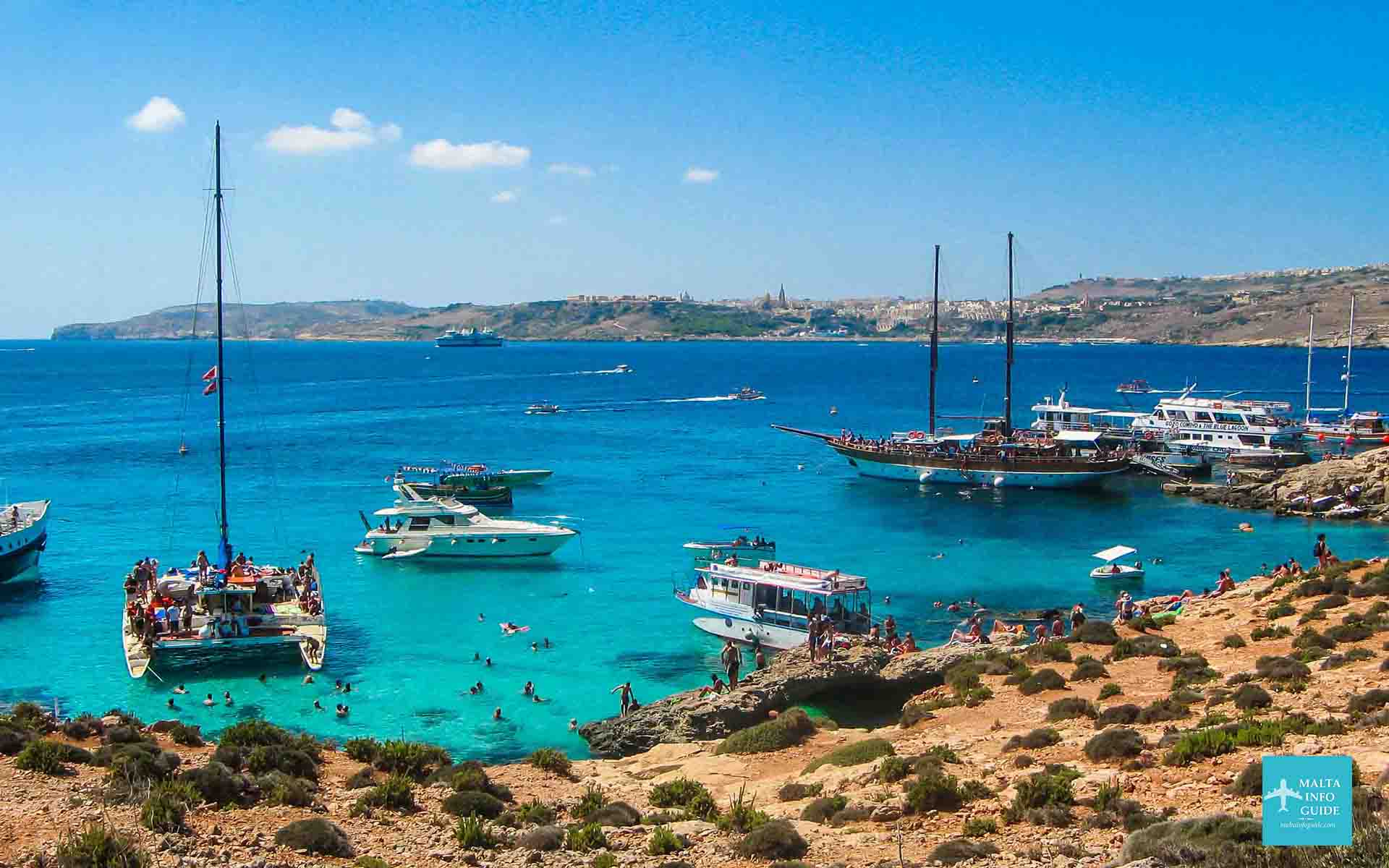 Set sail for Comino Island and the spectacular Blue Lagoon aboard a family-run boat with Kevin and his crew. Explore the stunning crystal clear waters by swimming, snorkeling, sunbathing, and exploring them. Along the trip, see historical landmarks, caverns, and sites.

The one hour journey starts by cruising up the northern shore from the Bugibba Jetty. While cruising you will pass by St. Paul's Islands and the St. Paul's monument, as well as Ahrax Point, the elephant's head, Santa Maria Bay, St. Nicholas Bay, and the Comino hotel.
En-route to Comino, Kevin and his father, Captain Joe, will provide you with information about Malta.
The boat will moor and you will have a 4.5-hour stay. While at Blue Lagoon feel free to enjoy all of the boat's amenities or get off and explore the island during this time. Relax on the upper deck and sunbathe, or seek cover on the main deck.
At the end of your stay at Comino, the captain will pilot the boat to the island of Gozo. The captain will cruise around Mgarr Harbour and observe other sights. Later on he will cruise down back to Malta passing by Crystal Lagoon and its caves.
Comino, Blue Lagoon & Caves Boat Cruise Details
Adult (13+): €25
Children (under 6 - 12): €15
Infants (under 6): €0 
Full-Day Cruise to Comino & Blue Lagoon with Food & Drinks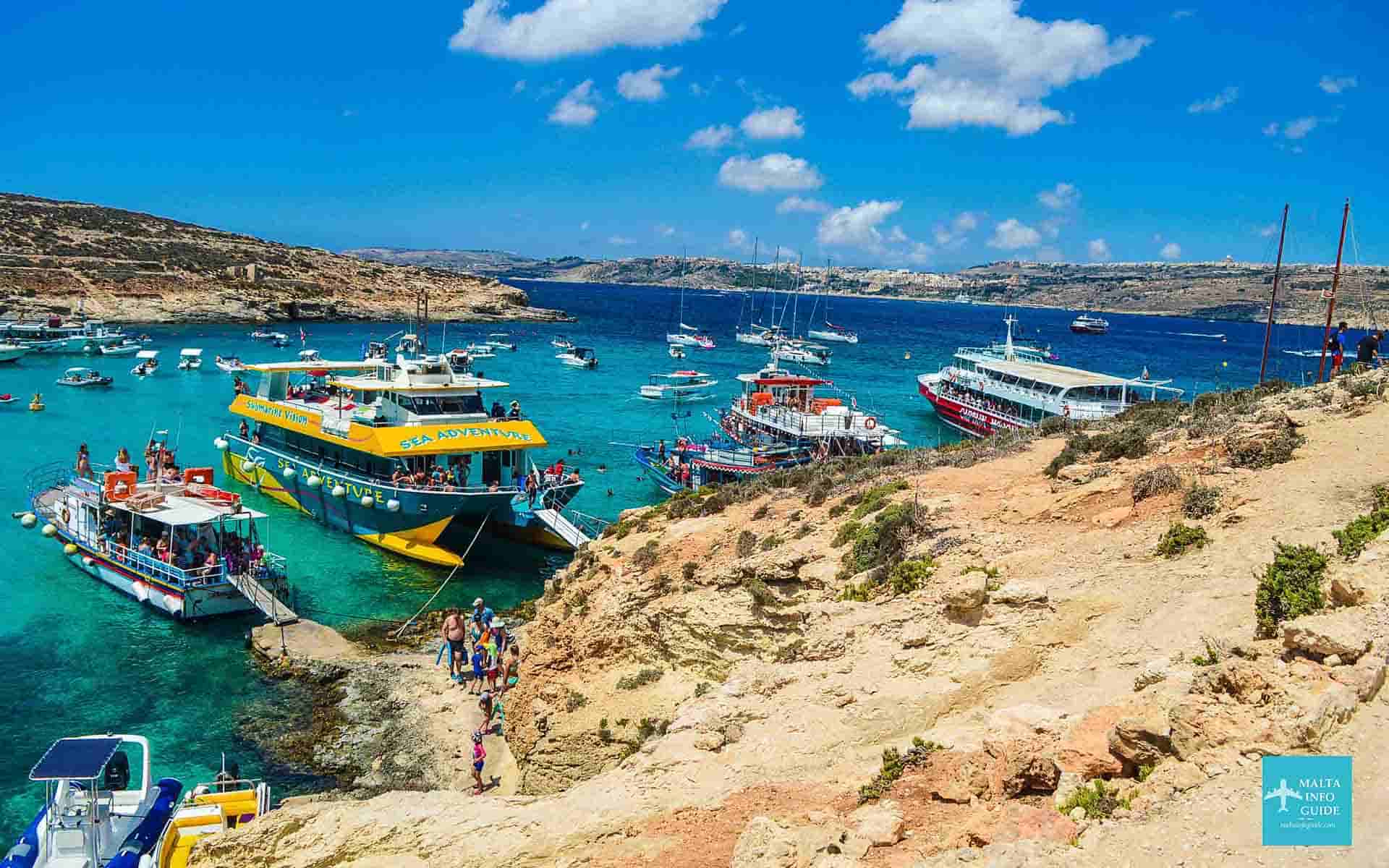 Spend an entire day at the stunning Blue Lagoon of Malta. Enjoy swimming, snorkeling, or simply taking in the breathtaking splendor of this natural marine sanctuary. We provide all of the necessary transportation and other services so that you may spend a day in paradise.

This tour is aimed for visitors who wish to spend nearly a whole day swimming and snorkeling at Blue Lagoon. Snacks, refreshments, and air conditioning are offered aboard the boat, where you may even sunbathe on the top deck when you wish to relax.
The tour starts at 10:30am from the Sliema ferry pier and returns at 05:30pm, giving you seven hours of enjoying the sun and sea. If you need any extra equipment, they are available onboard the boat.
Full-Day Cruise To Comino Details:
Adult (13+): €30
Children (under 6 - 12): €22
Infants (under 6): €0 
ferry to comino from malta
There are mainly three cruise locations with Sliema waterfront, being the most popular, followed by Bugibba and Mellieha.
If you want to take a quick ferry trip to Comino, you can do so by seeing the ferry to Comino boat trips.
The various ferries depart from Malta at Marfa and Cirkewwa and from Mgarr harbour in Gozo. The ferry trip can take between 10 to 15 minutes.
weather - pros and cons
In summer all cruises are available but the Blue Lagoon is crammed with visitors.
Lean periods between May and June are the best time to take advantage of a cruise. Although the sea is still cold in May, with June being somewhat warmer, however the air temperature is already warm.
With less visitors you will be able to enjoy a more tranquil stay. This is certainly the case during late September and October when visitors are less numerous than May and June.
Cruises are organised depending on the weather conditions. In early mid September, or also later on, it is very common to have some bad weather by way of wind and rain although this tends to be very short lived.
Once the storm passes, the weather turns summery again to late October. By this time the sea temperature starts to becoming more fresh although it is still pleasant to sunbathe.

Comino Malta cruises is another opportunity to explore the beauties of the Maltese archipelago.
want to rent a car in malta?
We have used Discover Cars every time we rented a car. We highly recommend them due to their good service and good prices.
Get The Best Rates On Your Car Rental Now!
need to book a hotel for your malta visit?
Using Booking.com, enter your travel dates and number of occupants then rates will be available for hotels and apartments during your visit to Malta 
Book Your Hotel In Malta on Booking.com for the Best Rates!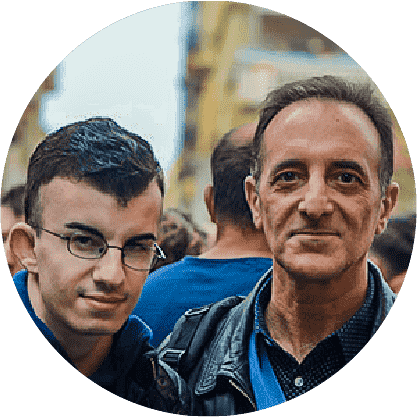 By Albert and Benjamin Magro