Game of Thrones malta Tour
Are you a Game Of Thrones fan?
A 
Throne-tastic

tour not to be missed!


Date Uploaded: 30th September 2019 | Date Updated: 12th May 2020


One of the most talked series is the 'Game of Thrones' where you can enjoy a full day at Malta's filming locations.


Find out how to get and visit the secret places by joining this tour designed and conducted by two actors who participated in the filming of season 1 during July 2010. Listen to their gossip and trivia that will help you remember this tour for long.

You will step back in time to several hundred years to see the locations used for the series built since the Bronze age up to the time of the Knights of Malta which were the medieval old capital of Mdina, Fort Ricasoli, Fort Manoel. An 300 year old convent in Rabat built by the Dominicans.
Due To The Current Situation You Can Reserve Your Booking And Pay Later
What You Need To Know About The Game of thrones malta tour
All movie images copyrighted by HBO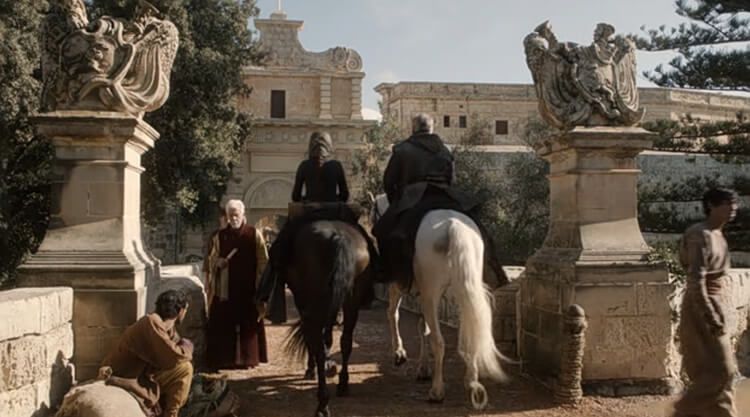 Click here to buy tickets
Game of thrones tour Malta reviews
A fantasy series which has kept you glued to the screen so will this tour, rated 5 star from the great majority of those who have left reviews.
Fantastic Tour!
"Malcom, our tour guide, was the best! If you have seen Game of Thrones you will love this tour. Malcom worked on the set, and shared his photos and experiences with us. If you haven't seen Game of Thrones, which one of our party had not, you will still love this tour! Malcom was full of information on local history, and on other movies filmed in Malta. Our friend who had never seen GOT proclaimed this the "best tour he had ever been on." A wonderful way to see Malta"
5 Star review
Not just for GOT fans!

"Malcolm made this a great day out! Everything went smoothly, pick ups on time etc. He gave us lots of information about GOT, general filming in Malta and some history of the area. He was funny and entertaining. He booked tables for us for lunch, it was great to have that all sorted and it was a good choice of restaurant. He had a portfolio of images of the show which was really important, it helped us to visualise everything. This was on our last day too, what a way to go out. I'd 100% recommend, thanks for a fab day Malcolm!"

5 Star review
The Game of Thrones Tour Guides
Game Of Thrones Malta Tour
who will be your guide?
The tour is written and led by two local actors who actually took part in Game of Thrones Season 1.
They have worked alongside game of thrones characters such as Sean Bean, Emilia Clarke, Lena Headey, Maisie Williams, Nikolaj Coster-Waldau, Jason Momoa, Sophie Turner, Peter Dinklage, Jack Gleeson and others.
They will share their experiences, emotions and the joys of being part of this set. They transmit those emotions when acting to help you enjoy the series when filmed in Malta in a different manner.
Game of Thrones in malta tour Actors

Join local actors who took part in Season One of HBO's hit series Game of Thrones as they unravel the secrets and adventures of your favorite characters including Arya Stark, Daenerys Targaryen, Joffrey Baratheon and Cersei Lannister.
Your host Lisa, on the set of The Sept of Baelor with Sean Bean.
Your host Malcolm, on the set of King's Landing.
Details About Game Of Thrones Malta Tour
The tour is only held on a Saturday.
Departure Time: 10:00
Arrival Time: 17:00 - 18:30
Duration: approximately 9 hours
Meeting Point: Independence Monument Floriana (Ignore this if you are getting picked up from your accommodation)
tour Prices

Adults (11-70): €68.20 / $

73.43

Children (3-10): €47 / $

50.84
Pick-up and Drop-off

When booking the tour you have to include your full address of your accommodation being a hotel, apartment or B&B.

The tour operator will come back to a pick up location and time.

For late bookings their might not be the possibility of a pick up.

When the tour finishes, the coach will r

eturn to its original departure point
Make sure to contact the operator ahead of the date to confirm the details of collection and time.
What is Included?
Transfers to and from your accommodation.
Transport to all location via an air-conditioned coach or minivan.
The tour is conducted by an local actor who took part in the local filming.
Taxes, fees and any charges are included.
What is excluded?
Lunch is not included. If you wish half way through the day there is a stop at a reasonably priced restaurant with a good view.
Gratuities
Film locations in Gozo as the tour only takes place on Malta island.
The tour only visits filming locations, no film studios are included.

Due To The Current Situation You Can Reserve Your Booking And Pay Later
tour itinerary
San Anton Gardens
Saint Domenic 's Convent, Rabat
Mdina Gate
Mesquita Square, Mdina
Mtahleb Cliffs
Popeye Village (Stop for photos)
game of thrones malta Tour locations map
How To Book The Tour
Game Of Thrones Malta Tour
Fir

stly 

select when you would like to attend this tour.

 Remember, this tour is 

only done on a Saturday

.

Secondly 

select the number of adults 

(€68.20/$73.43)

 

and/or

 children

 (€47/$50.84) which will be attending the tour.

Enter

 'maltainfoguide'

 

in the coupon box to get a 

5% discount




After you have selected the information, 

click book now.

The next step is to 

fill up a form with your necessary details.

Choose your 

payment method 

then 

click Confirm Booking.

Additional Information About The Tour
Game Of Thrones Malta Tour
It is recommended to read the following details in order to be informed before you proceed for your booking:

This tour is only carried out on a Saturday.
It is led by a Maltese guide conducted in English who is actually an actor in this series. If you would like a translator, you can ask for it at an extra charge.
The tour only visits some of the filming locations and no film studios are included.
The itinerary of the tour might change without notice subject to uncontrollable circumstances beyond the tour leader's jurisdiction.
Children must always be under their parents / guardians supervision for the complete duration of the tour.
Children under the age of three will not be allowed to attend for the benefit of all participants.
A child rate is applicable between the age of 3 to 10 subject that there are two paying adults.
Due to the frequent stops to the visiting locations, there are steps and rocky surfaces. It is advisable that persons with a wheelchairs are excluded from taking part in this tour. This is being said and advised for the benefit of all, before purchasing your tickets.
The Game of Thrones tours will take place even if it is raining and windy. 
Dress appropriately and bring with you extra cover. Do not forget that in summer it will be very hot and a sun screen is recommended apart from a hat.
Wear good walking shoes as you will be walking for most of the tour. Water is always recommended.

The tour takes place only in Malta. The location in Gozo where Game of Thrones was filmed is not included with this tour.
We recommend to book ahead of time as this tour is held every Saturday in order to be sure to find a slot for your holiday timing.
During the tour you will listen to behind-the-scenes stories and funny facts from local actors being your tour guide.
Game Of Thrones Filming Locations You Visit
Game Of Thrones Malta Tour
San Anton Palace - Garden of King's Landing

Appearances 

in:

 Season 01 Episode 03,05,07,08
The first scene of the series was filmed in these very gardens on the 8th June 2010 apart from other scenes which were filmed within the palace courtyard. They were the Gardens of Kings Landing, Red Keep Stables, Septa Mordane decapitation and the Tower of the Hand.
Another scene filmed here was where Ned Stark is informed that his long time friend Robert Baratheon played by Mark Ally that he had died following the hunting incident.
Today this palace is used as the residence of the president of the Republic of Malta where its original building dates back to 1623. It is surrounded with gardens part of which are open to the public.
Saint Dominic's Convent - Red Keep Courtyard

Appearances

 in:

 Season 01 Episode 07
Saint Dominic's convent is located in Rabat.
The priory garden was used as the Red Keep courtyard in episode seven, Ned Sark challenges Cersei about her incest with her brother Jaime and the true parentage of their children. Cersei's reply to Ned "When you play the game of thrones, you win or you die" comes her the prophetic response. This is the fourth most popular quote of Game of Thrones.
It is worth to note that in all throughout the eight seasons the phrase "Game of Thrones" was only mentioned once and at this filming location.
Saint Dominic's priory dates back to 1457 and is a ten minutes walk from Mdina. The central spacious courtyard, where the filming took place, is surrounded with an arched colonnade gives it an impressive look. The only location in the world where there are five sun dials.
Mdina Gate & Entrance – King's Landing

Appearances

 In:

 Season 01 Episode 03
The popular King's Gate has been filmed at the bridge crossing from Rabat to Mdina. From this gate you enter King's Landing. Then from inside the gate the scene of the welcoming of Roderick Cassel and Catelyn Stark.
The second shot is the conspiracy scene when Ned Stark sends out his wife Catelyn to help her sister Lysa Arryn to rally in the knights of the vale. The third one where Ned Stark and Catelyn hug and kiss for the last time before his premature beheading.
Mdina is a medieval walled city with narrow streets, palaces, museums and churches retains till today a charming atmosphere. It is one of the best attraction and most visited tourist location. It was the first capital of Malta until the arrival of the Knights of St. John in 1530.
One of the locations where this series was filmed. Click here to buy tour tickets (affiliate link)
Mesquita Square Mdina – Cobblers Square

Appearances

 In:

 Season 01 Episode 03
At this location, it is famous for the Little Finger's Brothel where the working ladies stood on the terrace. Ned Stark and Petyr Baelish exit to find the Lannister Army arriving. This is where the sword fight took place and were Petyr Baelish got killed and Ned Stark got injured.
Mtahleb Cliffs – Red Waste

Appearances

 In:

 Season 01 Episode 09,10
At Mtahleb cliffs overlooking the Mediterranean Sea. This is where Khar Drogo collapses and Daenerys and her 40,000 Dothraki army arrive and camp. (Season 01 Episode 09)
Here is the part known as the Red Waste. This is where Daenerys Stormborn built her funeral pyre and where Mirri Maz Duur was burnt alive.(Season 01 Episode 10)
Another scene where Sir Jorah tries to convince Daenerys not to walk into the fire. Game of Thrones was the first series to use this location for filming.
Tourists rarely visit Mtahleb cliffs. It is only visited by this tour. Although Malta is well developed you can still find secluded rural areas where life stood still forever. You can only find a few farmhouses or villas spread over a wide area. It is around four kilometres from Rabat and close by you find Dingli cliffs, a very popular destination for sunset photos.

Click here to find out more about Game of Thrones series and cast.
Get your Game of Thrones Malta Tour tickets now