the charming Gozo Island

The Island Full Of Peace And Quiet
Gozo island, also called 'Ghawdex' in Maltese, is the second largest island of the Maltese archipelago. Despite its close proximity and obvious links with Malta, the island bears many dissimilarities, making it rather unique.
What To Expect In this page
Disclaimer: On our website, you will find affiliate links from which we receive a small commission.
Gozo is fondly referred to as 'the island where time stood still' as one can still witness many habits and traditions from centuries ago which are still practiced by the locals to this very day.
The island is less densely populated, life is simpler, it is greener and less industrialized than Malta and has infrastructure. All this has helped Gozo to retain its natural beauty. It is worth a visit for at least a day during your holiday in Malta.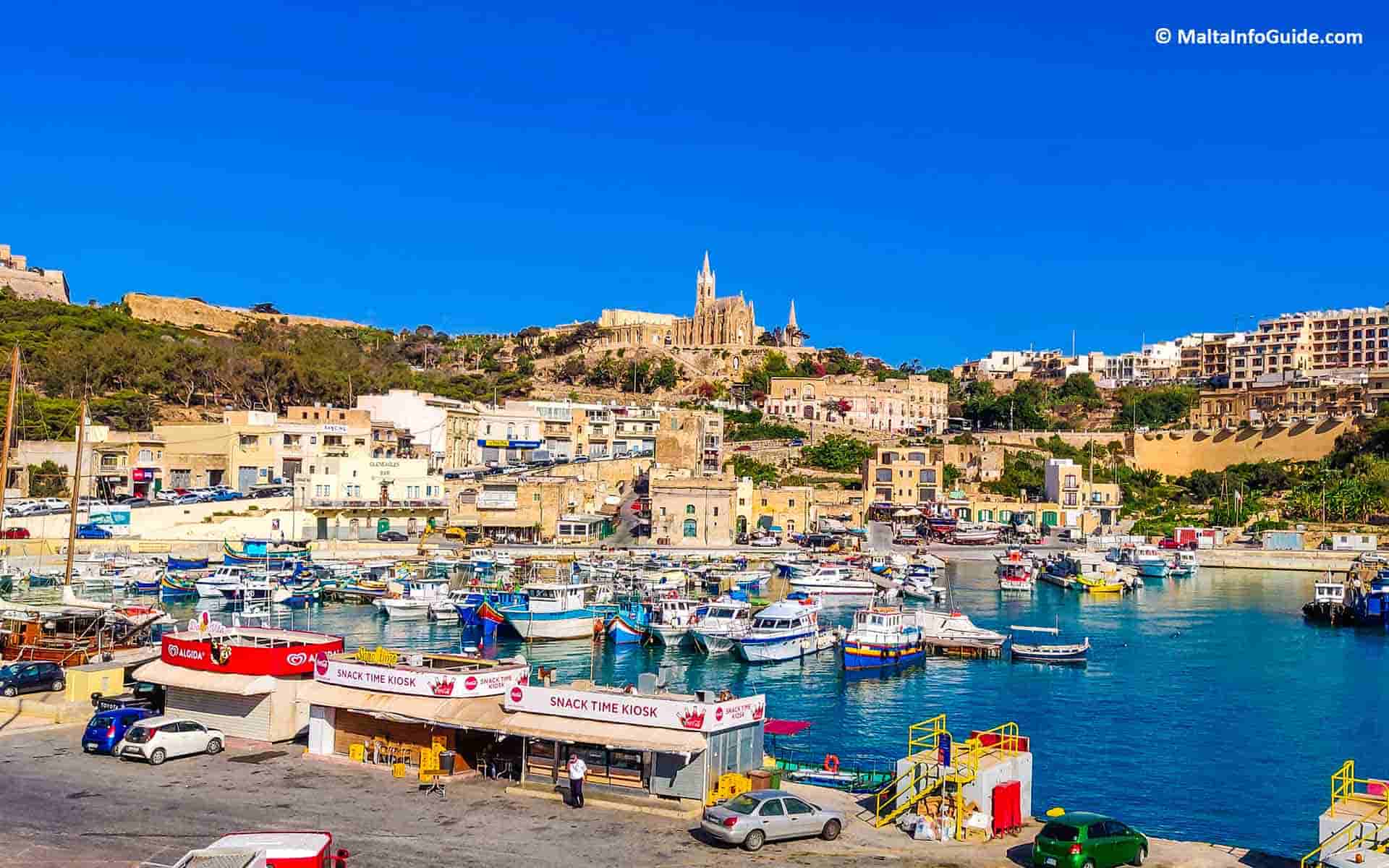 Facts About Gozo Island
The island is more rural and tranquil than Malta.
The Ggantija Megalithic temple complex are the oldest on the islands, a Unesco World Heritage Site and 5000 years old being older than the pyramids of Egypt.
Population: 32,723 as of 2017. 
46 Roman Catholic Churches on such a small island.
With an area of 67 square kilometres or 26 square miles. 
Diving magazine voted the diving sites as the best in the world for 2016 with clear water up to 30 meters visibility.
Gozo's beauty attracted the popular TV series Game of Thrones and the film 'By The Sea' by Angelina Jolie and Brad Pitt.
The Azur Window arch at Dwejra was popular all across the five continents although now it has crumbled in the sea on 8th March 2017.
The sanctuary of Ta' Pinu, near the village of Għarb is very popular with locals and Maltese.
Top 10 Things To Do In Your Visit
These are some of the best things to do in Gozo. Want more suggestions? Head to our other page for more what to do in Gozo.
1. Ggantija temples a World heritage site
Consisting of two temples, Ggantija is considered as one of the oldest temples in the world. They date back to between 3600 and 3200 BC a UNESCO World Heritage Site even older than Stonehenge UK and the Pyramids of Egypt.
2. The Cittadella on top of the hill
In the heart of Victoria the capital city of Gozo lies the Cittadella on top of the hill a fortress surrounded by fortifications visible from around the island. Step back in time to visit and enjoy the daily life of the capital.
3. The rotunda church at the Xewkija Village
The biggest Roman Catholic church on the island can fit its 3000 inhabitants within its interior. It is the third largest unsupported dome in Europe, behind St Peter's in Rome and St Paul's Cathedral.

4. The best sandy beach Ir-Ramla L-Hamra.
Ramla Bay is very attractive sandy beach with its natural orange-red colour a great contrast to the strong blue sea and surrounding rocky landscape. Get a great view from the Mixta cave a well known Instagram location.

5. Dwejra Bay, inland sea and the Azur window
The natural limestone arch the Azur Window at Dwejra was visited by everyone going to the island. Today it is not there any more. It crumbled into the deep sea on 8th March 2017. But today visitors still go to this beautiful area of Gozo due its natural features and beauty. Apart from the blue window, you can go to the Dwejra Tower and also see the Fungus Rock.

6. Architectural churches at all villages cores
Great imposing buildings attract visitors a great bonus to visit. Churches are a main feature on this island showing the great devotion of the locals. They domain the landscape by their heights, very richly decorated from the inside.

7. Get entertained at the carnival of Nadur
If you love to let loose join the flow. It is a great time to be here among the locals during carnival. Dress up in all sorts of costumes from macabre to funny mood with participants from all walks of life. A five day merriment including dances and defiles.

8. The basilica of the National Shrine of Ta' Pinu
It is dedicated to the Blessed Virgin. Great devotions surround the shrine with a continuous flow of locals. Located very close to the village of Gharb in open country side with beautiful views and time for peaceful time to yourself.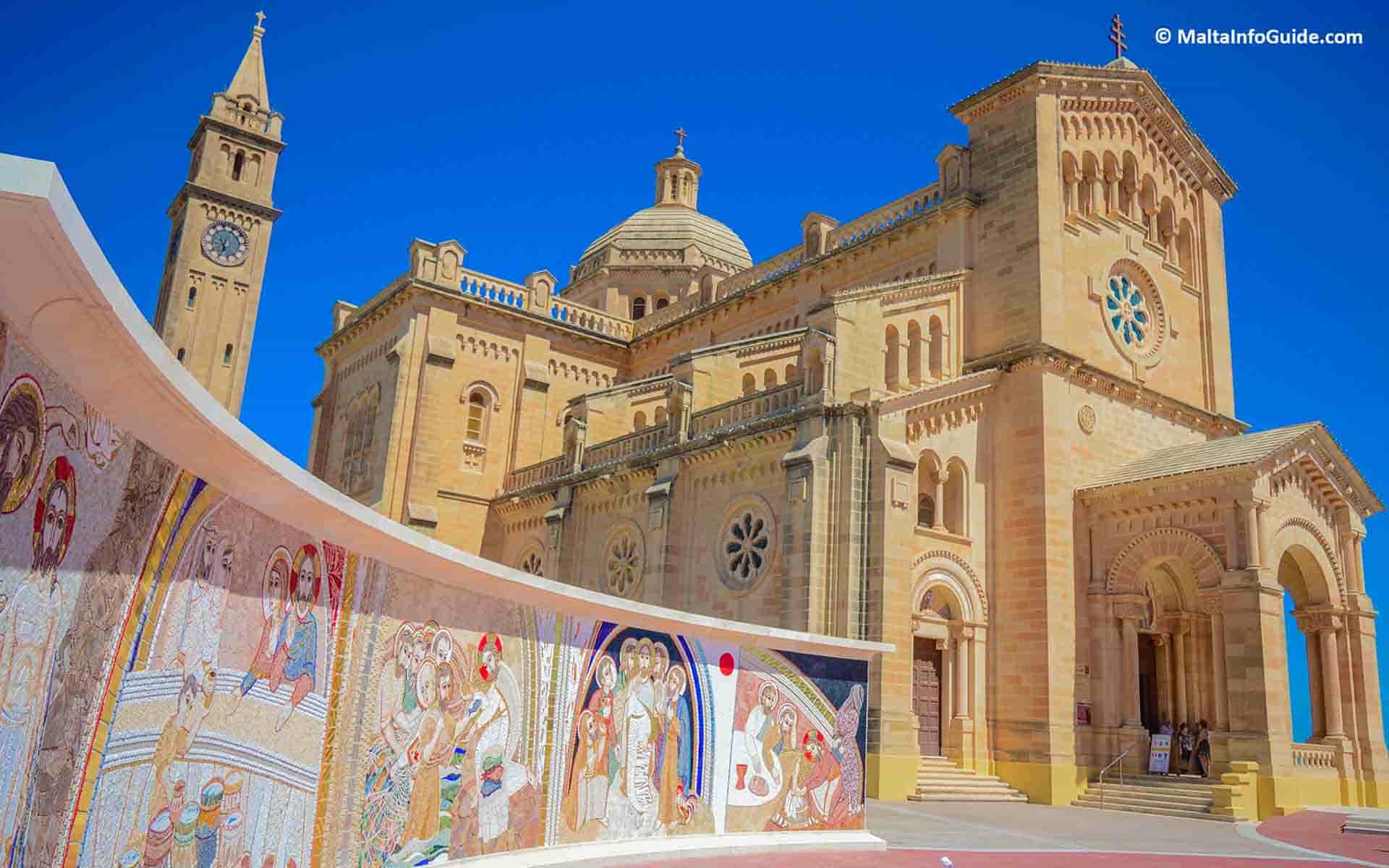 9. The Village Of Xlendi
Xlendi is a small seaside village on the south east side. Come here to dine, swim, enjoy beautiful scenery, great landscape and great food at the many restaurants that surround the seashore. Not least a great ice cream from Granola.

10. Ta' Cenc dramatic cliffs
Incredible views on the southern coast of the island with a long coastline of sharp cliffs dropping 120 metres down to sea level. Enjoy a great walk with very easy walking, stop for plenty of photos and stay away from the cliff edges.
Top Villages To Visit In Gozo
Marsalforn Gozo
Marsalforn is the most popular location as a summer resort on the island. Here you find hotels, apartments, restaurants, bars, diving and water sports. It comes very much to life especially during summer evenings everyone meets others for walks and meals by the sea shore.

Nadur Village Gozo
Nadur stands at the top of a long flat hill guarding the seas as it's name means keeping watch.
Form here the roads lead you to Dahlet Qorrot and Ramla L-Hamra. Nadur is most popular for its carnival and entertainment through the year attracting many.
Xewkija Village Gozo
With a small population this village is very popular for its incredible large church at the centre. Although lies at the main road to the capital it is very quiet. Many accommodation for renting, adjacent industrial estate and the football ground well attended during weekends.

Zebbug Village Gozo
The village name comes from the Maltese word of olives. The village stands on two adjoining hills with the best panoramic views of the countryside and the blue Mediterranean Sea. A very quiet village popular for accommodation and good food at great prices.

Places to stay in gozo
Finding the right accommodation for a few days in Gozo is not difficult, whether a cheap or a boutique hotel to apartments and the very popular farm houses spread across the island.
You can choose from splendid sea views to incredible landscapes especially during winter to quiet villages enjoying their tranquil life. 

Eating Out in Gozo and their food
Even the Maltese visit Gozo for great food. Gozo is well known for the crops and poultry that it produces. Great seafood from its own shores.
Plenty of restaurants to decide on. Village places with tasty food to first class restaurants.

Beaches in gozo
There is no secret that Gozo offers some of the best beaches for those who love to laze and relax for many hours under the hot sun.
Temperatures average between 23°C and 27°C from June to September but still before and after these months you can swim. On this island paradise with many coastal scenery with rocky or sandy braces to choose from.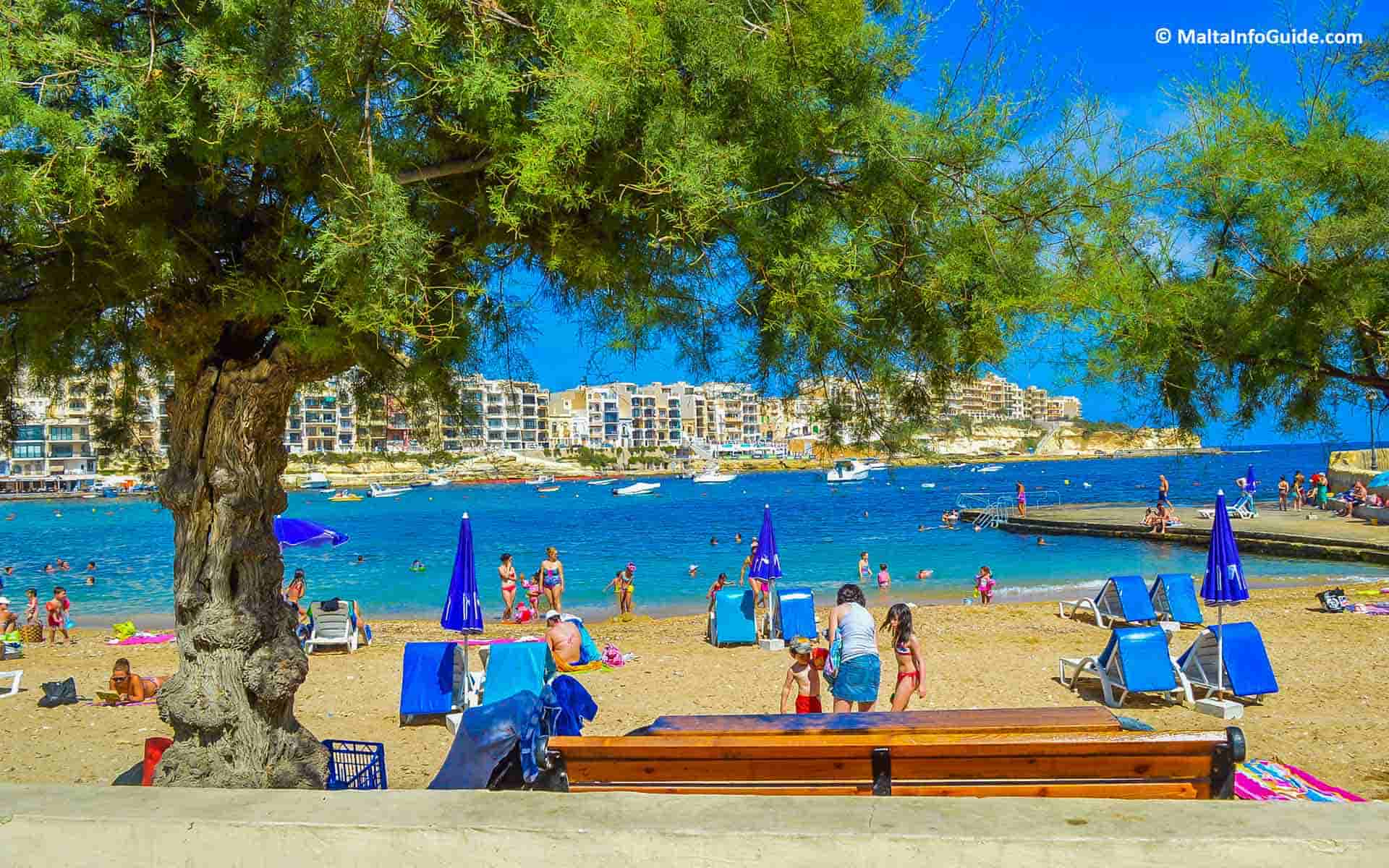 Entertainment and Festival
The island although small has a continuous cultural annual calendar packed with events that shows the passion and enthusiasm for carnival, exhibitions a mix of international events including summer festival.
Gozitans are very fond of operas where two theatres at the capital present their own opera always with a packed auditorium.

Religious village feasts
The village festa is the religious feast of the patron saint dedication of every village. It is a yearly event between May and September where every week there is a fest at one of the villages.
It is a special experience to participate in this traditional event, completely unique where locals celebrate the religious ceremony, coloured decorations, band marches, fireworks and with extraordinary enthusiasm.

How to get to Gozo
There is only one way to get to Gozo and it is by boat. Either you get the Gozo ferry which is the main ferry that crosses between Malta and Gozo 24/7 or the Gozo fast ferry which departs from Valletta to Mgarr harbour Gozo. If you want to go to Gozo by car, you can only take the Gozo ferry which can take numerous cars within its hold.
Another way is some tour operators offer combined tours with Comino. These usually leave from Sliema ferries, Bugibba or Mellieha bay. These are usually one day cruises that start at Comino and continue in Gozo.
If you go on a jeep tour that starts from Malta you will go directly with the jeeps on the boat and continue your trip around gozo on the same jeep. Returning back in the same way.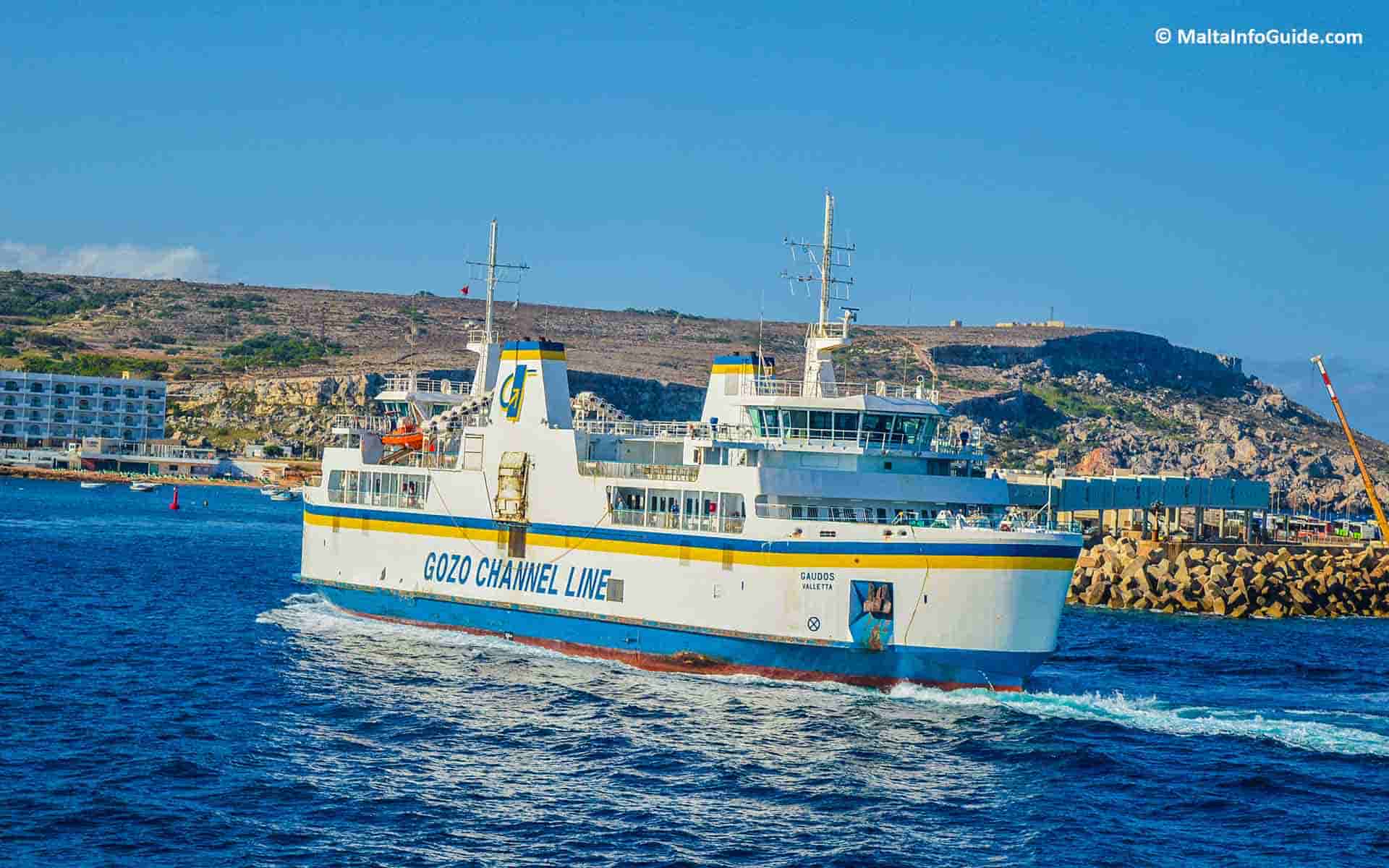 How to get around Gozo
Gozo is much smaller than Malta but public transport is essential as walking around the island is not possible. Here is a brief of what transport is offered in Gozo, but if you want a more in depth review, you can click here.
Public Transport
The same public transport you find in Malta a similar system is in operation for the whole island of Gozo. There are two main hubs in Gozo, one at Mgarr ferry terminal and the other at the capital Victoria/Rabat.
This is cheaper but will take you more time to go the various important sites. If you are a day visitor during your holiday you need fast connections to see the best of Gozo. So consider a rented car, or the Hop-On Hop-Off or a taxi that can be with you for several hours.
Renting A Car
The most common type of transport is by rental car where most people come up to Gozo with with own rented car. In this way you will be more flexible to go around Gozo. Gozo is small so it is not difficult or time consuming to get to places. It is good to know that all roads from all villages are merge to Victoria.

Hop-On Hop-Off sightseeing tour
Another popular option is by the Hop-On Hop-Off sightseeing tour that takes you takes you round the whole island to see the most popular spots. You can also start the tour from near the Gozo ferry. The sightseeing is a round trip where you can hop on and hop off at any spot.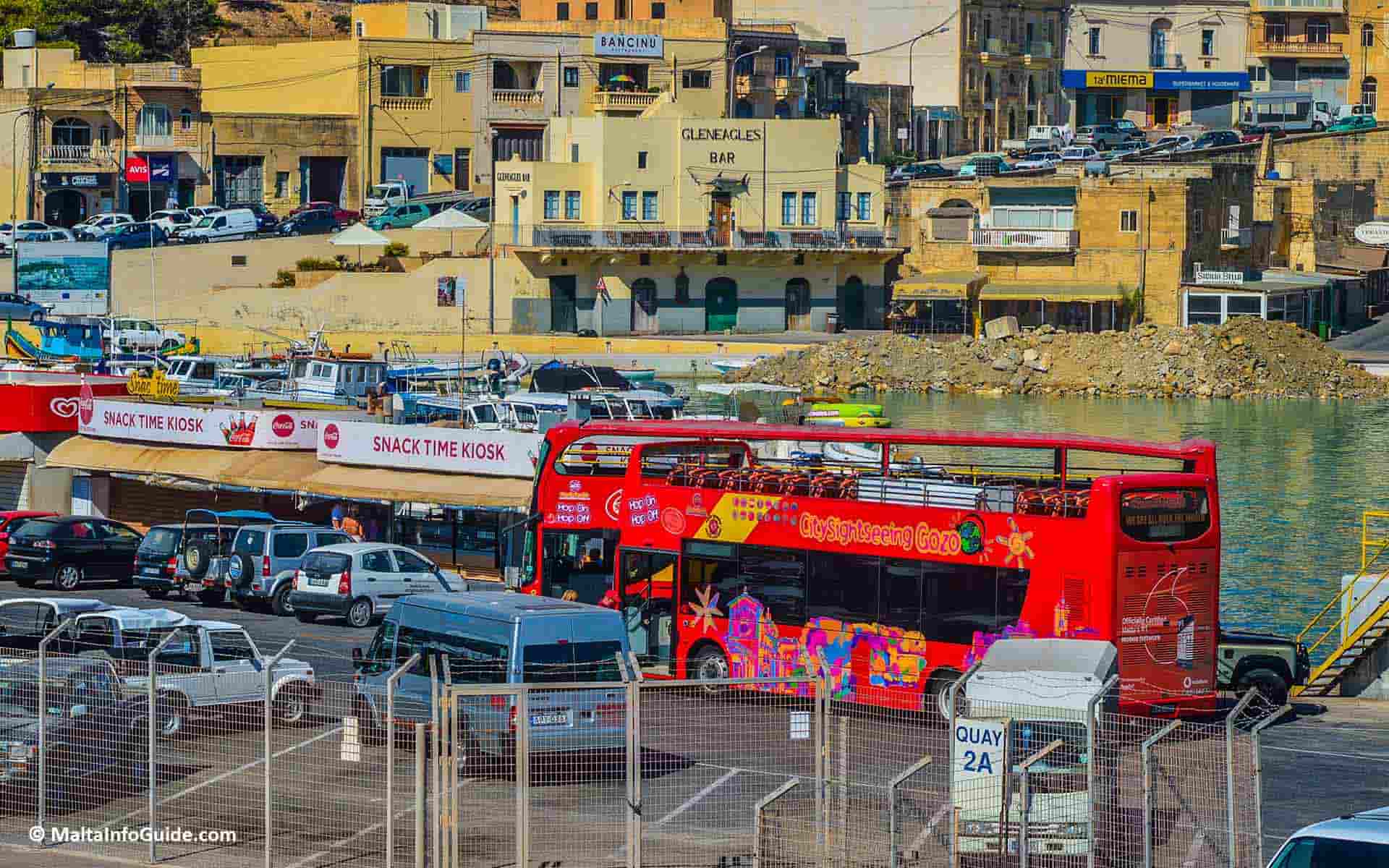 Taxi In Gozo
You can get around by taxi but it will cost you more, depending what you wish to do or how fast you wish to arrive at your destination. You will find them on arrival at the Mgarr Gozo Ferry Terminal. At the capital Victoria's main square. Today it is very easy to call a cab and we provide you with our page with various numbers to contact. It is good to plan therefore pln before going to Gozo and ask for prices.

FAQ about gozo
What is so unique about gozo island?
Although part of the Maltese islands, this sister island has its unique distinctive features. Life moves about at a slower pace, less built up with more unspoilt greener landscapes, less inhabited where you feel more relaxed even upon arriving.
It is natural, fresh, with it own traditions, food and where its people love to dress up for carnival.
Is gozo part of malta or a separate country?
Gozo is the second largest island within the Maltese archipelago situated in the centre of the Mediterranean Sea between Sicily and North Africa. Malta, Gozo and Comino form part of the Republic of Malta 
What is the currency of gozo?
The Maltese currency is the Euro. The currency was adopted on 1st January 2008. Although the coins and paper money is common to all European countries who adopted them, Malta has its specific designs for it's coins. Paper money is common for everyone.
Gozo is independent or part of Malta?
Gozo is part of the Maltese archipelago. The island of Malta is the main administrative centre including Parliament House where laws are common to everyone.
Is there an airport in gozo?
Gozo does not have any airport. The Maltese islands are served with one airport situated in the south at Luqa on mainland Malta called Malta International Airport. There is a heliport in Gozo but it is out of service. 
How far is the closest airport?
You can easily travel to Gozo by rental car, public transport bus, taxi or bike, although it takes quite some time. The distance is 31 kilometres. From Luqa airport to the ferry terminal 40 minutes spent on traffic. Ferry crossing 20 minutes to Mgarr Gozo. Then around 10 to 15 minutes maximum to arrive at your destination.
Is the time in gozo the same as in Malta?
Current local time is the same as Malta and Comino islands. Daylight Saving Time (DST) changes as all other European countries who have adopted this system on the same dates but does not necessarily always occur on the same dates.
Want To Share This Page On Pinterest? Pin It Here!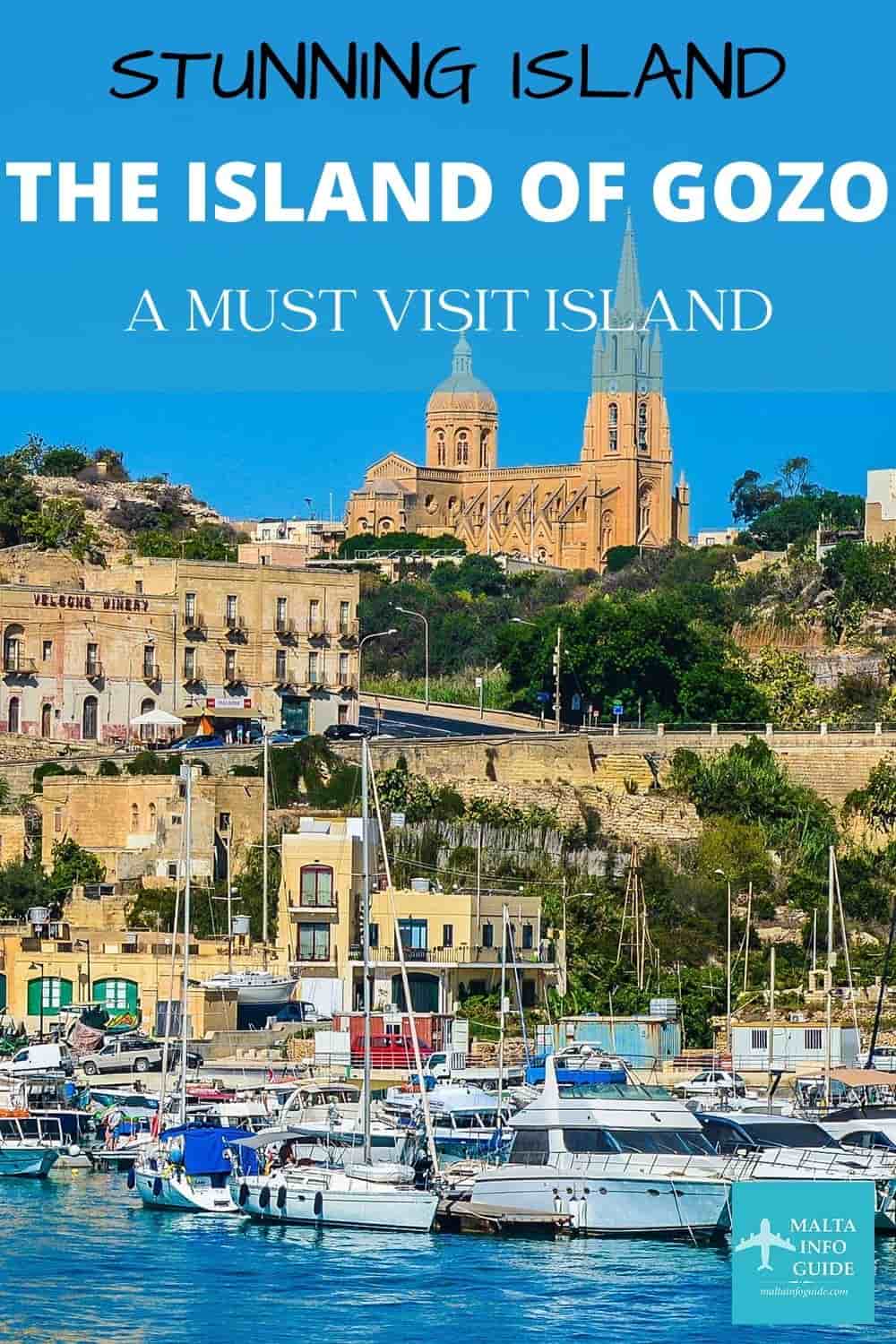 want to rent a car in malta?
We have used Discover Cars every time we rented a car. We highly recommend them due to their good service and good prices.
Get The Best Rates On Your Car Rental Now!
need to book a hotel for your malta visit?
Using Booking.com, enter your travel dates and number of occupants then rates will be available for hotels and apartments during your visit to Malta 
Book Your Hotel In Malta on Booking.com for the Best Rates!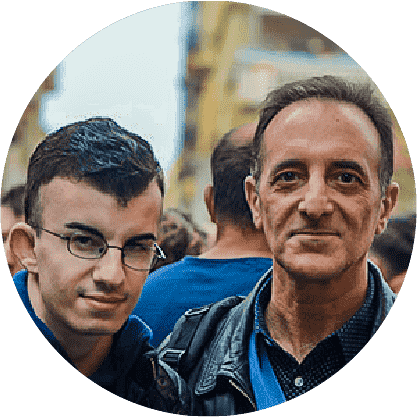 By Albert and Benjamin Magro