the best localities
where to stay in malta
The Pros And Cons Of Each Locality
Choosing where to stay in Malta is a task everyone has to tackle when visiting this beautiful archipelago. The accommodation on the islands offers a vast selection of choices catering to everyone's taste and budget.

Wondering where to stay in Malta? It will influence the holiday you wish to have. We will go through the various accommodation and the locations where you can stay. We will help you out with suggestions to ease your worry and help you make an easier decision.
Table of Contents - Where To Stay In Malta

To help guide you through this page, here are the locations that are being mentioned: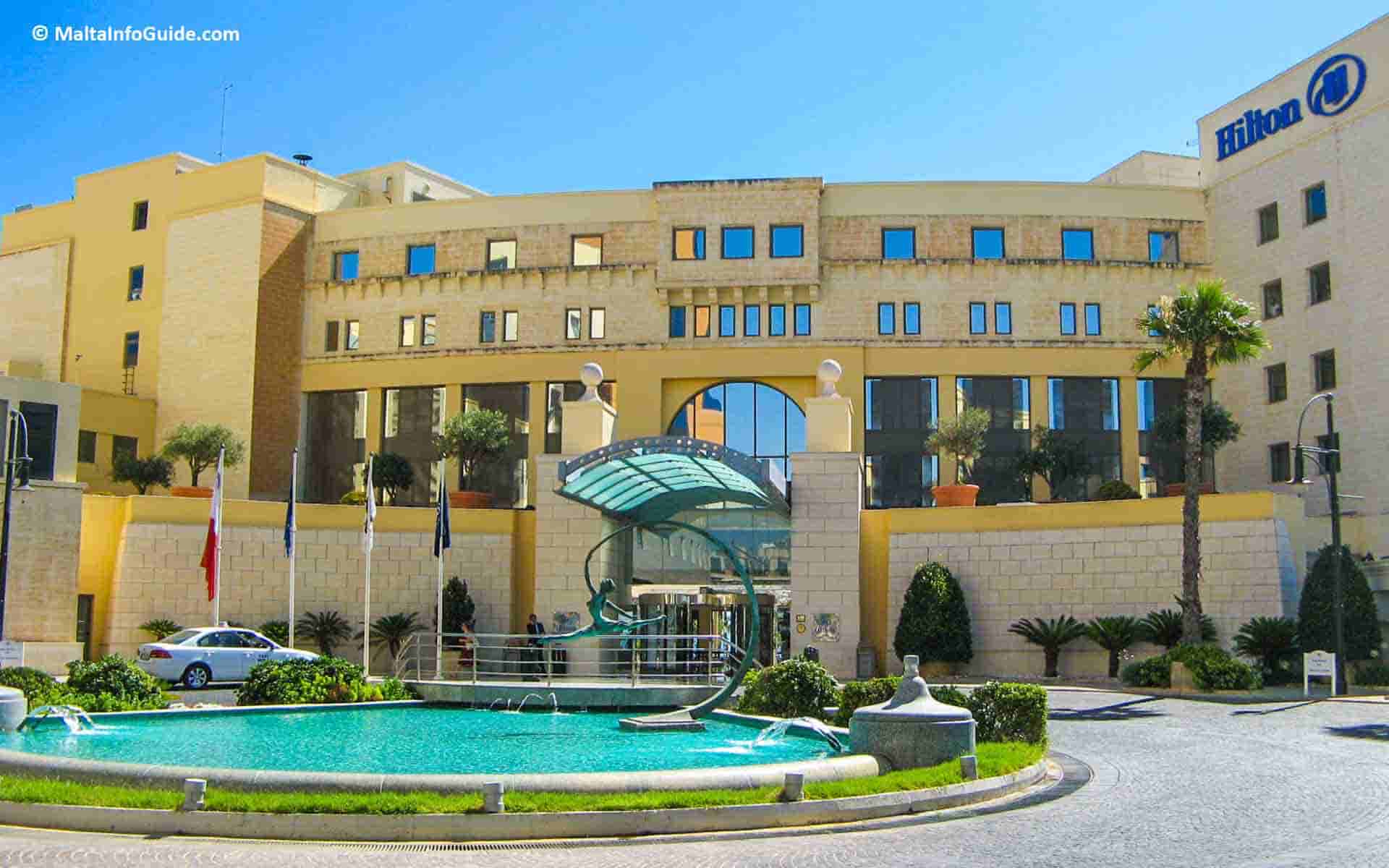 Malta offers various categories of star hotels and guesthouses, self-catering, tourist accommodation, guaranteed to meet the needs of every traveler. The sister island Gozo, also offers hotels, apartments and converted farmhouses for rent. Apart from that you have the ability to do a timeshare in Malta.
Malta is home to many hotels of different categories. We list the top 5 star hotels on the island if you are considering to stay at a luxury hotel.
The Capital City of Valletta
Where To Stay In Malta: Valletta, Floriana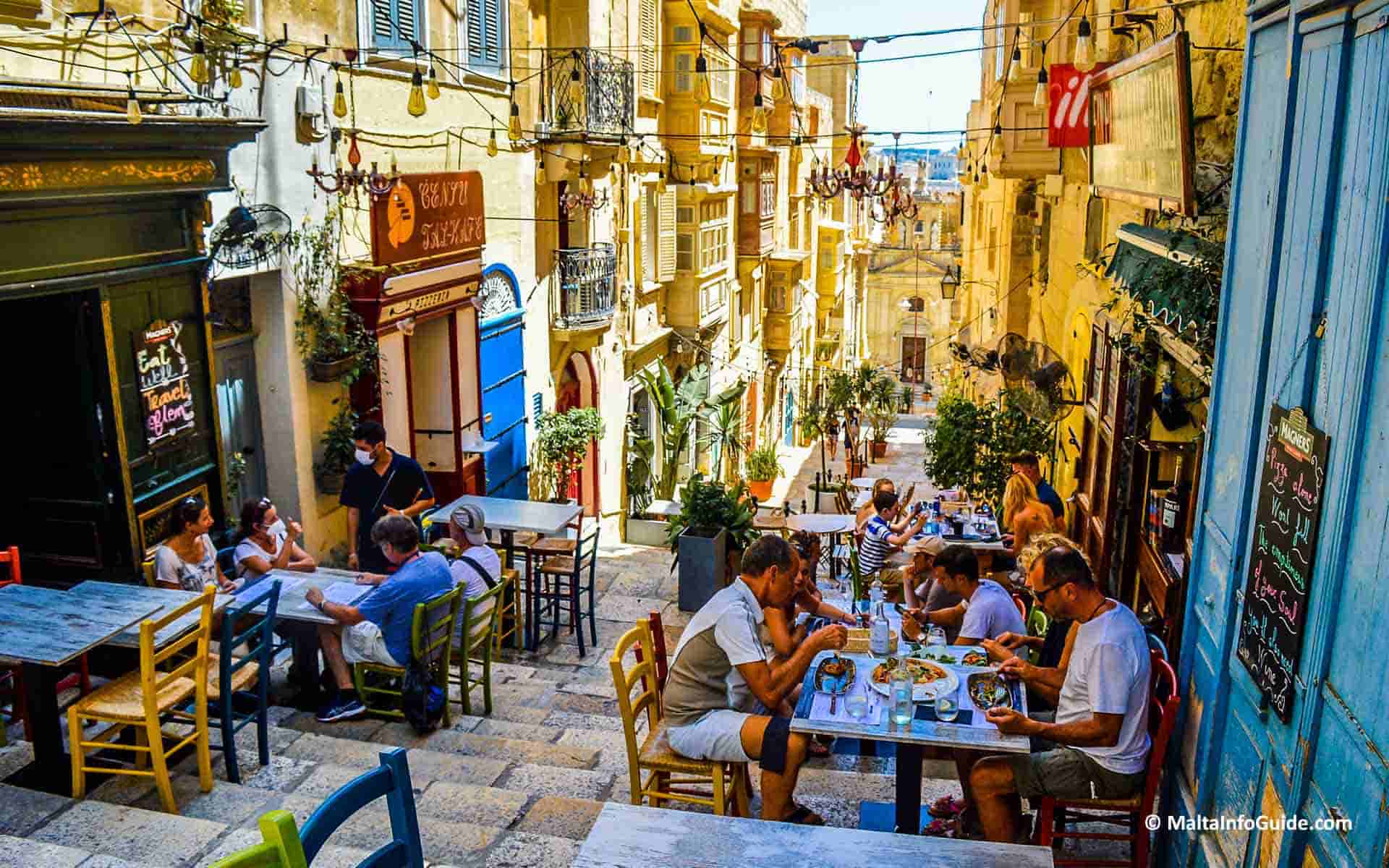 Valletta is the capital city of Malta and one of UNESCO World Heritage Sites. It was declared as the European Capitals of Culture for 2018 by European Commission.
Completely surrounded by fortifications and with a mix of baroque architecture. The capital's layout has become home to a mix of elegant old and new 16th century buildings which date back to when the Knights where in Malta.
Many buildings are being extensively converted and renovated for today's use. These include apartments, shops, boutique hotels and offices.
where to stay in valletta?
why should you stay here?
The hotspot for shops, restaurants and bars for those who wish to splurge.
There are numerous high standard hotels and boutique hotels to choose from.
Highly attractive for photos.
The Valletta cruise port is located at the Grand Harbour.
The biggest bus hub on the island connected to all villages and towns.
Many museums, top historical locations and churches.
why shouldn't you stay here?
Finding cheap hotels and boutique hotels is not very easy.
Difficult for parking but there are several car parks on the outskirts of Valletta.

No sandy beaches.
No countryside.
Hotels In Malta's Nightlife Area
Villages: St. Julian's, Paceville and St. George's Bay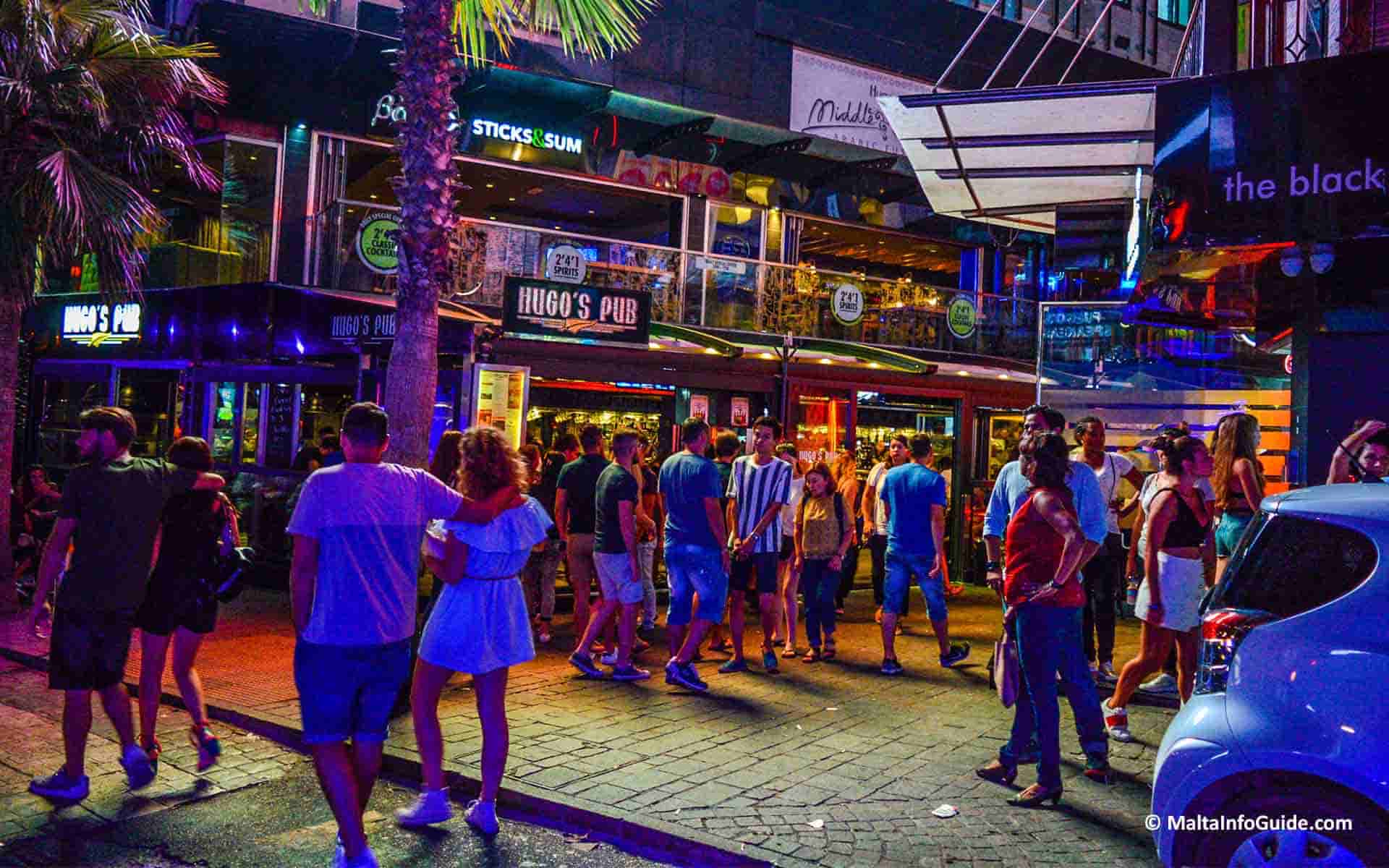 Great places where you can stay all along the seaside with a very popular promenade. It is the peak of nightlife with several bars, nightclubs, men's clubs, great for clubbing, discotheques and beach clubs.
Several high-class hotels are in this area offering entertainment like casinos, cinemas, bowling and games rooms. The perfect place for those who wish to hangout for long hours and several other things to do, to fill up your holiday time.
Where To Stay In st. julian's?
There are many hotels in St. Julian's, but the Hilton Hotel is considered to be one of the many luxury hotels in the area.
What will attract you to stay here?
The best 5 star hotels are concentrated in this area.
Great for nightlife, restaurants, bars, pubs, clubs and shops.
The most popular promenade several kilometres long.
Public transport bus routes are very frequent along all this area.
St. Julian's is lovely by night with the best nightlife, restaurants and people strolling around.
Many international language schools including appropriate accommodation.
Many international businesses are located here.
why shouldn't you stay here?
The location is very busy as it is connected to the main arteries of Malta.
Here you find no museums and historical monuments for tourists.

Hotels along the Maltese Coast
Villages: Sliema, Balluta, Gzira and Ta'Xbiex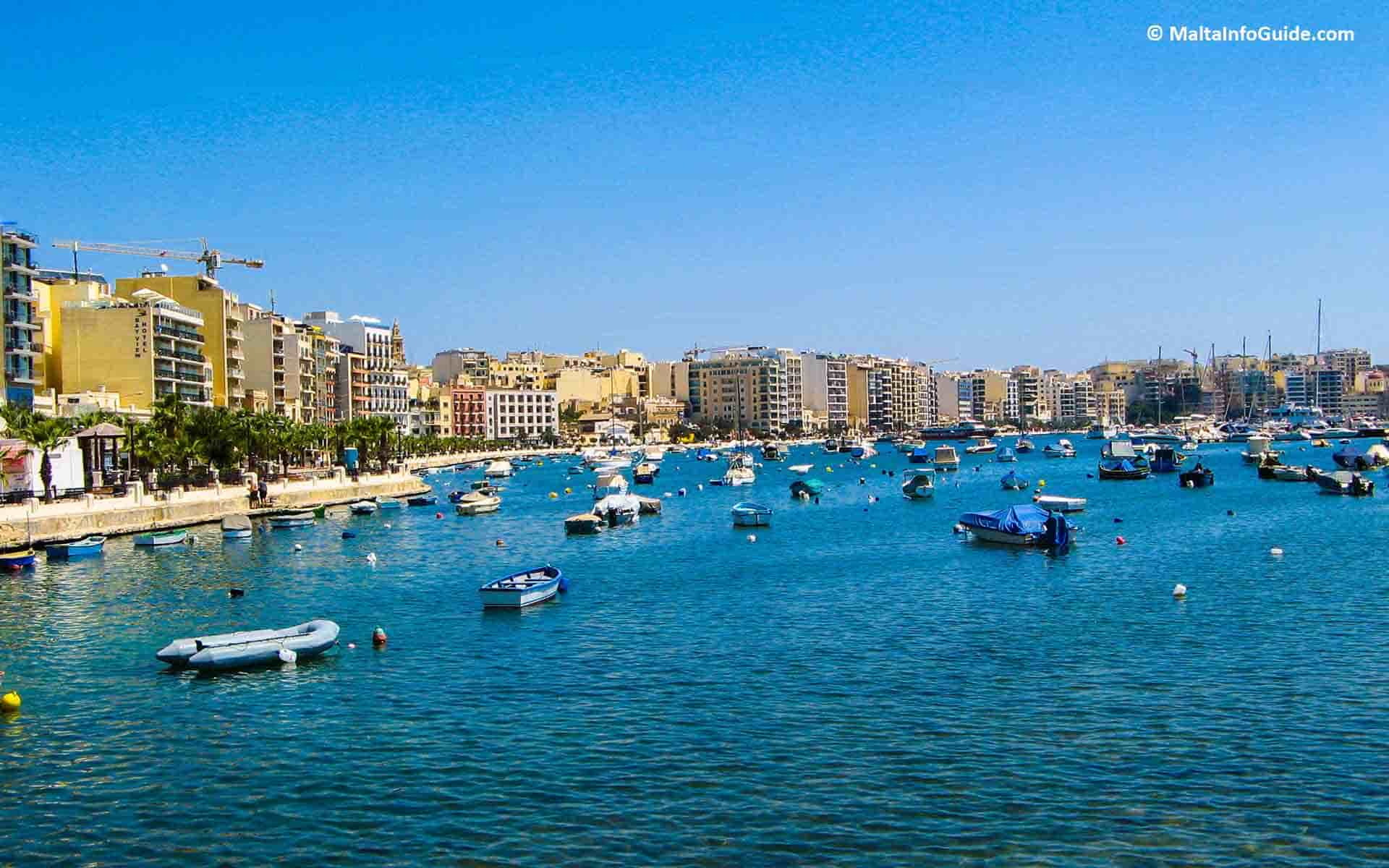 Sliema and the surrounding towns are the busiest localities. They are all along the coast and inhabited by Maltese, but also many foreigners. Here you find the peak of a mixture of hotels, apartments and B&B's.
A big mixture of restaurants, shops, bars, swimming clubs and several locations along the rocky coast to swim. The area extends itself from Balluta to Ta' Xbiex, a complete 10 kilometres of very long promenades where you can meet many people chatting, walking, cycling, jogging from the very early hours till evening.
why should you stay here?
A vast selection of 3, 4 and 5 star hotels, B&B and apartments.
It is the ideal area if you wish to enjoy yourself at restaurants and bars.

The best area for shopping as you find two shopping centers and the best selection of shops.
Very well connected with public transport.
Our capital city Valletta, is very close.
The Sliema Ferries is the main area to embark on any day trip cruises to Comino, Gozo and harbour cruises.
A fast connection to Valletta by ferry at the Sliema Ferries.
why shouldn't you stay here?
The area is all built up and does not enjoy any countryside.

It is difficult for parking due to high population and business.
The location is very busy due to high activity from locals and tourists.
The North Of Malta With The Most Beautiful Sandy Beaches
Where To Stay In Malta: Mellieha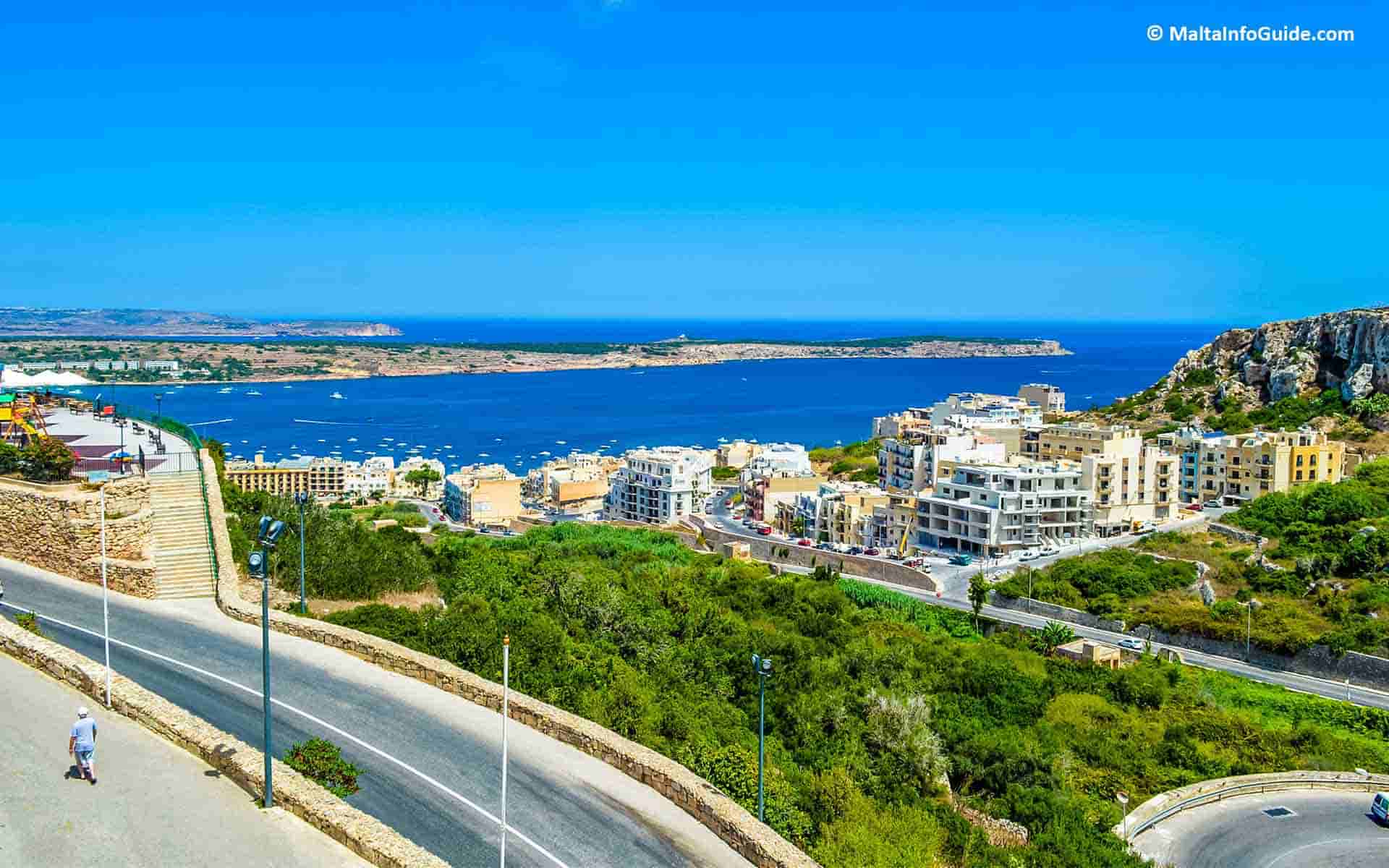 The village of Mellieha lies on the edge of several cliffs edges, giving it a magnificent panoramic view at the north end of the island. It is a very rural and open which can be enjoyed for its quieter life. It is surrounded by the best sandy beaches on the island making it great for relaxing holidays.
Walks in the countryside can be well enjoyed both in summer and winter. It is the closest village to the ferry from where you can catch the boat to Gozo and boat trips to Blue Lagoon Comino.
Click here to see the hotels we suggest you to stay in.
what's so beautiful about mellieha?
A variety of villas and apartments for renting with beautiful panoramas.
Ideal to visit and swim at various sandy beaches while on holiday.
The Cirkewwa Ferry Terminal is very close to catch a boat for Gozo.
Comino is very close, catch a boat and visit the Blue Lagoon.
A rural village surrounded with greenery ideal for walks.
The Mellieha area is served well with 4 and 5 star hotels.
why shouldn't you stay here?
The capital city Valletta is half way south of the island. By public transport it is fairly long.
If you are coming for shopping, you will only find a few shops. In this case we recommend staying in Sliema, St. Julian's or Valletta.
The most visited historical attractions are on the southern part of the island.
Within the village core there are a considerable number of steep roads, possibly not ideal for people with certain disabilities. It worth checking properly where your accommodation is before booking.
The Quieter Sister Islands
The Islands of Gozo and Comino
Gozo and Comino are the other two islands forming part of the Maltese archipelago. They lie to the north of the island.
Comino is almost uninhabited with just 3 residents, one hotel (presently to be rebuilt) and the famous Blue Lagoon. A haven of relaxation and beauty even in winter.
Gozo although so close but so different from Malta. Great for relaxation, a greener landscape, less built up where it still retains its genuine originality. There is a selection of hotels and apartments mostly farmhouses for rent with original features that are sought after for holidays.
why should you stay in gozo?
Highly attractive for photography 
The island is surrounded by countryside and less built up like Malta.
Popular for character farmhouses for holiday renting. Apart from these you find hotels, guesthouses and hostels.
Gozo is a renounced island for high quality restaurants due to its service and quality of food and relatively cheaper.
The island offers a variety of sandy and rocky beaches which in themselves have different characteristics that attract many visitors.
Public transport is available all over the island.
why shouldn't you stay in gozo?
Gozo is not an island for major attractions and entertainment., it is more of a relaxing location.
The one and only airport is located in Luqa Malta.
Hotels In The Bugibba Area
Villages: St. Paul's Bay, Bugibba, Qawra and Salini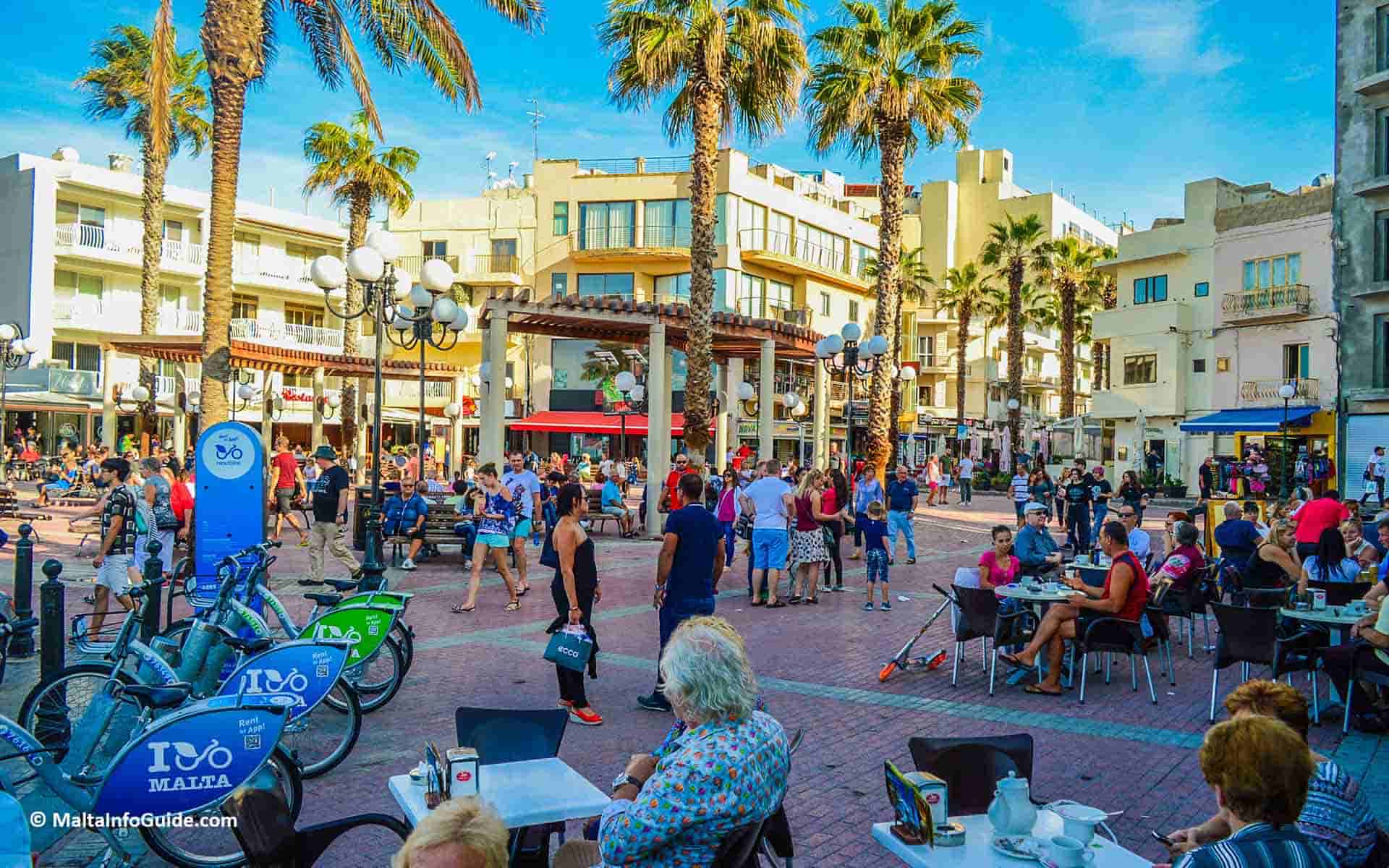 The town of St. Paul's Bay with Bugibba and Qawra all three located along the north coast facing the islands of St. Paul. Developed gradually into a tourist resort during the last forty years, here you find an excellent choice of hotels and resorts apart from several apartments to rent.
It is another area for lovely promenade walks, shops, meeting areas, rocky and sandy beaches. A variety of entertainment, though not as upmarket as other areas. Many prefer the traditional pubs that serve fish n'chips with TV screens for live football and music. It is quieter in winter and lovely in a different way but in summer is very busy with tourists and locals.
why should you stay here?
A good mix of quality 3 and 4 star hotels and apartments, several with great views.
A variety of restaurants and traditional English style pubs.
From here you can easily take a cruise to the Blue lagoon and Gozo. We recommend taking the Sea Adventure Excursions due to their quality service.
Catching public transport is very easy as there are many bus stops around the area and also a main bus terminus.
These areas are very active during the summer months.
A family friendly location with several attractions like watersports, National Aquarium and Car Museum.
why shouldn't you stay here?
If you are looking to do a shopping spree, we recommend going or staying in another area. Here you will only find a limited selection of shops.
The Three Fortified Cities
Towns: Birgu (Vittoriosa), L-Isla (Senglea), Cospicua (Bormla)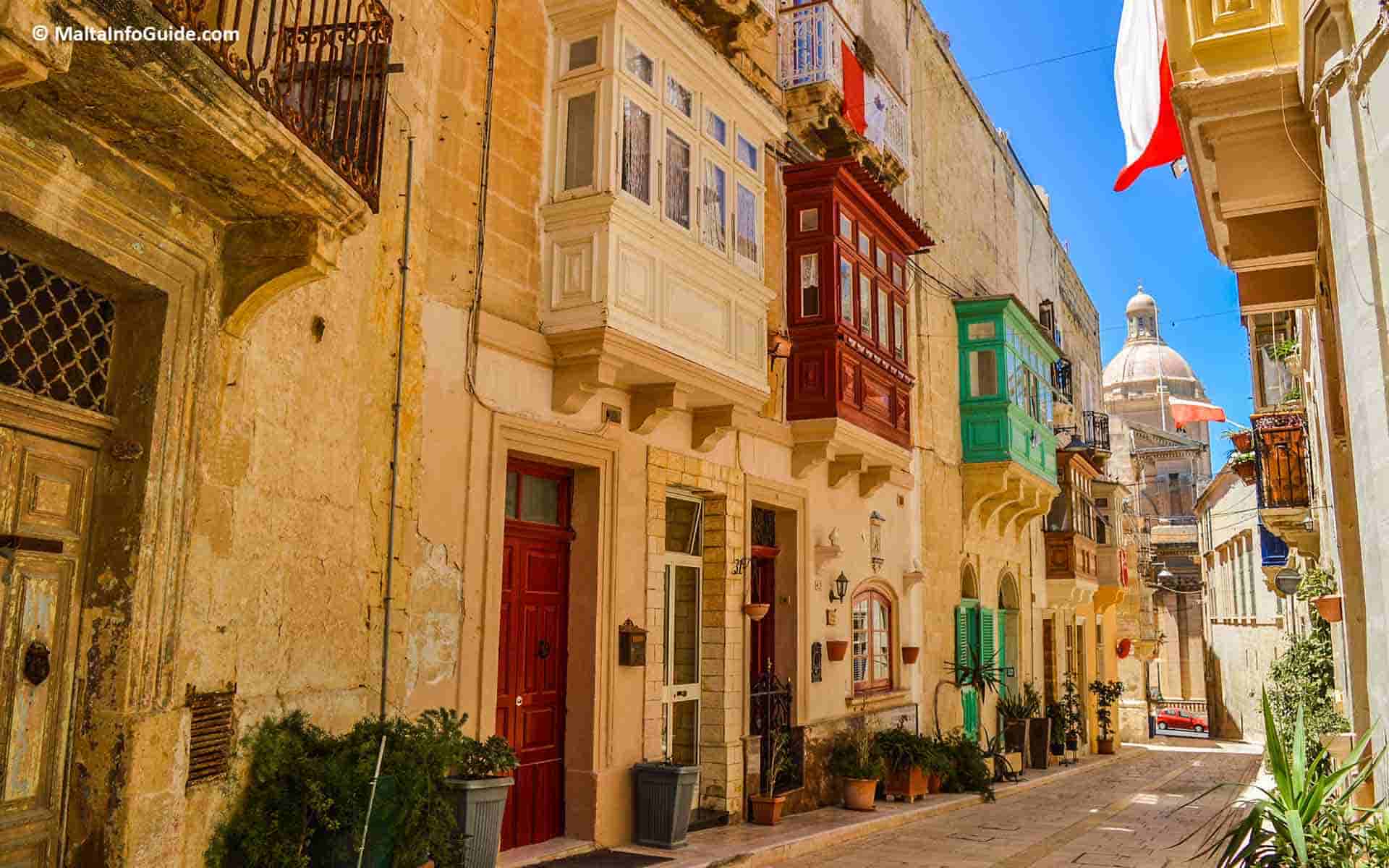 The Three Cities are three fortified towns on the opposite side of Valletta, separated by the Grand Harbour. They are the living history of the island, having endured many attacks have been preserved for hundreds of years.
They have created a very special character that attracts visitors for the peaceful atmosphere. Mix with the locals and taste the quiet ambient for a great relaxing holiday along the rocky sea front surrounding the peninsulas.
why stay at the three cities?
The three cities are very architectural and hence very highly attractive for photography.
Well served with restaurants, cafes and wine bars.
Attractive yacht marina area, ideal for walks.
Here you find guest houses and apartments only for rent.
Very well connected with public transport.
Close to main Neolithic temples at Paola, Tarxien and Qrendi.
There is a ferry from the yacht marina that takes you to Valletta.
why shouldn't you stay here?
To catch the Gozo ferry or a boat trip to Comino you need more time to travel from here as they are more located to the North of the island.
If a beach holiday is what you are looking for, then you need to stay at the North of the island closer to the beaches.
The Quite Areas Of The Island
The Silent City of Mdina, Rabat, Attard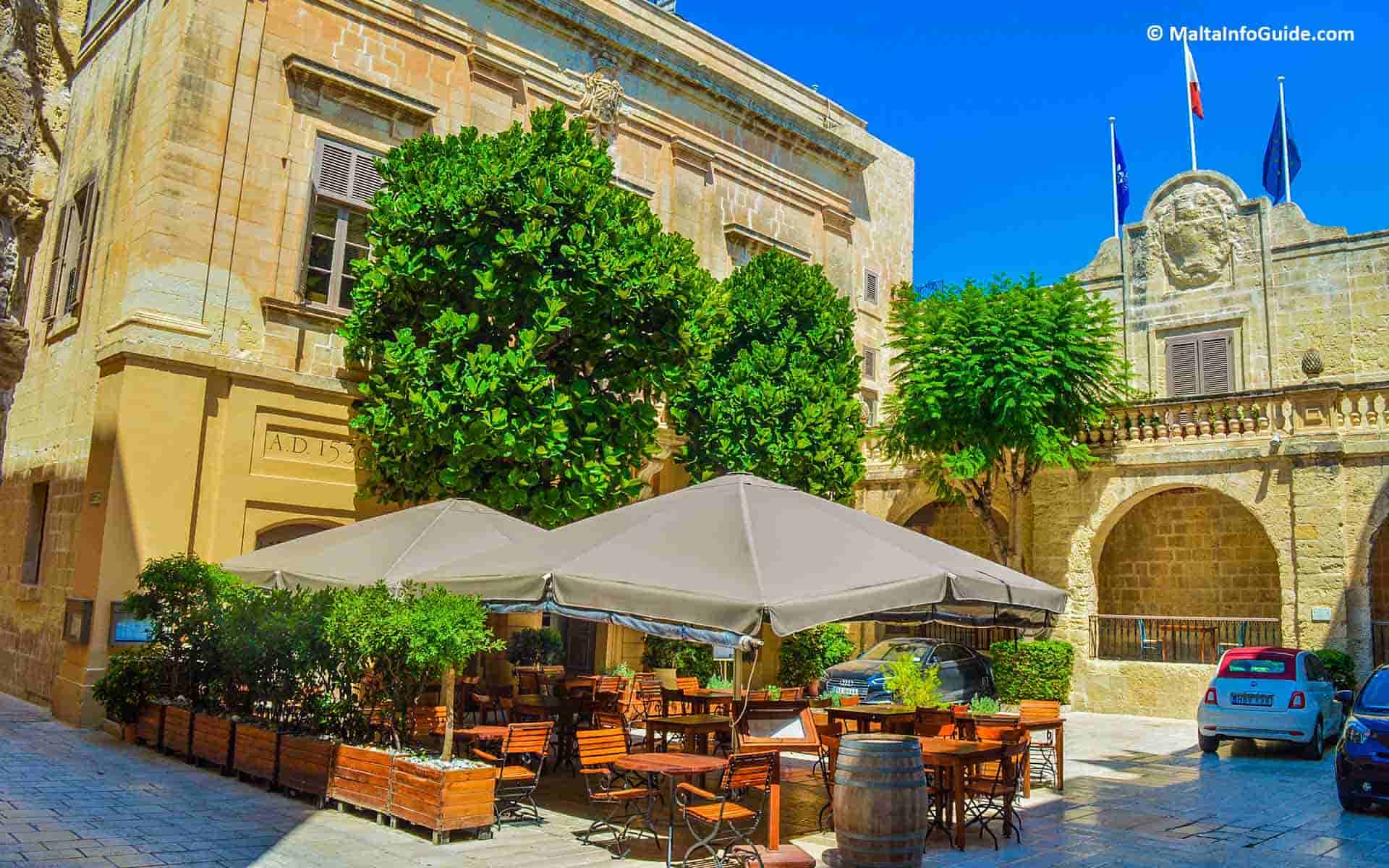 Mdina is a fortified city which served as the island's capital from the ancient past to the medieval period. Rabat is just adjacent, meaning its suburb.
Attard located just a few kilometres down hill. All three are quiet, still keep their old charming character to this day ideal for those who wish to have a more relaxed accommodation.
The Advantages In A Nut Shell
Mdina is quiet because of restricted traffic.
All buildings are residential except for restaurants, cafes and shops.
attractions and museums
highly attractive for photography

Rabat is a town worth exploring where you can spend substantial time.
These localities are surrounded by countryside.
why shouldn't you stay here?
No beaches around this area.

Rabat offers limited accommodation. 
Not a shopping destination.
want to rent a car in malta?
We have used Discover Cars every time we rented a car. We highly recommend them due to their good service and good prices.
Get The Best Rates On Your Car Rental Now!
need to book a hotel for your malta visit?
Using Booking.com, enter your travel dates and number of occupants then rates will be available for hotels and apartments during your visit to Malta 
Book Your Hotel In Malta on Booking.com for the Best Rates!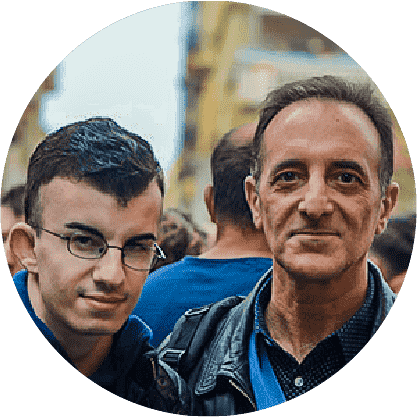 By Albert and Benjamin Magro