how to get to malta
Various Options Of How To Travel Here
One can arrive to Malta in multiple ways, either by plane, by ferry or by cruise. Our archipelago is in the centre of the Mediterranean Sea between Sicily and North Africa. Learn about how to get to Malta and also connections on how to get here. The most convenient way to travel to Malta is by air.
Connections to most European countries is a direct flight of a few hours from where you can also get direct connections to other continents. This has made Malta a hub for tourism and an ideal platform for international business.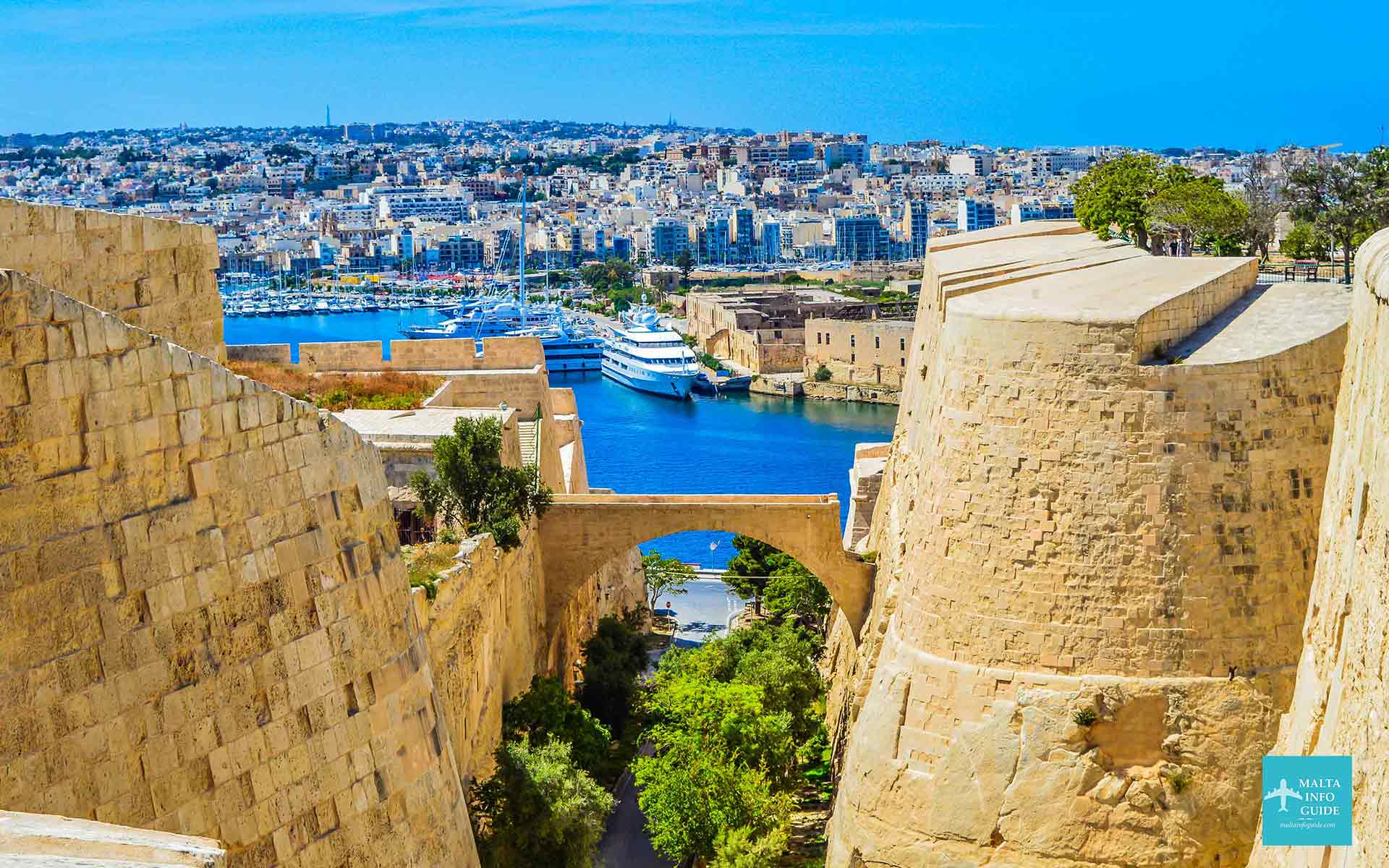 The islands are also connected by sea with mainland Europe. The only possibility for passengers is by catamaran from Sicily with several trips every week, international cruises or by yachts where several marinas are available for berthing.
It is also an international hub because of our strategic transshipment hub in the Mediterranean Sea.
You can never come to Malta directly by car or by train as there are no connections to other surrounding countries.
Arriving Here By Plane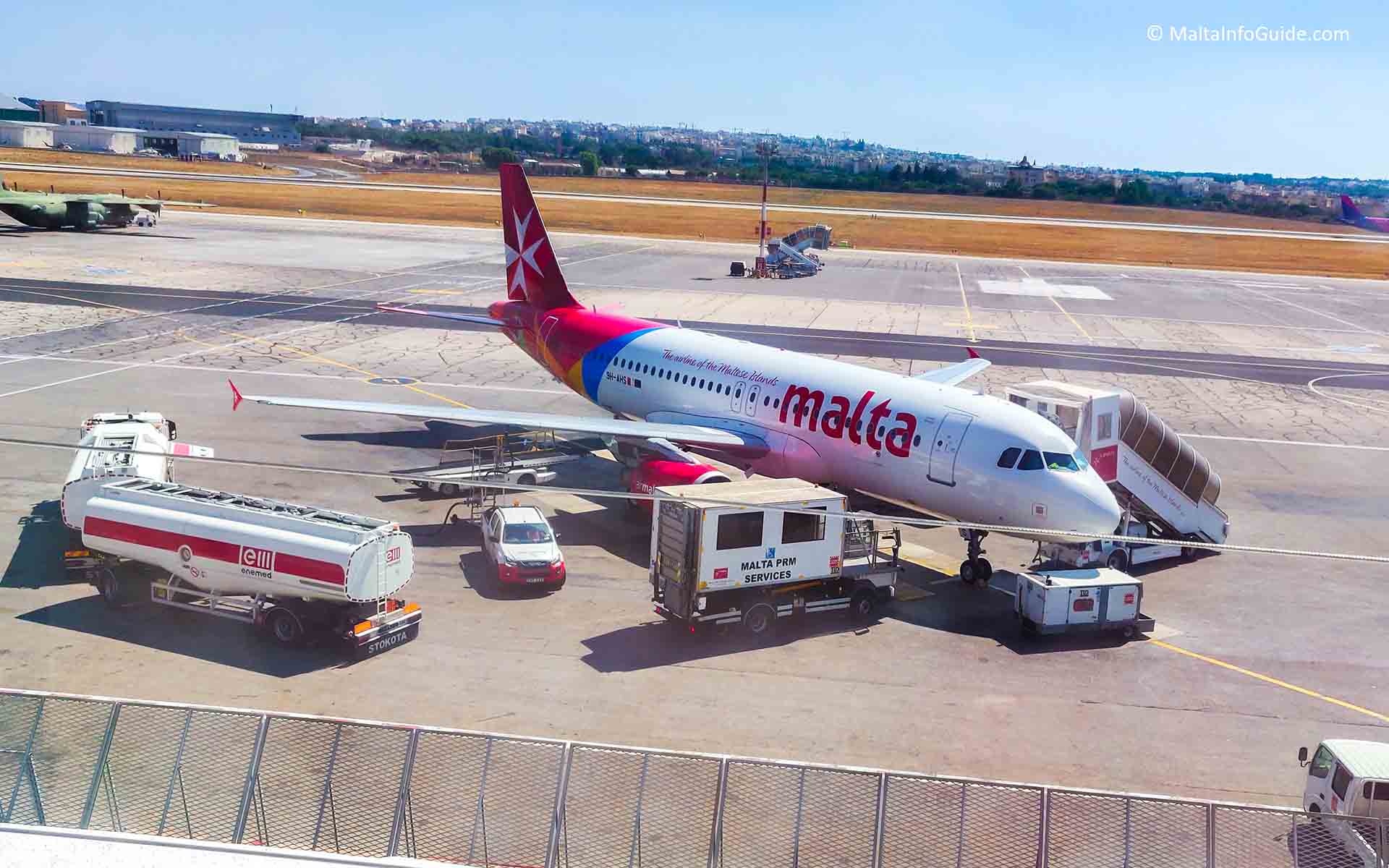 Air Malta Plane At Airport
We have one airport called Malta International Airport where we have the national airline Air Malta and other low-cost international carriers flying to most European capitals and further out. Flight varies from 30 to 240 minutes from most European countries.
If you intend coming over from far away countries like Australia, New York, Canada, United States and Dubai, most airlines offer great connections with international carriers within Europe coming from other continents.
Check out this article if you intend of travelling to Dubai from Malta with Emirates.
Many offers on airlines are available. See the various airlines that operate from Europe and from other continents to Malta Airport.
Due to the high number of tourists coming over, various carriers offer cheap flights to Malta which you can access through here.
how to get around malta
Since the majority of inbound traffic comes from the airport, there has to be a sufficient way on how to get around Malta once you arrive.
From the airport you can take transfers to anywhere in Malta and to Gozo if you have booked any lodging on this island.
Dedicated public transport routes are available from the airport which are connected to nearly all localities in Malta.
Taxis are available from the airport where several international brands and locals operate from here.
If you have hired a car from before hand you can collect the keys from the office on exiting the arrivals lounge having set the pickup up location from the airport. You can also book a car directly from these offices.
If you have booked an inclusive holiday you will be provided with the transport of modern coaches, which takes you to your accommodation without worrying how to get around.
From Sicily To Malta By Boat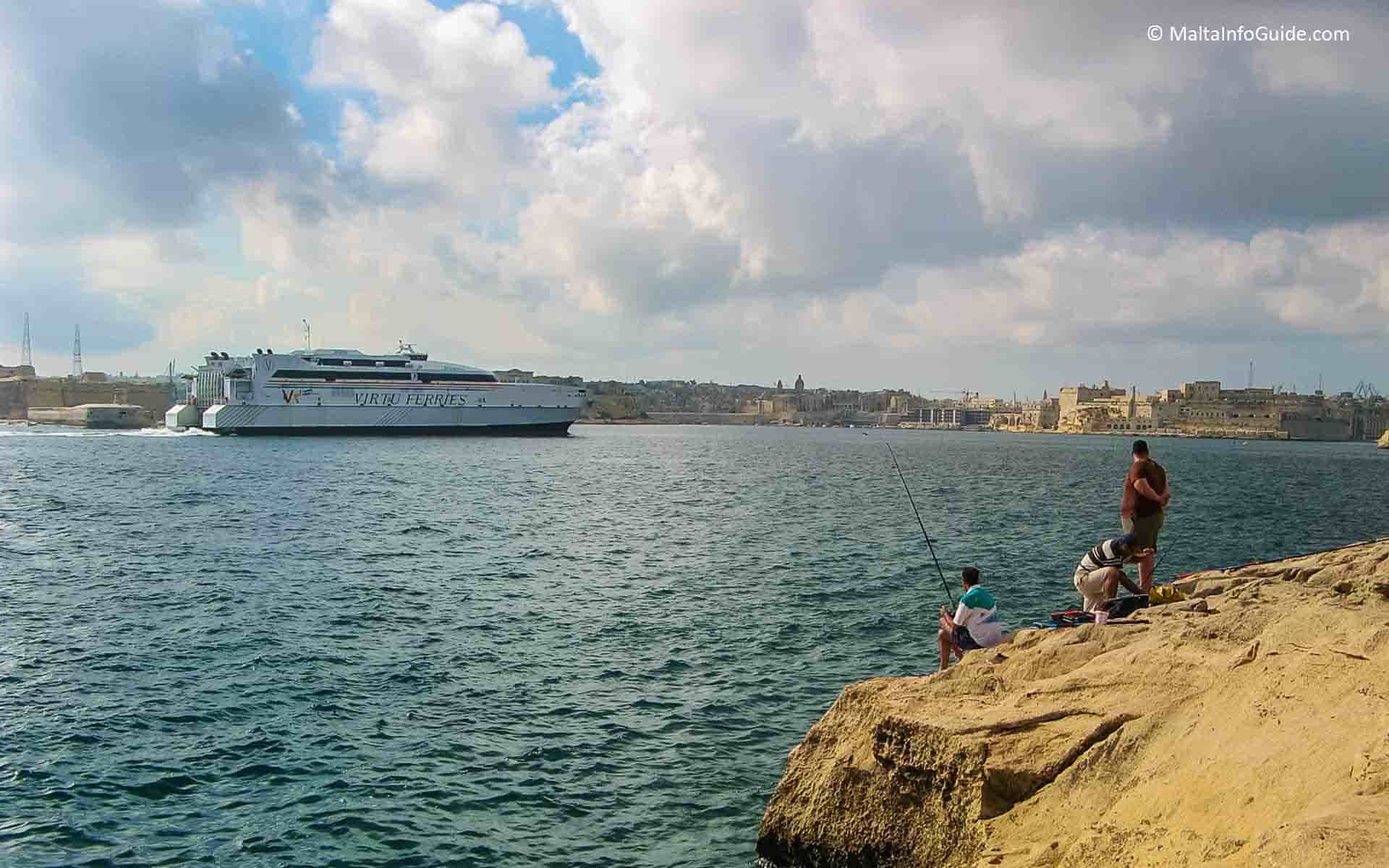 Catamaran Arriving From Sicily
From Sicily there is a ferry service connecting Pozzallo with the port of the Grand Harbour in Valletta and back to Sicily takes 1 hour 45 minutes. Operated by the Virtu Ferries a local Maltese company with a quick catamaran and frequent links.
If you would like to come over with your own vehicle, you can do so by the catamaran service.
There is no catamaran service between Pozzallo and Catania but the company organizes a coach transfer for both ways on each Friday, Saturday and Sunday taking two hours.

It is used by Maltese and tourists to cross overland to Italy moving upwards to other countries, Sicily and Malta and back up again to central Europe apart from transportation of freight.
Check out our translated pages: Italian, French and German.
Book Your Malta To Sicily Ferry Now
Planning to travel to Sicily or Malta by car? Use Direct Ferries to book your ferry tickets now.
By Private Yacht Or Boat
Private Yachts and Boats At Birgu Marina
Yacht owners can come easily down from European and surrounding countries within the Mediterranean Sea. The islands are served with two large natural deep water international ports and another one on the island of Gozo. 
Our islands offer natural attractive harbours, with eight marinas offer moorings to local yachts and spaces for those who intend coming over for a holiday. These marinas can take from sailing boats to mega yachts up to 155 metres. These marinas offer the best world class facilities found in other ports.
Malta is renowned for its annual Rolex sailing competition, attracting 100 boats from around the globe.
By Cruise Liner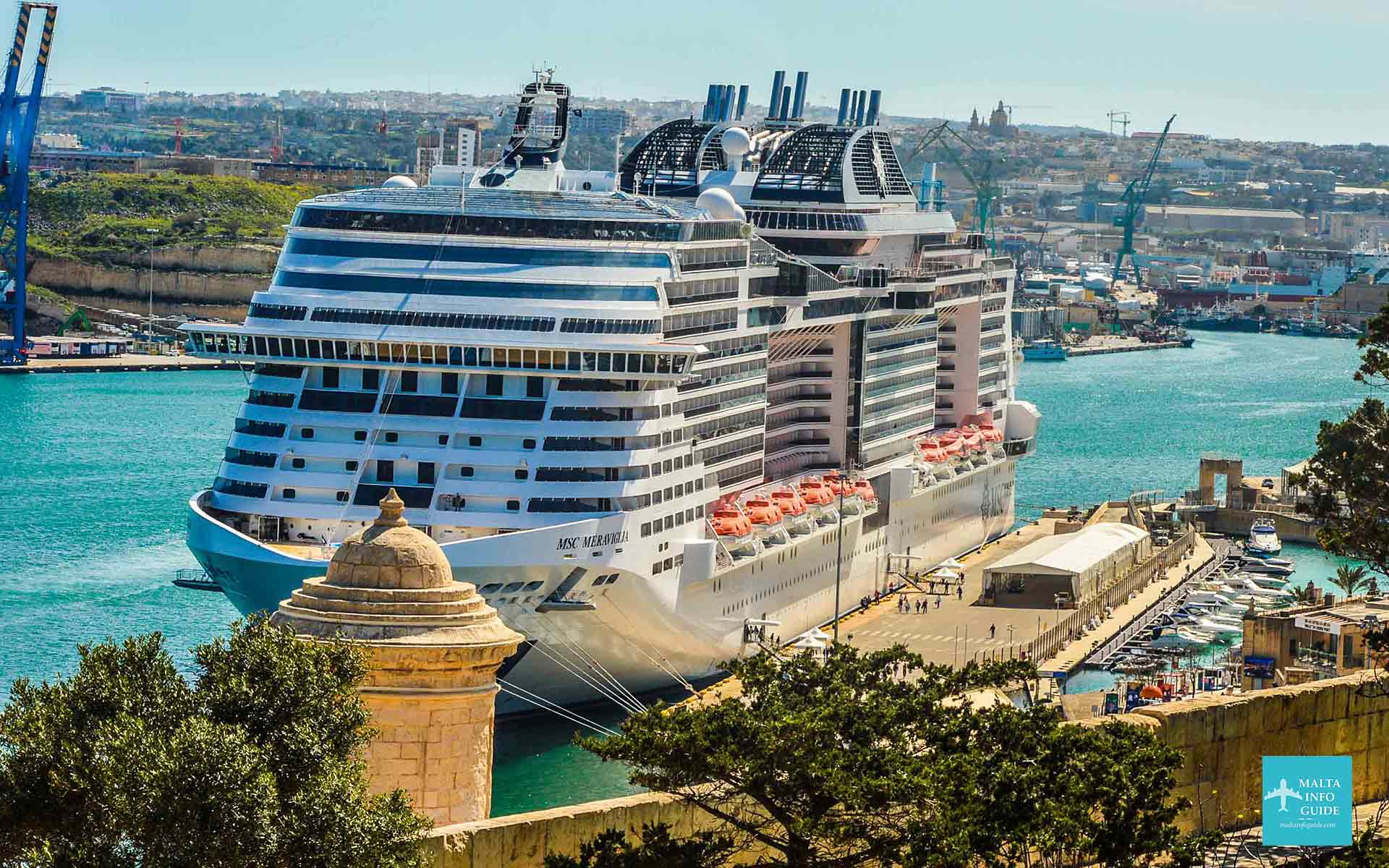 Cruise Liner berthed at Valletta Port
Malta has become a success story as a destination for cruise liners and rated as one of the top twelve ports in the Mediterranean sea and a 5 star destination based on tourist feedback.
The Grand Harbour, with its natural setting of inlets and the many fortifications built over so many years, offers a magnificent setting to whoever enters the Grand Harbour.
During your stop, you will have the opportunity to visit the most important historical sites around Malta. From your berth, you can enter the capital Valletta either by walking or take the scenic lift, which takes you up directly into the Upper Barakka Gardens for a magnificent view of the Grand Harbour.
Today several cruise tours depart and return to Malta, where you arrive by air to Malta International Airport and return back home through the same airport.

want to rent a car in malta?
We have used Discover Cars every time we rented a car. We highly recommend them due to their good service and good prices.
Get The Best Rates On Your Car Rental Now!
need to book a hotel for your malta visit?
Using Booking.com, enter your travel dates and number of occupants then rates will be available for hotels and apartments during your visit to Malta 
Book Your Hotel In Malta on Booking.com for the Best Rates!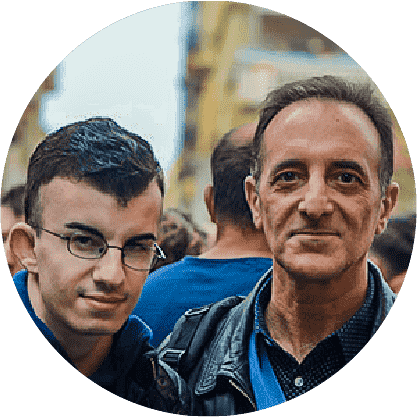 By Albert and Benjamin Magro