top 10 best beaches in
Malta and gozo
Our Islands Are Full Of Spectacular Beaches
Here in Malta you find some of the best beaches in the world. Are you looking for a particular one, or are you new to Malta and wish to explore where you can enjoy yourself with your family or friends?
Disclaimer: On our website, you will find affiliate links from which we receive a small commission.
These beaches offer you a wonderful insight into how to explore our beaches before you arrive for your holiday in Malta.

Even if you do not swim, the Maltese coastline is unique and offers the possibility of many walks along most of the coast. You can adventure field and explore the versatility the various areas offer. That is why many return for many holidays in Malta.

Here are the top best beaches from 10 to 1 you find on the Maltese islands.

10. Dahlet Qorrot Bay
Dahlet Qorrot Bay
Dahlet Qorrot is a secluded beach very close to Nadur. A picturesque beach for travelers to capture the beautiful scenes this bay offers.
dahlet qorrot facilities
Parking Lot
Lavatory Facilities
9. St. Peter's Pool Malta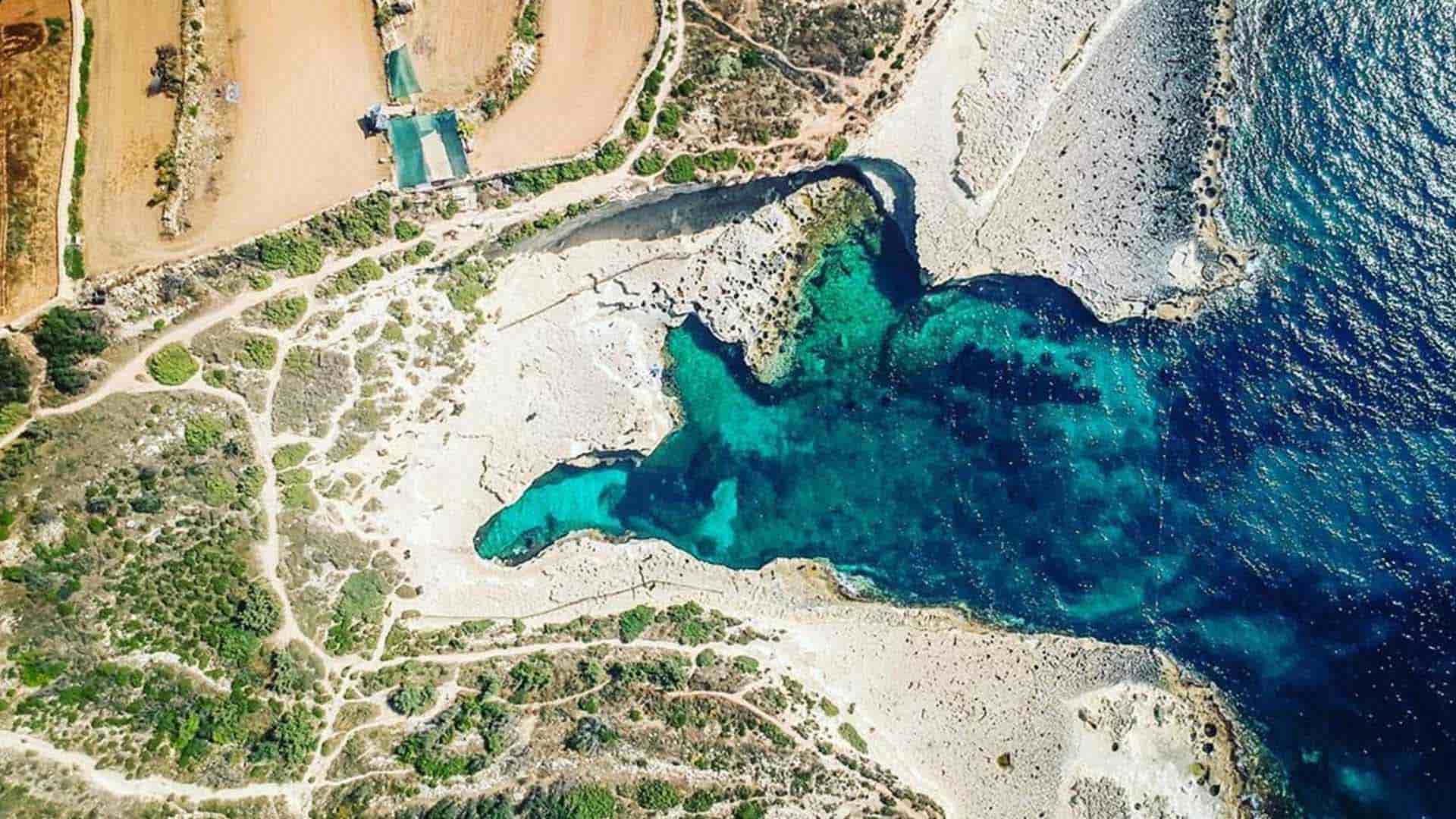 Photo By: @danilocezariophotography
St. Peter's Pool is probably one of the most visited hidden beaches in Malta. It is made up of a natural inlet pool on the outskirts of Marsaxlokk.  This stunning location. attracts thousands of people every year.
st. peter's Pool Facilities
8. Xlendi Bay Gozo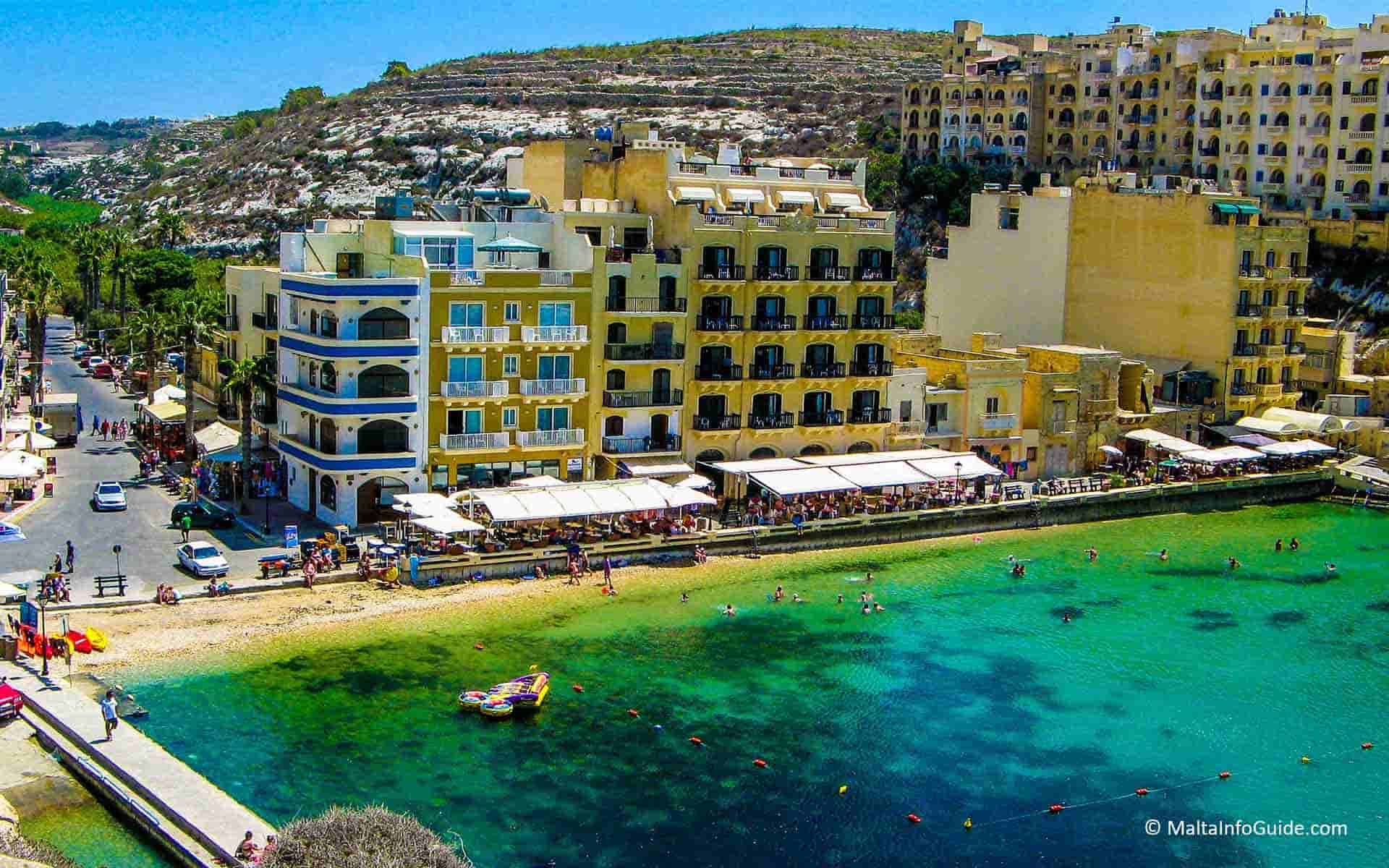 Xlendi Bay
Xlendi Bay Gozo is situated at the bottom of a valley. Lies at the bottom of a valley between high greenery hills. Surrounding the beach are many restaurants with different cuisines. 
xlendi bay facilities
Wheelchair Accessible

Bus Stop close by
Parking Lot
Restaurants
Lavatory Facilities
Watersports
7. Ghajn Tuffieha Bay Malta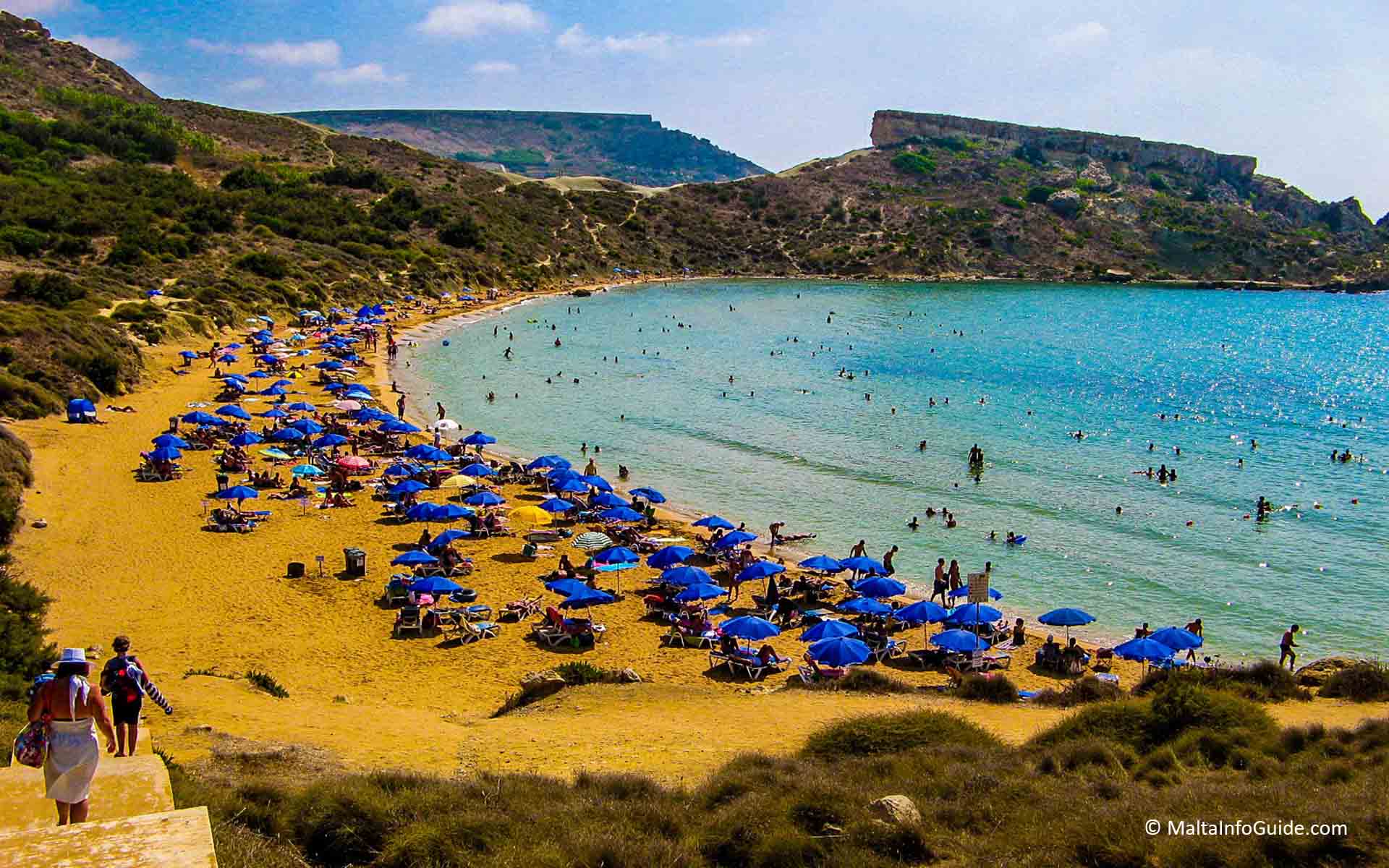 Ghajn Tuffieha Bay also known as Riviera Martinique
Far up in the north-west tip of the island is Għajn Tuffieha. We consider it as one of the most popular beaches. If you love sunsets, then this is the perfect bay to relax and watch the sun go down.
ghajn tuffieha facilities
Sunbed Equipment
Wheelchair Accessible
Bus Stop close by
Parking Lot
Restaurants
Lavatory Facilities
Lifeguards on site
Blue Flag Beach
Watersports
6. Armier Beach Malta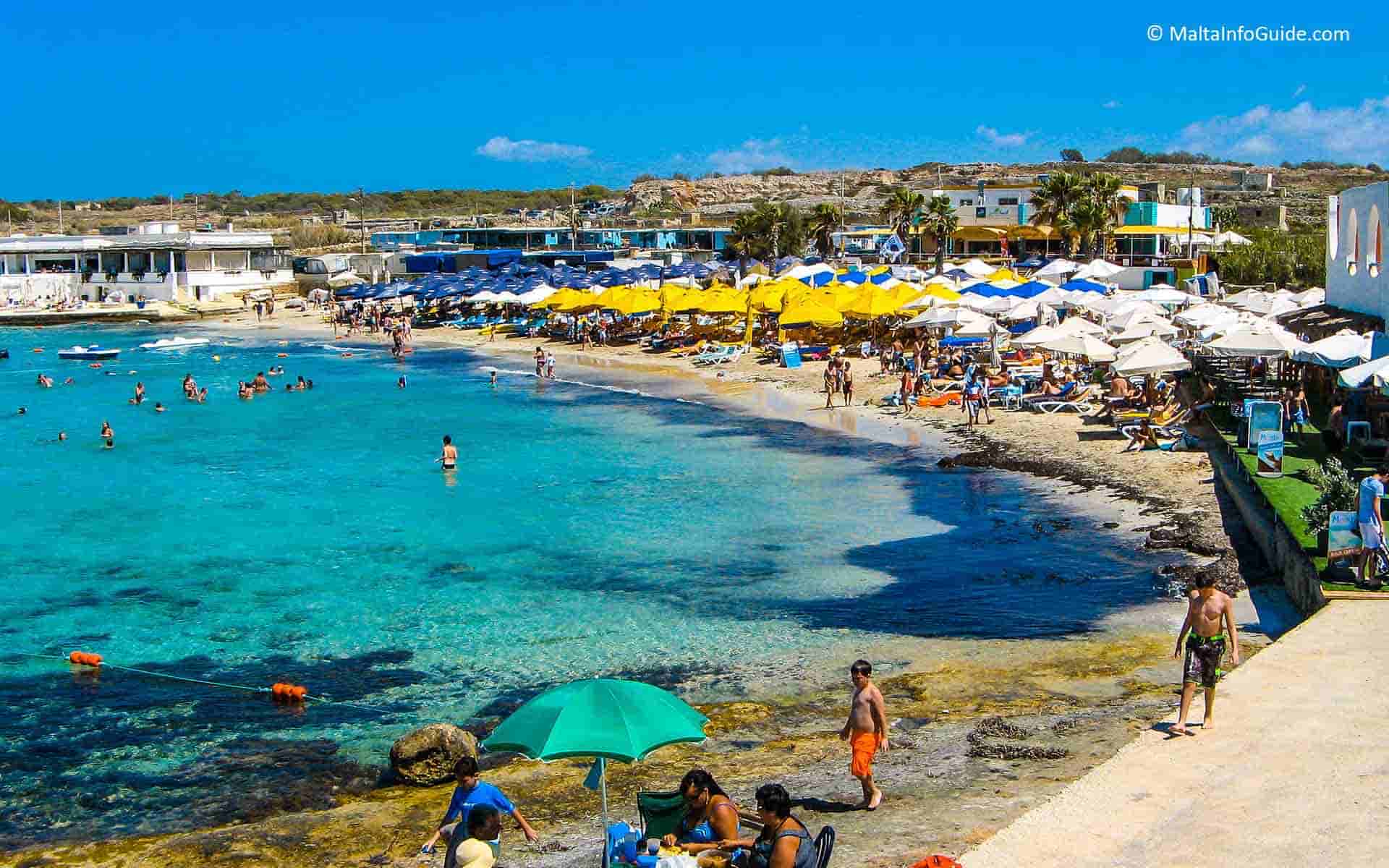 Armier Beach
Armier is split into two bays, Armier and Little Armier bay, Armier being the largest. They are both located in a remote part of the island overlooking the island of Gozo and Comino.
You can do barbeques, but with a special permit. Armier bay is very popular to the Maltese as during summer they are packed to the brim.
Armier facilities
Sunbed Equipment
Wheelchair Accessible
Parking Lot
Restaurants
Lavatory Facilities
Lifeguards on site
5. Blue Lagoon Beach Comino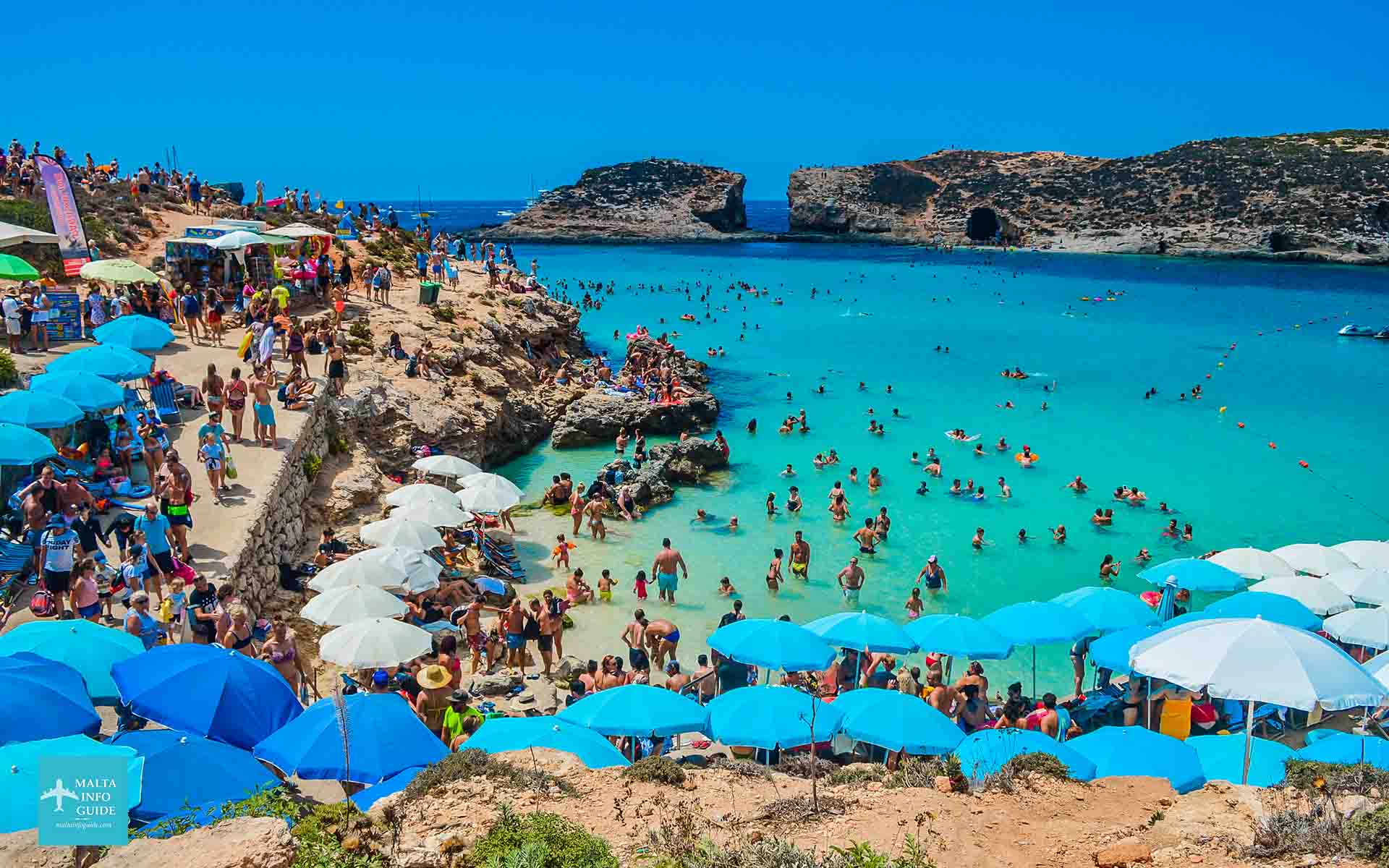 The Blue Lagoon during the peak months of summer
Blue Lagoon is largest attraction on the island of Comino. The only way to get here is by boat or by booking a tour. Even though many people consider this bay to be overcrowded, due to the amount of people visiting every day, we suggest visiting here during the lower seasons. There is plenty of space where to stay and sunbathe.
blue lagoon malta facilities
Sunbed Equipment
Food Trucks
4. Ramla Il-Hamra Beach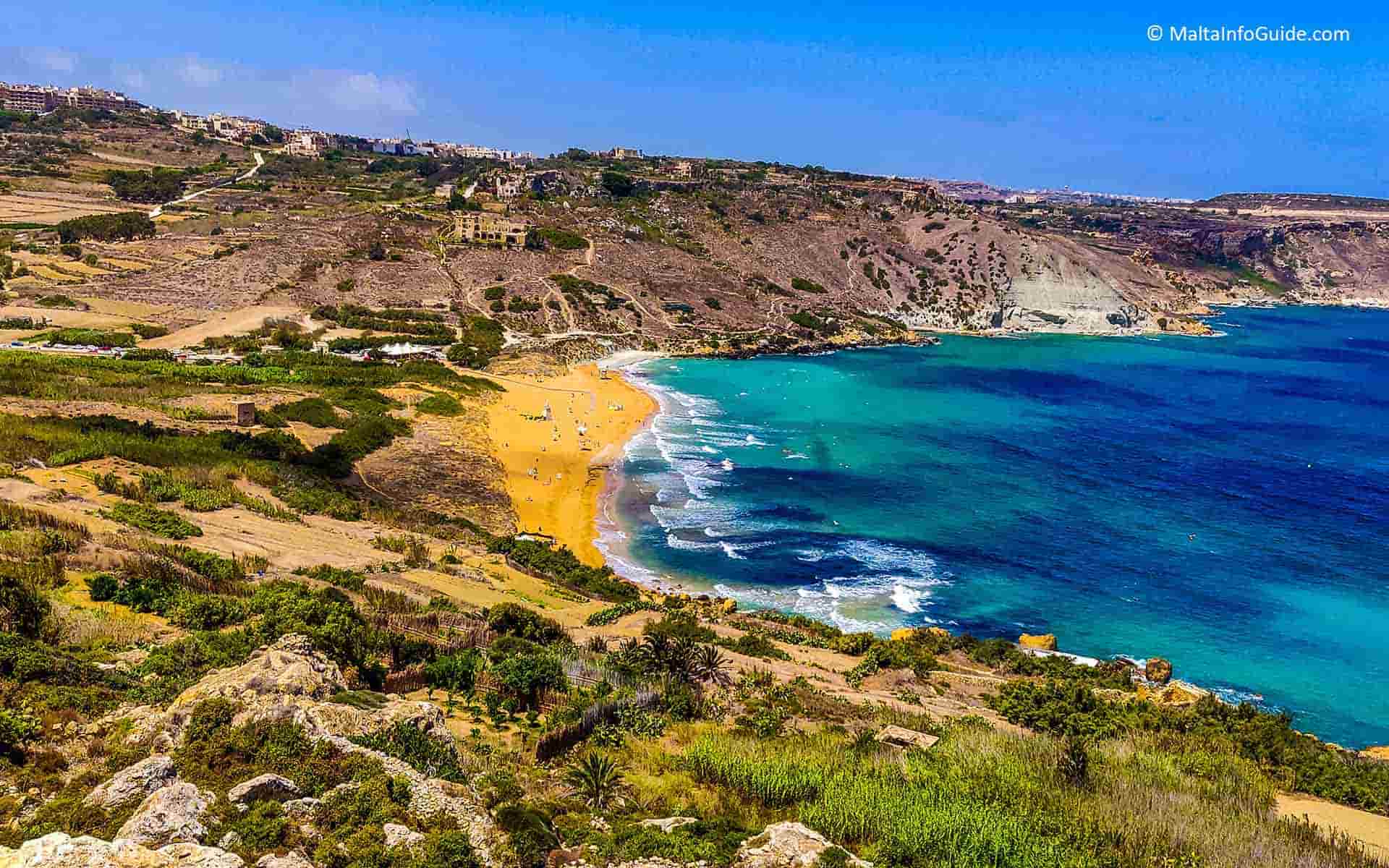 Ramla L-Hamra lies on the northern coast of the island of Gozo. An unspoilt bay surrounded by hills on both sides facing crystal clear waters. Considered as one of Malta's most fascinating spots to swim and one of the largest sandy beaches in Gozo.
Just beside the beach lies one of Gozo's hidden gems, the Mixta Cave.
ramla bay facilities
Sunbed Equipment
Wheelchair Accessible
Bus Stop close by
Parking Lot
Restaurants
Lavatory Facilities
Lifeguards on site
Blue Flag Beach
Watersports
3. Ghadira Bay Mellieha Malta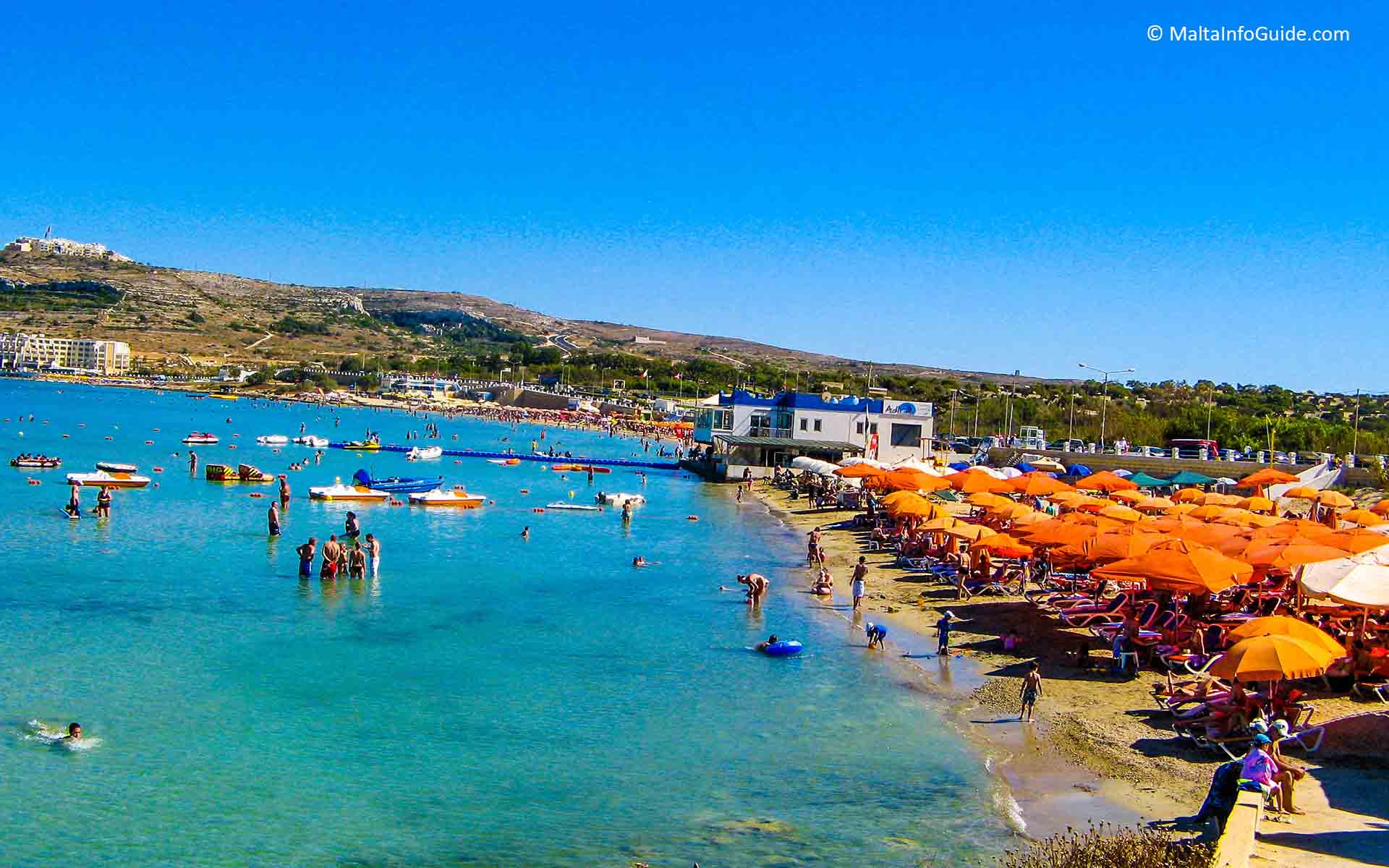 Mellieha Bay. In Maltese it is called Ghadira
The largest and most popular beach in all the Maltese archipelago. Mellieha Bay is divided into three separate bays spread along for one kilometer. This sandy beach is one of Malta's blue flag beaches.
mellieha bay facilities
Sunbed Equipment
Wheelchair Accessible
Bus Stop close by
Parking Lot
Restaurants
Lavatory Facilities
Lifeguards on site
Blue Flag Beach
Watersports
2. Paradise Bay Beach Malta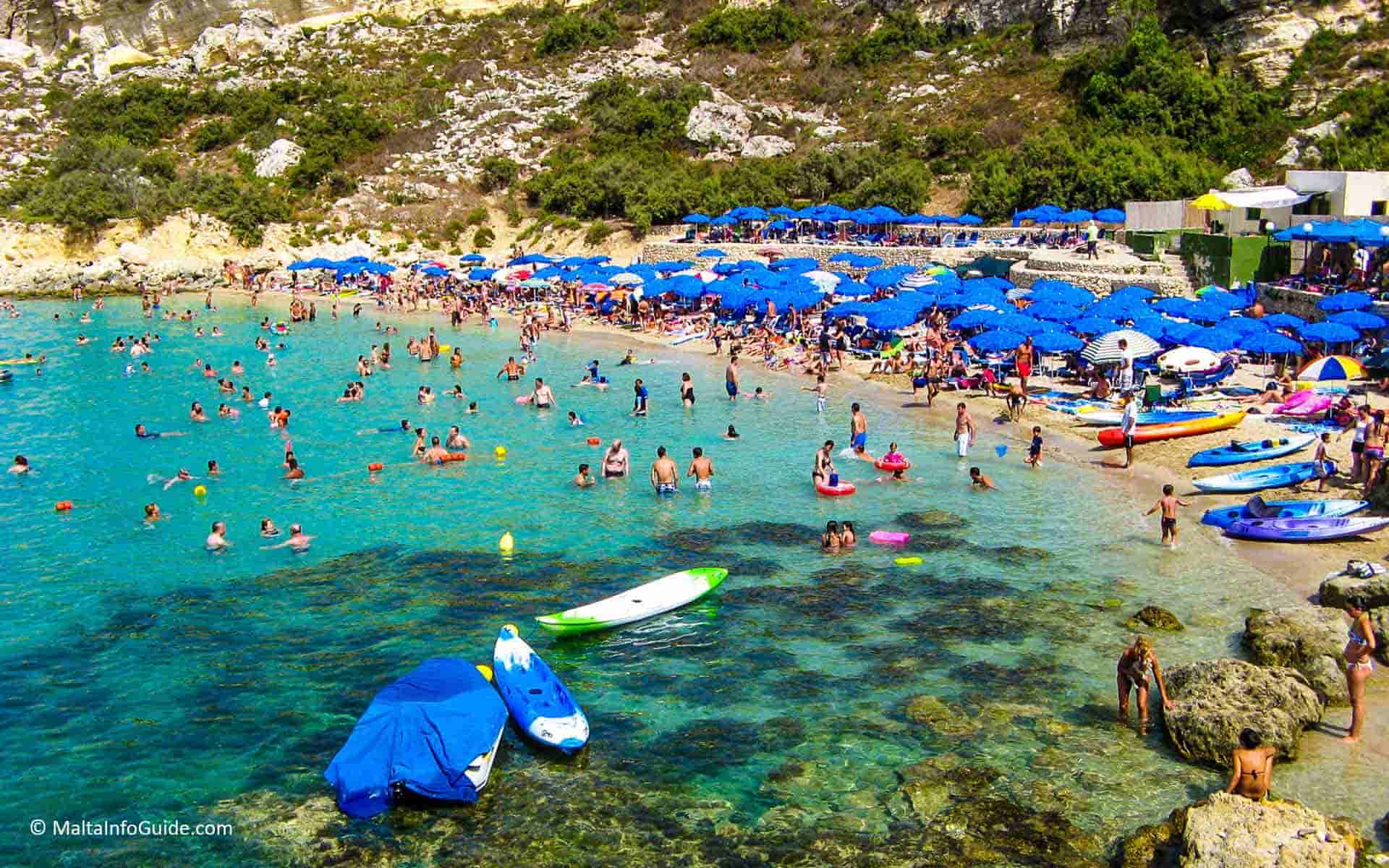 Paradise Bay
A romantic secluded beach, in the north point of Malta. Located opposite the ferry terminal at Cirkewwa. Paradise Bay is a very attractive beach that draws thousands of tourists and Maltese every year.
paradise bay facilities
Sunbed equipment
Bus Stops near the bay
Parking Lot
Restaurant
Toilet Facilities
Water Sports
1. Golden Bay Beach Malta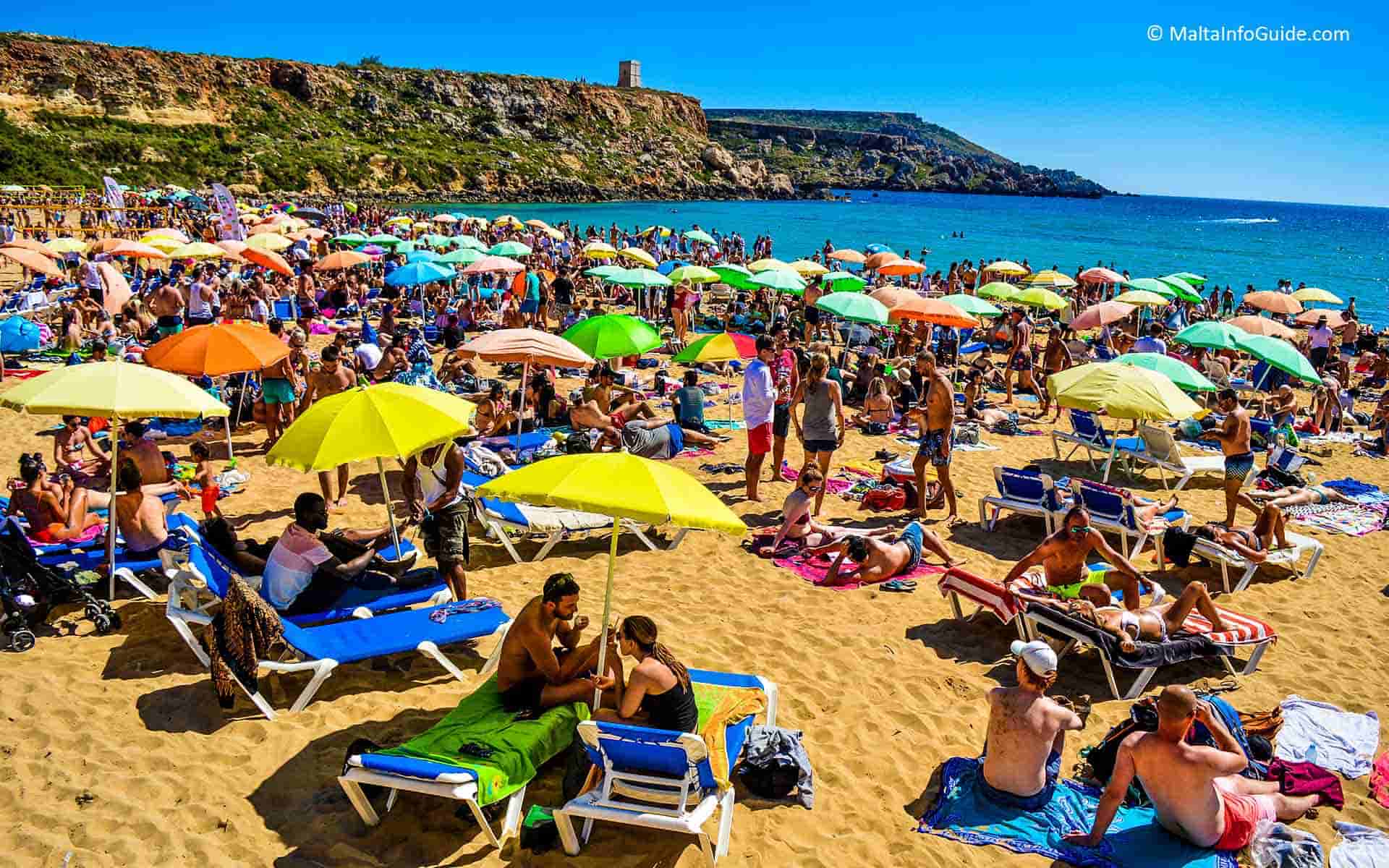 Golden Bay beach
Golden Bay in the limits of Mellieha is the only beach on the island with a five-star hotel beside it. Surrounding the bay are a few restaurants very popular by the locals. This bay is only 1 kilometer away from Riviera Martinique. Between each bay is a high ridge with a tower built by the Knights of Malta.
golden bay facilities
Sunbed Equipment
Wheelchair Accessible
Bus Stop close by
Parking Lot
Restaurants
Lavatory Facilities
Lifeguards on site
Blue Flag Beach
Watersports
Other Best Beaches In Malta & Gozo
bugibba perched beach
Bugibba Perched beach is a sandy beach located in the heart of Bugibba. Around the bay you find several hotels, restaurants and nightlife entertainment. The bay overlooks St. Paul's Islands.
St. george's bay
A stunning beach, always full with people of different nationalities day and night. Located in the heart of Malta's night life city, St. Julian's, St. George's Bay is the perfect beach with all amenities a small walk away.
gnejna bay beach
An isolated and picturesque beach around 2 kilometers away from Mgarr village. Gnejna Bay is very popular as it is quiet and away from the hustle and bustle of everyday life. This bay is perfect for families to spend a day by the sea.
dwejra bay
Located on the island of Gozo, Dwejra Bay is a tiny picturesque bay very close to the former Azure Window which collapsed in March 2017. Many Gozitans go down to their boat houses during summer and enjoy their time in front of the sea.
marsalforn bay beach
Marsalforn Bay Gozo is a very attractive beach in a very well know locality in Gozo. The bay stretches along the coast of the village with restaurants and a few shops close by. This bay is considered to be family friendly.

beaches in malta map
The Google map is very easy to use in order to find your preferred beach. On the left top side there is a button, click on it and a window opens with four selections sandy, rocky, blue flag and quality beaches.
what is the weather like during summer?
Hot....Hot....Hot.... Our weather is a great attraction for tourists who come and back in the sun, enjoying its warmth and the safety of the Mediterranean sea. Malta's beaches have kept the beauty and appeal that existed many centuries ago.
In Malta you will find some secluded beaches where few people visit, whilst others are more popular and heavily frequented by Maltese and tourists.
malta beach facilities
Almost all beaches have facilities to rent out sunbeds, umbrellas and a bite to eat but as a majority of Maltese we have the habit of carrying with us chairs, umbrellas, picnic coolers, bar-be-ques and other gadgets; and we just have fun.
Each beach has its own facilities such as parking and disabled parking, restaurants, lifeguards, swimming zones, blue flag beaches and more.
dog friendly beaches
Malta has some beaches where you can take your dog with you to swim. In actual fact, you can take your dog anywhere to swim but it must only be rocky. Here are Malta's dog friendly beaches.
Sandy and Rocky Beaches In Malta
sandy Beaches In Malta
Sandy beaches are the most popular within the Maltese as it is safer and more fun for the children. During summer, all sandy beaches are well frequented with locals.
rocky beaches in Malta
For those who wish to be more adventurous, rocky beaches are an obvious choice. Maltese people love swimming, and our rocky coast with its low-lying rocks allows easy access to our several Malta beaches. At the same time we suggest to be cautious as not all areas are safe and suitable for swimming for obvious safety reasons.
Want To Share This Page On Pinterest? Pin It Here!
want to rent a car in malta?
We have used Discover Cars every time we rented a car. We highly recommend them due to their good service and good prices.
Get The Best Rates On Your Car Rental Now!
need to book a hotel for your malta visit?
Using Booking.com, enter your travel dates and number of occupants then rates will be available for hotels and apartments during your visit to Malta 
Book Your Hotel In Malta on Booking.com for the Best Rates!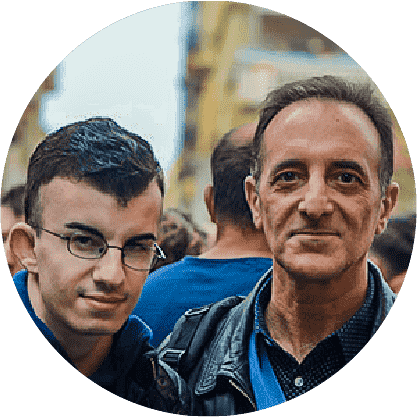 By Albert and Benjamin Magro