best Gozo Beaches today
You Find Sandy And Rocky Beaches Around The Islands
Besides visiting Malta you can cross over by boat and visit Gozo beaches.  There are some wonderful beaches where one can sunbathe and swim in the wonderful blue sea. Summer is a lovely time to be enjoyed and spend time on some beaches.

Disclaimer: On our website, you will find affiliate links from which we receive a small commission.
Gozo being a small island offers magnificent secluded places and popular places for swimming where both Maltese and Gozitans frequent. In winter it is very beautiful to walk along near the beaches and feel the strong wind and sea breeze on your face.

Are you looking for a particular beach in Gozo?

A complete list for rocky and sandy Gozo beaches…..
Ramla L-Hamra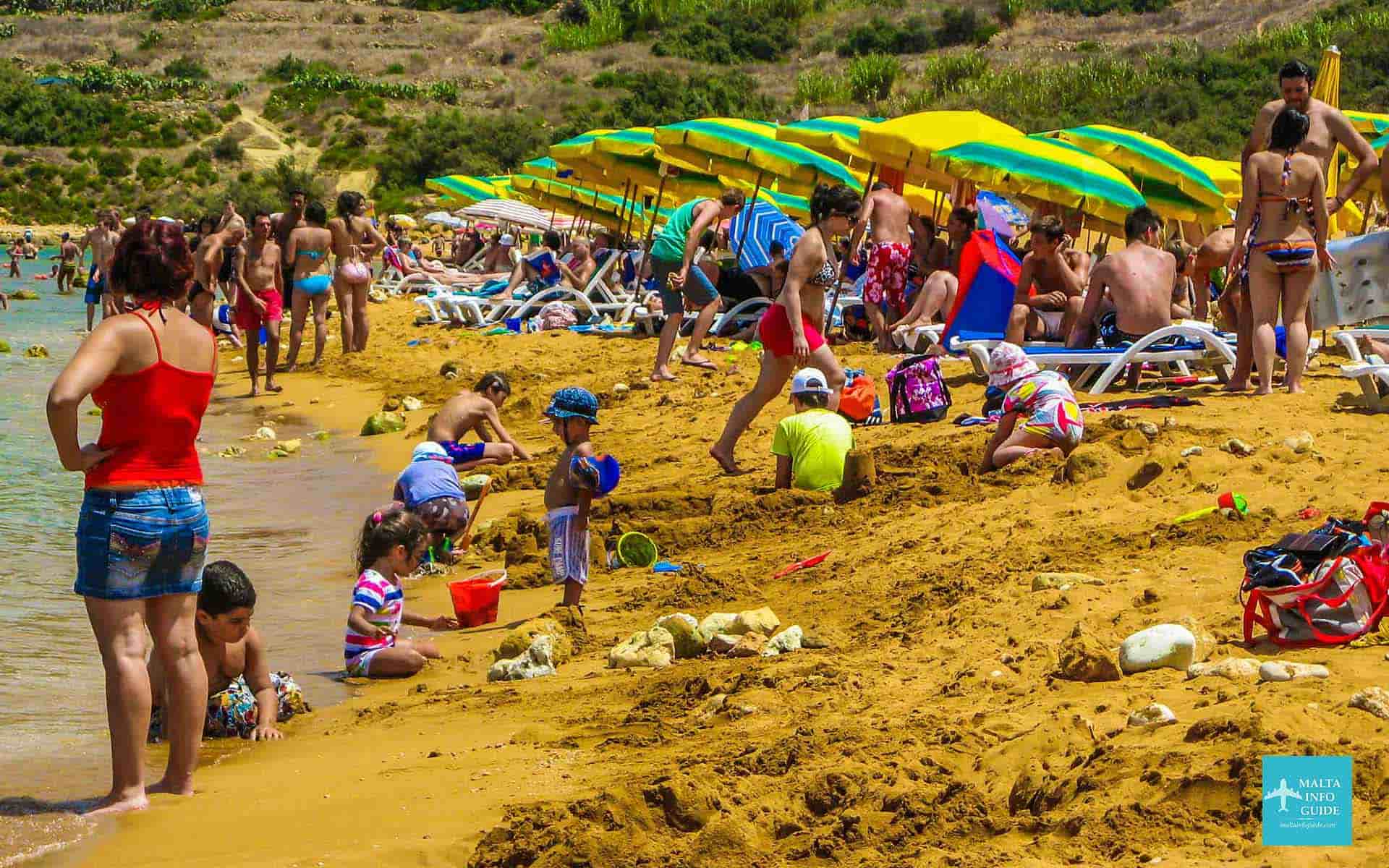 The Ramla Il-Hamra bay is located at the end of a long fertile valley north of Gozo very close to Xaghra and Nadur villages. It is the most attractive beach due to the sand colour a unique reddish/golden colour. It is a wonderful place to be as you will surely feel cut off from all reality of life. Here life stops and time dedicated for relaxation is surely guaranteed. In the centre of the bay is a statue of Mary with baby Jesus standing on a stone pillar a testimony of the Gozitan's religious faith.
Marsalforn Bay beach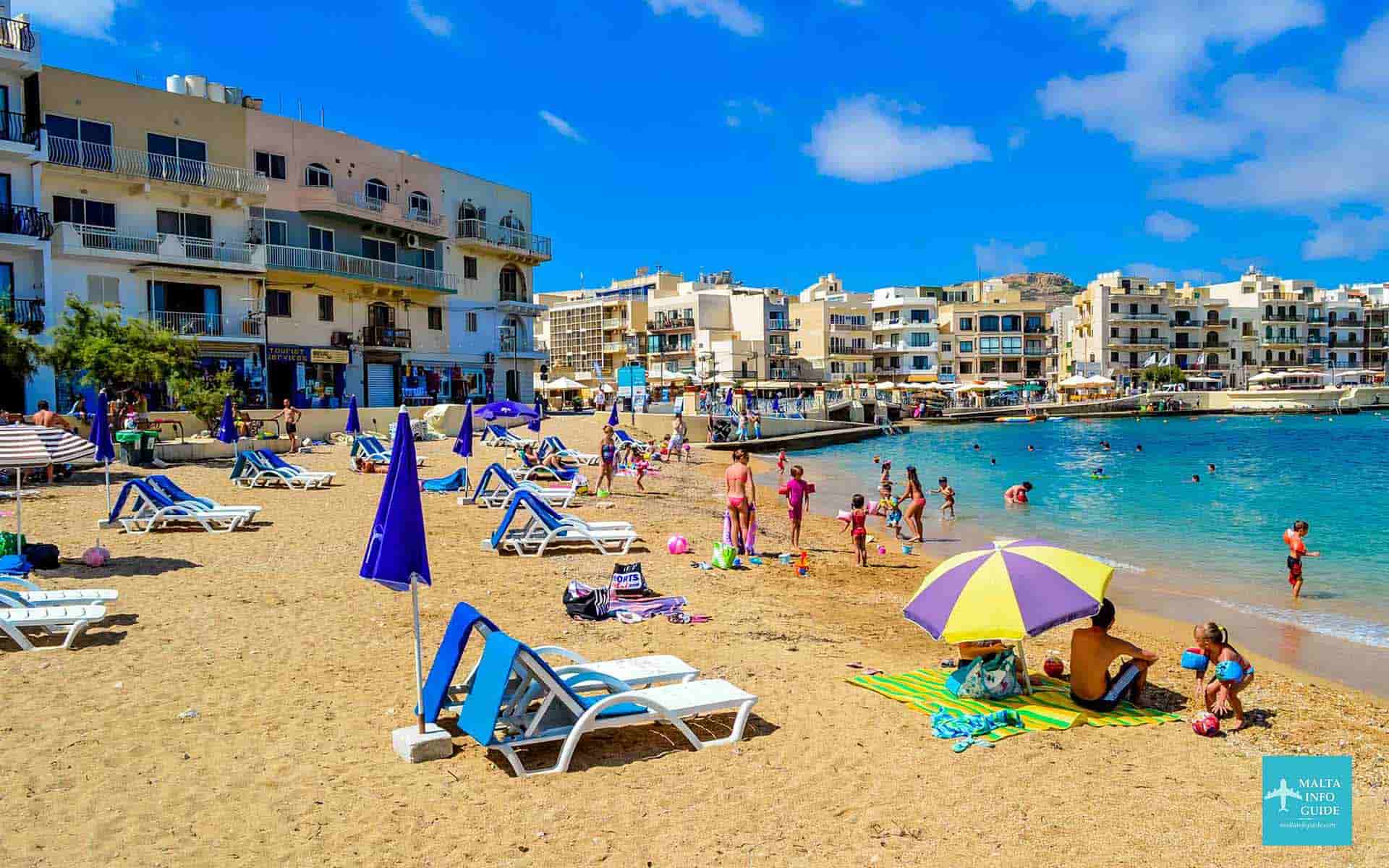 Marsalforn Bay is the most popular touristic spot on the Gozitan island. This seaside fishing village has been transformed into a holiday accommodation attracting many tourists, locals and Maltese especially for its quiet environment. It extends to Qbajjar bay and further to Xwejni bay with its natural beauty. It also enjoys a quaint small sandy beach at the centre. Diving is also popular but the most are the restaurants spread along the beach which attracts many customers for great food with good value for money.

Xlendi Bay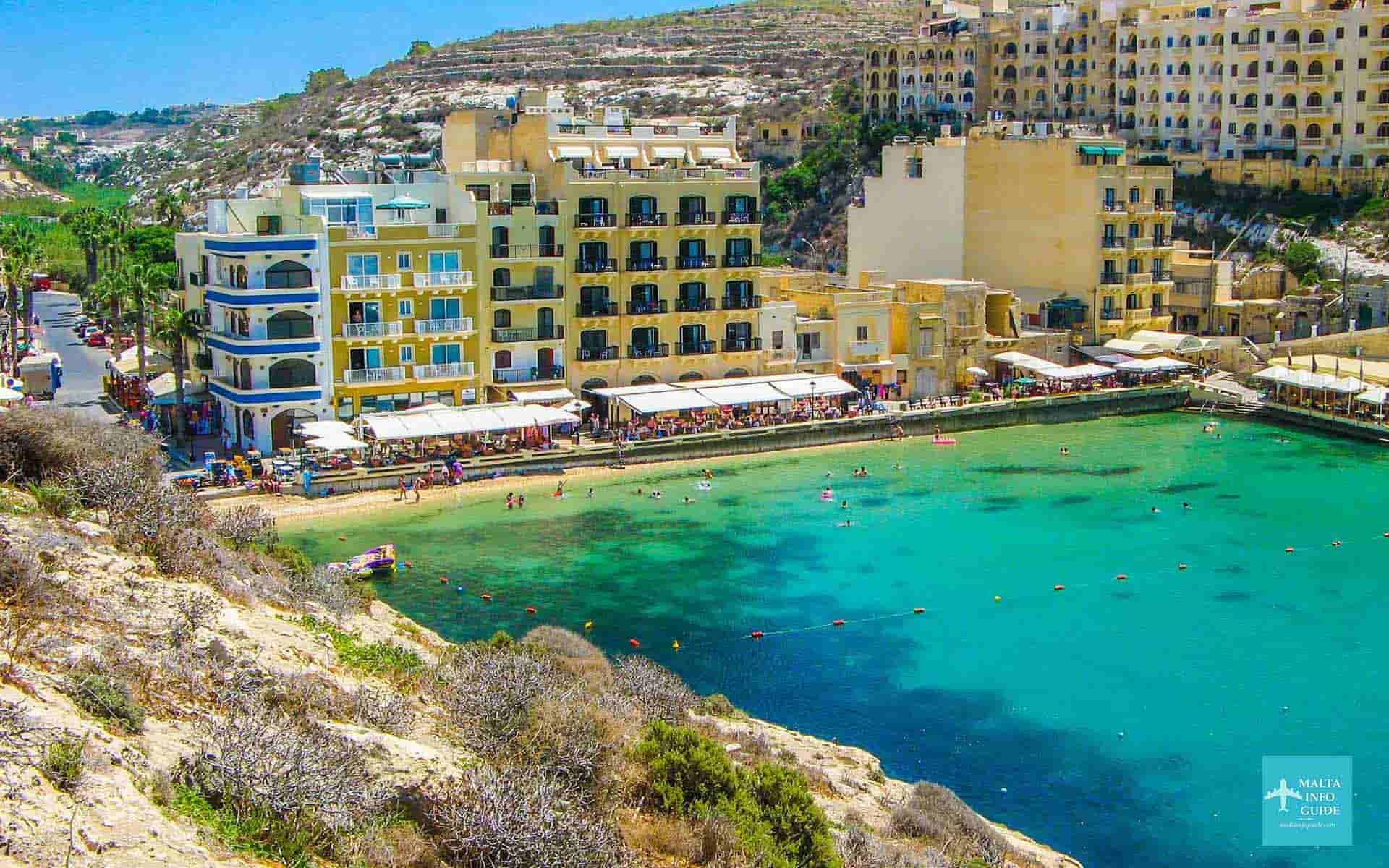 Xlendi bay is a beautiful inlet located at the end of a very steep valley starting from the village of Kercem. It is a small seaside fishing village which although has become very commercialised with apartments and restaurants it still retains its natural beauty. Upon arrival you will notice the coloured traditional fishing boats. You can swim from the small sandy beach or from the left rocky side by jumping in the dep waters.
Wied l-Għasri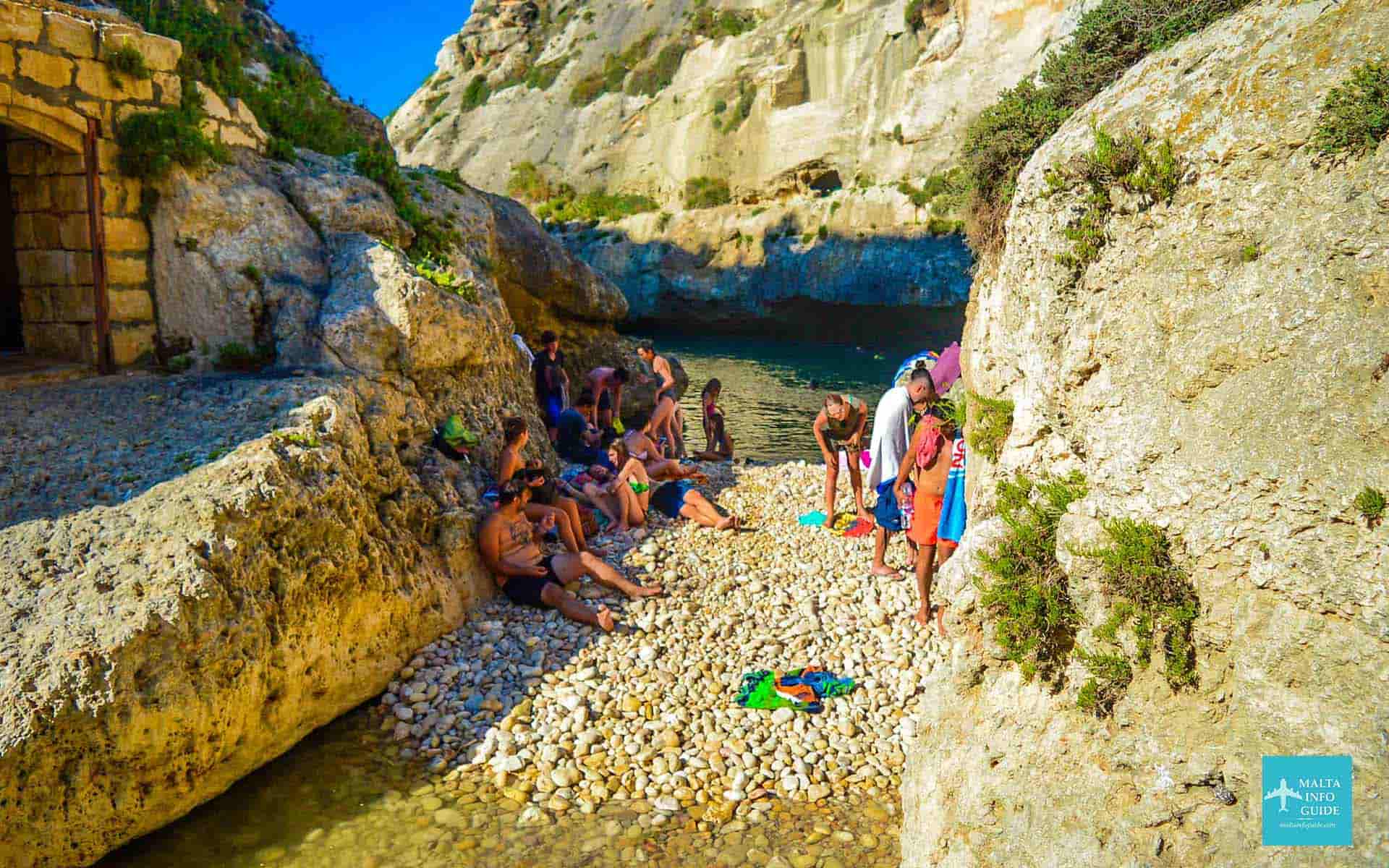 Between beautiful cliffs lies a bay called Wied il-Ghasri. A favourite spot for a number of foreigners and Maltese visit this location every time they come to the island. A beautiful little spot to enjoy, great for swimming and snorkelling. To go down to the sea level there are around 90 rock cut steps which could be fairly difficult for people of a certain age. For those who love exploring there are a number of caves while going down and good for photo lovers.
Mġarr ix-Xini

Mgarr ix-Xini is a secluded lovely bay where you can enjoy a peaceful swim. It is situated on the southern coast of Gozo facing Malta. It can be reached through the villages of Sannat or Xewkija. It lies at the far end of a valley with very steep cliffs on both sides. The beach area into the sea is very pebbly with much larger stones and sometimes a bit uncomfortable to walk over. There are various areas from where you can dive as the sea level quickly becomes deep.
Dwejra & blue hole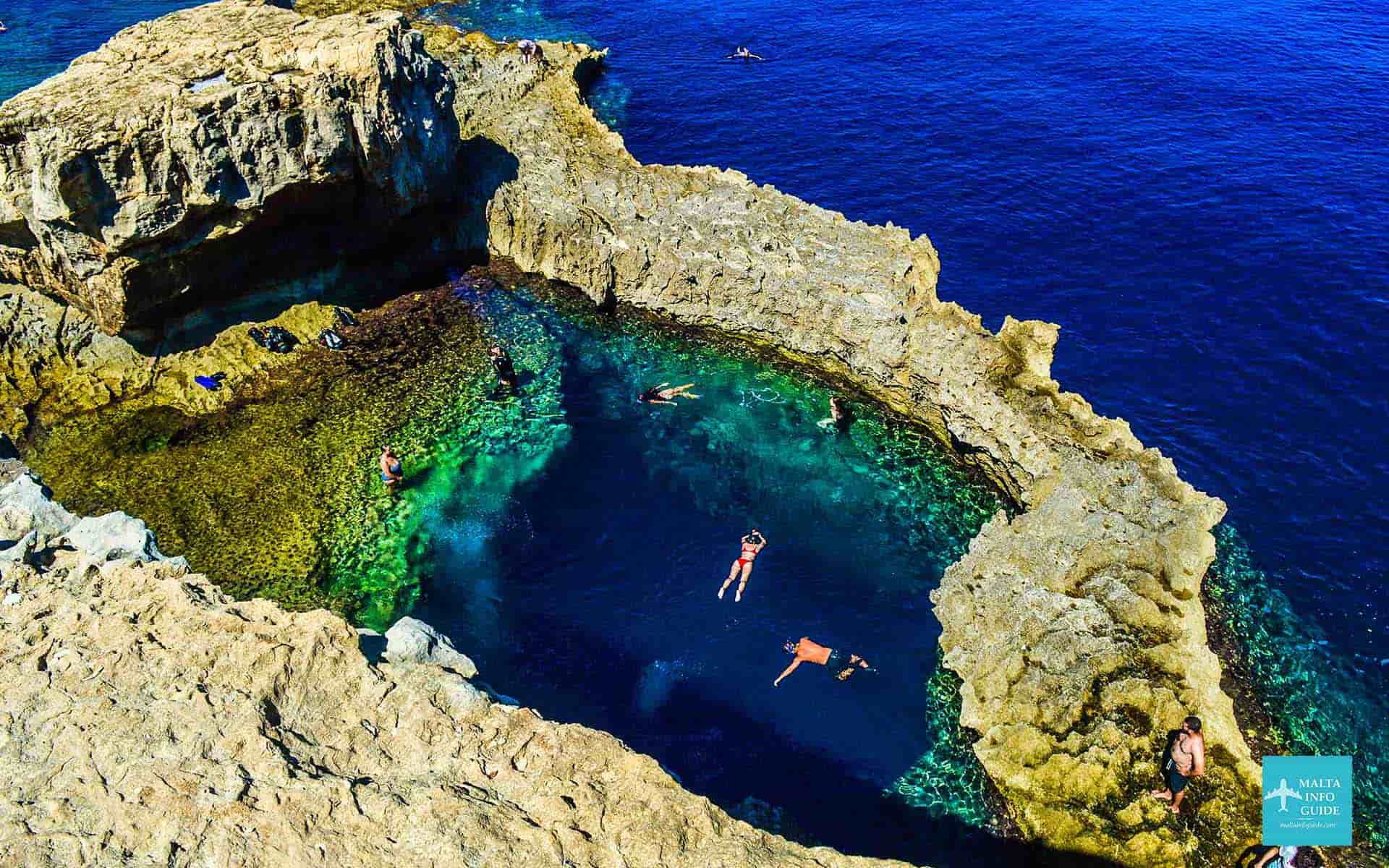 The Dwejra bay is a special area in gozo where you find a blend of geology, landscape, fauna, habitats, shoreline, sea scapes, archaeology, flora and with its history it is even more special in the heart of locals. It is also incredibly popular worldwide for its diving spots with the Blue Hole being the most beautiful dive site on the island.
People swim at the enclosed Dwejta inland sea where you feel like in a fable (different environment). This area has been used in various films like the Game of Thrones with the Azur Window which unfortunately has crumbled and disappeared in the deep sea.

Ħondoq ir-Rummien

Hondoq ir-Rummien is a lovely small sandy beach situated on the south eastern coast of the island. It can be reached through the village of Qala. It is very popular with the locals. The sea gets deep quickly from the sandy area.
There are various spots from where you can dive into the deep water. The last piece of road is steep but then you find ample place to park your car. No public transport is available to this beach.
San blas bay
San Blas Gozo is another lovely bay to swim located on the North-East coast of the Island. With red/ochre coloured sand very similar to that of Ramla Bay. A secluded beach it is rather attractive to swimmers as it is well frequented but never crowded as it is not easily accessible especially if you are in a hurry. It is reached through the village of Nadur. It is of exceptional charm and worthy of a visit.

The narrow road is very steep to get to it. One has to be careful how to go down. Parking is limited.
Xatt l-Aħmar

Ix-Xatt l-Ahmar is another lovely beach for diving and swimming reached through a narrow winding road from the village of Ghajnsielem. A small area for parking your car is available and then proceed the last part by walk. This location is very close to the Gozo ferry terminal since this village is the first one you reach at the top of the hill. The seashore is all rocky and accessible by steel ladders during the summer months for easy access. It is still a very quiet area where not many people visit.
Map of Malta & Gozo Beaches
Want To Share This Page On Pinterest? Pin It Here!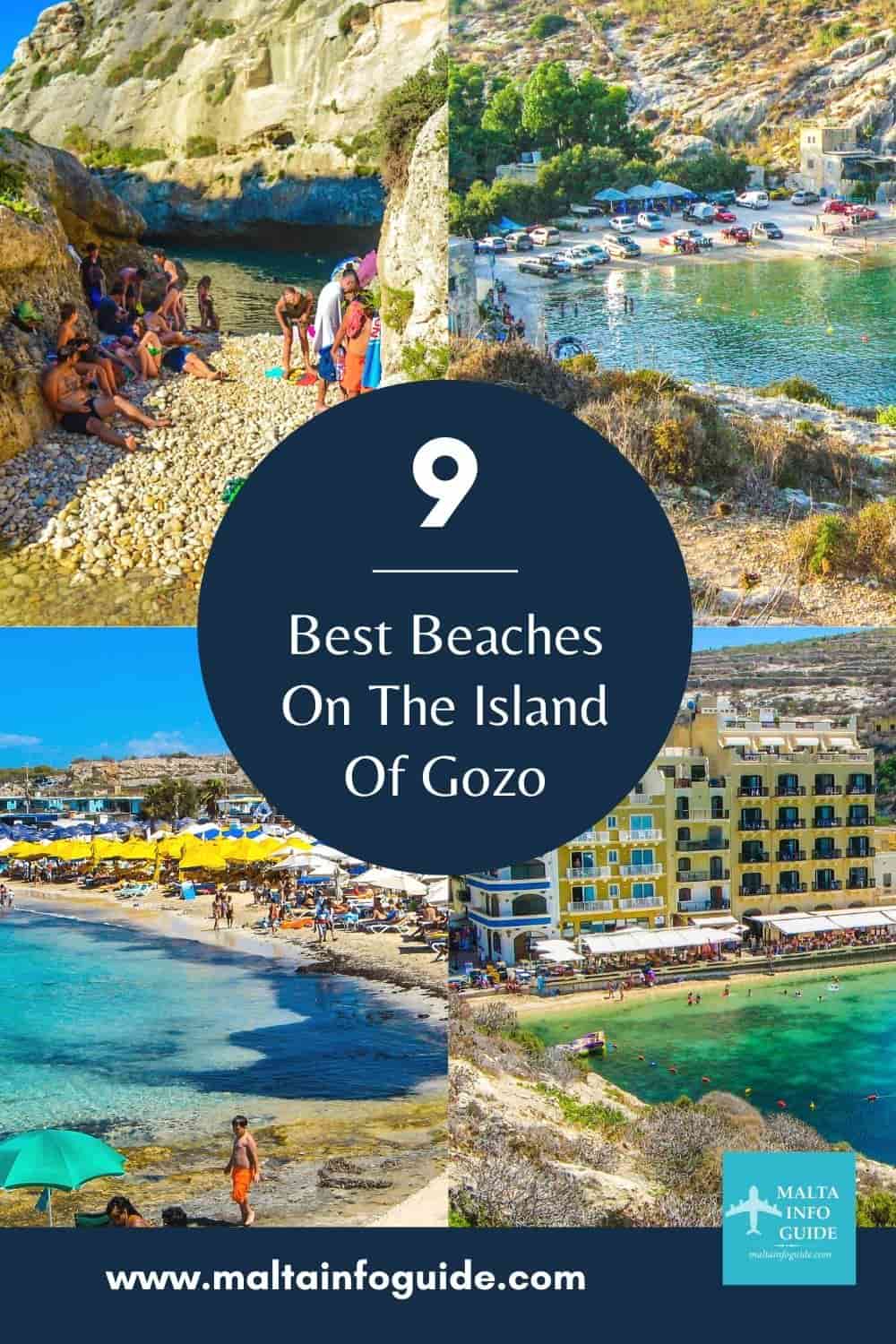 want to rent a car in malta?
We have used Discover Cars every time we rented a car. We highly recommend them due to their good service and good prices.
Get The Best Rates On Your Car Rental Now!
need to book a hotel for your malta visit?
Using Booking.com, enter your travel dates and number of occupants then rates will be available for hotels and apartments during your visit to Malta 
Book Your Hotel In Malta on Booking.com for the Best Rates!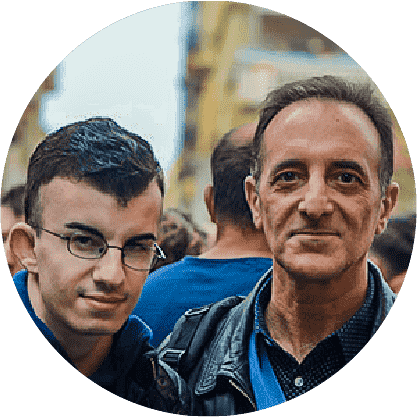 By Albert and Benjamin Magro