Gozo Beaches
You find sandy and rocky beaches around the islands
Besides visiting Malta you can cross over by boat and visit Gozo beaches.  There are some wonderful beaches where one can sunbathe and swim in the wonderful blue sea. Summer is a lovely time to be enjoyed and spend time on some beaches.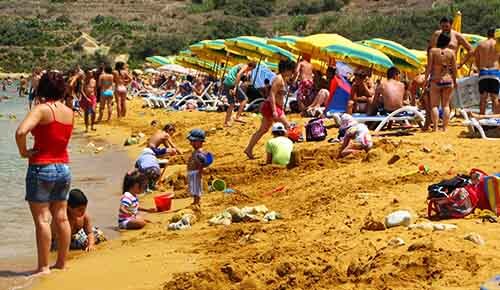 Gozo being a small island offers magnificent secluded places and popular places for swimming where both Maltese and Gozitans frequent. In winter it is very beautiful to walk along near the beaches and feel the strong wind and sea breeze on your face.

Are you looking for a particular beach in Gozo?

A complete list for rocky and sandy Gozo beaches…..
Map of Malta & Gozo Beaches
Xatt l-Aħmar
Ix-Xatt l-Ahmar is another lovely beach for diving and swimming reached through a narrow winding road from Ghajnsielem. A small area for parking the car is available and then proceed the last part of the road by walking. This location is very close to the Gozo ferry terminal since Ghajnsielem is the first village at the top of the hill. From this location one can observe views of Malta.
The seashore is all rocky and is accessible by steel ladders during the summer months installed on purpose for easy access. It is still a very quiet area where not many people visit this area.

Divers will enjoy the area and there is a wreck called Xlendi which was a ferry boat that many years ago used to ferry passengers between the islands of Malta and Gozo.
Mġarr ix-Xini
Mgarr ix-Xini is a secluded lovely bay where you can enjoy a peaceful swim. It is situated on the southern coast of Gozo facing Malta. It can be reached through the villages of Sannat or Xewkija. It lies at the far end of a valley with very steep cliffs on both sides. The road is very narrow and a fairly long drive along the edge of the cliffs with beautiful natural rock formations. It is accessible by car both ways in and out of the place.
At the beach you see on the side fishermen boat houses and in the middle and towards the end of the very long valley with many wicker plants reaching close to the beach.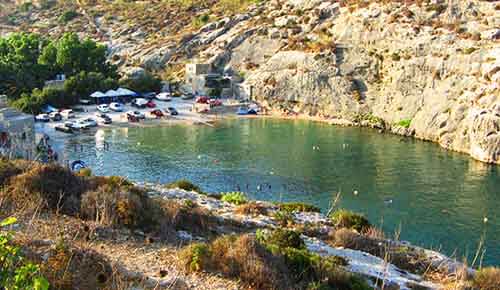 The beach area into the sea is very pebbly with much larger stones and sometimes a bit uncomfortable to walk over. In the sea you have to walk over the pebbles and stones until the water is deep.
This bay is never crowded and you will find yourself surrounded only by nature. There are various areas from where you can dive as the sea level quickly becomes deep. In fact boats do come in close to the beach area.

This bay is ideal for diving too especially during the night for the number of caves that are found here.

Wied l-Għasri
Between beautiful cliffs lies a bay called Wied il-Ghasri. A favourite spot for a number of foreigners and Maltese visit this location every time they come to the island. A beautiful little spot to enjoy, great for swimming and also for snorkeling.
The last part of the road is not good at all. To go down to the sea level there are around 90 rock cut steps which could be fairly difficult for people of a certain age. For those who love exploring there are a number of caves while going down and good for photo lovers.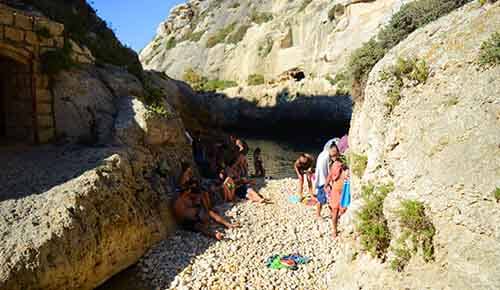 During peak summer months the area becomes busy with locals who come over with their families. The custom is that they bring with them camping chairs, umbrellas, cooler box, pizza boxes, etc.

Diving is ideal as there are caves which you can explored. One word of advice if you don't know the place always dive with people who have experience, as the sea shore is narrow and within a small area when there are divers the area gets busy at times.
On the east side there are two shallow beaches called Il-Qbajjar and Ix-Xwieni. This is ideal for swimming and having a drink at the bars close by even restaurants to eat.

Not far from another interesting attraction Wied il Mielah Window` which can be done before or after Wied il-Ghasri

Ħondoq ir-Rummien
Hondoq ir-Rummien is a lovely small sandy beach situated on the south eastern coast of the island of Gozo. It can be reached through the village of Qala. The last piece of road is steep but then you find ample place to park your car. No public transport is available to this beach.
You need to go early to find a secluded place but depending on the period of time during the year as it is very popular with the locals. The sea gets deep quickly from the sandy area. There are various spots from where you can dive into the deep water especially from the left side as there is a concrete jetty at a fair level above sea level.

It is an open bay facing Comino island. During the summer period it is easy to find a local kiosk selling snacks and drinks as it is fairly far away to buy the necessities if you do not get with you. It is an excellent location for a bar-b-que.

Since the sea is very clear and there are small caves at water level makes it an attractive area for snorkeling and diving.