Malta International Airport
Malta International Airport
What To Expect Before You Fly To The Maltese Islands
Welcome to Malta International Airport the only one on the Maltese islands.
Many foreigners search for details about the airport in Malta. The airport is sometimes referred to as Luqa Airport or Valletta Airport by the Maltese people. It is the main entry point to Malta for the majority of visitors.
The other point is through the Grand Harbour besides the capital city of Valletta, by catamaran from Pozzallo, Sicily and through the cruise liner Valletta port terminal.
Our airport page will guide you with basic information to save time and money. It contains information that you might be asking yourself; location, airport facilities, shops, airline offices, transport, answers to your many questions.
Some airport quick facts

Malta Airport has a medium sized terminal, very well organized, efficient and you can find all that you need for the short span of time you spend within the premises.
There was 7,310,289 passenger movements for 2019, a record with a growth of 7.4% over 2018.
During 2019 MIA won the award for 'The best Airport in Europe' for its size and category by the Airport Council International's Airport Service Quality awards (ASQ). For the past two years it came second and third.
In Maltese it is called 'Ajruport Internazzjonali ta' Malta'.
Malta International Airport code is abbreviated to MIA. This is used only as an abbreviation of the airport name.
The airport code is MLA which stands for Malta Luqa Airport.
MIA contributes as the main center for Air Malta and Medavia operations. Ryanair and its subsidiary Malta Air have a base at this airport.
The Malta Timezone is UTC+1 (DST+2)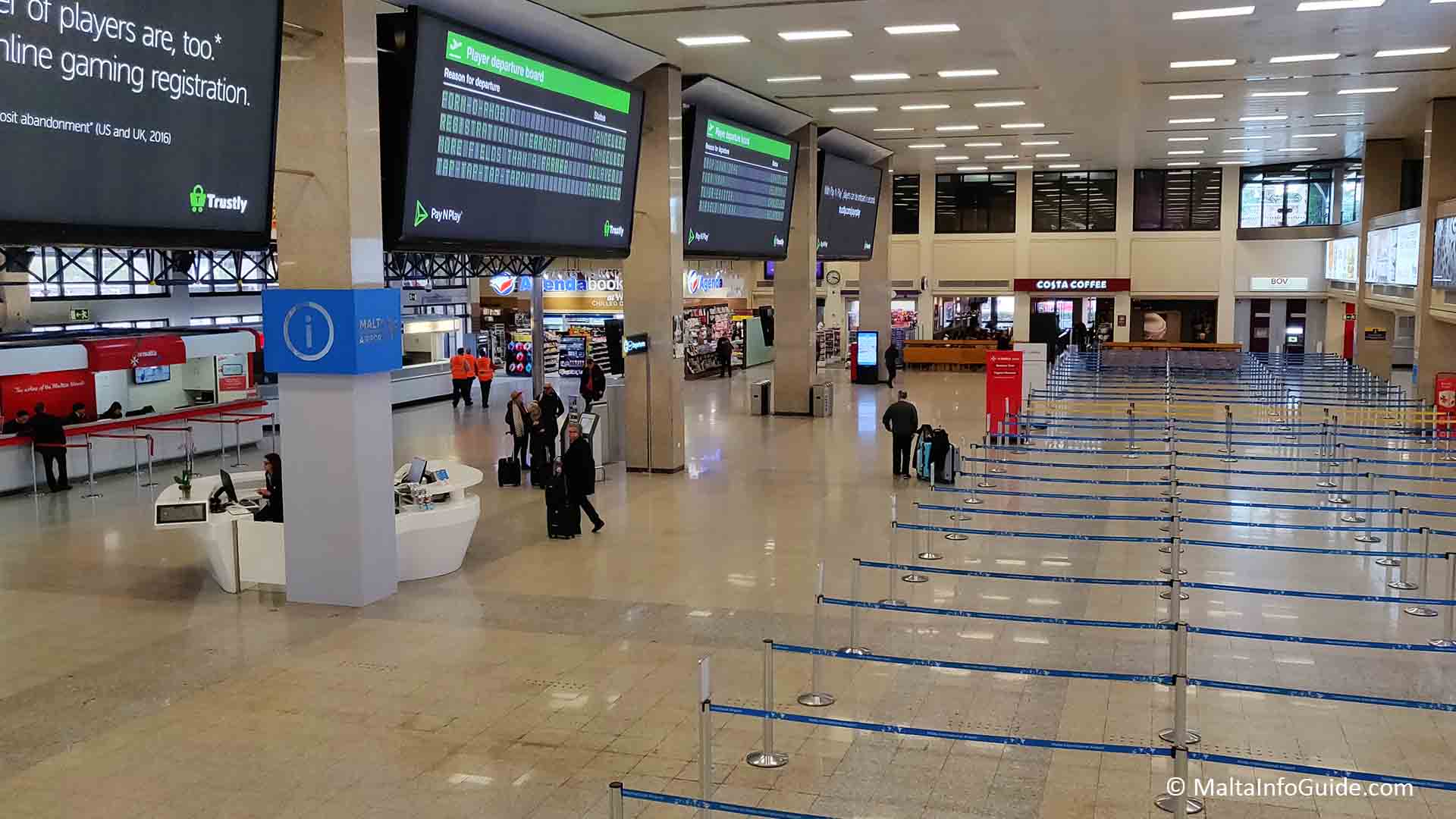 Disclaimer: On our website, you will find affiliate links from which we receive a small commission.
Travel time From The Airport to your accommodation and Vice-versa
Time spent in travelling depends on the time during the day. The time indicated as an average during average traffic.

By Taxi, coach or private rented car. By Public Transport route buses. The time spent on the route bus is much longer as it passes through a much longer route.
Below we provide some of the village distances from the airport | time of travel by car | travelling time by bus
Valletta the capital city: 8.2 kilometres | 15 minutes | 30 minutes
Sliema, Gzira, Ta' Xbiex: 10 kilometres | 20 minutes | 50 minutes
St. Julian's, Paceville, St. George's Bay: 11 kilometres | 15 minutes | 1 hour 10 minutes
Swieqi, Ibrag: 11 kilometres | 15 minutes | 1 hour 10 minutes
Bugibba, Qawra, St. Paul's Bay: 20 kilometres | 35 minutes | 1 hour 35 minutes
Mellieha Malta: 25 kilometres | 40 minutes | 1 hour 40 minutes
Cirkewwa Ferry Terminal: 31 kilometres | 45 minutes | 1 hour 45 minutes
Marsascala: 7.5 kilometres | 15 minutes | 30 minutes
Mdina Malta: 11.5 kilometres | 20 minutes | 50 minutes
Golden Sands: 20 kilometres | 30 minutes | 1 hour 30 minutes
How to get from Malta airport to Gozo?
Renting a Car

First you will need to drive to Cirkewwa Ferry Terminal where you will take the Gozo Channel ferry to the island of Gozo.
Then you will drive to your hotel from Mgarr Terminal Gozo.
By Public Transport

First Option: Catch the X1 to Cirkewwa Ferry Terminal. This takes around 1 hour 10 minutes.
Second Option: Catch the 71 to Bombi Floriana, then catch the 41 to Cirkewwa Ferry Terminal. This takes around 1 hour 40 minutes.
By Airport Transfer

There are some transfers that take you directly to your hotel in Gozo from the airport in Malta.
By Taxi

You can take a taxi that costs around €30 from the airport to the Gozo ferry. It takes around 40 minutes to arrive to the ferry. Catch the boat then get another taxi to your accommodation.
Hotel shuttle

If you need a hotel shuttle service on arrival at Malta International Airport, the airport provides this shuttle service.  You can also book on arrival to Malta in the baggage reclaim area. They are all fixed prices. 
What Amenities Do I Find At The Airport
Due to the small size of the airport the departures and arrival areas are besides each other and on the same level. You are free to walk from one to the other and make use of the various facilities in both areas.
What do you find at the Departures Lounge?

On arrival at the terminal, you stop in front of the main doors with either a taxi, coach or a private car.
You can park the private car in the large parking area just in front of the terminal. If you are with a rented car there is a specifically designated area as soon as you enter the airport ring road from the main road.
On entering you find the check-in desks. Screens with updated information on all flights are in the same area including the airport help desk. A self-check-in system is also available.
Departures:

Check-in Area. There is also a self check-in area available 24 hours a day.
Public Toilets
Malta Post Office: A letter box, safety deposit box and an office is available for assistance. Office hours are 07:30 - 13:00.
BOV ATM: You can only withdraw money from the ATM and a BOV night safe is available.
Costa Coffee: Charging points are available. Open 24 hours 7 days a week.
Airline Offices: Libyan Airlines, Air Malta, Alitalia, Air Serbia, Lufthansa, Emirates, Tunisair. Aviaserve serves Easyjet, Ryanair, Wizzair, Swissair, Vueling, jet2.com.

Agenda bookshop at WHSmith: Open 24 hours and 7 days a week.
Between the Arrivals and Departures
Observation Deck
Lufthansa City Center Office
Food court: Here you find Mc Donalds, KFC, Burger King, Fat Harry's, Sandella's Flatbread Cafe. The food court is open 24 hours a day but each establishment has different opening hours.
Samsonite: Offers an array of travel accessories including luggage's, wallets, umbrellas and much more. Monday to Sunday 08:00 to 20:00.
Hebe: High class brands offering sunglasses, jewellry, watches and much more. Monday to Sunday 06:30 to 22:30.
Arrivals Lounge

WHSmith Express: Open hours Monday to Sunday 07:30 to 22:00.
Vodafone: Customer service and you can also purchase mobile phones, iPads, network keys and top up cards. Monday to Sunday 09:00 to 21:00
Pharmacy: Monday to Saturday 08:00 - 18:00 and Sundays & Public Holidays 09:00 - 12:00.
Costa Coffee: No Charging points are available. Open 24/7.
Malta public transport: Monday to Sunday 08:00 to 19:30
Tourist Information Office: Brochures about Malta and maps for your holiday.
Car rental companies: Sixt, Europecar, Hertz, Thrifty, 1first car rental, Greenmotion, Avis, Budget, Izibet, Goldcar, Aviaserve, Rhodium

Toilets
HSBC: 2 ATMs are available. One for withdrawal that only withdraws Euros. This machine does not accept deposits. Adjacent to it there is another ATM that accepts deposits.
Robert Arrigo and Sons - Travel Agent

Air Malta baggage service - Monday to Sunday 7-18:00

Rental cars key returns.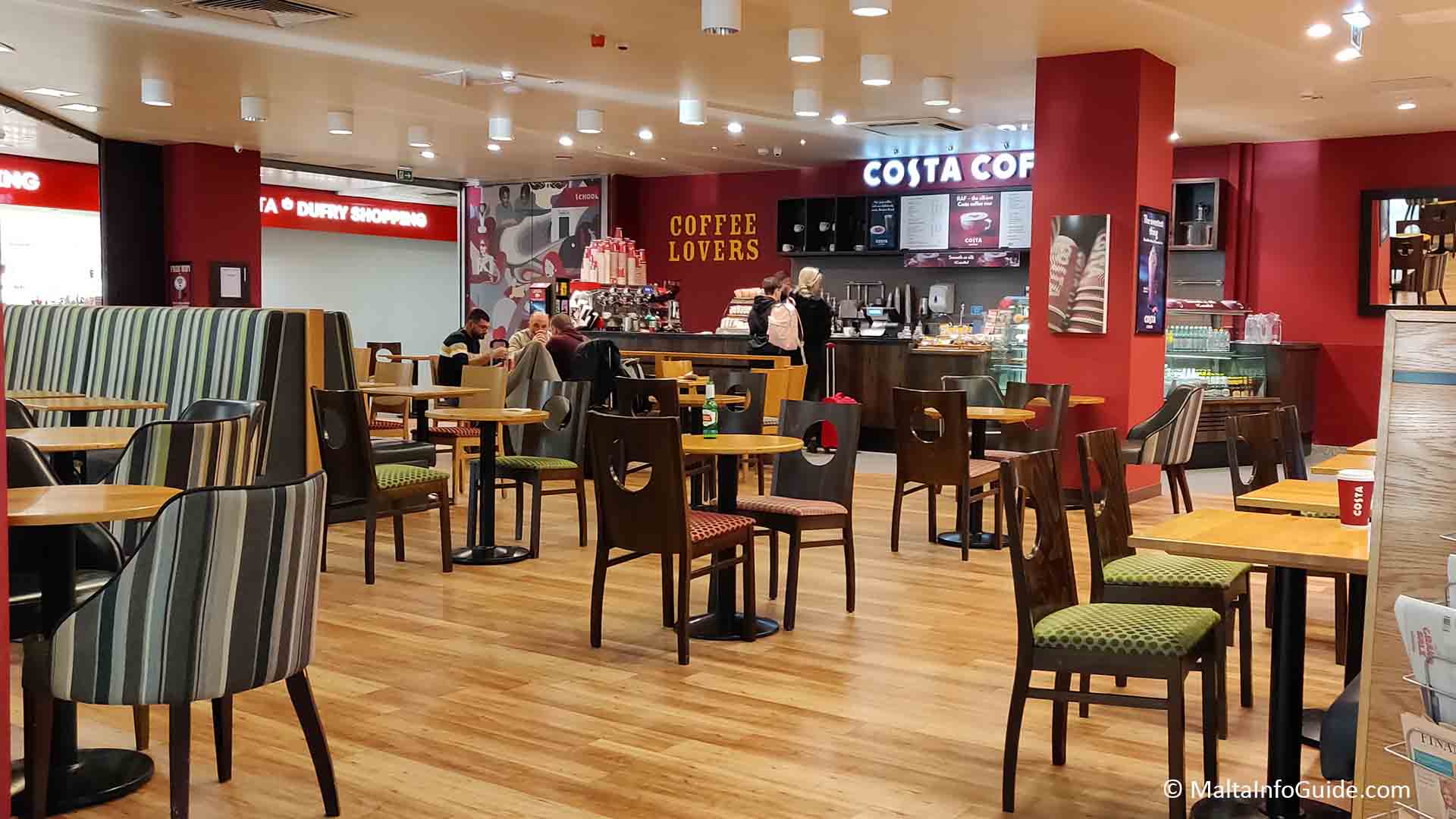 procedure of getting to Upper level of departures lounge
After checking in at the Departures Lounge you can proceed to the Security Area which is adjacent to this same area. From here on these are the steps you have to take
First scan your boarding pass
Take the escalators upstairs
Then pass through security
Things you should know about passing through security:
An attendant will guide to your designated lane

Plastic trays will be provided to put your belongings
Electronics like laptops, mobile and tablets should be taken out of bags and put in the trays together with wallets and other metal objects.
Liquids, aerosols and gels must not exceeding 100ml in your hand luggage. They must be put in a transparent re-sealable bags.
if you ring while passing through the scanner, a attendant will ask you to step aside for further checkings.
When all is clear proceed to collect your belongings and keep walking further in to the departures lounge.
Departures Gate Schengen Area

Gates 1 to 10
Relish: Open 24 hours 7 days a week
Saltwater: 9 household brands where to shop from. 
Dufy shopping: Open 24 hours 7 days a week.
Hebe: Monday to Sunday 06:00 to 22:00.
Parfois
WHS Shopping: 24 Hours 7 days a week
Toilets
Swarovski: 
Hard Rock Cafe: Sunday to Friday 11:00 to 18:00; Saturday 11:00 to 19:00; Bar: 24/7.
Costa Coffee: Open 24/7.
Charging stations
Fill up bottle with water service
Departures Gate Non-Schengen Area

Gates 11 to 18
Malta Dufry Shopping: Open 24/7
Costa Coffee: Open 24/7.
Prayer Room
Toilets
What Do I Find When I Land In Malta
On Arrival with Plane

Connecting Flight non schengen
Immigration
Passport control for passengers coming from non-schengen or non-EU countries
Toilets
On exiting to the arrivals lounge you find the following
Rental Car offices. 
Taxi Stand
buy a mobile cad for your phone, 
Pharmacy 
Public Transport Office. 
You find details in this page of all the outlets in a specific section. Take note of what you will require for ease of reference when you arrive.
When arriving in Malta you are faced with a medium sized airport, fully air-conditioned and reliable staff to guide you in any difficulties.

Its security procedures are reportedly efficient.

Economy class passengers can pay to enter two airport lounges.
Any questions you need regarding hiring of car, or any guidance to your destination or tours you can find the necessary help to start your holiday in Malta.

On the outside there is a petrol station, car wash, the Sky Parks complex with office space and several eateries, a large parking area and he car rental depot.

Car Rentals At Malta Airport
Facilities found at malta international airport
Baby Care Facilities

If you need to see to your space away from all the crowds there is the Parenting Room.  there are the necessities including water. You will find this in the Check-in-Hall, next to the Customer Service Information Centre and also 2 others in the Schengen Departures Lounge.

Internet at the airport
Wi-fi is available at the airport, in fact it is Free, by connecting on MIA access point and logging in on MIA website which will pop up on your mobile or tablet.  If it is simpler for you to stay on mobile data you can buy a local SIM card or any other information for your mobile then you can ask at the Vodafone outlet which is in the arrivals lounge.
Children's Play Area

If you would like to pass the time with the children give them some quality time to play after a long flight you can walk a short distance outside the terminal, next to Skyparks the McDonald area where the children can run around the play area and also enjoy free colouring set.  You can ask at the Customer Service Information Centre.

want to rent a car in malta?
We have used Discover Cars every time we rented a car. We highly recommend them due to their good service and good prices.
Get The Best Rates On Your Car Rental Now!
need to book a hotel for your malta visit?
Using Booking.com, enter your travel dates and number of occupants then rates will be available for hotels and apartments during your visit to Malta 
Book Your Hotel In Malta on Booking.com for the Best Rates!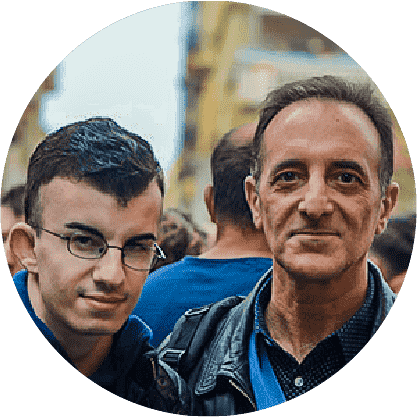 By Albert and Benjamin Magro