live presepju malta
Live Christmas Nativity Scenes In Malta And Gozo
The Presepju Malta also known as 'crib' in English, portrays the birth of Christ in the Bethlehem grotto with Joseph and Mary. This is also known as the story of the nativity.
Disclaimer: On our website, you will find affiliate links from which we receive a small commission.
The Maltese are very fond of cribs. It is very common to find them in houses, schools, organizations, and public areas. Most of them have been created by Maltese, either by family members, or bought from a local shop. They are usually made to measure with specific requirements of size whilst reflecting the tastes of the individual.

In various villages in Malta, there are Christmas crib enthusiasts who open up their houses to invite people to view their Christmas nativity set complete with landscape and, scenery and made with pain staking dedication over many months and may be years.

If you are visiting Malta, some of these cribs could be exhibited at the official Malta Tourist Authority annual exhibition held at it premises in Republic Street, Auberge D'Italie.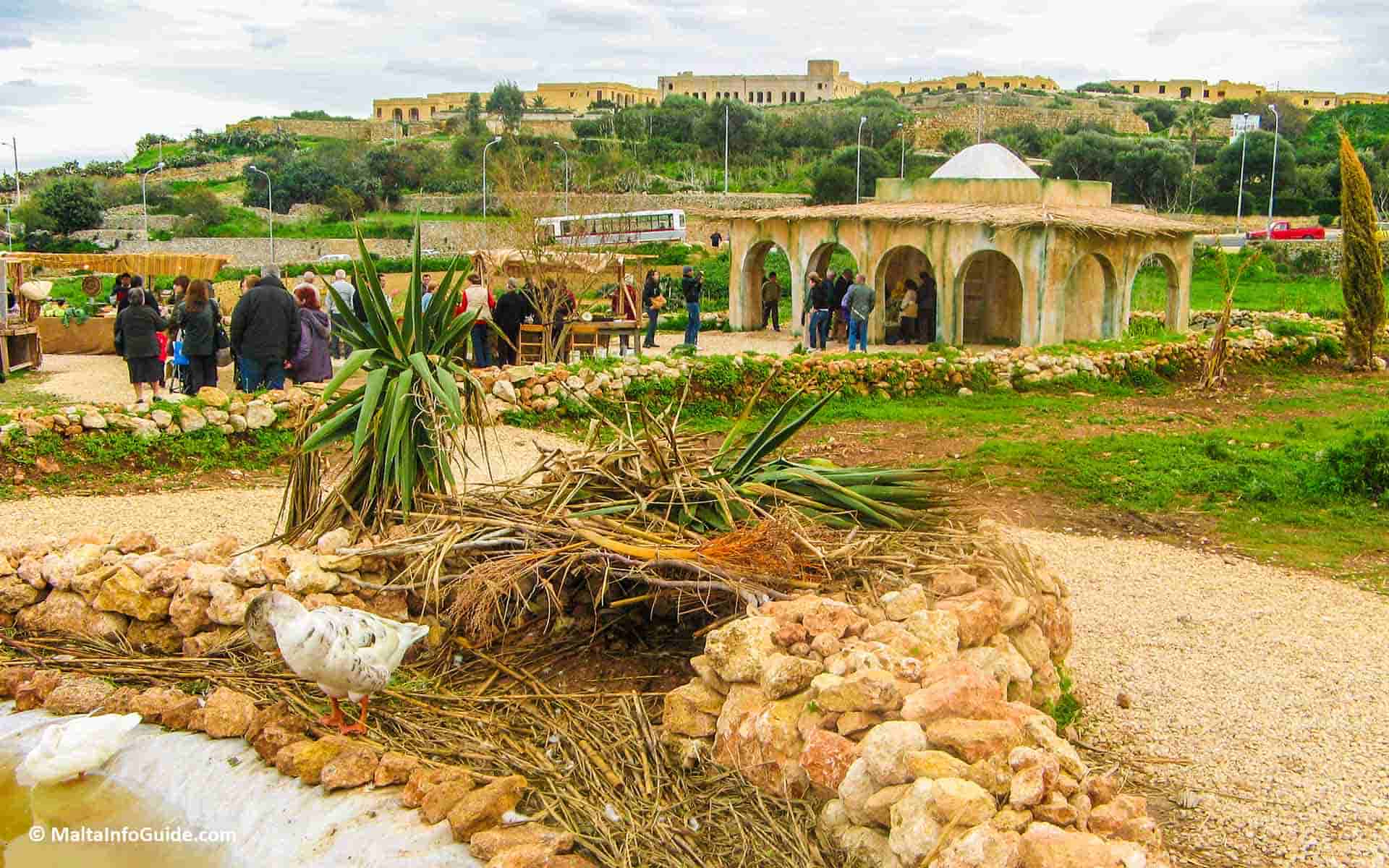 Bethlehem F'Għajnsielem Live Crib
Since 2008, a live crib has been created on the outskirts of the village covering 20,000 square metres of land, where 150 volunteer actors from the village participate in a number of vignettes which recreate the life in Bethlehem 2000 years ago.

It is situated very close to the Harbour of Mgarr from where the Gozo ferry crosses between the islands. Thousands of visitors both tourists and Maltese purposely cross over to Gozo to tour the live crib.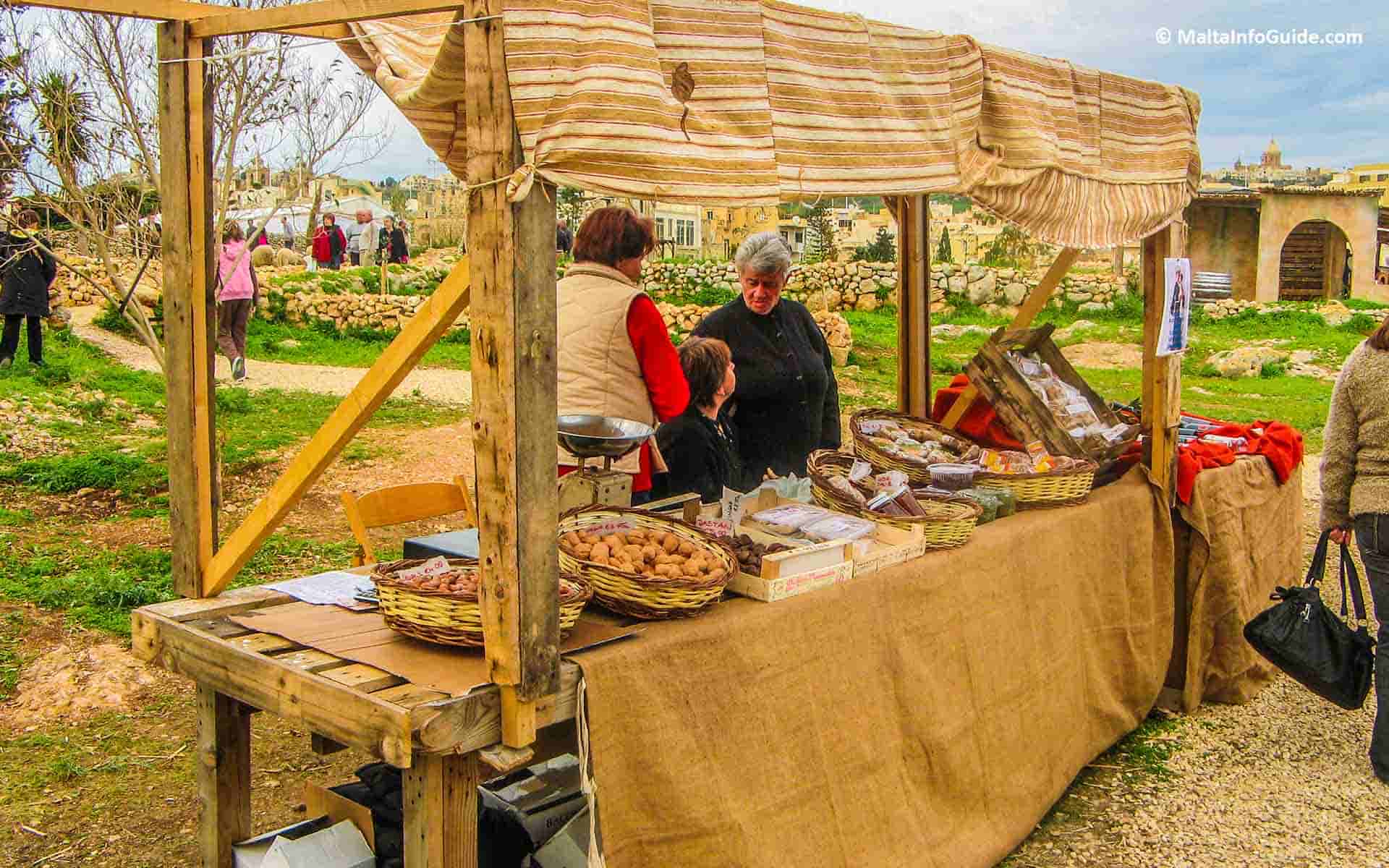 They are attracted by the natural atmosphere which is very unique - horses turning mills, villagers doing different jobs, like carpenters, cooking, feeding animals, shepherds living in a cave and children playing with the most simple things of the time. And not the least attraction is the crib with Joseph and Mary with a real live baby lying in a cradle of wood and straw surrounded with animals.

This is an opportunity not to be missed especially if you happen to be in Gozo during this time. There are selective days when it is open. It is important to find the schedule of days and time when it will be open for the public.
visiting hours
The hours defer from day to day but typically it is between 14:30 to 20:00. Actual hours will be released closer to the Christmas season.
On Christmas day, Boxing day and New years day the live crib still opens but on reduced hours.
The crib generally starts from mid-December until the feast of the Epiphany.
Lija Live Crib In Malta
This is a popular walkthrough live crib with 60 participants with traditional clothes, mostly from the village itself. In the latest edition it has been organized in a neglected farmhouse where volunteers have created a waterfall, windmill and animal pans for a cow, sheep, ducks, chickens, rabbits and piglets which are very attractive for children to see.
Various traditional scenes are re-enacted, especially the nativity scene with Mary, Joseph and Baby Jesus.

It has been organized since 1962 with some missed years and in a variety of locations within the village. Today it is organized by the two band clubs of the village of St Andrew Social Club and the St Pius X Band Club as they wish to keep the tradition alive. Preparations start in around October, where several voluntaries get organized to put up the live crib.
A few stands are put up with traditional Christmas delicacies like (honey rings), imqaret (dates filled with pastries) and the popular Lija oranges. This helps the organizers to keep up with the expenses.

When is it open?
This live crib is only done during Christmas time.
Visiting days: 8th December until just after Christmas day with a number of opening days. The updated days can be found on our December activity page as soon as they are public.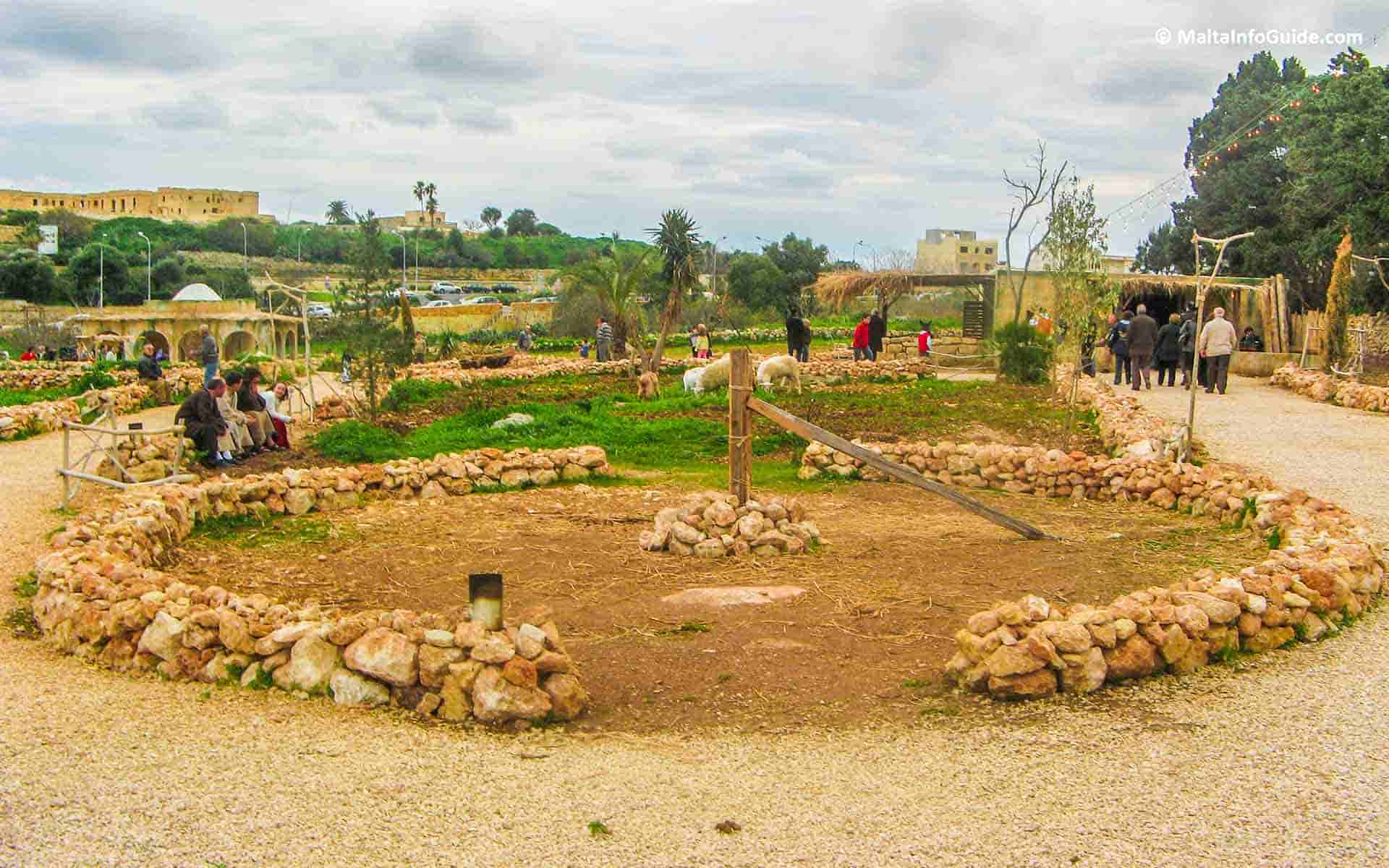 Nadur Live Crib In Gozo
The Friends of the Crib, Nadur Section organizes a live crib and a crib exhibition with the aim of keeping traditions alive. The Christmas story can be enjoyed and experienced through a peaceful, traditional local village environment. Utilising a local old Gozitan house over three hundred years old surrounded with several gardens.
Around 100 re-enactors take part to create various scenes, especially the nativity scene, which is the central attraction. This is an occasion for the local people to unite their different crafts and build such an original setting.
This is an opportunity for visitors to see the local talent where the Friends for the Crib succeed to unite a variety of persons from the village with different crafts, age adn ideas.
It starts from around the third week of December. The exact dates can be found on the Activities December page as soon as they are available.
The crib exhibition takes place at the offices of the local council in Triq it-Tramuntana.
Friends of the crib

In 1986 the 'Friends of the Crib', a Maltese society was formed and now they have over 300 members. Every year in the weeks running up to Christmas the society organizes an exhibition of about 100 cribs of all shapes and sizes all showing the Christmas nativity scene. They help to keep the Maltese crib tradition alive.
Other cribs
Apart from official exhibitions, many Maltese craftsmen open their homes to the general public to view their cribs to appreciate the dedication of these people towards, their ability of creating such artistic cribs. Some convert their sitting room or garage life size cribs. Invariably visitors engage into discussions on technicalities of construction with the owners.
Even at schools the idea of cribs is developed among children to instill in them the love for the Christian faith and love for our culture and traditions.
The Christmas nativity scene has captured everyone's attention to interpret the nativity story and use it to communicate with others the inner feelings of many individual persons who with so much dedication recreate these artistic works.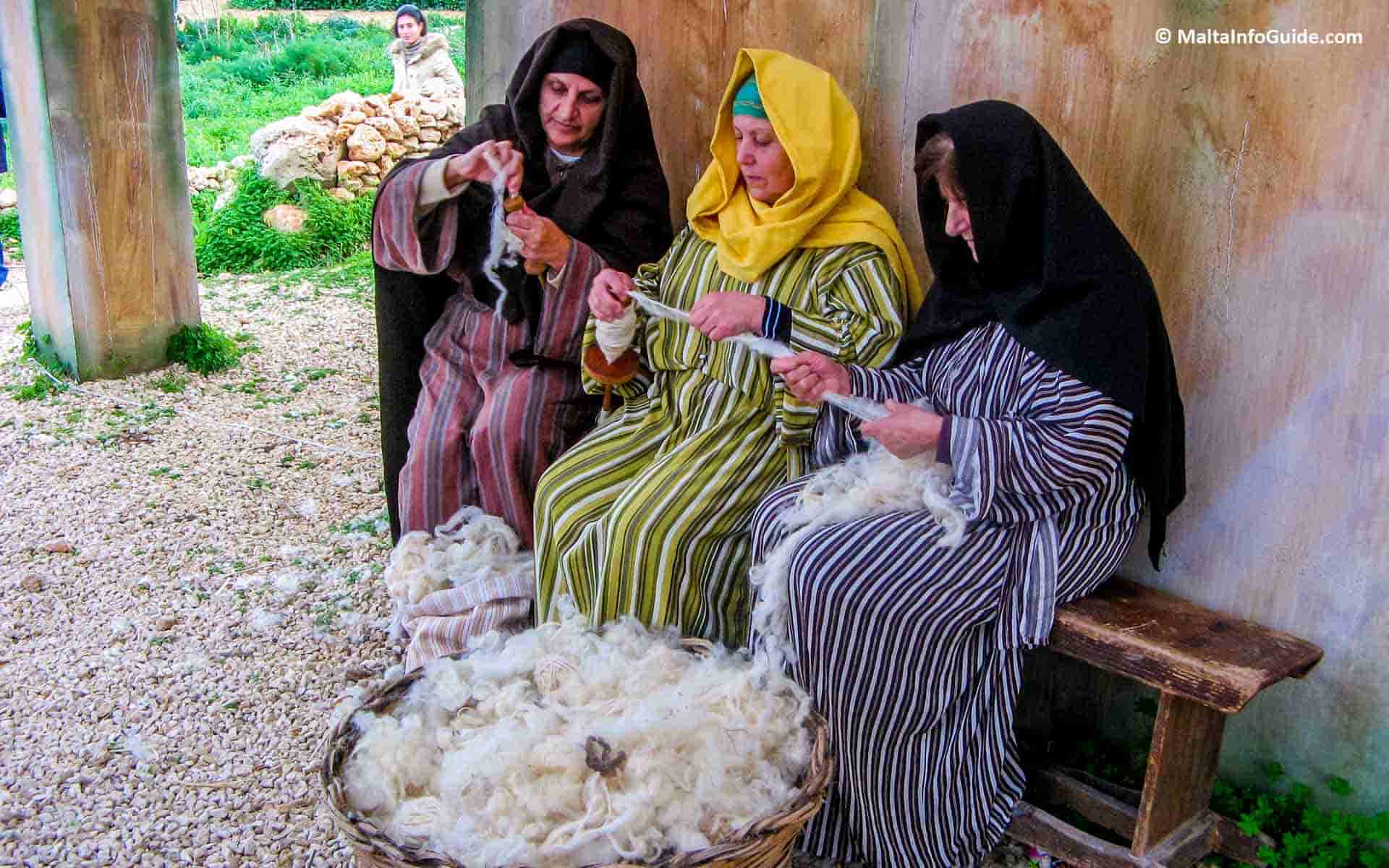 want to rent a car in malta?
We have used Discover Cars every time we rented a car. We highly recommend them due to their good service and good prices.
Get The Best Rates On Your Car Rental Now!
need to book a hotel for your malta visit?
Using Booking.com, enter your travel dates and number of occupants then rates will be available for hotels and apartments during your visit to Malta 
Book Your Hotel In Malta on Booking.com for the Best Rates!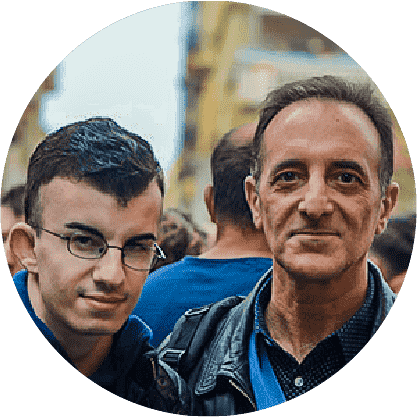 By Albert and Benjamin Magro