how to tour sicily
A Guide About Travelling To The Island Of Sicily
The island of Sicily is one of the largest islands in the entire Mediterranean. Being just 90 kilometres away from Malta, we decided to do a guide dedicated to how to tour Sicily and what are the beautiful things this island offers. During the year plenty of locals visit Sicily for short breaks or even road trips.

When we visited Sicily we immediately loved this wonderful island and we revisited it several times. From amazing beaches with clear waters to never-ending beautiful landscapes, vast stretches of vineyards, an abundance of orange trees, stunning cities and ancient villages across the island and visit the enormous Mount Etna that is still active today.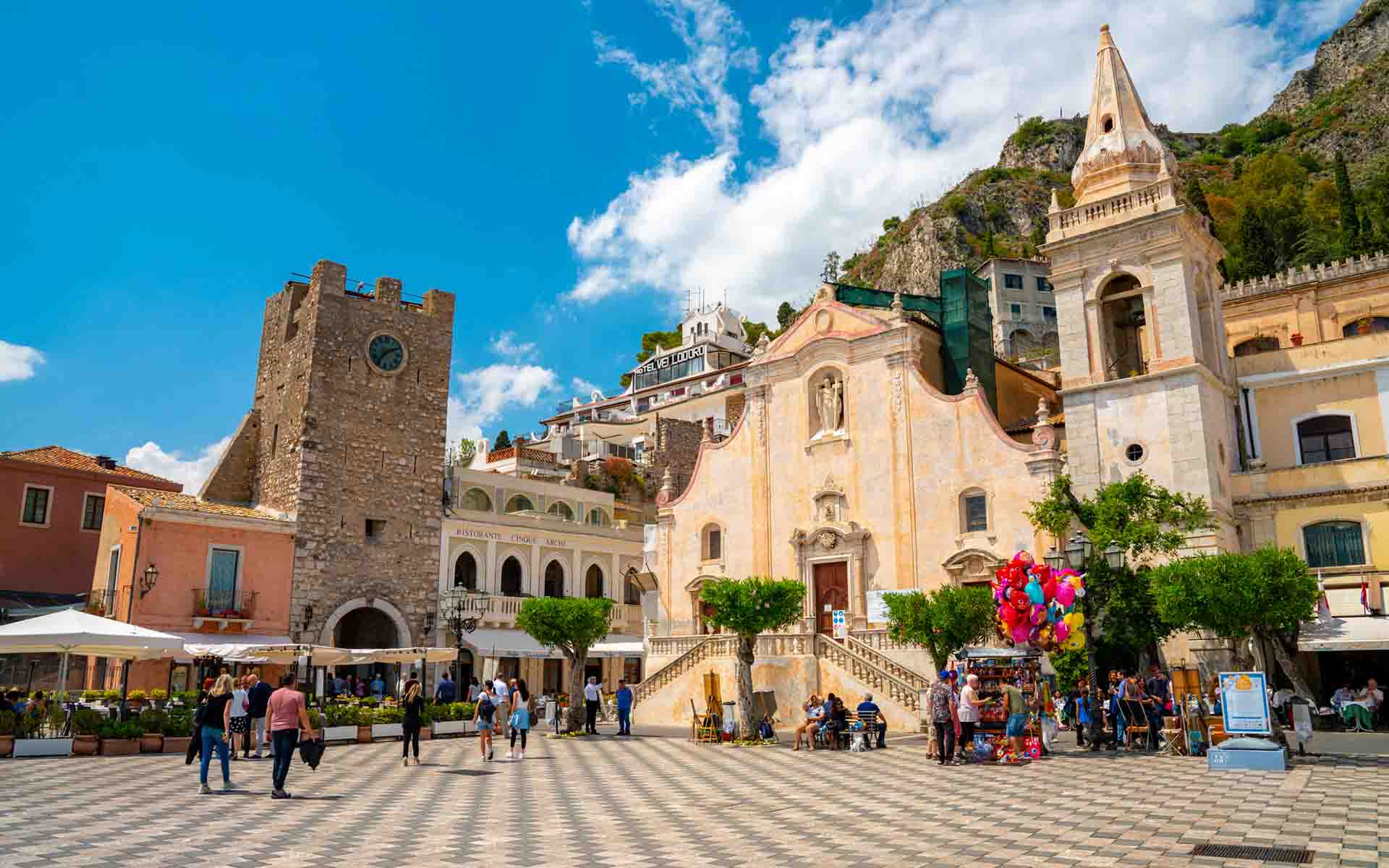 Taormina Square Sicily
What is so special about visiting Sicily? The island has a very similar climate to that of Malta, but apart from that it offers rich history, diverse culture, beautiful landscapes, delicious cuisine, and warm hospitality. Sicily has it all from soaking up the sun on stunning beaches to exploring the ancient ruins around the island.

The island is pleasurable to visit all year round due to its weather. The weather in Sicily is quite similar to that of Malta, but it is typically colder, especially in the winter. 
What do you find on this Page
how to get to sicily
Getting to Sicily from Malta - The only way to get to Sicily from Malta is via the Sicily to Malta Ferry. It is a 90-minute one-way trip which stops in Pozzallo. If you are coming from Gozo, here is the guide to get to Sicily from Gozo.
Coming to Sicily by Car - You can come over to Sicily by car from mainland Italy via the Genoa, Livorno, and Naples ports with several ferry companies that offer different routes to the main ports in Sicily, namely Palermo, Catania, and Messina.
Getting to Sicily by Plane - The main airports to Sicily are in Palermo and Catania.
renting a car in sicily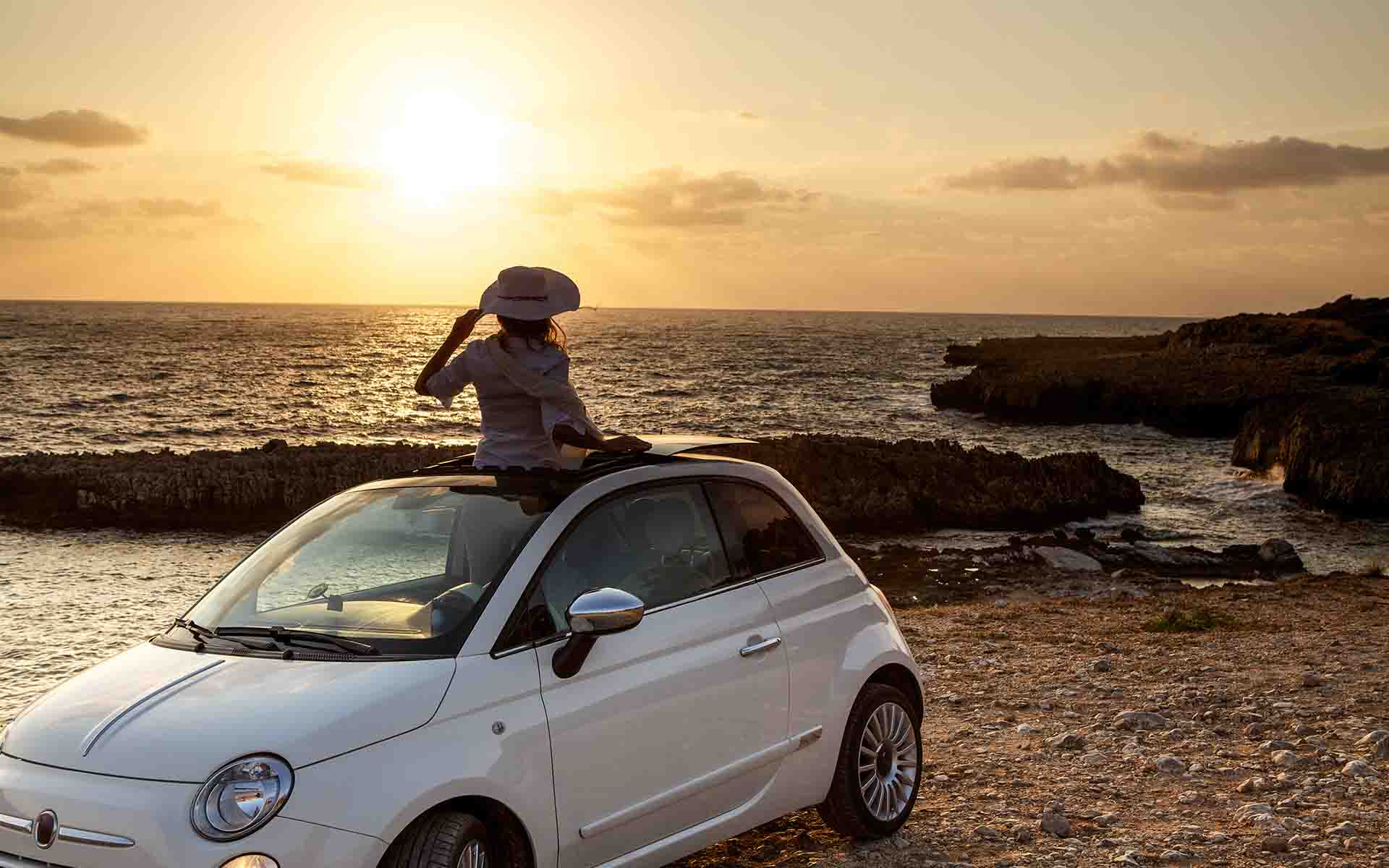 A Sicily car rental is an excellent way to discover the stunning countryside and coastal areas of the island, as well as its historic towns and cities that are well worth exploring, as well as the island's beautiful landscapes.

Choosing the right car to rent for your vacation in Italy with family or friends will make your experience more enjoyable.
sicily small group tours

Four different guided tours are available for you to choose from when you visit Sicily, all of which will take you to some of the best locations.
Four Malta Tours of Sicily:
Allow yourself to be transported into this magical world of Sicily as you take advantage of this opportunity.
why visit sicily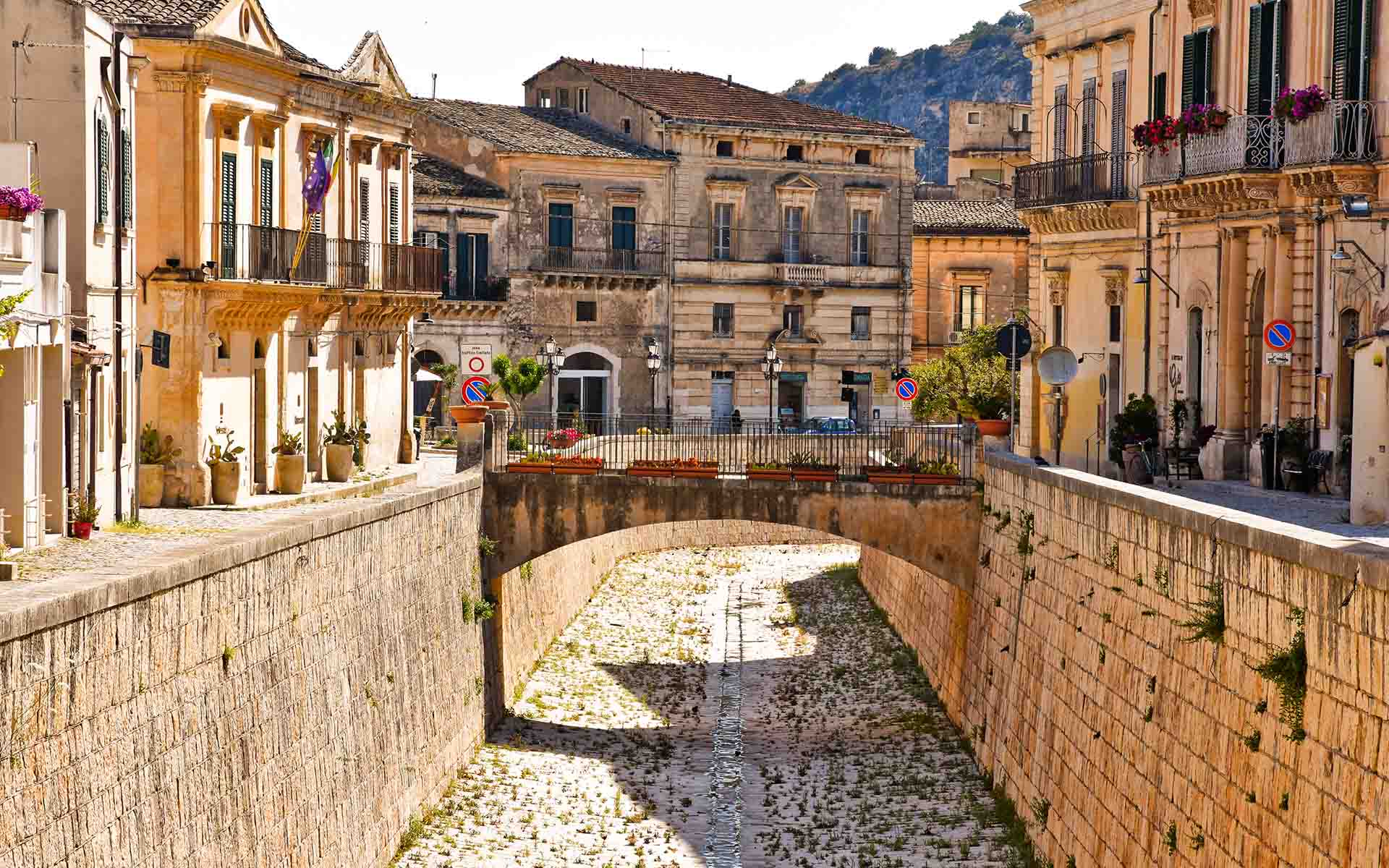 Scicli in Sicily
There are many reasons to visit Sicily, the largest island in the Mediterranean, such as its rich and diverse history, wonderful climate, stunning landscapes, delicious cuisine, and warm hospitality.
Sicily has something to offer every type of traveller, whether you want to explore ancient ruins, relax on stunning beaches, or indulge in the local gastronomy.
Culture and History of Sicily
Sicily has been invaded and ruled by a variety of civilizations throughout the centuries, including the Greeks, Romans, Arabs, Normans, and Spaniards.

As a result, the island has a unique blend of architectural styles, cultural traditions, and artistic influences that reflect its rich past.
Many conquerors and civilizations have left their unique marks on Sicily through its long and diverse history.

Different groups of people lived on the island, including the Sicani, Sicels, and Greeks.
Syracuse, one of the most important Greek cities in the Mediterranean, was founded by Greek colonists in the 8th century BC.
A series of conquerors conquered the island, including the Romans, Vandals, Byzantines, Arabs, Normans, Hohenstaufen, and Bourbons.
The architecture and cultural heritage of the island reflect the influences of each group.
In the Mediterranean trade, the island was known for its wealth and prosperity.
The island experienced significant economic and social changes during the 19th and 20th centuries.
The fascinating history of Sicily draws millions of visitors each year to its ancient ruins, medieval castles, and cultural landmarks.
Nature and Landscapes
From rugged mountains to pristine beaches, Sicily offers a wide range of landscapes to suit a range of tastes.

Any visitor to Sicily must see Mount Etna, the highest active volcano in Europe. Hiking to its summit, riding a cable car, or simply admiring its majestic beauty are all options available to visitors.
A major attraction for tourists is the island's beaches, which have crystal clear waters and soft white sand. It is home to a several popular beaches, including Mondello, San Vito Lo Capo, and the Aeolian Islands.
Wine and Food of Sicily
Sicilian cuisine is renowned for its rich flavours and diverse influences. Its fertile soil and mild climate enable it to grow a wide variety of fruits, vegetables, and grains that are used for delicious dishes like caponata, arancini, and pasta alla norma.

Fish and shellfish are also major components of Sicilian cuisine, caught daily in the islands' waters. Traditional dishes such as swordfish, tuna, and sardines are available, prepared according to generations-old recipes.
Sicily is also famous for its wines, including a few varieties unique to the island. There are several famous red wines on the island, one of them Nero d'Avola. A few other noteworthy wines are Marsala and Grillo, both fortified wines often used in cooking.
Hospitality - how to tour sicily
There is nothing better than Sicilian hospitality, and locals are known for their friendliness and warmth towards tourists.

There is no doubt that you will be welcomed with open arms and treated as if you were a member of the family, whether you are staying in a small, family-run hotel or renting your own vacation house.
As a reflection of Sicilian culture, this warm hospitality extends to the island's festivals and celebrations which are a vibrant reflection of its rich culture.
Visitors to Sicily are sure to get swept up in the spirit of these events and feel as though they are part of the local community, from the lively Carnival celebrations in Acireale to the solemn processions of Holy Week in Enna.
facts about sicily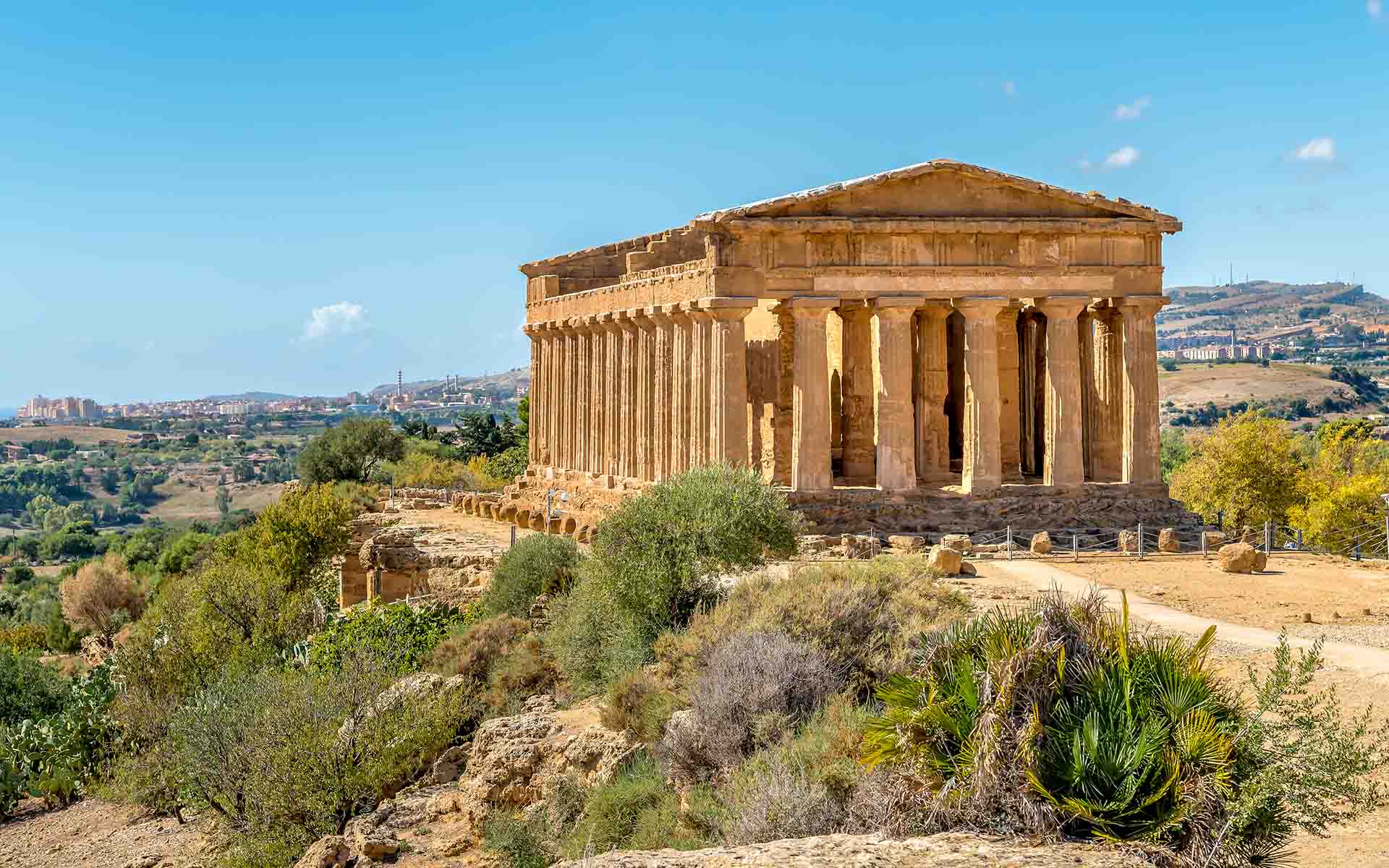 Temple of Concordia Agrigento
There are a few interesting facts about Sicily that can help you learn a bit more about the island if you are not familiar with it yet.

Population in Sicily: As of 2021, the estimated population of Sicily is over 5 million people.

How big is Sicily: Sicily is the largest island in the Mediterranean, with an area of 25,711 square kilometres (9,927 square miles).
Dimensions: It has a length of 260 kilometres (162 miles) from east to west and a maximum width of 135 kilometres (84 miles) from north to south.
Economy: Despite its poor economy, Sicily has a GDP per capita of €18,700 in 2020, significantly lower than the national average of €32,000.
Agriculture: A significant sector of Sicily's economy is agriculture, and it produces citrus fruits and olive oil in large quantities.
Tourism: Approximately 6 million tourists visited Sicily in 2019, generating revenue of over €3 billion.
Languages: The official language of Sicily is Italian, but many Sicilians also speak Sicilian, which is a Romance language.
Religion: The majority of Sicilians are Roman Catholics, followed by a small number of Muslims and Jews.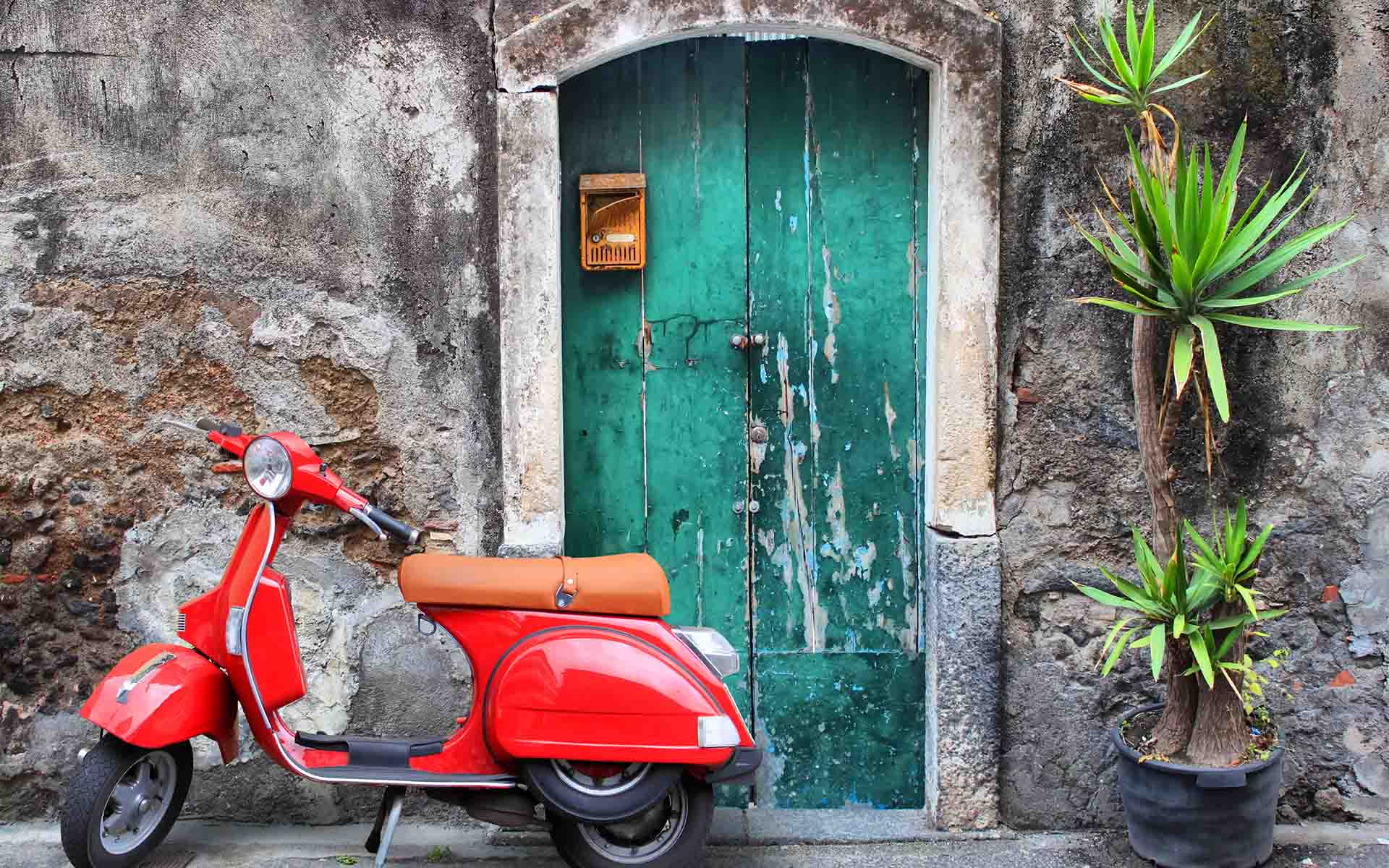 Red Scooter - How To Tour Sicily
what to do in sicily

Sicily is a region in southern Italy where many historic and beautiful cities can be found, all with their own unique culture, architecture, and cuisine. Some of the most famous cities in Sicily include Palermo, Catania, Taormina, Syracuse, Agrigento, Noto, and Ragusa. The following are short descriptions of popular cities where to go in Sicily.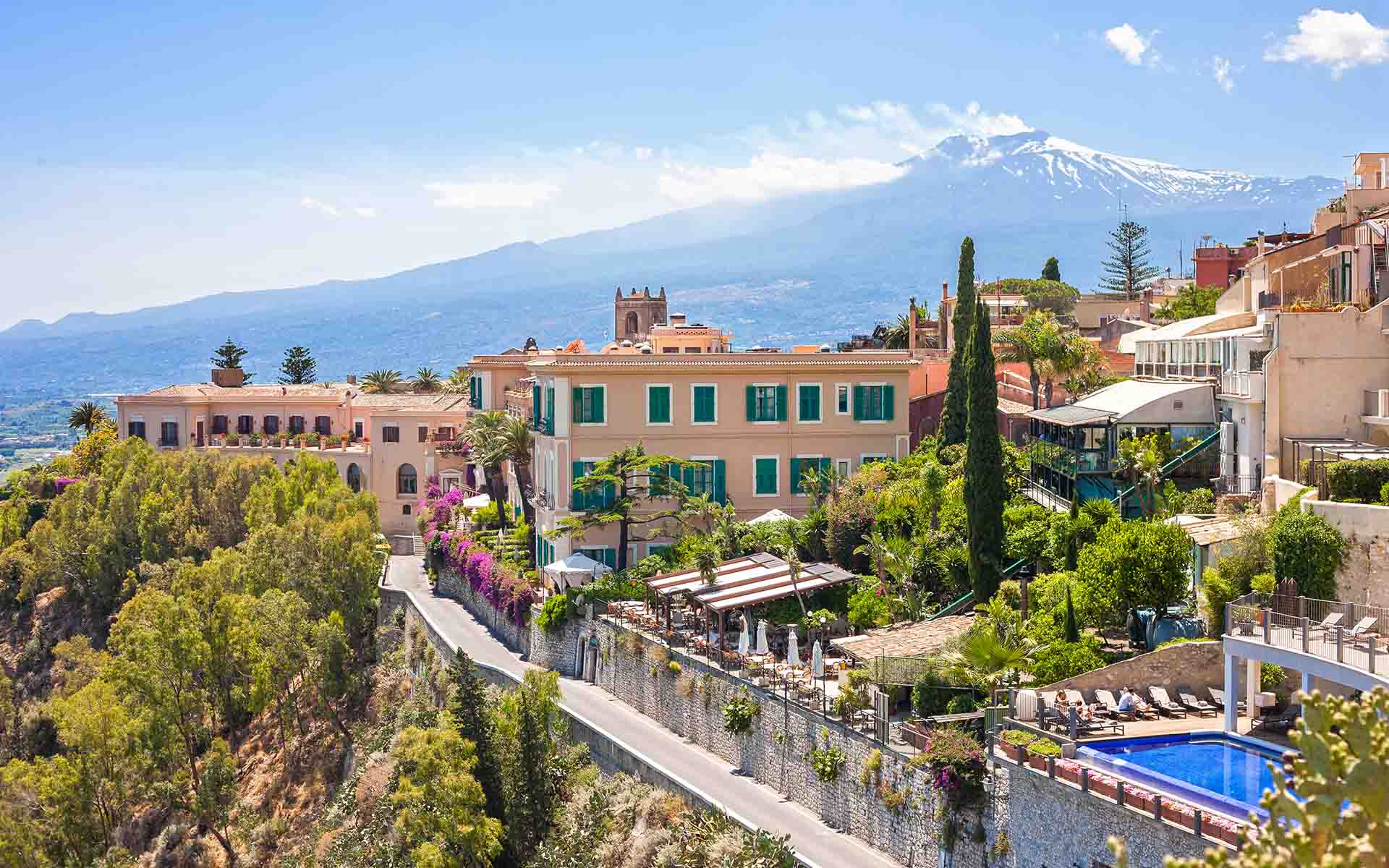 Taormina and Mount Etna
Taormina is a picturesque hilltop town on the east coast of Sicily, known for its ancient Greek theatre, charming streets filled with shops, restaurants, cafes, beautiful beaches and stunning views of Mount Etna. The town is a popular tourist destination and a perfect base for exploring the region.

Catania is a beautiful city known for its lush history and vibrant culture, as well as its baroque architecture, vibrant street markets, and delicious food. It also has Mount Etna, Europe's largest active volcano. Piazza del Duomo and its baroque architecture are stunning, as is the ornate Cathedral of Saint Agatha. Its lively fish market, busy streets, and delicious food make it a must-visit.
Syracusa is beautiful for its ancient Greek and Roman ruins, particularly the impressive amphitheatre and the Ear of Dionysius cave. A visit to Ortigia's historical centre is also worthwhile, with its narrow streets and baroque architecture. Syracuse is a great place to explore south-eastern Sicily with its welcoming nature, protected natural areas, and charming towns.
Sicily's capital, Palermo, is a vibrant city with a long cultural history. The architecture and food of the city reflect the influence of different civilizations, such as the Greeks, Romans, Arabs, and Normans. Explore the Arab-Norman Cathedral of Monreale, Norman Palace. A food lover's paradise, including the busy markets at Vucciria and Ballar.
Agrigento is located on the southern coast of the island and is well known for the preserved Valley of the Temples, where ancient Greek ruins are well preserved. This popular tourist destination also offers beautiful beaches and a charming historic centre.
Noto with its stunning Baroque architecture is home to the impressive Cathedral of San Nicolò and the Palazzo Ducezio. Local specialities, markets, and restaurants draw tourists from all over the world to this Sicilian town.
In Ragusa, you'll find stunning baroque architecture, delicious food, and beautiful scenery. Visitors come from all over the world to experience the town's charm, local markets, and traditional restaurants.
There are many reasons to visit Modica, from its beautiful architecture to its delicious cuisine. There is a wealth of cultures and traditions woven into the streets, markets, and restaurants of this town.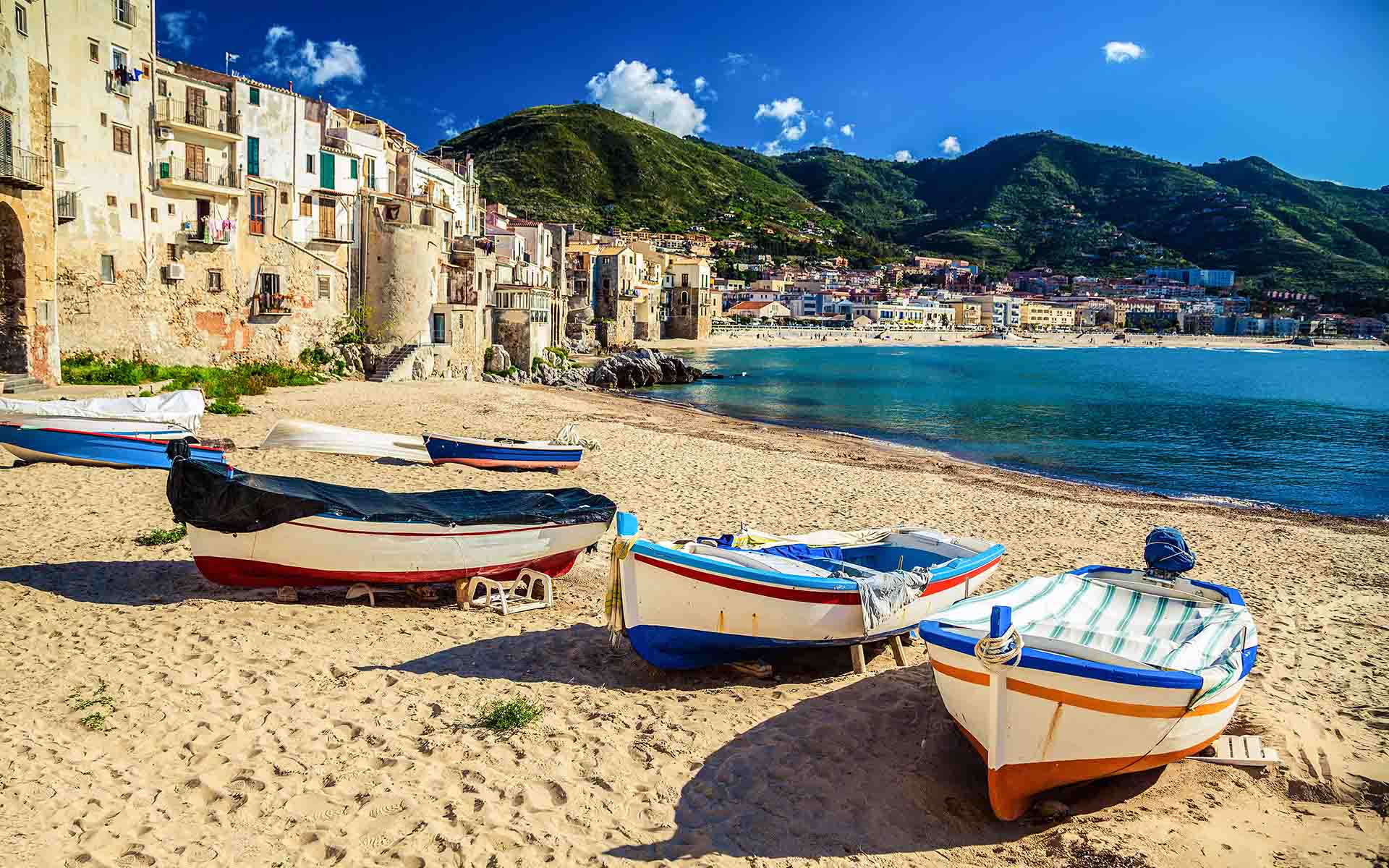 Cefalu Sicily
Mount Etna volcano has been erupting for over 500,000 years.  Millions of visitors visit the volcano every year due to its geological and cultural significance. Thanks to the fertile volcanic soil, wine is also produced here.  Numerous trails lead to its summit, making it a popular hike and climb.

Marzamemi is located in southeastern Sicily, this town is known for its quaint harbour, narrow streets, colourful buildings, and beautiful beaches. During the summer, tourists flock to its crystal-clear waters and sandy beaches, sunbathing, and doing water sports. Lively nightlife, fresh seafood, and gelato await you in this city.
Ibla is also known as Ragusa Ibla, a charming and historic town in Ragusa. It is situated on a hill overlooking the Irminio River Valley. A few of its renowned features include baroque architecture and ancient churches. Today, it is a UNESCO World Heritage Site. Arancini, pasta alla norma, and cassata are some of the classic dishes to be found there.
Scicli is a picturesque town in the province of Ragusa. Among its many Baroque landmarks is the Church of San Matteo and Palazzo Beneventano. A UNESCO World Heritage Site, Scicli is a popular filming location for TV shows like Inspector Montalbano. Also famous is the almond-based delicacy known as granita con la brioche.
what do malta and sicily have in common
The following are 11 key points that make Sicily and Malta share several similarities and historical connections that link them together.
Geographical proximity: Malta and Sicily are geographically close to each other in the Mediterranean Sea.

Cultural Influences: Throughout history, Malta and Sicily have been influenced by a variety of civilizations, including the Phoenicians, the Greeks, the Romans, the Arabs, and the Normans. There are ancient ruins, medieval architecture, and baroque art to explore in both countries.
Language: The Maltese language has a lot of Semitic influence, while Sicilian has a lot of Romance influences.
Tourism: The tourism industry is booming in both islands. Millions of tourists visit both every year.
Beaches and Scenery: They are well known for their beautiful beaches, stunning coastlines, and picturesque countryside, making them popular vacation destinations.
Weather: There are mild winters and long, sunny summers in both Malta and Sicily, which makes them perfect year-round destinations.
Diving and Snorkelling: There is an abundance of marine life and clear waters in Malta and Sicily, making them both popular destinations for diving and snorkeling.
Cuisine: A rich culinary tradition is found in Malta and Sicily, which both use seafood, pasta, sweet pastries, local products, and traditional pastries and desserts.
Festivals and Events: Throughout the year, Malta and Sicily both host festivals, religious celebrations, and cultural events.
Architecture: Both have ancient, medieval, and baroque architecture, including palaces, cathedrals, and fortresses.
Religion: Both islands are predominantly Roman Catholic countries.
questions and answers
The island of Sicily is part of the Italian peninsula, yes. With a population of around 40,000, it is the largest island in the Mediterranean Sea and is an autonomous region of Italy with a separate government.
Malta is approximately 93 kilometres (58 miles) south of Sicily.
In our opinion, the best way to tour the island of Sicily is by car. Go ahead, rent a car and explore the island at your leisure. The island is very big and exploring it will take a lot of time, but above we have mentioned the most popular places where to visit.
The best time to visit Sicily is between April and October when temperatures are pleasant and rain is less likely. The months of November and March are also excellent for visiting cities, villages, ancient sites, and museums if you want to avoid crowds.
Ferry and aeroplane lane are the only two ways to get from Sicily to Malta and vice-versa.

Ferry services operate regularly between Malta and Sicily, with the journey taking around 90 minutes to 2 hours depending on the route and the weather conditions.

The Virtu' Ferries operate a catamaran from Valletta Malta to Pozzallo Sicily. The Grimaldi Lines operate between Valletta Malta to Catania Sicily.

There are also flights available between Malta and Sicily, with flight times typically ranging from 45 minutes to 1 hour. Airlines that operate flights between Malta and Sicily include Air Malta and Ryanair.

All images on this page are from Deposit Photos
want to rent a car in malta?
We have used Discover Cars every time we rented a car. We highly recommend them due to their good service and good prices.
Get The Best Rates On Your Car Rental Now!
need to book a hotel for your malta visit?
Using Booking.com, enter your travel dates and number of occupants then rates will be available for hotels and apartments during your visit to Malta 
Book Your Hotel In Malta on Booking.com for the Best Rates!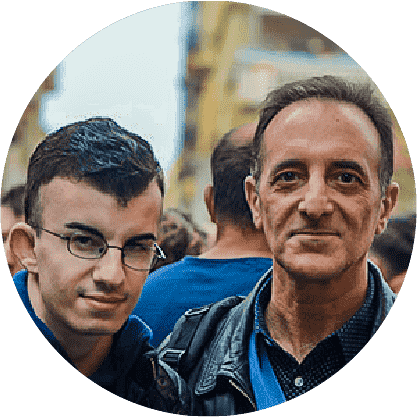 By Albert and Benjamin Magro