village of rabat malta
a unique and historic village
The town of Rabat Malta is adjacent to the medieval old capital of Mdina. Although it is the main attractions in this area, Rabat has its own charm, attractive architecture, interesting things to see, several cafes and restaurants that attracts many both locals and tourists.
What You Need To Know About Rabat
We have put up an elaborate list of things to visit and to see with photos that we took during our frequent visits. Our ideas and descriptions while reading them will help you become part of this ancient beauty.

Being so much visited you will find a long list of restaurants for all tastes and pockets, from eating Maltese pastizzi to a' la carte fine dining. If you have time you will surley return and find more what to do and where to dine.
Is Rabat Malta worth visiting? Literally translating Rabat to "suburb". It might be over looked by tourists and it is the reason for this page.
Disclaimer: On our website, you will find affiliate links from which we receive a small commission.
Surely the main attraction here is Mdina. Both are adjacent to each other. No walking distance. To reach Mdina you drive through Rabat. At the same time built up area of Rabat is 2 kilometres. But the old area which was once part of Mdina is close.

It is a pleasant walk through this quiet open air and surrounded with nature on elevated ground. There are a number of attractions, lovely architecture, several restaurants and cafes which will make up several hours or a fay of your holiday.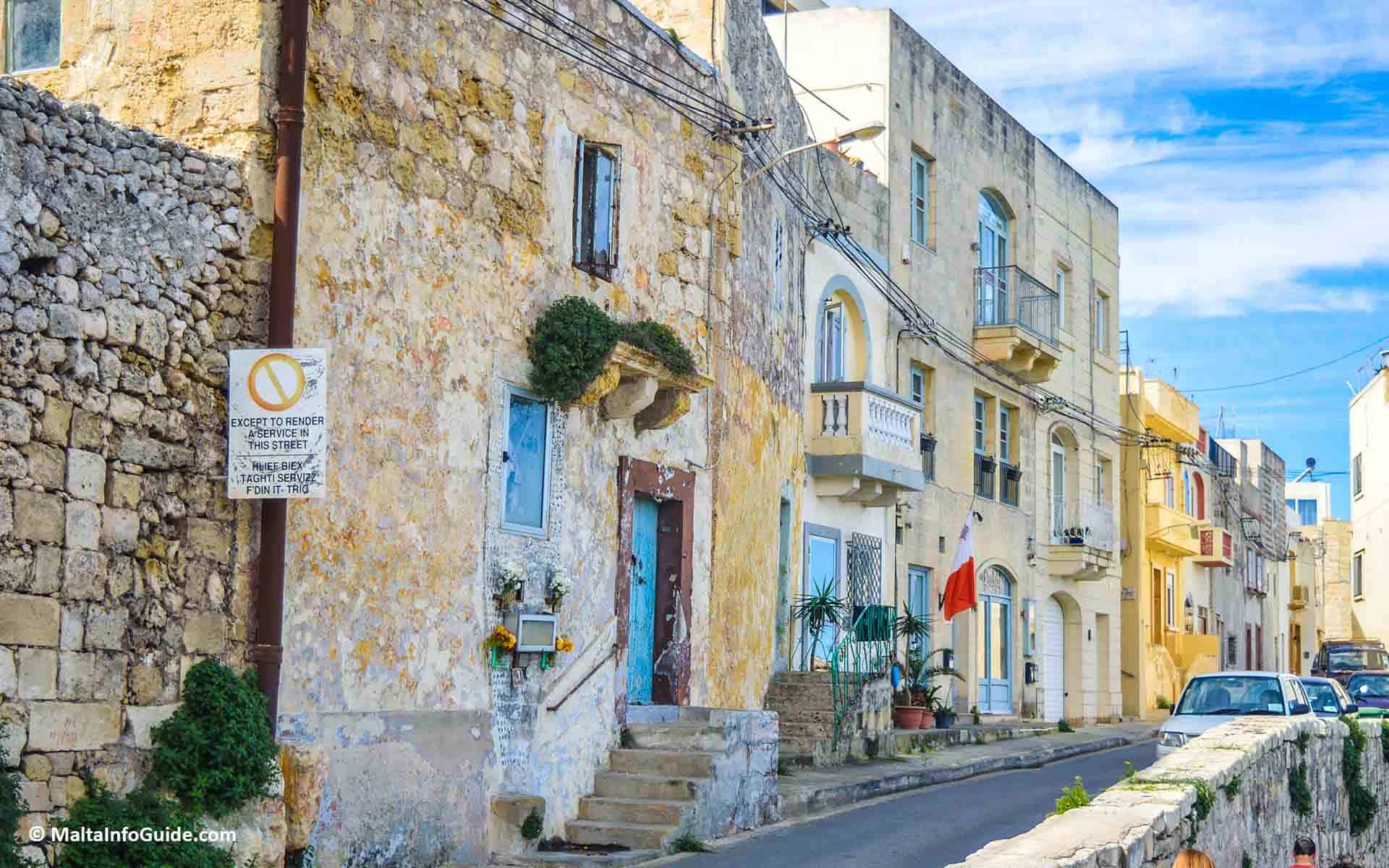 Facts About Rabat Malta
During the medieval times the city walls were cut back to the present size for defensive reasons.
The biggest concentration of Christian catacombs lying beneath the town.
The area covers 26.6 square kilometres extending up to the shores of Dingli Cliffs and the north
Population of 11,470 for January 2019.
During the Roman times the area of Rabat and Mdina was all together the capital city of Malta called Melita.
Rabat also means a 'suburb' or a 'fortified city' derived from the Arabic language.
Rabat Malta is very much rich in history.
Several medieval churches and monasteries.
Rabat had a hospital called Santo Spirito for more than 600 years, today it is the National archive.
There is another city called Rabat which is the capital city of Morocco.
How To Get To Rabat Malta
There is a bus terminus in between Rabat and Mdina where many buses stop at. 
There are four bus stops at the terminus and here are the bus numbers that go there:
To 'Rabat 1' Bus Stop (Direction to Rabat): Direct routes 50, 51, 52, 53, 56.
To 'Rabat 2' Bus Stop (Direction to Rabat): Direct routes 109, 181, 182, 186, 201, 202, X3.
To 'Rabat 3' Bus Stop (Direction to Rabat): Direct routes 50, 51, 52, 53, 56, 181, 182.
To 'Rabat 4' Bus Stop (Direction to Rabat): Direct routes 109, X3.
How to get to Rabat from several locations
Ta Qali Malta to Rabat: 56, 186, 202
Sliema to Rabat Malta: 202
Malta Airport to Rabat: 201, X3
Buskett to Rabat Malta: 181, 56, 52 (these routes stop a few meters outside Buskett gardens)
Dingli Cliffs to Rabat Malta: 201 (from Dingli cliffs) and 56, 52, 181, 201 (from the village of Dingli)
Things To Do In Rabat Malta
Rabat Roman Villa
It is a ruins of a traditional Roman villa on the outside of the Mdina fortification. Today it is a museum house built purposely to house the various artifacts and the splendid mosaics that still exist within this building. The villa itself stands at the back of the museum house where very little remain of the original building.
The Roman Villa attracts so many tourists to Rabat. The most beautiful are the excellent remains of several Roman mosaic pavements dating back to the first century BC. Apart from Discovered in 1881, archaeologists discover the way the Romans used to live during the time they ruled over Malta.
St Paul's Catacombs
It is a complex of inter linked underground Roman cemeteries covering an area of 2000 square metres. They are located on the outskirts of the old capital Melite, now called Mdina. At the time people were buried outside the city since Roman law did not permit it as it was unhygienic to bury them in the city. Today there is a visitor's centre and the catacombs are well organized to give you a positive visitors experience. It is around a kilometre from Mdina.
Opposite St. Paul's you find St. Agathas catacombs where you will need a different ticket to enter.
The Parish church for Rabat
A visit to the Basilica of St Paul which is the Catholic Parish church for this town of Rabat built on the site of the Roman city Melite which at the time include all of Mdina. It is a straightforward walk from Mdina. A must visit for those who love to appreciate baroque architecture and the church's internal beauties.
It is richly decorated with sacred articles including intricate woodworks and artworks. The church is so dedicated since there is the tradition that Saint Paul was kept a prisoner in the underground grotto in 60 A.D. for three months. In fact, the shipwreck of St Paul on Malta is narrated in the Holy Bible in the Acts of the Apostles' chapters.

Wignacourt Museum
The Wignacourt museum is a great baroque beauty named after the Grand Master Alof de Wignacourt where it was used by the Chaplains of the Order of St John. It is located beside the Basilica of St Paul the Parish church of Rabat.
The museum has a variety of exhibits with various paintings by Antoine Favray and Mattia Preti's. Relics, reliquaries, a portable altar, a personal collection of Notary Francesco Catania who lived between 1812 and 1960. The most significant a replica of the Holy Shroud of Turin. There is also a well-kept demonstration of how the Chaplains of the day during the Knights of St. John used to live. It is well worth a visit.

Serkin Crystal Palace Bar
A timeless taste from the Maltese
While in Malta live for the hype of eating pastizzi. Many say that they are the best. It is called Crystal Palace but also very well known as is-serkin. It is a simple small bar with a few table inside and a bar counter. On the right side a constant oven cooking and keeping hot the pastizzi and qassatat of ricotta and peas being sold in continuation. Pastizzi are a staple of traditional Maltese savoury pastry. They are made form a special pastry filled either by ricotta which is a soft unsalted white cheese made from cow's or sheep's milk.
serkin crystal palace details
Price Range: €2 - €10 (I wrote these figures)
Opening Times: 12:00 AM - 11:59 PM

Contact Number: +356 7946 6836
Cuisine: Cafe, Fast food, Vegetarian Friendly
Menu: They sell pastizzi, qassatat, tea, coffee, soft drinks and spirits. ??????
Address: 84, Triq San Pawl, Rabat Malta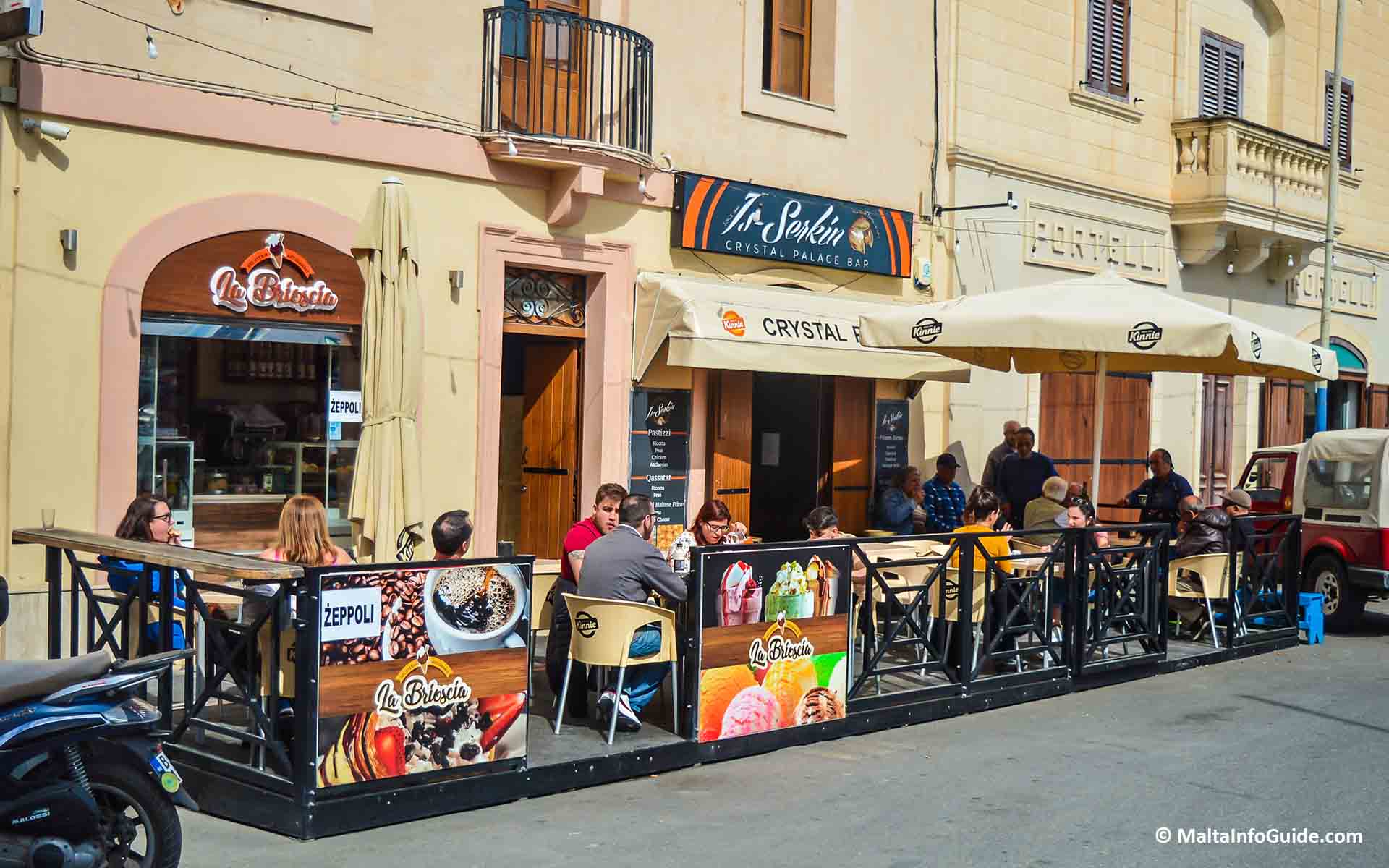 Howard Garden
It separates Mdina and Rabat with this garden. It is a pleasant walk which stretches alongside the Mdina fortifications ditch, a pleasant quiet walk with some of the best beautiful views of the fortifications and a place where you can relax after you sightseeing.
On the other side across the road is Rabat. Howard Gardens is dedicated to the first Prime Minister of Malta, Joseph Howard (1862-1925), inaugurated during 1942.
The area within and around the garden is very active as from here you can take the Karozzin (horse drawn cabs) ride to Mdina, the public transport buses, the Domvs Romana, the Roman Villa and museum, which lies at one end of the garden. From here a short 2 minutes walk through the fortifications ditch you can re-enter Mdina through the lower Greeks Gate.
Again just besides this museum the very popular Maltese style café Crystal Palace selling Maltese pastizzi and tea in a pyrex glass open round the clock. Car parking spaces are numerous all over this area but at certain times it is not easy to find. Then a few eateries are around this area. In the centre of Howard Gardens a café called…… The very popular Veduta restaurants lies on the edge of the hill.
Casa Bernard
Casa Bernard is a 16th century palace but with Roman arches in the cellar showing that it has changed hands and designs many times.
Today this palace is home for George and Josette Magri who have been living here since 1993. They are retired teachers but very dedicated to restauration of this wonderful palace. They have opened their door to visitors to reveal its fascinating history and tours conducted daily. Arriving at the palazzo the façade actually does not reveal any clews of what lies inside.
You can see the splendid barrel-vaulted hallway, the chapel, the dining room. The owners also guides you through the drawing rooms, library and main bedroom. You can appreciate the significant pieces of furniture, paintings and objects of art. It took its name from the Knights of Malta's doctor Dr Bernard who was the personal physician for several grand masters.
details about casa bernard
Address: 46 Triq San Pawl
Days Open: Monday to Saturday
Tours Hours: 10:00, 11:00, 12:00, 13:00, 14:00, 15:00 & 16:00
For other tours you must contact them for an appointment.
The Sanctuary of St Publius
The sanctuary lies on the right side of the parish church of St. Paul. It was added during 1617 by the Knights of St. John. This is evidenced by the many eight-pointed crosses across the church. Entrance is free and you can enter the sanctuary is through the church or from the grotto of St. Paul which is under the main parish church. They decorate the inside with paintings, statues, prominent features in the limestone architecture.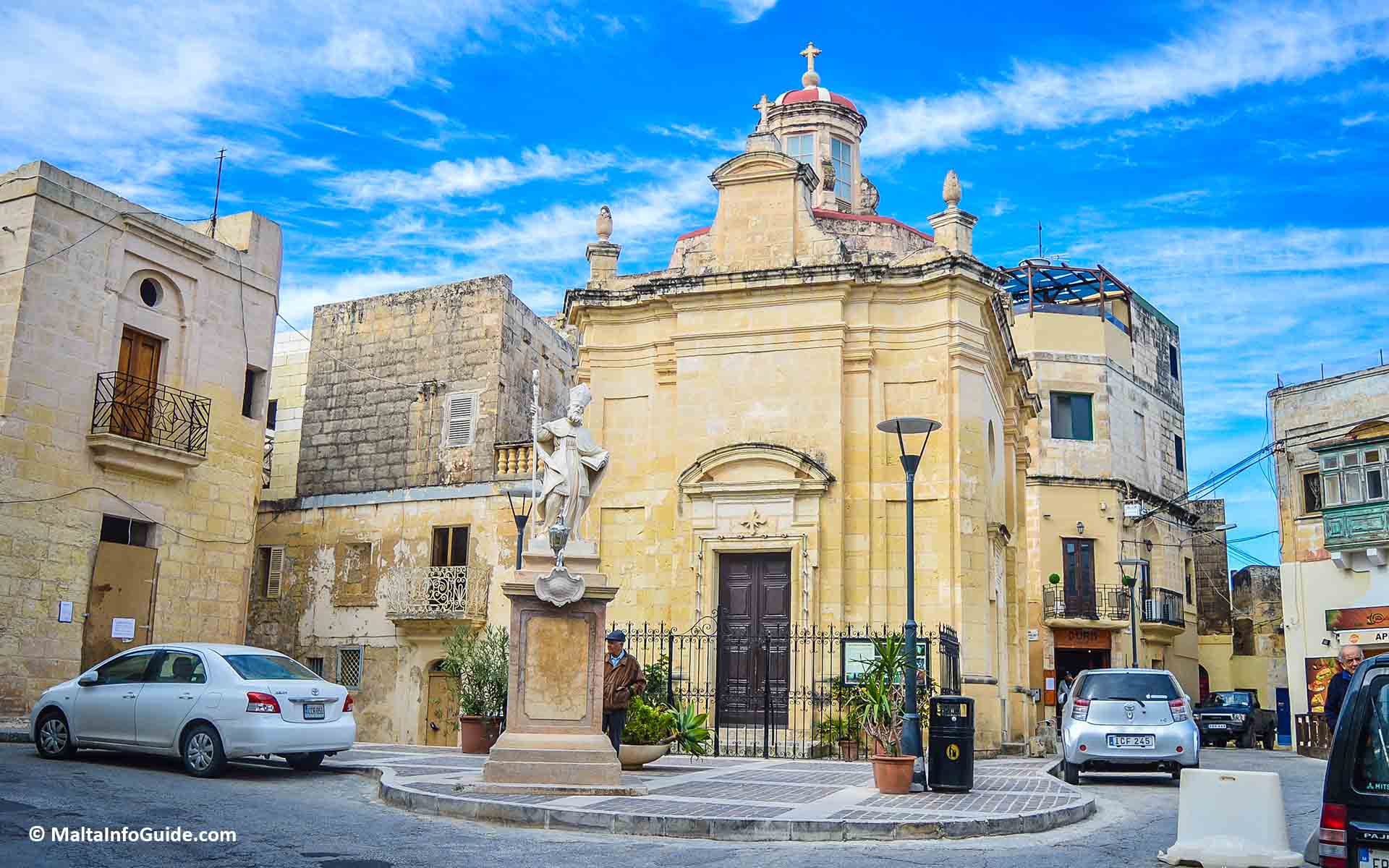 The Grotto
It is said that the grotto under the church is connected inevitably with the life of Saint Paul the Apostle while he was in Malta for three months where he took shelter after his shipwreck in AD 60.
When Pope John Paul II visited Malta during May 1090 he prayed in the grotto. It is within easy walking distance from Mdina and close to St. Paul's catacombs.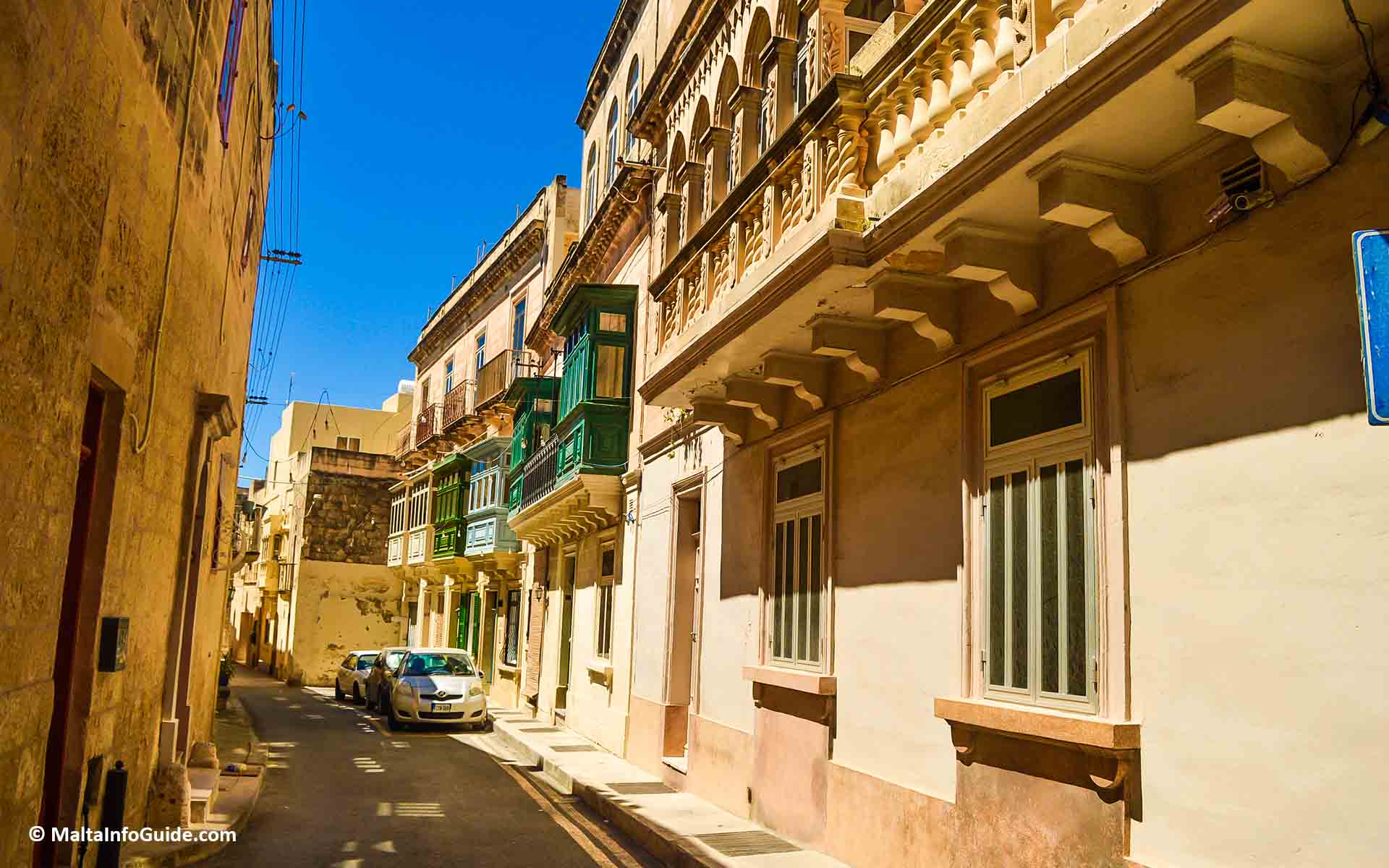 The Village Feast of Rabat Malta
Feast of St. Joseph
At Rabat two religious village feasts are celebrated during the year, The feast of St. Joseph on the 19th of March. It is always a fixed date and a public holiday in Malta for many years and like several other countries. It is celebrated by the Francisan Minors community and the residents of this town.
Both feasts are celebrated with church liturgical religious services at the church but also with street decorations, band marches and fireworks.
The feast of Christ the Saviour in the Eucharist
This principal feast of this town is celebrated by the parish church of St. Paul which is also known as the feast of Corpus Domini. It is held during the month of June. The church interior is highly decorated with red damask and richly decorations where church liturgical services are conducted on several days. The streets surround the church are decorated with elaborate decorations typical of the Maltese style of decorating.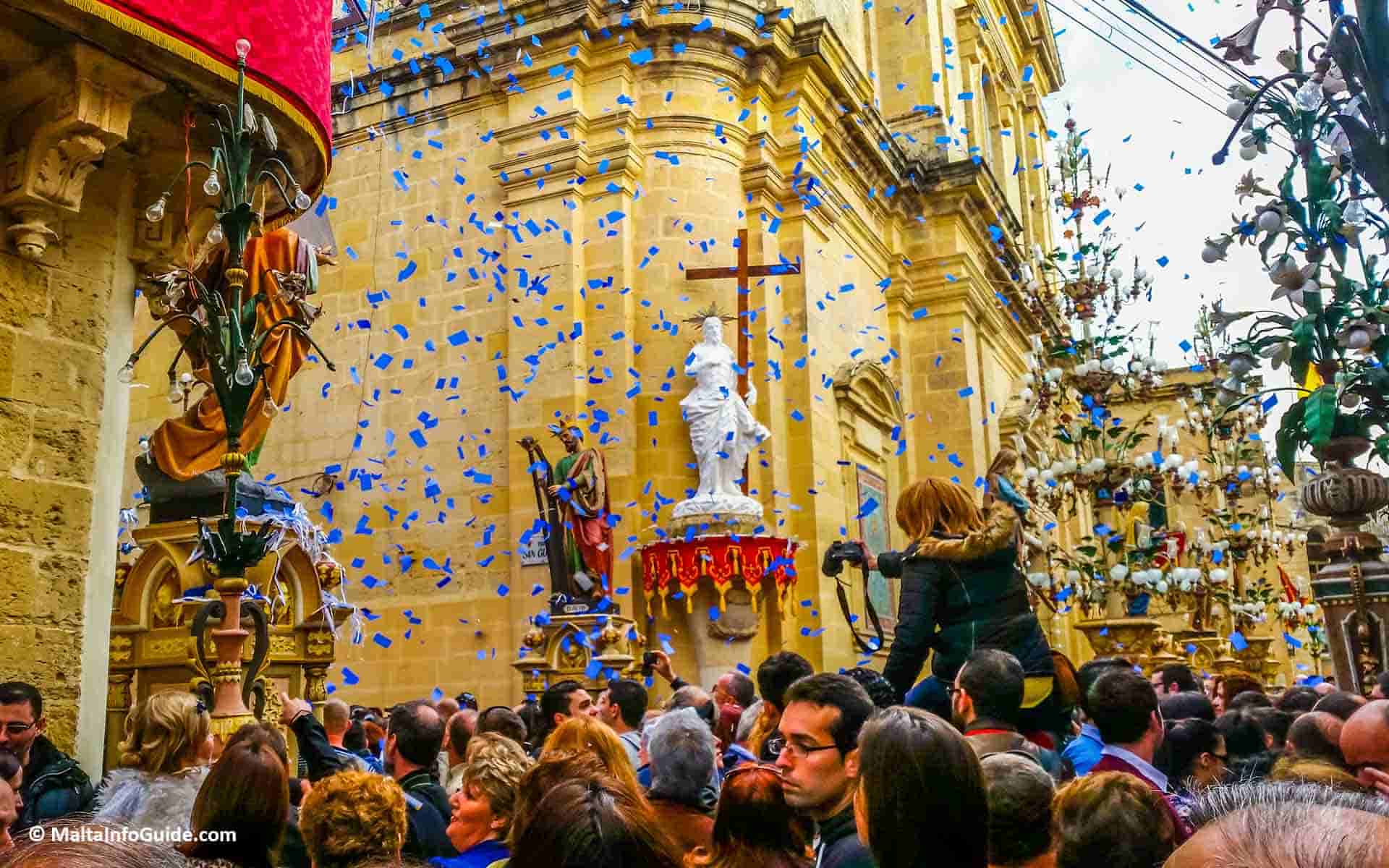 Where you can go after visiting Rabat
Having a car will be brilliant as you can drive to the various locations such as the Crafts Village at Ta' Qali, Buskett Gardens and Verdala Palace, Dingli Cliffs.

The Silent City Of Mdina
You can visit Mdina either before or after visiting Rabat. You can spend a whole day in Mdina than come to Rabat to end you day trip. Mdina is full of museums, churches, narrow streets and plenty of architecture to admire. Here is a full list of things to do in Mdina.
Verdala Palace
Built as a summer residence for the various Grand Masters, the Verdala Palace located at the Buskett Gardens, built in 1586 on the outskirts of Rabat during the reign of Hugues Loubenx de Verdalle. After the knights left Malta it was used by the British governors of the island.
It is another building by the Knights of Saint John where their elaborate architectural style attracts the eye. It was designed by the architect Girolamo Cassar who was responsible for major buildings during this era.
It can be easily seen from various points. Either by driving to the back door of the palace where you can have a look through the iron gate. Then from various surrounding roads you can stop and take photos but it will be fairly fat away.
Today it is the official summer residence for the President of Malta where various dignitaries where received.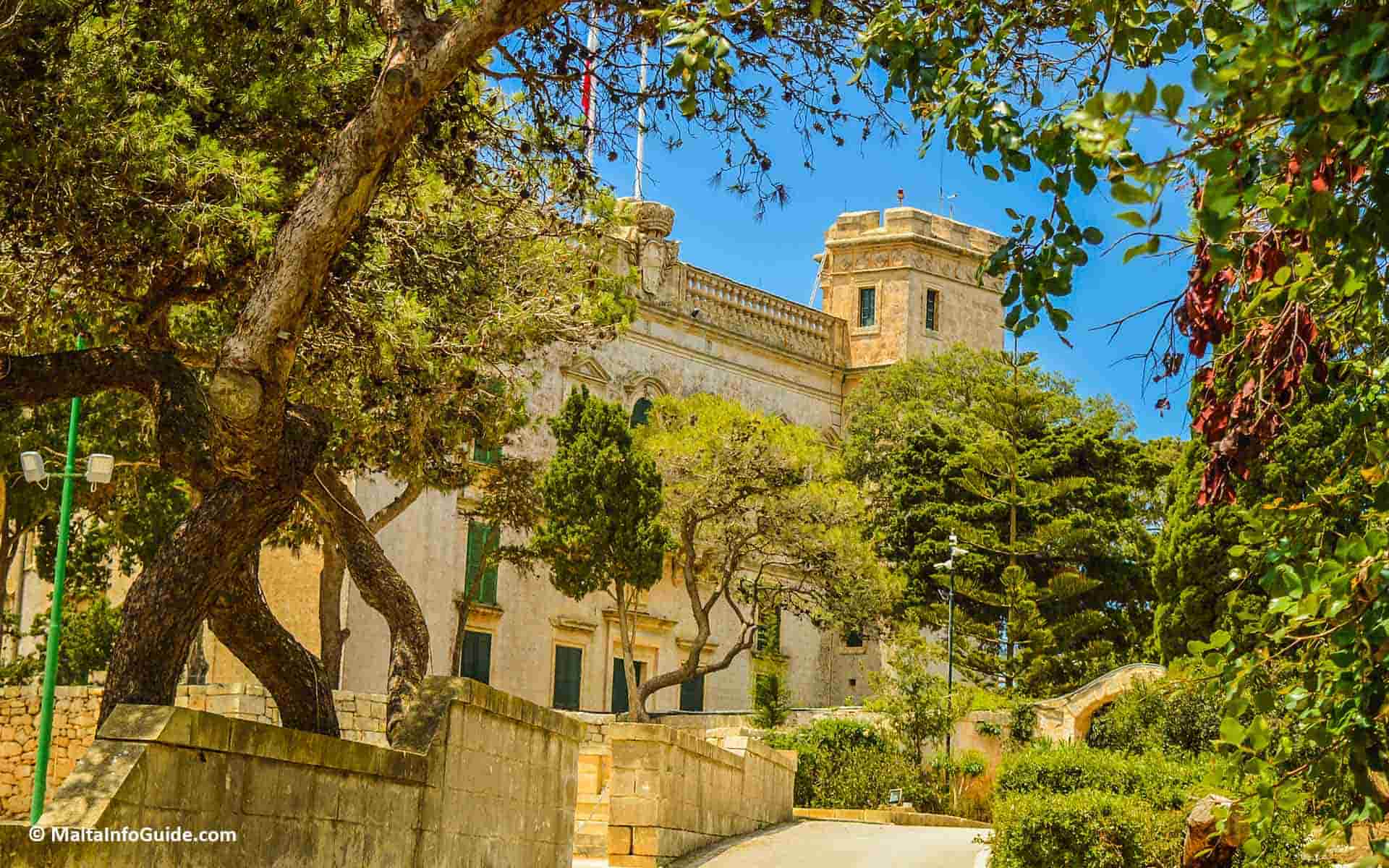 Wander at Buskett Garden
Buskett Gardens is Malta's semi-natural woodland located in the Siggiewi area between the outskirts of Rabat nearby Dingli Cliffs. It was planted to serve as their hunting ground by the Knights of Malta. It's one of Malta's few but greenest places.
There are also various types of trees in the gardens, such as oak crab olive, Aleppo pine, white poplar, ask and elm, and cactus, bushes, shrubs and flowers. Vineyards, olives and lemon are also available.
It also offers an ideal shelter for the migrating birds on their epic journey to find food and shelter.
Dingli Cliffs
Dingli cliffs are located off the village of Dingli being the highest point at around 253 metres above sea-level with incredible amazing perspectives on the Mediterranean Sea. The cliffs propose a superb sight, especially seen from a boat while cruising along the coast. You can look at the small terraced fields below and the small uninhabited island of Filfla. From the top at street level walking along the cliffs is so enjoyable. It is advisable to visit at sunset where you can see various people taking photographs.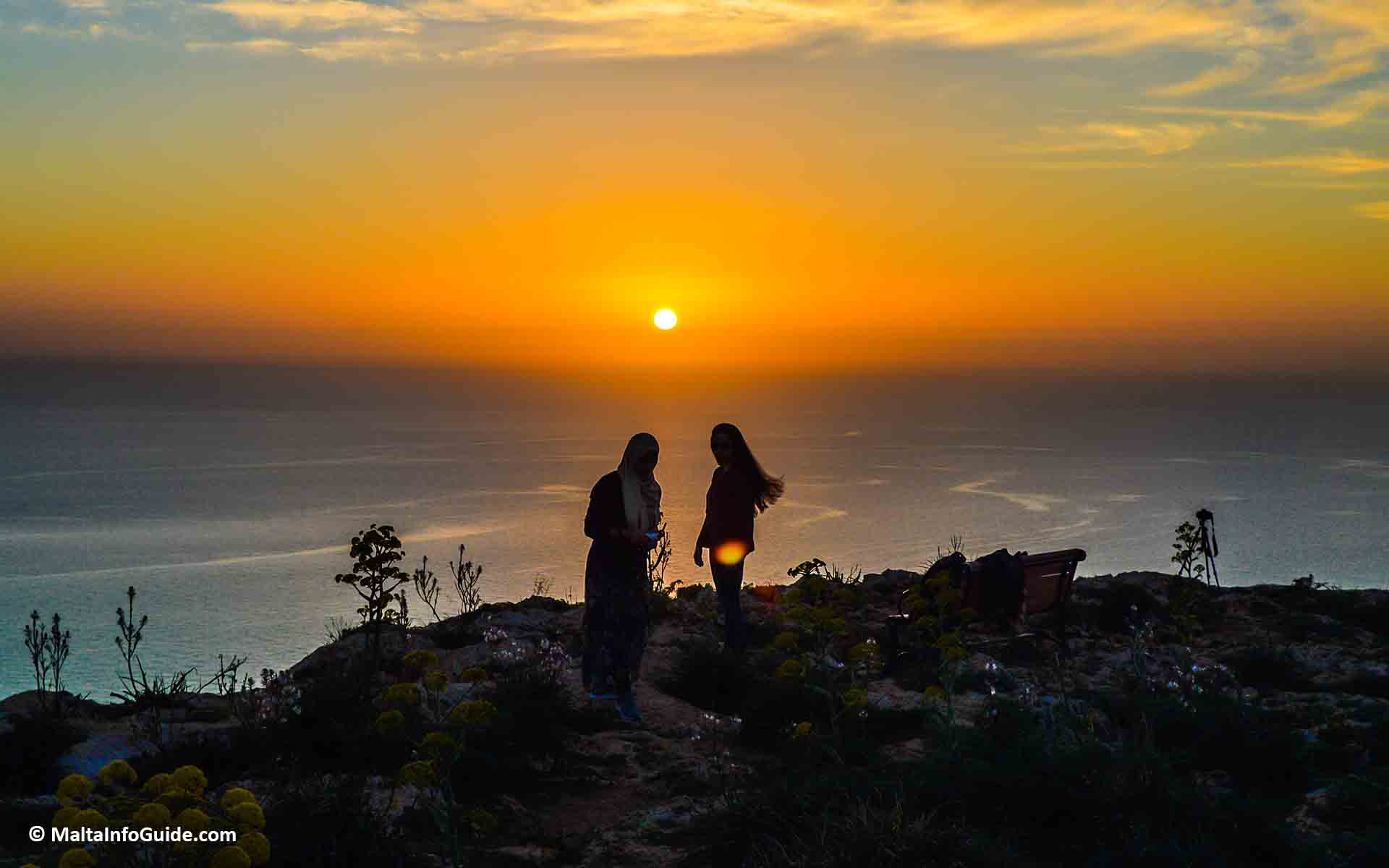 Chadwick Lakes
The Chadwick Lakes are located very close to Rabat within the valley of Wied il-Qlejgha. It is a very popular country walk area where back to 1890 a dam was built by Mr. Osbert Chadwick to collect the runoff rain water coming down the valley from the surrounding areas to gather after the winter rain.
The beautiful serene atmosphere and the green landscapes especially during winter and spring time attract many people to drive and walk along the narrow road along this very long valley. It is mostly beautiful to visit after heavy rain where various spring water gurgles downwards along the valley all across the town of Mosta. The water is used for irrigation of the surrounding fields and a natural habitat for the various flora and fauna of the area.
Ta Qali Crafts village and surroundings
We have a detailed article of Ta' Qali but here are some of the things you can visit:
The Ta' Qali Crafts village, the local artisans working and displaying their ornaments as souvenirs.
The Mdina Glass factory and shop which is part of the artisan's village but which arouses a lot of interest.
The Malta Aviation Museum which was set up by volunteers, now a voluntary non-profit organisation which has created a display of aviation history.
The Meridien Wine Estate established in 1987 along the old but still existing WW ll airfield strip to produce world-class wines of Maltese character.
The National Stadium, Malta's National Football Stadium where the national team has its central training grounds.
Best restaurants in Rabat Malta
Restaurants and bars are spread all over the town mostly in the popular streets, the parish church area until towards Mdina where still you can find great food restaurants for all tastes. The Maltese really love their food and although they rely a lot on tourists as these areas are very attractive for tourists, during the lean months of the year the Maltese still flock and keep busy all venues.
Food is influenced by Italian, and with a Mediterranean flavour including the Middle East. It is rich and good to know that portions are big and flavoured.
Discover a couple of the best restaurants we selected for your consideration if you wish to be visiting this area.
Where To Stay In Rabat Malta
There isn't much lodging in Rabat, but you still find some good choices for your holiday. Some options you can consider where you will not find modern built houses but renovated houses.
Within the closest reach of Rabat is the most luxury hotel which is at Mdina. The Xara Palace Relais & Chateaux a 5-star treat if you have the money to spend in such a luxury location where VIP many times take their lodging.
Then the next one and only is The Corinthia Palace Malta at Attard, a 5-star equipped for a complete holiday with gym, pool, wellness centre. It is ideal for conferences; it lies in the area next to the President's Palace and San Anton public gardens.

Want To Share This Page On Pinterest? Pin It Here!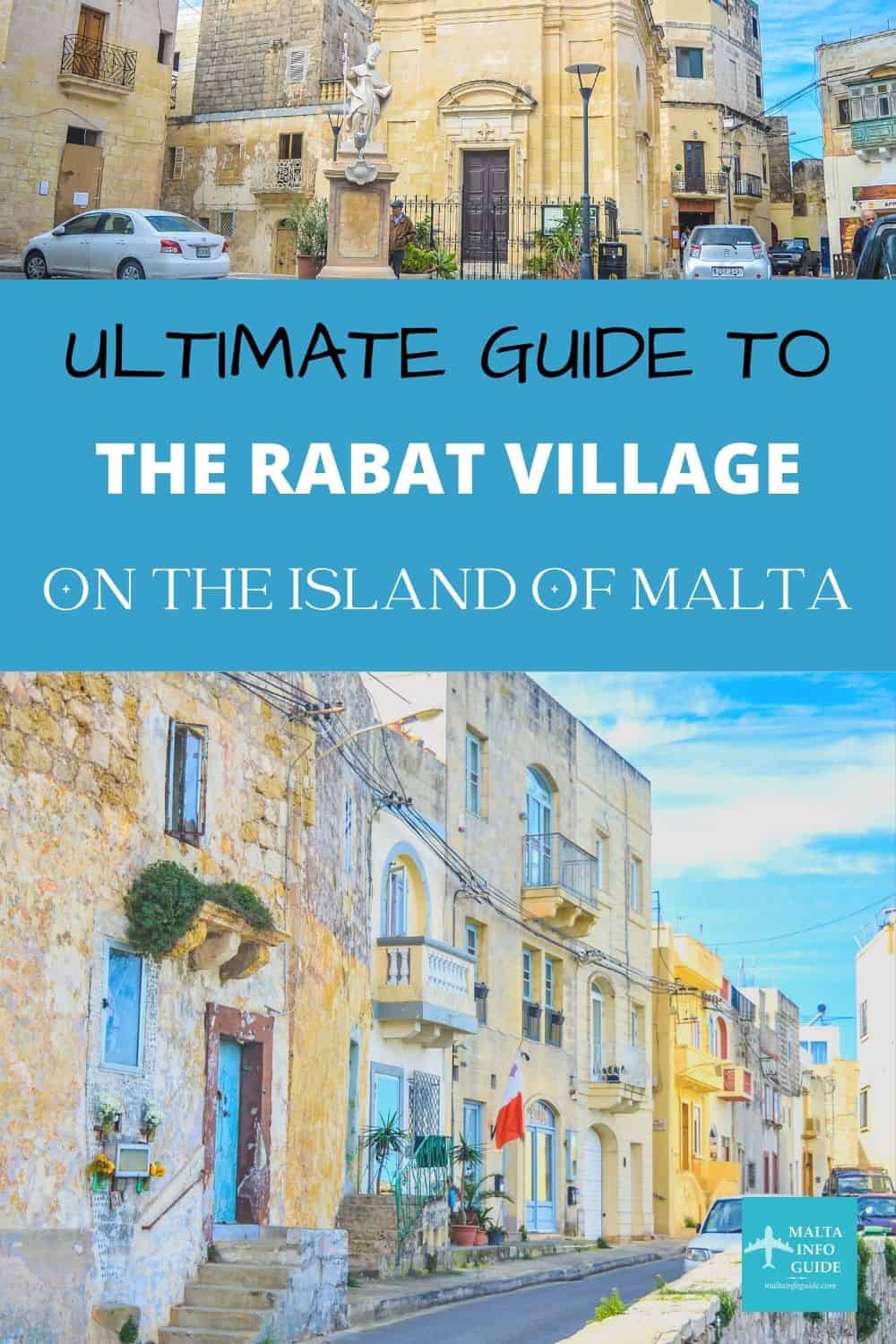 want to rent a car in malta?
We have used Discover Cars every time we rented a car. We highly recommend them due to their good service and good prices.
Get The Best Rates On Your Car Rental Now!
need to book a hotel for your malta visit?
Using Booking.com, enter your travel dates and number of occupants then rates will be available for hotels and apartments during your visit to Malta 
Book Your Hotel In Malta on Booking.com for the Best Rates!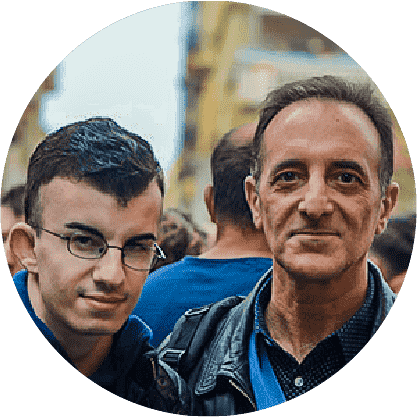 By Albert and Benjamin Magro