St. George's Bay
A Beach Located at one of
Malta's Top Touristic Locations
St George's bay is one of the most attractive sandy beaches in Malta. Located in the heart of the entertainment mecca known as Paceville, it is the location where many tourists and students like to take a dip into our clean Maltese waters.
It is a location within St. Julian's where a large percentage of hotels, restaurants, nightlife and various English language schools are located.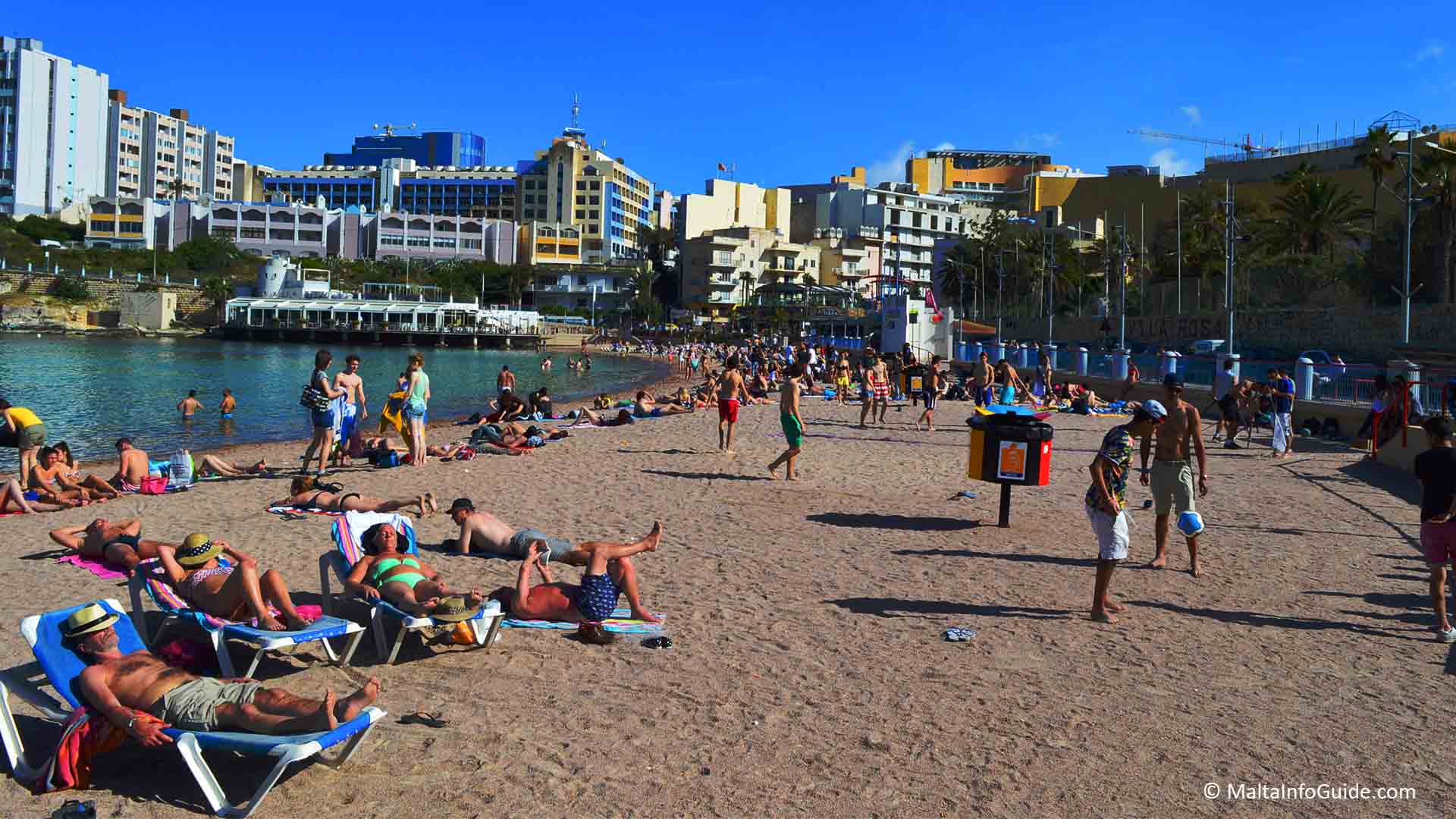 The beach is popular both during the day as well as up to early hours. When it is good weather youths, especially foreign students, like to laze on the sand enjoying the beautiful weather of our islands. They socialize with many other youths coming from different countries to study English.
You can integrate by going for a long walk starting from this beach up to Sliema, Gzira and Ta' Xbiex. A walk of at least seven kilometres. In fact there are some very good areas for swimming.

Many restaurants, cafes and ice cream parlers lie along the promenade and you are spoilt for choice, where one would either like to eat or have a light snack or even an ice-cream or coffee.
St Georges bay is an enjoyable sandy beach in the centre of the entertainment area.
Here is why St. George's Bay is one of the most visited beaches
"Very beautiful bay, with lots of attractions. A small sandy beach, but you can make a lot of thing around, day and night: Plenty of restaurants, bars, hotels, casinos, water sports, and open top bus tours"
"There is so much to do here where do we start. You can walk along the promenade or grab a drink at one of the many bars. It's a great place for a evening out."
"We stayed on the opposite side of St George's Bay to Paceville. The area was lively without being too loud and noisy. There are plenty of water sports and a clean little beach area at the end of the bay. Good bars and restaurants can be found around the bay. We would recommend it as a place to stay in Malta."

St. George's Bay Amenities
St. George's Bay is one of many Blue Flag beaches in Malta. It has been a Blue Flag beach since 2007. The blue flag season for this beach is from 15th June to 15th September of every year.

Beach Facilities

- Restrooms are located at the centre of the sandy beach.

- There is a lifeguard standby during summer.
- Watersports are available at a cost.
- No specific warnings about the sea's condition in this area.
Persons With Less Mobility

- The beach is accessible for persons with disability, as there are ramps leading to the beach.

Beach Furniture

- Umbrellas are easily rented from the beach club or the side rental shop beside the restaurants. Sunbeds are not available for rental.
Bar-b-ques & Camps

- They are both prohibited on the beach.
Restaurants

- The bay is surrounded by numerous restaurants and bars.

- Paranga restaurant at St Georges Bay.

Situated at the corner of the beach. Easily reachable by many swimmers who want to have a bite to eat. You can enjoy a beautiful view with a host of dining options for all tastes.
It is owned by the Intercontinental Hotel which is close by and this guarantees quality. Parking is no problem if you eat at La Paranga as the Intercontinental Hotel offers three hours free parking.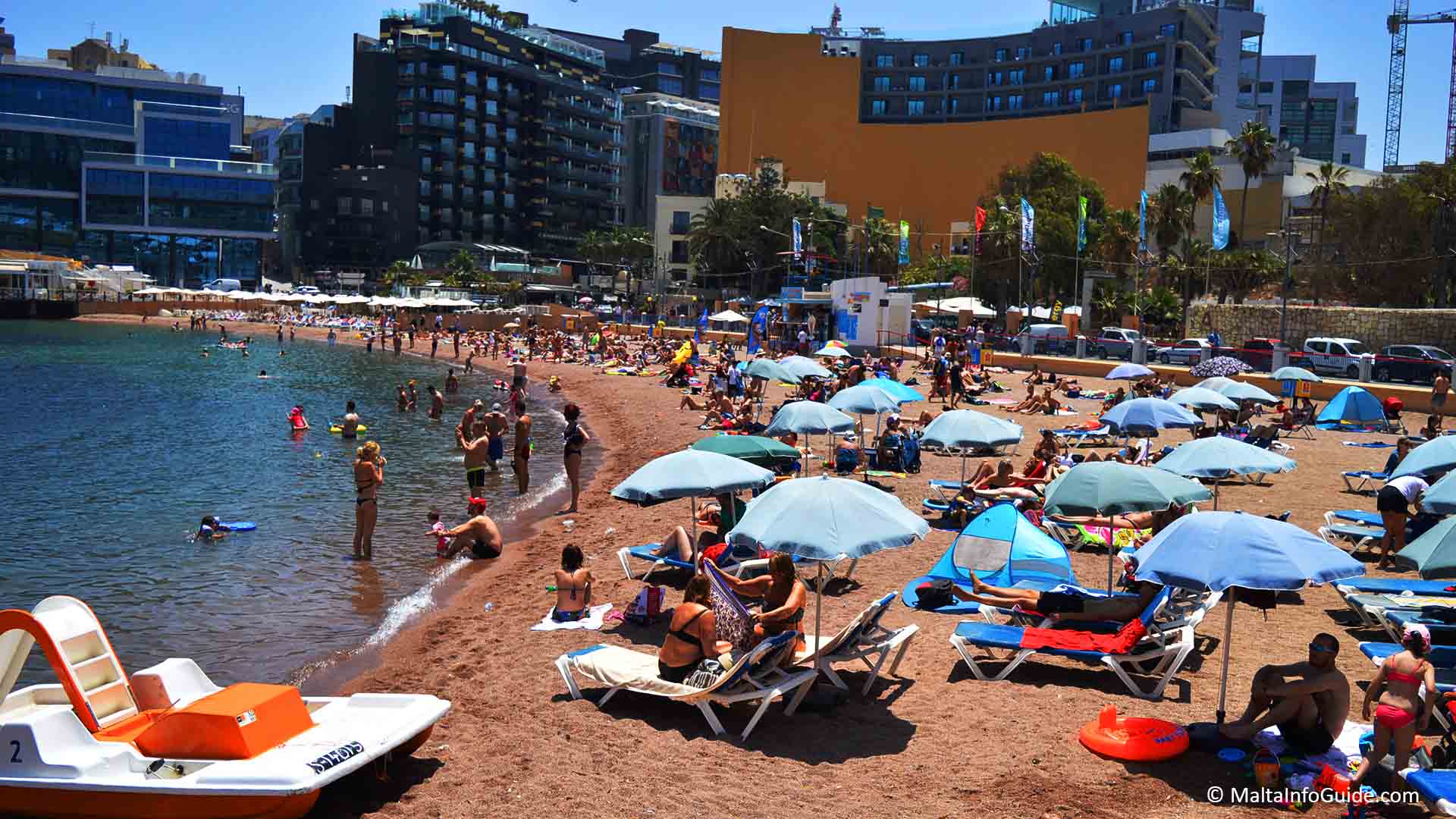 How to get to St. George's Bay
- Coming to the beach is very easy. You can come by car or bus.
- It is centrally located on the coastal area further up from Sliema, to St. Julian's Bay.
- It is in a very touristic spot, were during summer you will find many people sunbathing and swimming.
Parking

- Parking close to the beach is not easy.
- You can go to the Baystreet or Eden Cinema car park which is only 5 minutes walk from the bay. You will need to pay a fee according to how long you leave the car inside.
- You need to wander around the nearby streets, which can sometimes be at a distance, but eventually it will definitely be worth it.
- Coming here by public transport it eventually easier.
Malta Public transport

To Bay: 13, 13A, 14, 16, 110, 120, 121, 202, 212, 222, 225, 233, X2 - San Giljan Bus Stop

To Valletta: 13, 13A, 14, 16
Click here to see how to get to the bay from the bus stop
Hop-On Hop-Off Tours

- The north blue sightseeing tour passes by St. George's bay
Attractions Around The Bay
St. George's Bay is located in the most touristic spot on the island. Apart from visiting the bay, there are plenty of other things you can do which are just at walking distance.
Visiting with kids? These are fantastic things to do with your kids after a day at the beach.

- Play a game of bowling at Eden SuperBowl
- Watch a movie at Eden Cinemas
- Shop at Bay Street Shopping Complex
- Paceville - Mostly active during the night since it is a nightlife spot.
- Games Room at Bay Street complex
- Lasertag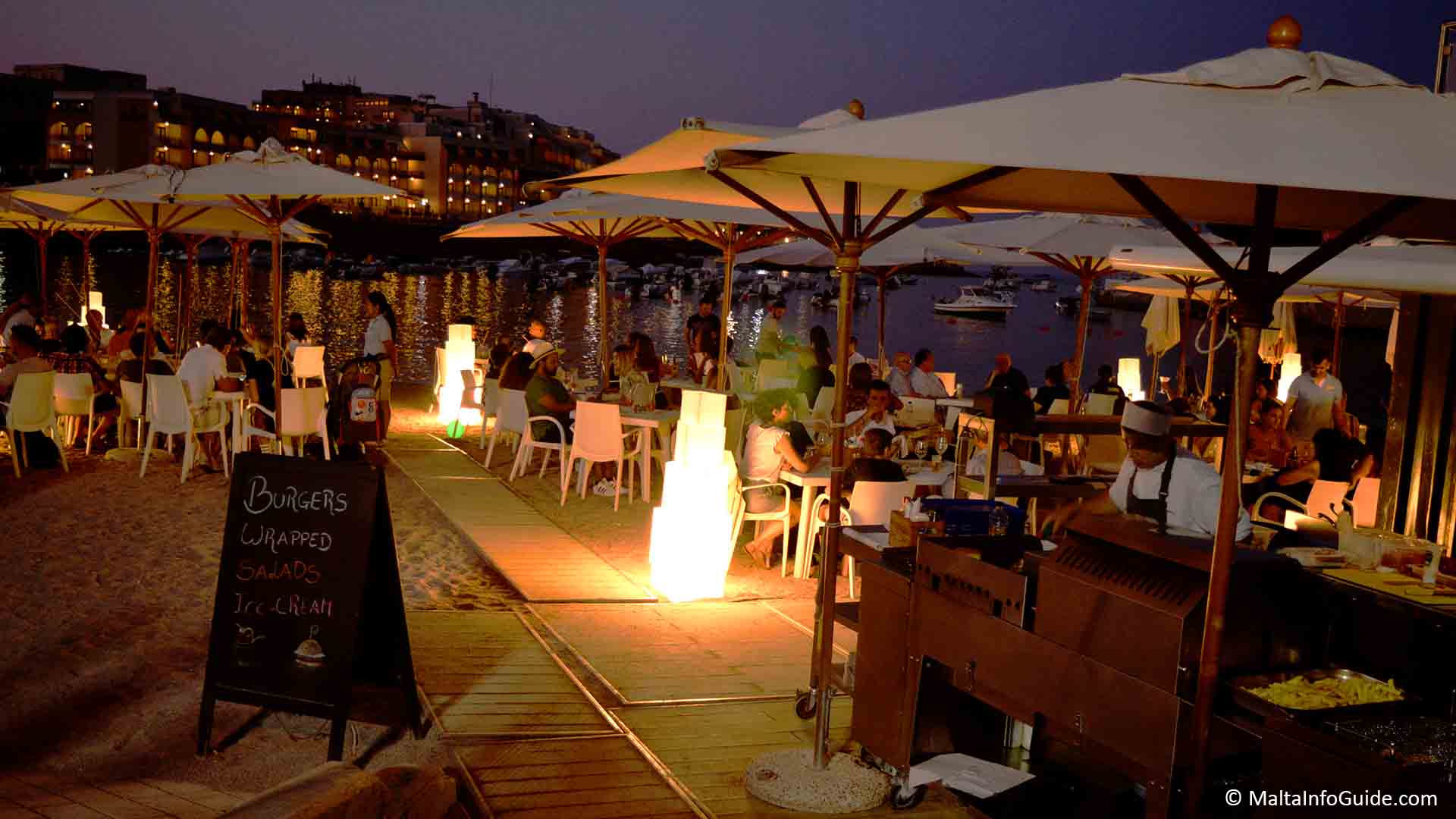 St. George's Bay Hotels at its Vicinity
- Corinthia Hotel St. George's Bay | Radisson Blu Resort, St. Julian | The Westin Dragonara Resort | Intercontinental Malta

- Hugo's Boutique Hotel | H Hotel | be.HOTEL | Hilton Malta | Bayview
- The District Hotel | Cavalieri Art Hotel | Holiday Inn Express | Beach Garden Hotel
- Golden Tulip Vivaldi Hotel | The St. George's Park Hotel | Marina Hotel Corinthia Beach Resort
Click here to see live footage of the bay