Dahlet Qorrot Gozo

The Perfect Place Where You Can Relax With Nature, Beaches In Gozo
Dahlet Qorrot Gozo is a small attractive peaceful bay located at the north-east side of Gozo at the far end between Nadur and Qala.
It is a serene place where one can relax and enjoy the natural beauty all year round, even during the peak summer months. This small enclosed bay is the perfect place if you wish to spend quality time during your holiday in Malta.
Disclaimer: On our website, you will find affiliate links from which we receive a small commission.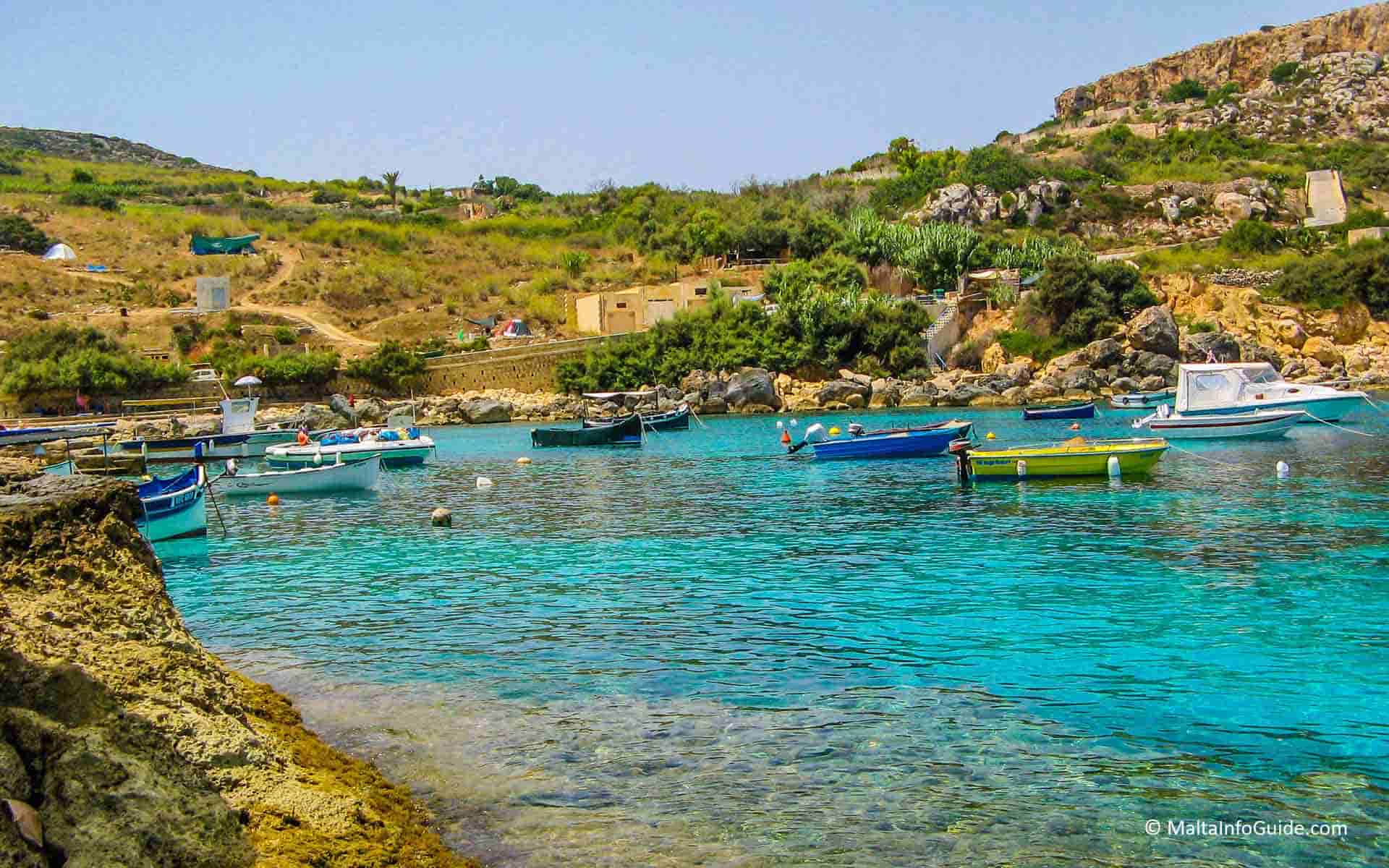 Dahlet Qorrot is the perfect location for the keen photographer. At every twist and turn there is a unique photograph waiting to be snapped. We have included some photos to wet your appetite and entice you to pay a visit to this little secluded bay.
The route to this bay is through a narrow descending road which affords extraordinary views of the bay. Upon arrival, one finds a small sandy/pebbly beach with a small area for parking.
One also immediately notices some fishermen's rooms cut into the rocks on the right hand side.
Sometimes one can see one or two of the fishermen outside their rooms mending their nets – a chance to see a snapshot of how people lived many years ago when life was much calmer and quieter.

The place is ideal for children to play on the sand and enjoy a swim as the shore line is shallow.
However one needs to be aware that the sea gets deep fairly quickly so children should be kept under strict supervision.

For the more adventurous swimmers who like to jump or dive into the sea, there is a designate area from where one can do so and this is serviced with a ladder to enable swimmers to safely climb back out of the sea.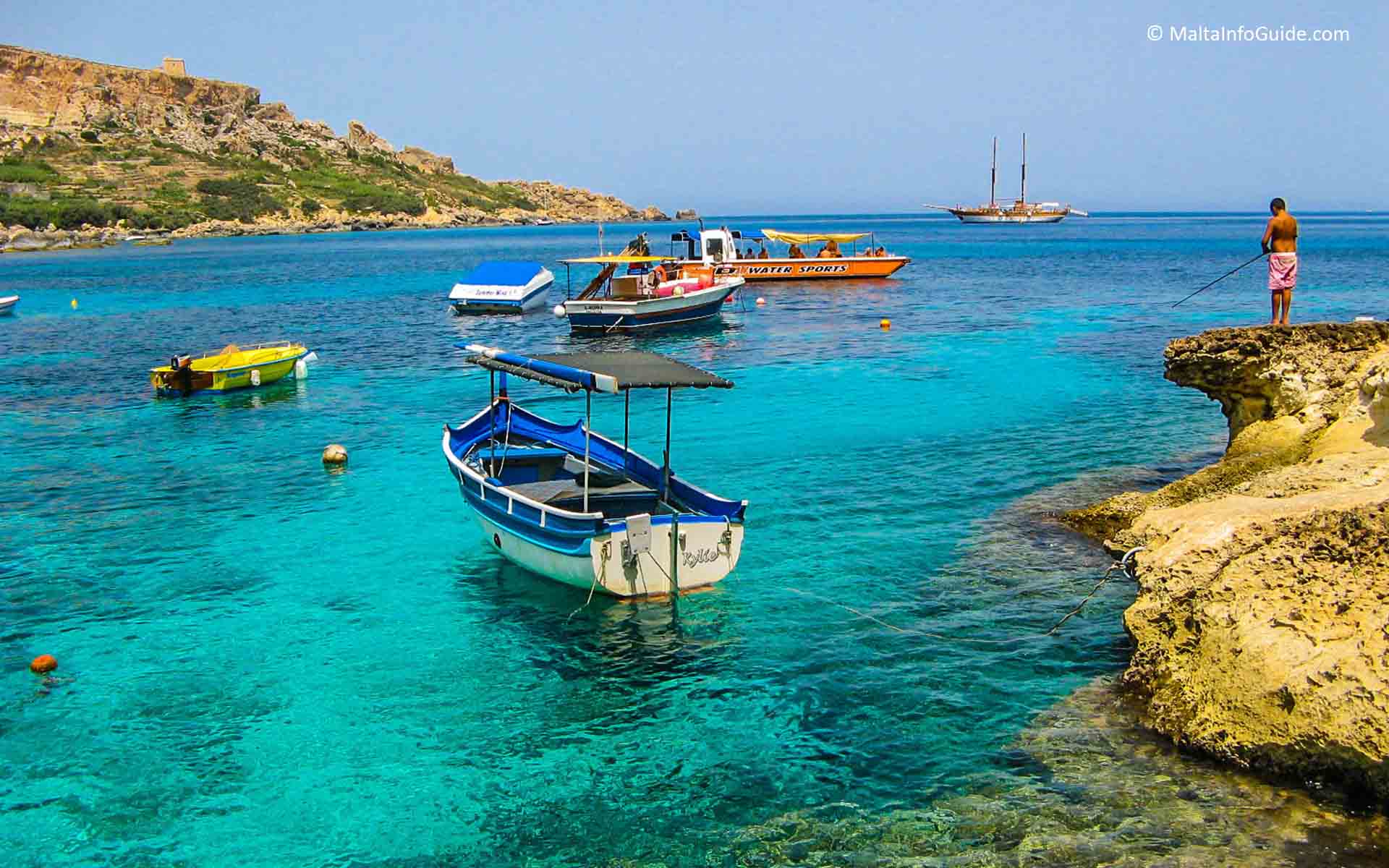 This bay also offers a paradise for keen snorkelers as the sea is very clear making this an ideal place.

Some small inlets in the rocks by the beach serve as a shelter from the strong sun, and the benches which have been provided for visitors are shaded by trees which also offer some respite from the sun.
In winter the location is ideal for those who wish to seek some solitude, or who enjoy watching the rough or calm sea, or reading, or just spending some time quietly away from the usual hustle and bustle of everyday life. In the winter months, Dahlet Qorrot bay rough sea can be risky for those who are not experienced swimming.

Due to its low level location, getting a connection on your mobile phone might prove to be problematic.
We strongly suggest that you do not miss an opportunity to visit this wonderful Bay.
How to get to Dahlet Qorrot Gozo
by car
Dahlet Qorrot is located in a secluded area of Gozo. Getting there by car is easy if you use a GPS. Parking is available just by the beach. Parking is also available further up from the bay along the main road.

by public transport
There is no public transport available close to the bay. The closest bus stop is around two (2) kilometres away on foot.
Although a large part of the walk is a descent, however one should keep in mind that the return journey would be a steep hill climb. If you feel inclined to take on the challenge, it is recommended that you carry as few things as possible.
To 'Qorrot' Bus Stop (Direction to Victoria): Direct routes 303
To 'Qorrot' Bus Stop (Direction to Mgarr Ferry): Direct routes 303
To/From Victoria: Direct Routes 303
What you find at the beach
Beach Quality - The bay is kept clean frequently by the authorities.
There are no deckchairs and umbrellas to rent. There are 

a handful of benches which are shaded by some trees.

You need to bring your own chairs and umbrellas.

Wheelchair Accessibility - The beach is accessible for wheelchairs. A ramp is available at one side of the beach giving access to the sandy beach.
Public Rest Rooms - There is a public restroom that is open everyday.
Food and Drinks - 

There is a snack-bar facility during the summer months but it is not always available. Do bring 

your own food and water with you for an enjoyable relaxing visit.

Parking - There are parking areas near the beach for easy parking.
Bar-B-Ques and Camps are not permitted

 on the beach.

Water Sports - 

Water sports are not available. 

Although the bay is visited by a few day tours who bring tourists to flavour the beauty of the bay.
warnings
There are no underwater currents in the vicinity of the sandy beach, however the sea level gets deep fairly quickly so one should be careful to gauge one's activities depending on one's swimming abilities.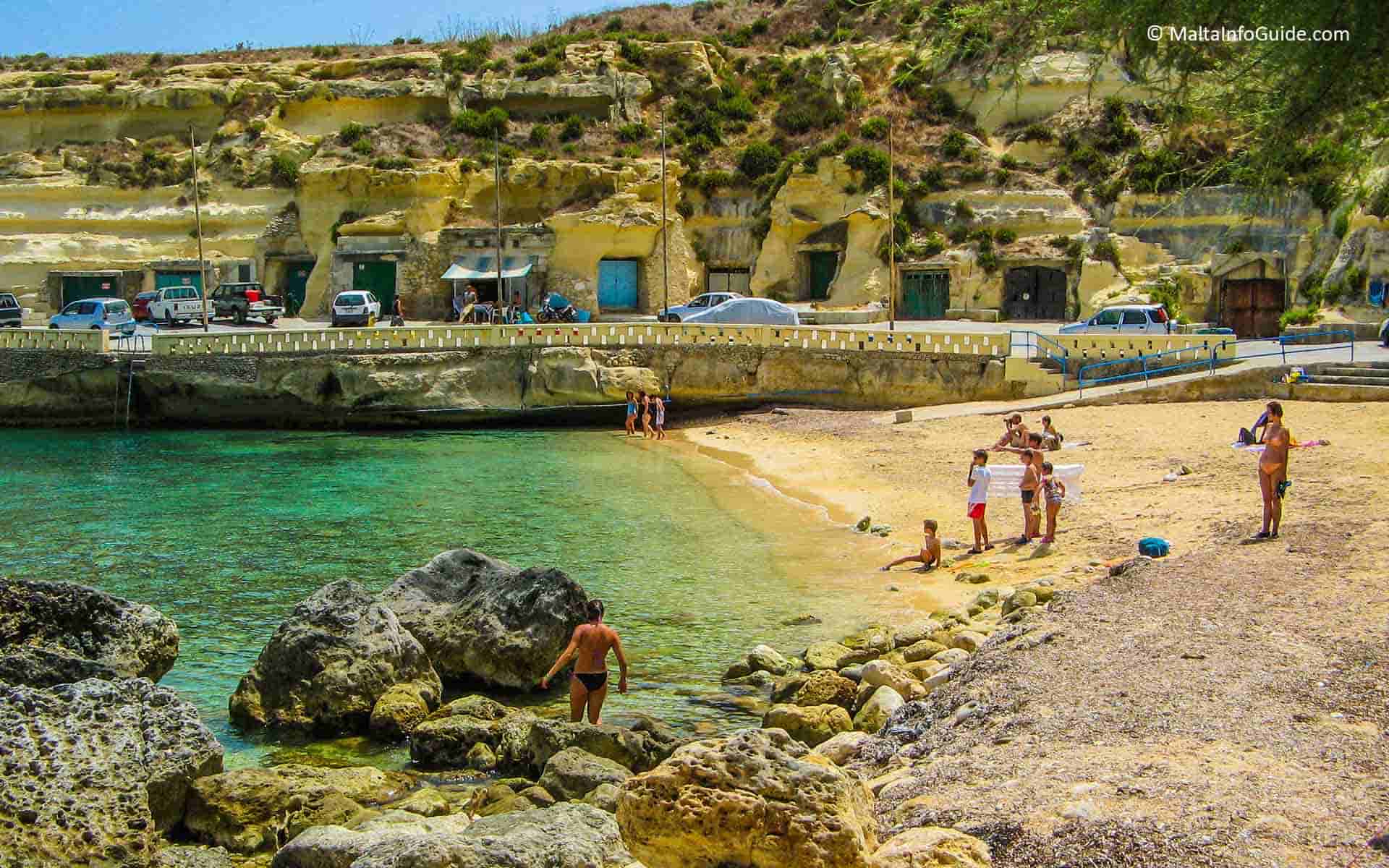 What Do I find around the beach
Closest Villages

The closest villages to Dahlet quarter are Nadur and Qala.

more beaches around gozo island
Ramla L-Hamra Beach is the closest beach to Dahlet Qorrot. It is also the largest beach on the island of Gozo.
Xlendi bay is on the other side of the island. It is surrounded by many restaurants and hotels.
Dwejra Bay is very similar to Dahlet Qorrot where it is secluded away from the hustle of life. It is very close to the former Azure Window.
Accommodation Around the Beach
There is no accommodation for around 2 kilomteres from the beach. You can find where to stay, in the villages of Qala and Nadur or other villages around Gozo. You might not find hotels, but farmhouses, B&B's and flats you will definitively find.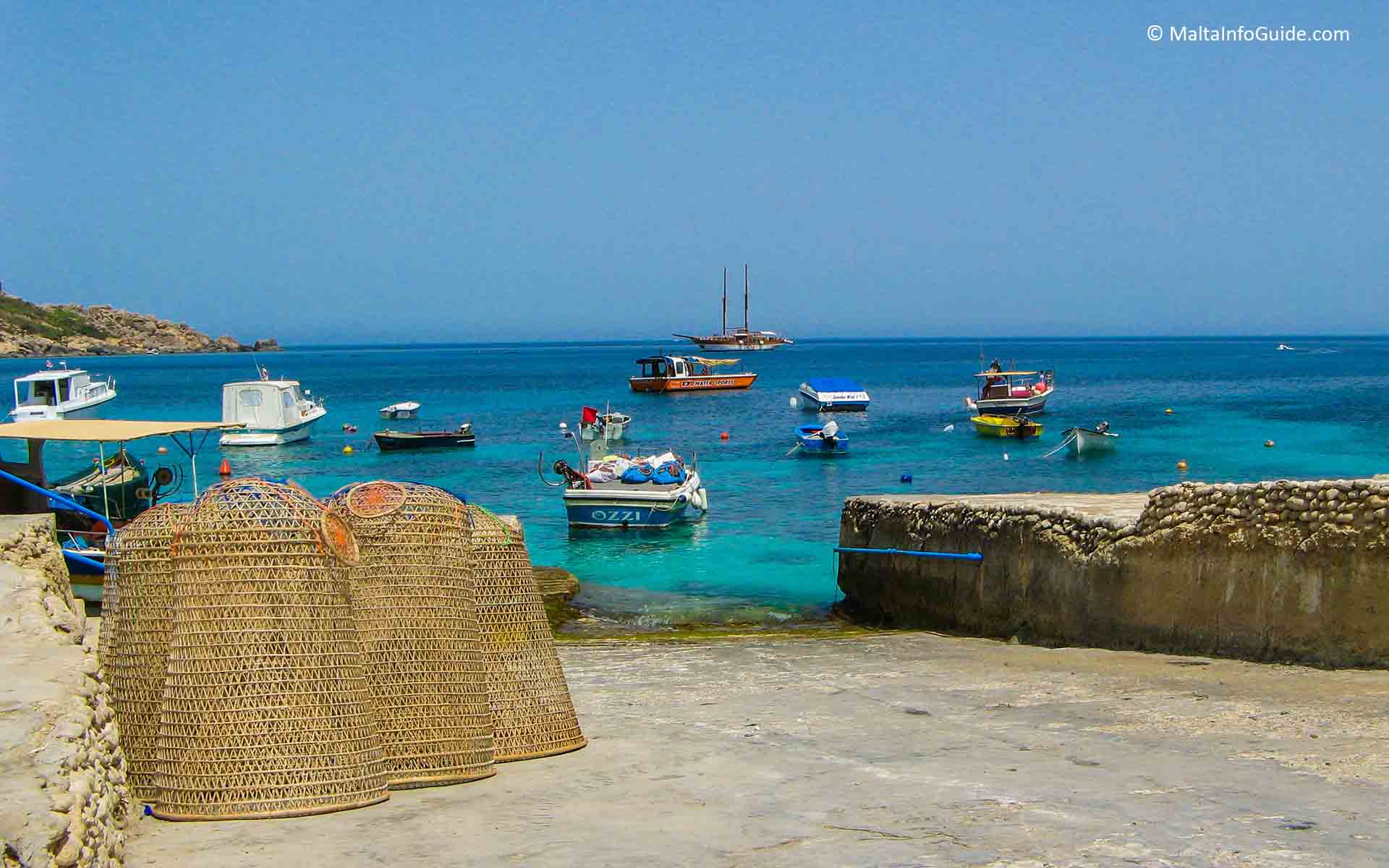 cultural attractions
A watch tower known as 'Torri ta' Sopu' can be found  in the vicinity.
This was built during the stay of the Knights of St. John in Malta and specifically in 1667 when Grand Master Nicholas Cottoner decided to increase the fortifications of the Maltese islands to guard against the constant threat of Turkish invasions.

Want To Share This Page On Pinterest? Pin It Here!
want to rent a car in malta?
We have used Discover Cars every time we rented a car. We highly recommend them due to their good service and good prices.
Get The Best Rates On Your Car Rental Now!
need to book a hotel for your malta visit?
Using Booking.com, enter your travel dates and number of occupants then rates will be available for hotels and apartments during your visit to Malta 
Book Your Hotel In Malta on Booking.com for the Best Rates!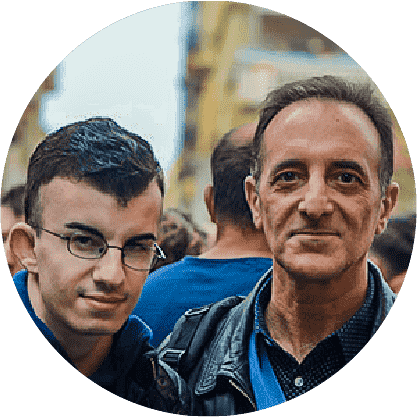 By Albert and Benjamin Magro