Xlendi malta Bay Gozo
A Beautiful Inlet Bay 
Island Of Gozo, Apartments In Gozo, Hotels In Xlendi Gozo
Xlendi Malta Bay Gozo is located at the bottom of a very steep valley starting from the village of Kercem which is located very close to Victoria (Rabat), the capital city.
During the descent down to the Bay one can appreciate the greenery all around and the deeper one descends into the valley, one may also notice the abundance of cane growing in the valley, depending on the time of the year arriving at the car park soon after.
Xlendi Bay Gozo is a seaside village located on the southwest of the Island. This popular locality visited regularly by tourists and Maltese alike, and not least by the inhabitants themselves. The beach is small, but it is one of the best spots on the island.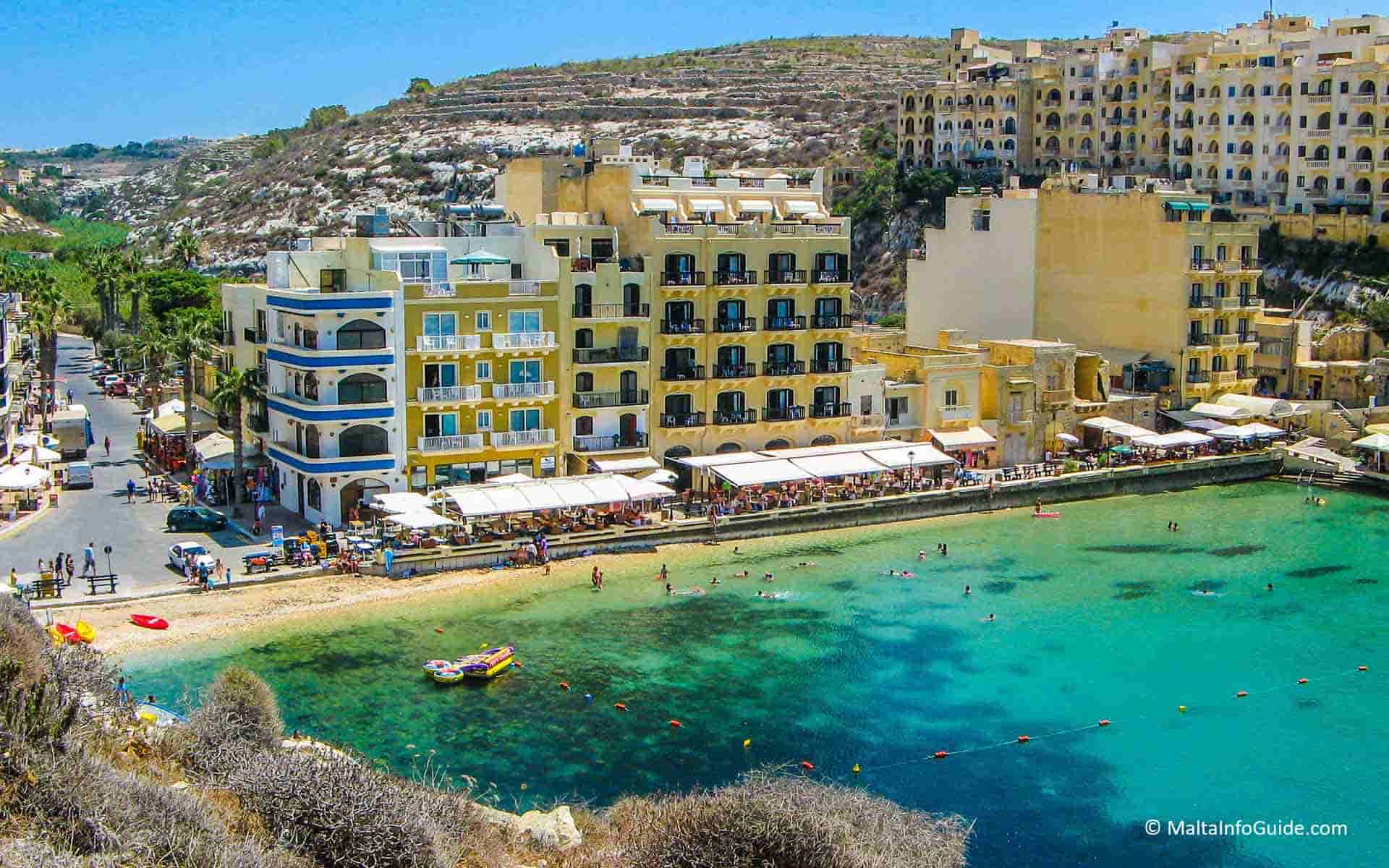 Due to its geological formation and the shallow sloping pebbly beach, the Bay used to be a sleepy fishing village where to date some fishermen still keep a few of the remaining boat houses.

It is also popular as a summer residence where several locals stay in their boathouse as the location offer a tranquil environment. Nowadays Xlendi Malta is more of a resort area where most of the properties have been transformed into restaurants, bars, shops, guest houses and hotels.
The promenade, although small, is very pretty, especially in summer when it is lined with tables close to the seashore where one can enjoy a relaxing meal close to the water's edge.

Although the area has grown in size because of commercial and residential developments, the area still retains its natural tranquillity.
Upon arrival you will notice that the old traditional coloured fishing boats still anchored in the bay alongside the modern pleasure boats, representing what this location is today – a mix of old and new setting happily next to each other.
The bay is also great for swimming. Along the left side of the bay, there is a walkway with stone benches set upon rocks where people can leave their belongings and jump into the sea for a refreshing swim.
In this area a buoy line enclosing a long stretch of coast indicates a swimmers zone whilst also serving as a protection to swimmers from the boats that move around in the bay. There are several ladders to aid swimmers to climb out of the water.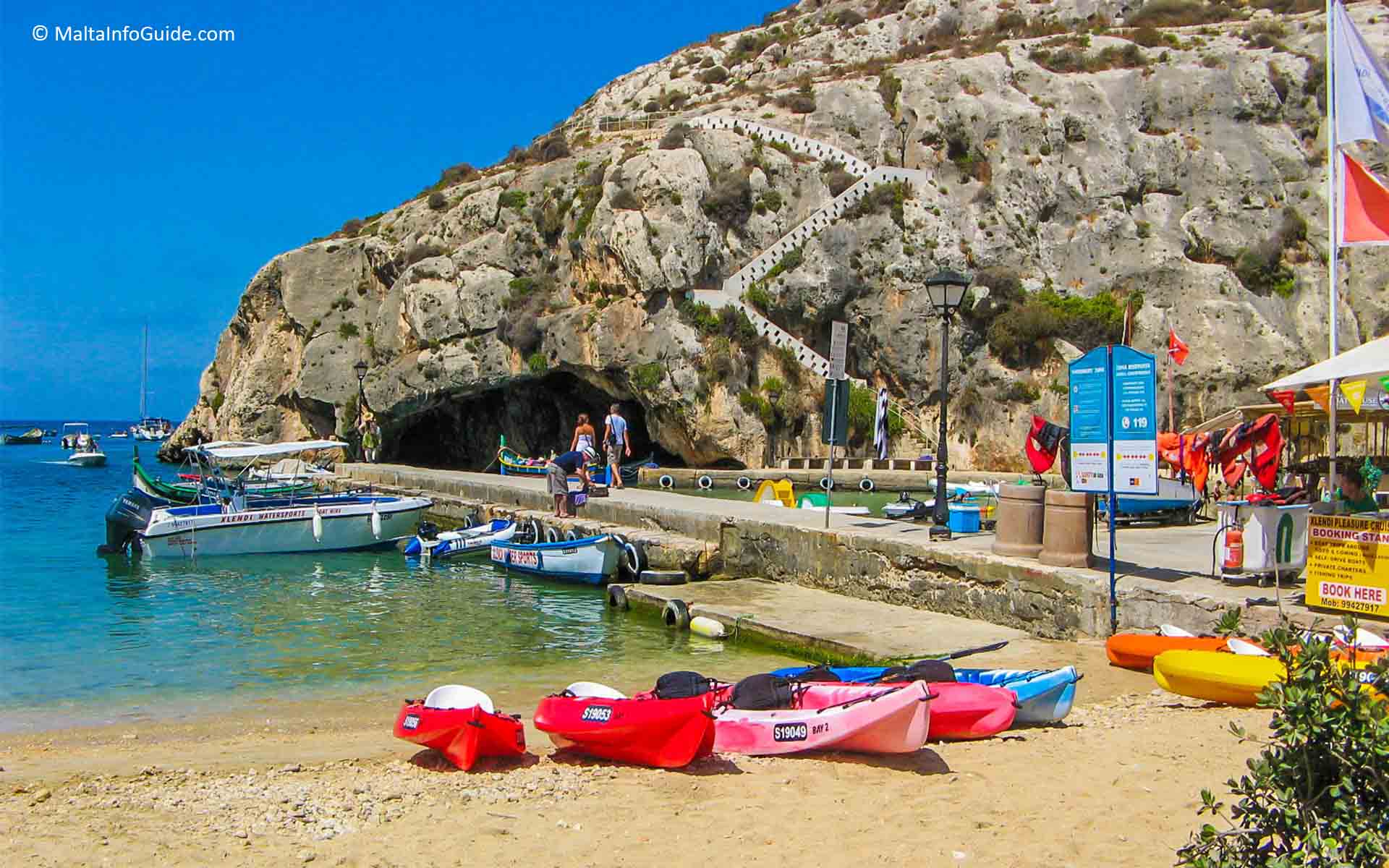 Xlendi Malta Bay is also popular with visitors in the evening who come to enjoy a leisurely stroll along the promenade in the balmy summer evenings, with many stopping to have a quiet meal at one of the local restaurants sitting at the water's edge.
It is also popular with families who come along with their children for an ice-cream at a popular parlour which makes home-made ice-cream. This bay is wonderful all year round as spring and autumn are also lovely seasons during which to enjoy this lovely unique location.
This location also offers great walks along the coast in various directions on rough terrain including an interesting walk towards the watch tower located at the mouth of the inlet.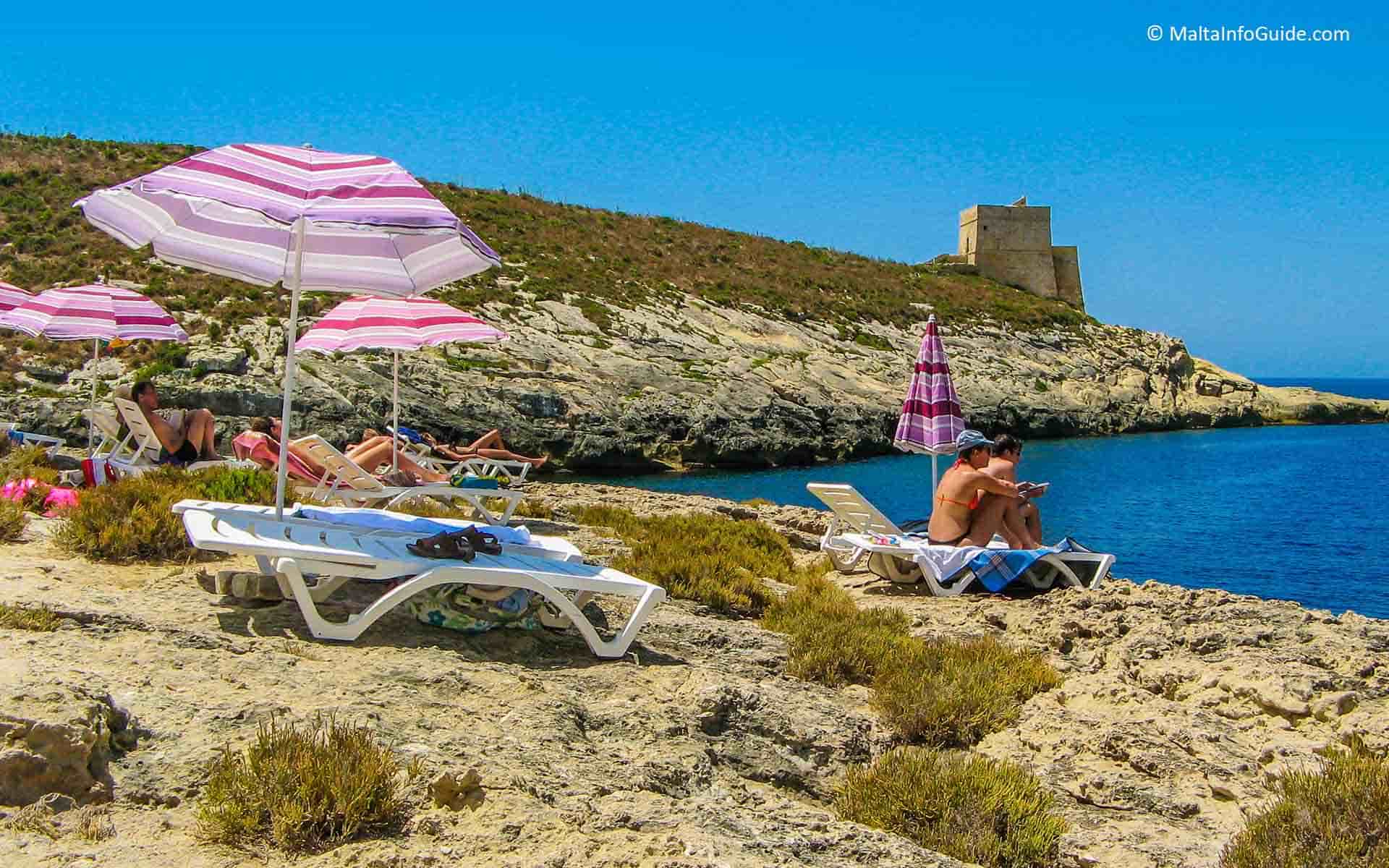 How to get to Xlendi Malta
by car
Getting to Xlendi Malta from Mgarr Harbour is very easy.
When leaving Mgarr Harbour take the main road all the way to Victoria.
When you pass Duke Shopping Mall (Victoria) take the first exit on the small roundabout.
Go straight on until you reach another small roundabout and take the second exit.

Go straight then take a right on Triq Kappillan G Hili then immediately turn left on Triq Santa Dminka.
Take a right on Triq L Isptar San Giljan and go straight to the intersection.
When you arrive at the intersection take a left on Triq tal-Ghajn and go straight down to Xlendi.

If you are travelling by rented car, one will find a car park at the bottom of the hill and a few meters away from the centre of the resort.
Find Cheap Rates
public transport
The bus routes operate every hour in each direction all days of the week all through  winter and summer.

To Bay: 306, 330
To Victoria, Rabat: 306, 330
To Mgarr Harbour: Go to Victoria, Rabat and catch 301, 303 or 323
Gozo Sightseeing City Tours:

Sightseeing buses operate around the island from 09:40 till 17:40 every 45 minutes, visiting all the major attractions of the island, of which this bay is one of them.

This also offers another way of arriving at this location, also leaving one the option of visiting the other localities time permitting
What You Find And What To Do At Xlendi
The bay is cleaned by the local authorities.

There is no rental for

 sunbeds and umbrellas.

 If you want you can bring your own umbrella and chairs to stay on the sand. 

 There isn't really a large area to place your own things. If you succeed you can grab a bench along the right rocky side.

Wheelchair Accessibility -  There might be some inconvenience to succeed to swim, but with some help you might do it. The area is wheelchair accessible but there are limits.
Public Rest Rooms - They are on the right side of the beach close to the restaurants.
Food and Drinks - There are multiple restaurants around the beach.
Parking - There is a car park for parking and you can also park on the main road.
Bar-B-Ques and Camps are not permitted

 on the bay. You also cannot acquire a permit to do so.

HSBC ATM

 available beside the parking area.



Warnings - The sea will sometimes be rough

 and can be 

dangerous 

to swim in.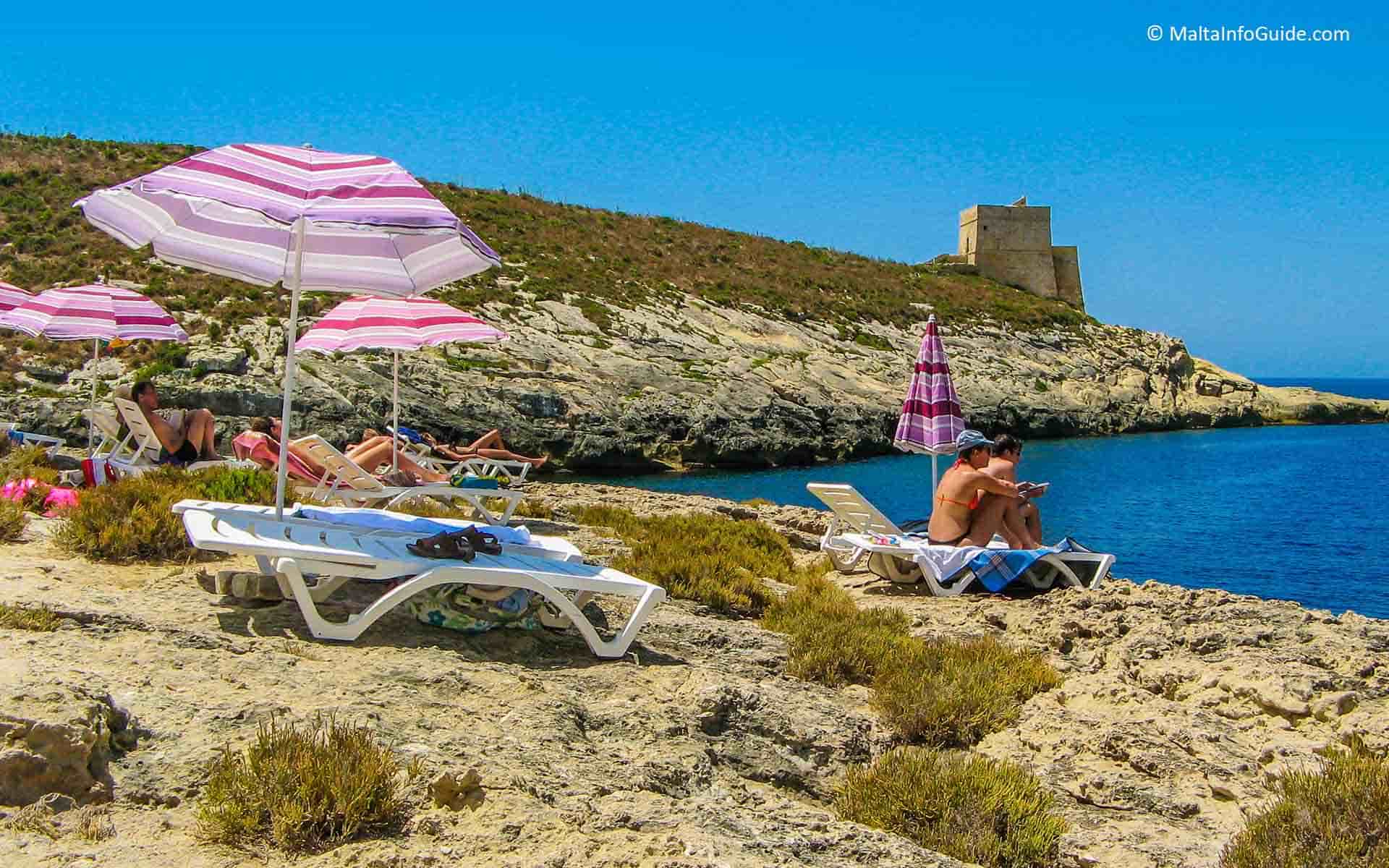 xlendi watersports
It is possible to rent pleasure boats for various activities you wish to do while you are in Gozo.
Diving is possible by Moby Divers and St. Anthony's Dives Cove. They are located close to the beach offering a service to those who wish to taste the beauty of the Maltese archipelago under water beauty.

Hotels In Gozo Malta Xlendi
Hotel Xlendi Resort & Spa

Address: St. Simon Street, Xlendi Bay, Gozo
Phone: +356 27553719 | +356 79284514
St. Patrick's Hotel

Address: Xatt ix-Xlendi, Munxar
Phone: +356 2156 2951
Hotel San Andrea

Address: Xatt Ix Xlendi, Il-Munxar
Phone: +356 2156 5555
Ulysses Aparthotel

Address: Gostra Street, Xlendi Bay
Phone: +356 2156 2951
San Antonio Guesthouse

Address: Tower Street, San Antonio Guest House, Xlendi
Phone: +356 9949 6807
Apartments in Gozo are numerous at this seaside location.

What you find round Xlendi Malta
beaches close by
cultural attractions
Along the road before you arrive to this location, one can find La Grotta disco – a popular location heavily frequented especially during the summer months.

It is particularly popular with Maltese youths As it is considered the place to be for the young generation on a summer Saturday night.
The watch tower overlooks the entrance to this bay guarding its entrance.
It was built with a purpose since the bay is well secluded by surrounding the high cliffs.
The tower was constructed by the Knights of St. John, under the reign of Grand Master Lascaris during 1650.
Best Restaurants In Xlendi Gozo
Around 20 restaurants are located in this tiny fishing village. All compete with each other for their excellent service and food quality.

One would need to make a table reservation for certain restaurants during peak season either by phoning in advance or by having a stroll upon arrival checking out the different menus and then booking your table by the water's edge.
Ta' Karolina
Address: Triq L-Ghar ta' Karolina, Munxar

Phone: +356 2155 9675

Hours: 

12:00  15:00 & 18:30–22:30
The Boat House
Address: 

Xatt ix-Xlendi, 

Xlendi Bay, Gozo

Phone: +356 2156 9153 | +356 2756 7207 | +356 2155 7661
Hours: 1st Oct to 30th June Daily: 12.00 - 22.00 (Last orders), 1st July to 30th Sept Daily: 12.00 - 22.30 (Last orders), Fridays & Saturdays (all year): 12.00 - 22.30 (Last orders)
The Diamond
Address: 16 Triq Sant Andirja, Xlendi
Hours: 09:30 - 23:00
Phone: +365 7904 2720
Sapana
Address: Munxar
Hours: 18:00 - 23:00
Phone: +365 2156 2100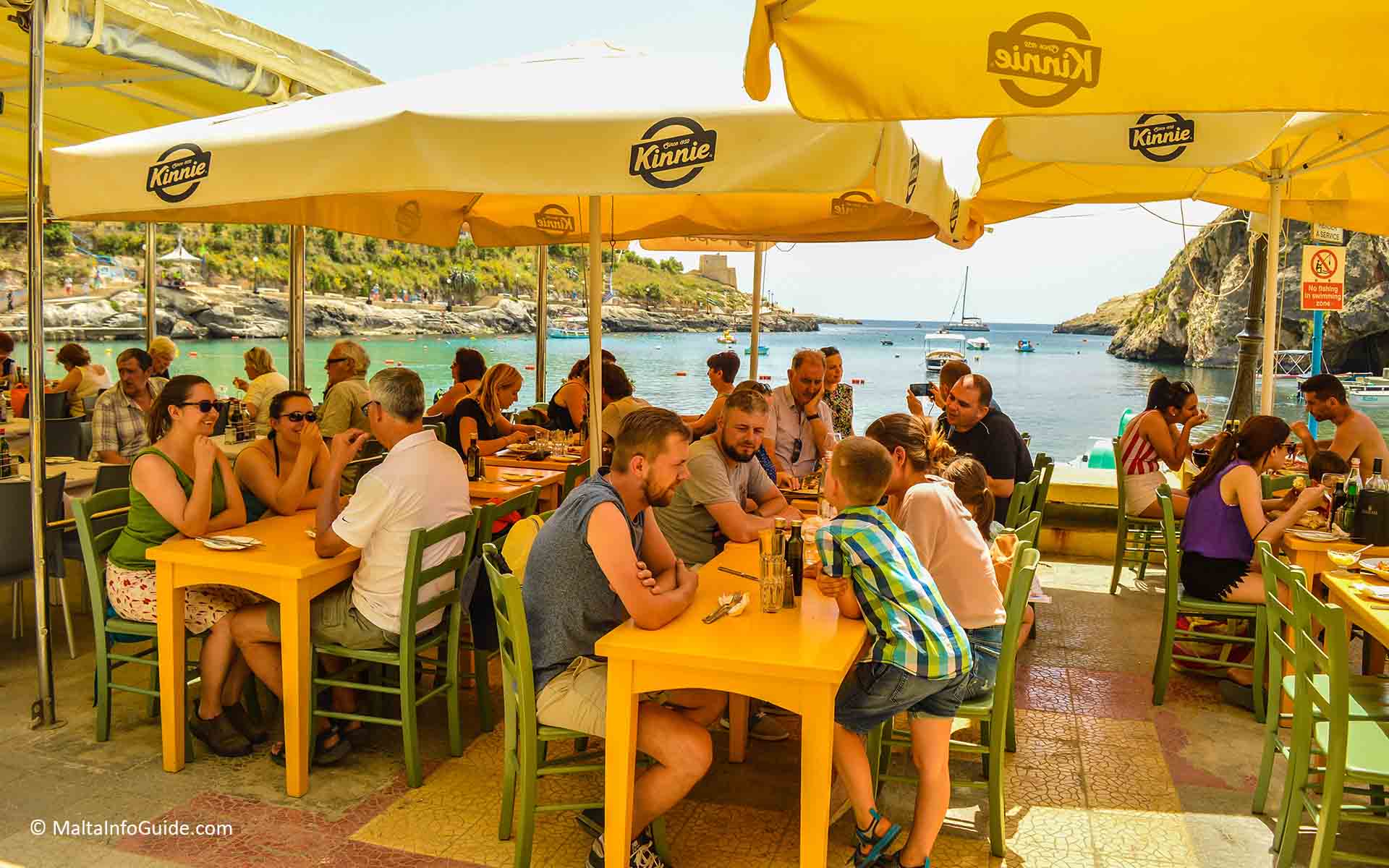 Talija
Address: Xlendi
Hours: 10:00 - 23:00

Phone: +356 2156 9899
Moby Dick
Address: 4 Marina street, Xlendi bay, Gozo
Hours: Open 24 hours
Phone: +356 2156 1518
Il-Kcina Ghawdxija
Address: Munxar
Hours: 10:30 - 23:30
Phone: +356 2156 9118
C Seven
Address: Xatt Ix Xlendi, Il-Munxar
Hours: Open today · 11:00 - 23:00
Phone: +356 9984 4462
Gelateria Granola
Address: Xatt Ix-Xlendi, Xlendi
Phone: +356 9983 2159
Sea Shells Bistro
Address: Munxar
Phone: +356 2156 2937
Antonette's Snack Bar

Address: Munxar
Hours: Open today · 16:00 - 02:00

Phone: +356 7770 0147
Pirate's Galley
Address: Marina Str C/W Rabat Road, Gozo, Il-Munxar
Hours: 10:00 - 24:00
Phone: +356 9997 2401
Churchill
Address: Triq San Xmun, Xlendi
Hours: Open today · 10:00 - 22:30
Phone: +356 2155 5614
Cima
Address: San Xmun, Il-Munxar
Hours: 12:00 - 14:30 & 18:30 - 22:30
Phone: +356 2155 8407
Stone Crab
Address: Triq L-Ghar ta Karolina, Munxar
Hours: 10:30 - 23:00
Phone: +356 2155 6400
It - Terrazzo
Ta' Nona
Da Manuel Restaurant
Address: Il Kantra, Il-Fontana
Phone: +356 2156 1022
Enjoy your holiday at Xlendi bay.

Want To Share This Page On Pinterest? Pin It Here!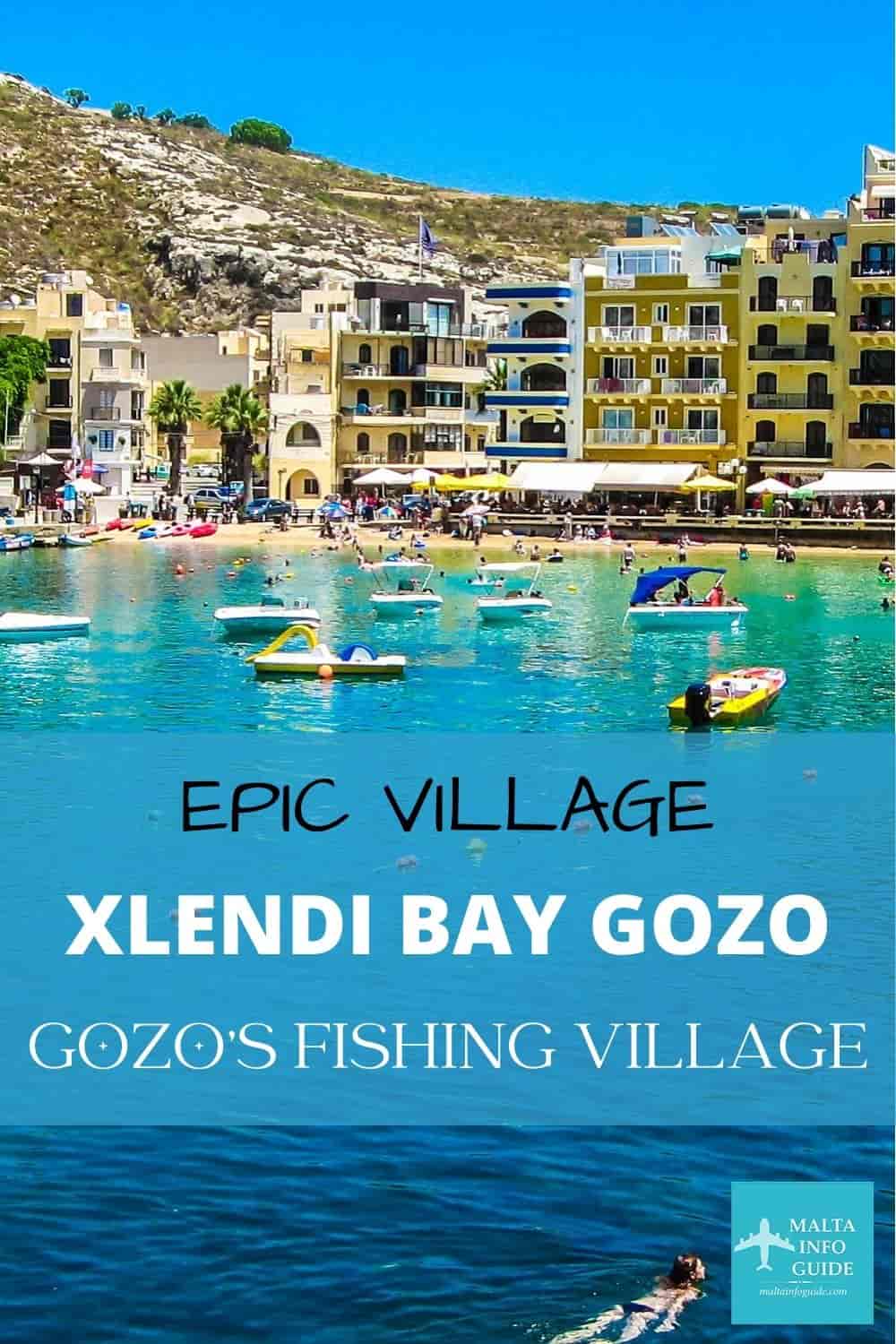 want to rent a car in malta?
We have used Discover Cars every time we rented a car. We highly recommend them due to their good service and good prices.
Get The Best Rates On Your Car Rental Now!
need to book a hotel for your malta visit?
Using Booking.com, enter your travel dates and number of occupants then rates will be available for hotels and apartments during your visit to Malta 
Book Your Hotel In Malta on Booking.com for the Best Rates!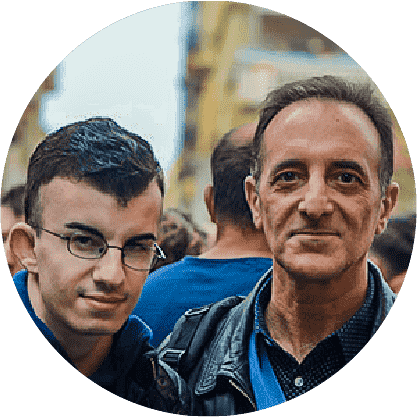 By Albert and Benjamin Magro