board the malta to Gozo Channel
A 25-minute journey to the charming island of Calypso
Date Last Updated: 25th February 2022
Gozo Channel is the link between the islands of Malta and Gozo. It is a passenger and vehicle service provided all year round including during the night for all weekends and public holidays.
There are two main ways of getting to Gozo from Malta, by the Gozo ferry from Cirkewwa or the fast ferry provided from Valletta. They both berth at the same harbour in Mgarr, Gozo.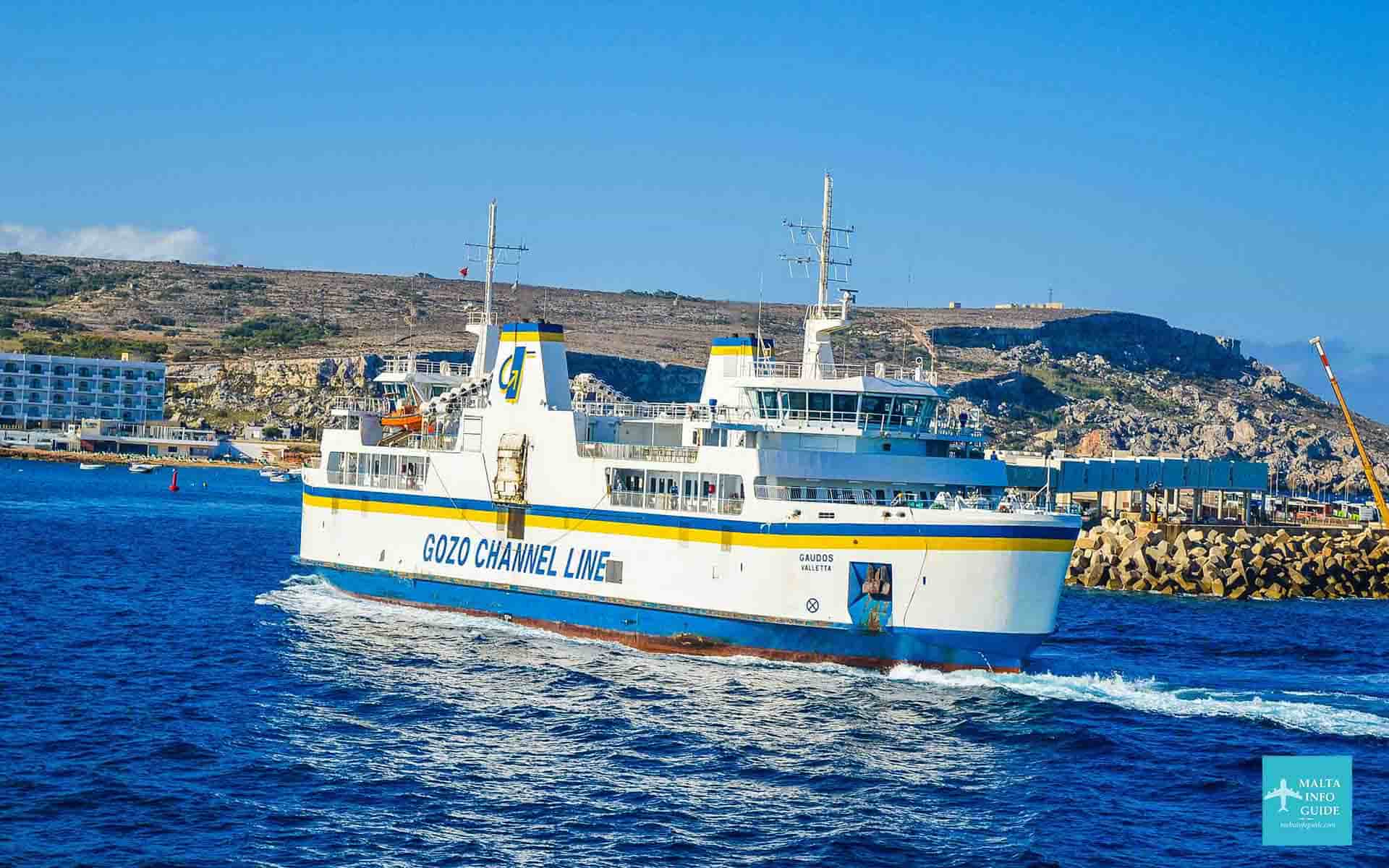 Disclaimer: On our website, you will find affiliate links from which we make a small commission.
Table of contents - gozo channel

Things To Know About The Gozo Ferry
The ferry operates 365 days a year.
There are 4 boats in the fleet.
Trips takes around 25 minutes between the islands.
You can board the ferry with your car, van, truck, motorbike and rented car.
A visa or passport or any identification is not required to cross from one island to another.
No advanced bookings or online bookings is required to go on the boat due to the frequent trips all through the year.
During the summer season the ferry is more frequent while in the night they are less frequent. Before catching the ferry, check the Gozo channel schedule to see what time the next ferry is.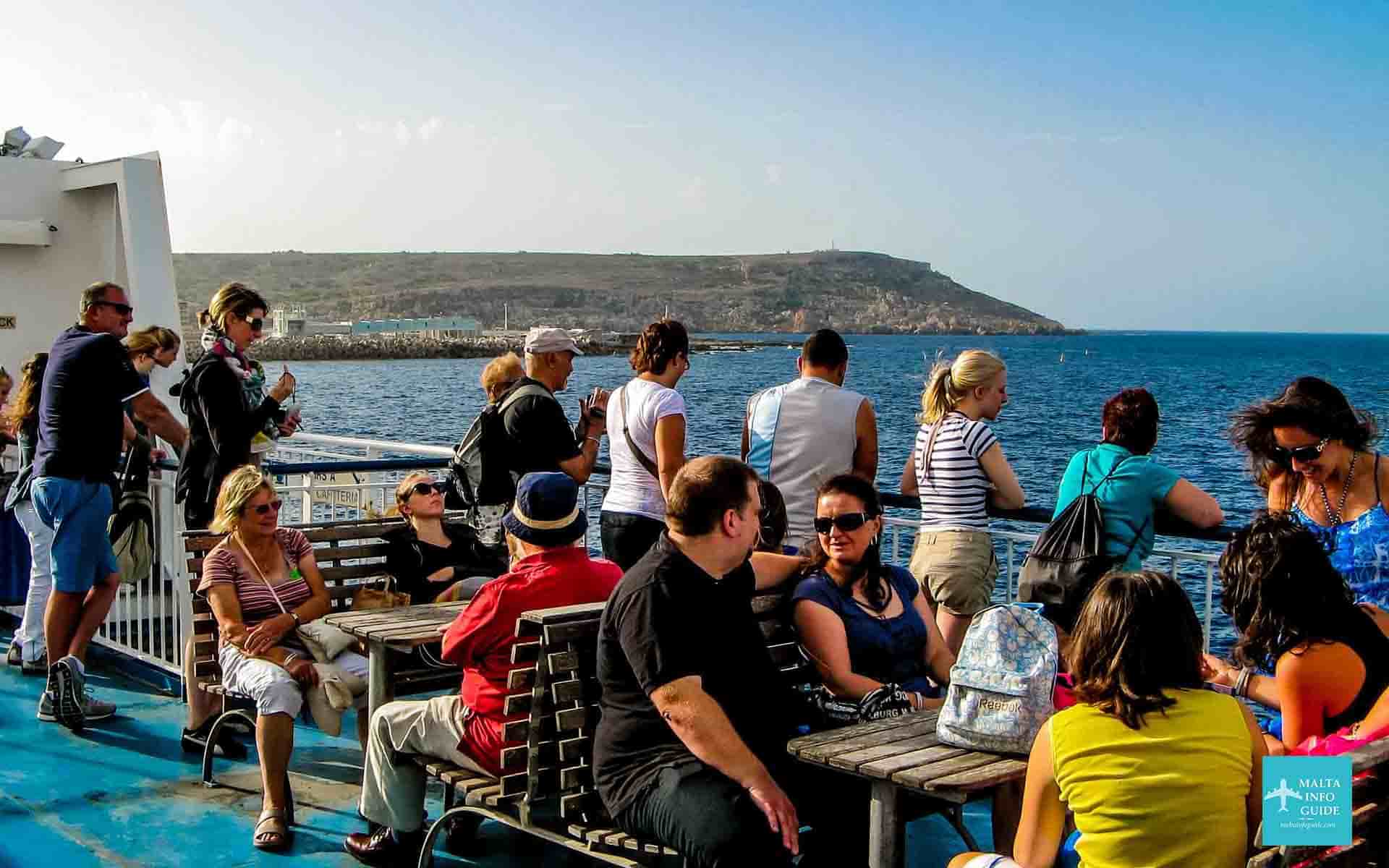 Malta To Gozo Ferry Schedule
You can check the schedule to see what time the ferries leaves the terminal. It is recommended that you check the Facebook page for live service announcements.

Christmas and New Year's Day 2021/22 Schedule trips which will not operate:
Mgarr Gozo to Cirkewwa Malta: 11:35, 12:00, 12:45, 13:00, 13:30, 14:00, 14:30
Cirkewwa Malta to Mgarr Gozo: 12:15, 12:45, 13:30, 13:45, 14:15, 14:45, 15:15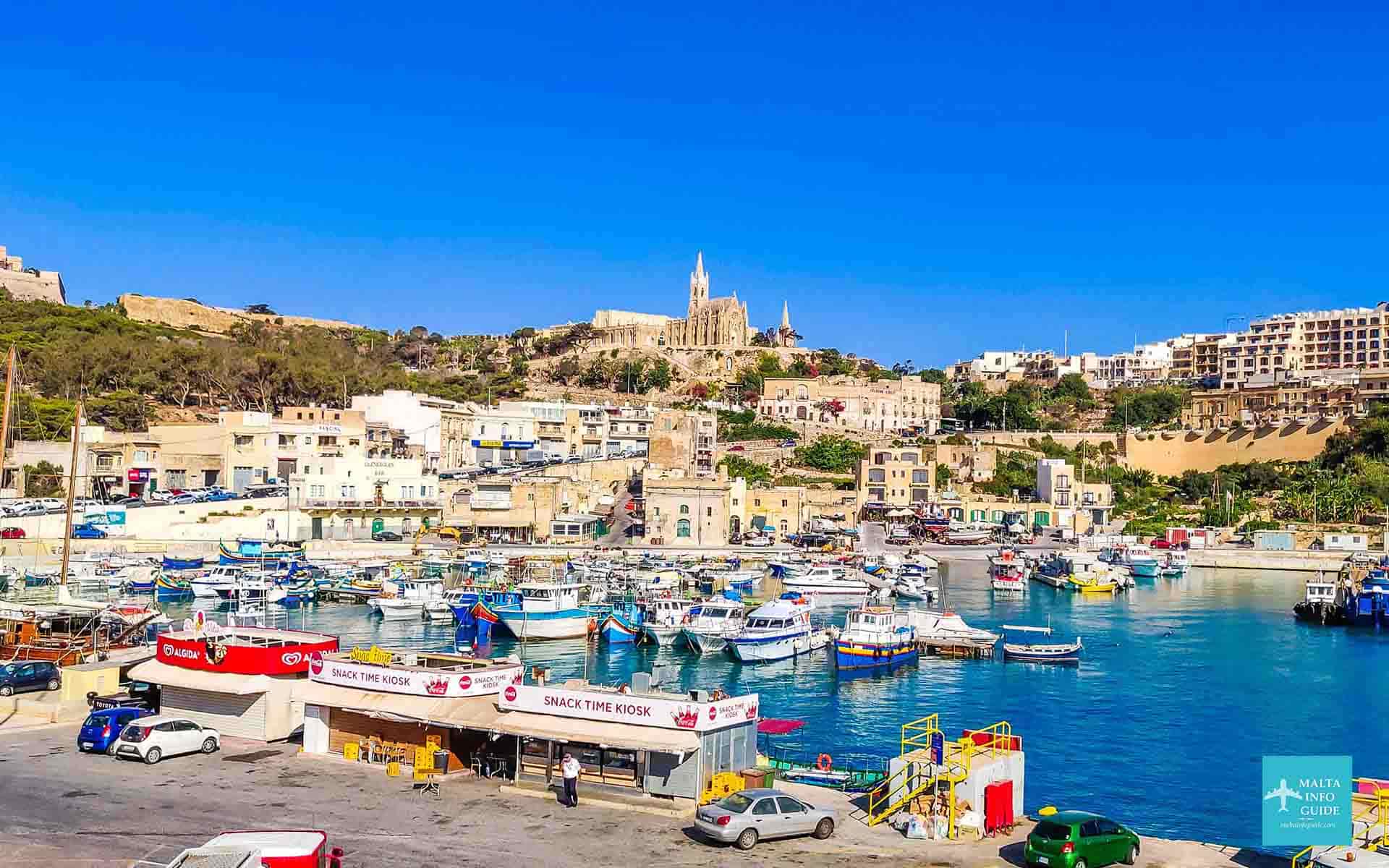 Gozo Ferry Prices
On arrival at the Cirkewwa terminal in Malta, you are directed immediately to the queue to board the ferry.
how and where do I buy Malta Gozo ferry tickets?

Night Fares start from 20:00 till before the first morning trip between the months of November and March.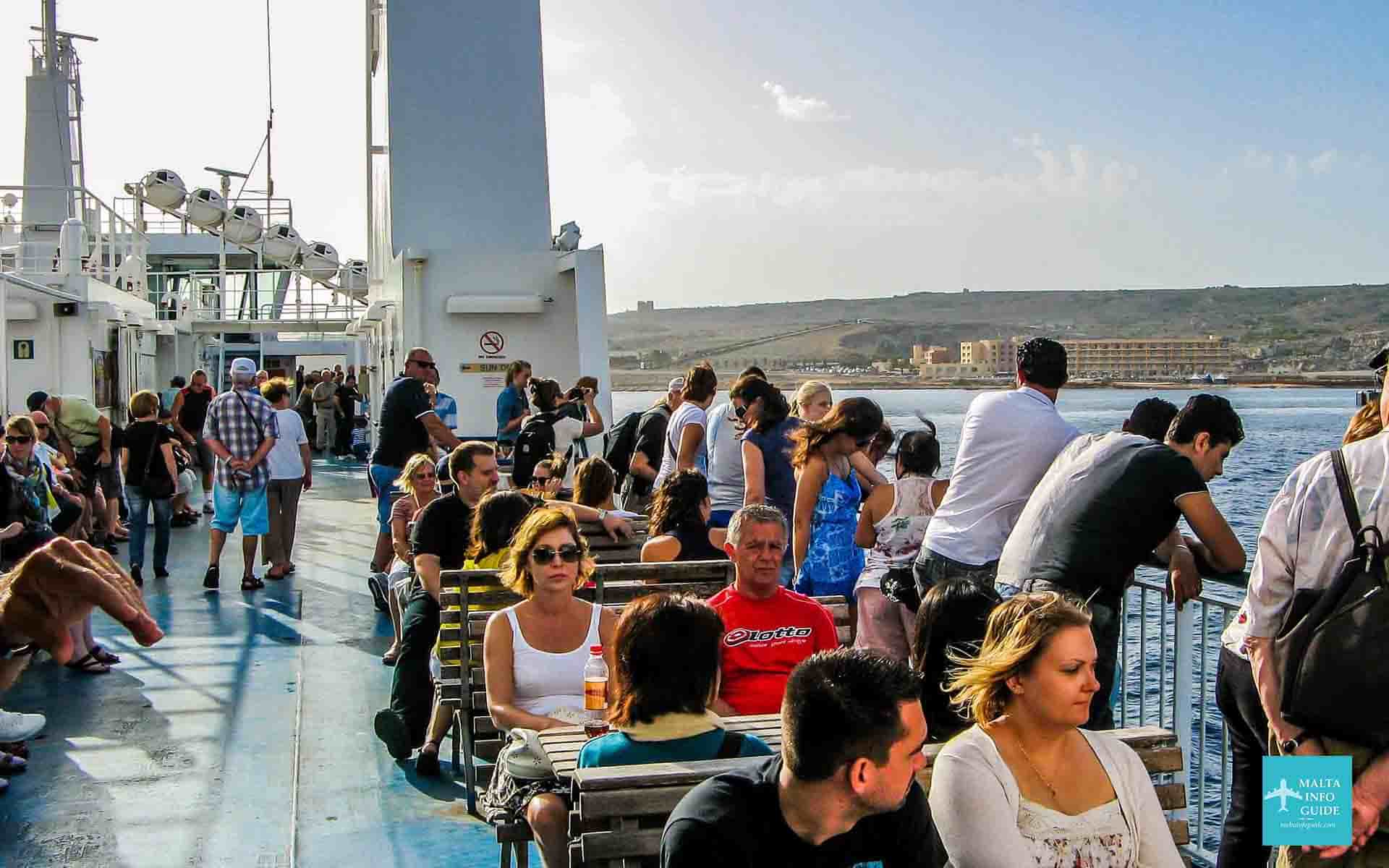 Car and Driver
Standard - 

€

15.70

Night Fare - 

€12.80

Maltese Senior Citizen - 

€11.05

Gozo Resident - 

€8.15

Gozo Senior Citizens

 - €6.95
Passenger
Gozo Resident
Passenger -

 FREE




Car & Driver - 

€8.15

Senior Citizen - €3.45


Motorcycle & Rider - €4.65
Senior Citizens
Bicycle
Towed Trailer
Motorcycle and Rider
Standard -

 €8.15



Night Fare -

 €6.95

Maltese Senior Citizens - €3.45


Gozo Resident - 

€4.65

Gozo Senior Citizens -

 €3.45



Subsidised Commercial Vehicle

Commercial Vehicle

- 'M' refers to Meters

How To Get To The Harbours
Where is the ferry to Gozo in Malta?

The terminal in Malta is at the far end of the island being Cirkewwa. It is passed the village of Mellieha.
Travelling time to the terminal always depends on the time you are travelling and also from where you are staying.
If you are coming from the south or the central part of Malta, to get to the terminal you need to pass through most of Malta's main roads and keep following signs.
Car journey duration to Cirkewwa Ferry Terminal:
St. Paul's Bay/Bugibba/Qawra area takes around 25 minutes.
Sliema, St.Julian's, Gzira, Paceville area takes around 50 minutes.
getting the bus to gozo ferry terminal in malta:

Valletta to Cirkewwa: 41, 42
Malta International Airport to Cirkewwa: X1, X1B
Buses to Cirkewwa Ferry Terminal:  41, 42, 101, 221, 222, X1, X1A, X1B
How to get from St. Julian's to Gozo ferry:

Direct Route: 222
Alternatively you can get a bus to Valletta then catch the 41 or 42 to Cirkewwa terminal.
Bus journey duration to Cirkewwa Ferry Terminal:

St. Paul's Bay/Bugibba/Qawra area takes around 40 minutes.
Sliema, St.Julian's, Gzira, Paceville area takes around 1 hour 30 minutes.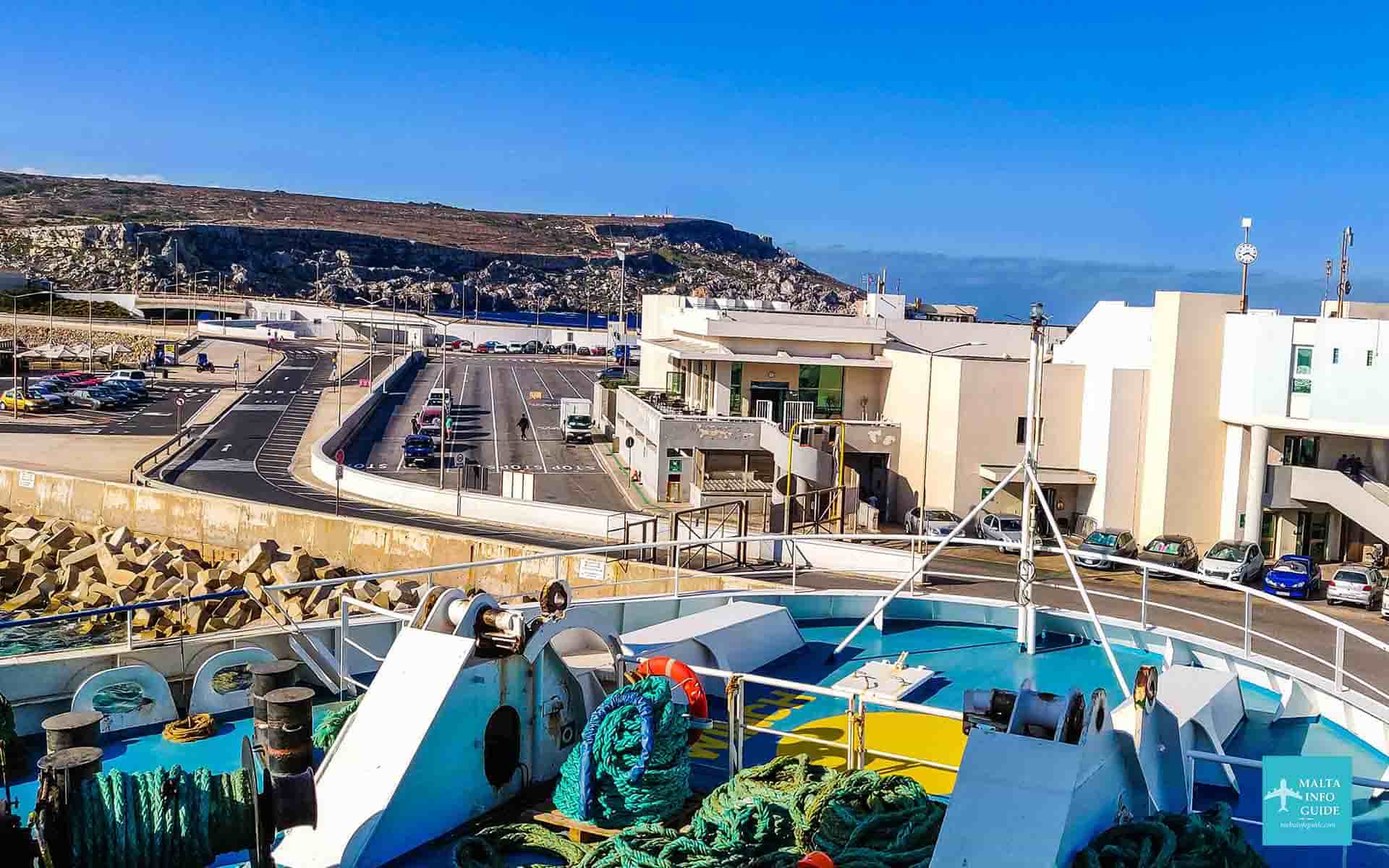 Where Is The ferry in Gozo?

The Gozo terminal is located at Mgarr Gozo, near the village of Ghajnsielem. To get to the Gozo to Malta ferry, you need to pass from the main road of Gozo called Triq L-Imgarr.
Gozo is very small so from where ever you are on the island, it doesn't take much time to reach the terminal. This always depends on the season and time of day.
How to get to the Gozo Channel in Gozo by bus:

Victoria/Rabat to Mgarr Harbour: 301, 303, 323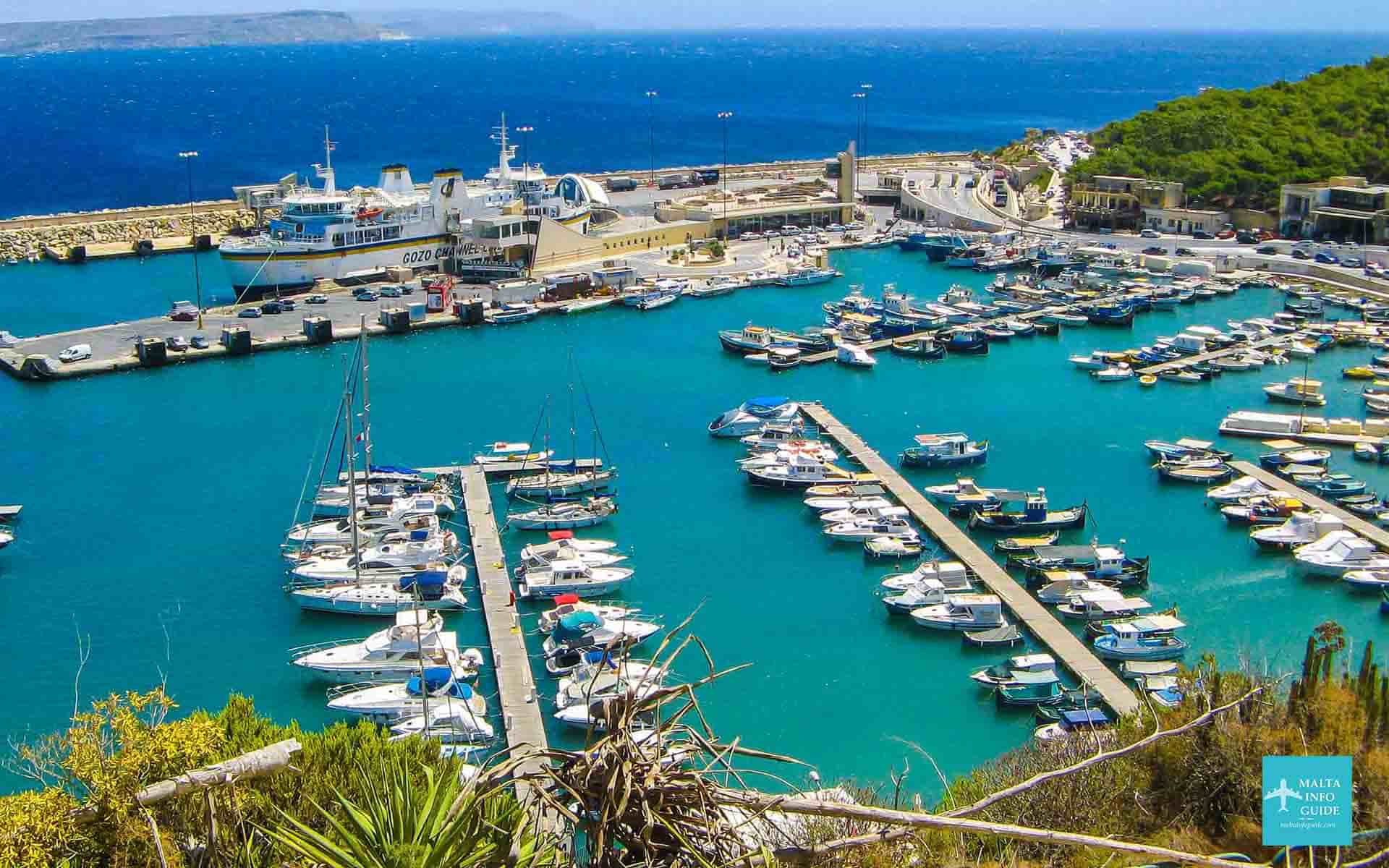 Renting a car
If you are wondering whether you can take your rented car on the Gozo ferry, then here is the answer. Yes, you can take your rented car across on the ferry between the island of Malta and Gozo. You do not have any additional fees in order to travel with your rented car.
Renting a car has its major advantages if you wish to travel across the island freely and go to places where it might be difficult with public transport. Driving in Gozo is much easier than in Malta.
If you are looking around to rent a car, check out Mayjo Car Hire which is located in Gozo.
Taking A Taxi To Gozo Ferry

If you are going to Gozo straight after the airport you can do so by getting a taxi to the ferry that will cost around €30 / £27 / $35. Then you take the ferry and from Gozo Mgarr harbour you take another taxi or public transport.

Transport In Gozo

Getting around in Gozo is exactly the same as in Malta. You find public transport, rental car services, taxis, rental bikes and sightseeing tours. Getting round the island is much easier than in Malta since there is less traffic and the island is much smaller.
Gozo Ferry Map
Tips You Should Know Before and When Boarding the Ferry
During the months of winter, there are days when our islands experience very bad weather including high winds. Ferry trips could be cancelled due to this. We recommend you keeping an eye on the weather and any ferry cancellations from the Gozo channel.

You need to wait in a queue before boarding the boat. Gozo channel officials will indicate when it is time to board the boat.

You are not allowed to stay in your vehicle after boarding the boat, but go upstairs to the lounge area while the boat is travelling between the islands.

No smoking is allowed when you are in your vehicles before disembarking the ferry. Also engines should be switched off until you start disembarking.
On special weekends such as Carnival, Christmas, Good Friday to Easter Sunday and Santa Marija weekend the Gozo ferry gets very busy. It is recommended to plan early or take a night ferry.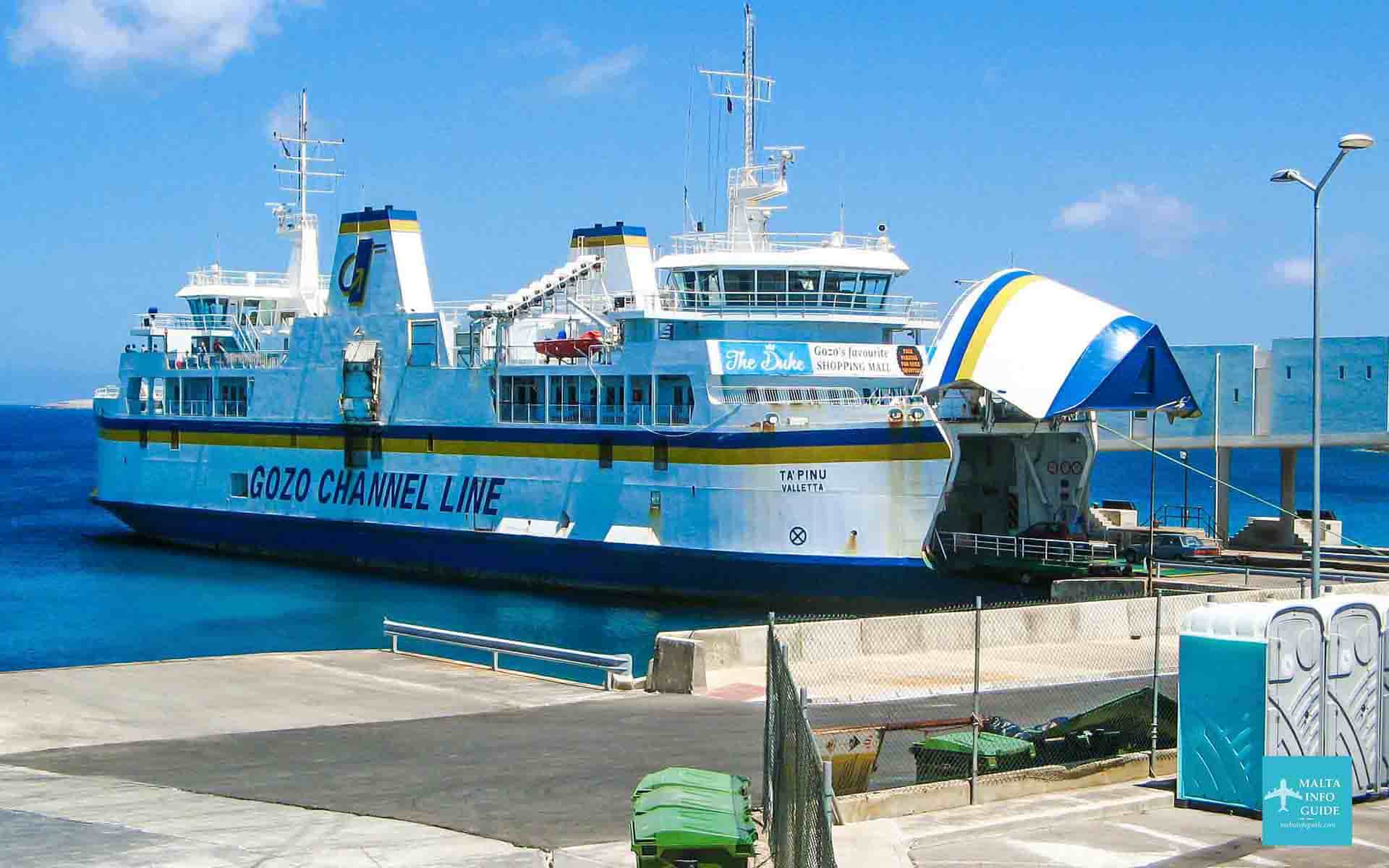 gozo fast ferry
Recently a new ferry has been launched which departs from Valletta and goes straight to Gozo. The ferry is not accessible to vehicles and can only be embarked on foot. It is a 45 minutes trip. Read more about the Gozo fast ferry.
What Can I Do On The Island of Gozo
Gozo is a marvelous island to visit as there are plenty of things to do. it is much quieter than Malta and there is more greenery.
Do not miss the opportunity to visit the Blue Lagoon. Trips depart from Sliema Ferries. Short trips from Cirkewwa and Mgarr harbour.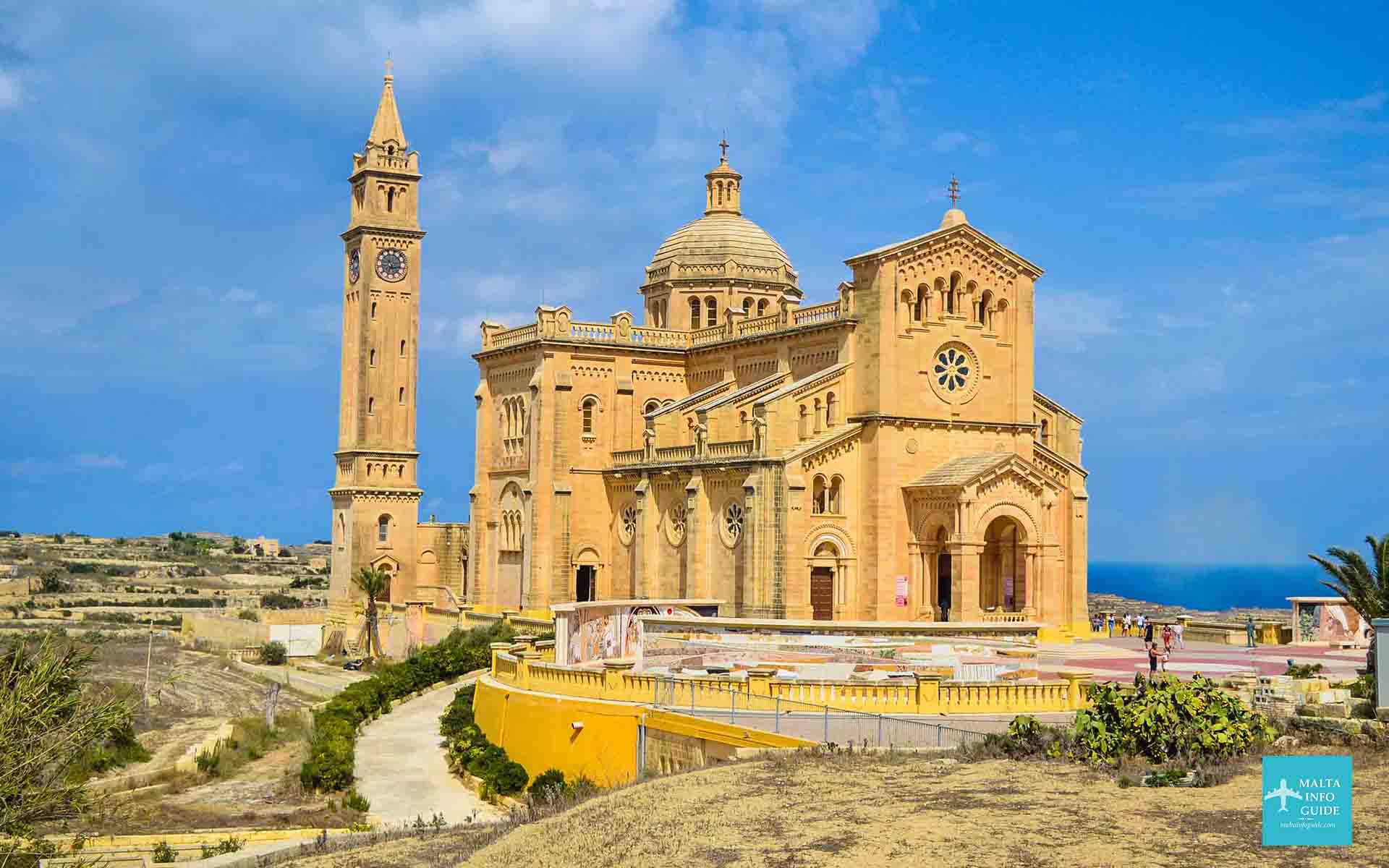 Ferry Fleet and Terminals
gozo ferry fleet
All boats have the following in common:
Number of Passengers: 900
Boat Type: Double-ended car and passenger ferry
Length: 85.40 metres
Types of Gozo ferry boats
M.V. Ta' Pinu: Car Capacity: 72
M.V. Gaudos: Car Capacity: 72
M.V. Malita: Car Capacity: 72 and 66 on the hoisted deck.
M.V. Nikolaos: Car Capacity: 160 | Passenger Count: 650 in Summer and 350 in Winter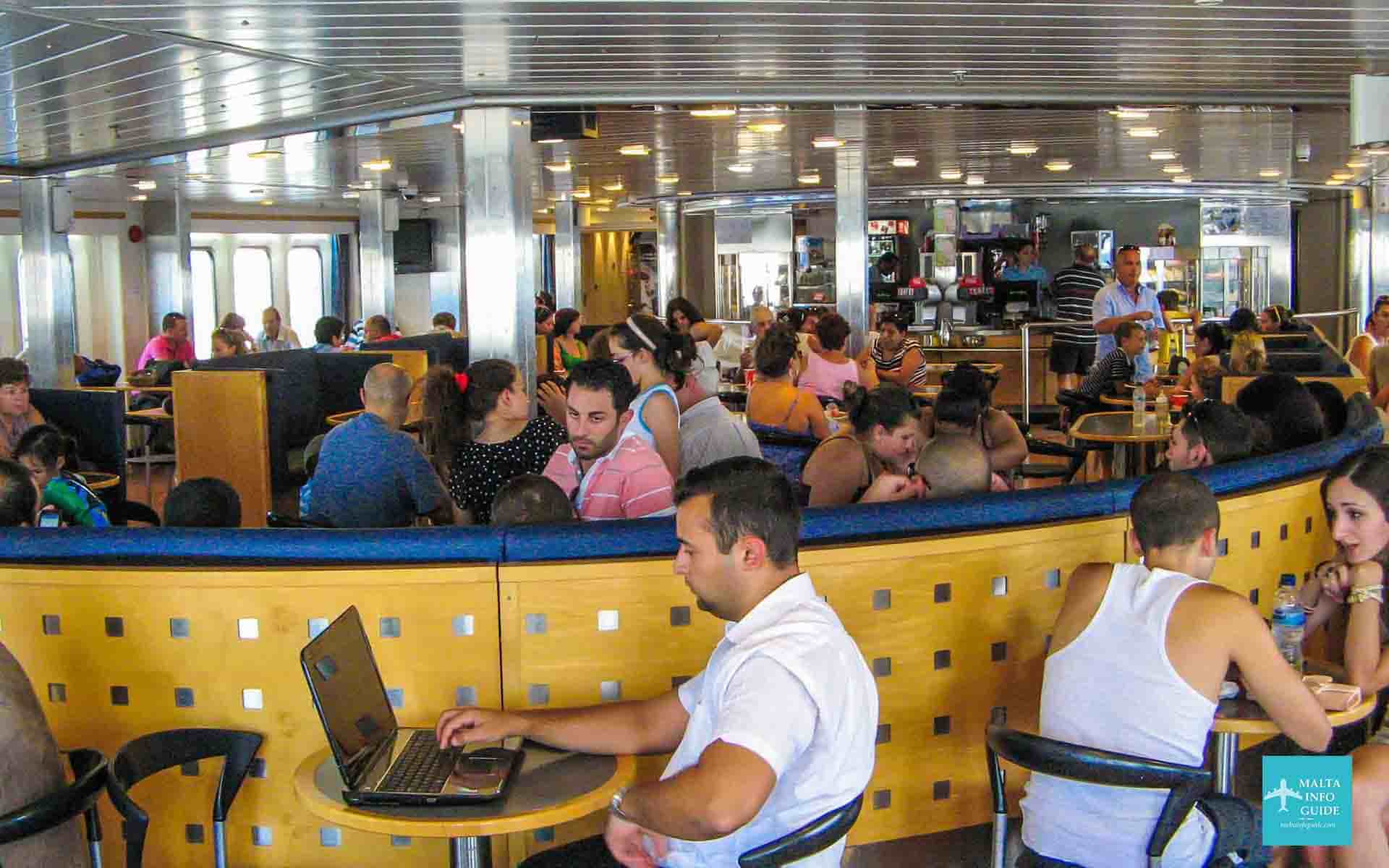 Malta & Gozo Channel Terminals

If you are a tourist and might be asking what do you find at the Cirkewwa Terminal. What are the thinks you can do and what you might get in need of. If you are going to Gozo keep this page tagged for further reference.

Facilities on the Gozo Ferry

Cafeteria and a small shop with snacks, soft drinks, magazines and book guides
Toilets
Stair/lift leading to the lounge area from the carpark.
Internal and external seating areas
All boats are accessible with persons with disability
Facilities At Both Terminals

Male, female and Disabled toilets.
Seating waiting area
Embarkation and disembarking straight to the ferry
Cafeteria
Ticket Booth (only found at Mgarr Gozo Terminal)
Want To Share This Page On Pinterest? Pin It Here!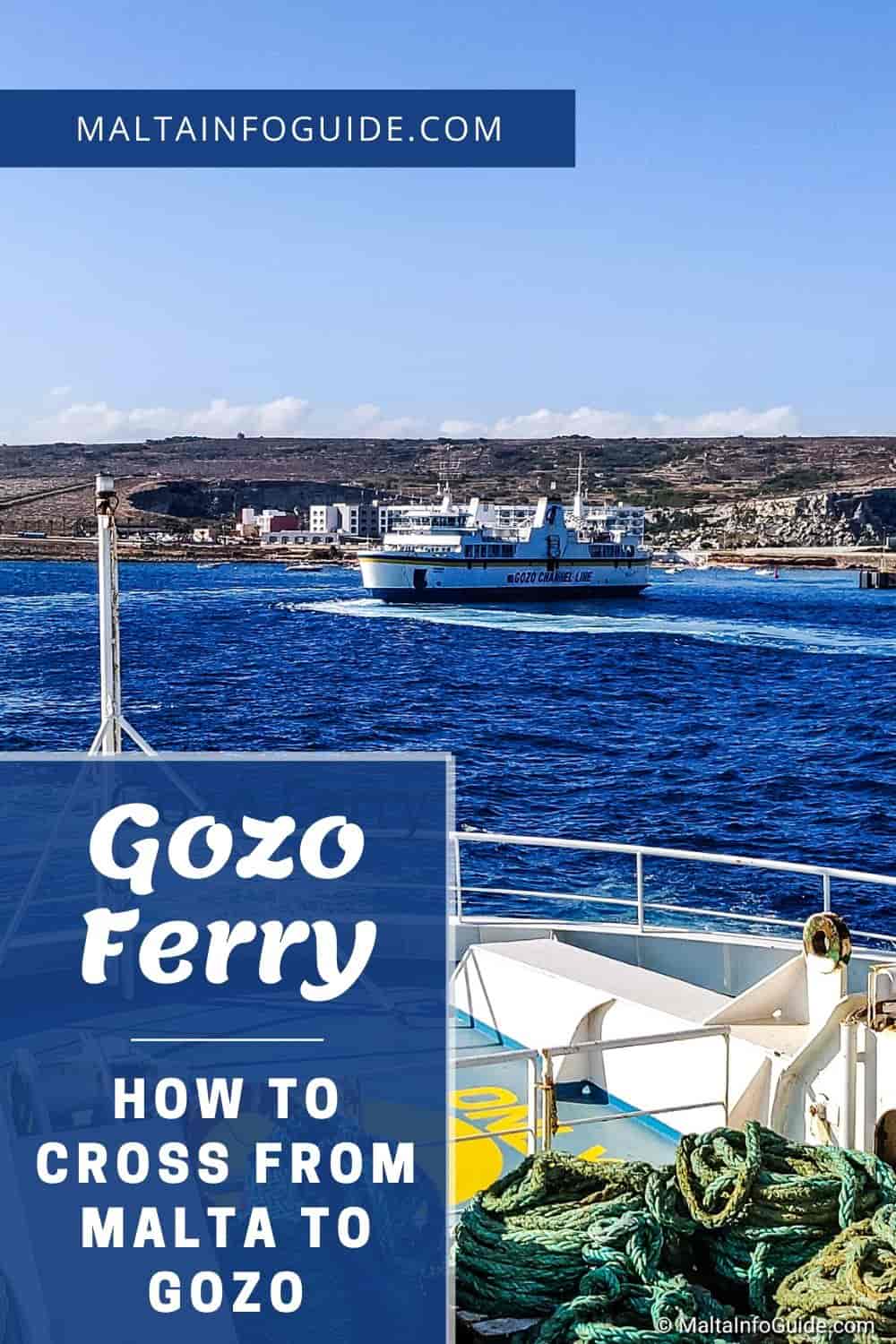 want to rent a car in malta?
We have used Discover Cars every time we rented a car. We highly recommend them due to their good service and good prices.
need to book a hotel for your malta visit?
Using Booking.com, enter your travel dates and number of occupants then rates will be available for hotels and apartment during your visit in Malta 
See Malta Hotels on Booking.com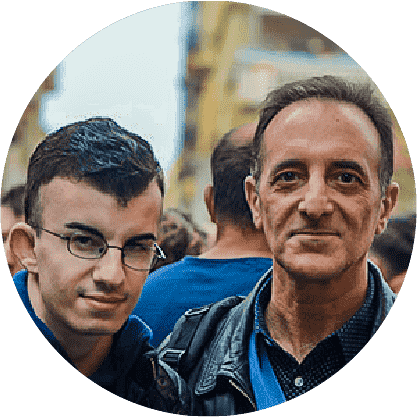 By Albert and Benjamin Magro