Christmas In Malta
Malta At Christmas Transformed Into A Living Village Of Religious Traditions And Folklore
Christmas in Malta is very fun and jolly, with a very special place in people's hearts. Christmas is a time for giving and receiving. Here too, Christmas in Malta is one of the most important events of the year. It affects all that we do and in everything we do.
Disclaimer: On our website, you will find affiliate links from which we receive a small commission.
The most jam-packed month of the year where preparations start very early. You can find everything for your taste, festive-teamed parties, local theatre pantomimes, Christmas markets, many crib exhibitions, especially the one at Bethlehem Ghajnsielem, carol singing and religious events.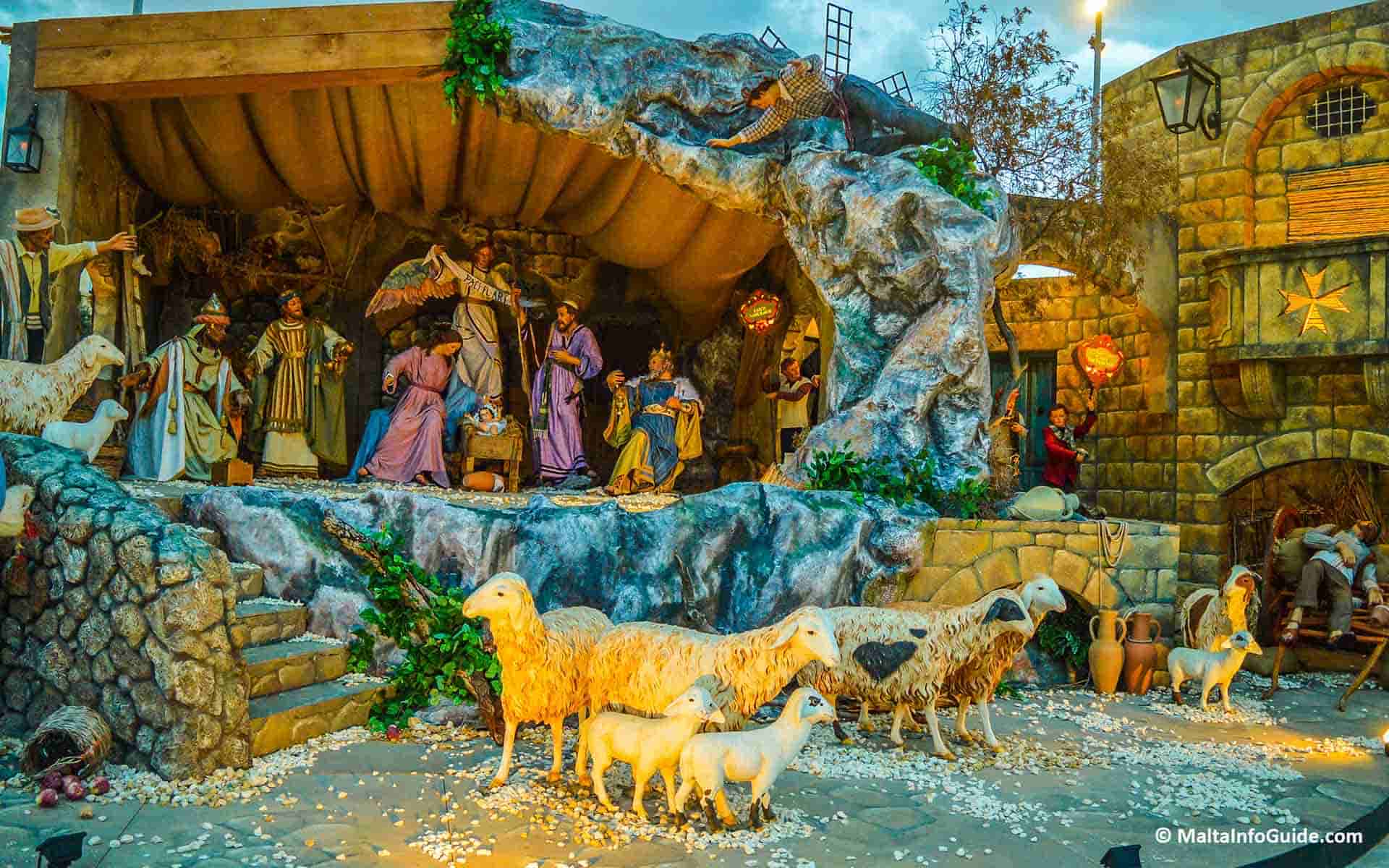 What the Maltese do on Christmas Eve?

Like all other countries, people work, or many on shutdowns. Children and students are on holidays as schools are closed. Restaurants and hotels aiming for great sales and people's great attendance.
Those who are working try to return home as early as possible. Many will be at home preparing cooking for Christmas lunch.
Many would have taken the opportunity to travel abroad or go to a hotel in Malta or Gozo. The sister island has always been attractive for a short vacation due to its serene ambient.
In the evenings, many people prepare to go to church for the evening Christmas celebrations. After Christmas Eve mass, people normally go have early morning breakfast at a hotel or meet at each other's family.
Christmas Day in Malta

Christmas day is a public holiday in Malta as many other countries. It is a dedicated family gathering where families meet up at each other's houses for lunch or meet up at a restaurant or a hotel with an extravagant buffet.
If you will be in Malta, it will be best before you come over, check and book a reservation. At the same time there are restaurants who does not open on this day.
Lunches at family homes extend to late afternoon with tea and pastries to presents exchange. Evenings for youngsters where they meet at bars like Paceville, as it is most likely that the bars and clubs are open on this day.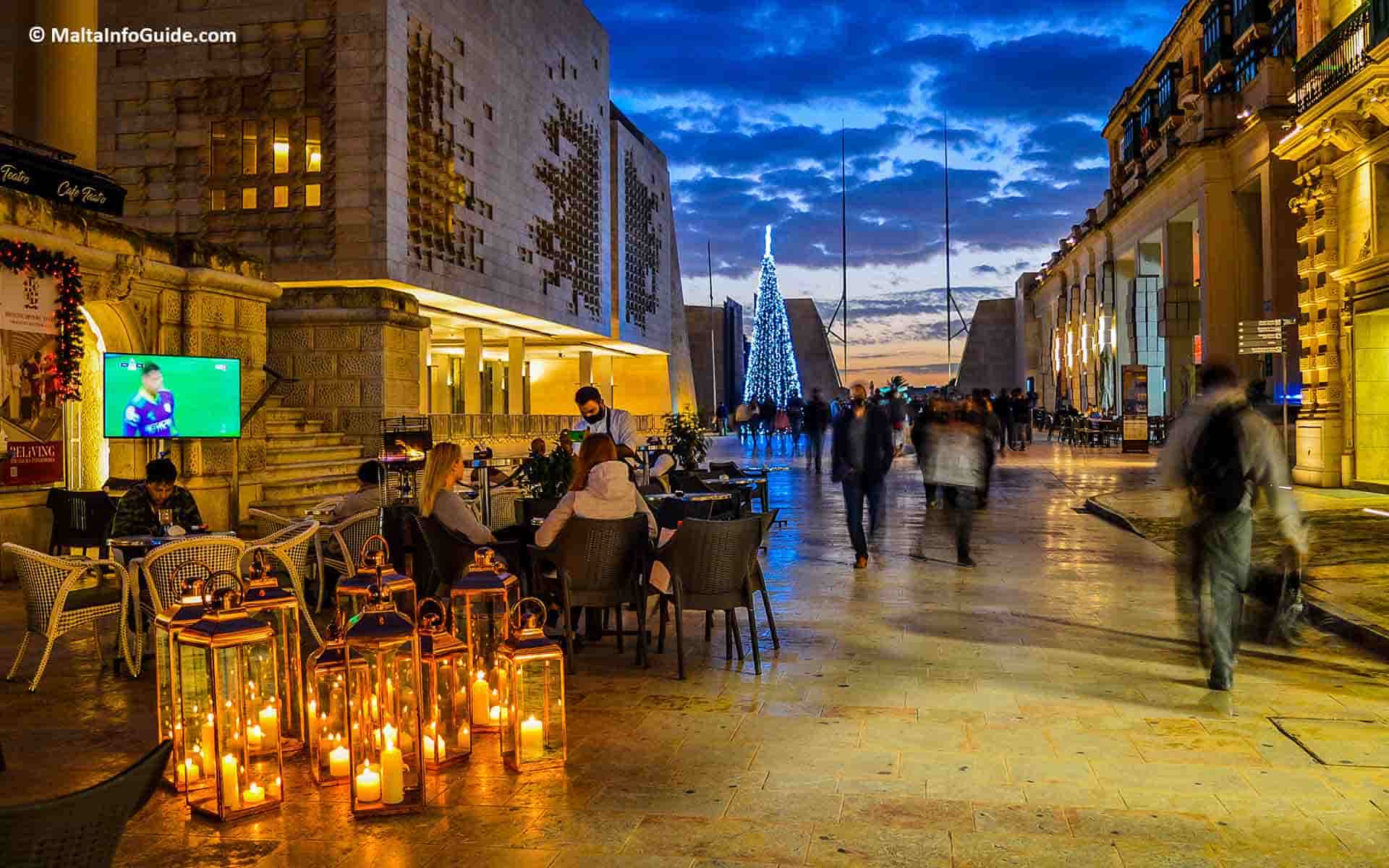 Malta New Year's Eve

New Year's eve is different from the intimate Christmas day. It is merriment at its best. The Maltese love celebrating and it is easy to observe it if you are here. Partying at houses, clubbing, large street parties and fireworks.
At Valletta, a great public street party is held with a concert and midnight display of fireworks. There are plenty of New Year's Eve events all over the island where one can enjoy.
The most active localities for Malta are Valletta and St. Julian's, Paceville area. For Gozo, the capital city Victoria where there is an outdoor concert with local bands entertaining the public. 
New Year's Day in Malta

This day is the opposite of the day before. Many remain asleep for having slept very late. On this day people lunch out or at home. Those families who have not met on Christmas day will meet on this day.
The streets are relatively empty in the morning. They get busier later on. People attend to mass at various hours in more numbers. If the weather is beautiful people will go out in the countryside for walks. They will probably go back home earlier. Youngsters will again visit Paceville for drinks and meet friends.
This day almost brings the end of the long festivities.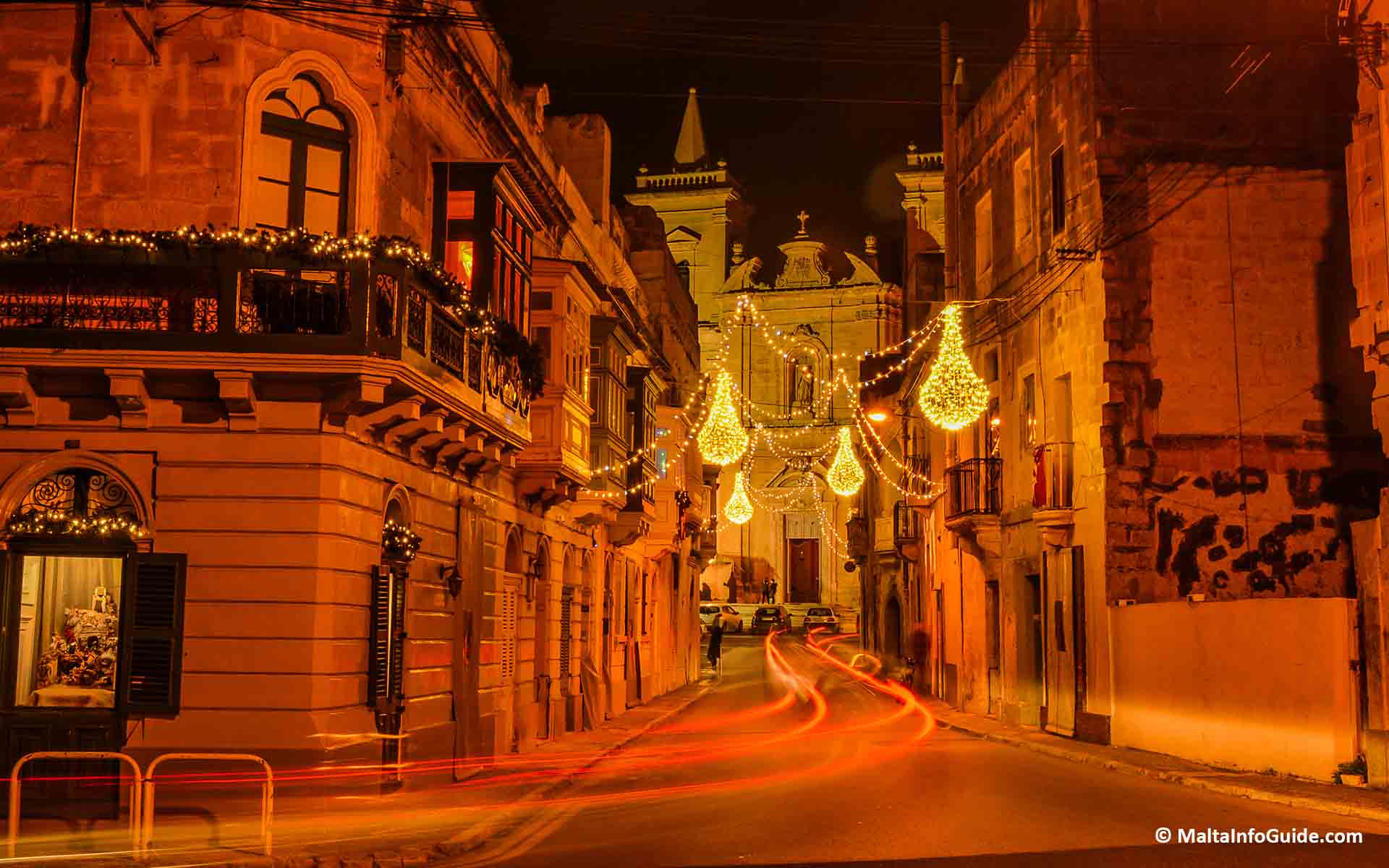 Weather during Christmas Season
It is one question that everyone asks. The Maltese weather is very mild compared to the general European cold weather. It is generally sunny with clear skies.
Since winter is approaching, the temperatures dip month after another. Humidity will be fairly high and when windy, it will feel colder. Winds can be light but also sour up to force 6. By December, everyone will be dressed with warmer clothes.

The days around the festivities will be warm, but there is no exception that they can be cloudy with chilly winds. Or with rainy days, but the sun does not forget us.
It is not a rare occasion to meet tourists with t-shirts. December weather is very ideal for walks in the countryside. It is the time where everywhere is green. The sun is hot but will not burn you out.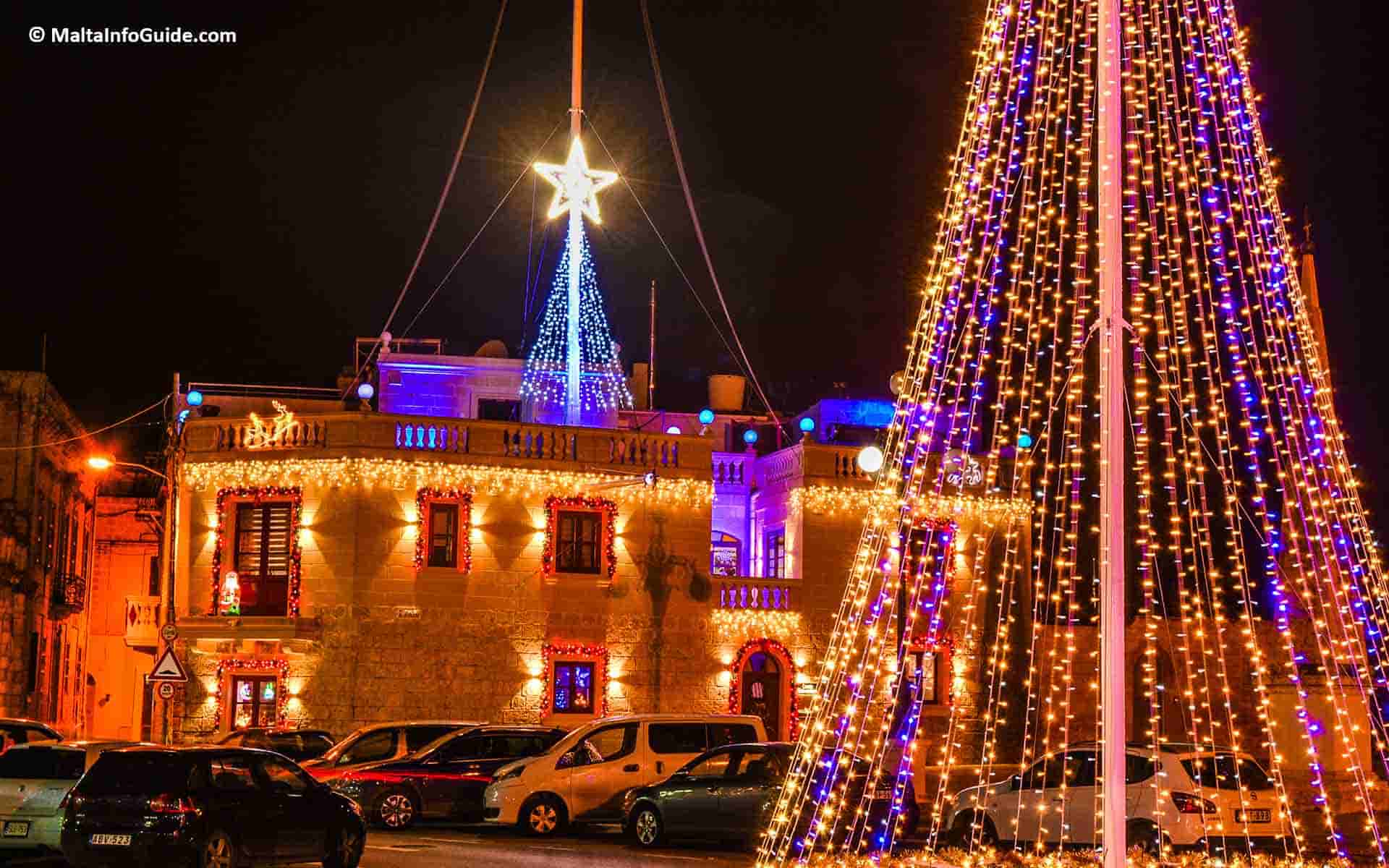 Things to See and Do at Christmas Time
If you intend coming the week of Christmas, you will have the opportunity to visit any religious functions. They are held at all the village parish churches and are very well attended.
All over, villages, communities, organized functions, concerts, pantomimes, crib exhibitions, during this week will be at full swing. We have put up a detailed list of a variety of activities, both religious and social. Have a look, this is not an exhaustive list as we try to highlight some of the main once.
In the village of Birzebbugia a seven storey high Christmas tree is displayed and many other large ones on the steps of the parish church. It is a unique experience to see the biggest Christmas tree locally.
Valletta is being transformed into a Fairland Santa's City for the second time. Following the previous event, Malta's capital city will be transformed into Santa's city giving us adults and children the Christmas spirit.
The unique Christmas Magic at Popeye's Village Theme Park also known as Popeye village film set. It is turned into a Santa's village. Many young and older ones enjoy going to the many activities throughout several days of December.
The live crib at Ghajnsielem, Gozo. Spread out on an area of 20,000 square metres, with 150 actors residents of Ghajnsielem and many others join in to wear period costumes going back to 2000 years, where the Christmas story of Baby Jesus comes to life.
The many Christmas markets that have flourished all over the islands. The biggest one is at the village of Rabat beside Mdina, which goes on for several days during the evening in the open air.
A visit is a must to the capital city Valletta where the streets are lit up and decorated shops. During December, Valletta is visited by many locals to buy their presents for family and friends. Various activities are held at the capital during this month.
Another very local tradition is the Christmas nativity scene where you have the opportunity to see a large variety of cribs exhibited in many villages by families at their house. They open doors for visitors, even at several band clubs and associations. As you go round the island, keep an eye on various homemade signs on road sides showing the way for crib exhibitions. They would have prepared them from many months before with a style of an artistic touch.
Here you can find more activities that you can do in December such as pantos, concerts, festivals, carol singing and much more.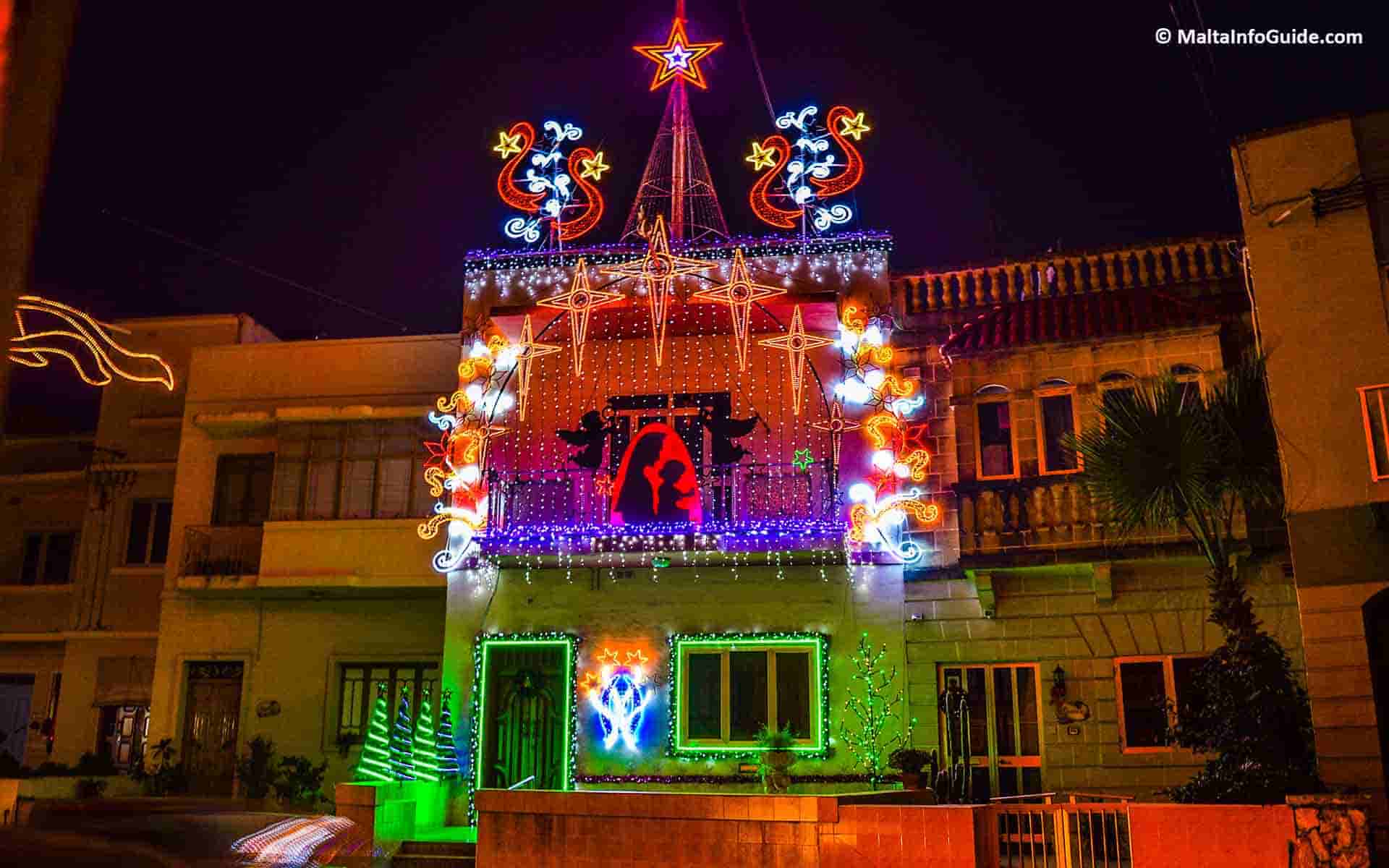 Shopping During Christmas Time
The best shopping locations Valletta and Sliema. Valletta Republic street which is the main road as soon as you enter the capital across the bridge through the fortifications. Also parallel to it Merchants Street, including all side streets around these two main roads.
Most of the shops in the Sliema area are along the seafront promenade and surrounding areas. The most prominent are the shopping plazas very central to reach.
All this area is in front of the sea jetty from where the cruises leave for Comino and beside the sea ferry terminal. We also recommend shopping at the Tigne' Point shopping centre, which is located further along the promenade.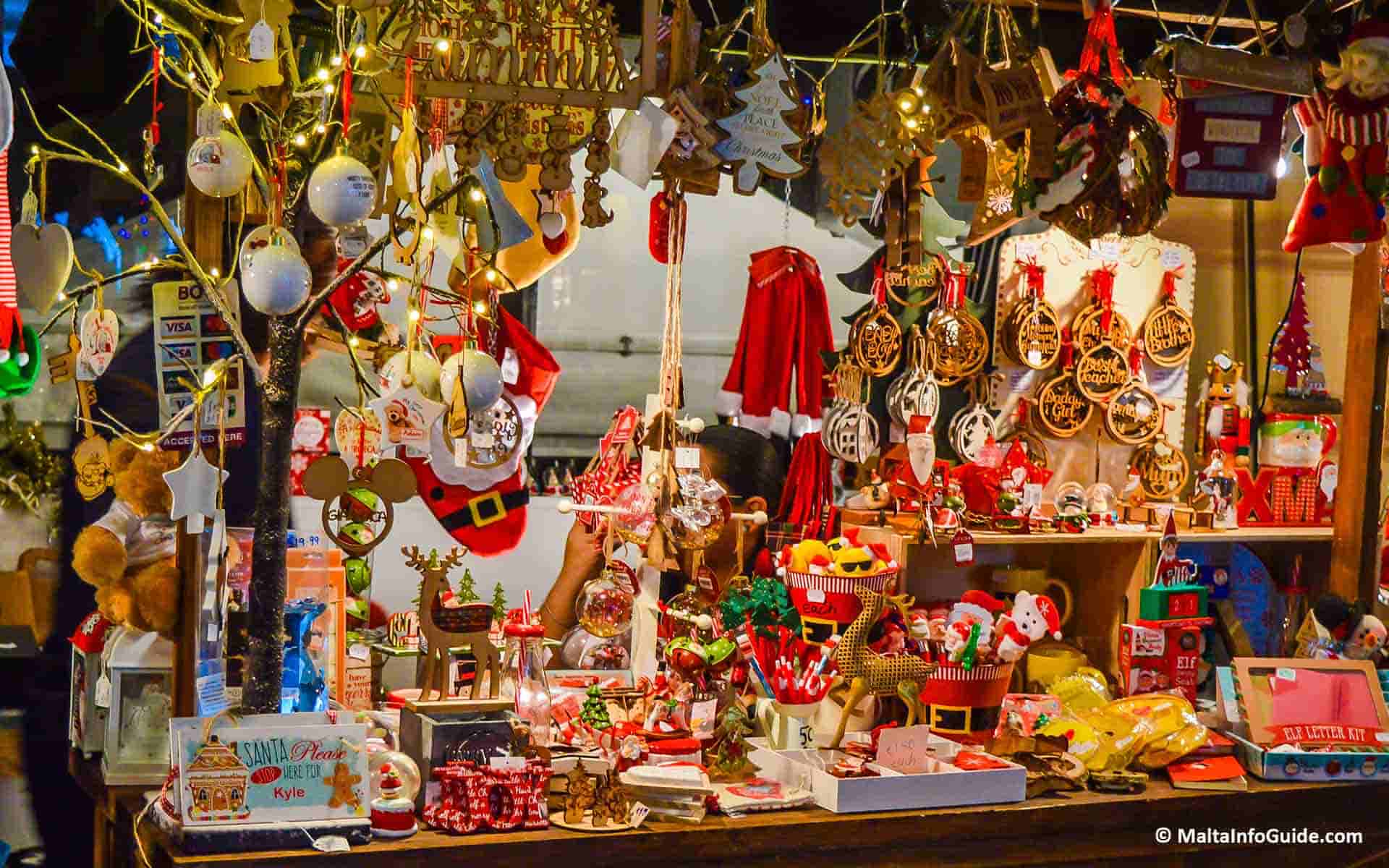 Where Should You Stay during Christmas time?
Wherever you take lodging, Malta is small and the public transport is very frequent, but takes you substantial time to travel from certain locations to others. Though if you want to be in the centres, we advise Valletta and Sliema.
Valletta is the best place where you would be in the best central area with beautiful Christmas light decorations. Here you find several tourist accommodations from 5 star deluxe to boutique hotels and apartments.
Sliema is the next where you find many shops, restaurants and bars. To say the truth, we do not consider the decoration of Sliema will impress you. Many villages and towns around the island have beautiful decorations of their central areas around the main village churches, squares, and streets.
Bugibba is a more summary location for accommodation. In winter it is more quiet, beautiful for long walks along the beachfront.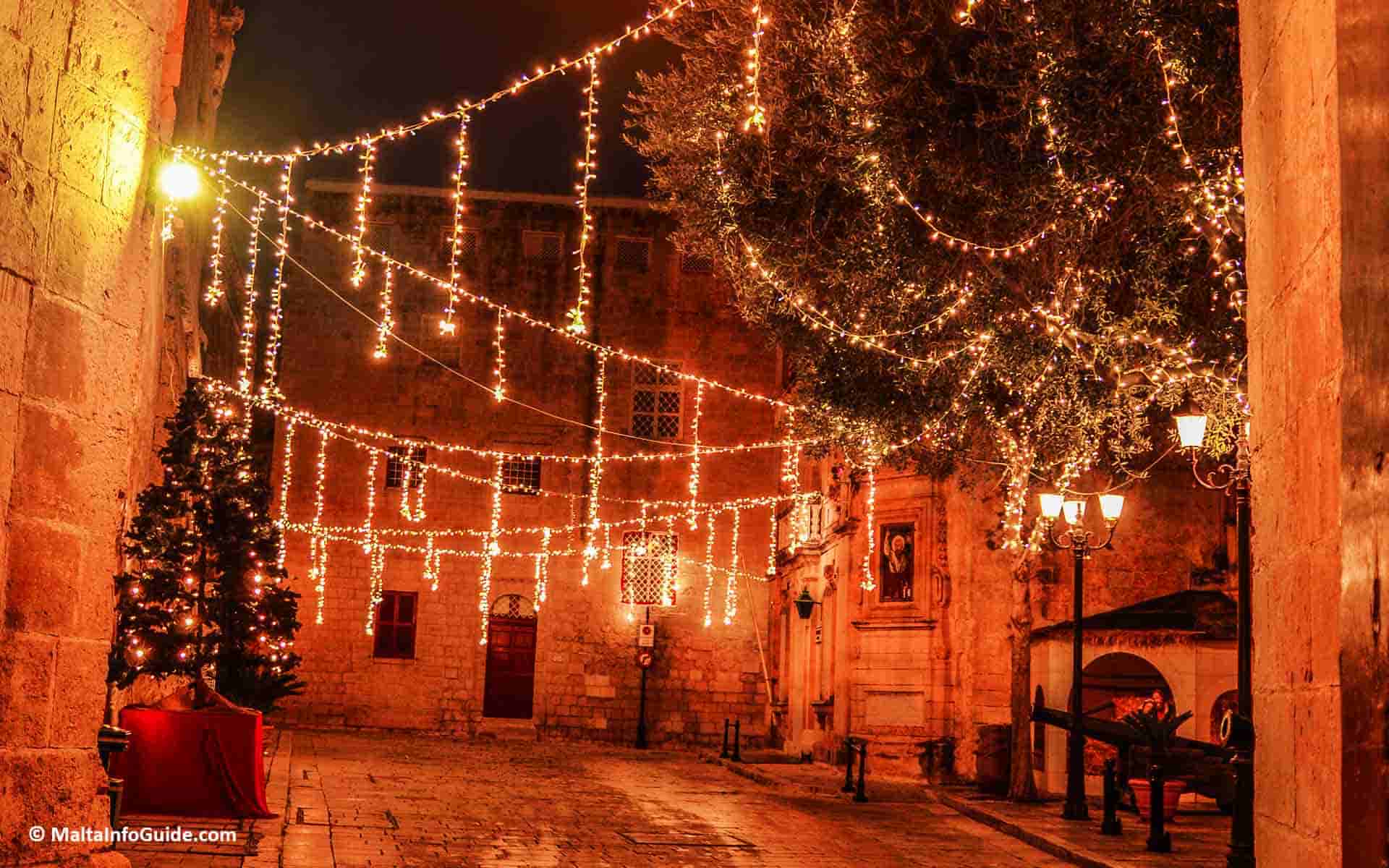 Public Holidays During December
During the month of December there are two public holidays, the 8th December which is dedicated to the Feast of the Immaculate Conception and the 13th December where the Maltese celebrate Republic Day. Apart from the two public holidays, there is a bank holiday on 26th December.
Being that they are both close to Christmas, many people use these holidays, especially if they fall during the week, to start or complete their shopping.

It is customary that many shops remain open later than usual, as they will expect more customers. Apart from shopping, people continue decorating their houses and start cooking sweets.
want to rent a car in malta?
We have used Discover Cars every time we rented a car. We highly recommend them due to their good service and good prices.
Get The Best Rates On Your Car Rental Now!
need to book a hotel for your malta visit?
Using Booking.com, enter your travel dates and number of occupants then rates will be available for hotels and apartments during your visit to Malta 
Book Your Hotel In Malta on Booking.com for the Best Rates!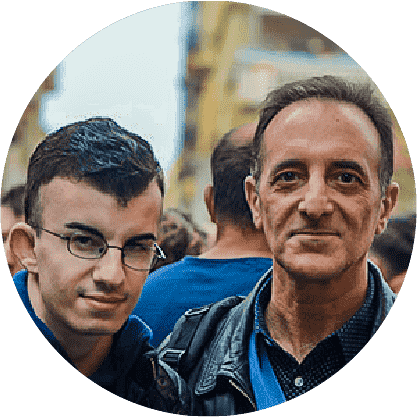 By Albert and Benjamin Magro