Knights Of Malta

The Arrival Of The Knights In Malta, Also Known As The Military Order of Malta Or Knights Of St. John


The Knights of Malta have left a tremendous inheritance on the Maltese islands. A heritage spanning an incredible 268 years. Malta was little known before then. Their presence changed all that. Thanks to their determination we have become what we are today.
It was the start of a long process of change which gave Malta importance due to the achievements and power of the knights.

Fort St. Angelo within the Grand Harbour
Before the knights the island were under the influence of the feudal laws. The Maltese needed a change, as they were being robbed of their few belongings and taxed on the few crops they produced by the foreign lords.
When the knights arrived they started changing all this.
The Most Popular Tourist Attractions Malta Offers
Initially the Knights of Rhodes (as they were called before they arrived in Malta) did not want to accept Malta. When the Grand Master sent representatives to survey the islands, they found that it was a barren land with few fortifications and lack of water which were inadequate to their needs.
However they had no choice but to accept as otherwise they would have been left without anywhere to settle. They had left Rhodes against their will, having been driven out by the Ottoman Turks in 1522. So after eight years without a home, they had nowhere to go.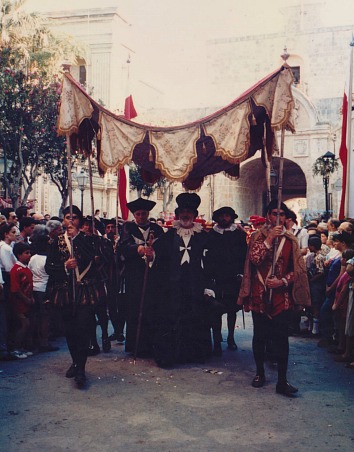 The European nobility knew of the strength of the knights who were fantastic seamen. They had fought the Ottoman Empire in various battles with formidable results. So giving them Malta was a tactical decision. In time this proved right.
Although they had asked many European princes for a concession, only the Emperor Charles V of Sicily listened to their needs. In 1530 the Knights of Rhodes under the leadership of Frenchman Philippe de Villiers de L'Isle-Adam, Grand Master of the Order, granted Malta under the perpetual lease for which they had to pay tribute of a Maltese Falcon.
On arrival they went to live in the three cities. The only fortifications of the time were Birgu and Mdina. They settled in Birgu and there they started constructing buildings and to house the different langue knights and their administration quarters. At the time Valletta was only a hill with Fort St. Elmo at the tip of the peninsula.
Immediatley they started to strength­­­­­­en the existing fortifications apart from modernising them to more modern warfare. The threat of the Ottoman Empire was always very real and no time could be lost in strengthening their position after so many years without a home.
These dramatic developments placed Malta on the European and international map for the first time.
Fort St. Angelo became the seat of the Grand Master, which included the refurbishing of the Castellan's House and St. Anne's Chapel.
During their stay the Knights started to be called the Knights of Malta.