Cheap Hotels in Valletta Malta
cheap hotels in valletta malta

A Cheaper Way Of How To Stay In The Capital City
With not many cheap hotels in Valletta Malta, you find comfortable and affordable well positioned within the capital city very close to the many historical locations, cafes, restaurants and shops.

We have chosen a few 2 and 3 star hotels which might truly interest you. They offer good accommodation with reasonable prices compared to other hotels in Valletta.
Disclaimer: On our website, you will find affiliate links from which we receive a small commission.
If these are not enough, we have selected a few more, which you can go through what is on offer.

The hotels mentioned here are very central to all attractions around the islands. The main public transport hub is just minutes' walk from almost all accommodations. If you have a rented car, is it is easy to go to the multistory car park just outside of the fortification beside the public transport.
Osborne Hotel
"The perfect getaway hotel"- 3 Star Hotel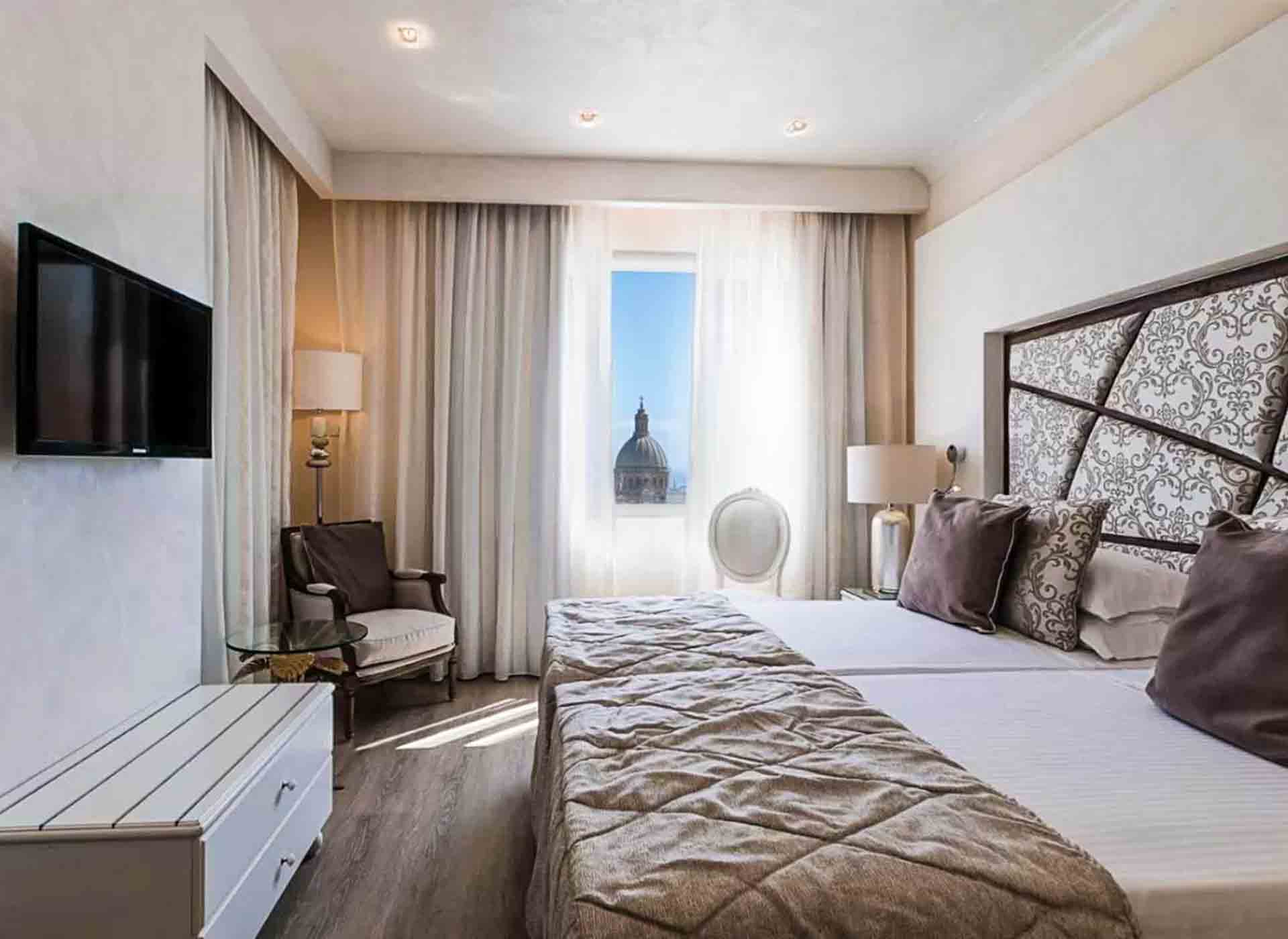 Check Osborne Hotel rates on Booking.com
Located in a palace built during the Knights of St. John period, a 3 star hotel a few minutes-walk from the centre, shopping, cafes and restaurants many to choose from apart from the normal life of the capital.

With 63 stylish hotel rooms and en-suite bathroom, air conditioning, central heating, flat screen TV, with satellite channels and mini bar with tea or coffee facilities. Most of the rooms enjoy amazing views try to enjoy the views especially from the upper floors.
On offer superior and deluxe double or twin rooms with sea view or double and twin rooms including family rooms. A roof top swimming pool area, a fitness centre, an elegant lounge and a buffet restaurant.
Osborne Hotel Address:  50, South Street, VLT 1101

Castille Hotel
"Reasonable hotel in a good location"- 3 Star Hotel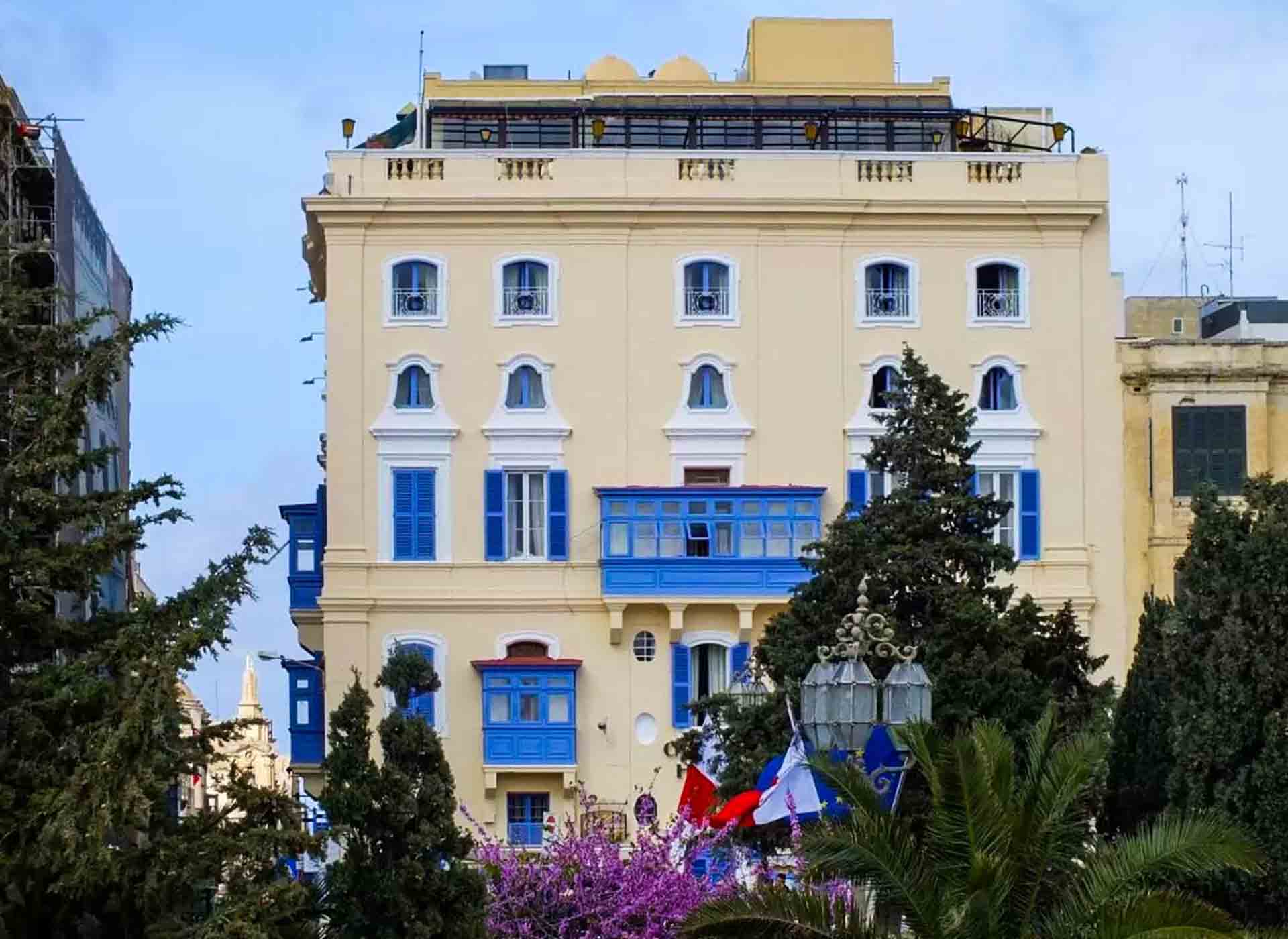 Check Castille Hotel rates on Booking.com
Located at the heart of Valletta's at the highest point beside Auberge de Castille and the Upper Barakka Gardens. The palazzo has a historic feel built during the 16th century at the time of the Knights of St. John. A great place to stay, giving the opportunity to mingle with the life of the capital city. A superior category three-star hotel still preserves the elegance and beauty of an era long gone by.
Having 38 air-conditioned rooms with basic amenities and splendid views of Castille Square and further away up to Mdina. The hotel offers three eateries, at 5th floor De Robertis a restaurant with magnificent views. At street level, a café Castille and the very popular The Beer Cave.
Castille Hotel Address: Castille Square, corner with St. Paul's Street

British Hotel Malta
"A good reasonable hotel"- 2 Star Hotel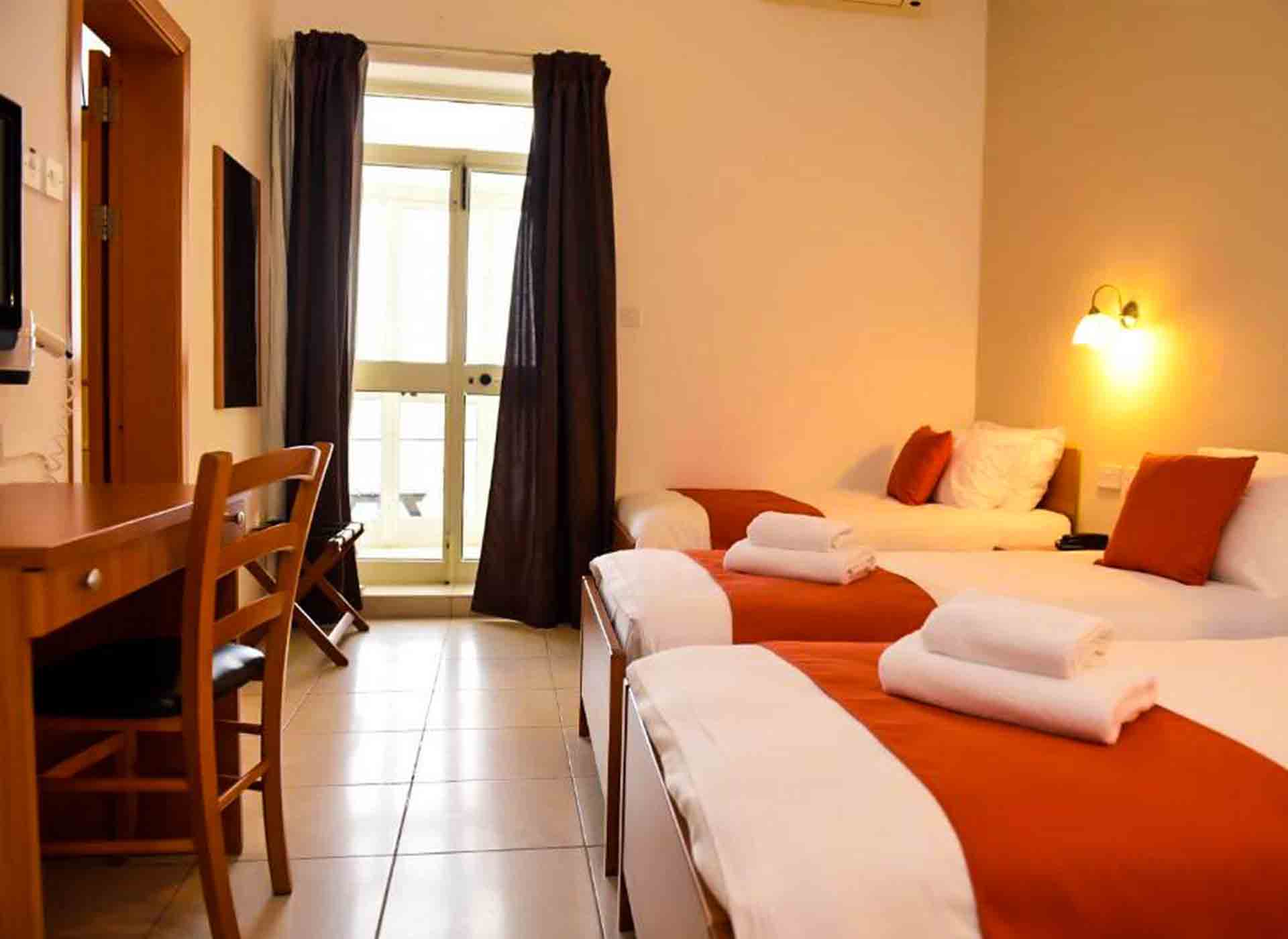 Check British Hotel Malta rates on Booking.com
The oldest established 2 star hotel in the capital still a family-owned hotel, a nice place where to stay. Found in one of the quiet terraced streets immersed within the life of Valletta where most of the guest rooms, restaurant and lounge bar offer splendid views of the Grand Harbour.
It is one of the best locations you as a visitor can choose to savour the beauty of this capital city and surroundings. Ideally located very close to St. John's Co-Cathedral in the centre of Valletta, and the busy life around this area and various shops to buy from.
Rooms offer basic design and furniture but very comfortable with bathroom, air-conditioned, private balcony, flat screen TV, safe and free internet throughout.
British Hotel Address: 40 Battery Street VLT 1222

Grand Harbour Hotel Valletta Malta
"A fantastic terrace view of the capital"- 2 Star Hotel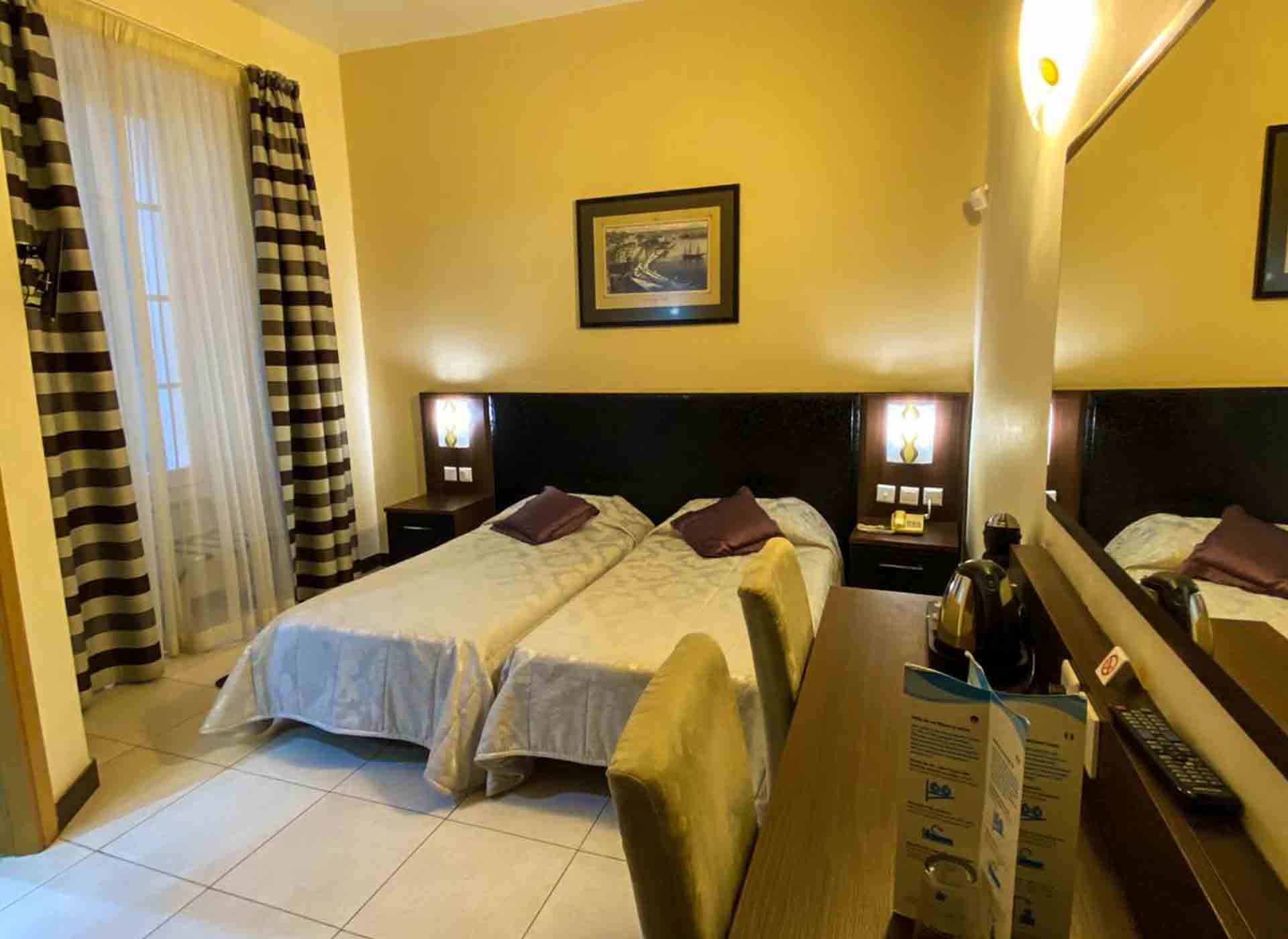 Check Grand Harbour Hotel rates on Booking.com
A 2-star hotel possessing panoramic views of the Grand Harbour located over the bastions. The centre of Valletta is reachable in a few minutes-walk. Also very close to the port by walk and ferry to take you to Pozzallo Sicily.

Each room has its own bathroom or shower en-suite, all air-conditioned, free Wi-Fi, flat screen TV. Our experience was more positive than expected as the hotel offers a great service, a great roof terrace with splendid views.
A lift service is available to all seven floors and most bedrooms have a balcony from where you can enjoy the Grand Harbour view.
Grand Harbour Hotel Address: 47 Battery Street VLT 1221

Kusara Port View - Apartments
"It was very comfortable and well located for both of us."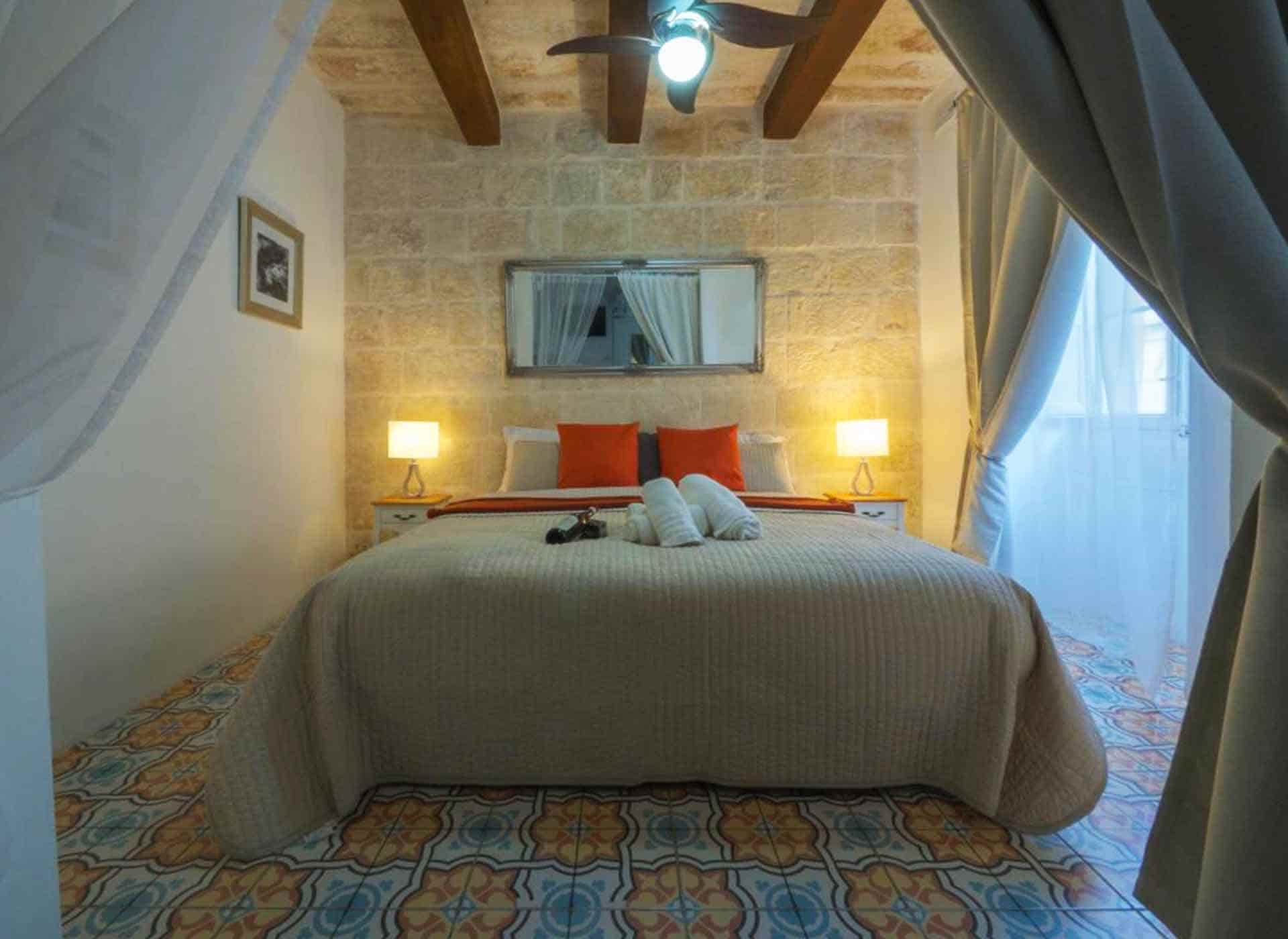 Located in an old town house, these apartments offer three different options, studio, apartment and studio with side sea view, with a double bed adequate for two persons per option.
All units are served with air conditioning, kitchenette with microwave, fridge, comfortable beds and a TV with cable channels. Each apartment door opens with a code which is provided by the host, which is very convenient. A luggage room is available for arrival and departure requirements.
The roof terrace offers a partial Grand Harbour view with the open sea in front offered with settees and a hot tub great for relaxation time.
Kusara Port View Address: 142, St. Paul's Street, VLT 1238

want to rent a car in malta?
We have used Discover Cars every time we rented a car. We highly recommend them due to their good service and good prices.
Get The Best Rates On Your Car Rental Now!
need to book a hotel for your malta visit?
Using Booking.com, enter your travel dates and number of occupants then rates will be available for hotels and apartments during your visit to Malta 
Book Your Hotel In Malta on Booking.com for the Best Rates!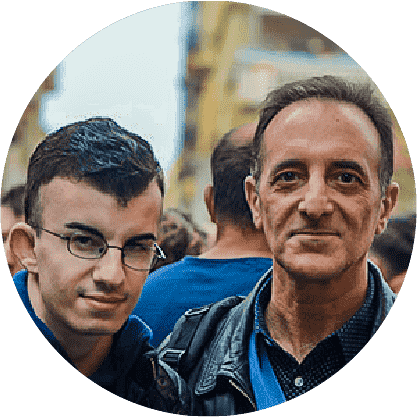 By Albert and Benjamin Magro