Top Valletta 5 star hotels
All Top Hotels In Our Capital
To help you choose one of Valletta 5 star hotels we went at length to bring you with a brief detail of the hotels currently at 5 star level within Valletta and just outside the city fortifications. All four have proved their worth very well.

Iniala Harbour House
"An exceptional 5 star hotel in Valletta"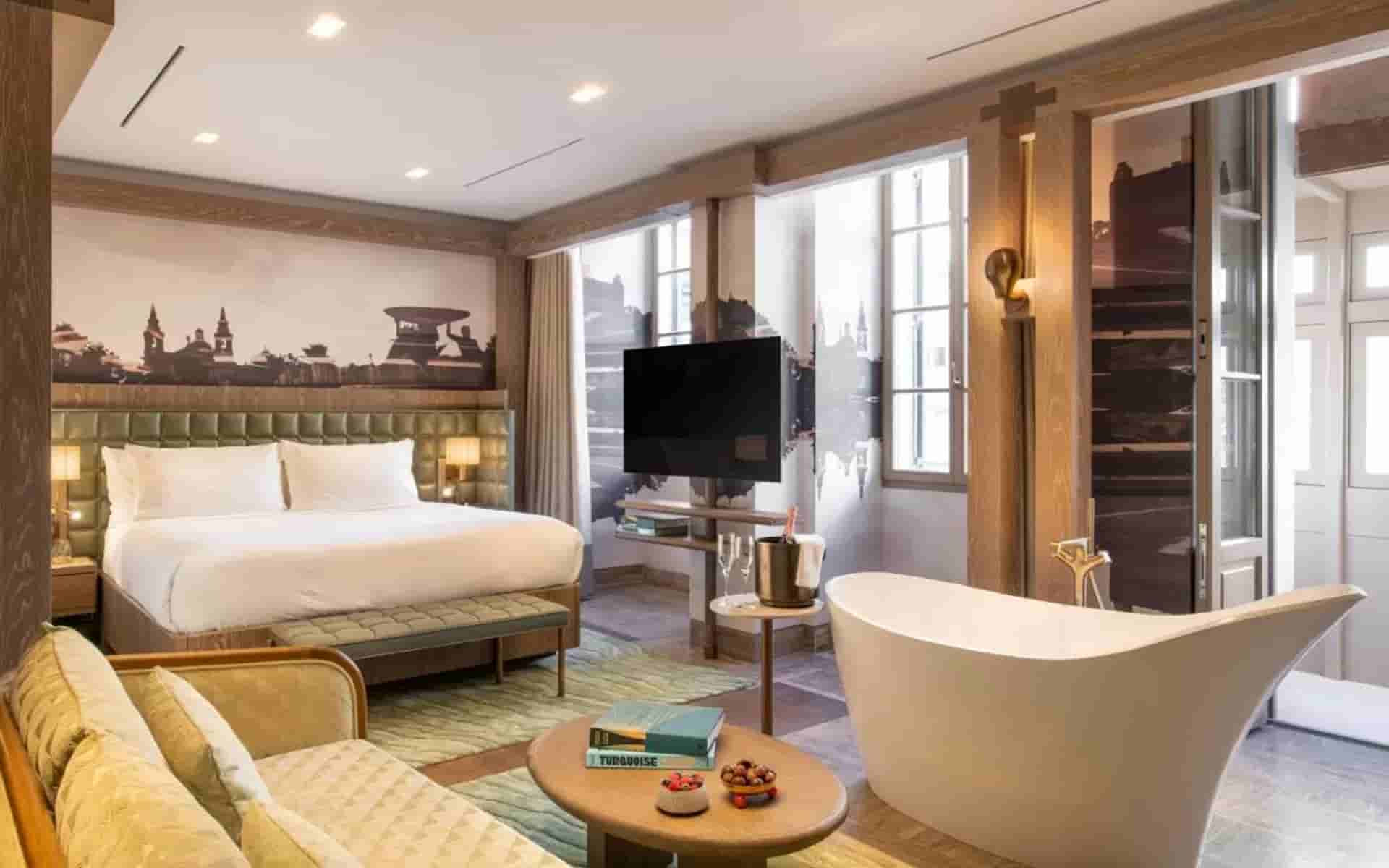 Indulge and pamper yourself at this uncommonly designed harbour house with 23 unique rooms and suites spread in four-character houses. The style of the hotel impressed us. 

And what a panorama! The unobstructed elevated views of the Grand Harbour and opposite towns with their unique characteristics. This is what you get living at St. Barbara Bastion Street at the Harbour House.
We amazed ourselves with the variety of rooms on offer from double with sea view, deluxe suite with spa bath, deluxe double room with sea view, Queen or King with sea view, suite with private pool, one bedroom suite, you will surely find a match to your requirements with individual designer feel.

Dining on the rooftop with a splendid panorama view. The quietness of this area where it is mostly inhabited by the town residents, away from most offices and traffic noises. To have a taste of the luxury rooms, you can have a look at their individual characteristic through this link.
Iniala Harbour House Address: 11 St. Barbara Bastion, VLT 1961

Rosselli AX Privilege Hotel
"We felt greatly treated at your luxury hotel."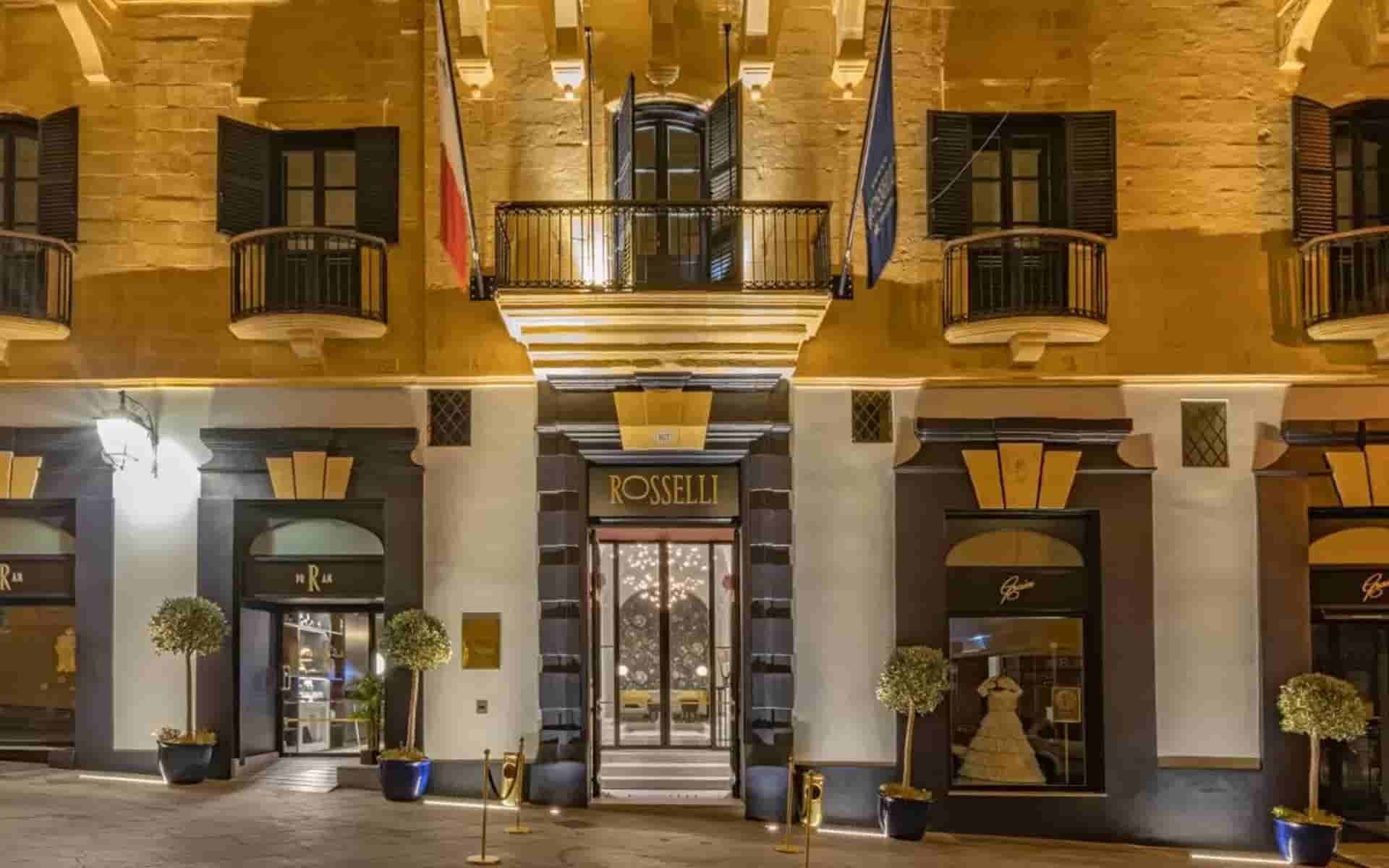 One of the two 5 star sophisticated and luxury hotels in the heart of the capital, if you are looking for a real star experience, this hotel is definitely a great choice.
An elegant building of the 17th century which was home to the wealthy goldsmith Roselli Massa from where it took its name. It has been lovingly converted by its new owners, desiring to give its guests a wonderful relaxing experience with today's comforts whilst enjoying the grandeur of this splendid old building.
Pick your choice from the deluxe and superior deluxe double or twin rooms, duplex or executive suites within this restored historical building. The designers succeeded to blend the historical with a contemporary feel of romance and luxury where you can feel an airy, clean design, all air-conditioned, with modern facilities, flat-screen TV and with private bathrooms offering its guests all the modern comforts.
Almost monochromatic and replete with plush textures, these rooms are all about playing with light and shadow which give the rooms both a romantic and a contemporary, rather streamlined feel.
Rosselli AX Privilege Address: Merchant Street: Rosselli 167, VLT 1174 Valletta
Find Out The Best Hotels In Malta
Phoenicia Hotel Malta
"The perfect weekend break location"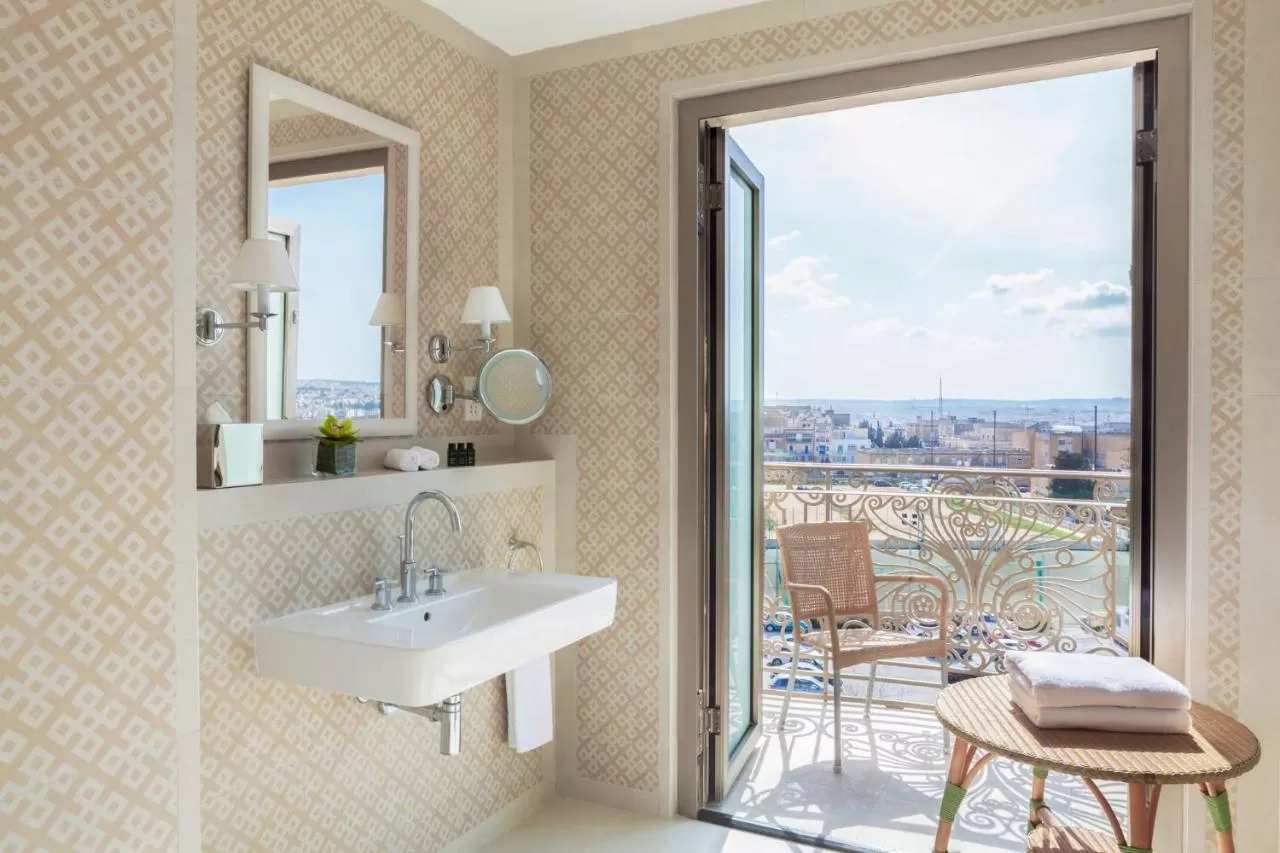 Check Phoenicia Hotel Malta Review
A favourite of Queen Elizabeth ll and the Duke of Edinburgh when they used to visit the islands on various occasions. A classic hotel built in 1930 still keeps its charm, recently a complete refurbished bringing it into the modern times still retailing its unique, timeless classic style keeping its design beauty becoming more attractive than before.
It is a hotel that is very much revisited by the same guests and is also very much loved by the Maltese. The rating and quality of the hotel rooms and all amenities, has succeeded to keep a very high standard in the service provided.
It is located just outside the Valletta's fortifications, with splendid views around it. Offering rooms with modern comfort, with the Grand Harbour and Marsamxett Harbour views from every angle, especially the upper floors that spread the view further northwest of the island.
The rooms are spacious and elegant with Maltese tiled designed floors, modern furniture, all air-conditioned. Wired internet in rooms while it is free in all public areas. With the staff being so kind, organized and friendly that many visitors mention in their reviews how satisfied they are with the standard of this hotel.
Phoenicia Hotel Address: The Mall, Valletta

Grand Hotel Excelsior
"A fantastic terrace view of the capital"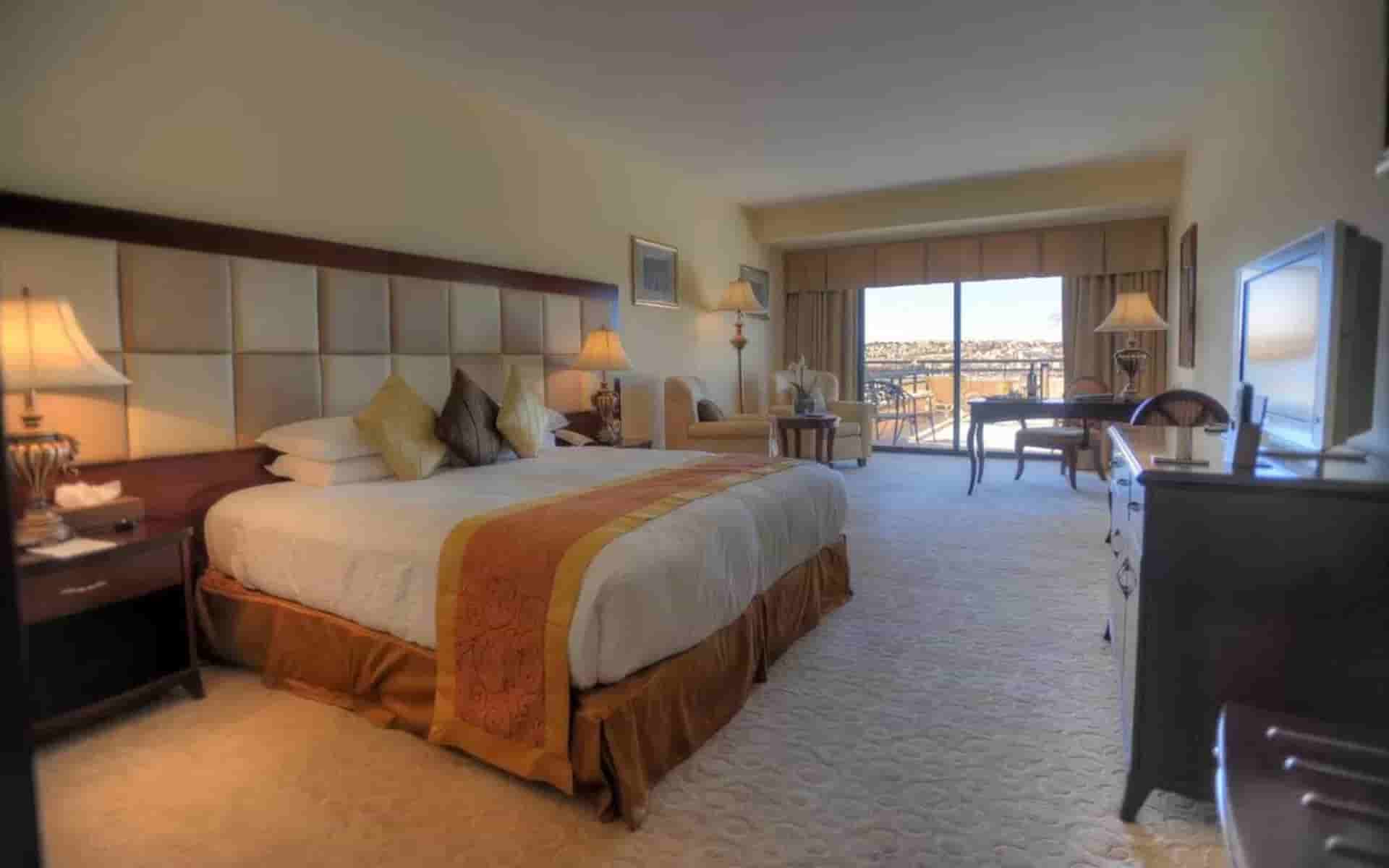 Check Grand Hotel Excelsior Rates on Booking.com
Just outside Valletta the Grand Hotel Excelsior a few minutes' walk downhill with stunning scenery facing the splendid natural harbour of Marsamxett and Manoel Island.
Its unbeatable location is just at the shoreline commanding an unobstructed view with 5 star hotel service. A variety of amenities, outdoor pool by the seashore, gardens, outside dining and a tranquility cut from all surrounding although within the historical fortification areas.
With 429 rooms and suites spread on 10 floors a range of rooms from classic non balcony rooms, the price conscious traveller to superior rooms to suites with a higher level of luxury providing the required amenities.
The proximity to the capital makes it very attractive to travelers to be close to the capital, several shops, restaurants, museums and the central hub for the public transport.

Grand Hotel Excelsior Address: Great Siege Road, Floriana
Since 1980 this city has been named a UNESCO World Heritage Site and the European Capital of Culture in 2018.

For the discerned visitor who looks for elegance Valletta can offer you the style you wish.
The two properties within Valletta are very intimate contained, small in size, and are … whilst the the hotels just outside the capital are very big, offers you a vast selection of amenities depending what sort of holiday you wish to do.
Here you are not lost but very central, public transport can take you all around the island, Valletta provides you with many cultural things to do, apart from the theatre, cinemas, nightlife and several bars and restaurants where to enjoy splendid meals.
You wish to book a Malta Hotel?
Click on this link where you immediately enter the booking.com site where you can enter a specific hotel name if you already know it or you wish to read further about the hotels we mentioned above.
want to rent a car in malta?
We have used Discover Cars every time we rented a car. We highly recommend them due to their good service and good prices.
Get The Best Rates On Your Car Rental Now!
need to book a hotel for your malta visit?
Using Booking.com, enter your travel dates and number of occupants then rates will be available for hotels and apartments during your visit to Malta 
Book Your Hotel In Malta on Booking.com for the Best Rates!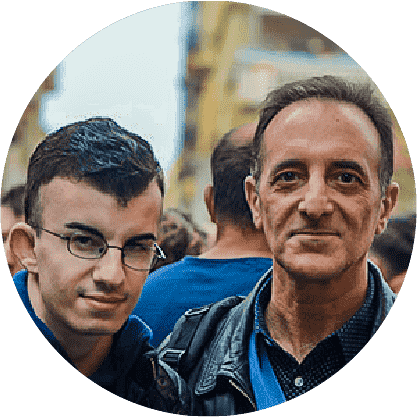 By Albert and Benjamin Magro