hop on the gozo fast ferry
Valletta To Gozo In Less Than 45 Minutes
Date Uploaded: 10th May 2022
The Gozo Fast Ferry is another option for getting to Gozo. Ferries are operated directly from Valletta Malta to Mgarr Harbour Gozo. Two different companies operate this journey, Gozo Fast Ferry and Virtu Ferries Gozo.

In addition to this ferry, there is also the Gozo Channel, which offers a similar service. This service can be taken from Cirkewwa in the north of the island. The Gozo Channel allows you to drive your car from Malta to Gozo.
What You Need to Know About the Malta Ferry to Gozo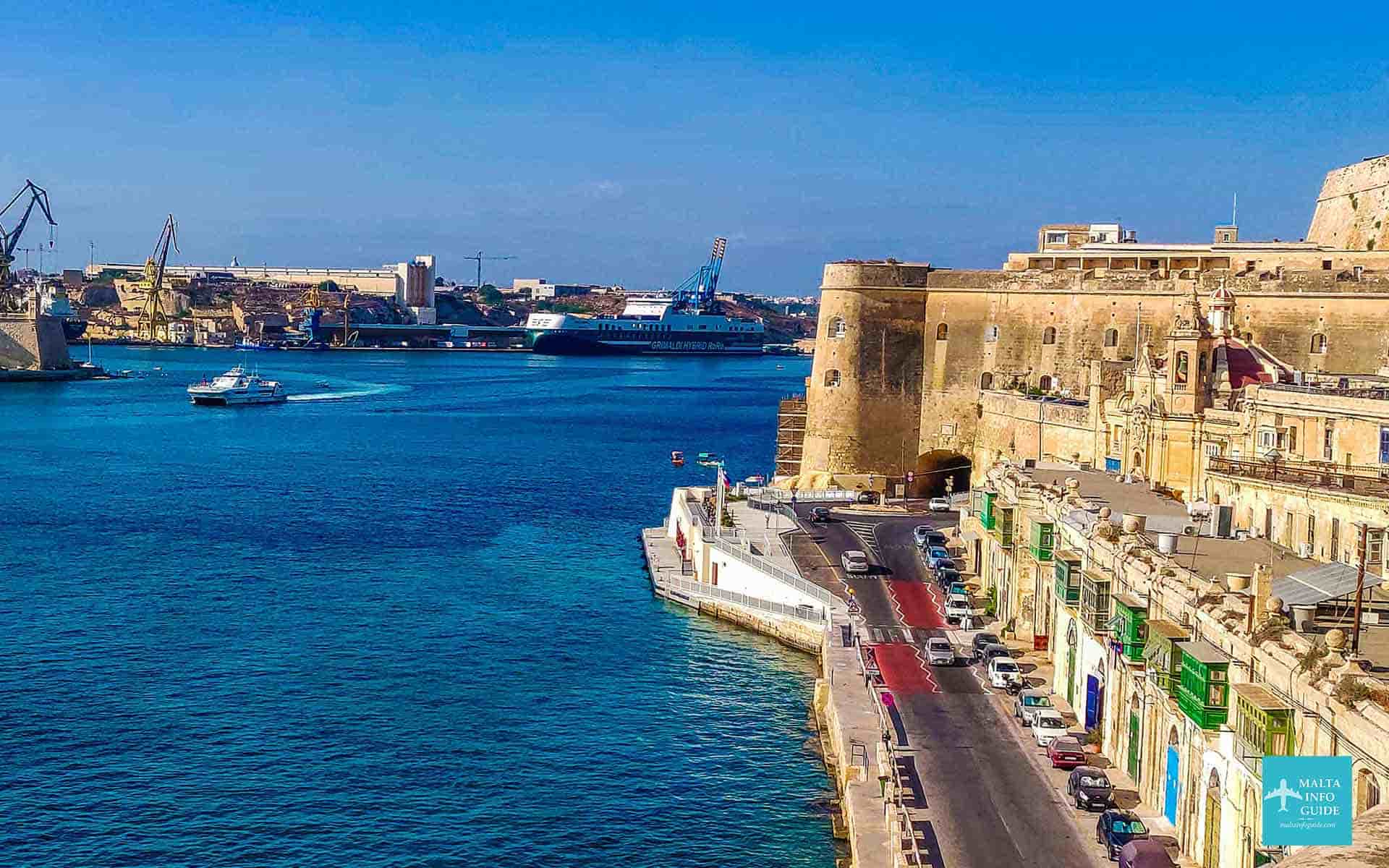 Facts about the Gozo Fast Ferry
The ferry is operational 365 days a year.
The trip between the islands is about 45 minutes each way.
It is not possible to board the ferry with a car, van, truck, motorbike or rented car.
For crossing from one island to another, you do not need a passport or visa.
Virtu Ferries Gozo Service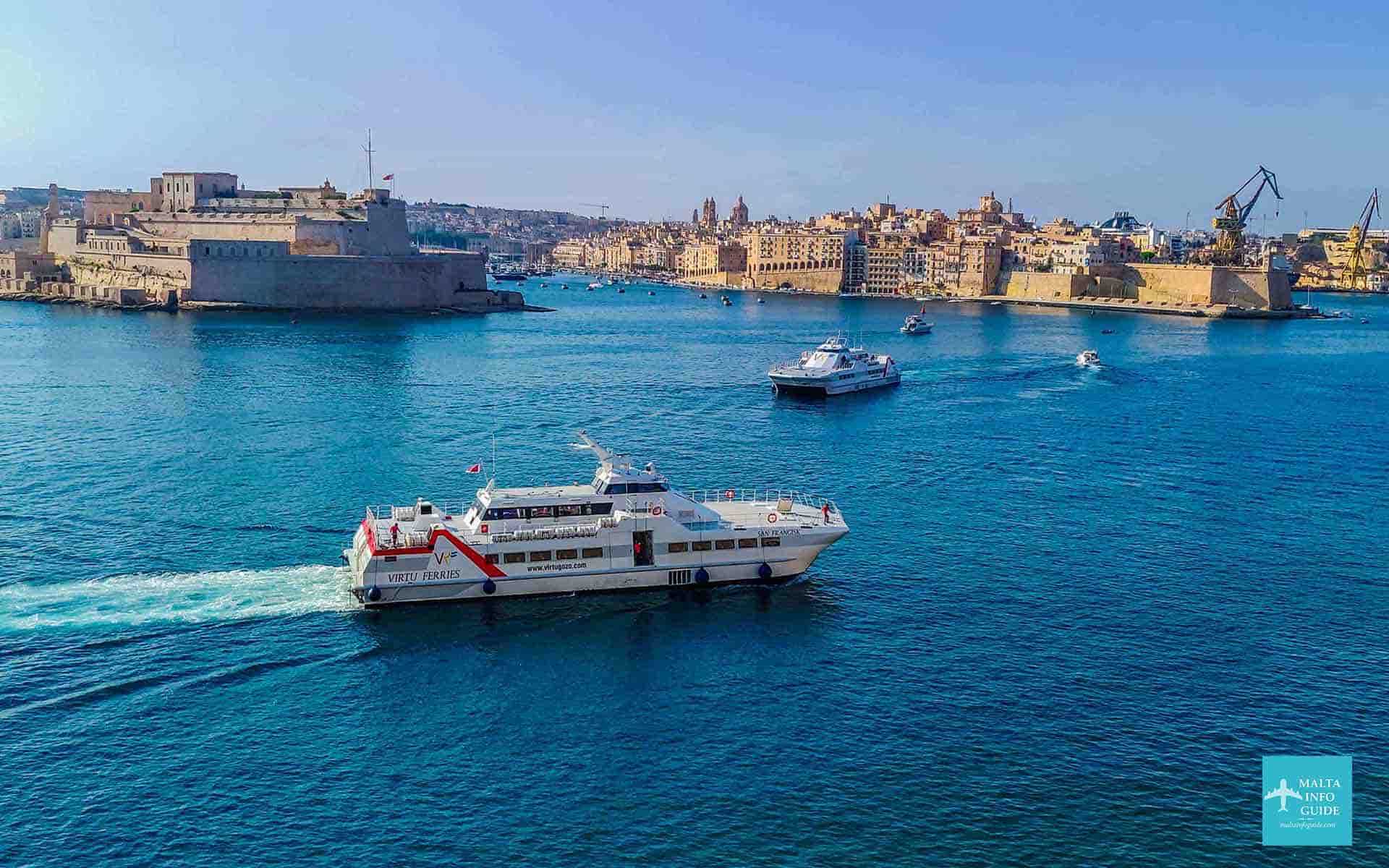 Virtu Ferries Gozo also provides ferry service between Valletta and Gozo island. Each trip takes 45 minutes. Book tickets below and also check out the companies requirements. There are 10 daily trips between the two islands. You can check what time the ferries are while booking your tickets.
tickets to take the ferry
Virtu Ferries Gozo offers online ticket purchasing and at the terminal before boarding.
Conditions By The Company
services onboard
check-in conditions
Ferries leave on time (sharp) at the scheduled departure time.

It is recommended that you check in 15-20 minutes prior to the departure time.
baggage
You can only carry one piece of personal baggage with you at a time.
The crew will direct you where to store this on the vessel.
You may also bring one additional hand luggage piece on board.
Click here for luggage size information.
pets on board the ferry
Up to two pets may travel on the ferry, and pet owners can stay in the pet-specific area (aft lounge).

When booking, passengers must indicate whether any pets will be traveling.

The company is not liable for the health, safety or wellbeing of pets during transportation.
bicycles and scooters
dangerous items
It is strictly forbidden to carry any type of weapon, dangerous and / or illegal article, material or substance on board. 
The Company has the right to search passengers and their luggage for security purposes. In the event that a prohibited item is found in the Company's possession, we will fully cooperate with the appropriate authorities.
You can read more about the conditions mentioned above by clicking here. You can check out their Facebook for any updates.
Gozo Fast Ferry Service
Gozo Fast Ferry is one of two companies that provide services between Valletta and Gozo. There are two state-of-the-art high speed passenger craft that can accommodate 300 passengers and measure 39m in length. They also have a VIP section.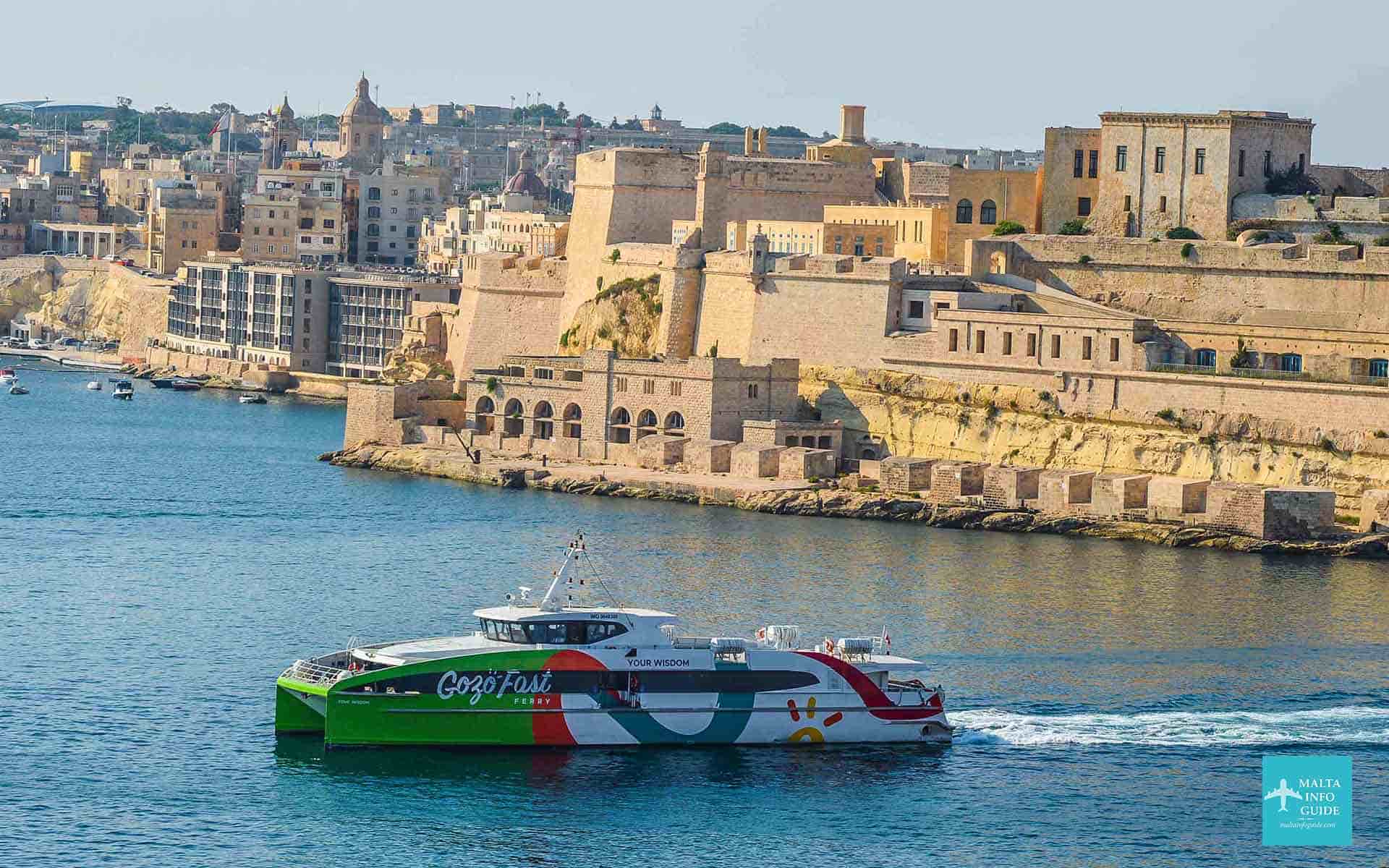 tickets to take the ferry
Ticket purchases can be made through the Gozo Fast ferry website, their mobile application, or from the terminal before boarding the ferry.
Click here to see full prices for the trip.
gozo fast ferry schedule
You can check the schedule to see what time the ferries leaves the terminal. It is recommended that you check the Facebook page for live service announcements.
Click here to check the schedule of the Gozo fast ferry.
For constant updates and changes to the schedule click here to go to their Facebook page.
conditions by the company
onboard services
A selection of beverages and snacks are available.
check-in conditions
The carrier expects you to arrive at the check-in area and boarding area in advance of the time specified by the carrier to allow for any checking's.
pets on board the ferry
Pets such as dogs, cats, household birds, and other animals may be accepted for transportation, with our prior approval.
All animals must be under the complete and total responsibility of the Passenger for their carriage.
Injuries to, death of, or loss of such animals are not the company's responsibility.
bicycles and scooters
Bicycles and kick scooters are permitted on the ferries.
That includes electric bicycles, referred to as pedelectric bikes.
Nine bicycles can be taken on board at any one time, so for that reason, we suggest you purchase your tickets in advance and reserve a bike rack.
Taking your bicycle onboard is free of charge.
No motorbikes and other vehicles are permitted on board.
dangerous items
Any dangerous goods cannot be transported on the ferries. Among these are explosives and flammable substances, toxic and radioactive materials, pollutants, and fireworks.
If you would like to read further about the conditions mentioned above click here.
The Fast Ferry Terminals
where in valletta do the ferries berth?
You can take the fast ferry between Malta and Gozo from Lascaris Wharf Terminal in the Grand Harbour outside the fortifications of Valletta. In just 3 minutes walk from this terminal is the Upper Barrakka lift, which leads to the Upper Barrakka Gardens within Valletta's perimeter, from which you can walk to any spot in the capital.  

where in gozo do the ferries berth?
In Mgarr harbour, next to the Gozo Channel terminal, you will find the fast ferry terminal. The ferry docks parallel to the large boats of the Gozo Channel. Next to the ferry berthing is a small room used as a terminal. The big terminal to the right of it is only used by passengers embarking on the Gozo ferry boat.
accessibility For both services
Both ferry companies operate the following accessibility services.
Passengers with mobility impairments, including wheelchair users, have full access to Lascaris Wharf Terminal Valletta and Mgarr Harbour Terminal.
Furthermore, all ferries have ramps so that wheelchair users and passengers with disabilities can board and arrive safely.
Getting to and from the terminals is also easily accessible for people with mobility impairments and also wheelchair users. These include all the buses, ferries and Barrakka lift.
How To Get To The Terminals
to the ferry terminal in valletta by bus

Closest bus stop to the terminal is called 'Lascaris'.
Route 133 - A circular bus that departs from Valletta bus terminus.
Route X133 - This route is for students that leaves from the Valletta bus terminus and goes directly to the ferry.
Route 150 - This is a direct route for MCAST students in Rahal Gdid that goes directly to the ferry in Valletta.
Route 300 - This route goes from the ferry terminal in Valletta to Mater Dei. In between there are several stops.
If you are coming from any other part of the island, we advise taking the bus from your village to Valletta, then taking the 133 directly to the terminal.
to the ferry terminal in mgarr Gozo by bus

Victoria/Rabat to Mgarr Harbour: 301, 303, 323
All routes that go to Mgarr: 301, 303, 322, 323, N301, TD30, TD31
Taking A Taxi

It is always possible to take a taxi to the terminals. The cost depends on where you are taking the taxi.
What Can I Do On The Island of Gozo
Gozo is a marvelous island to visit as there are plenty of things to do. it is much quieter than Malta and there is more greenery.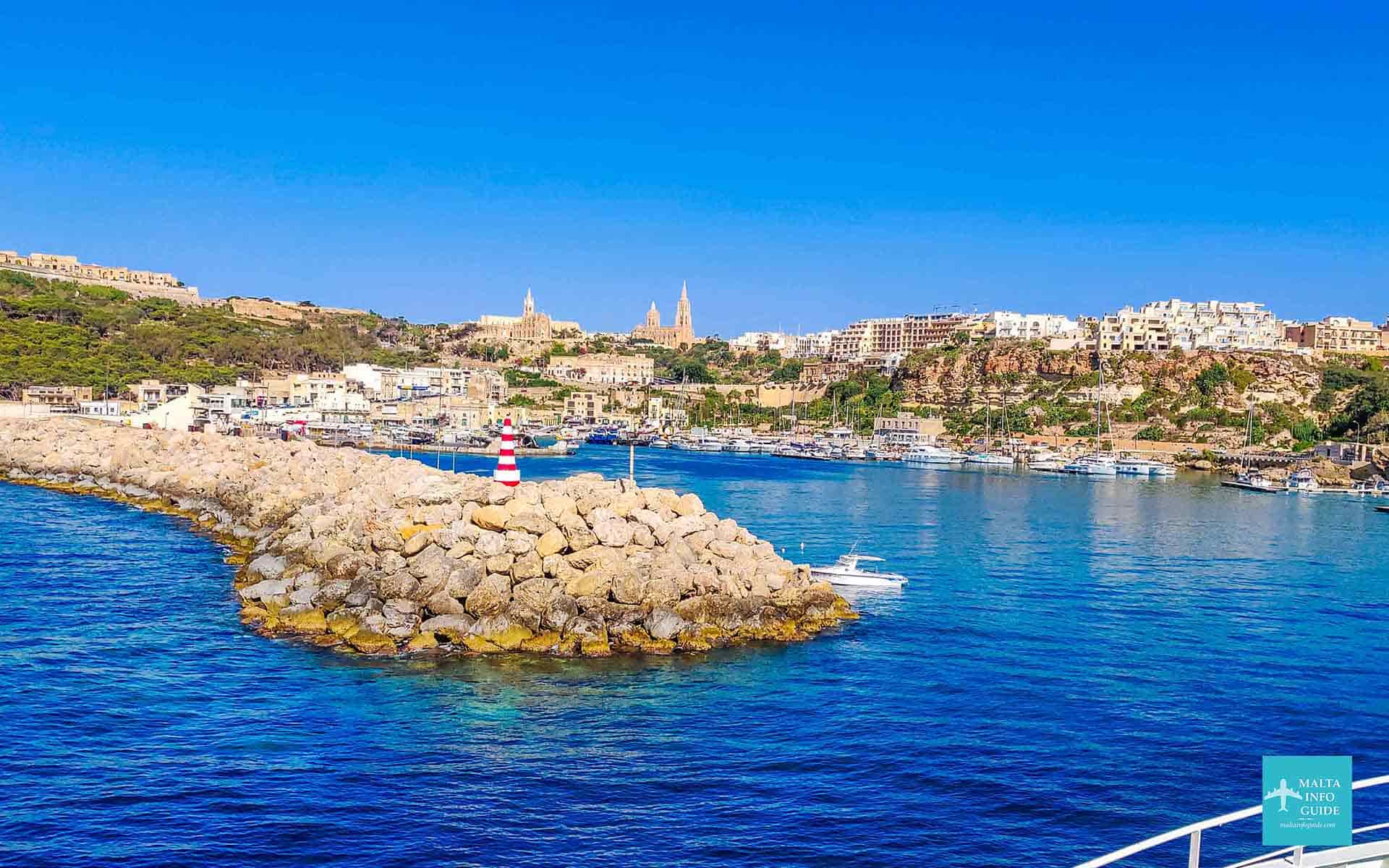 a few things to do in gozo
want to rent a car in malta?
We have used Discover Cars every time we rented a car. We highly recommend them due to their good service and good prices.
Get The Best Rates On Your Car Rental Now!
need to book a hotel for your malta visit?
Using Booking.com, enter your travel dates and number of occupants then rates will be available for hotels and apartments during your visit to Malta 
Book Your Hotel In Malta on Booking.com for the Best Rates!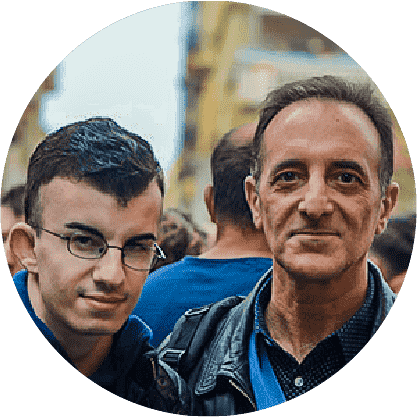 By Albert and Benjamin Magro