the enchanting Mdina in Malta
wander around the old capital of malta
Mdina in Malta is an ancient, unique, fortified city of incredible historical value. Built on a hill overlooking the rest of the island from the north and east to west.
So beautiful and historic, the city filled with Medieval, Norman and baroque architecture. Several palaces, churches, cathedral, monasteries and high fortification walls that stretch all round visible from many parts of the island.
Throughout the ages it has been maintained.  It was shaken by Sicily's earthquake of 1693 which left many buildings damaged.
What You Need to Know About mdina in Malta

Disclaimer: We have affiliate links on this website where we receive a small commission at no extra cost to you.
Top Tours For This Summer
5% Coupon Code - 'maltainfoguide'
It is an enchanting old capital that has kept its character with a tiny population of around 240 people.
During the day it is a major tourist attraction. There is no other place like it on the island. At night it is quiet with a unique character also pleasant to visit lit by lanterns, quiet alleys, people walking the main road to the rear fortifications for the incredible view.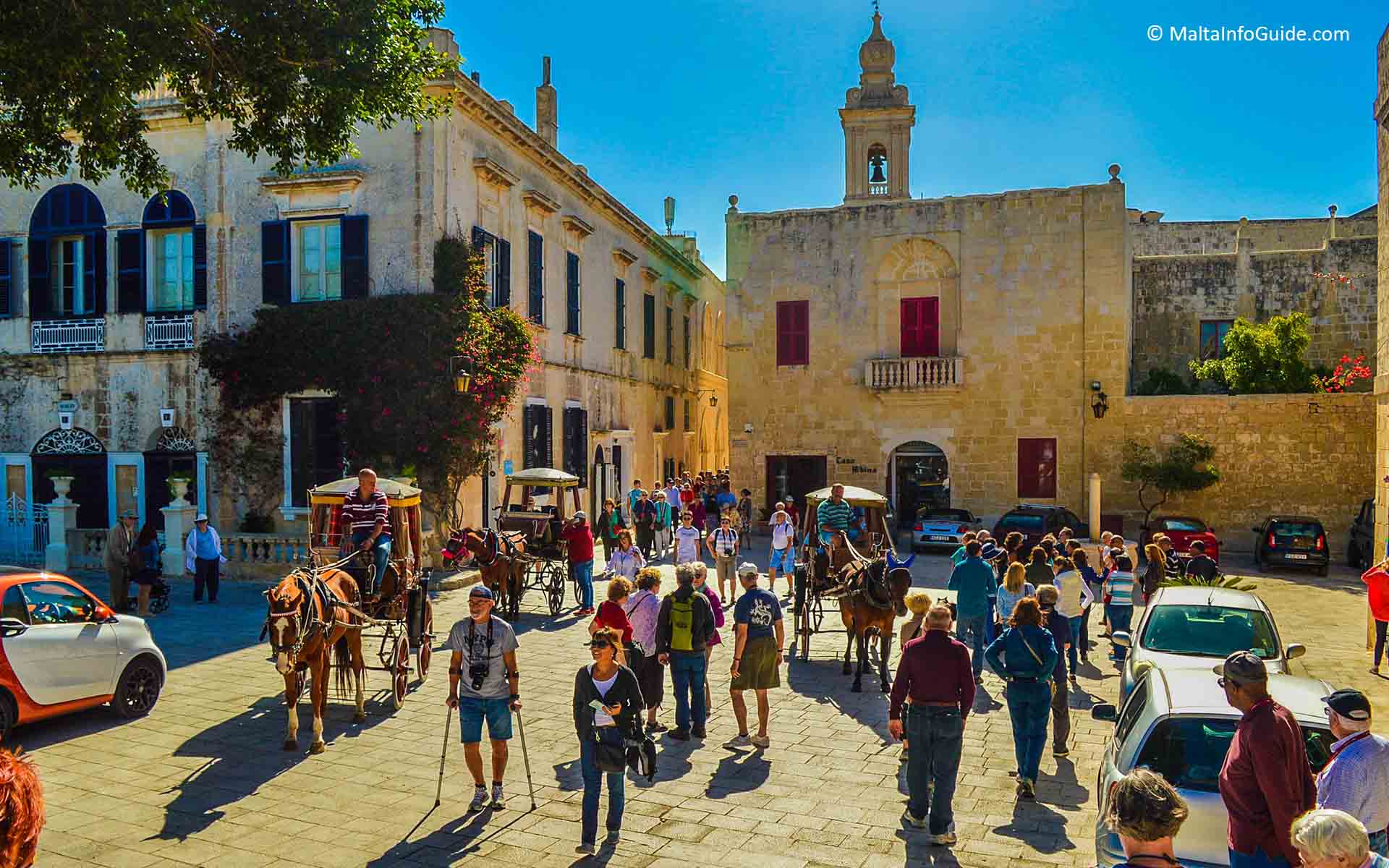 Just next there is the village of Rabat, which once formed part of it. But during the Normans the defensive walls were narrowed to the present size for better defense.
What can I do in Mdina? There are some great things to do. Visit historical museums, old palaces, cathedral, not least Mdina has become popular as it served as the backdrop for King's Landing, part of the first season of the HBO's series Game of Thrones. Coming for a day? See how we planned a day trip in Mdina.

Many restaurants are busy for lunch and dinner in old amazing buildings nicely restored great both Maltese and tourist for quiet quality time at the silent city.
Mdina, is on the tentative list of UNESCO World Heritage Site. so beautiful and historic that will tempt you to revisit. See all the features you can find here, we summarize all that you can see and do within this page.
Mdina In Malta Facts
The region was first inhabited in 700 BCE.
Mdina possesses origins that go back 4,000 years old.
One of Malta's Top Instagram location.
It has become known as the Silent City.
Mdina is the oldest and first capital of Malta.
Around 1.5 million people visit Mdina each year.
The city of Mdina is among the tentative list as a UNESCO World Heritage Site since 1998.
Mdina is a location featured in the series Game of Thrones Season 1.
Mdina used to be called Citta' Vecchia or Citta' Notabile.

Mdina was and is still home to some of Malta's noble families.

Mdina the silent city has just over 300 residents.

What to do in Mdina Malta
Mdina is a city that takes you back hundred's of years. See our list of what to do in Mdina and other places of interest you might want to visit when coming to Mdina. With limited vehicle access, Mdina remains a jewel of the Maltese islands as the city still has that medieval vibe.
Restaurants In Mdina
There are plenty of restaurants to eat at in such as small city. Dine or have lunch at beautiful renovated palaces. There is also a One Michelin star restaurant in the heart of the city. Find out the best Mdina restaurants to have a meal.
The Fortification Walls Of Mdina
The Fortifications of Mdina are defensive walls surrounding the natural plateau on high ground in the centre of the island. From here there is a formidable view of the island's principal ports, which was the most ideal location for a fortified capital at the same time overlooking the open Mediterranean Sea for any invaders.
Mdina Ditch Garden
The Mdina Ditch is another area which should be explored. It is a walk outside the fortifications within the wide ditch. It starts from the Ghareqqija gate to the other side beside the Veduta restaurant where you find a purposely built lift to bring you down and up to the main road from the ditch.
The fortification walls have been restored and the ditch floor has been paved with a mix of green lawn, paving and trees. You have various location where you can sit down and admire the tranquility and setting around you.
Take photos of The Lovely city
Mdina is beautiful both during the day and during the night. Make sure you have your camera or mobile phone ready to snap multiple shots of the city. There is a house in Mdina that is a famous Instagram hot spot that tourists love to pose in front of.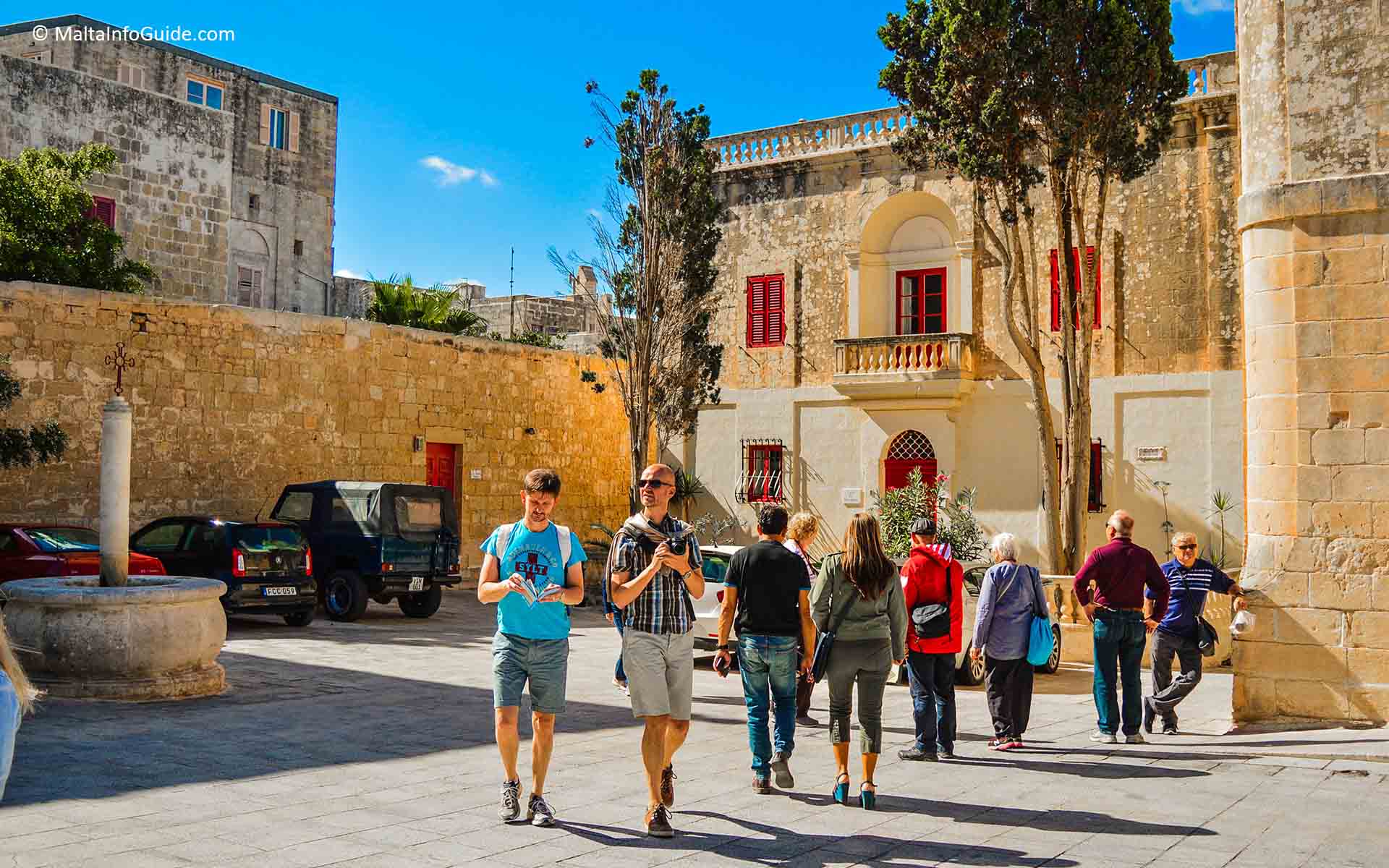 How To Get To Mdina
Mdina is located on the west side of Malta, a calmer part of the island. Getting here is rather easy. Villages located close to Mdina are Zebbug, Mosta, Attard and Dingli.
You can get to Mdina by car, bus, sightseeing tour or taxi and this how.
How to get here by car

If you are coming from the central part of Malta, it is mostly a main road leading to Mdina. You will find lots of signage to get here. It is basically the main road from the villages mentioned above. See the map below for more details.
mdina in malta parking
Parking outside the Fortifications of Mdina is both easy and difficult. It all depends when and what time you go.
here are a few suggestions of where to find parking in mdina
There is a small car park beside the playground area just outside the Mdina gate. Parking is limited on busy days.
There is a larger car park 200 meters away from Mdina Gate, just beside the Rabat bus terminus. 

The ditch just under the Fortifications of Mdina there are parking places. You will need to pass through a narrow tunnel to get there.

At the nearest village of Rabat around the narrow streets.

In the car parks mentioned above there will be a parking attendant. Payment is under your own free will.
You cannot park inside the city of Mdina as it is prohibited. Only Mdina residents are allowed inside with their vehicle as they have a special permit. So you will need to park outside the bastions.
How to arrive by bus

There is a bus stop just outside the Mdina Gate called 'Mdina'. It is a very popular bus stop so you can expect lots of people.
To 'Mdina' Bus Stop (Direction to Valletta): Direct routes 50, 51, 52, 53, 56, 109, 181, 182, 186, 201, 202.
To 'Rabat Saqqajja' Bus Stop (Direction to Mdina): Direct routes 50, 51, 52, 53, 56, 109, 181, 182, 186, 201, 202.
Just 5 minutes away from Mdina Gate there is the Rabat bus terminus.
To 'Rabat 1' Bus Stop (Direction to Rabat): Direct routes 50, 51, 52, 53, 56.
To 'Rabat 2' Bus Stop (Direction to Rabat): Direct routes 109, 181, 182, 186, 201, 202, X3.
To 'Rabat 3' Bus Stop (Direction to Rabat): Direct routes 50, 51, 52, 53, 56, 181, 182.
To 'Rabat 4' Bus Stop (Direction to Rabat): Direct routes 109, X3.
getting to mdina malta from several locations around the island
St. Julian's to Mdina: 202
Sliema to Mdina Malta: 202
Valletta to Mdina: 50, 51, 52, 53, 56, 109, 181, 182, 186, 201, 202.
How to arrive by Sightseeing bus

There is a sightseeing tour that stops exactly outside the Mdina Gate. You will need to hop on the Sightseeing North Tour (Blue Line).
The best solution would be by taking one of the many coach tours available incorporating Mdina where it stops you just in front of the main entrance leading inside the city. The hop-on hop-off also gives one the opportunity to stop at this location for any duration.

other ways to get to mdina Malta
grab a taxi
All taxi companies in Malta take passengers to Mdina. The taxi will stop you just outside the gate and not inside the city. The fare of the taxi depends from where you take it from.
go on a tour
Mdina and Malta highlights is a full-day tour that visits a combination of villages around Mdina. One stop is Mdina the Silent city. 
airport transfer
If you booked to accommodate in Mdina, then you can opt for an airport transfer for around €22 (one-way) or a shared mini-bus for two adults is €14 (one-way).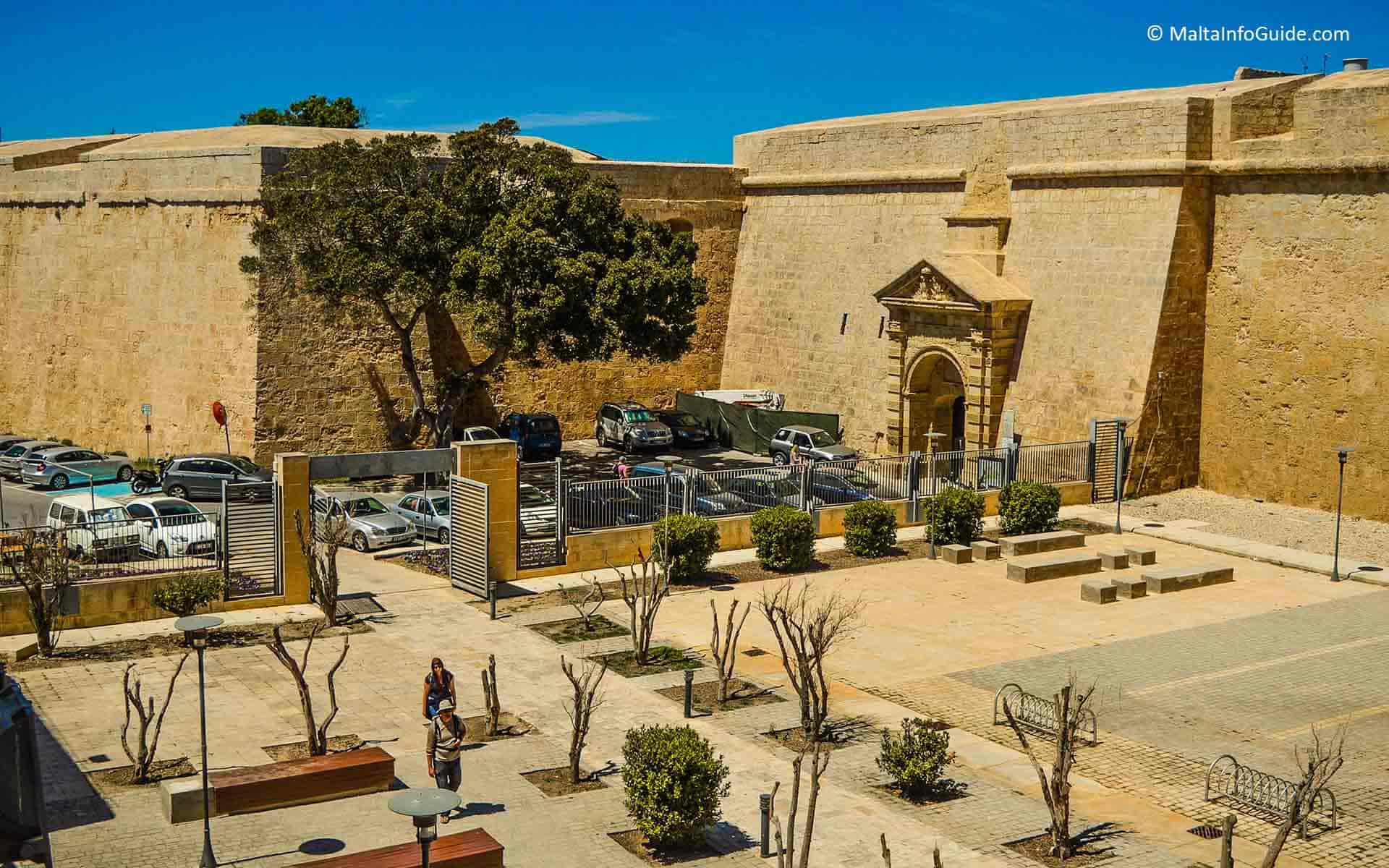 Hotels in Mdina Malta
Staying In Mdina
There aren't many hotels in Mdina. You will only find one hotel.

Xara Palace Hotel Relais & Châteaux

Unique Mdina hotel located within the silent city of Mdina with luxurious interiors, imposing building and excellent service. The hotel is a beautiful 17th century palazzo built as a residence for the noble family Moscati Parisio. It has beautifully decorated baroque architecture built on the edge of the bastion with a stunning view of Malta.

Rates including breakfast: €150 - €450 single/double
Location: Council Square, Mdina
Point De Vue Guesthouse

This guesthouse is located around 100 meters from the fortifications of Mdina. Since it is situated up on a hill, there are breath-taking views of the island. The guesthouse is equipped with 12 pleasant rooms.
Situated some 100m outside Mdina, with breath-taking views of the surrounding countryside, this charming guesthouse offers value for money, with 12 comfortable rooms equipped with ensuite facilities an excellent in house restaurant. Half board options are also available.
Location: Saqqajja Square, Rabat
Rates including breakfast: €60 single | €90 double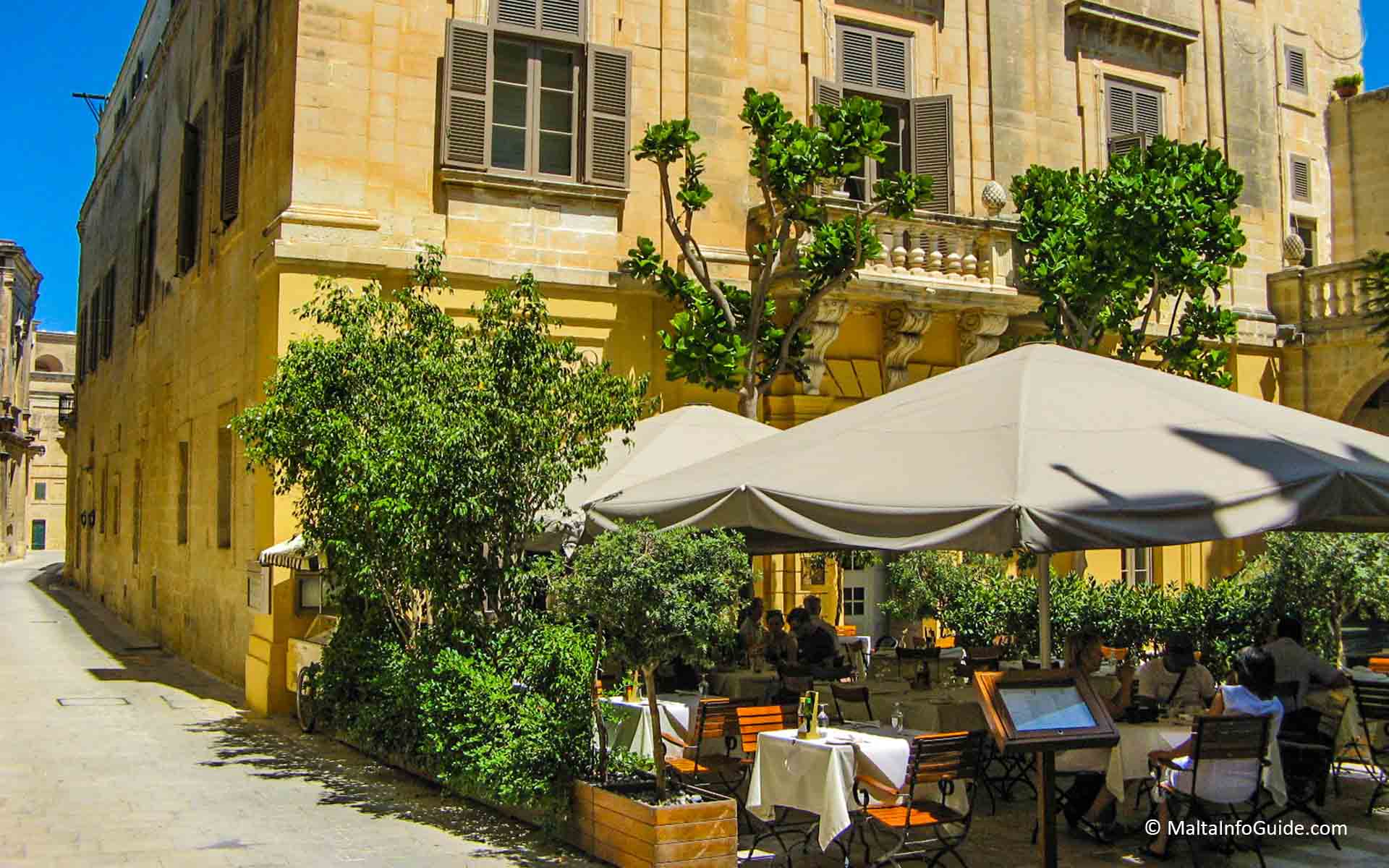 where to visit after mdina
Beside the city of Mdina, lies the village of Rabat. You can combine Mdina and Rabat together as they are just a couple of minutes on foot away from each other.
While in Rabat you can visit the following places of interest:
Roman Villa - Also known as Domus Romana
St. Paul's Catacombs
Parish church of Rabat Malta
Wignacourt Museum
What is Mdina for the Maltese

For the Maltese population, it is a favourite. Apart from its attracting character, the Maltese like to come here for serenity, fantastic views and for a quiet walk both during the day or at night. in summer, it is pleasant to come here for the fresh breeze over the bastion walls.
Magnificent view from the rear of the fortifications showing Valletta the capital city and all the surrounding areas. They built Mdina on a high promontory having a strategic location enabling the defenders to protect the island from invaders.
Not least to the restaurants that have made a name for themselves. There is a very popular cafeteria called 'Fontanella' which offers delicious food and sweets. It is on the edge of the bastions overlooking the vast landscapes of Malta. Do not miss this opportunity. Vey often full and have to wait to be seated.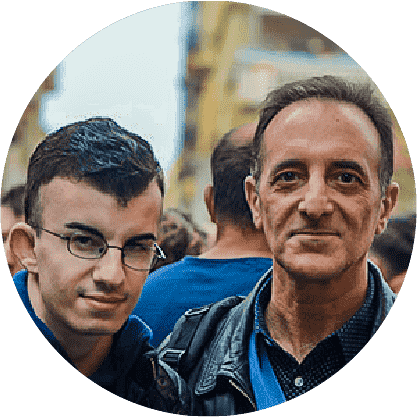 By Albert and Benjamin Magro
We have removed the Facebook comments to make the page load faster and also to improve your page experience.
If you have any queries or questions, you can send us a message through our MaltaInfoGuide Facebook Page or send us an email via our Contact Page.