enjoy a day at Paradise
Bay beach Malta

A Secluded And Romantic Beach Everyone Needs To Visit
Date Last Updated: 20th June 2020
Paradise Bay Beach Malta, one of Malta's most spectacular beaches, which is located at the islands farthest north point very close to Mellieha Bay. In our opinion this is one of the most beautiful beaches on the island.
The paradise beach is unique as it is at the bottom of very high cliffs and it overlooks the beautiful islands of Gozo and Comino Island. It is very much visited by locals and tourists especially during summer.
Also at this beautiful spot is the Paradise Bay hotel which overlooks the bay. The ferry is located just beyond the hotel where the boat berths and services the regular and frequent crossings between the two islands.
Disclaimer: On our website, you will find affiliate links from which we receive a small commission.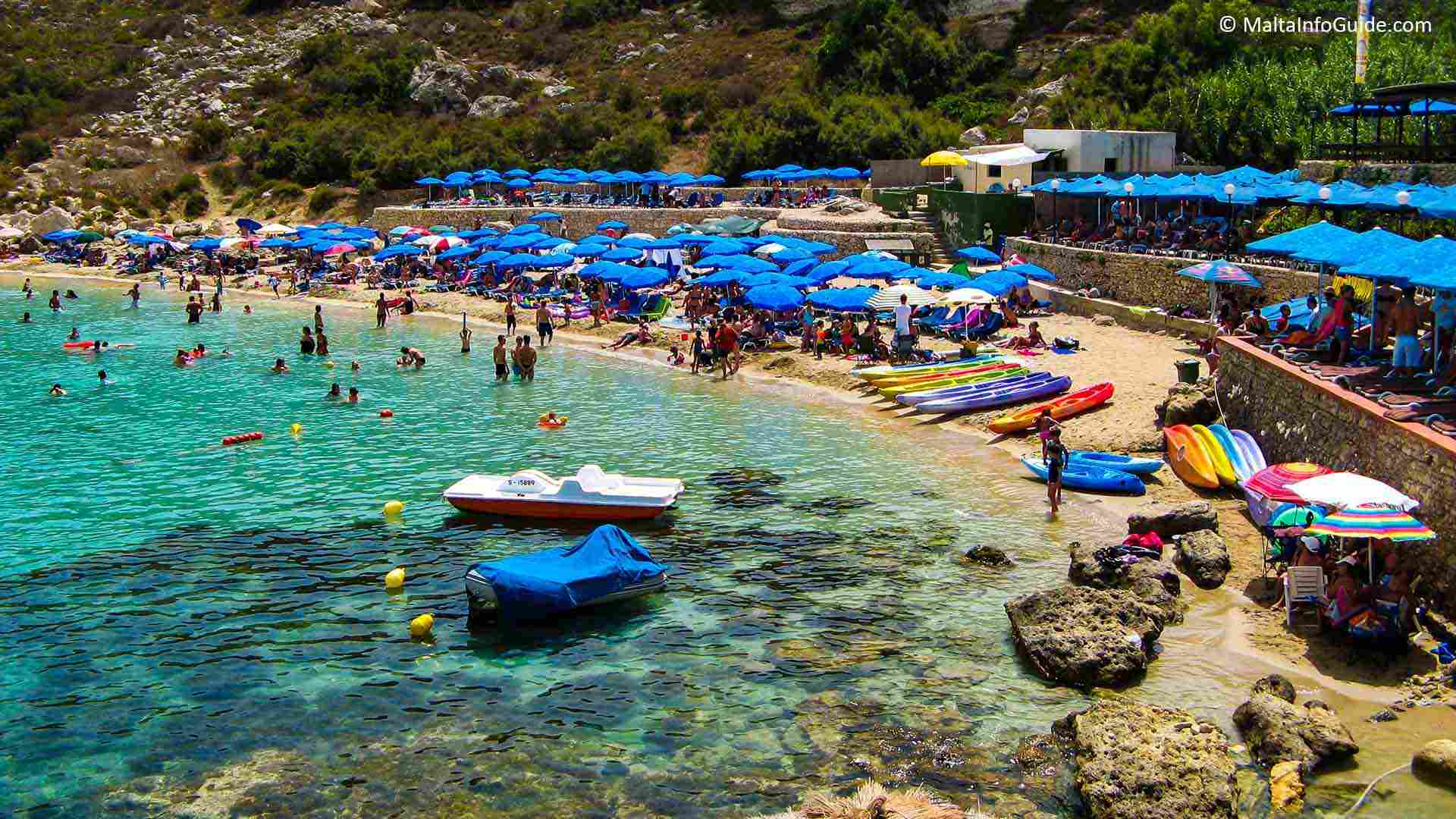 To get to the beach, there are a hundred steps before reaching the secluded and small sandy beach. The long flight of steps down will make the descent well worth it.

The bay offers a variety of facilities, including sunbeds and umbrellas. You can stay on the sandy area or under built decks. A restaurant is available every day and night for you to enjoy a pleasant meal.

Want To Share This Page On Pinterest? Pin It Here!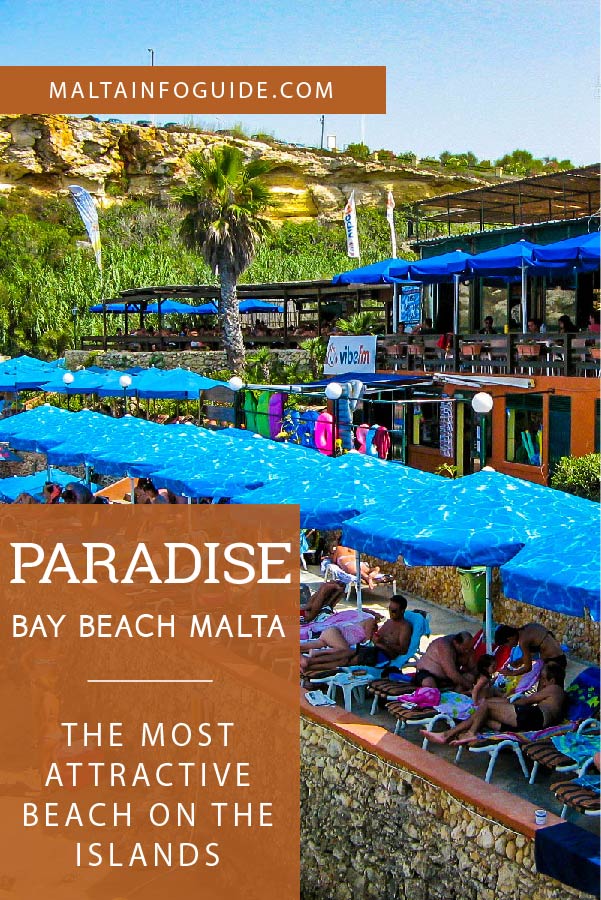 Our View on Paradise Bay Beach Malta
We visit and swim at this bay quite often, and we highly recommend visiting and staying at this bay for an entire day.
We value the bay as it is very convenient if you would like to spend a day at the beach.
What we recommend is that you go early as sunbeds and umbrellas are first come first served. They allow no booking. In summer it is normally full by around 10:00 am.
Pros & Cons About Visiting the Beach
pros to consider
Paradise Bay beach Malta is cleaned every day for the comfort of all those who visit.
If you are coming with a car, it is very easy to find parking.
Renting umbrellas and deckchairs are available.
things to consider before visiting the bay
Getting here by public transport can be a little complicated as there is only one direct bus to the bay and the rest are around 1 kilometre away and you might waste more time.
During summer, the bay is busy so getting here early is highly recommended.
No bookings are taken on sunbeds. First come first served.
Due to the amount of stairs leading to the bay, it is not accessible for people with mobility issues and disabilities.
There are around 100 steps before reaching the beach.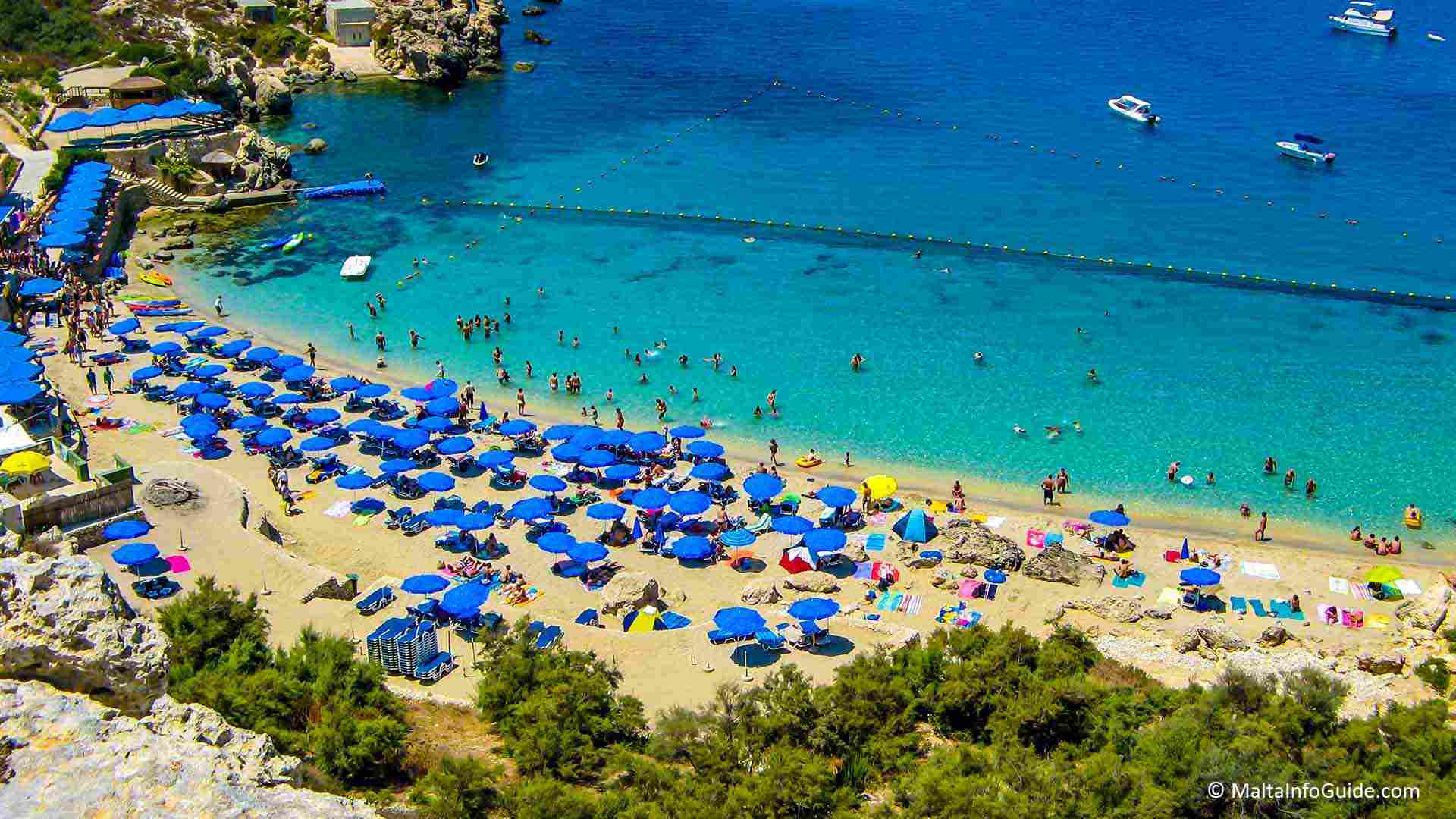 What You Find At The Beach
facilities/amenities
You can easily 

rent sunbeds and umbrella 

from Paradise Bay Lido. If you want, you can bring your own umbrella and chairs to stay on the sand.



Wheelchair Accessibility - The beach is not accessible for disabled persons due to the stairs leading down to the beach.
Public Rest Rooms - There is a public rest room provided by the lido. Showers are available at an extra cost.
Food and drinks - There is a restaurant offered by the lido.
Parking - There are parking areas near the beach for easy parking.
Bar-B-Ques and Camps are not permitted

 on the beach. You also cannot acquire a permit to do so.

Shopping - The small shop provides a selection of beach toys.
The Beach Restaurant At Paradise Bay
In its vicinity there is only one restaurant available, and it's called The Beach. During all the summer periods, the Lido is open every night for dinner offering a vast a la carte menu with live entertainment on particular nights during the week.
During all the summer periods, the Lido is open every night for dinner offering a vast a la carte menu with live entertainment on particular nights during the week.

Opening hours:
April to May: Monday to Sunday from 09:00 - 17:00
June to September: Monday to Sunday from 09:00 to 19:00
October: Monday to Sunday from 09:00 to 17:00
Contact: +356 2157 5491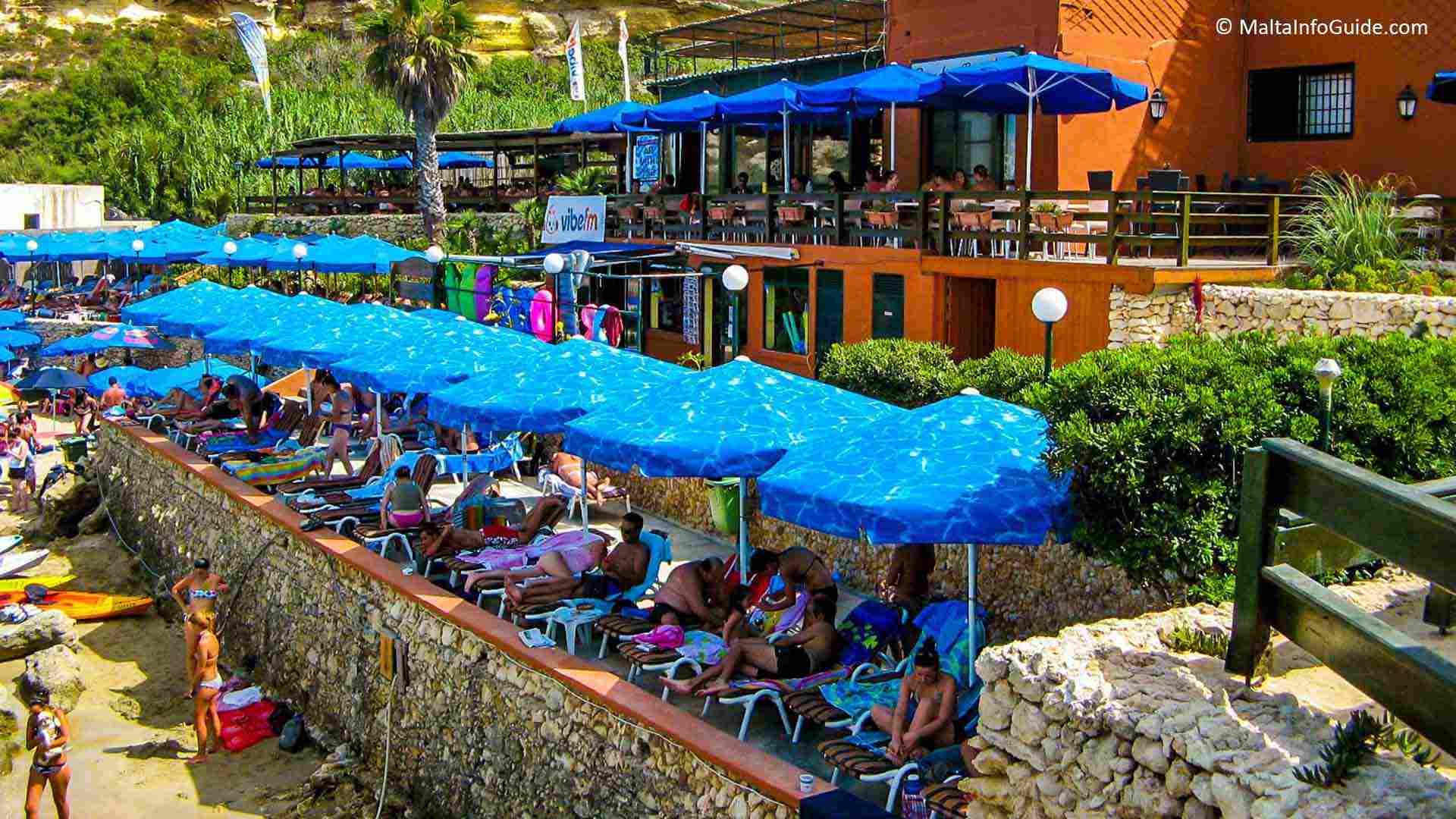 Water Sports at Paradise Bay beach malta

The Paradise Bay Lido also offers a variety of services including hire of paddle boats and canoes.
Paddle around the bay for a different view of the surrounding coast.

Canoeing rental is on the left side of the bay.  We recommend paddling out of the bay to observe the azure blue water and spectacular scenery along the shore
How to get to Paradise Bay Beach Malta
where is paradise bay malta?
The bay is in the northern part of the island. Paradise Bay beach is situated only 5 minutes away from the ferry terminal by car.
by car
If you choose to drive to the bay by car, then it is quite easy to get here. There are signs to the bay as you start reaching the North of the island.
A few tips/directions on how to get here:
On arriving at Mellieha village proceed to Ghadira Bay or so called in English, Mellieha Bay.
Proceed along the full length of the bay and up the hill towards the Cirkewwa Ferry Terminal.
Before getting to the terminal and just before Paradise Bay Hotel, you will notice a ninety degree turn up the road of Triq il-Latnija.
Drive straight ahead up the hill which automatically takes you to the Paradise Bay parking area.
Cars park in the large area reserved for parking just before you go down the stairs.
Parking is free but the parker will expect a tip.
by public transport
There are two ways of how to get to Paradise Bay beach Malta. Click the bus route numbers to get a more detailed look into the route by the official Malta Public Transport, then come back and continue reading.
1. There is a bus stop just near the bay. The only thing is that only one route passes by and only three times a day.
To 'Paradise' Bus Stop: 101
2. There is another bus stop 1 Kilometre away uphill from the bay. 
To 'Marfa' (Beside the Paradise Bay Hotel) Bus Stop: 41, 42, 221, 222, X1, 101
paradise bay malta map
Paradise Bay beach Malta is a secluded bay at the north of Malta. This map will help you around the key points around the bay.

Click here for Paradise Bay Map
Paradise Bay Resort Hotel
Situated only 5 minutes away from the bay, the hotel offers stunning views of the beach, island of Gozo and Comino.
Paradise Bay Resort Hotel Malta is a perfect place to stay if you are looking for a hotel close to Paradise Bay beach.
The hotel offers a wide range of amenities that include
3 swimming pools.
A private beach.
3 Restaurants and a bar.
Free WiFi throughout the whole hotel.
Free private parking.
Gymnasium.
Multipurpose and Tennis Court.
Games room and Playground.
A gift shop with plenty of goods to purchase.
While staying there you can savour through one of the three on-site restaurants. 
For diving lovers, on the private beach, there is a Diving School with qualified instructors where you can take water sports and scuba-diving lessons. This school has been around for 20 years and has also won an award.
What To Find Close To The Beach
hotels close by
Paradise Bay Resort Hotel Malta - It is located just in front of Paradise Bay. From the other side of the hotel you have a fantastic view of the Gozo Ferry Terminal, Gozo and Comino.
Riviera Resort & Spa - The Riviera Resort & Spa is further away. To arrive here, you have to go back to the main road and head back toward Mellieha Bay. Once you arrive at the junction beside the Red Tower, take a left and proceed along the straight road. There are various signs showing where the resort is.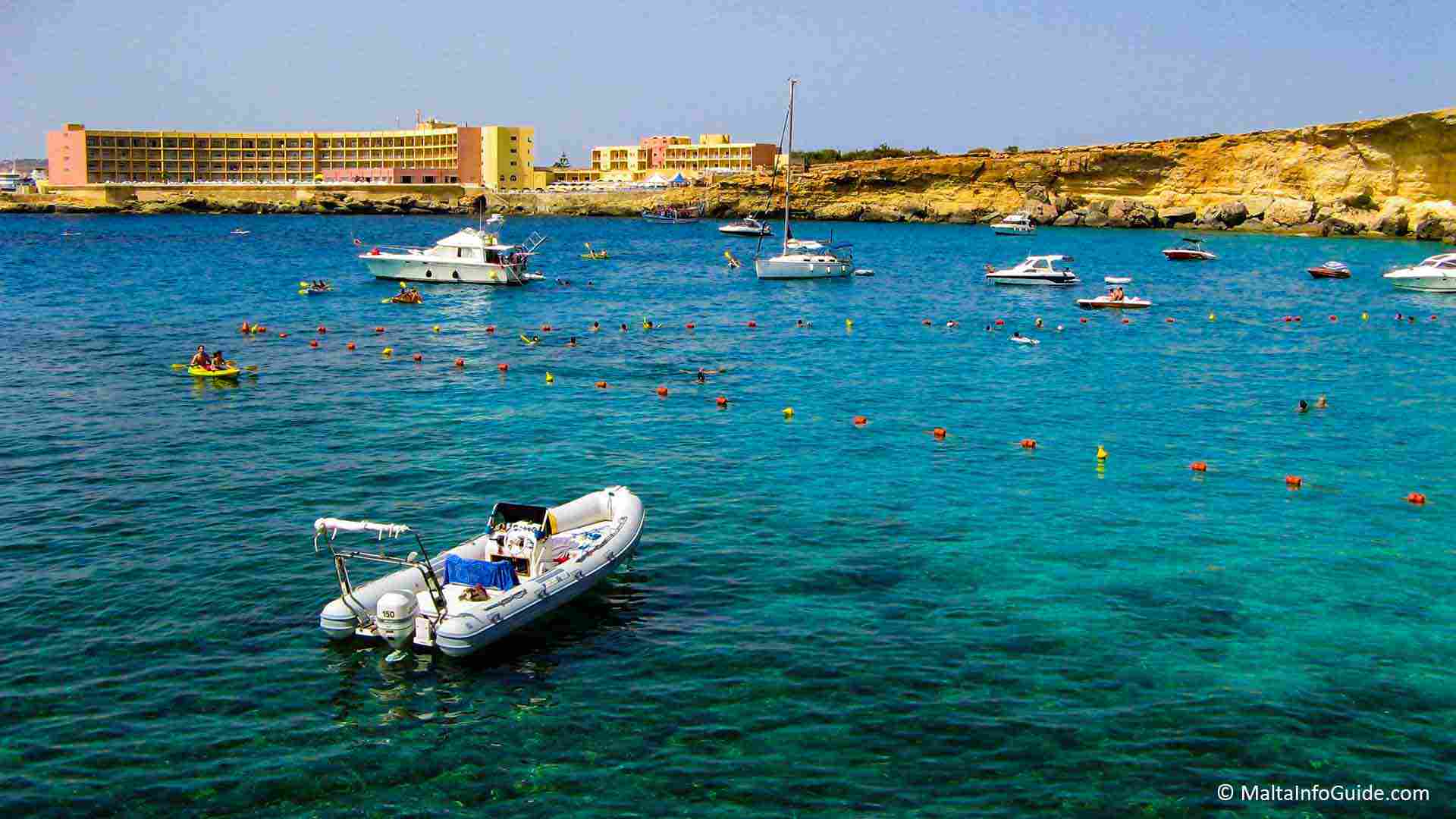 closest village
Mellieha village is the closest. It is around 5 kilometers away.
Bugibba, Qawra and St. Paul's Bay is further back the same main road that leads to Paradise Bay.
A visit to Paradise Bay beach Malta is a must during your visit to our islands.
want to rent a car in malta?
We have used Discover Cars every time we rented a car. We highly recommend them due to their good service and good prices.
Get The Best Rates On Your Car Rental Now!
need to book a hotel for your malta visit?
Using Booking.com, enter your travel dates and number of occupants then rates will be available for hotels and apartments during your visit to Malta 
Book Your Hotel In Malta on Booking.com for the Best Rates!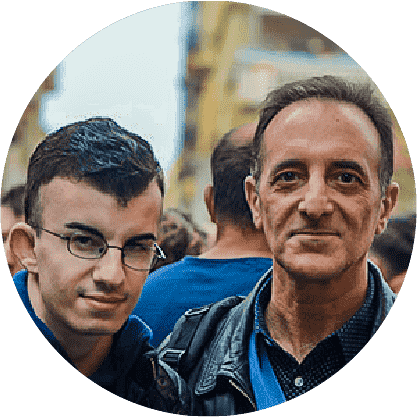 By Albert and Benjamin Magro