Mellieha bay town
Explore The Stunning Beaches, Historic Landmarks, And Scenic Landscapes
Mellieha bay town is a picturesque village located in the northern part of the island of Malta. Known for its rich history, stunning natural scenery, and beautiful beaches making it an ideal popular attractive destination for tourists and locals alike.

The village boasts a unique blend of ancient architecture and modern amenities, offering visitors a taste of Malta's rich cultural heritage. With its charming narrow streets, quaint shops, and traditional restaurants, Mellieha is a must-visit destination for anyone looking to experience the best that Malta has to offer.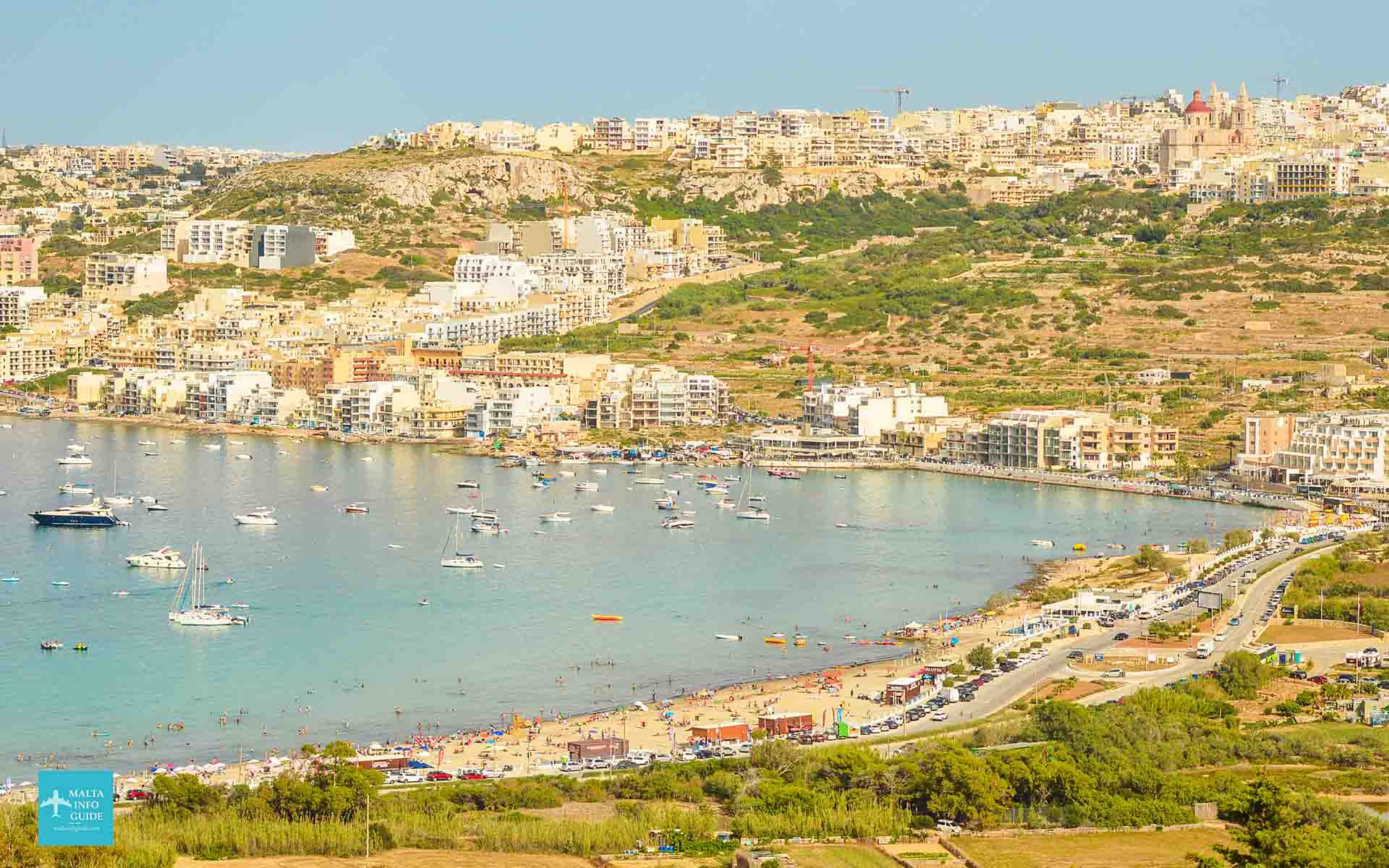 A Stunning View of Mellieha Bay Town
Are you thinking whether you should stay or not at the village of Mellieha?
This page provides a quick overview of the area, including information on the top attractions, lodging options dining options.
What you find in this page
Disclaimer: On our website, you will find affiliate links from which we receive a small commission.
facts about mellieha in malta
Mellieha is a small village located in the north-west of Malta with an elevation of 150 metres above sea level occupying an imposing position at the edge of several cliff edges giving it a magnificent panoramic view of the north tip of the island.
It has a population of just over 10,000 inhabitants spread through a number of developed areas.
The town is also known for its traditional festivals and especially for the village feast celebrating the Feast of Our Lady of Victory during September of every year.
Today, Mellieha is a popular destination for tourists, with a range of attractions, including beaches, historical sites, and natural beauty spots.
Mellieha village is surrounded by stunning natural scenery, including the Red Tower, a 17th-century watchtower that offers panoramic views of the surrounding countryside and coastline.
The village is a popular destination for hikers and nature lovers, with several walking trails and nature reserves in the area.
It is believed that the area was first inhabited by the Phoenicians, who established a settlement here around 700 BC, as evidenced by the numerous archaeological sites found in the vicinity.
During the Roman period, Mellieha was an important agricultural center, known for its fertile soil and abundant crops.
The village also played a strategic role during the Arab and Norman invasions, with several fortifications built to defend the area.
During the Middle Ages, Mellieha was a small village, with a population of mainly farmers and fishermen.
The town grew in importance during the period of the Knights of St John, who built a number of defensive structures in the area. These include the Mellieha Redoubt, a fortification built in the late 18th century to defend against potential attacks by the French.
In the 19th century, Mellieha began to develop as a tourist destination, with visitors drawn to the town's natural beauty and historic sites.
During World War II, Mellieha was heavily bombed by German forces, but the town was able to recover and rebuild in the post-war period.
The village is home to the Sanctuary of Our Lady of Mellieha built in the 19th century.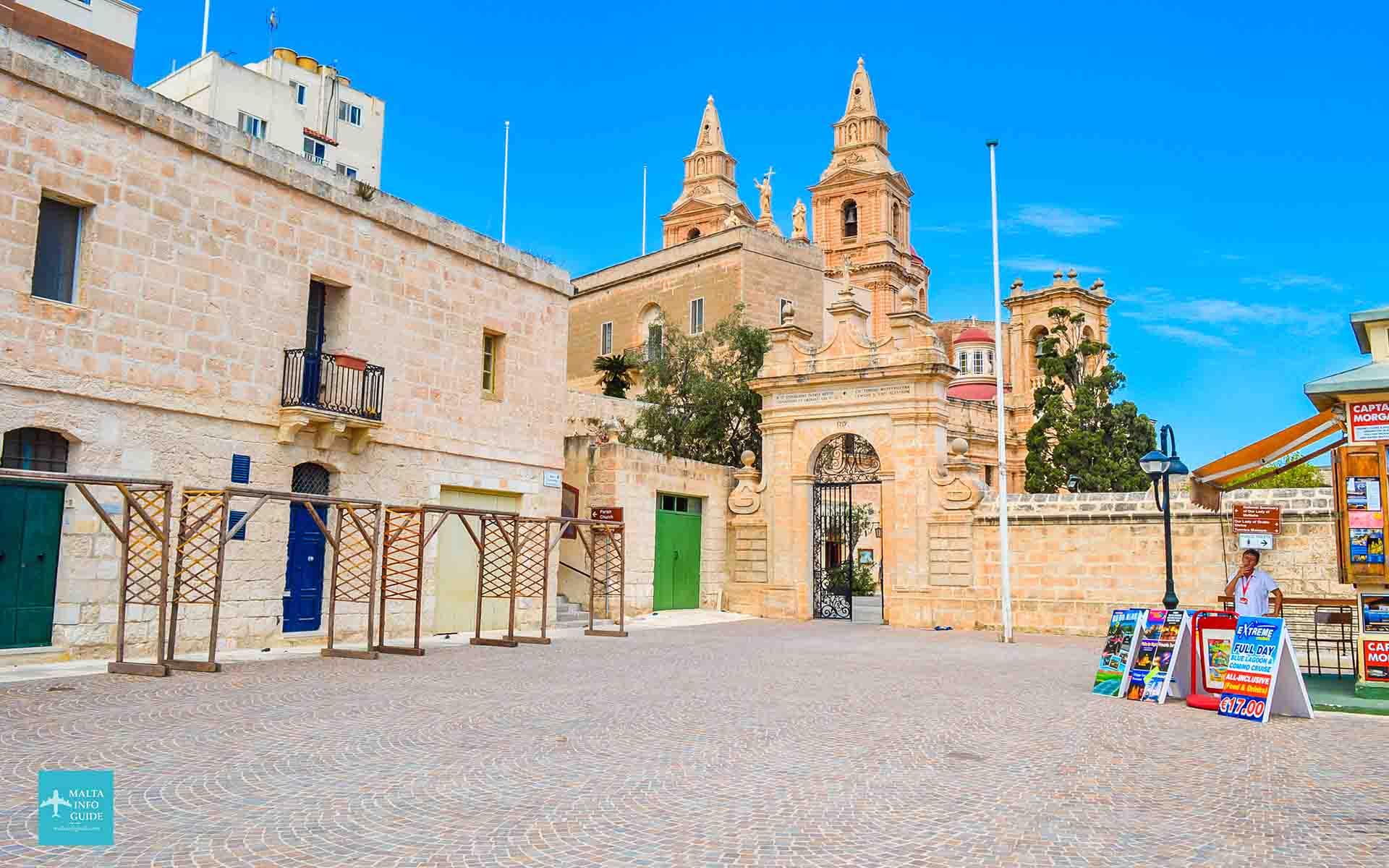 A Small Square in Mellieha
how to get to mellieha bay town
Mellieha is in the northern most part of the island and can be easily reached by public transport from various parts of Malta.
Getting to Mellieha by bus:
From Valletta terminus: Take the 41, 42, or 49. The journey is around 45 minutes, depending on the traffic.
From Bugibba or Qawra terminus: Catch the 222, 221 and 41. The journey is around 20 to 25 minutes.
From Sliema or St. Julian's: Take route 222 which goes directly to Mellieha. The journey is expected to take between 1 hour 15 minutes and 1 hours 30 minutes.
Getting to Mellieha by car: Mellieha is easily accessible by car, whether you have your own or are renting. Since it is located on the main road that runs through the center of the island, it is easily accessible from anywhere on the island. In Mellieha, parking is available on residential streets.
The Hop-On Hop-Off Bus: The sightseeing North Route of the sightseeing bus does not reach this area of the island. The closest is St. Paul's Bay, Bugibba, Qawra and Golden Bay.
Accommodation ideas located at the village of Mellieha: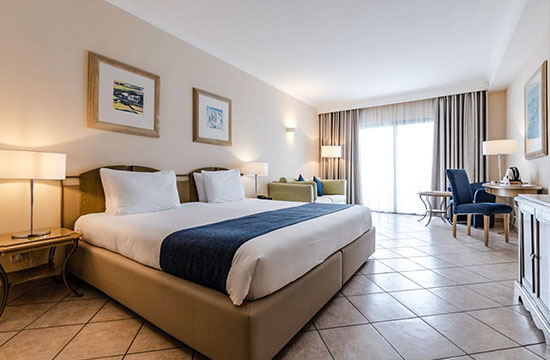 Maritim Antonine Hotel & Spa
Located in the village area while enjoying stunning views of the surrounding countryside and the sea. The hotel has pools, a gym, spa, and restaurants, as well as elegantly decorated rooms and suites. Enjoy village life while being close to attractions and beaches.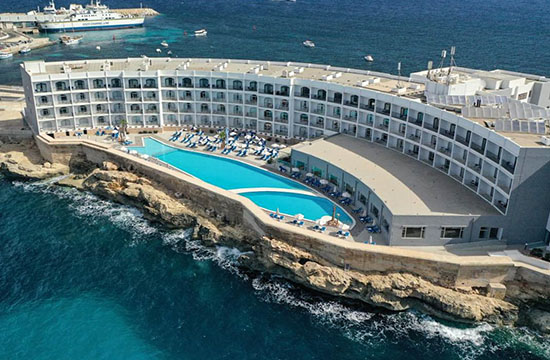 Paradise Bay Resort Hotel
A charming Paradise Bay overlooks the hotel, which is adjacent to the Gozo ferry terminal. Rooms and suites are comfortable, several dining options are available, and the hotel also offers an outdoor pool. The perfect place to relax away from the crowds.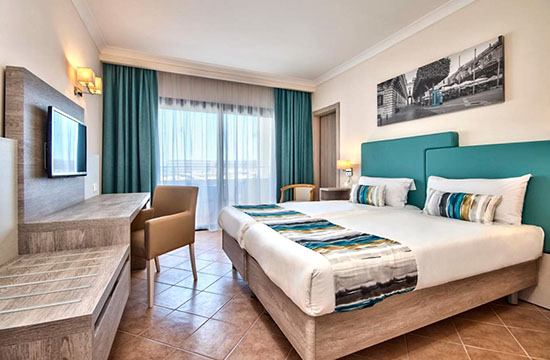 LABRANDA Riviera Resort & Spa Malta
It is located at the northernmost tip of the island of Malta with views of Comino. It offers comfortable rooms and suites, a spa, outdoor pools, and easy access to nearby beaches. It's a great spot to unwind with your loved ones or friends.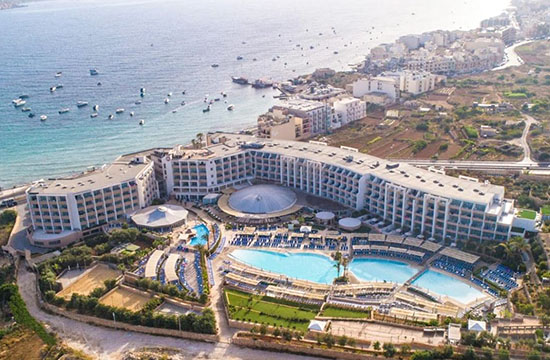 DB Seabank Resort & Spa
Located just a few steps from Mellieha Bay's sandy beaches. Several outdoor pools, a water park, and a spa at this family-friendly all-inclusive hotel. Numerous dining and entertainment options make the resort ideal for families and groups.

more mellieha in malta hotels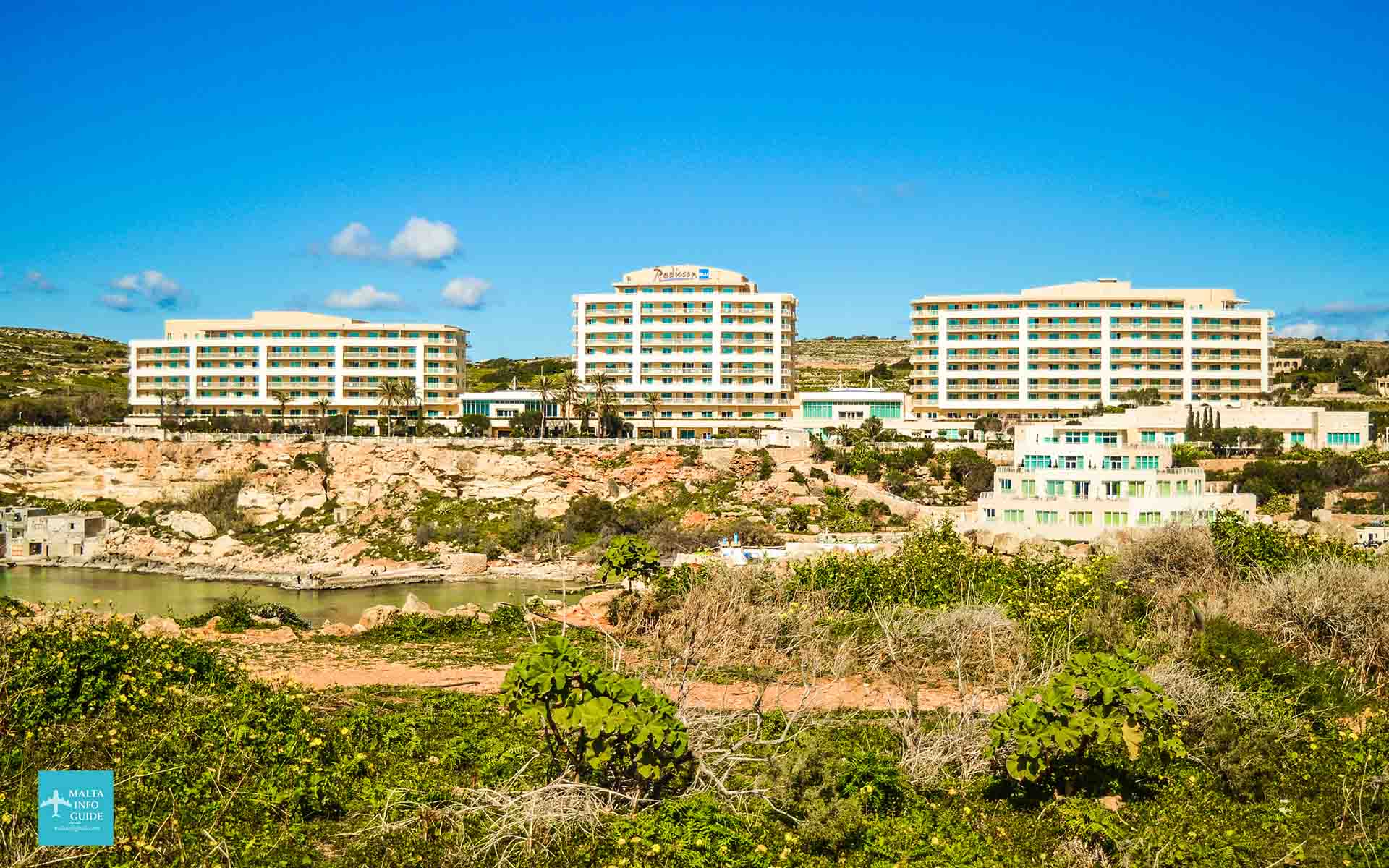 Golden Sands Hotel
Radisson Blu Resort & Spa, Malta Golden Sands - 5 Star Hotel

Located on the north coast of the island in Golden Bay around 6 kilometers from the village of Mellieha, the Radisson Blu Resort & Spa, Malta Golden Sands offers luxury accommodation. Elegant and spacious rooms offer spectacular views of the sea or countryside from balconies or terraces. Besides having its own private beach and multiple pools, Tennis and water sports.
Solana Hotel & Spa – 4 Star Hotel
An elegant and modern hotel located in Mellieha village. With a variety of rooms and suites, the hotel can meet your needs and budgets.  The rooms feature contemporary furnishings and modern amenities. The hotel offers a rooftop swimming pool, a fitness centre and a spa.
Pergola Club Hotel & Spa – 4 Star Hotel
Mellieha is home to this charming hotel. The hotel offers spacious and comfortable rooms, most of which have a balcony offering a view of the Mediterranean Sea or the countryside. Enjoy local and international cuisine at the hotel's restaurants, and relax in the hotel's outdoor pools, spa facilities, or rooftop terrace with panoramic views.
Luna Holiday Complex – 3 Star Hotel
The popular sandy is a walking distance away. There is an outdoor pool, a restaurant and bar, as well as a games room and self-catering accommodations. There is a kitchenette in each apartment, as well as a living room with a balcony that overlooks the sea. A relaxing holiday is made easier by its location near shops, restaurants, and public transport.
Panorama Hotel – 3 Star Hotel
An idyllic family-run hotel situated in Mellieha. With many rooms having balconies with views of the Mediterranean Sea or the town, the hotel offers comfortable and well-equipped rooms. You can explore nearby beaches, historic sites, and natural beauty from the hotel.

Ramla Bay Resort - 4 Star Hotel
The resort overlooking the picturesque Ramla Bay. It offers comfortable rooms and suites with sea views, several dining options, outdoor pools, a spa, and easy access to the nearby beach. It's an ideal spot for a relaxing vacation with family or friends.

Mellieha Bay Hotel – 3 Star Hotel
The hotel is located just a short walk from the sandy beach offering comfortable rooms and suites, several dining options, outdoor pools, a spa and a kids' club. It's an ideal spot for a family-friendly vacation or a romantic getaway. Presently the hotel is closed for refurbishment.
Comino Hotel: A complete reconstruction is currently underway.
Things to see and do around the village of Mellieha
Gozo, the sister island: The island of Gozo is easily accessible from the village of Mellieha. The "Island of Calypso" is known for its spectacular beaches, charming villages, natural beauty, and tranquility that will surely catch your attention.
Popeye Village at Anchor Bay: In Anchor Bay, Robin Williams played Popeye in the 1980 musical production of "Popeye." The film set was built on a picturesque bay. It is a popular tourist attraction with an amusement park and water park. The film set can be explored and various activities can be enjoyed by visitors.
Ghadira Nature Reserve: The reserve is located next to Mellieha Bay's sandy beach. There are flamingos, herons, and egrets present throughout the year in this protected wetland area, which is popular for birdwatching and nature walks. There is also an observation tower and visitor centre on the reserve.

Cirkewwa Ferry Port: The terminal provides connections between Malta and Gozo and Comino, the neighbouring islands. It offers stunning views of the Mediterranean Sea from its location on the island's northern tip. It is a popular hub for tourists and locals alike.
Small boat ferry services: A Comino small boat ferry service operates between the three islands, with daily scheduled trips from Cirkewwa Ferry Terminal Malta to Comino for a 25-minute trip and from Mgarr Harbour Gozo to Comino for 10 minutes. There is no doubt that this is a reliable and comfortable service that is highly used by both locals and tourists all through the year, depending on the weather.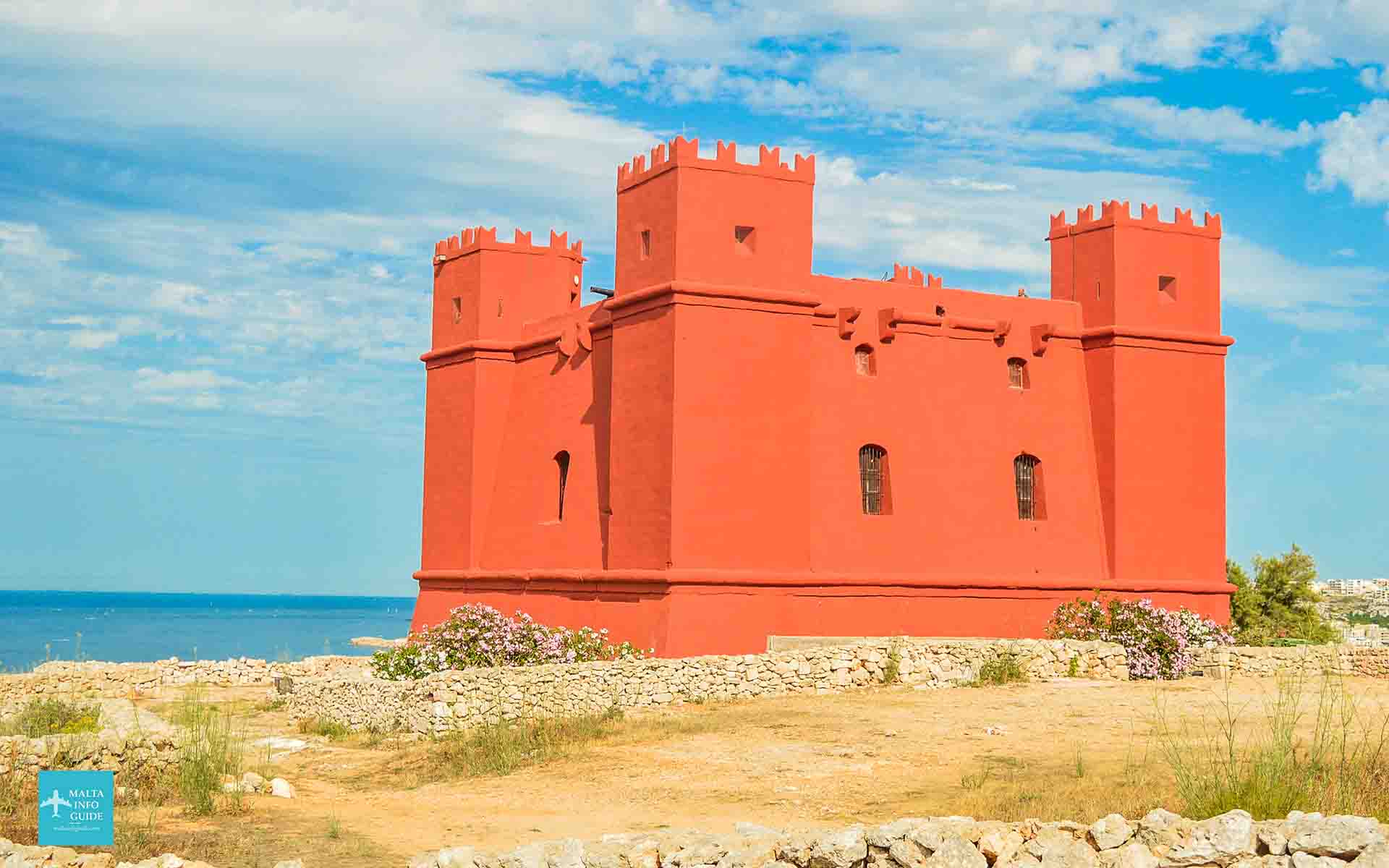 St. Agatha's Tower (Red Tower)
St. Agatha's Tower or The Red Tower: It served as a signaling tower during the Knight of St John to consolidate further the coastal watch tower network. The walls were painted red to make them more visible even from Naxxar, Mdina, and the fortifications. It enabled the guards to identify the tower's location and respond immediately to any signals.

World War II - Mellieha Shelters: Mellieha was frequently bombed due to the presence of British soldiers and anti-aircraft positions. Air-raid shelters were dug up in the rock for the local population. With a depth of 12 metres and a length of around 500 metres, it is one of the largest underground shelters in Malta.A  during the war.

They are open to the public from Monday to Saturday from 9.00 to 15.30. There is an entrance fee of 3.00 Euro.
Coral Lagoon: It is one of the top Instagram spots in Malta. At the far end of the island, there's a pretty inlet called Coral Lagoon. Swimming, snorkeling, and scuba diving are all possible in the lagoon's crystal-clear turquoise waters. Relax in this sheltered bay surrounded by towering cliffs and verdant vegetation.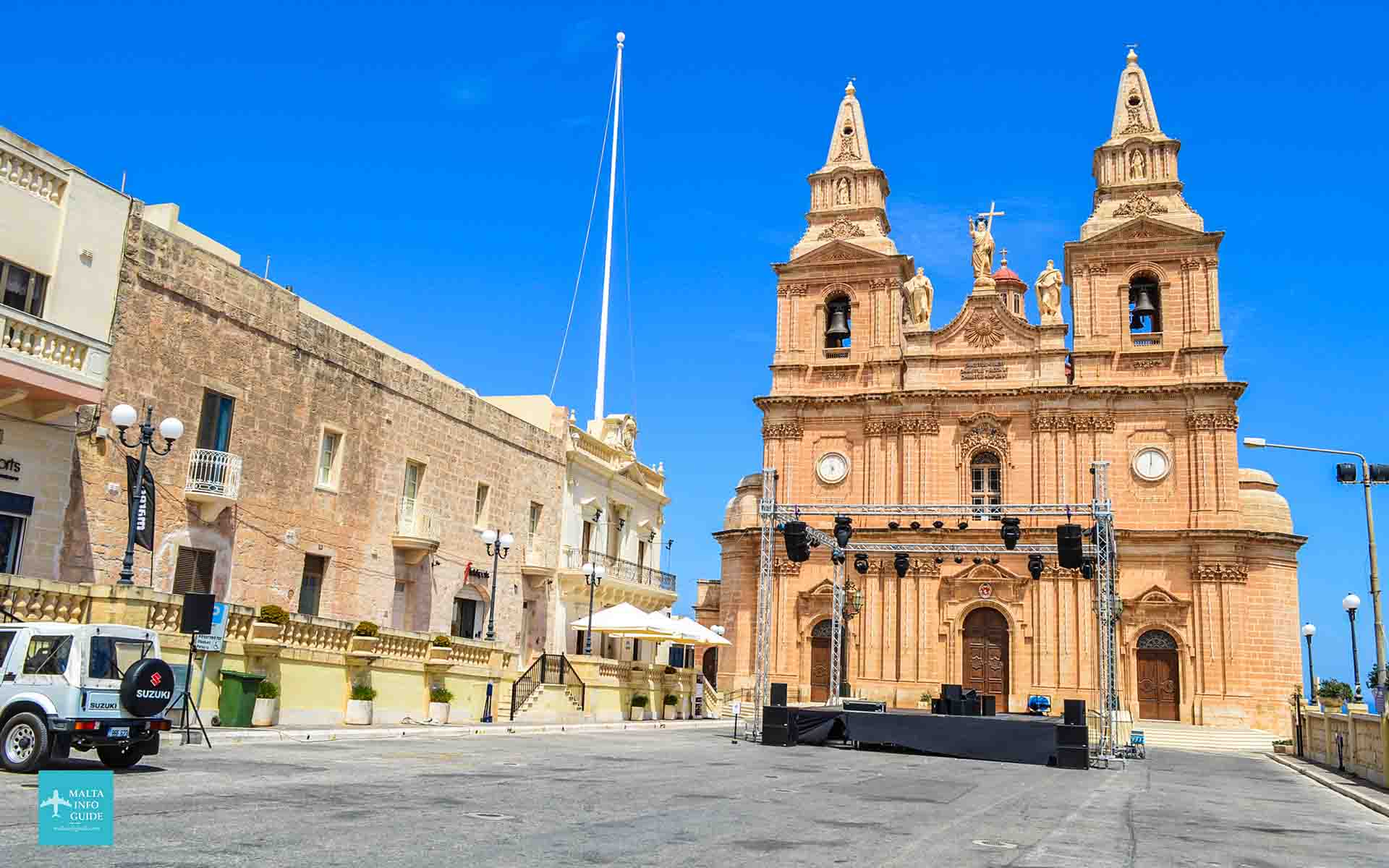 Mellieha Parish Church
The parish church: The massive structure and its location on the edge of a cliff make the church very visible from all over the area. Over 14 years, volunteers built this church dedicated to the Nativity of the Virgin Mary between 1881 and 1898. A wide nave, ornately decorated with frescoes and sculptures, and ornate side chapels offer a stunning sight in its impressive Baroque architecture.

The Sanctuary: Many centuries ago, this was a natural rock grotto. A statue of Our Lady was located in this grotto and was highly revered. There was an ever-present fear of attacks from corsairs from the many beaches around Mellieha. As devotion flourished, a church needed to be built with donations and hard work.

Currently it is full of relics brought over by people who have gained protection from the Virgin Mary. Visitors can pray and find solace in the sanctuary.
The Little Grotto: Near the sanctuary church, on the way to the sandy beach, is a natural cave that has been converted into a shrine dedicated to the Virgin Mary. During the 1920s, a farmer discovered the Grotto while working in his fields when he came across a small statue of the Virgin Mary. Many visitors offer prayers and light candles at the Grotto.
Selmun Castle: Located at the top of a hill overlooking the Mistra valley, it is very visible on your way to Mellieha from St. Paul's Bay. You can visit by car and park close by where you can enjoy the beauty and views, but it is closed.

Even though Selmun Palace was built 100 years after Verdala Palace in Busketto, its construction is very similar. It is one of the last remaining buildings with baroque architecture.  The design was based on a fortified palace, which originated in Firenze, spread to Italy, then to other European countries.
The White Tower: At the farthest north of the island, a historic watchtower overlooks Armier Bay. Built in 1658 by the Knights of St. John by the present Grand Master Martin de Redin in defence of the island against invaders. The watchtower was one of 14 built under the same grandmaster included one in Gozo.

Għajn Tuffieħa Tower: Located on a cliff overlooking Golden Bay and Ghajn Tuffiea Bay, the tower offers panoramic views of the bays. It was built in 1637 during the reign of Grand Master Juan de Lascaris-Castellar. They were built so that they would be able to communicate clearly with the closest tower located at Gnejna Bay, known as Lippija Tower.
Il-Majjistral Nature and History Park: There are 6 square kilometers of flora and fauna at Golden Bay behind the Radisson Blu Resort & Spa, including several endemic species. A variety of cliffs, valleys, and plateaus characterize the landscape of the park, which offers breath-taking views of the Mediterranean Sea. Besides being rich in history, the park also shows evidence of prehistoric human settlement.
Tunnara Museum: This recently restored battery built in 1716 during the reign of the Knights of Malta. It is located just before reaching Mellieha Bay's sandy beach. It served as a defensive position during World War Il. It has now been transformed into an interactive interpretation centre where visitors can observe how tuna were once fished.

Mellieha camping site

Ghajn Tuffieha Scout Campsite: It's located right behind the Radisson Blu Resort & Spa at Golden Bay, surrounded by beautiful countryside and sea views. Suitable for scouting groups, youth organizations, and anyone who enjoys outdoor activities. A large camping area, toilets and showers, cooking facilities, and a campfire circle are among the amenities offered. Meetings, seminars, and other events can be held in the multipurpose hall.
Mellieha Camp Site: It is surrounded by beautiful countryside and has a beautiful view of the Mediterranean Sea, situated in the extreme north of the island. An ideal destination for nature lovers and adventure seekers. Park amenities include hot showers, washing machines, and electrical hook-ups for RVs and caravans. Also on site is a small supermarket to help campers with essentials.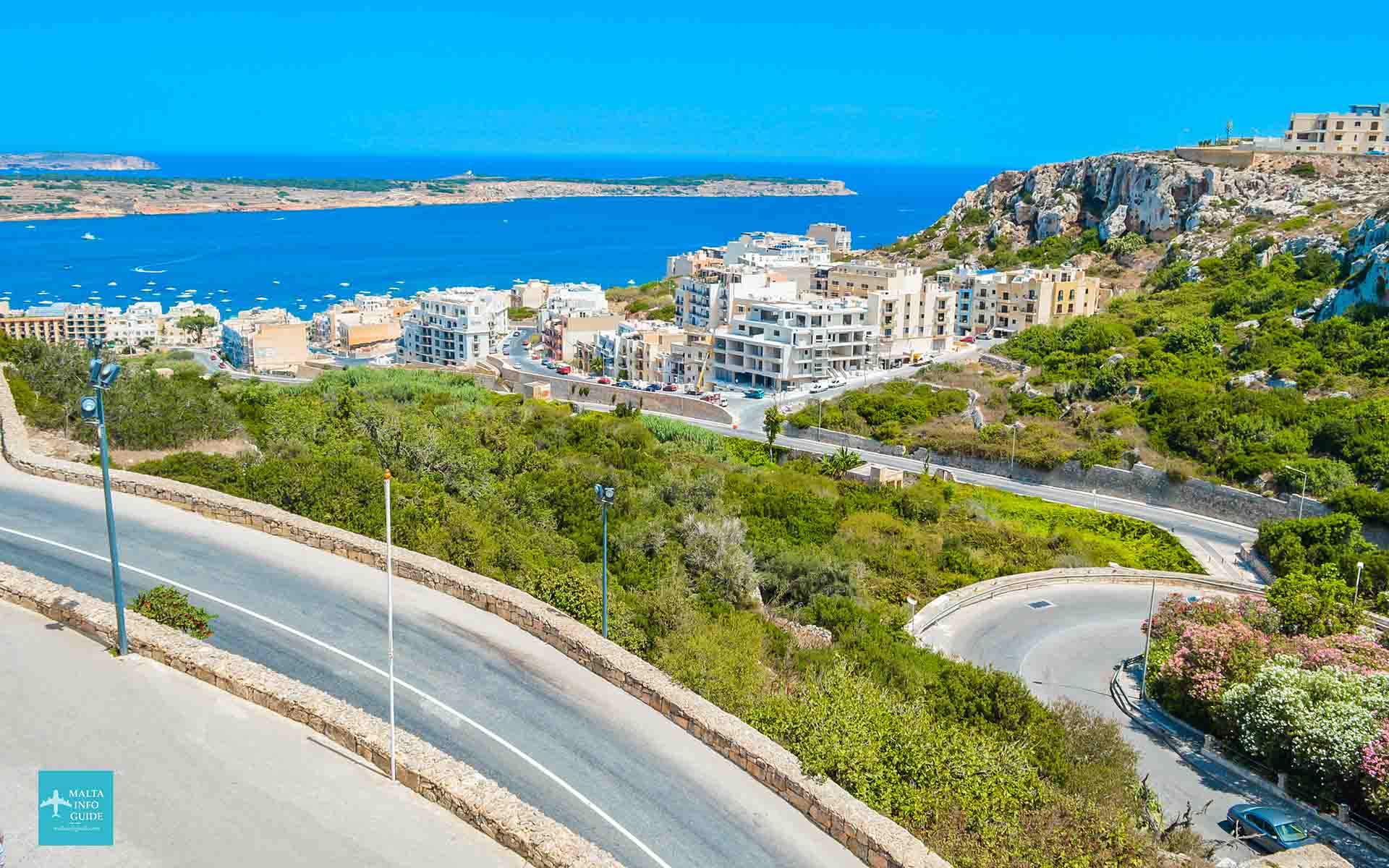 A view from Mellieha
Popular Beaches close to mellieha
While Mellieha is home to some stunning beaches, there are also plenty of other great beaches to explore nearby. So if you're looking for a change of scenery, or just want to check out some of the other beaches Malta has to offer, here are a few of our favourites.

Mellieha Bay: Just down hill from this village is Mellieha Bay, the largest and most popular beach. Because of its shallow waters, it's an ideal swimming and sunbathing spot for children due to its wide stretch of sand and clear blue waters. There are several bars and restaurants surrounding the area, as well as water sports activities.

Paradise Bay: A small, secluded bay surrounded by rocky cliffs and clear turquoise waters, Paradise Bay is a favourite spot for swimming, sunbathing, and snorkelling. Sunbeds and umbrellas can be rented and service at the bar and restaurant can be enjoyed by visitors. Additionally, it is possible to enjoy views of the island of Gozo from the beach.
Armier & Little Armier Bays: Two secluded beaches surrounded by open landscape and cultivated fields. Swimming and sunbathing are popular at both beaches, which offer stunning views of Comino and Gozo. Beach restaurants and hotels serve the beaches, which make them a very popular summer sport for both locals and tourists.
Golden Bay: Known for its stunning landscapes and spectacular sunsets, Golden Bay is a popular beach with golden sand. A breathtaking view of the Mediterranean Sea is offered from the rugged cliffs and hills surrounding the beach, and the setting sun makes for truly captivating views.
Ghajn Tuffieha Bay: There is a beautiful beach near Golden Bay also called Riviera Martinique. It is one of the most beautiful and unspoiled beaches in the world, surrounded by natural rugged cliffs and natural vegetation. Its clear waters make it a good swimming and snorkelling destination, while several hiking trails offer opportunities for exploration. It is also a popular paragliding spot.
Blue Lagoon at Comino Island: Swimming and snorkelling are popular in its crystal-clear turquoise waters. Towering cliffs surround the bay, creating a stunning natural setting. It is possible to reach the island of Comino by boat from the nearby port of Cirkewwa.
Slugs Bay: A secluded, tiny, pocket beach with a few square metres of sand. The bay can be reached over difficult terrain descending along a cliff slope from the main road at the Marfa area. All the area is untouched and the bay is still in its pristine condition. For those who wish to come there, Google Maps is the best tool, and one must leave the car near the main road.
Imġiebaħ Bay: A small secluded sandy, crystal-clear waters and pebbly shore located at Selmun accessible from a narrow road besides the old Selmun Hotel also besides the very popular Selmun Palace. Despite the narrow road, there are some parking spaces nearby. An ideal place to relax and enjoy nature. Use Google Maps to get here.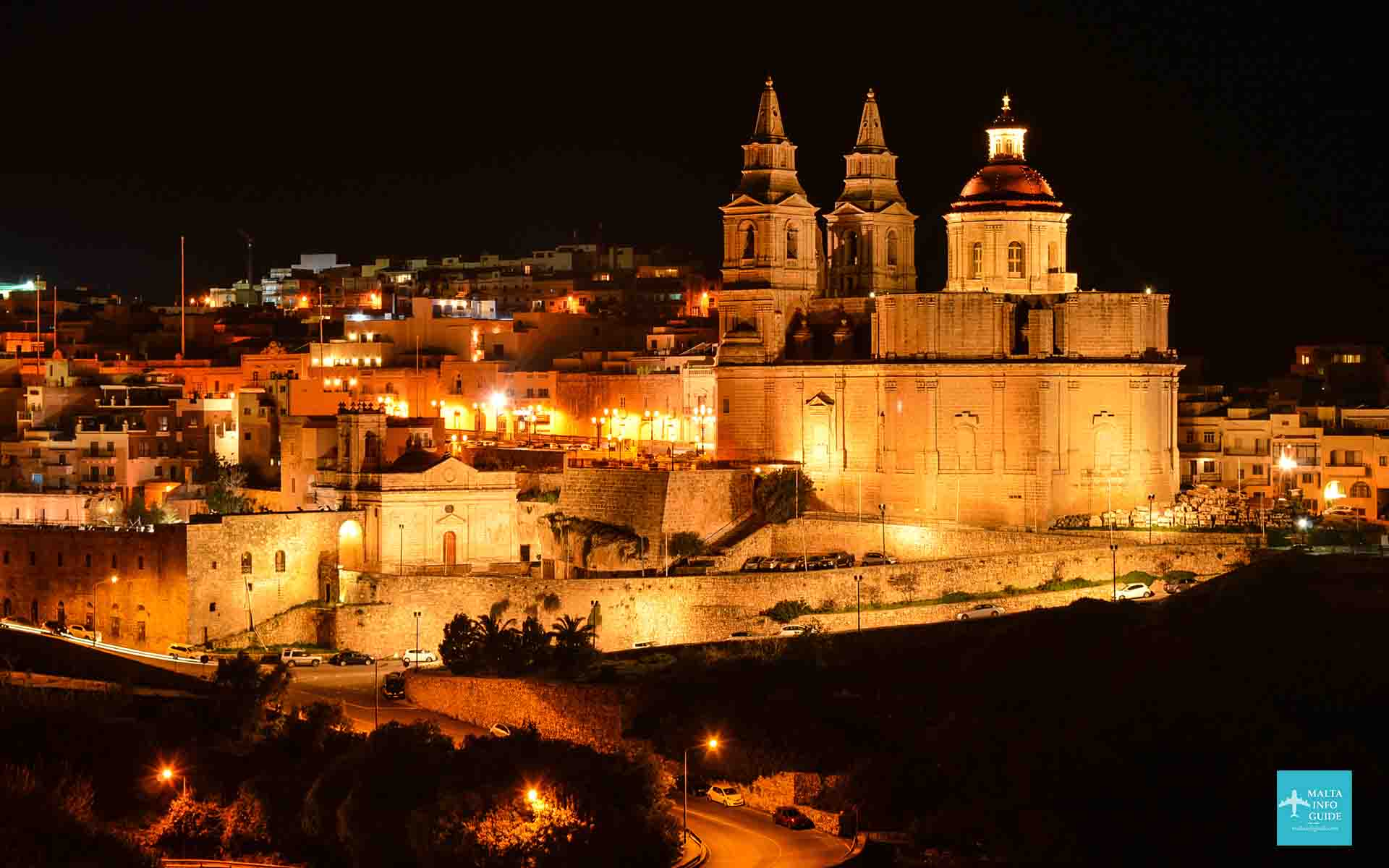 Mellieha Bay Town at Night
is mellieha a good place to stay
The village of Mellieha offers its pros and cons of visiting and staying in Mellieha. Below are some of the main points why you should come here and stay here and why you should not consider staying in Mellieha:
Why Stay in Mellieha Bay Town:

Many Beautiful beaches: Due to the location of where Mellieha is, there are the most beautiful beaches in a few kilomteres radius.
Historic landmarks: Since the village of Mellieha is thousands of years old, there are a few historic landmarks such as the Mellieha Parish Church and the Mellieha World War II Shelters.
Scenic landscapes: Out of all the places in Malta, Mellieha has some of the most beautiful surroundings and panoramic views.
Outdoor activities: The village of Mellieha is perfect for a range of sports including hiking, cycling, and water sports.
A Few Minutes Away From Gozo Ferry: If you plan to visit the island of Gozo, then you should have no problem as the ferry terminal is in Cirkewwa Mellieha.
Easy Access to Comino: There are a few ferries that go to Comino from Cirkewwa ferry terminal. Blue lagoon is close by just a short small boat 20 minutes crossing which will cost you much less than from he Sliema area taking 90 minutes.
A Large Selection of Accommodation: Mellieha is the place to find all types of accommodation ranging from 5 and 4 star hotels all the way to apartments.
Why not stay in Mellieha Malta:
Crowds: Since the village is a top destination in summer, it is not unusual for the city to get crowded most especially Mellieha Bay.
Limited nightlife: Nightlife is not so vibrant in Mellieha as it is relebantely quiet during the night. For great nightlife in Malta, you will have to cross half the island to St. Julian's or Valletta to enjoy some clubbing.
Reachability: Since the village is in the northern most part of the island, reaching certain locations could take time. For example going to the airport could take roughly 45 minutes to an hour by car. Public transport passes through the town but expect to take some time depending where you want to go.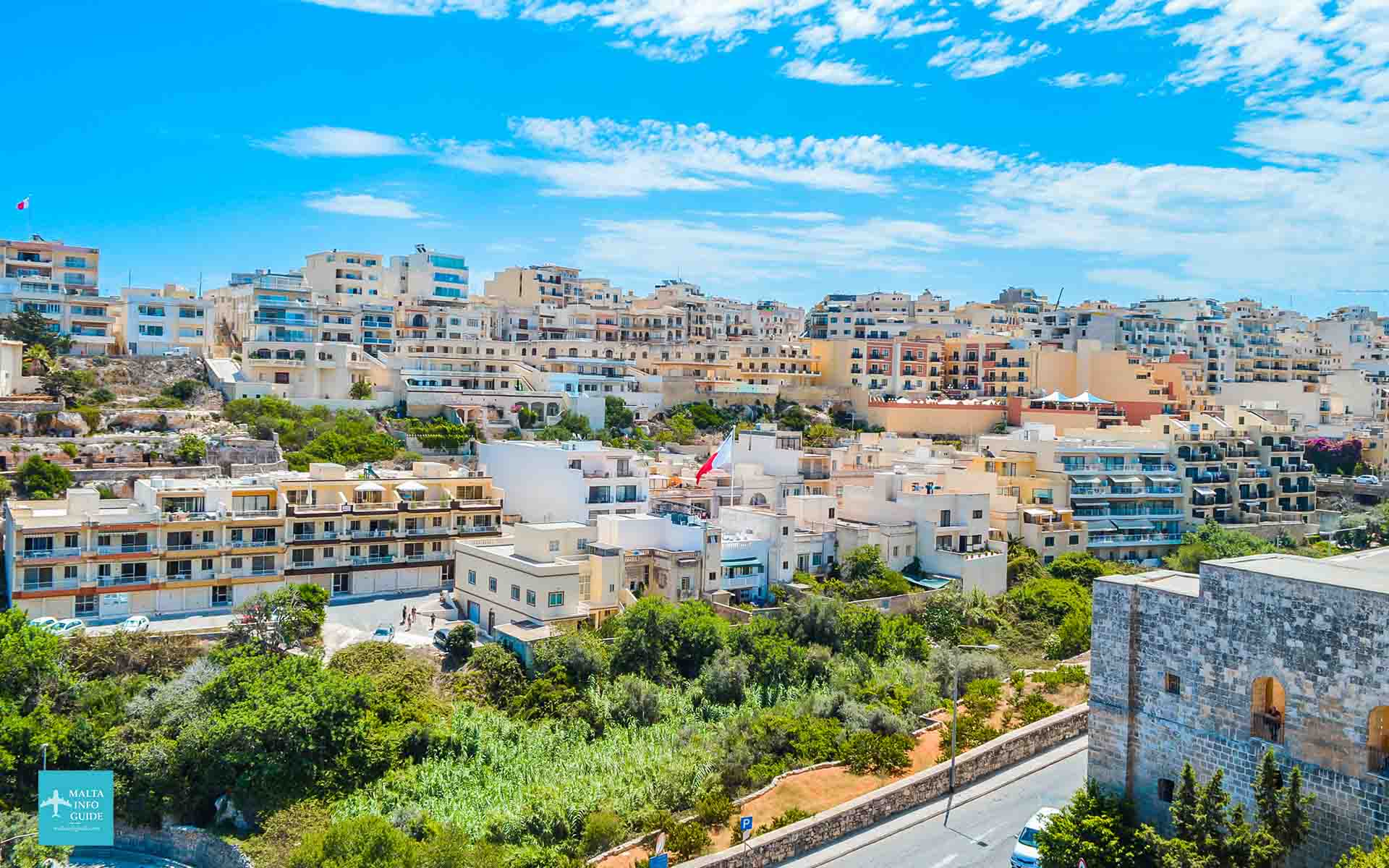 Mellieha Built Up Area
map of mellieha bay town and surroundings
Questions and Answers about mellieha
The time it takes to travel from Mellieha to Valletta by bus can vary depending on traffic and the route taken. Overall the journey takes approximately 45 minutes to one hour.


Bus number 41: This bus route takes you from Mellieha to Valletta via St. Paul's Bay, Bugibba, Qawra, and St. Julian's.
Bus number 42: This bus route takes you from Mellieha to Valletta via St. Paul's Bay, Bugibba, Qawra, and Sliema.
Bus number X1: This is an express bus that takes you from Mellieha to Valletta with limited stops along the way. It is a faster option, but it is also more expensive than the regular bus routes.
Bus number 222: This bus route takes you from Mellieha to St. Paul's Bay, where you can transfer to another bus to get to Valletta.

Overall, bus number 41 or 42 are the most ideal bus routes.
Mellieha Bay, also known as Ghadira Bay, is the largest sandy beach in Malta and stretches for approximately 800 meters. It is around 2 kilometres down from Mellieha. It is the ideal spot for swimming and water sports especially for families with children.
This charming town on the northern coast of Malta is known for its natural beauty, historic sites, and breathtaking views. Tourists enjoy its beautiful location, convenient facilities, and easy access to the many attractions and activities in Malta as a popular accommodation destination.
Overall, Mellieha is not the most expensive destination in Malta, but it is also not the most budget-friendly. Visitors can expect to pay average to slightly above-average prices for accommodation, dining, and activities, but can also find ways to save by doing research and planning in advance.
Mellieha is a popular tourist destination in Malta, known for its beautiful beaches. Some of the Mellieha beaches where you can swim are:


Mellieha Bay also known as Ghadira Bay, Paradise Bay, Armier Bay where you find Popeye's Village, Armier Bay two adjacent bays besides each other.

Apart from sandy beaches you can always choose to swim from rocky area.
From the village, you can take the bus to the Cirkewwa Ferry Terminal at the far end of Malta to catch the Gozo ferry crossing, which takes 25 minutes. Alternatively, you can drive the short distance of around three kilometres to the ferry and get on board.
By Bus: You can catch the X1 which take you directly to the village. You can expect that it will take between 1 hour 30 minutes and 1 hours 45 minutes. It could take more depending on traffic.

By Car: You have to follow the main road and there are all the signs on the main roads leading to the airport indicating the way.

By Taxi: It is the easiest, as you will have a designated driver that takes you to the airport.
want to rent a car in malta?
We have used Discover Cars every time we rented a car. We highly recommend them due to their good service and good prices.
Get The Best Rates On Your Car Rental Now!
need to book a hotel for your malta visit?
Using Booking.com, enter your travel dates and number of occupants then rates will be available for hotels and apartments during your visit to Malta 
Book Your Hotel In Malta on Booking.com for the Best Rates!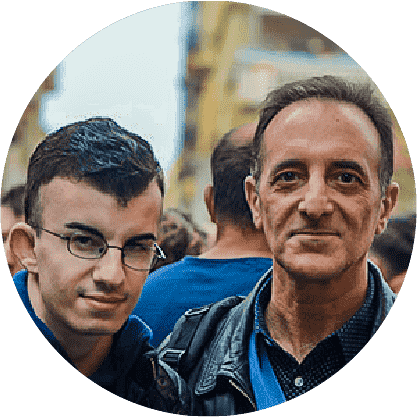 By Albert and Benjamin Magro