Mellieha Bay

The Largest And Most Popular Beach In Malta
Mellieha bay, also known as Ghadira bay, is one of the largest and most popular beaches on the Maltese islands. It is found in the north of the island on the outskirts of Mellieha village. The bay is along the main road leading to the Gozo Ferry Terminal.
The beach is made up of 3 adjoining bays, totalling a distance of 800 meters. It is certified as a Blue Flag beach. The beach is amid some Mellieha hotels. If you love water sports, then Mellieha bay is the best beach you can go to as it has lots of sports including water-skiing, windsurfing, banana rides and sea kayaking.
Disclaimer: On our website, you will find affiliate links from which we receive a small commission.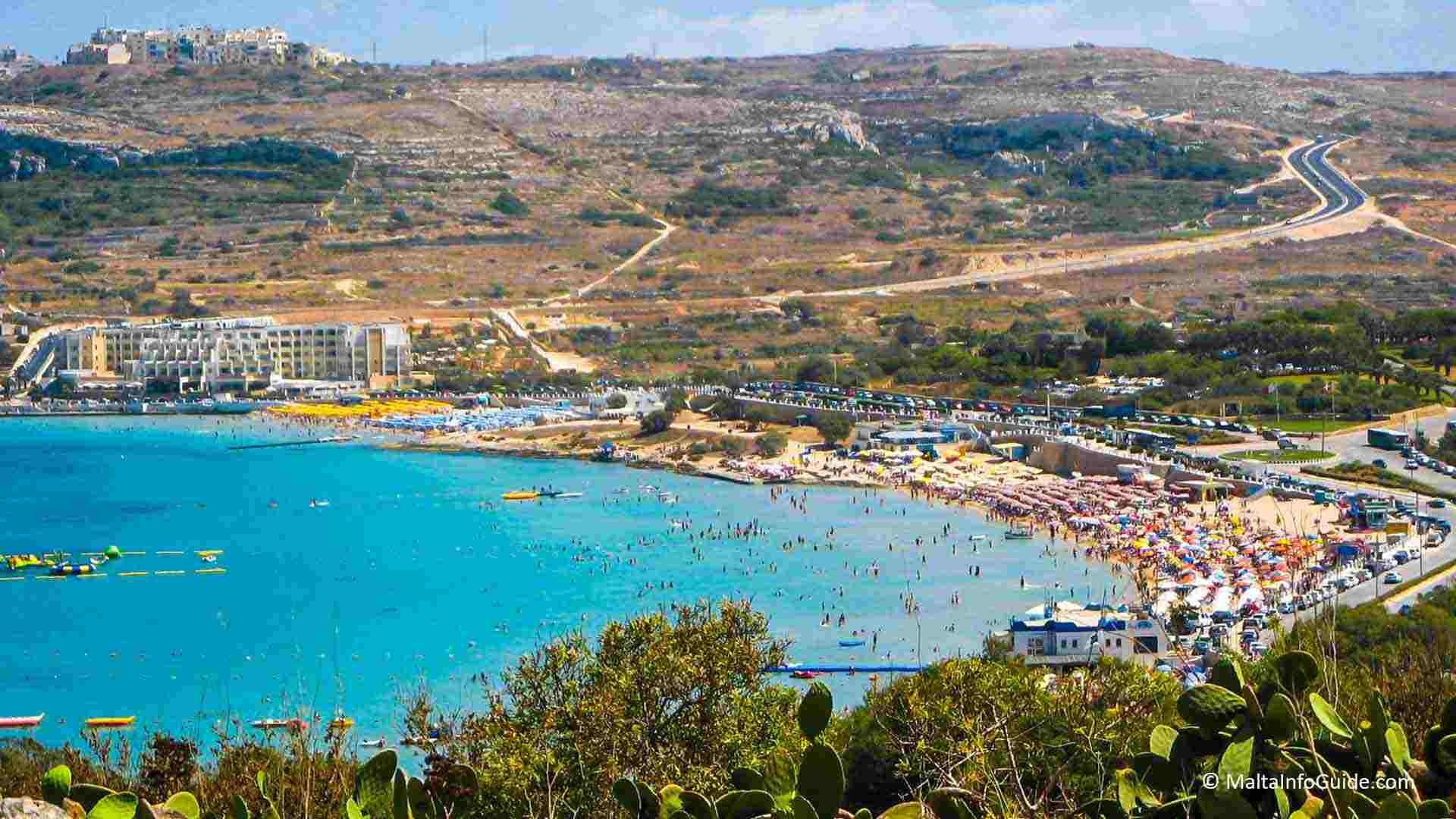 Mellieha bay is our favourite beach too. I have come here with my family since I was very young. We used to come for the day with other relatives from early morning, staying till late evening.
As children we would enjoy ourselves swimming, building sand castles and eating ice creams. On the other hand, the adults would enjoy the opportunity just to relax, enjoy the sea and indulge in a bit of sunbathing.

The sea is shallow for a long stretch along the beach. The average level is fifteen (15) to sixty (60) centimetres, all depending to the daily natural currents. This offers many possibilities for many to entertain themselves relaxing or playing in the shallow waters.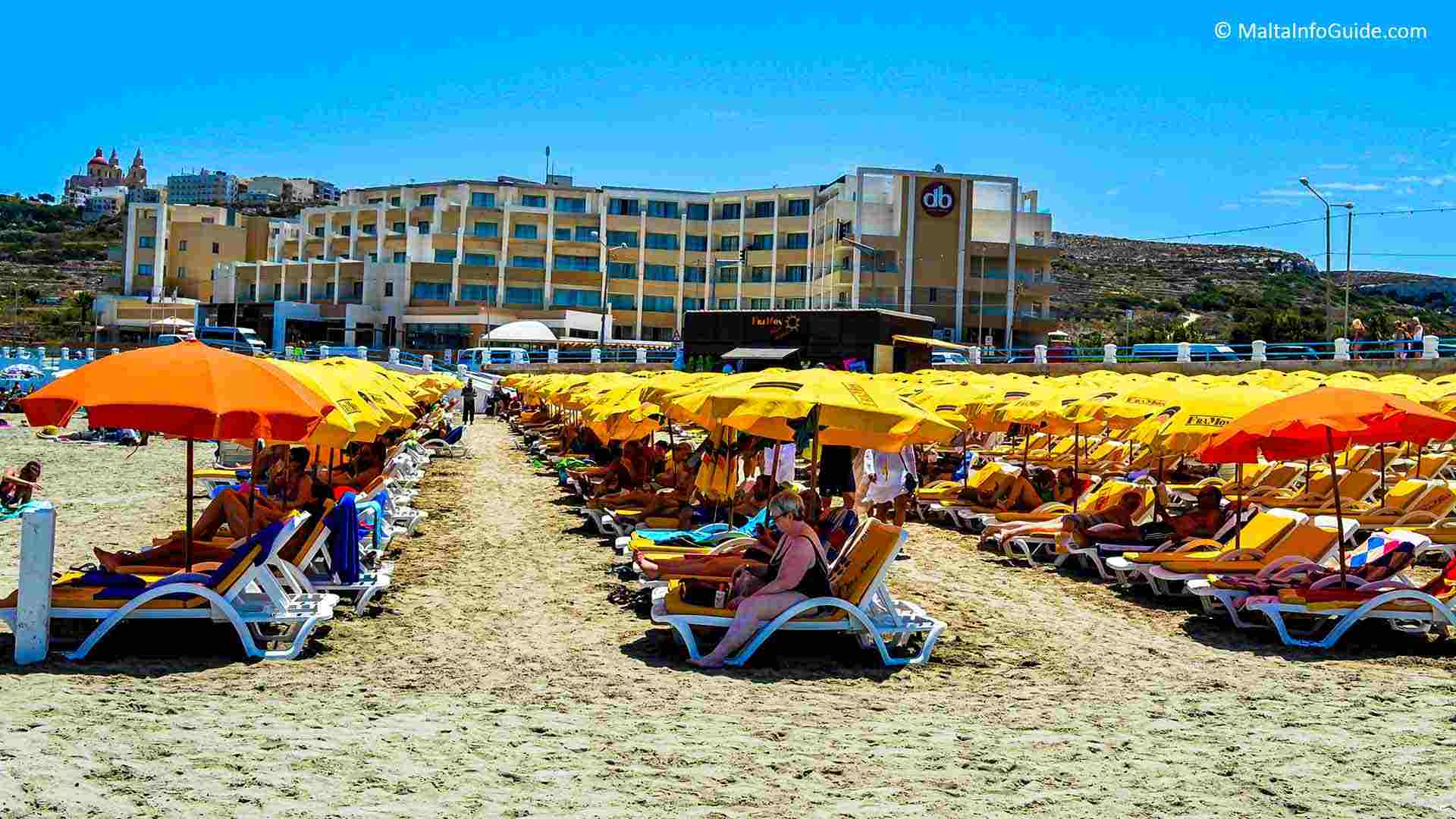 Further out the sea gets deeper and one can enjoy a well-deserved swim, although recommended that one remain within the designated swimmer zones.
This beach is ideal for children since there are no underwater currents and the shallow water extends well out giving the children a very safe space where to swim and play. Depending on the sea current, there are areas with barely ten (10) centimeters of water, ideal for young children to play even running in the shallow sea.
One can rent sunbeds and umbrellas and enjoy the water sports facilities on offer, like paddleboats, canoes, jet skis, etc. There are several beaches based outlets offering food and drink and delicious ice-creams. Relaxing at the beach is very popular amongst us Maltese as it's a chance to get away from it all after a stressful week at work.
Want To Share This Page On Pinterest? Pin It Here!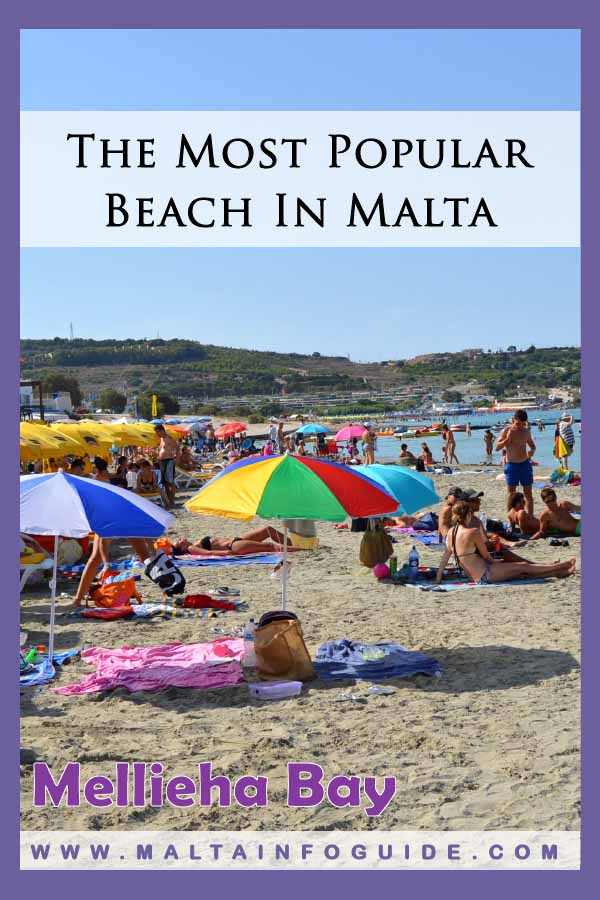 Mellieha Bay Pros & Cons
Our Personal Pros About The Beach
One of Malta's Blue Flag Beach.
There is a lot of space due to the size of the beach.
A family-friendly beach due to its easy access and shallow water.
Very easy to get to by public transport.
So many water sports to try.
No undercurrents which makes it safe to swim. There are swimming zones to keep you safe.
Renting a sunbed and umbrella is very easy.
Like many Maltese people do, you can stay till late evening where you can take your own food, chairs and portable table enjoying the tranquillity. Ample parking, restaurants open and you can swim comfortably since the sea is shallow. You do not need a permit if you are NOT using a barbeque.
Our Personal Cons About The Beach
On weekends, public holidays and feasts in summer, the bay can get very crowded.
Parking can be difficult if you visit on particular days.
Returning home late afternoon by bus can be fairly difficult due to amount of people leaving the beach.
What You Find At The Beach
You can easily 

rent sunbeds and umbrella 

from the lidos around the bay. If you wish, you can bring your own umbrella and chairs.



Wheelchair Accessibility - Wheelchair ramps are provided along the beach. One has to look for them, but they are usually located near the stairs leading from the promenade down to the beach.
Public Rest Rooms - There are two (2) public toilets and there are rest rooms available at the restaurants.
Food and drinks - There are several restaurants and bars.
Parking - There is a parking area near the third bay. You can also park on the main road parallel to the bay.
Barbques and Camps are not permitted. 

You can only have a BBQ on the rocky area.
mellieha bay malta restaurants
Various beach lidos and mobile food kiosks along the bay offer food and a variety of locally made ice creams. There are several kiosks along the beach for renting beach umbrellas and sunbeds.

Restaurants
Kiosks
There are four kiosks which serve a variety of snacks ranging from burgers, hot dogs and chips to the traditional Maltese ftira – fresh Maltese bread filled with tuna, olives and tomatoes.

There are 9 restaurants and bars. 6 Kiosks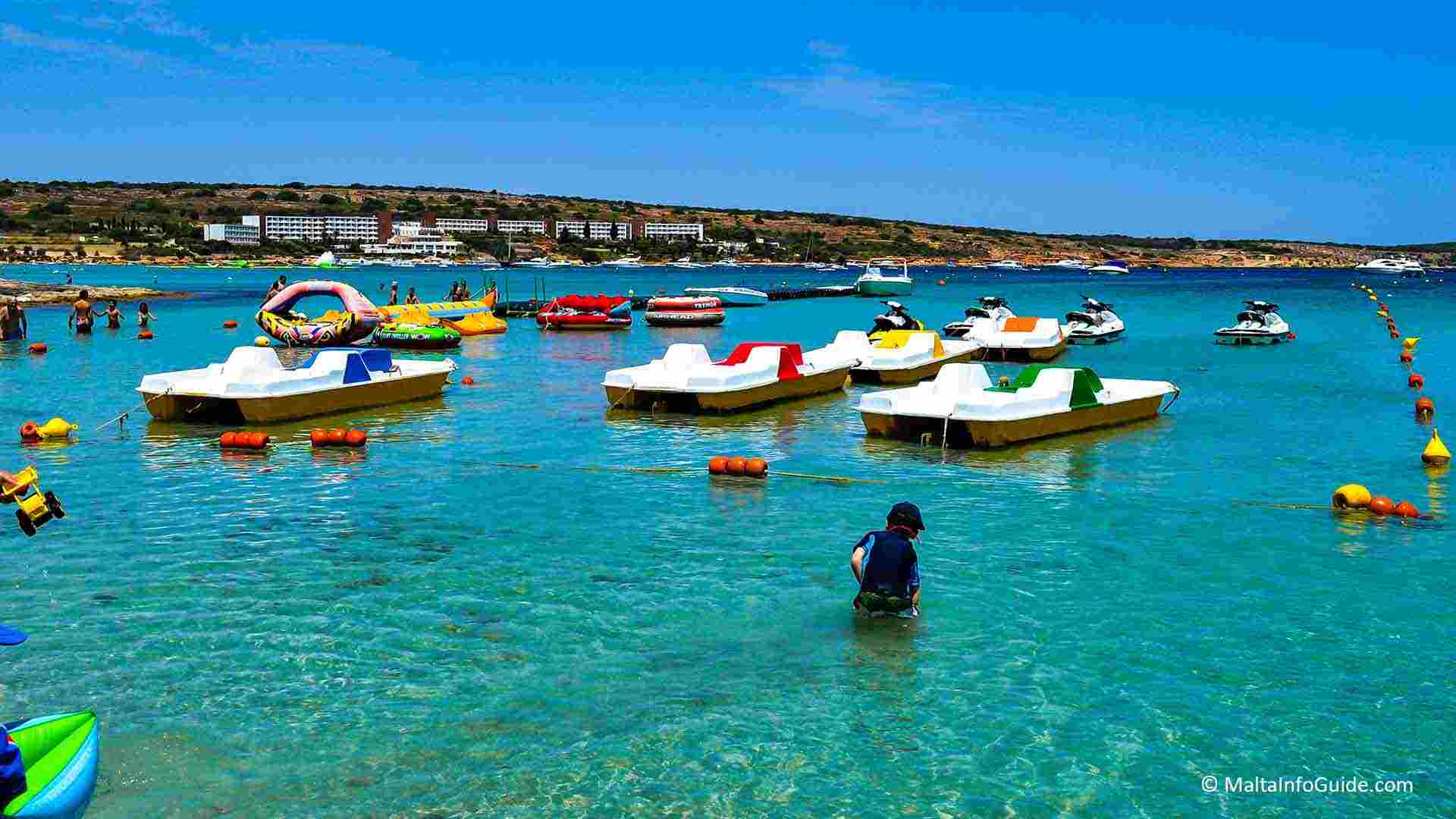 How To Get To Mellieha Bay
It is important to get to Mellieha by bus and proceed all through until you reach the beach.
by car
Ghadira bay Malta is very easy to get too. It is on a main road leading to Gozo ferry. You cannot miss it.
Parking can sometimes be a problem, but there are various places were to park. There is a car park near the third bay, you can park at the Mellieha village and get the bus down to the beach. You can also park on the main road near the bay.
by public transport
Note: Duration of trips can vary depending on the traffic along the way.
What You Find Close To The Beach
Closest Beaches

Mellieha Bay is in the middle of many other beaches such as 
Anchor Bay (Location of Popeye Village)
mellieha bay hotels
DB Seabank Resort & Spa | Mellieha Bay Hotel | Mellieha Holiday Centre
All three hotels are located along and close to the beach. They offer their own beach facilities apart from their food and drink services.
Surely you can choose a Mellieha hotel, an apartment or a guesthouse at Mellieha village:
Leaving Ghadira Bay road to the Gozo Ferry Terminal, there are three hotels enjoying fantastic views.

- Paradise Bay Resort Hotel, Cirkewwa
- Riviera Resort & Spa, Marfa
- Ramla Bay Resort, Marfa
They all have a direct view of Gozo and Comino islands.
cultural attractions
Popeye Village Fun Park

Constructed for the Film Set of 1980 Musical Production Popeye. Today it has become a major tourist attraction.

It is located on the other side of Mellieha Bay at Anchor bay.
camping site
Adventure Campsite, Ahrax, Limits of Melllieha. It is the only official campsite for camping, caravan and mobile home part in Malta.

The Red Tower

The Red Tower or Fort St. Agatha was built by the Grand Master Lascaris in 1648. It is located just up hill from Ghadira Bay and has a commanding view over a wide area up to Gozo and Comino up to Mdina.

Foresta 2000

The aim is to restore a large area of natural habitat providing more protection to birds, insects and other wildlife.  Many hundreds of trees were planted by school children and through public donations.

Bird Sanctuary

A fresh water haven for migrating birds is located at Ghadira Bay beside the main road. It is of ecological importance as it encloses two types of habitats which are very rare in Malta: wetland and salt marsh. Do not miss a visit to the Mellieha bay bird sanctuary.
Enjoy your time at Mellieha bay Malta.
want to rent a car in malta?
We have used Discover Cars every time we rented a car. We highly recommend them due to their good service and good prices.
Get The Best Rates On Your Car Rental Now!
need to book a hotel for your malta visit?
Using Booking.com, enter your travel dates and number of occupants then rates will be available for hotels and apartments during your visit to Malta 
Book Your Hotel In Malta on Booking.com for the Best Rates!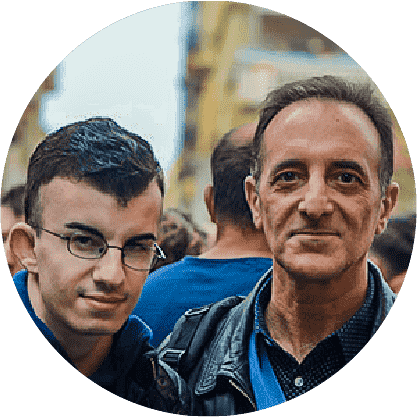 By Albert and Benjamin Magro