Swim at Ghajn Tuffieha bay Malta

The Best Bay For A Swim And Sunset
Date Last Updated: 22nd June 2020

Ghajn Tuffieha Bay Malta is also known as Riviera Martinique or Riviera. It is located on the north western side of Malta very close to a tiny village called Manikata. In English 'Għajn Tuffieħa' means 'Apple's Eye'.
This beach is in the middle of two other bays, Gnejna Bay and Golden Bay. However high rock peninsula formations create a complete separation between the three bays making each one separate and allowing it its own unique character.
Disclaimer: On our website, you will find affiliate links from which we receive a small commission.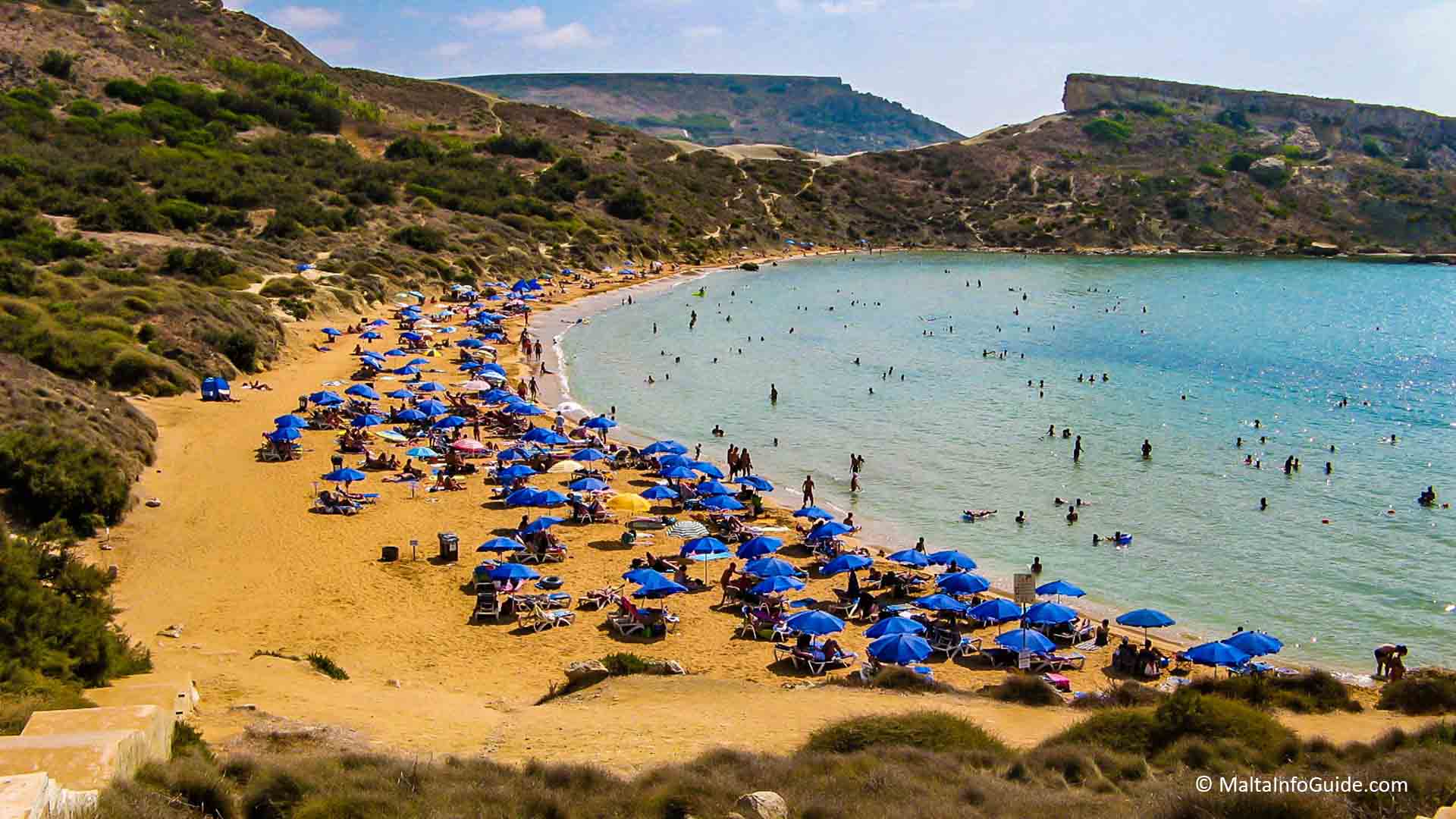 The surrounding environment makes the beach very attractive. Għajn Tuffieha Malta is a secluded area where people go for tranquility. The sand has a reddish colour very similar to that of Golden Bay. Furthermore, the beach has a backdrop of greenery with acacia, samphire and tamarisk trees sloping up to the top of the hill. The area is still unspoilt and protected by law.
We frequently visit that beach and in our opinion we highly recommend it. You will find most of the necessary amenities to enjoy your day. That includes hiring of sunbeds and umbrellas and a snack bar. We generally stay till late afternoon to enjoy the picturesque sunset from the beach which is highly recommended.

Ghajn Tuffieha Malta is also very popular with families as there is ample sand for children to play with. Although not as popular as Golden Bay due to access, as there are around a two hundred (200) steps leading down to the bay. Climbing back up can be tiring for those not in the habit of engaging in physical exertion, and it would be advisable to avoid the long climb in the afternoon heat.
The sea depth is similar to that of Golden Bay and Gnejna Bay. There are swimming zones that give you an indication where it is safe to swim. Initially, it is low but then quickly gets deeper. The sandy beach area is expansive and there is plenty of space where one can enjoy a game of frisbee.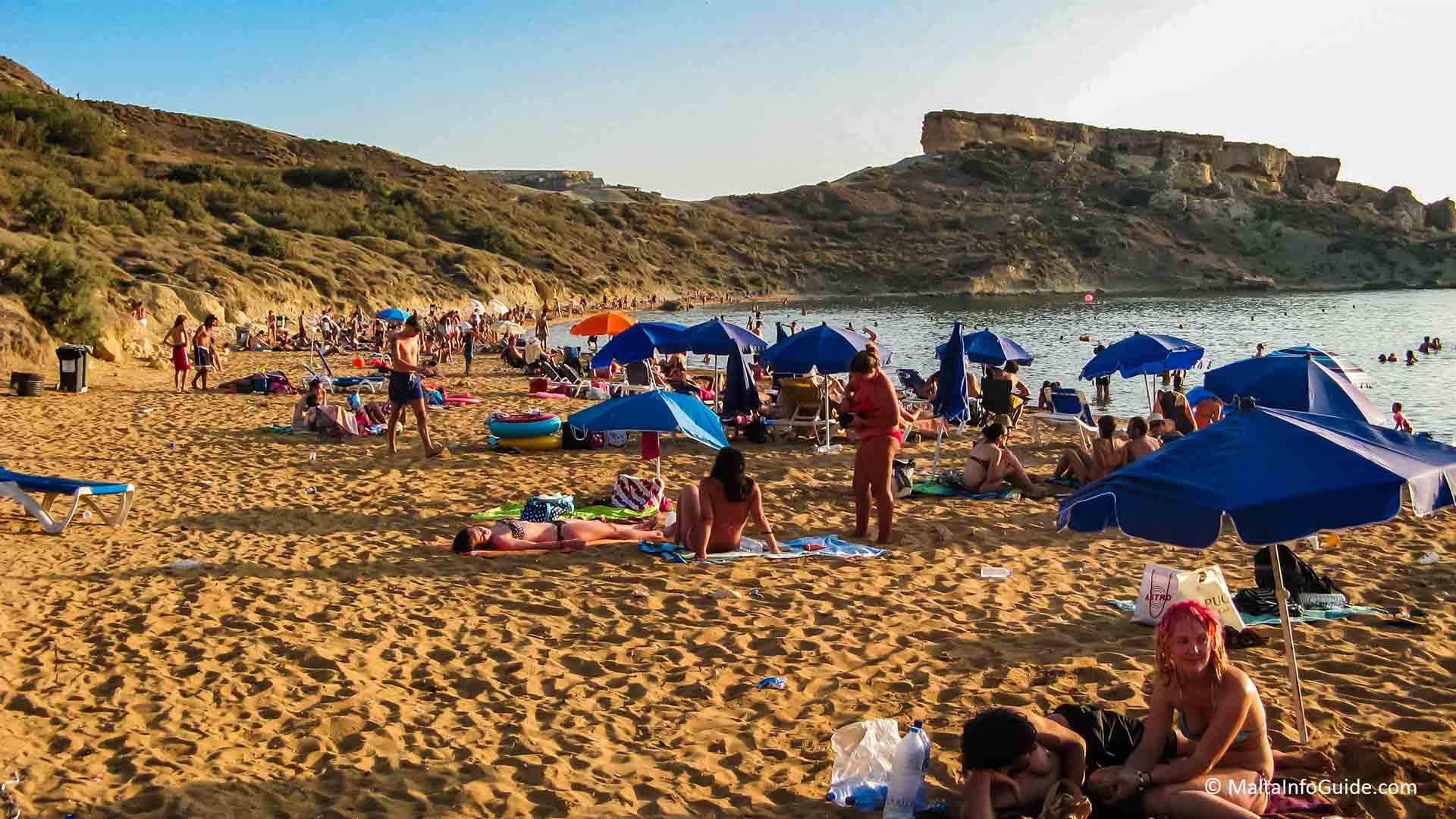 Getting here is quite simple but parking can sometimes be a little difficult. Although there is a parking area, it is quite small and sometimes you will have to find parking in the main road. Coming by bus is also quite easy. (More on getting here below)

One needs to be aware of underwater currents. Being a Blue Flag beach there is the advantage of a life guard available every day during the peak summer months. There are safety lines installed from June to October and maintained by the Gaia Foundation. Coloured flags also indicate the sea conditions.

It is much smaller which means that during summer time the bay gets quite busy very quickly.

This area is also popular with paragliders and occasionally one can see them gliding out from the high ridges at the back of the bay.
Want To Share This Page On Pinterest? Pin It Here!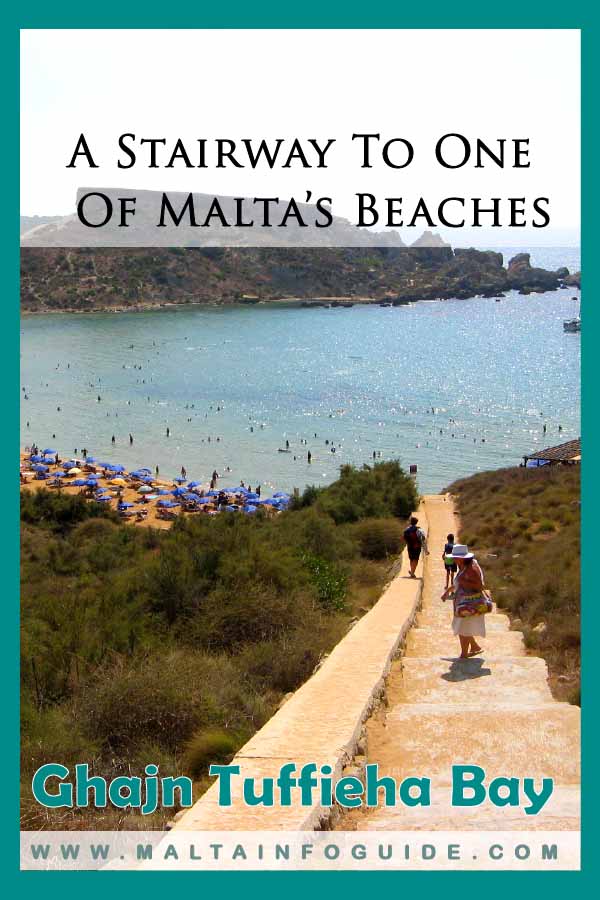 Ghajn Tuffieha Bay Malta Pros & Cons
our personal Pros about the beach
One of Malta's Blue Flag Certified Beaches.
A perfect view of Malta's sunset. We can guarantee you that you will not be disappointed.
Can be reached easily by car and public transport.
Has very clean water and also is a clean beach. A great place for a swim and sunbathe. It is safe as there are swimming zones round the bay.
Incredible views all around the bay.
our personal Cons about the beach
It is not one of the most easiest beaches to reach as there are lots of stairs.
The beach experiences very strong undercurrents during the winter months.
If you are travelling by car, parking can sometimes be difficult.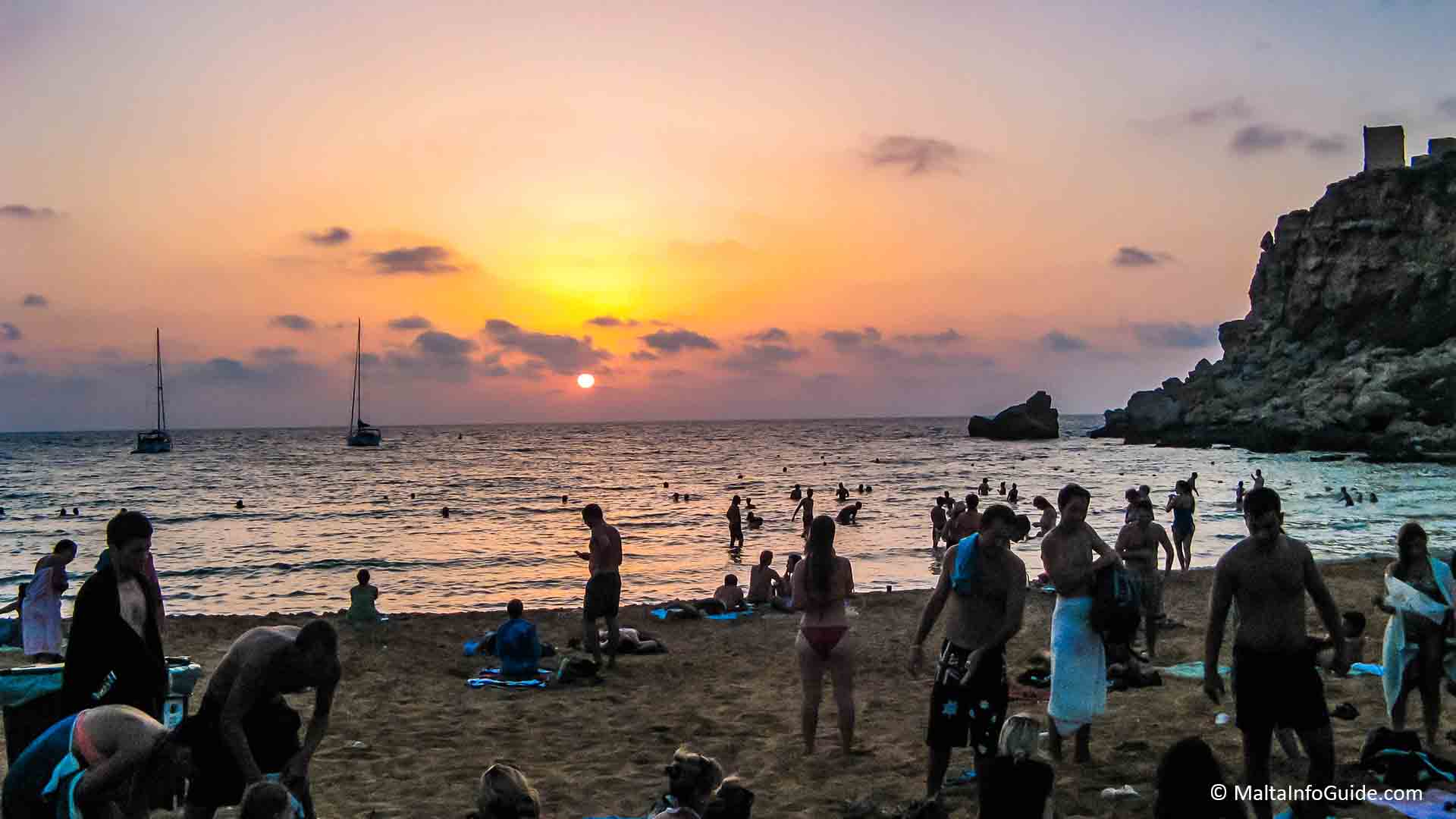 What You Find At The Beach
You can easily 

rent sunbeds and umbrella from Riviera Martinique Lido. If you want, you can bring your own umbrella and chairs to stay on the sand.

Wheelchair Accessibility - Wheelchair ramps are not available since the beach is surrounded by sloping ground and the beach is only accessible via stairs.
Public Rest Rooms - Public toilets are not available but the restaurant toilet facilities can be used.
Food and Drinks - There is a bar on the right side of the beach.
Parking - There are parking areas near the beach for easy parking.
Barbques and Camps are not permitted

.



Shopping - The small shop provides a selection of beach toys.
ghajn tuffieha bay malta map
How To Get To Ghajn Tuffieha Bay Malta
travelling by car
Driving to Ghajn Tuffieha by car, it is quite easy to get to. As you starting getting closer to the bay, you will start noticing signage that will help you get to the bay.
a few directions for Guidance to arrive
Getting there by car is very easy.
A tourist map of Malta will guide your way to this beach.
Follow the signs up to Bugibba main arterial road.
On arriving at a large roundabout, follow the road signs to Cirkewwa and Mellieha.
Proceed along this main road which overlooks St. Paul's Bay.
At the next roundabout look out for the sign for Ghajn Tuffieha and Golden Bay.
Proceed all the way.
These two bays are adjacent to each other.
The signs will help you get here.
Parking
Cars can be parked in the large area reserved for parking at the top of the stairs.
Parking is free but since there is an official car parking attendant he expects to be tipped.
Best malta Day Tours for summer

travelling by public transport
Riviera bus stop is couple of meters away from the stairs leading to the bay.
From Valletta: Direct Route 44
From Sliema, St. Julian's, Bugibba, Qawra and St. Paul's Bay: Direct Route 225
An English man in Malta gives his opinion on the bay while showing you round the beach.
What You Find Close To The Beach
closest village
Manikata village is very close. It is a small village a few kilometers away.
St. Paul's Bay is further back through the same road coming here.
hotels close by
cultural attractions
Għajn Mixkuka Tower

Għajn Mixkuka Tower was constructed under the reign of Grand Master Juan de Lascaris-Castellar between 1637 and 1640. It is one of the seven coastal towers which is located on the edge of the peninsula between Golden Bay and Ghajn Tuffieha Malta Bay.
This was past of the defense strategy established by the Knights of Malta which also included coastal batteries in various areas which were vulnerable.
You can get to it by walking past the Ghajn Tuffieha car park. Many people walk to the tower to take panoramic photos of both beaches between the tower.
The Knights of Malta had a defence strategy with other several coastal towers and coastal batteries.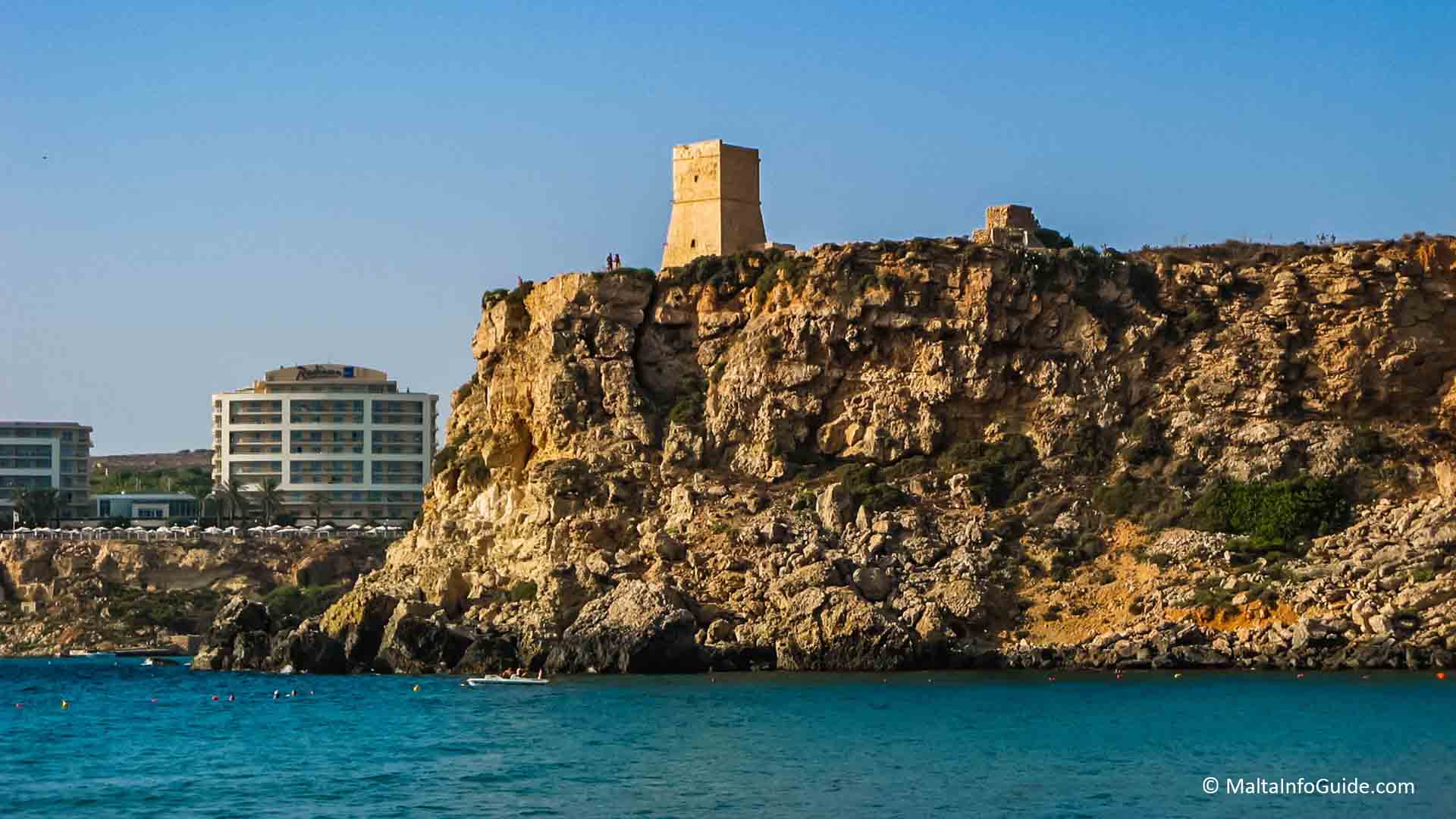 Ancient Roman Baths

The Ghajn Tuffieha Roman Baths comprises a number of rooms. These show it had the same characteristics of a Roman bath formation with all the necessary amenities.
Located beside a natural spring for a continuous flow of fresh and abundant water supply, it is surrounded with a wall and normally closed to the public.
The rooms are decorated with formidable small marble coloured roman mosaic.
The baths are around a couple of kilometers away from Ghajn Tuffieha Bay Malta.
Want To Share This Page On Pinterest? Pin It Here!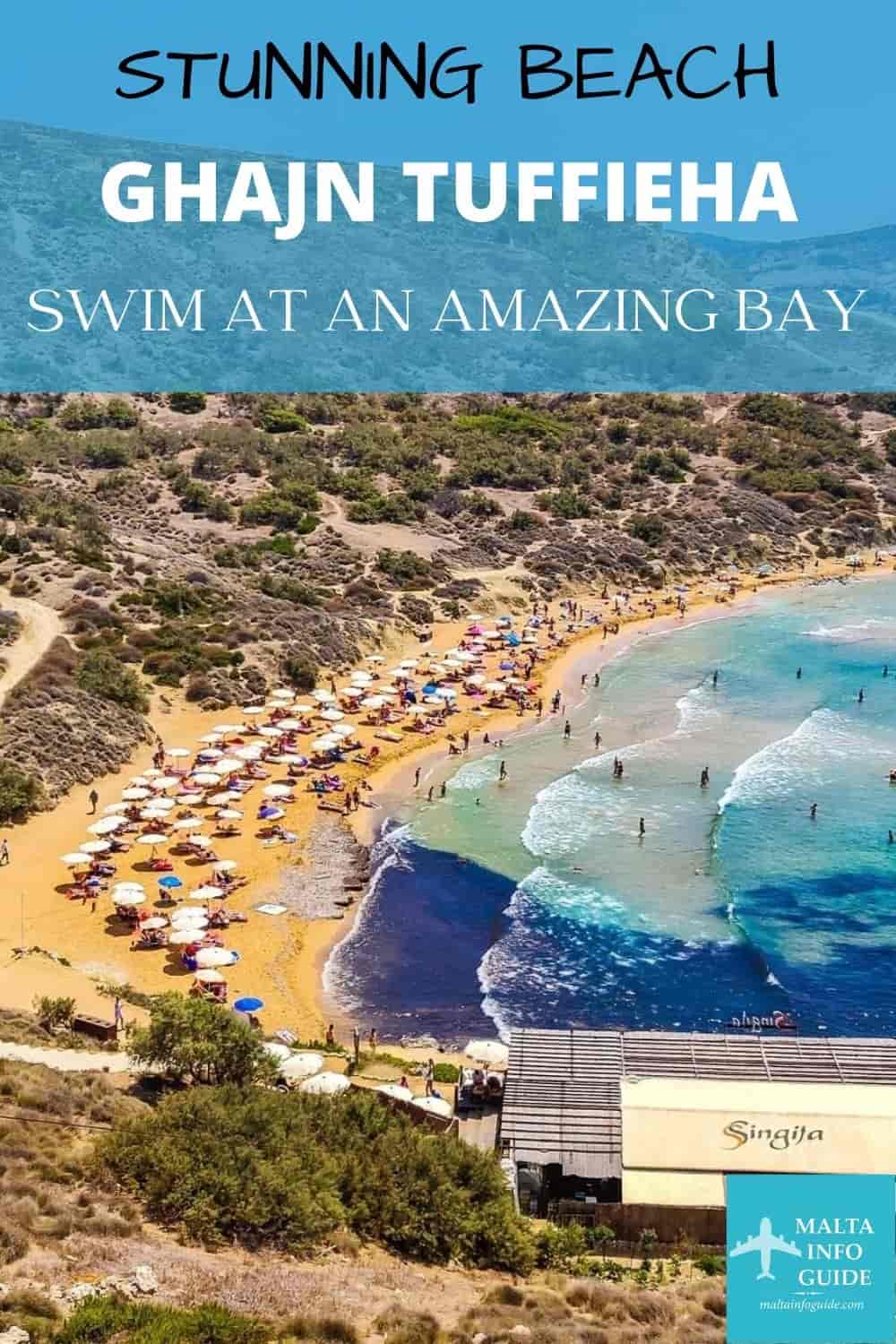 want to rent a car in malta?
We have used Discover Cars every time we rented a car. We highly recommend them due to their good service and good prices.
Get The Best Rates On Your Car Rental Now!
need to book a hotel for your malta visit?
Using Booking.com, enter your travel dates and number of occupants then rates will be available for hotels and apartments during your visit to Malta 
Book Your Hotel In Malta on Booking.com for the Best Rates!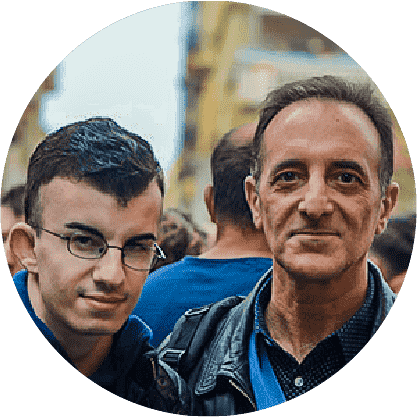 By Albert and Benjamin Magro