hal saflieni hypogeum
the only know prehistoric underground temple in the world between 4000 BC - 2500 BC
Hal Saflieni Hypogeum was discovered by accident in 1902 by a stone mason who was building the foundations of some houses. Immediately the Museums Department of the time took action where they discovered a wealth of archaeological material. It is situated at Paola in Ħal Saflieni Street.
A visitors center with a small exhibition and an audio-visual show will enhance your visit at the Hypogeum.
Disclaimer: On our website you will find affiliate links from which we make a small commission.
Three levels of chambers lying over each other were carved into soft globigerina limestone. Some of the chambers following the architectural features of the above-ground megalithic temples.
It extends over an area of about 500 (five hundred) square metres and reaching a maximum depth of about 11 (eleven) metres. The site has been dated between 4000 BC and was likely used until 2500 BC. This is all based on pottery and human findings on which examinations were carried out.

It is taught that it was used as a holy place with remains of 7000 individuals recorded during excavations.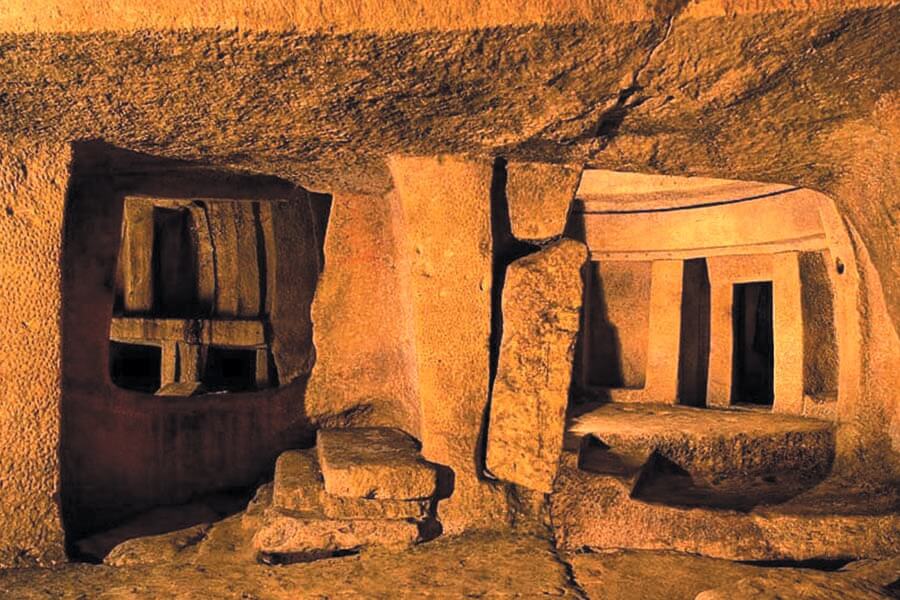 Photo by @maltastudy
What The Hypogeum Consists Of
Hal Saflieni Hypogeum
Upper Level
The upper level is a burial complex where rock was dug out to form burial chambers. Here, remains of more than 7,000 human bones were discovered. The bodies were buried with various ornaments. Stone implements, flint tools, stone, alabaster and clay statuettes, and a great variety of personal ornaments like shell beads and precious stones were found.

middle level
The middle level consists of various chambers very smoothly finished, which give the impression of built masonry. The workmanship is all the more impressive when it is considered that the chambers were meticulously carved using only flint and stone tools. Impressive spiral paintings in red ochre are still visible in some areas.

lowest level
This is the lowest level which is only seven steps down from the chamber. This area is known as the 'holy of hollies'. One of the niches in the 'oracle chamber' has the characteristic of echoing deep sounds. The carved facade is magnificent and the quality of its architecture is in a remarkable state of preservation.the chamber known as the holy of holies is a huge sculptured area, which looks very much like the megalithic temples built above the ground. More about this site which talks about elongated skulls.
A research is going to be conducted by Associate Professor Ronika Power of Maquarie University, Sydney who will work hand in hand with the local curators of the National Museum of Archaeology and the Prehistoric Sites Department of Heritage Malta.

Hypogeum of Malta forms part of the UNESCO underground heritage sites.
What you find around the Hypogeum
places to eat
There are various snack bars in the Paola church area.
Surrounding Villages

Paola and Tarxien are two villages attached to each other.
Other villages in the vicinity which encircle the area, Fgura, Luqa, Marsa and the three cities, Cospicua, Vittoriosa and Bormla. 
Cultural Attractions

The Tarxien Temples and Hypogeum are about 10 minutes away on foot from each other where you will also find a stop for the hop-on hop-off route buses apart from bus stops for public transport.

Do not miss to see the Paola Church a few minutes away from the Hypogeum. iT is usually open in the morning.
The three cities of Cospicua, Vittoriosa and Bormla. Fortifications and many interesting things to see.
Hypogeum Malta is a unique must see attraction.
Get your Ħal Saflieni Hypogeum Tour Tickets
want to rent a car in malta?
We have used Discover Cars every time we rented a car. We highly recommend them due to their good service and good prices.
need to book a hotel for your malta visit?
Using Booking.com, enter your travel dates and number of occupants then rates will be available for hotels and apartment during your visit in Malta 
See Malta Hotels on Booking.com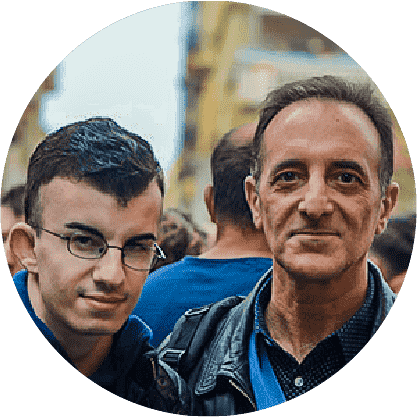 By Albert and Benjamin Magro