Megalithic Temples of Malta
top 6 Megalithic Temples Of Malta
Discover The Six Sites That Take You Back In Time
The Megalithic temples of Malta are the evidence to the origins of the first inhabitants of the Maltese Archipelago.

Before you embark on your holiday to Malta, there are a few things you can learn about what happened many centuries ago.
We will help you prepare for your holiday, satisfy your curiosity and make your trip unforgettable.
Seven megalithic temples are located on the islands of Malta and Gozo, each with its own individual refinement. All of these temples have been acknowledged by the UNESCO World Heritage Site as being unique architectural masterpieces given the limited resources available to their builders.
the top 6 megalithic temples of malta
Disclaimer: On our website, you will find affiliate links from which we receive a small commission.
1. Hagar Qim Temples
Date 3600 – 3200 BC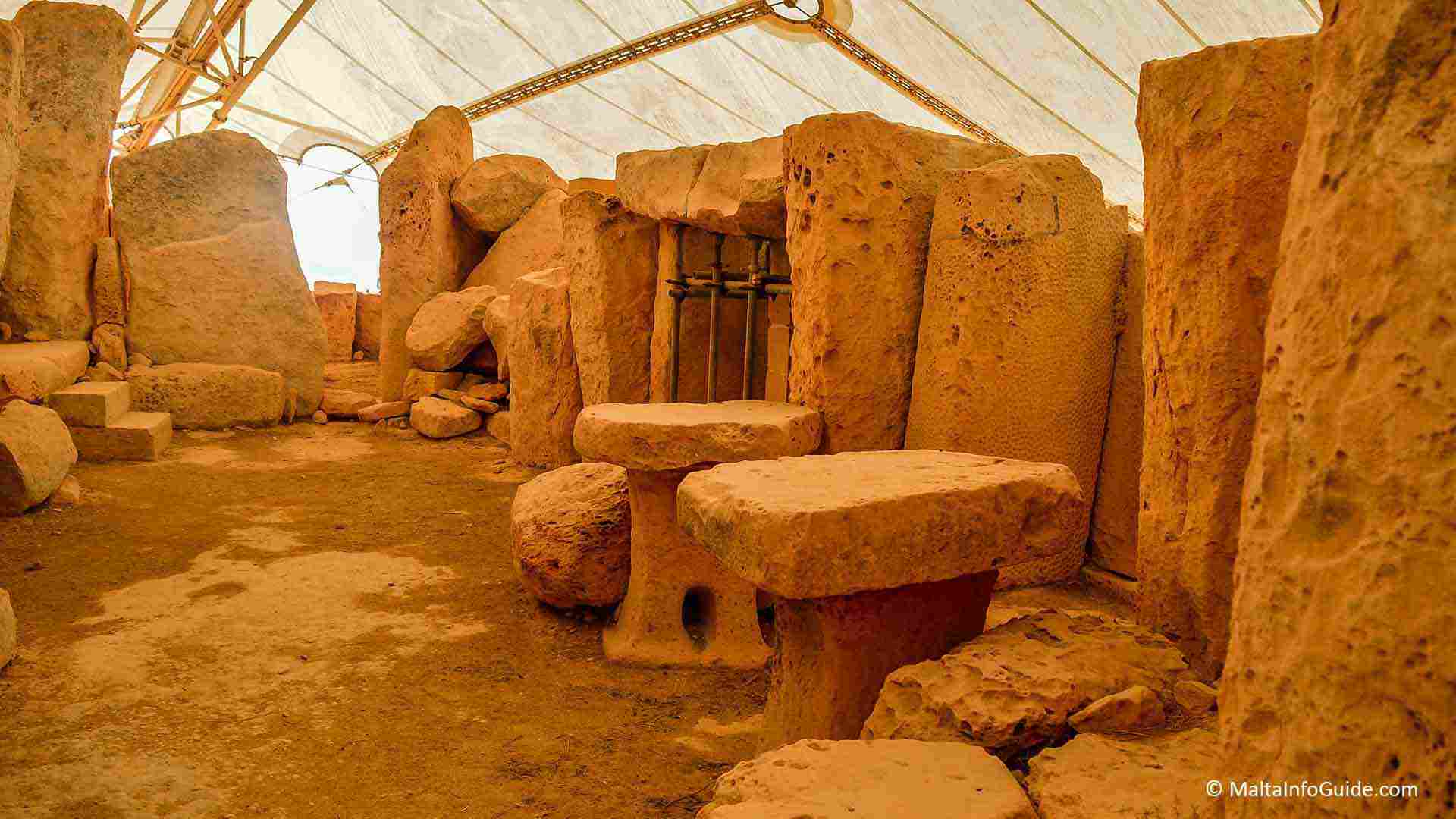 Did you ever here about the equinoxes and solstices? The builders of Hagar Qim temples were so intelligent as being able to align the temples with the first rays of the rising sun.
The south temple is astronomically aligned. You can experience this phenomena on site but you have to be in Malta on specific dates as it only happen four times a year, at least you can visit any day during the year and just be there to think what incredible buildings and astronomers these people were. At the visitors centre you can get an insight through a model of how it takes place.
They are today protected by a permanent tent which also protects you from the sun or rain while visiting. The builders were surely intelligent enough to choose such an unparalleled location on top of a cliff with great views of the open sea and just in front a small island called Filfla.

facts about hagar qim temples
They are very well preserved ruins.
These temples were built from soft globigerina limestone.
The World Heritage Sites committee described the sites as an incredible architectural gem.
Indications that the temples were covered.
The name of Hagar Qim means standing/worshipping stones.
Unrivalled location at the top of a cliff facing the sea with the island of Filfla in front.

A protective tent was installed during 2009 to protect them from the elements.
2. Mnajdra Temples
Date 3600 – 3200 BC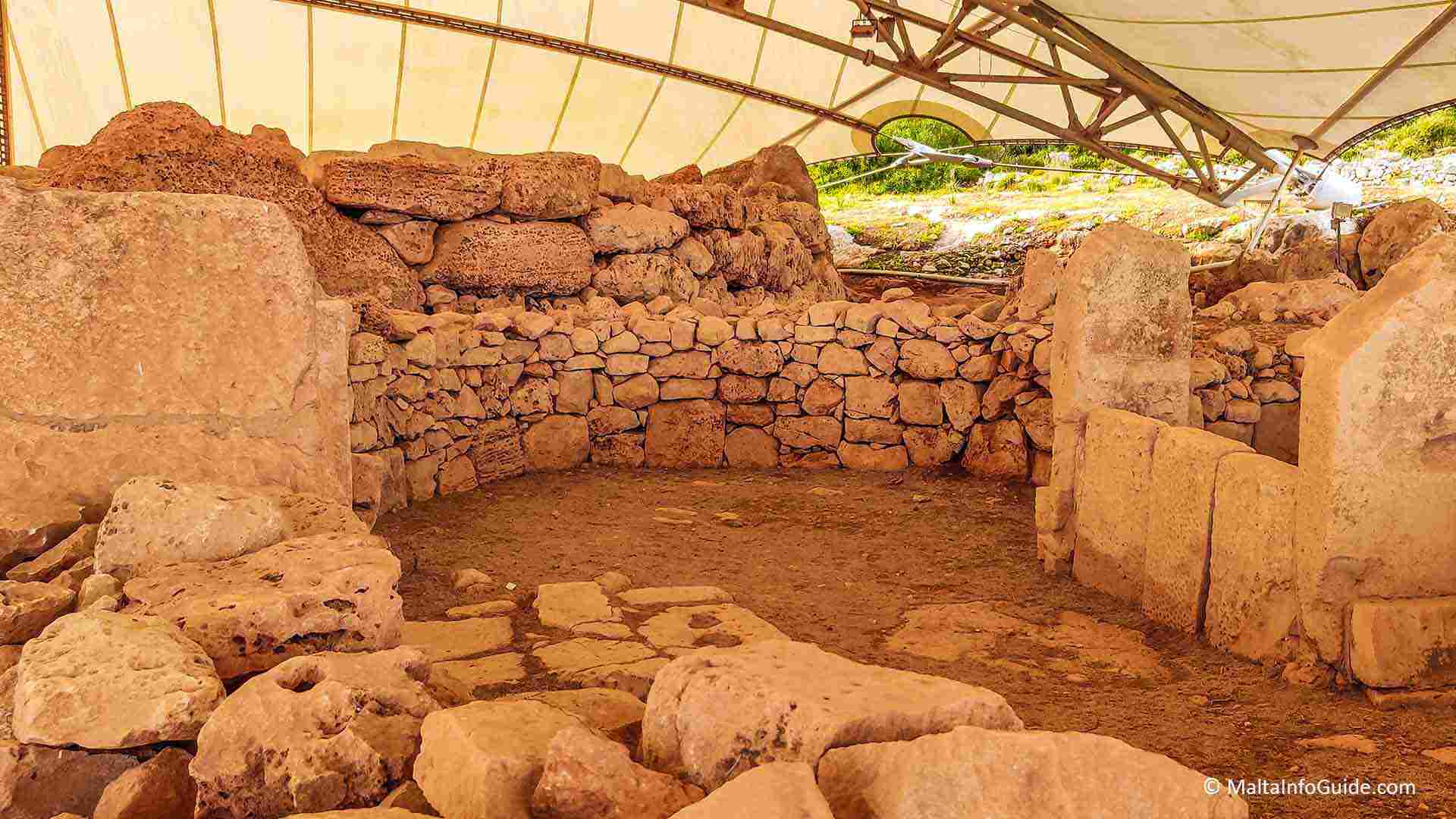 Visiting Mnajdra temples and further down the Hagar Qim temples is a perfect place for a walk in the countryside overlooking the sea. Located on top of a high cliff with a sharp fall down to sea level and a view of Filfla island. How intelligent these people where to choose these locations.
Built around the fourth millennium BC, they are among the oldest on the earth. It consists of three religious temple sites, combined but not connected: the upper, middle, and lower. Built from coralline limestone which is a much harder stone to cut and form than the globigerina limestone used for its neighbouring temple.
It lies very close to the famous Blue grotto caves.

facts about mnajdra temples
The World Heritage Sites committee characterised the sites as exceptional architectural treasures.
A protective tent was installed during 2009.
They are very well preserved ruins.
These temples were built form coraline limestone but Hagar Qim was built by a softer stone called soft globigerina limestone.

3. Tarxien Temples
Date 3000 – 2500 BC
If you love activity and adventure Tarxien temples is surely one of them. Several megalithic temples can be visited in Malta. It is the largest of all the temples with four defined temples all beside each other.
Here you find the unique and famous "fat lady" statue representing a mother goddess, only the lower half was found during excavations and the original and various unique sculptures are indoors at the Malta Archaeological Museum at Valletta. These decorative features are very unique and it is an opportunity to visit them on locations to appreciate a showcase of prehistoric art within the context of the temples.
Found in 1913 by farmers while plowing their fields, these findings further consolidated the survival of a prosperous ancient community which lived on the islands.

other facts about malta tarxien temples
In 2015 a tent covering the whole site was erected in order to protect the temples from the elements.

4. Ggantija Temples
Date 3600 – 3000 BC
Walk a while backwards when the Ggantija temples were built, not a few years but much more than you think. These are the earliest you can find on the islands built during the fourth millennium BC, they are older than the pyramids of Egypt. This is an incredible location surely not to be missed. At the south corner of the temple you can still find it standing at 7 metres high after so many years.
All this you can see if you visit. It is not a mass of stones but so much to learn and you can get so much insight by visiting the visitors centre.
The name Ggantija comes from the Maltese word that translates to giants. This is what the local people used and still call it. This is all due to the massive stones that are found here weighing up to 20 Tonnes. The plan is vaguely comparable to the outline of an obese human form.

facts about ggantija temples
Older than the Stonehenge England and Pyramids of Egypt by a thousand (1,000) years.
Included as one of UNESCO World Heritage List.
5. Skorba Temples
Date: 4500 – 4100 BC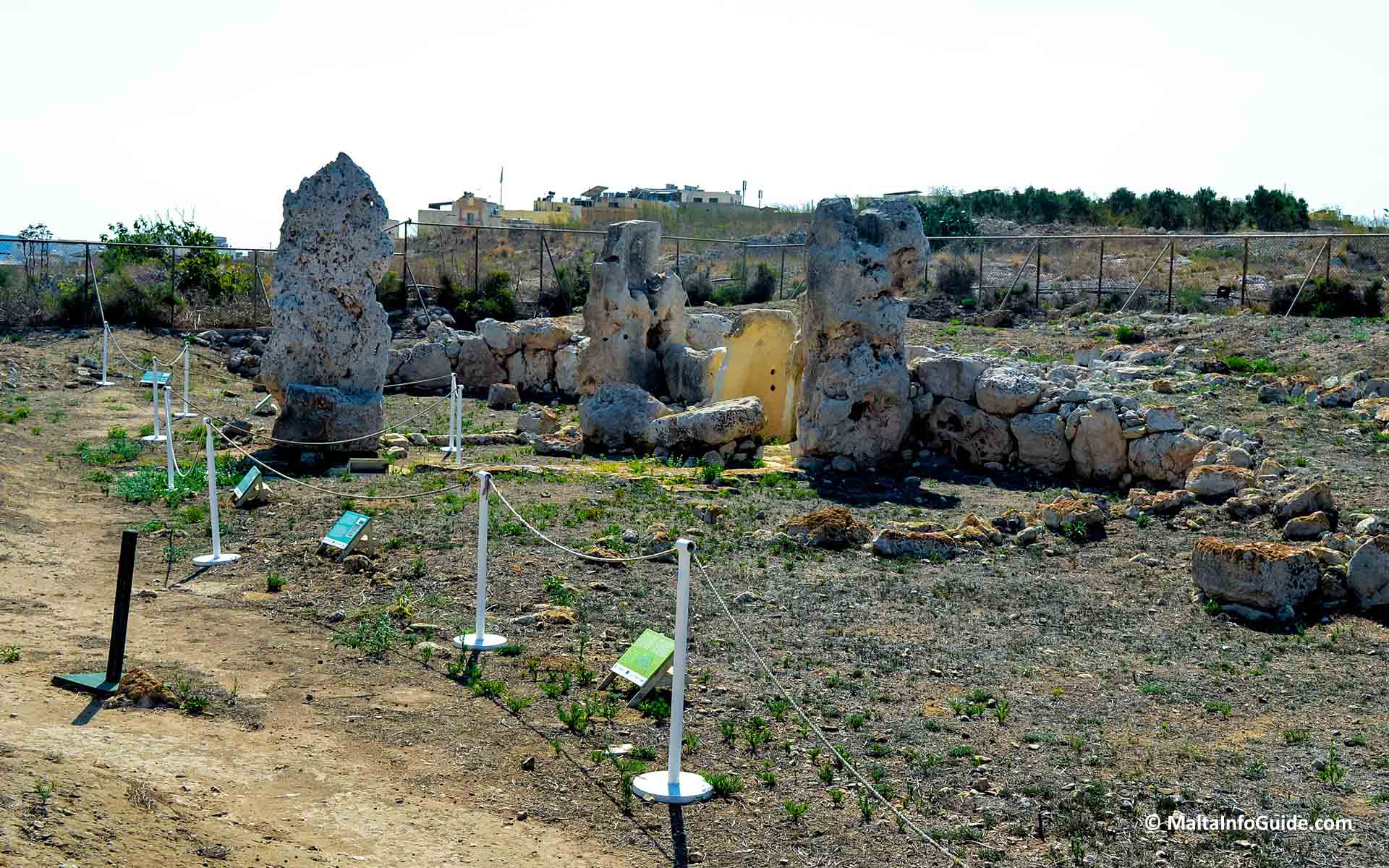 The Skorba temples located around one kilometre outside the village of Mgarr. It is difficult to think how important these sites were for the people who lived here so long ago and who themselves built them with such an accuracy and so much sacrifice. Today they are much in ruin after all these thousands of years. If we just think how much we care for our homes much the same these people were for their temples.
Today they are not in a good condition compared to the others on the island but several findings shed interesting information about Malta's Neolithic culture.

6. Ta' Hagrat Temples
Date 3600 – 3200 BC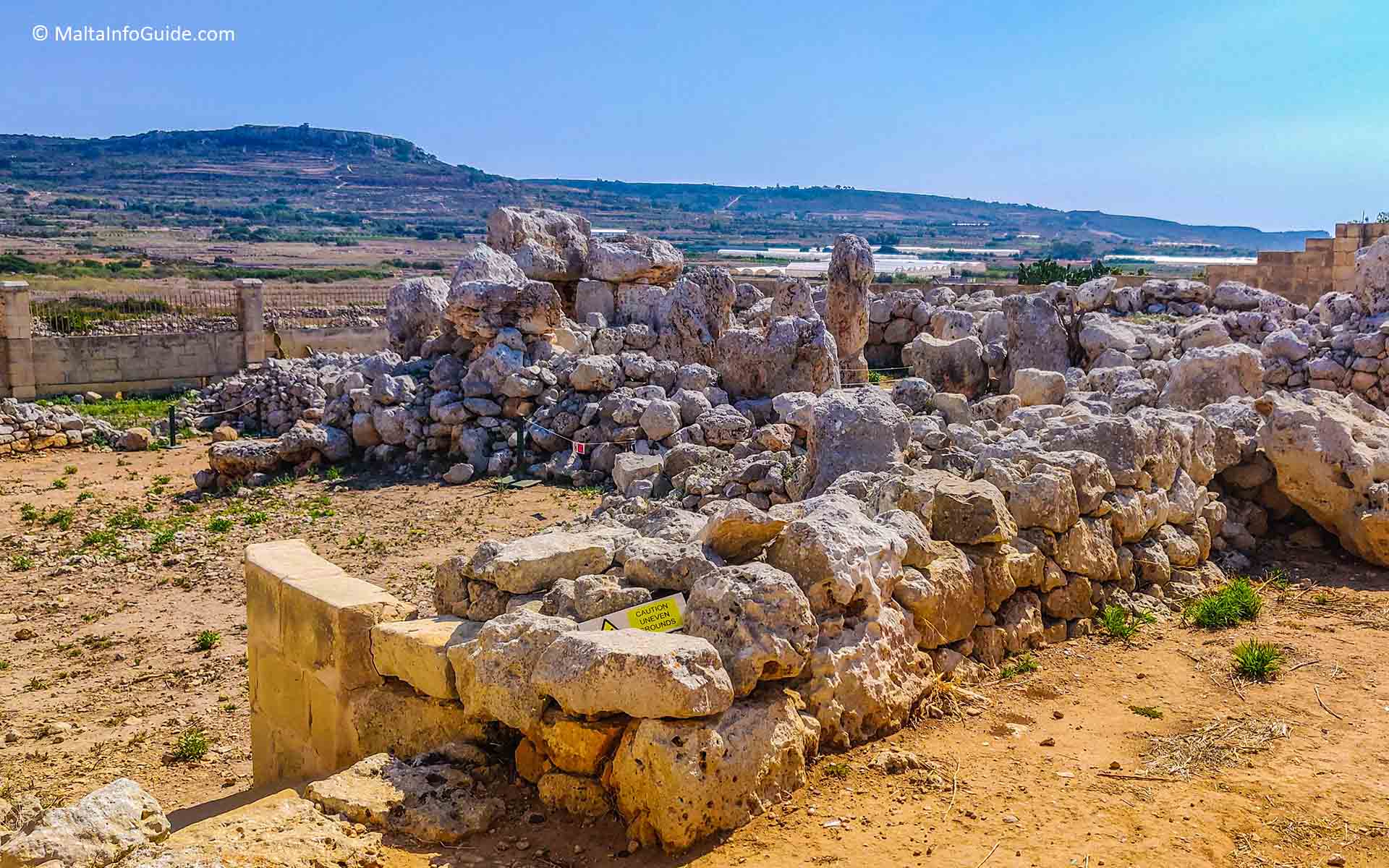 The Ta´ Hagrat temple complex is located in a very quiet area on the islands, around the village of Mgarr where you find farmers tilting their fields. A triple visit to see these temples and the others close by the Skorba temples and the small village.
It consists of two Megalitic temples. The smaller one touches the bigger one on the north side.
It is known that the temples were constructed on an older site which dates from 4,100 - 3,800 BCE.
The site was excavated in 1923 by Sir Temi Zammit and once more between 1925 and 1927 with the direction of G.G. Sinclair. During 1937 all the site was rehabilitated.

facts about Ta' Hagret temples
Many deposits of pottery were found which shows that there was a village on this site which is dated to 3800 – 3600 BC.
The most interesting find was a small model of a temple
It is one of the smaller temple complexes on the islands.
map of all 6 megalithic temples of malta
All the following sites are protected under Heritage Malta.
want to rent a car in malta?
We have used Discover Cars every time we rented a car. We highly recommend them due to their good service and good prices.
Get The Best Rates On Your Car Rental Now!
need to book a hotel for your malta visit?
Using Booking.com, enter your travel dates and number of occupants then rates will be available for hotels and apartments during your visit to Malta 
Book Your Hotel In Malta on Booking.com for the Best Rates!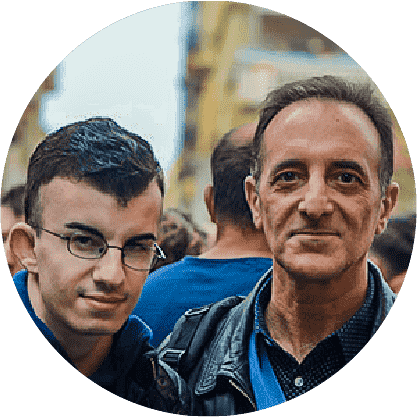 By Albert and Benjamin Magro