the neolithic temple of
Hagar Qim malta
Malta's Most Visited Megalithic Temples
Hagar Qim is part of the Hagar Qim Archaeological Park and is among the oldest temple on the planet. This site is on a scale and importance up there with Stonehenge England but is far less known.

Hagar Qim is a fascinating site with 2 large temples and a modern visitors centre. 
It is impressive since you can physically touch and walk around the large stones unlike Stonehenge in England.
There is another temple called Mnajdra. It is situated 600 meters away down a lovely long path way between the two temples. There are nature trails around the sites where you can walk and admire the views of the coast. You can also see the island of Filfla.
A virtual tour of this temple is available here.
Disclaimer: On our website, you will find affiliate links from which we receive a small commission.
Information For Visitors To Hagar Qim Temples
opening hours
Monday to Sunday: 09:00 – 16:30
Closed on 24, 25 and 31st December, 1st January and Good Friday.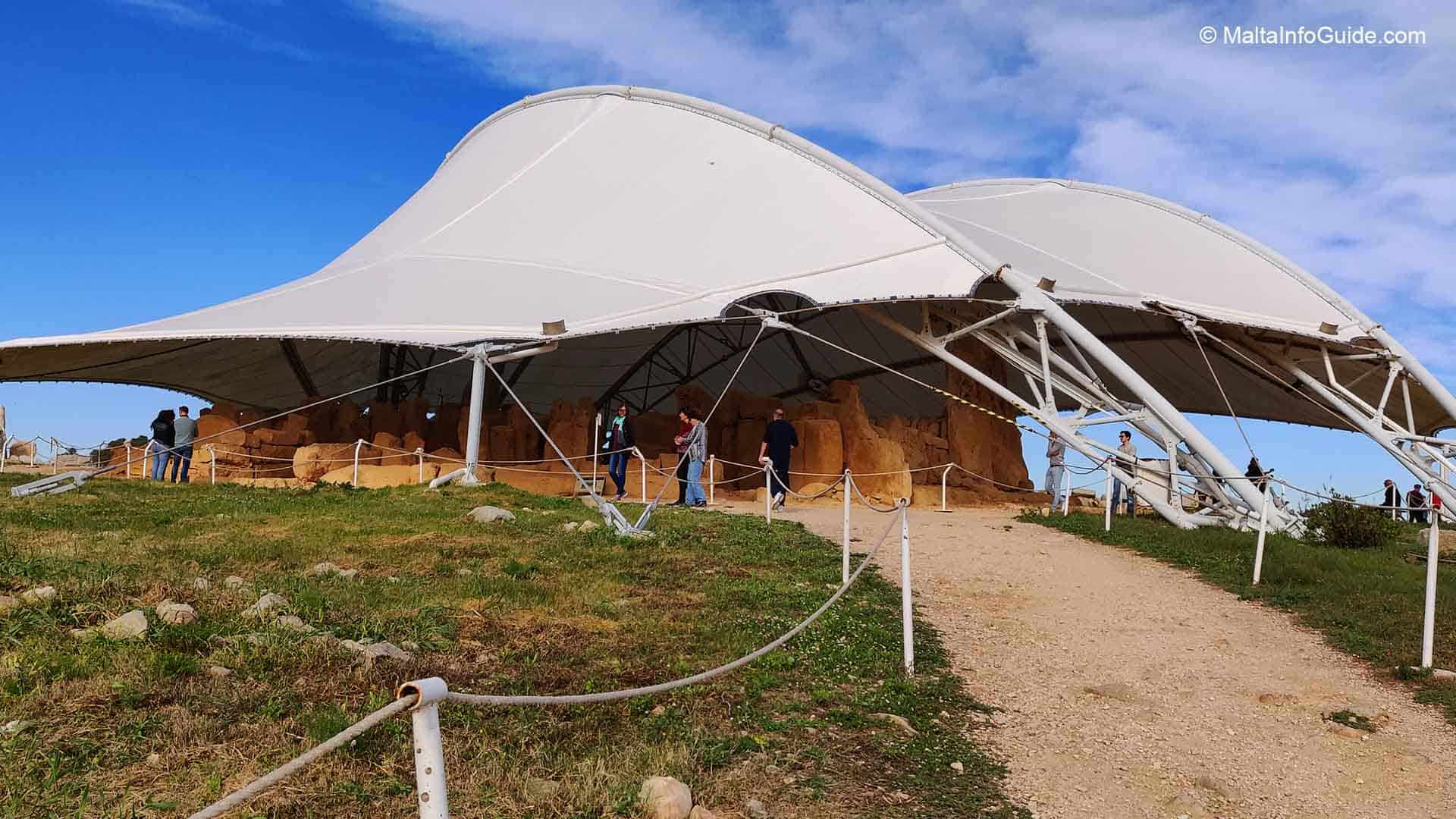 ticket information
On arrival, head to the visitors centre to buy the tickets. Visit the museum and watch a 4D presentation film. Then you walk to the Hagar Qim temples. 
To enter Mnajdra you will need to first pass through Hagar Qim. You only need one ticket for all the visit.
A valid ID or a student card is required for students and seniors.
Facilities found at 
Hagar Qim Archaeological Park
A fee is required to enter the temples
Open all year round
Onsite museum
Audio visual guide
There are family activities
Wheelchair accessible
A Restaurant and souvenir shop is available.
Photography is allowed
Parking is available onsite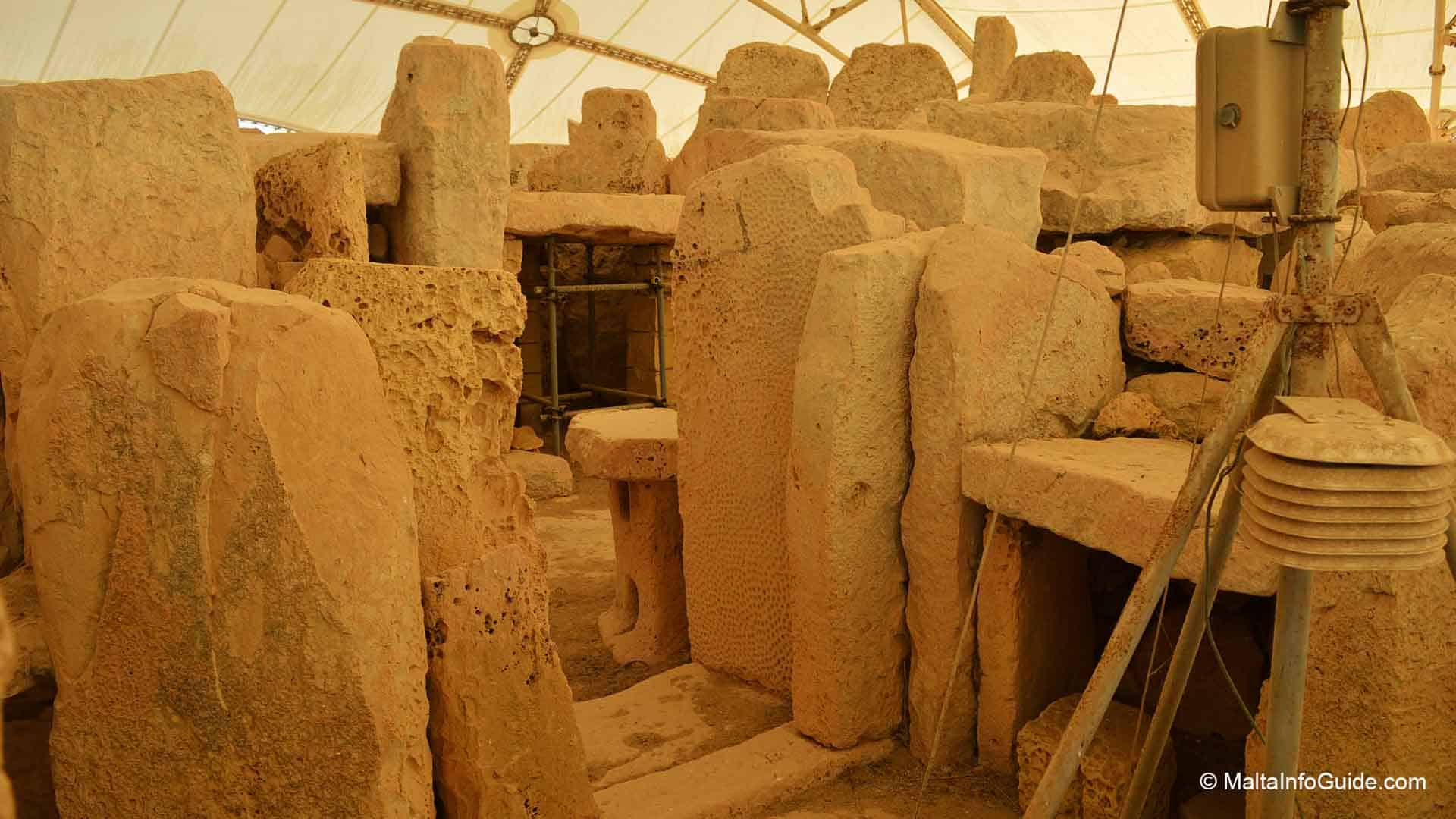 how to get here
To get to Hagar Qim you will need to drive past Zurrieq and Qrendi. There are signs to help you get around. There is a car park available for parking.
Where are Hagar Qim and Mnajdra temples located?
They are located around 1.5 Km away from the famous Blue Grotto. They are very close to Qrendi village.
How do I get from Hagar Qim to Mnajdra?
The map below, gives you an indications of how far both temples are. You have an

approximate 10 minute walk

. To get from one temple to another you will need to

walk down a long passage way

. There are

buggies

that can take you up or down the passage way at a fee.
malta public transport
There is a bus stop just outside the premises. There are two bus routes that pass from near Hagar Qim and Mnajdra. You will need to stop on 'Hagar' bus stop.
The bus numbers are as follows:
To 'Hagar' Bus Stop (Direction to Valletta/Rabat): Direct routes 74, 201.
To 'Hagar' Bus Stop (Direction to Zurrieq/Airport): Direct routes 74, 201.
To/From Valletta: Direct Routes 74.
Hop-On Hop-Off Routes

The Red South Route pass from here with a stop at the main road a minute walk to the temples.

Useful Questions For Visitors
How can I buy tickets?
If you want to just go to Hagar Qim and Mnajdra, you will need to purchase the tickets from the ticket office before you enter the temples.
Is there a tour with other temples?
There are two tours available:
Malta Prehistoric Temple Tour (Half Day) - The temples you visit are

 

Ghar Dalam

 and 

Hagar Qim and Mnajdra Temples.
Malta Prehistoric Temple Tour (Full Day) - This tour visits Hagar Qim and Mnajdra Temples, Ghar Dalam Caves, Limestone Heritage, Marsaxlokk Fishing Village and Blue Grotto.
Receive a 5% discount if you book from the above links. Just enter 'maltainfoguide' in the coupon box.
Can I enter the nearby watchtower?
The nearby tower is not accessible to the public.
How much time is required to spend at the temples?
It depends on your interest. The site has two temples a visitors centre plus a cafe area. You will need a couple of hours to go round the sites and admire the history.
Can I buy tickets online before going to the temples?
No you cannot buy online tickets. You will need to buy them when you arrive.
A Brief of Hagar Qim Temples
The 5,000-year-old Hagar Qim ("HA-jar eem"), which means "standing stones" was built between 3600 - 3000 B.C. It lies about a mile away from the village of Qrendi and a half hour drive from Valletta the capital city of Malta.
A further temple lies just a short walk down the hill, known as Mnajdra temples.
The temples overlooks the sea and the island of Filfla. It is the third Megalithic temples to be built on the Maltese Islands. Although it is quite large, it is smaller than the Ggantija temples in Gozo.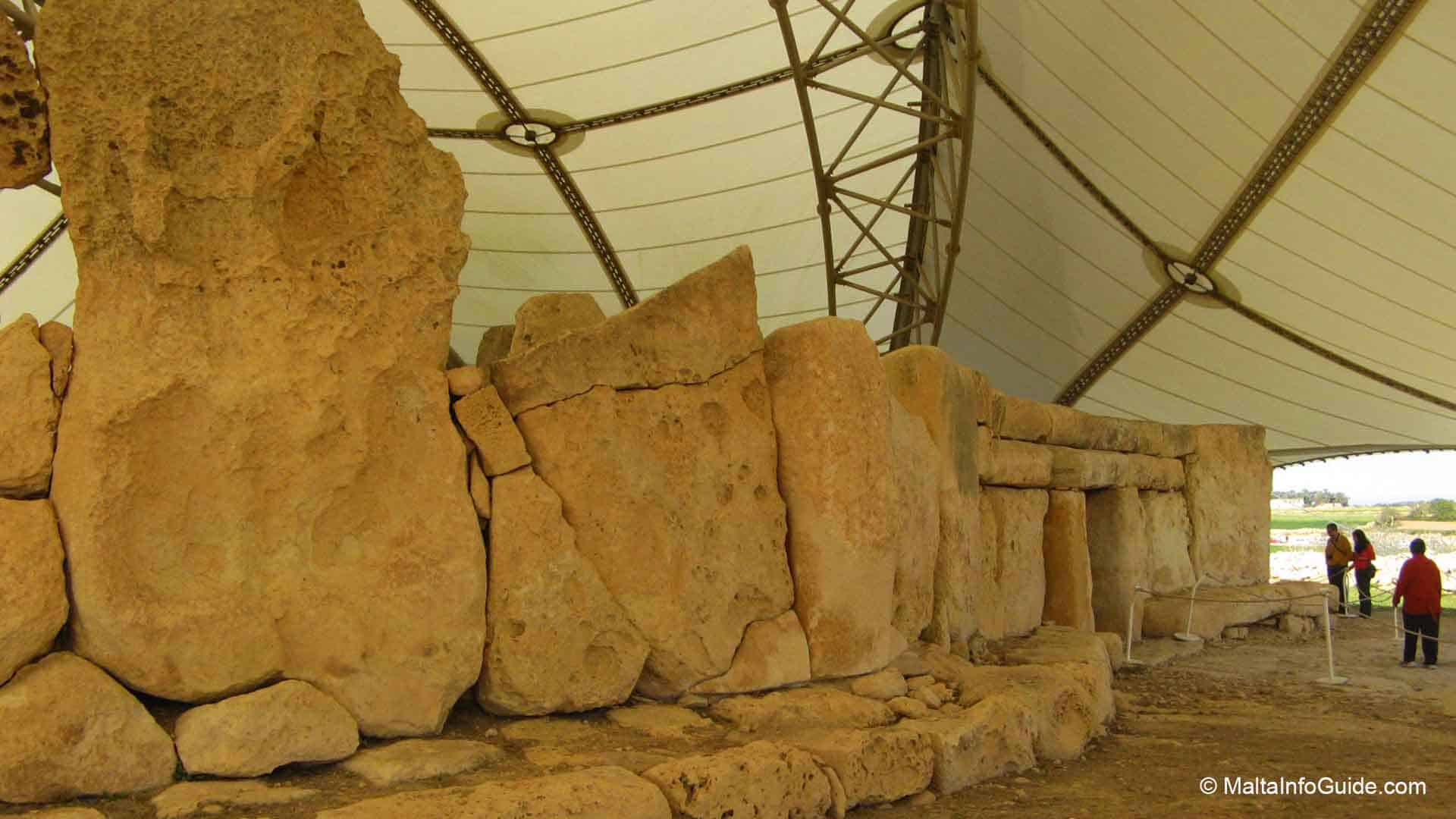 The temples offer a spectacular sight with the use of massive large stones. One of them is the largest single stone used in Maltese temples weighing seven tonnes.

For many centuries due to the "standing stones", only the tall parts used to be seen as the temples were covered in centuries of dust. They rise on a rocky surface overlooking a fine view of the sea and Filfla island.
The site was covered with earth up to 1839, and most of the standing stones bear the marks of the farmer's plough. This means that the land used to be used for farming and that the plough of the farmer left marks on the sides of the tall high stones.

Further archaeological digs were conducted during 1885 when a number of statuettes and a four-sided limestone altar were discovered.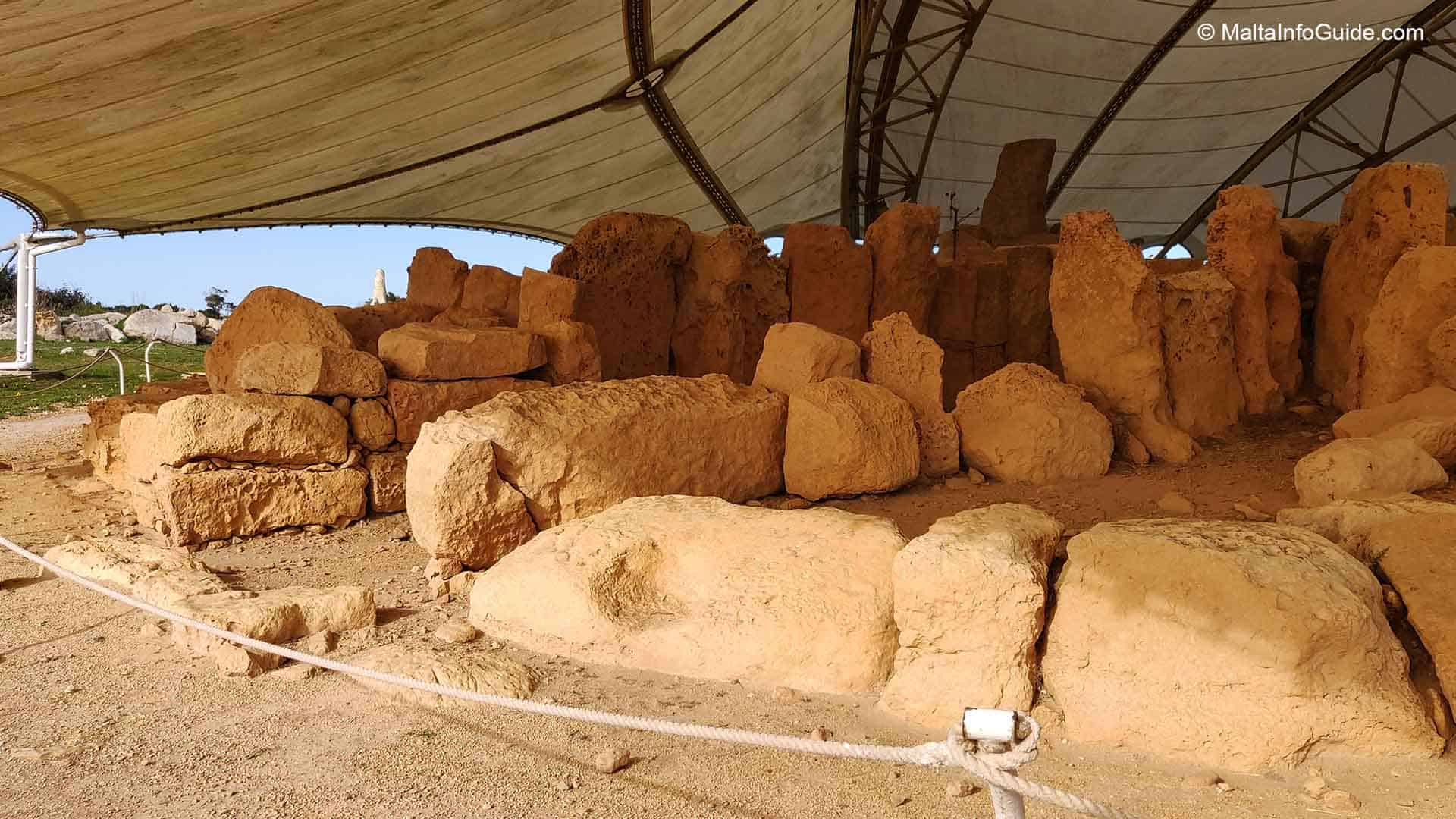 The ruins consist of a main building and of a number of smaller ones grouped immediately near it or at some distance from it. It is the best-preserved of several ancient limestone temples in Malta.

From an aerial view this temple is in the shape of a giant paw. At this temple there is a number of small mushroom-shaped altars carved out of stone. The original altars were taken to the Museum of Archaeology in Valletta, and replaced with imitations which are now found at Hagar Qim today.

In the temple animals were sacrificed as several bones of animals were found. These were stored inside a hole in the ground.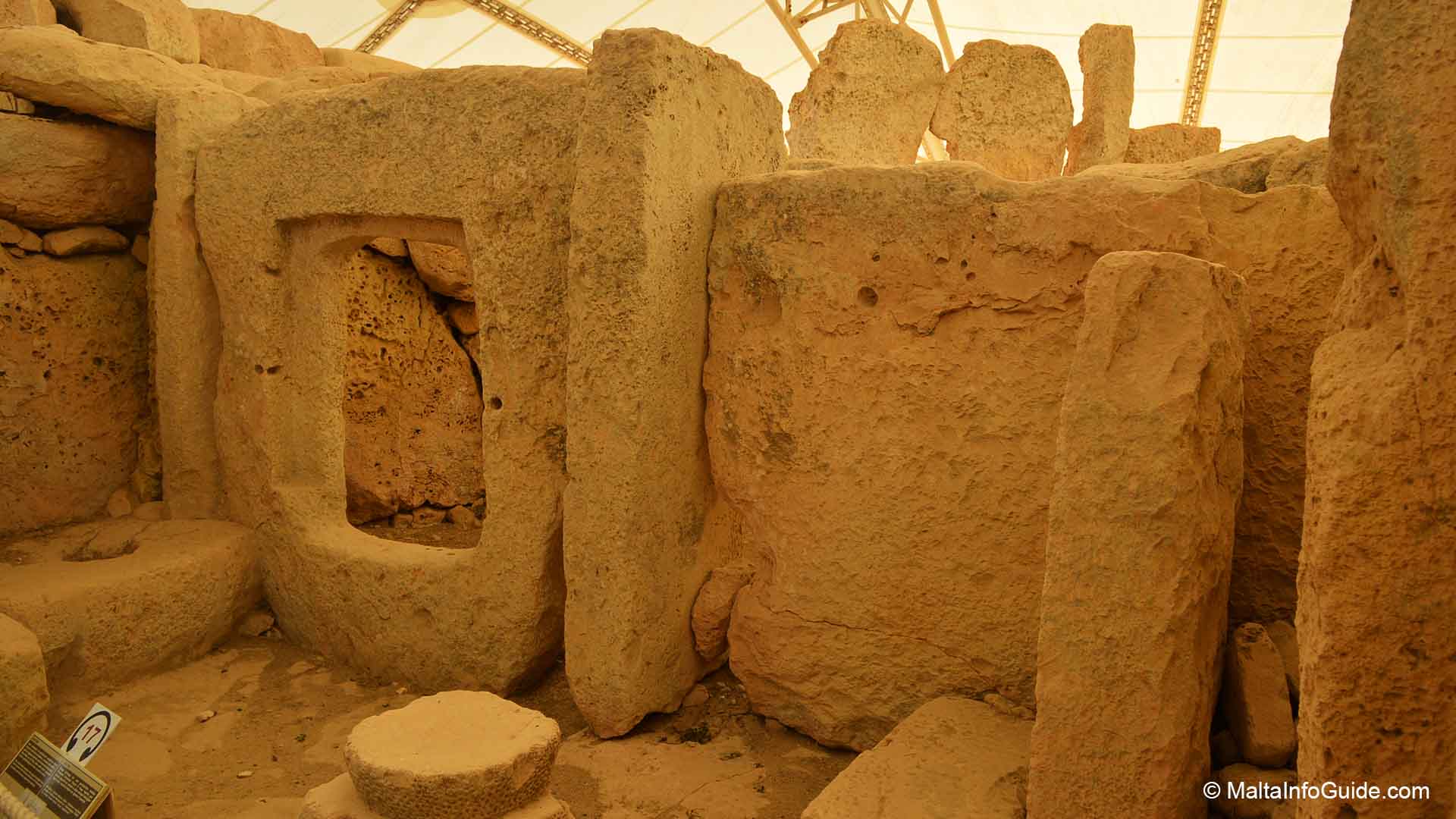 Things To Do Around Hagar Qim
Closest Village: 

Zurrieq village

. Other villages very close by are Qrendi, Imqabba, Kirkop and Hal Safi.
Cultural Attractions

A visit to Blue Grotto is a must. It is only one kilometer away.
There is a watch tower called Wardija Tower built by Grand Master of the Order of Malta Martin De Redin, completed by June 1659. The original name was Torre della Quardia di Giorno.
Just beside the temples, there is a watch tower known in Maltese as "Hamrija Tower" (Soil Tower) built by the Knights of Malta.
Around 5 kilometers away is a small location called Ghar Lapsi. Fishermen come here quite often and during the summer months it is a very popular location for swimming. You can eat fresh Maltese rabbit at the only restaurant at this location.
Hagar Qim Malta Temples is a must to see.
want to rent a car in malta?
We have used Discover Cars every time we rented a car. We highly recommend them due to their good service and good prices.
Get The Best Rates On Your Car Rental Now!
need to book a hotel for your malta visit?
Using Booking.com, enter your travel dates and number of occupants then rates will be available for hotels and apartments during your visit to Malta 
Book Your Hotel In Malta on Booking.com for the Best Rates!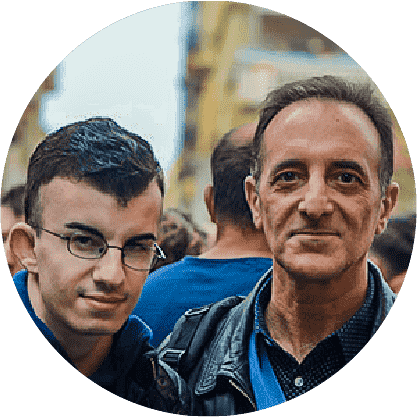 By Albert and Benjamin Magro