Hypogeum Malta
Helpful Guide to your Hal Saflieni Hypogeum Malta Visit
Date Last Updated: 11th May 2020

Find out how to visit the Hypogeum Malta. Discover one of Malta's oldest burial ground.
It is also known as Hal Saflieni underground burial site with remains dating back to 4000 BC. It was used for many centuries until circa 2500 BC.
It is a cultural asset of outstanding prehistoric importance. It is the only known subterranean structure of the Bronze Age with three levels underneath each other.
It is an unusual location many people want to visit. Booking recommended months before you come for your holiday.

DUE TO THE CURRENT SITUATION, HYPOGEUM WILL BE CLOSED UNTIL FURTHER NOTICE. Contact Hypogeum at [email protected] if you have purchased a ticket.
What You Need To Know About Hypogeum Malta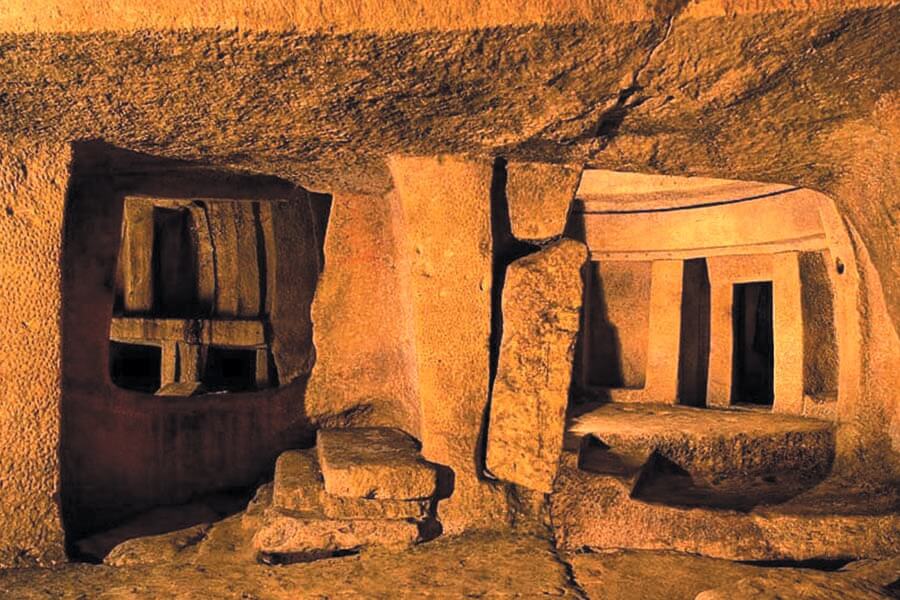 Photo By @maltastudy
Hypogeum Hal Saflieni Reviews
What do people say about Hypogeum Malta:
"I couldn't quite believe I was standing in such an ancient place, built by people we don't fully understand, who had barely any tools and yet managed to create a decorated temple/tomb that was the resting place for some 7000 people." - 5 Star Review
"We visited the Hypogeum with our 12 and 14 year old kids who loved it. It is not a big space but it is impactful because it brings to life the reality of human existence 6,000 years ago." - 5 Star Review

"We pre-booked tickets on the internet to ensure our visit. Glad we did as they were turning people away when we were there." - 5 Star Review
Admission to the Hypogeum Malta
For those who love history, Hypogeum is a must. So if you intend travelling to Malta you have to book much in advance, at last a couple of weeks or months before as you will find that they are booked well in advance. It depends on tourist summer peak times to low season winter times. 
We suggest that you consider booking the tickets from here. Often fully booked from weeks in advance.
Monday to Sunday: 09:00 – 17:00
Last admission 16:00
Closed on 24th, 25th and 31st December, 1st January and Good Friday.

Buying Tickets To Hypogeum Malta
Eight Guided tours each day.
Each tour can only allow up to 10 people.
Length of each tour is 50 minutes long.
Guided Tours Tickets

Adults: (18 - 59 years of age) - €40.00
Children: (6 - 11 years of age) - €20.00
Youth: (including aged 12 - 17) - €25.00
Seniors: (60 years and over) - €25.00
Infants (1 – 5 years) – No admission 
Audio Visual Show Tickets

There is an option to buy tickets for the audio visual 20 minutes show about the site but with no access to the Hypogeum.
Adults (18 – 59 years): €5.00
Youths: (including aged 12 - 17) - €3.50
Students, Concessions - €3.50
Seniors: (60 years and over) - €3.50
Infants (1 – 5 years): No admission
Are there last Minute tickets?
Yes there are but we do not recommend them.

They are

€40

each for everyone including children.

Twice daily at

12:00

and

16:00

there are tours for last minute ticket buyers.

The tickets are not available online but you will need to purchase them the day before from Fort St Elmo in Valletta or the Gozo Museum of Archaeology at Citadel,

Gozo.
Are the last minute tickets worth it?
NO they are not. Why?
As it is a hassle while on holiday as you waste so much time in the queue and to get there, when you can pre-book your tickets from the comfort of your home by clicking this button and also you can also get a 5% discount on your total by entering 'maltainfoguide' in the coupon box.

Enter 'maltainfoguide' in the coupon box to get a 5% discount
Tickets purchased are not refundable or exchangeable.
How To Book Hypogeum Malta Tour
Firstly select when you would like to attend this tour.

Secondly select the number of adults (€40), teens (€25), children (€20) and/or senior citizens (€25) which will be attending the tour.

Enter 'maltainfoguide' in the coupon box to get a 

5% discount

.

After you have selected the information, click book now.

The next step is to fill up a form with your necessary details.


Choose your 

payment method

 then 

click Confirm Booking.


Enter 'maltainfoguide' in the coupon box to get a 5% discount
Tickets purchased are not refundable or exchangeable.
Practical Information About The Tour
Tours start exactly on time so it is important that you arrive 15 minutes before. If arriving exactly on time you might be refused.
It is a 50 minute tour.
Tour Journey: Starts with a small exhibition and a video and then leads into the monument itself with an audio tour. With lighting and music effects it really takes you into a mystic tour giving you an experience not to be missed. You are taken round to all levels. A well worth experience.
You are advised to wear comfortable closed shoes as humidity levels as high and some sections might be slippery especially metal walk ways. Hold well to the handrails and walk slowly. No sandals are permitted.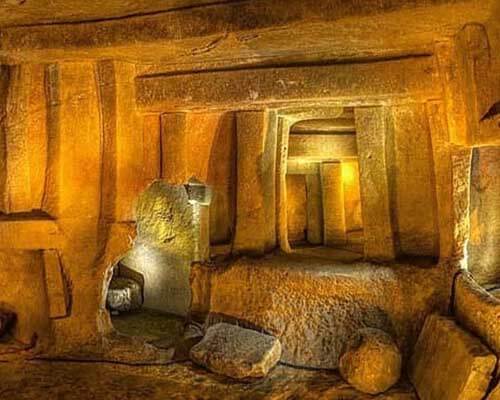 Photo By @maltastudy
No filming and photography is permitted inside the premise even without the flash.
If you have backpacks they will be locked up in lockers before you enter the Hypogeum by staff.
Children under the age of 6 years are not permitted inside the premises due to health and safety reasons.
If there are persons who might be sensitive to claustrophobia they might have some discomfort.
The audiovisual presentation is accessible to wheelchairs within the Visitors Centre. 
The Hypogeum Malta archaeological underground temple is

NOT accessible

to wheelchairs.
For visitors who will not be able to use the audio guide provided at the Visitor's Centre may request a written copy of the script in English at least a week before their visit.
At the entrance there is a small souvenir shop where you can purchase a souvenir.
Hypogeum Malta How To Get There
Private Car
Hypogeum Malta is located at Paola.
You must first get to Paola.
There are signs to guide you to Hal Saflieni Street where the Hal Saflieni Hypogeum is. 
It is very close to the main Paola Church.
If you get lost you can ask around as the people will be very helpful.
You have to look around for parking within the surrounding side streets. It is only permitted to park within the white parking bays only.
Malta Public Transport
Follow the signs from the bus stop. It is around 5 minutes walk away from the Paola Parish church.
To Ħal Saflieni: 81, 82, 83, 84, 88, 206, X2, X3
To/From Valletta: 81, 82, 83, 84, 88
Hop-On Hop-Off Routes:

The Red South Route for both sightseeing operators namely Malta Sightseeing & City Sightseeing Malta pass from here with a stop at the main road a minute walk to the visitors centre.
Since the tour will be with a group and a guide they all start on schedule so leave substantial time to get there in order to be on time.
What The Hypogeum Consists Of
It was discovered by accident in 1902 by a stone mason who was building the foundations of some houses. Immediately the Museums Department of the time took action where they discovered a wealth of archaeological material. It is situated at Paola in Hal Saflieni Street.
Back to 2017 a new visitors center with a small exhibition and audio-visual show was built to enhance the visitors visit to the Hypogeum.

Upper Level
The upper level is a burial complex where rock was dug out to form burial chambers. Here, remains of more than 7,000 human bones were discovered. The bodies were buried with various ornaments. Stone implements, flint tools, stone, alabaster and clay statuettes, and a great variety of personal ornaments like shell beads and precious stones were found.

Middle Level
The middle level consists of various chambers very smoothly finished, which give the impression of built masonry. The workmanship is all the more impressive when it is considered that the chambers were meticulously carved using only flint and stone tools. Impressive spiral paintings in red ochre are still visible in some areas.

Lower level
This is the lowest level which is only seven steps down from the chamber. This area is known as the 'Holy of Hollies'.
One of the niches in the 'Oracle Chamber' has the characteristic of echoing deep sounds. The carved facade is magnificent and the quality of its architecture is in a remarkable state of preservation.
The chamber known as the Holy of Holies is a huge sculptured area, which looks very much like the megalithic temples built above the ground. More about this site which talks about elongated skulls.
A research is going to be conducted by Associate Professor Ronika Power of Maquarie University, Sydney who will work hand in hand with the local curators of the National Museum of Archaeology and the Prehistoric Sites Department of Heritage Malta.

Hypogeum Malta forms part of the UNESCO underground heritage sites.
What you find around the Hypogeum
Eating
There are various snack bars in the Paola church area
Surrounding Villages
Paola and Tarxien are two villages attached to each other. Other villages in the vicinity which encircle the area, Fgura, Luqa, Marsa and the three cities, Cospicua, Vittoriosa and Bormla.
Cultural Attractions
The Tarxien Temples and Hypogeum are about 10 minutes away on foot from each other where you will also find a stop for the hop-on hop-off route buses apart from bus stops for public transport.
Do not miss to see the Paola Church a few minutes away from the Hypogeum. iT is usually open in the morning.
The three cities of Cospicua, Vittoriosa and Bormla. Fortifications and many interesting things to see.
Hypogeum Malta is a unique must see attraction.
Get your Hypogeum Tour Tickets