top 5 Valletta Churches
Historical Churches & Co-Cathedrals –
Spirituality And Elegance At Its Best
Numerous Valletta churches, a walk through history with a number of beautiful architecture and internal décor.
St. John's Co-Cathedral to the first church built in Valletta commemorating the victory of 1565 by the Knights of St. John against the Turkish army.
The most recent construction of the new Carmelite church a landmark building so high as it is seen from the opposite side of the Sliema front. Beside it there is the Anglican St. Paul's Pro-Cathedral steeple beside it.
We also provide a complete list of the Catholic and other domination churches with basic useful information to find it at hand during your visit to Malta.
Here we highlight the ones we suggest so you can visit whilst in Valletta.
how many churches in valletta?
There are around 28 churches in Malta's capital city, Valletta. You find a mixture of churches, chapels, basilicas and Co-Cathedral. Click here to see the full list of Valletta churches.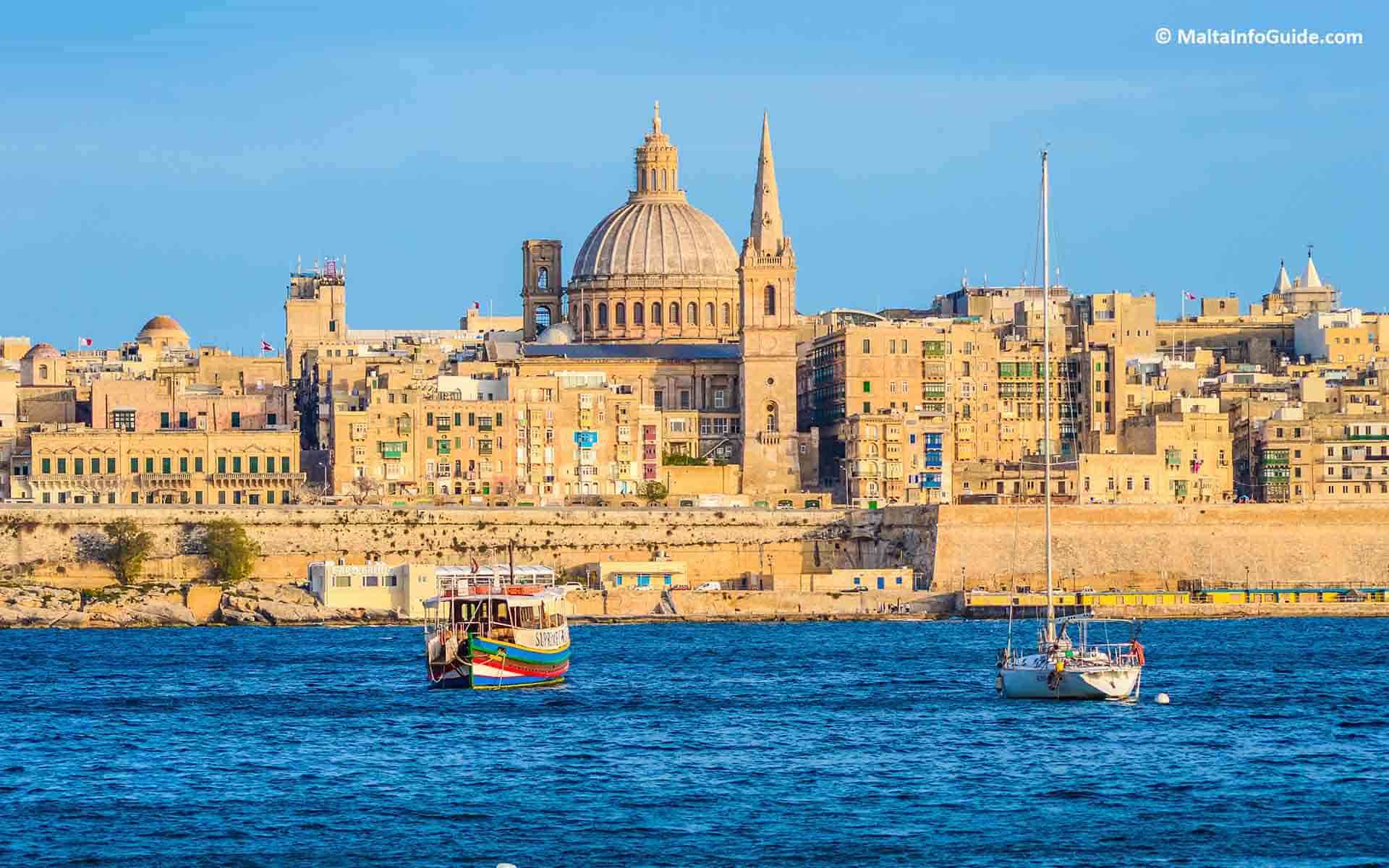 The Most Visited 5 Valletta Churches
1. st. barbara church valletta
The only church in Malta which serves as the parish church for the English, French and German speaking communities apart from Mass in Maltese held everyday.
Built in 1573 by the Knights of Provence for the spiritual needs of the Provence Langue of the Order. It was then renovated in 1601 and totally rebuilt in 1739.
The church façade was designed by the Italian Engineer Romano Carapecchia. Since the architect died before the church was completed, a Maltese architect Giuseppe Bonnici continued the design of the interior.
Santa Barbara is the patron saint of the bombardiers. Traditionally it is the patron saint of artillerymen, military engineers, gunsmiths and all those persons who work with explosives.
Information About The Church
Church Building: Church
Location: Republic Street
Religion: Roman Catholic Church
Mass Language: Maltese
Mass Times
2. our lady of mount carmel
We suggest that you visit this church. It is a lovely quiet and calm place to sit and reflect and let the outside world set aside. On the other hand, observe the beauty of the huge oval dome construction from the inside.
The inside décor is plain limestone, more modern than the other older Valletta churches. In 1570 the original church was designed by architect and military engineer Girolamo Cassar.
It is a landmark building, also the tallest building in Valletta seen very clearly from the Sliema front promenade. During World War II the church was badly damaged and rebuilt between 1958 and 1981.
information about the church
Church Building: Basilica
Location: Triq it-Teatru
Religion: Roman Catholic Church
Mass Language: Maltese
Mass Times
Monday to Saturday: 10:00. An extra mass is held on Wednesday and Saturday at 18:30.
Sunday: 08:00, 10:00, 18:30
3. st. catherine's church valletta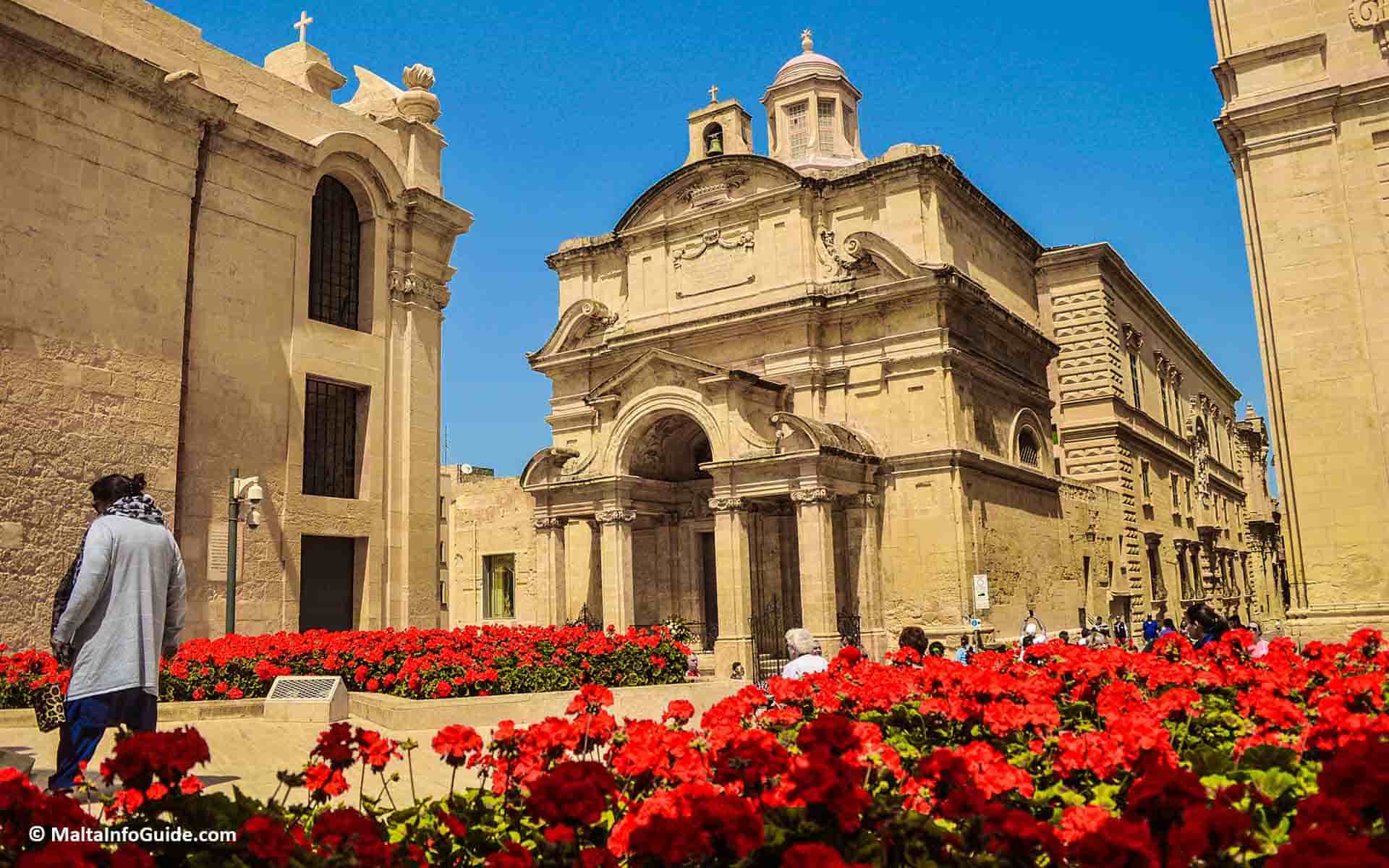 It is one of the oldest churches amongst many others in the capital city. It is worth a visit if it is one during the day. This Roman Catholic Church is situated beside Auberge de Castille and stands in front of Our Lady of Victory.
Designed and built by Girolamo Cassar in 1576 by the Italian knights adjacent to Auberge d'Italie in Merchants Street. For this reason, the church got the name frequently recognized as the church of St Catherine of Italy.
Later in the 17th century an octagonal church was added to the existing building where the original church area was transformed into a sanctuary. Mattia Preti painted and donated the titular painting with the martyrdom of St Catherine of Alexandria including the cupola. Major restorations were carried out between 2001 till 2011.

4. st. paul's pro-cathedral valletta
We suggest a visit to the only Anglican Church in Malta. It is a very unique church compared to the other Valletta churches. Tourists like to visit for its serene feeling when you are inside either observe the internal architecture or to pray.
The interior is not as glamorous as the others of the baroque time. It is a lovely church with ample light and very airy. It can be seen from far as it has a pointed limestone steeple rising over 60 metres high. It is exceptionally different than the others.  
This church is built on the Neo-Classical style between 1839 to 1841. It was built to serve the British community in Malta since they came in 1800. The cathedral was built on the previous site where the Auberge d'Allemagne was erected. It was the home for the German Knights of St. John.
Information About The Church
Church Building: Cathedral
Location: Independence Square

Religion: Anglican Church

Mass Language: Maltese
Religious Services:
Sunday: Mass 11:00 am
Monday: Mass 11:00 am
Monday to Friday: Morning Prayer 9:00 am
The Cathedral is open daily from 08:30 to 12:30 and some afternoons it is a quiet place for prayer and contemplation. Anglican worshiper and could regularly attend the 11 am Sunday service.
5. Our Lady of Victory

Why not visit the oldest church in Valletta. It is located on the opposite side of Auberge De Castille the Prime Minister's Office. It bears testimony of those many knights and Maltese who fought the Turkish army in 1565 to defend Malta from being captured.
Restoration is on-going and we suggest to pay a visit in order to appreciate the church itself and the on-going restoration works. Din L-Art Ħelwa, a non-profit Malta foundation, was entrusted with the upkeep and restoration of the church.
After the great siege, Grandmaster Jean Parisot de Vallette decided to build the first building within the new fortifications of Valletta as a thanksgiving where he funded the church from his own pocket. He did not see the church completed neither the fortifications and was buried here.

It is built on the spot where the first stone was laid. A religious ceremony was held for the new Valletta fortification. The church is not large but packed with frescoes and paintings all paid for by the knights to embellish this church dedicated to the Blessed Virgin. In 1617 it was chosen as their parish church.
Information About The Church
Church Building: Cathedral
Religion: Anglican Church

Location: South Street, Valletta
Mass Language: Maltese
Contact: 21249349

Entrance to the church is free.
Opening Hours:

Monday - Friday 08.45 - 16.00 (Holy Mass - 08.45)
Saturday 10.00 - 16.00 (Holy Mass - 19.00)
Sunday 10.00 - 13.00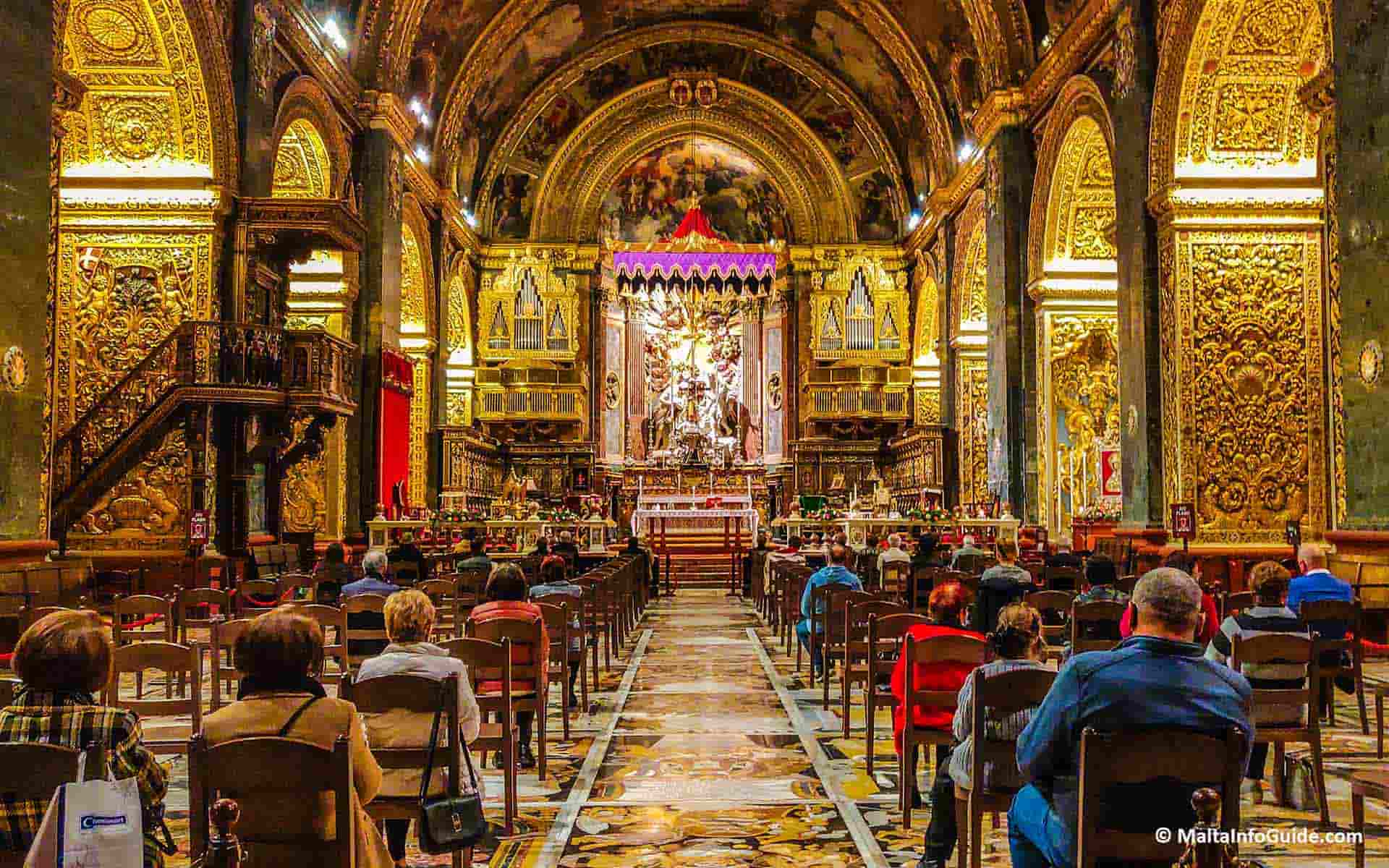 A Complete List of All 28 Valletta Churches
Churches
Christ the Redeemer – St. Christopher Street
Circumcision of the Lord (Jesuits' Church) - Merchants Street
Our Lady of Damascus – Greek Catholic Church - Archbishop Street
Our Lady of Mount Carmel (Carmelite Church) - Sanctuary Basilica - Old Theatre Street
Our Lady of Victory - South Street
Scots Church of St. Andrews - South Street
Presentation of Our Lady (aka. St. Catherine) – Republic Street
St. Barbara - Republic Street
St. Catherine's d'Italia Church Valletta - Victory Square
St. Francis of Assisi - Republic Street
St. James - Merchants Street
St. Lucy – St Paul Street
St. Mary of Jesus (Ta' Ġiezu) – St. John's Street
St. Mary Magdalene - Merchant Street
St. Nicholas (ta' L-Erwieħ) - Merchants Street
St. Paul's Pro-Cathedral - Anglican Church - Independence Square
Parish Churches
Our Lady of Fair Heavens & St. Dominic - Minor Basilica - St Dominic Street
Shipwreck of St Paul - St. Paul's Street
St. Augustine - Old Bakery Street
Chapels
Our Lady of Pilar – West Street
St. Roque - St. Ursola Street
Monastery of St Ursola - St. Ursola Street
The Assumption of the Blessed Virgin Mary into Heaven – Archbishop Street
The Blessed Virgin of Notre Dame De Liesse – Liesse Hill
Chapel of St. Anne - Fort St. Elmo
Chapel of Sacra Infermeria - Mediterranean Conference Centre
Basilica
The Holy Cross – St. Ursola Street -
Co-cathedral
St. John's Co-Cathedral - St. John's Street
want to rent a car in malta?
We have used Discover Cars every time we rented a car. We highly recommend them due to their good service and good prices.
Get The Best Rates On Your Car Rental Now!
need to book a hotel for your malta visit?
Using Booking.com, enter your travel dates and number of occupants then rates will be available for hotels and apartments during your visit to Malta 
Book Your Hotel In Malta on Booking.com for the Best Rates!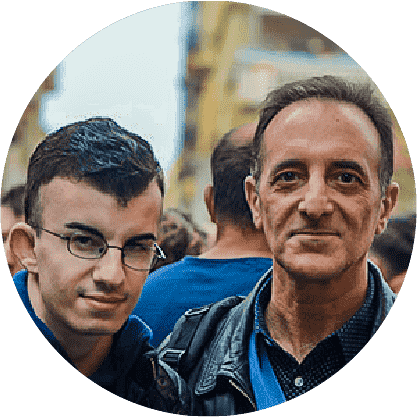 By Albert and Benjamin Magro