top 7 Malta Rock Beaches
Malta Is Literally Full Of Rocky Beaches
Malta rock beaches are preferred by many. One can choose from both rocky and sandy beaches. Malta is a rock formation in itself so finding a rocky beach is not difficult.
People tend to enjoy more sandy beaches rather than rocky beaches as a general rule. There are various reasons for this, but rocky beaches certainly have their advantages.
Swimmers tend to prefer them as they are less messy than sand and in many locations one can find expanses of flat rock making it convenient and comfortable to spread out a beach towel for sun bathing.
1. St. Peter's Pool
St. Peter's Pool is an inlet pool located between Marsaxlokk and Delimara. A popular swimming destination where hundreds of Maltese and tourist go for a swim. The inlet is surrounded by natural limestone rocks. Getting here is not that easy as if you come by bus you have a long walk, but it will be worth it. You are isolated from all traffic and village life.

2. Mgarr Ix-Xini
Mgarr ix-Xini is a secluded lovely bay where you can enjoy a peaceful swim. It is situated on the southern coast of Gozo facing Malta. It can be reached through the villages of Sannat or Xewkija. It lies at the far end of a valley with very steep cliffs on both sides. The road is very narrow and a fairly long drive along the edge of the cliffs with beautiful natural rock formations. It is accessible by car both ways in and out of the place.
The beach area into the sea is very pebbly with much larger stones and sometimes a bit uncomfortable to walk over.

This bay is never crowded and you will find yourself surrounded only by nature. There are various areas from where you can dive as the sea level quickly becomes deep and there are a number of caves found here. In fact boats do come in close to the beach area.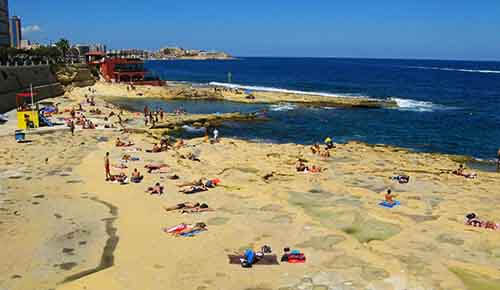 3. The Blue Hole, Dwejra Gozo
A unique tourism hidden gem on the island of Gozo. When we went, we where shocked by the amount of people that go swimming here. It is stunning spot to swim as it is rated as one of the best diving spots in the world. While here you see dozens of divers diving in the Blue Hole. You can also dive here with an experienced instructor.
4. Blue Lagoon Comino
The Blue Lagoon is a gorgeous rocky beach attracts hundreds of thousands of visitors yearly. A splendid island between the island of Malta and Gozo. A touristic hot spot with many cruise trips and boat trips daily. Blue Lagoon is a rocky beach surrounded by stunning turquoise blue sea.
5. Wied L-Ghasri
Between beautiful cliffs lies a bay called Wied il-Ghasri. A favourite spot for a number of foreigners and Maltese visit this location every time they come to the island. A beautiful little spot to enjoy, great for swimming and also for snorkeling.
The last part of the road is not good at all. To go down to the sea level there are around 90 rock cut steps which could be fairly difficult for people of a certain age. For those who love exploring there are a number of caves while going down and good for photo lovers.
During peak summer months the area becomes busy with locals who come over with their families. The custom is that they bring with them camping chairs, umbrellas, cooler box, pizza boxes, etc.

Diving is ideal as there are caves which you can explore. One word of advice if you don't know the place always dive with people who have experience, as the sea shore is narrow and within a small area when there are divers the area gets busy at times.
Not far from another interesting attraction Wied il Mielah Window` which can be done before or after Wied il-Ghasri
6. Anchor Bay
A tiny rocky bay beside the popular Popeye Village film scene. A unique rocky beach in Malta where you can see the village while swimming in the sea. Located in Mellieha a few minutes away from Ghadira bay.
People flock this beach during the summer months. There is a platform in the sea where people can sit and jump from. This is only available during the summer months. There is a specific swimming zone to keep you safe from any incoming boats.
7. Xatt L-Ahmar
Ix-Xatt l-Ahmar is another lovely beach for diving and swimming reached through a narrow winding road from Ghajnsielem. A small area for parking the car is available and then proceed the last part of the road by walking. This location is very close to the Gozo ferry terminal since Ghajnsielem is the first village at the top of the hill. From this location one can observe views of Malta.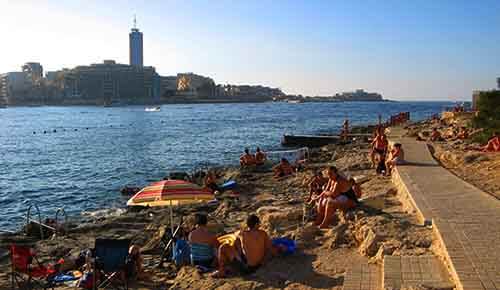 advantages of rocky beaches
Rocky beaches are easier to walk on and tend to be cooler than sand and more flat. But there are locations where the rock is rough or fairly rough and so again wearing flip flops or shoes are a must.
There are places which are shaded by high rocks. Generally these areas are more popular as usually a breeze is not missed either. While you are at a beach it will be nice to explore and move to a higher ground to see the beauty of our beaches.
For kids sand might be safer but if you choose to go on our Malta rock beaches, go to a flat area for them to be able to play safely.
To choose one you can just have a look at our list of beaches or at our Malta rocky beaches map.

Other Rocky Beaches In Malta
Baħar iċ-Ċagħaq coast
Delimara Point, limits of Marsaxlokk
Dragonara Point, St. Julians
Fomm ir-Riħ Bay, Limites of Rabat
Għar Lapsi, Limits of Siggiewi
Marsascala Bay, Marsascala
Marsaxlokk Bay, Marsaxlokk
Mistra Bay (including a small sandy beach), Limits of Mgarr
Qajjenza, limits of Birżebbuġia to Marsaxlokk
Salina Bay to St. George's Bay, St. Julians
Sliema sea front from Gzira to St. Julians
St. Paul's Bay, Buġibba and Qawra coast line
St. Thomas Bay, Limits of Marsascala (also a small sandy bay)
Wied iz-Żurrieq, limits of Żurrieq
Xrobb l-Għaġin Bay, limits of Marsaxlokk
Zonqor Point to St. Thomas Bay, Marsascala
what you should consider before visiting a rocky beach
Due to the many rocky beaches, these tend to be less overcrowded than sandy beaches and now-a-days many of these beaches are served with portable caravan bars serving drinks and snacks. On many beaches one can find the facility of hiring sunbeds and umbrellas.

There are some rocky bathing spots where the coast is in the form of a flat platform ideal for sunbathing. Over time, there have been many interventions to smoothen the rock surface to enable people to swim and sunbathe in relative comfort.

The rocky coast is also ideal for scuba diving and snorkeling. Diving is a very popular sport in Malta.
However it is advisable to always exercise caution when making your choice of beach. It is good to ask due to any currents especially when the sea is rough. There are locations where it is difficult to walk on and might even be difficult to climb out of the sea.

It is something that you have to think about and if you are alone do not go somewhere which completely unfamiliar to you. It is important that you ask for your own safety and your family especially if you have young children in tow.
Want To Share This Page On Pinterest? Pin It Here!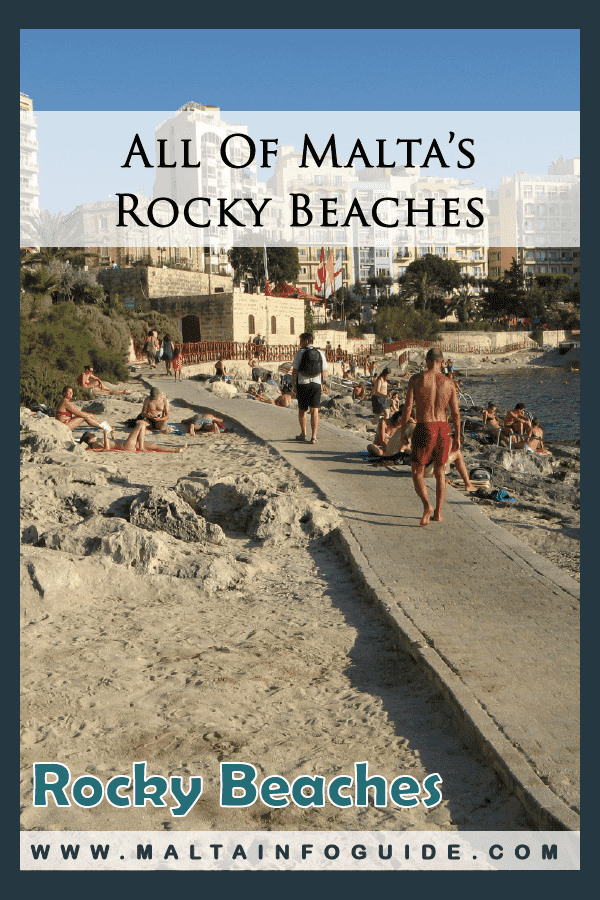 want to rent a car in malta?
We have used Discover Cars every time we rented a car. We highly recommend them due to their good service and good prices.
Get The Best Rates On Your Car Rental Now!
need to book a hotel for your malta visit?
Using Booking.com, enter your travel dates and number of occupants then rates will be available for hotels and apartments during your visit to Malta 
Book Your Hotel In Malta on Booking.com for the Best Rates!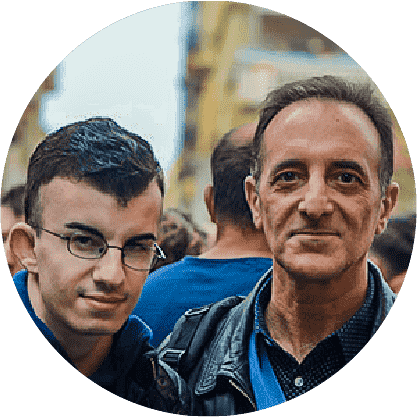 By Albert and Benjamin Magro