best 7 Malta Sandy Beaches
Sandy Beaches Are Found All Over The Island
Families with young children look for easy and convenient sandy beaches where all the family can relax and be at ease. Or a group of youths wanting to play ball or frisbee in the sea or play handball on the sand. Sandy beaches offer a mix for all.
A sandy beach makes sunbathing more comfortable too with the soft sand underneath you rather than hard rock. It is also easier to pitch up a beach umbrella for instant shade from the hot sun.
For detailed beach transport click here.

Disclaimer: On our website, you will find affiliate links from which we receive a small commission.
1. Ghadira Bay (Mellieha Bay)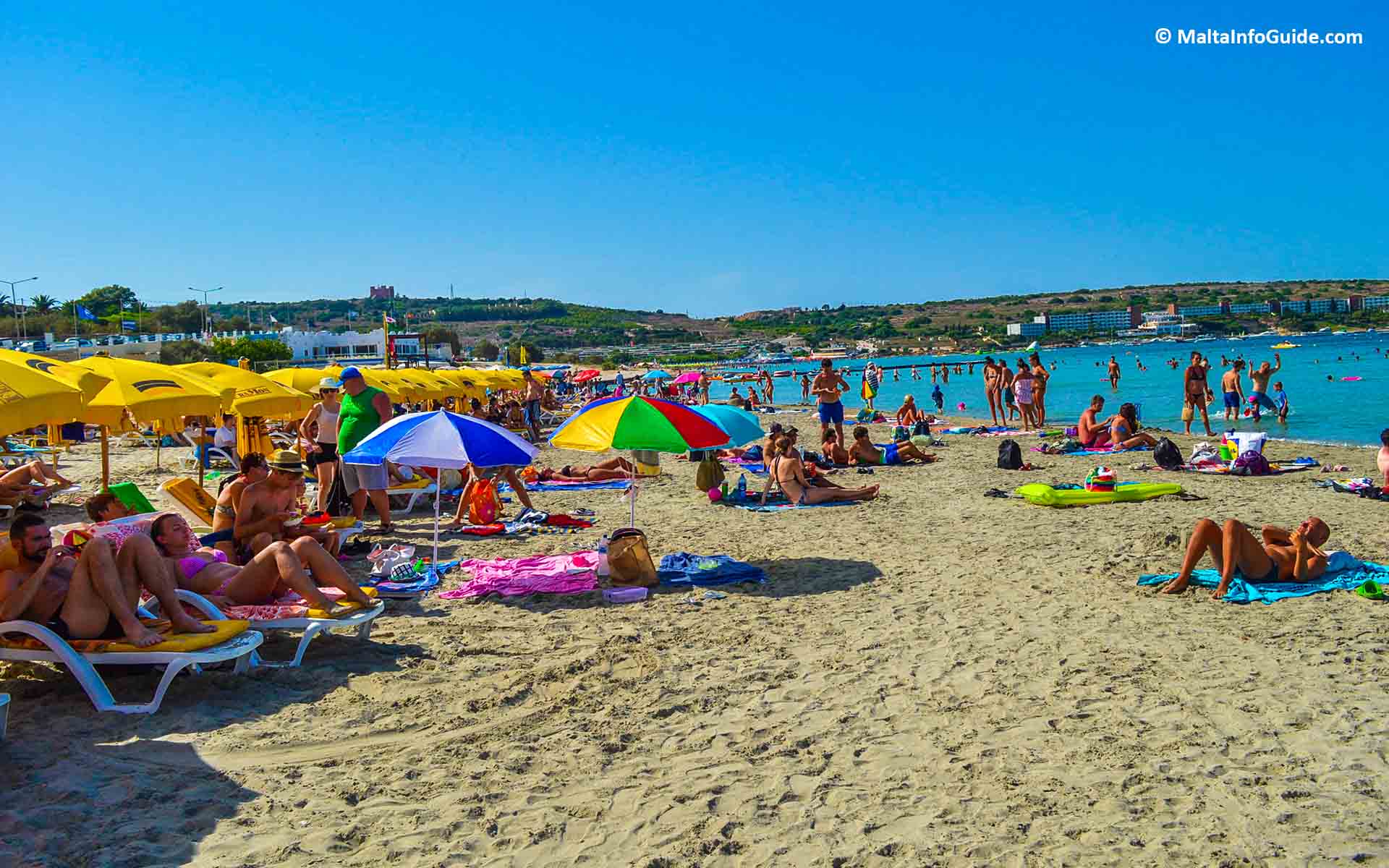 Mellieha bay is one of Malta's largest beaches, a stretch of 800 meters split up into three bays. Thousand of people flock this beach on a daily basis during summer. The bay has sunbed and umbrella rentals, water sports, restaurants and vans with cheap food.
2. Paradise Bay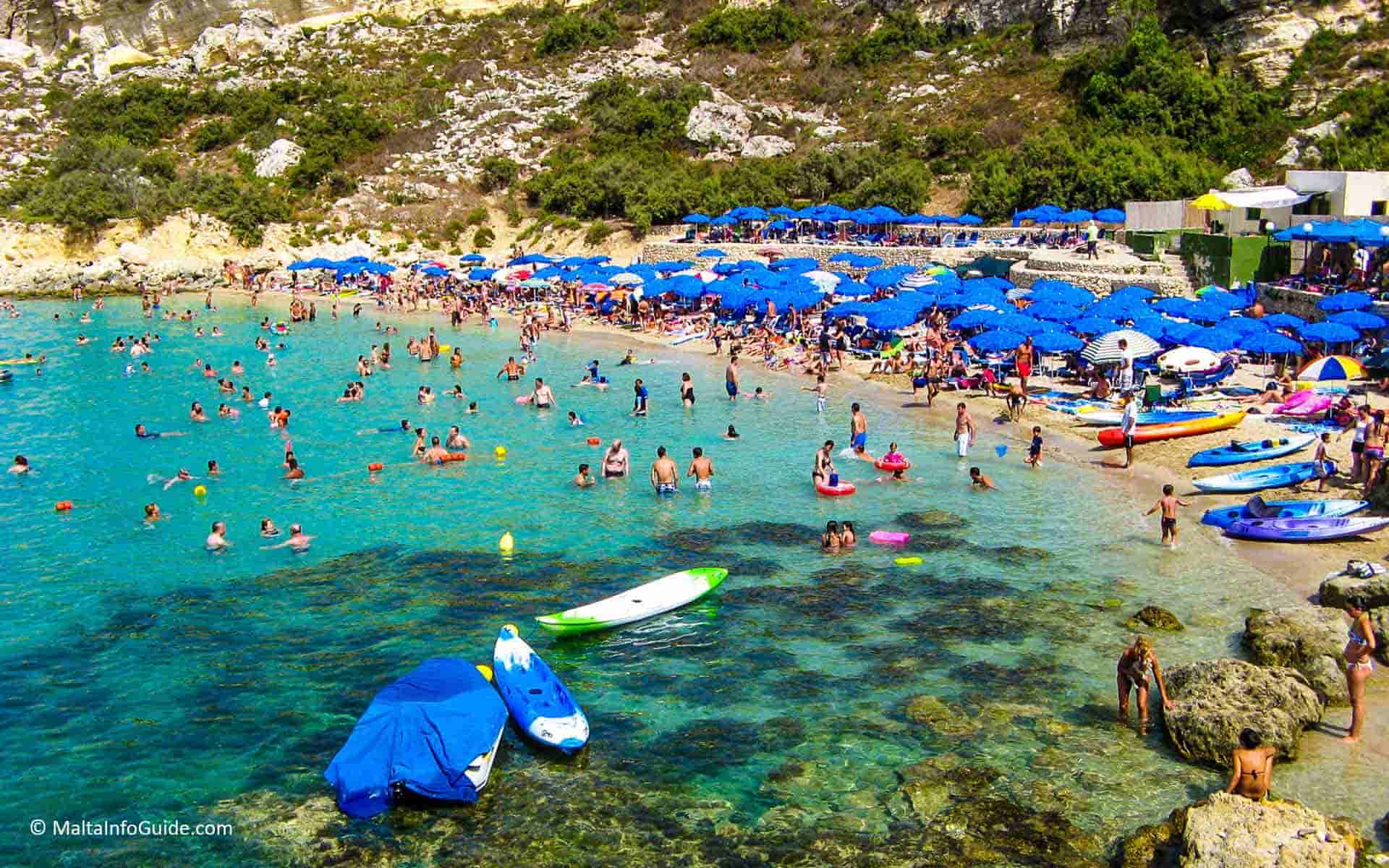 Paradise Bay is an isolated bay opposite the Cirkewwa ferry terminal. Getting there you must go down around 100 steps that might be exhausting but it will be worth it. You find everything you need from sunbed and umbrella rentals, a delicious restaurant and water sports. If staying in the sand isn't your thing, you can rent a sunbed and stay on the terrace overlooking the sea. During summer, the beach will be packed by nine in the morning. No pre-booking is available, only a first come first served basis.
3. Golden Bay Beach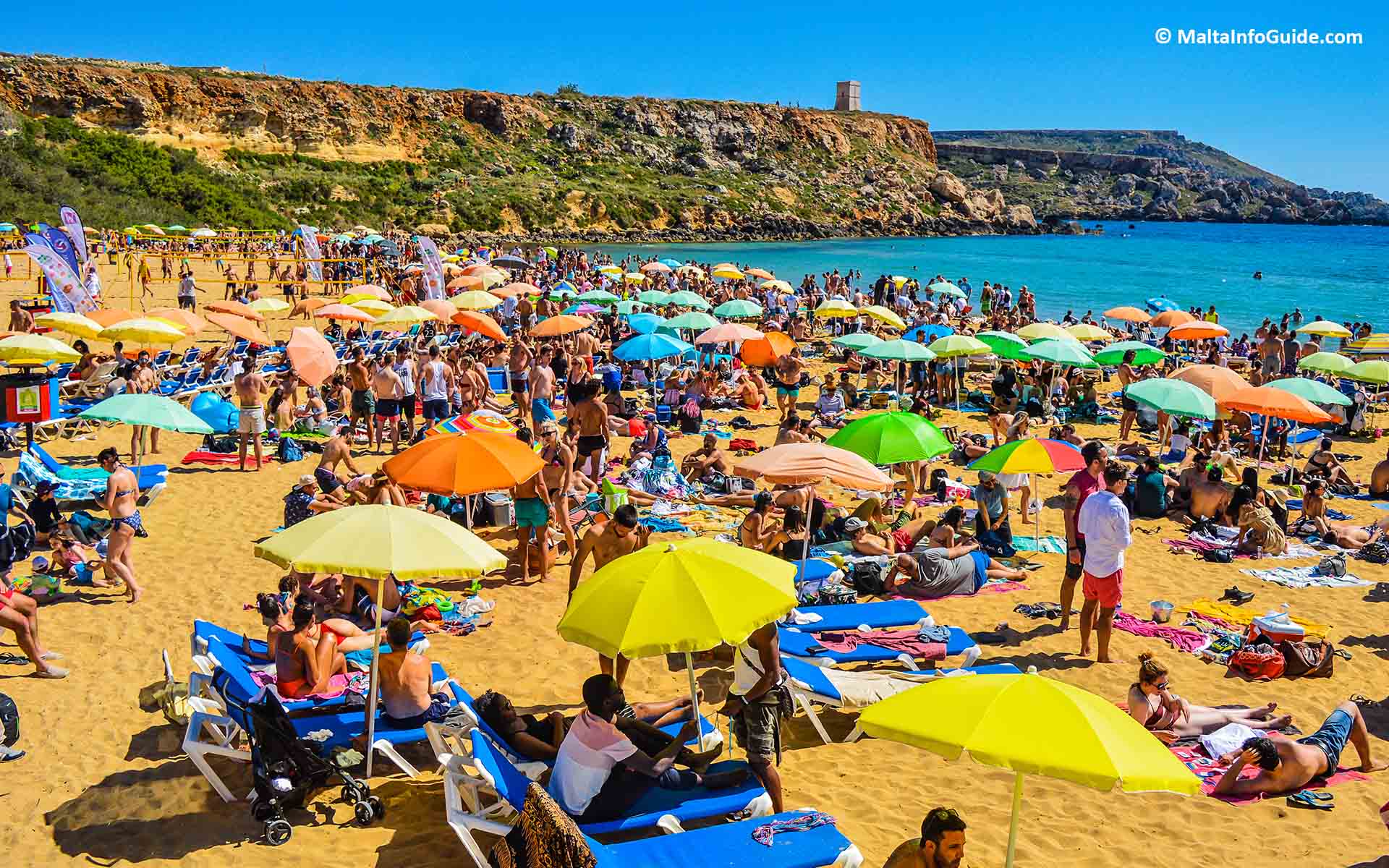 Do you want to go to a sandy beach where you can swim and experience one of Malta's best sunset spots? Golden Bay Malta is the beach for you. Located on the north west of Malta just beside the popular 5-star hotel called Radisson Blu Resort & Spa, Malta Golden Sands. The beach has golden colour sand and an impressive view all around. You can hire sunbeds and umbrellas and stay anywhere on the beach. 
Malta Tours Best Sellers

4. St. George's Bay Beach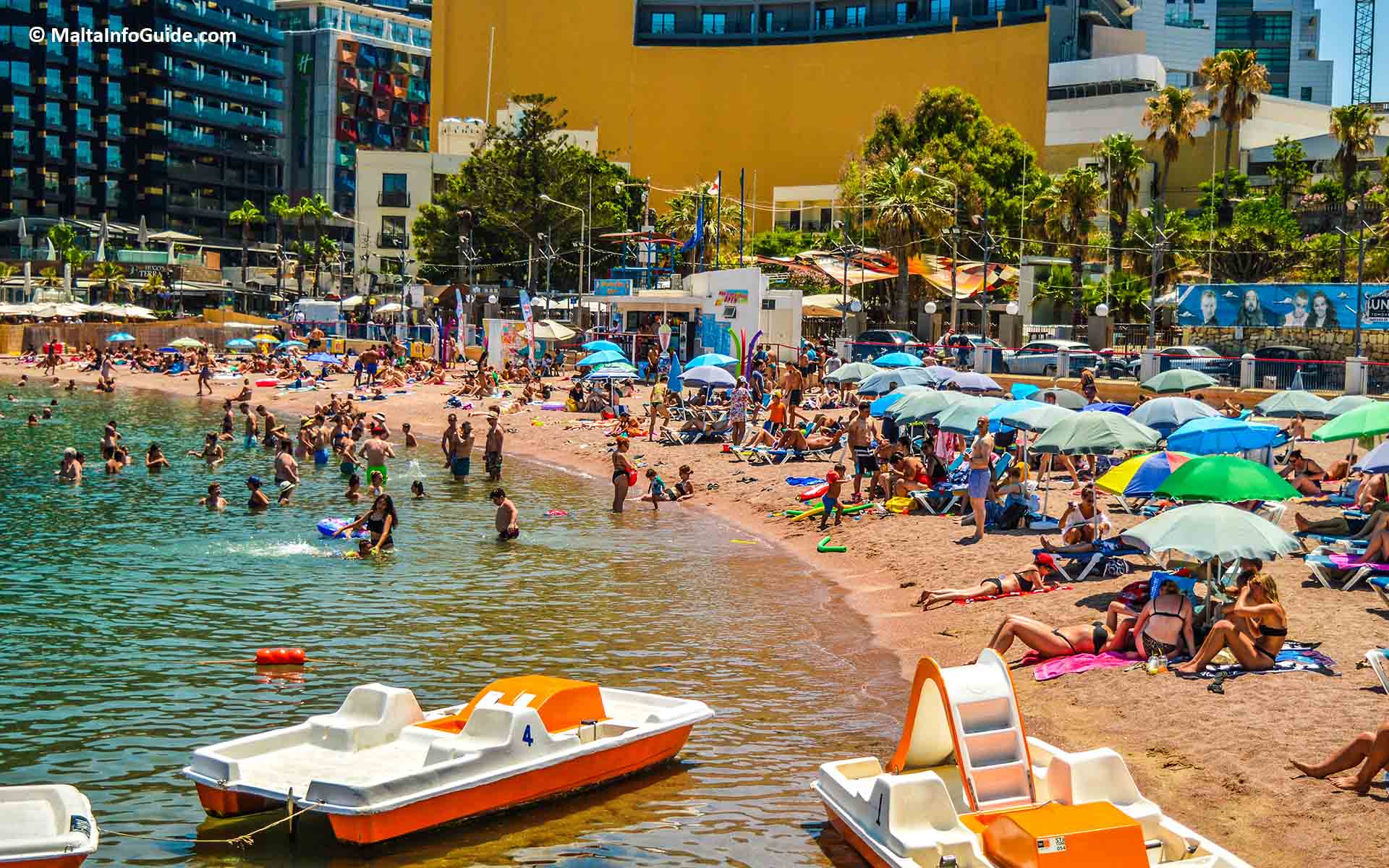 St. George's Bay is one of the most popular beaches that attracts hundreds of foreigners during the summer months. The beach is located right in the center of Malta nightlife city. During the day there is a shopping center opened with dozens of shops. Surrounding the beach are multiple bars and restaurants and a food van just by the beach.
5. Ramla L-Hamra Gozo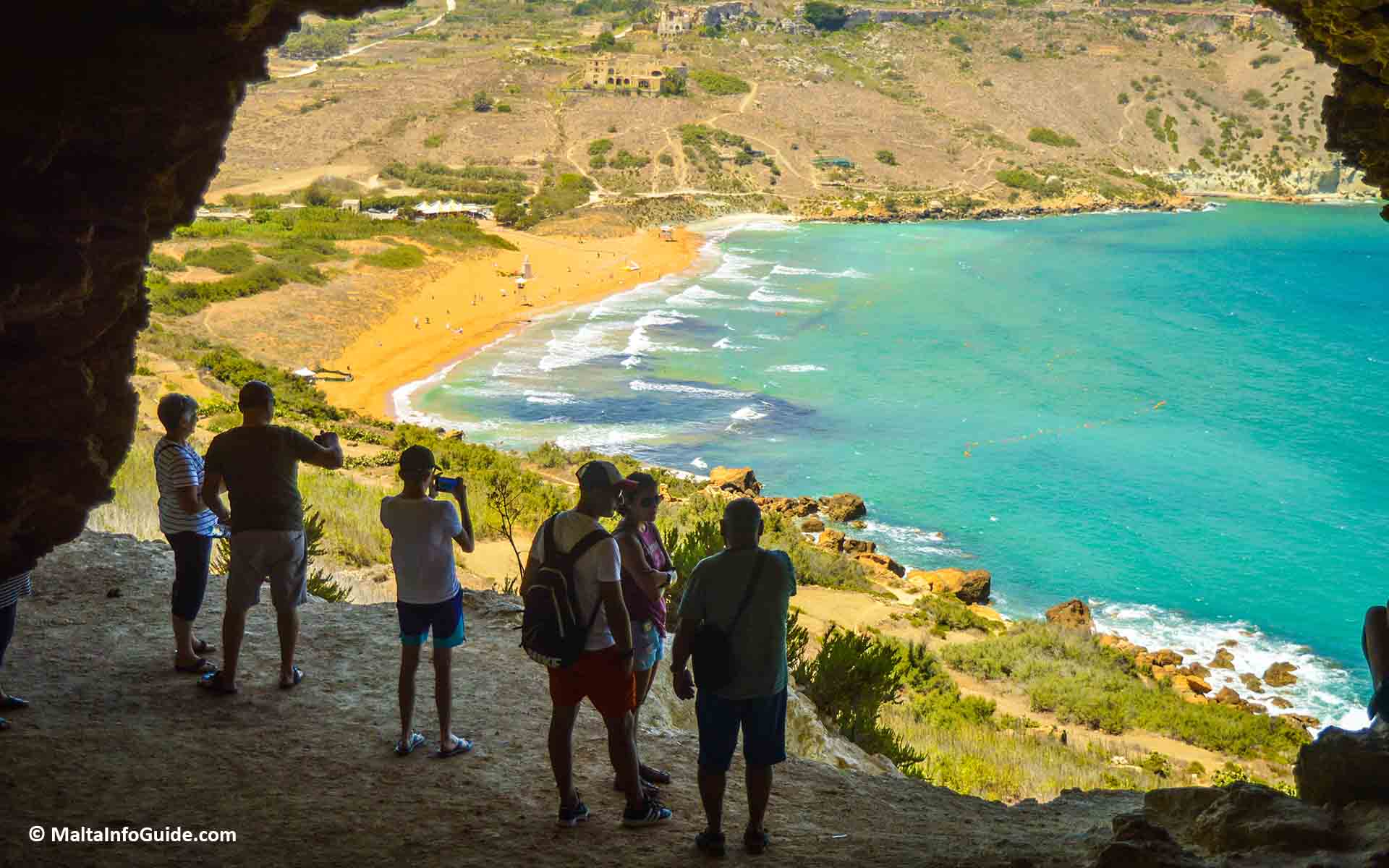 Ramla L-Hamra bay beach is one of Gozo's largest sandy beaches and one of the most popular. The beach is located beneath the villages of Xaghra and Nadur. Away from the hustle and bustle of life, Ramla Bay is located around 2 kilometers away from any residential village. If you love exploring, there is a cave called Mixta Cave on top of the cliffs overlooking the bay. This cave has become a very popular attraction and is seen quite frequently on Instagram.
6. Hondoq Ir-Rummien
Hondoq ir-Rummien is a lovely small sandy beach situated on the south eastern coast of the island of Gozo. It can be reached through the village of Qala. The last piece of road is steep but then you find ample place to park your car. No public transport is available to this beach.
You need to go early to find a secluded place but depending on the period of time during the year as it is very popular with the locals. The sea gets deep quickly from the sandy area. There are various spots from where you can dive into the deep water especially from the left side as there is a concrete jetty at a fair level above sea level.

It is an open bay facing Comino island. During the summer period it is easy to find a local kiosk selling snacks and drinks as it is fairly far away to buy the necessities if you do not get with you. It is an excellent location for a bar-b-que.

Since the sea is very clear and there are small caves at water level makes it an attractive area for snorkeling and diving.
Malta sandy beach hotels
With Malta having so many sandy beaches, some of them have hotels just beside the beach. There is a range of 4 and 5 star hotels. 
Radisson Blu Resort & Spa, Malta Golden Sands
A 5 star hotel overlooking the Golden Bay beach.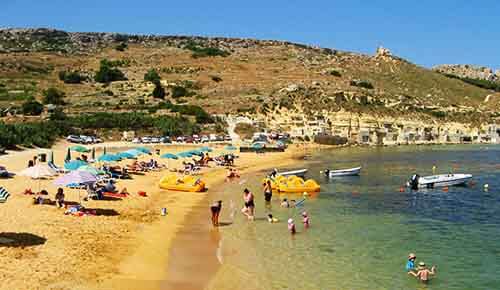 When you are here on holiday you will surely observe the Maltese swimming along many parts of the coastline. You can use them as your safety beacon and be sure that it is an area safe for swimming. You will see them bar-b-quing, camping, fishing, walking, lazing, sunbathing, snorkeling – always by the seashore.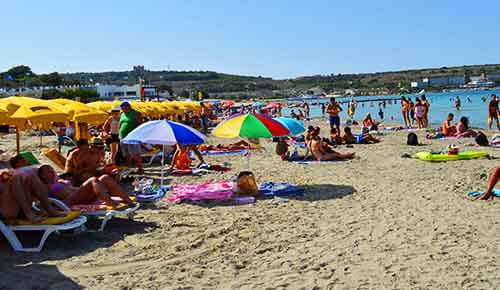 Other Sandy Beaches In Malta
Balluta Bay, between Sliema and St. Julians
Mgiebah Bay, Limits of Selmun
Mistra Bay, Limits of Mgarr
Pretty Bay, Birżebbuġia
Tal-Bir Bay, limits of Mellieha
Tal-Qortin Bay, limits of Mellieha
Tat-Torri Bay, limits of Mellieha
Rinella Bay, Kalkara
St. George's Bay, Birżebbuġia
Salina Bay, limits of St. Paul's Bay
St. Thomas Bay, limits of Marsascala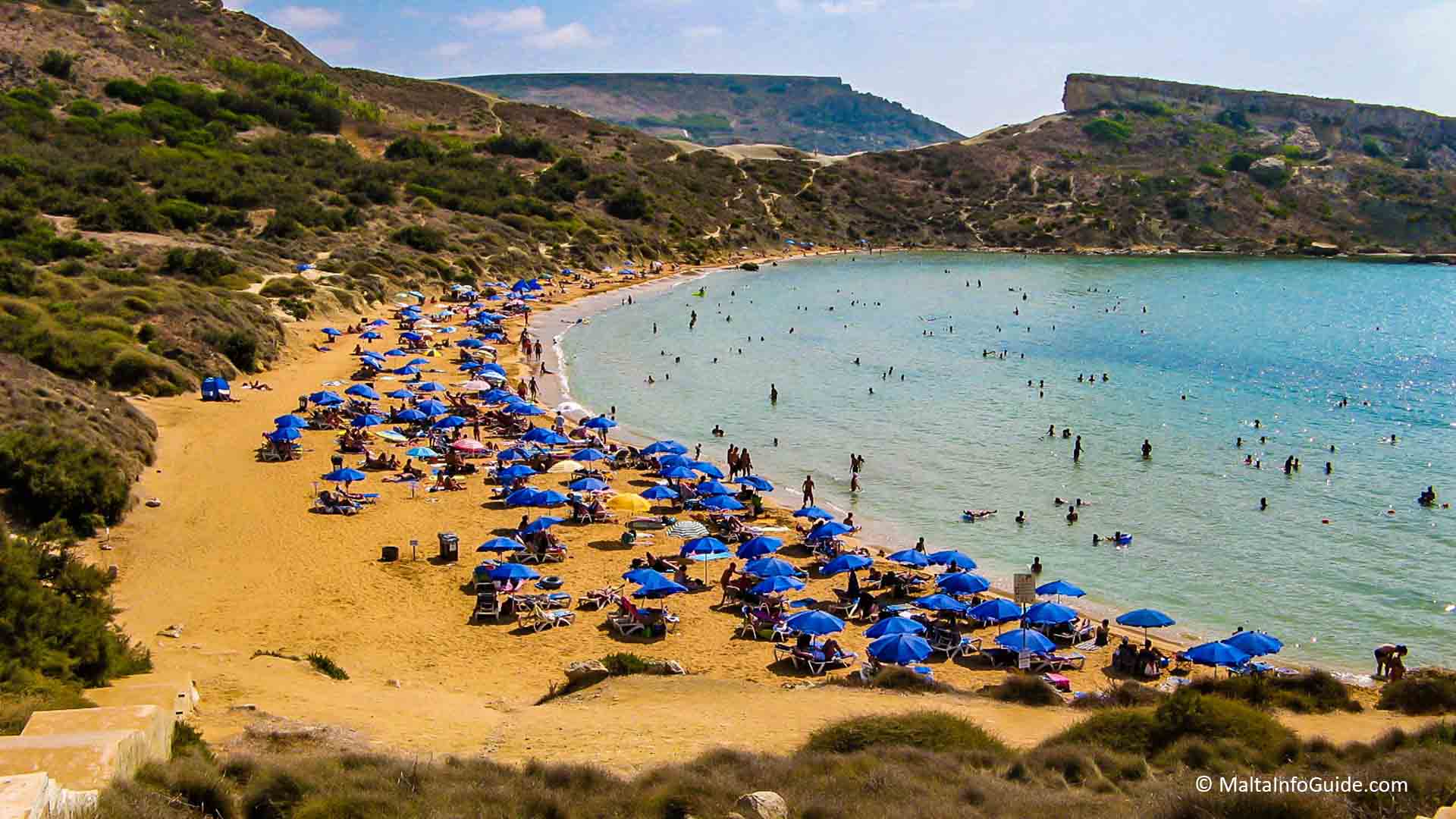 Rocky Beaches

For those who love rocky beaches, Malta is the ideal place. There is an abundance of locations and with many different features that provides you with a selection of places to visit during your holiday. The Maltese are spoilt for choice and so is the visitor.
We have made a selection of the most popular but in truth there are much more as most of the coastline is available for swimming. We would like to draw your attention to the need to be careful for the weather conditions. Also before jumping into the sea be sure to have made a note of an easy way to climb out of the water as this is not always easy due to the rock formation.
Malta Sandy Beaches for your best beach holidays in Malta, a helpful guide to your holidays in Malta.
Want To Share This Page On Pinterest? Pin It Here!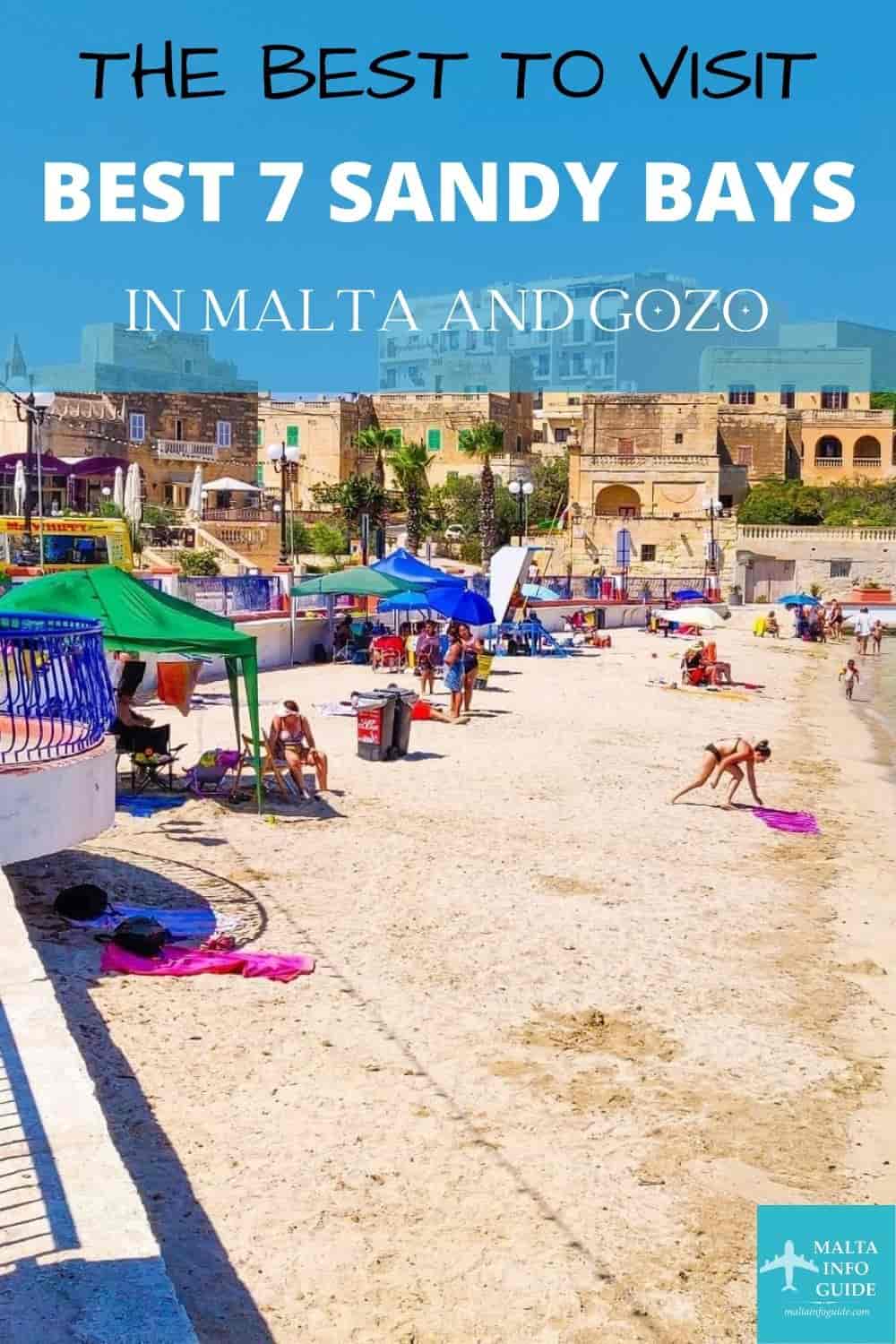 want to rent a car in malta?
We have used Discover Cars every time we rented a car. We highly recommend them due to their good service and good prices.
Get The Best Rates On Your Car Rental Now!
need to book a hotel for your malta visit?
Using Booking.com, enter your travel dates and number of occupants then rates will be available for hotels and apartments during your visit to Malta 
Book Your Hotel In Malta on Booking.com for the Best Rates!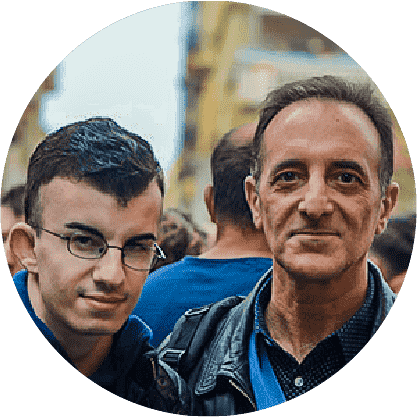 By Albert and Benjamin Magro