Marsaxlokk Malta
An Attractive Maltese Fishing Village,
Everyone on Holiday Wants To Visit

Marsaxlokk Malta is a small fishing village with a population of around 4,000 located on the south-eastern coast of Malta located at the shoreline of the second largest port in Malta.

You will find this fishing village on all Malta guide books. Surrounded by green vegetation, this port is very sheltered and has deep waters. For this reason it has served many purposes over the centuries.
What You Need to Know About Marsaxlokk fishing village
The nearby village of Birzebbugia also forms part of this port however it offers a very different character. At present this important fishing village has the largest population of active fishermen with many traditional fishing boats of all sizes anchored in the port.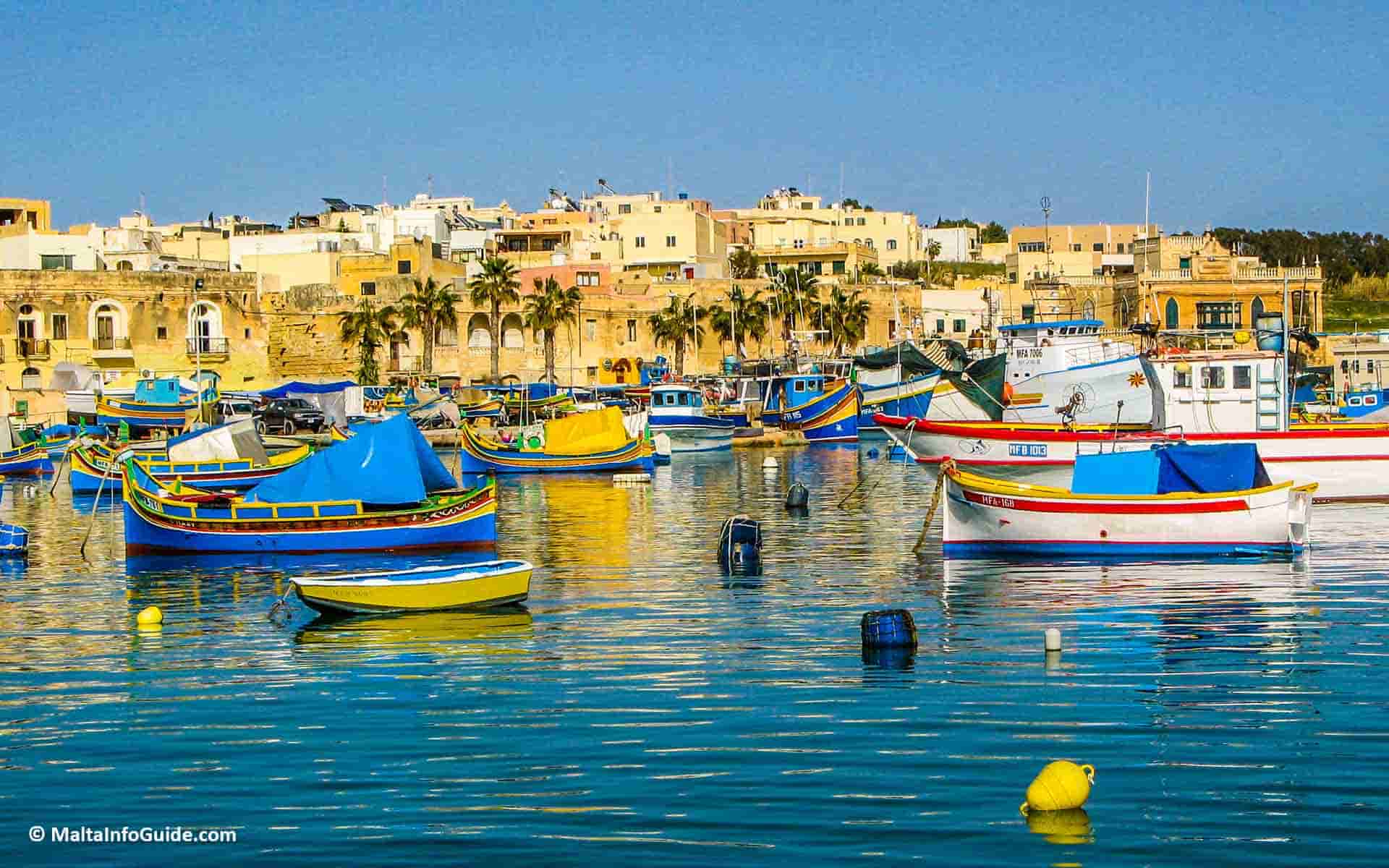 The Malta fishing village is a very quiet location compared to others, with few cars passing through. But at the same time it has become a very touristic location with many fish restaurants and cafes lined along the promenade.

Facts About Marsaxlokk Malta
- A population of close to 4,000 residents.
- Marsaxlokk is the largest and only fishing village on the Maltese islands.
- Many locals visit this village, especially for Sunday lunch.
- It is popular for the Sunday morning market where you find fresh fish and all sorts of other commodities.
- The patron saint feast is Our Lady of Pompeii and is held on the last Sunday of July or 1st Sunday of August.
- Located on the southern eastern region of Malta.
- A World War II Fact: Around the village of Marsaxlokk there were military outposts that were constructed by the British to defend the village's harbour. Some still stand around today.
- Malta's power station is located around a couple of kilometers from the village. It is known as Delimara.
- Marsaxlokk has it's own football club called Marsaxlokk F.C
'Luzzu' - A Maltese Traditional Fishing Boats
A local characteristic of these wooden boats is that they create a particular scenic effect, painted in bright red, green, yellow and blue.
This fishing boat is called 'luzzu' in Maltese and in themselves are an attraction to many tourists who visit this location all year round.
At the front of the luzzu these are a couple of eyes which are called eye of osiris.
The colours reflect beautifully in the blue sea of the bay. The fishing boat design is said to date back to 800 BC when the Phoenicians came to Malta. They have the traditional eye of osiris on both sides of the front bow of the boats.
Marsaxlokk Malta Fish Market and Stalls
Street hawkers set up their daily stalls here selling souvenirs, clothing and all kinds of things. You will also notice there are stalls selling fresh fish.

Marsaxlokk Malta is busiest on Sunday when many people flock to the Sunday market.

Many locals come on this day to buy their weekly supply of fish and vegetables.
You will still see the usual souvenir stalls and the Maltese lace table-cloths with crochet finishing many of them depicting the cross of the Knights of Malta.
For those with a sweet tooth, one will find many locally baked sweets to savour and purchase.

The most popular fish in Malta are the Swordfish and blue fin tuna. During spring and autumn dophin fish or Dorado, known locally as 'lampuki' is caught in abandance and is very popular with the locals.
If you are lucky enough you might see the fishermen tending to their nets before they go out to sea for their next catch. It is indeed a village where you can relax and gently stroll around.
When is the Market open during the week?
- It is open everyday from 08:30 to 4:00
What happens on Sunday in Marsaxlokk?
- During this day there is the main market, especially the Fish market which is open from early morning until around 13:30. If you arrive at Marsaxlokk early in the morning you might catch the fisherman grabbing the catch of the day. It is something that is worth seeing.
Where is Marsaxlokk Malta? | Map of Marsaxlokk
Marsaxlokk is located on the south-eastern coast of Malta.
Marsaxlokk Bay Malta Beach

There are no beach facilities in the area. It is therefore advisable that one takes along the essentials.

How To Get To Marsaxlokk
By Car: If driving your own rented car, take the road leading to Zejtun. Follow the signs on the main road until you find the signs which will take you to the centre of the village which is adjacent to the sea shore. When you arrive you can then park your car along the promenade and on the left side of the bay there is a large parking area. If you will be visiting on a Sunday, it might be difficult to find parking since there will be the market by the seafront.
Villages close by are Birzebbugia, Zejtun and Marsascala.

By Malta Public Transport Bus:
- Going from Sliema to Marsaxlokk: First go to Valletta Bus Terminus using one of the following routes 13, 13A, 14, 15, 16, 21 and N13 then take the Marsaxlokk bus.
- Going from Valletta Bus Terminus to Marsaxlokk: 81 every 30 minutes and 85 every 60 minutes
- From Birzebbugia: 210 every 60 minutes
- From Airport: 119 (the only direct route) every 60 minutes
By Sightseeing Bus: The CitySightseeing Malta hop-on hop-off service, passes from Marsaxlokk too. First departure from Valletta Waterfront at 09:15 to 16.10 every 30 minutes. You have to get on the South Malta red line. Marsaxlokk is stop number 4. For further details click here
Airport Transfer: You can catch a transfer for around €20 (one way) for a standard car. If you are planning on travelling back to the airport with a taxi, we would suggest booking a round trip as it will come cheaper.
Amenities around Marsaxlokk Malta
Public Toilets
- There is a public rest room in the centre of the bay adjacent to the sea shore in front of the main church square.
Banks
There are two ATM's around Marsaxlokk.
HSBC:
- Located in Xatt is-Sajjieda
- Only an ATM is available.
- There is no branch at Marsaxlokk. Closest Branch is in the village of Zejtun around 2 kilometers away.
- HSBC customer care: +356 2380 2380 - Available everyday between 08:00 and 20:00 excluding Sundays and public holidays.
- The ATM is available 24 hours a day and 7 days a week.
BOV:

- Located in Zejtun Road, beside the parish church.
- Customer Care: +356 2131 2020 - Available between Mondays and Saturdays from 08.00 to 20:00 excluding Sundays and Bank/Public Holidays.
- An ATM and branch is available.
BOV Branch details:
- Opening Hours: Monday to Friday 08:30 to 13:00 & Saturday 08:30 to 12.30.
- Contact: +356 2131 2020

Police Station
- It is located on the promenade beside Pisces restaurant.
Local Council
- It is located at the corner between Vittorjo Cassar Street with Tonnin Attard Street.
- Address: 2, Vittorjo Cassar Street, Marsaxlokk MXK 1051
- Contact: +356 2165 2525, 2165 0937, 2165 2392
Church
The parish church is located at the square. The church is dedicated to Our Lady of Pompei. A mass is held everyday at 07:45 and 18:00 in Maltese. On Sunday the masses are held at 07:30, 09:30, 11:00 and 18:00 in Maltese.
Contact: +356 2165 0662
St. Peter's Pool, Harbour Tour
- If you would like to visit St. Peter's Pool from Marsaxlokk you can do so by taking a boat ride directly to the bay.
Accommodation Around The Area
In Marsaxlokk you will not find any hotels, but you will find Gueshouses or apartments for rent.
Guesthouses
- Port View Guesthouse
- Fisherman's Cove Guesthouse
- South Wind Guesthouse
Holiday Apartments

- St. Peter's Pool Holiday Apartment
- Anchors Away
- The Waves Holiday Apartment
If you are looking for a 2 & 3 star hotels but want to stay in the vicinity of Marsaxlokk, you will find hotels at Birzebbugia or Marsascala. The following are the hotels found at those two locations.

Birzebbugia Hotels
Marsascala Hotels
Where to Eat While Here
All restaurants offer a particular experience in fresh locally caught fish and sea food. Most fish restaurants are open for lunch and dinner and are sought after by all types of persons, not least by foreigners who live or work in Malta.
- Tartarun: A family run business, Tartarun is the name of a special Maltese fishing net. It offers quality cuisine serving fish based dishes in a relaxing atmosphere.
- Ta' Victor: Located in the church square in front of the sea with a traditional authentically Maltese food at its best. The restaurant owner offers his advice about the variety of foods he offers and explains the specialities of the day.
- T'Anna Mari: Mediterranean Restaurants with an original Maltese ambience. Run by Chef de Cuisine Salvatore Piccione from Siracusa with 16 years of experience knowing well the local food traditions.
- Hunters Tower: A restaurant that is kid friendly, accepts large groups with both indoor, outdoor facilities, beautiful garden and sea view. Family run with 40 years experience synonymous with hearty, delicious and satisfying meals.
- La Reggia: Taste that perfect lunch or dinner at this latest restaurant addition. A great change from the standard boring fish and chips, deliciously prepared with perfectly cooked fish, a great creative menu with great executed and very tasty food and service.
- Ir-Rizzu: It is one of the oldest restaurants, a family run business specialising in fresh fish and sea food plates where you can see it being cooked in the open kitchen, located close to the village square. A la carte and set menu including a children's menu.
- iPlace: The most technologically modern restaurant in this location offers a complete variety of food from pizzas, meats, sea food, children's menus, something for all tastes. Always completely full with patrons both for lunch and dinner
- Carrubia Restaurant: Located close to the water's edge, enjoys picturesque views, you can have a light quick lunch, an evening romantic dinner. Specializing in sea food, including Pasta, Pizza and meats, caters for all taste buds and preferences.
- Terrone
- Acqua Pazza
- Ta' Frenc il-Koy
- Harbour Lights Cafe
- Duncan
- Rising Sun Bar
- Filippo
- Opera Caffe Lounge
- Roots
- La Capanna
- Ristorante e Pizzeria Dell Arte
Attractions Nearby
Despite its importance in the history of Malta over the years and its reputation as the most picturesque seaside locality in Malta, Marsaxlokk fishing village remains a peaceful and touristic location.

Despite having become very commercialized, the beauty is in its old houses laden with character.

The typical Maltese church with the large square at the front, and the laid back village atmosphere that enable it to retain its character.
Various historic buildings can be still seen in the harbour, while the fishing nets are still spread on the quay to dry in the sun.

The Parish Church which is located in front of the promenade, was built in 1897 and is dedicated to our Lady of Pompei.
Tas-Silg Archaeological Complex
The Tas-Silg historical sites are a living memory of generations of culture that have settled on this island over centuries. It is worth viewing a feature describing its' importance.
St. Lucian Tower
It has been used for many centuries by inhabitants and invaders alike. In fact the Knights of St. John had constructed a large fortification which is called St. Lucian. It is located at the centre of the port on a peninsula. It's main purpose had been to protect this harbour from invaders to which often fell prey.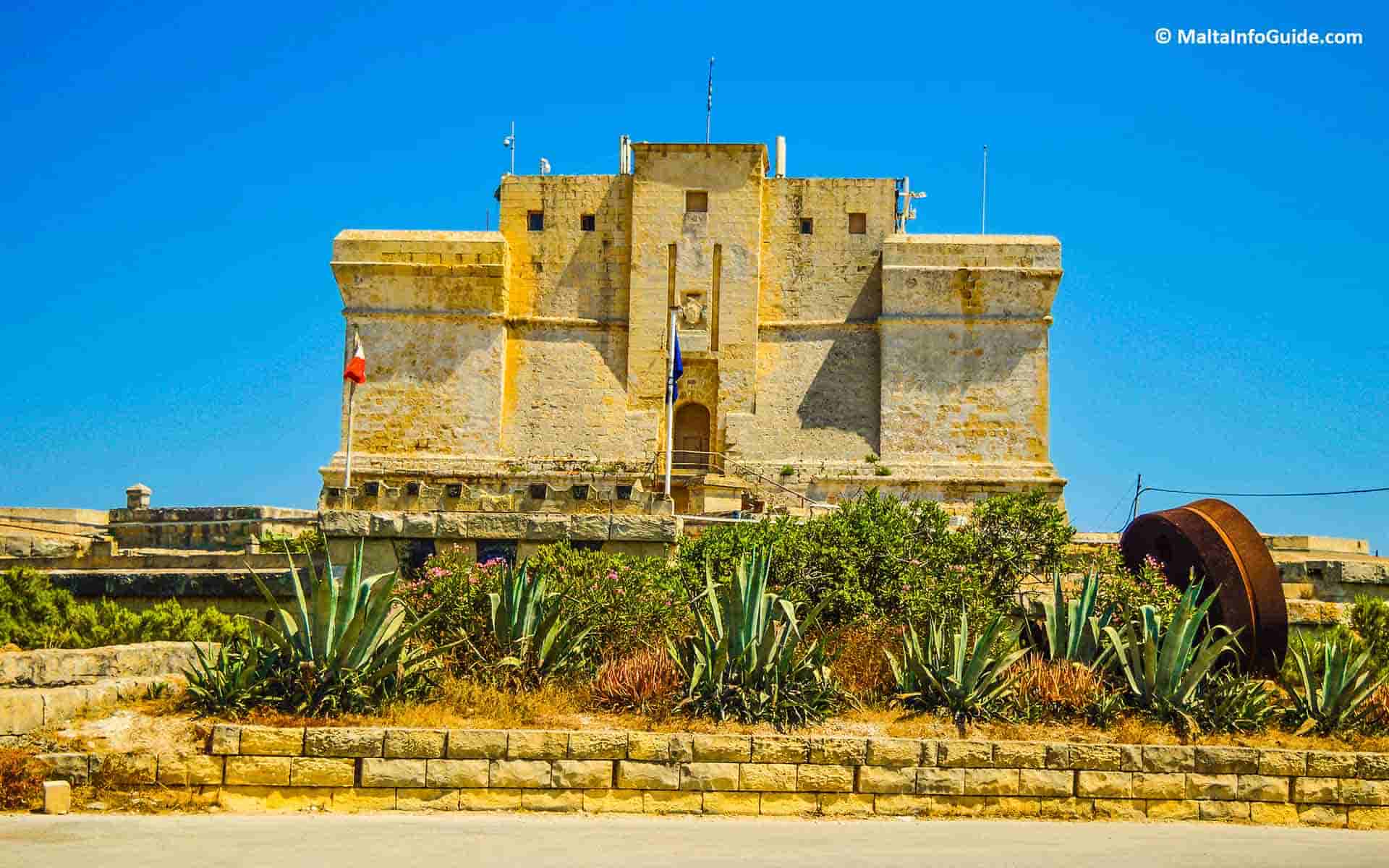 Fort Delimara
It was built by the British Forces during their presence in Malta in the period 1880. Its principal scope was to protect Marsaxlokk Bay. Located at the mouth of the bay, it was built almost underground so as to camoflage it from unwanted invaders.
A list of attractions nearby:
- Il-Hofra Iz-Zghira
- Il-Hofra Il-Kbira
- Lighthouse Il-Kalanka
- Fort Delimara
- Il-Kalanka Bay
- Marsaxlokk Bay sandy beach
- Church of Our lady of tas-silg
We suggest that here is a good choice for meals, not only for the fresh fish on offer but also for its' quiet and picturesque location. For those who come to our islands in search of a relaxing holiday, this is the place where this can be achieved.

Marsaxlokk bay is the location mentioned on all Malta guide books.
Can I visit with a Tour?
Yes there is a tour that goes to this village. It is a combined tour that also goes to Blue Grotto.
Why choose this tour?

You will visit two of the most visiting locations by tourists.
Firstly you will visit the Blue Grotto. As an option when you are there you can take a boat ride to the caves.
After that stunning stop, you will visit the Marsaxlokk fishing village. Here you will have the opportunity to wander around and see the markets along the shore.
What is included with the price?
- A visit to Blue Grotto and Marsaxlokk fishing village
- Pickup and drop-off from accommodation
- Professional local guide
What is excluded with the price?
- Boat trip to Blue Grotto Caves (Ticket of boat trip can only be purchased from the ticket office at Blue Grotto)
- Gratuities
- Food and drinks

How long is the tour and when does it operate?
- This is an extended half day morning tour and lasts for approximately 5 Hours. The tour operates only on a Sunday all year round.
Is the boat trip to the Blue Grotto included with this tour?
No this boat trip is not included, so you will have to buy tickets separately when you arrive at the Blue Grotto.
Click here to book your tickets
How do I book this tour?
- First select the date you would like to attend this tour.
- Second select the number of adults (€28) or/and children (€12) which will be attending the tour.
- Enter 'maltainfoguide' in the coupon box to get a 5% discount
- After you have selected the dates, click book now.
- You will then have to fill up a form with necessary details.
- Enter you payment details then click Confirm Booking.
Since Marsaxlokk is a Maltese word, sometimes it is difficult to pronounce or write by foreigners. These are the various ways it is expressed: marsaslok | marsaxlok | marsaxloxx | marsaxxlok | marsaloxx | marsalokk.
Marsaxlokk Malta remains one of the most attractive places to visit.