hop on hop off Malta
Sightseeing Tours

discover the north of malta
The hop-on hop-off Malta sightseeing tours is one of the best opportunities to see Malta.
The Malta sightseeing hop-on hop-off blue route offers a practical tour service linking to all the popular spots in the north of Malta. This route starts from Sliema Ferries and head up to the north.
Disclaimer: If you book this tour through the links on this page, we receive a small commission at no cost to you. We were not paid to write this review.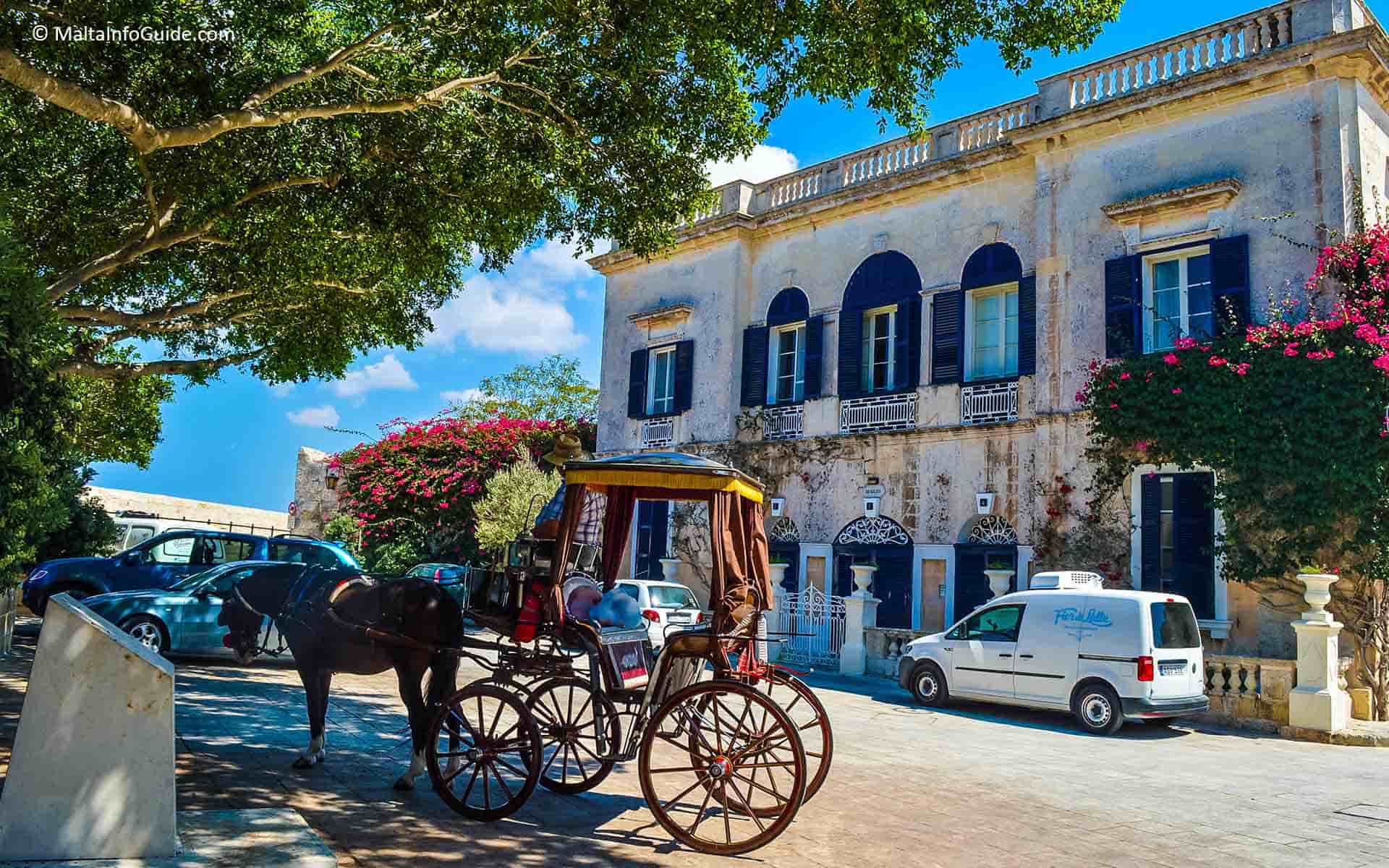 A karozzin at Mdina city. Click here to buy tickets PROMOTIONAL COUPON 'maltainfoguide' [-5%]
Information About the Tour
You can either have a ticket valid for 1 day or 2 days.
You can stop at any location, discover, then embark the bus again.
Audio commentary in 16 languages.
It operates seven days a week, every 30 minutes with 15 stops. Click here for the full timetable.
The tour operates from 09:00 to 15:00 leaving from Sliema.
There is a transport service from and to the northern areas (all major hotels in Marfa and Mellieha) in the morning and afternoon.

Included with the tour is a detailed map together with the route, stops and lines, as well as timetable and shuttle service.
The ticket you purchase can be used for both the north and south tour. The Gozo and night tour is a separate ticket.
hop on hop off tour tickets
Sightseeing Tour Tickets:

Adults (15+): €20.00
Children (5 - 14): €12.00
Infants (Under 4): No admission

The ticket prices above are per person and for a one day sightseeing trip.

Additional Tickets:
Harbour Cruise combination: +€13
2-day ticket (15+ Years): +€17
2-day ticket (5-14 Years): +€10


Secure Payments Guaranteed

Secure Payments Guaranteed
Enter 'maltainfoguide' in the coupon box to get a 5% discount
eTicket (Mobile Ticket) available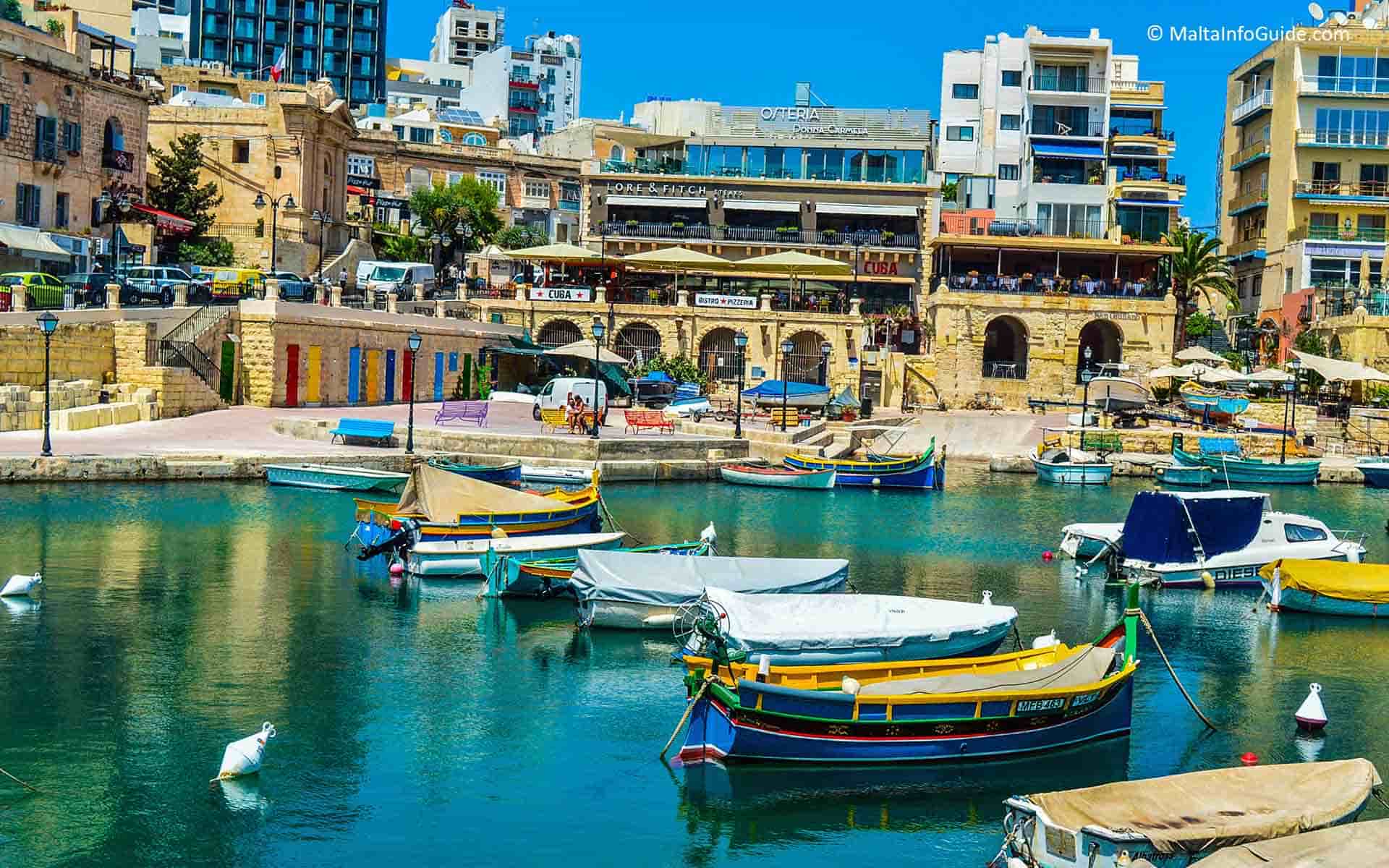 Spinola bay St. Julian's. Click here to buy tickets PROMOTIONAL COUPON 'maltainfoguide' [-5%]
How To Book The Sightseeing Tour
Malta Sightseeing Tours
Firstly, select the tour date.

Enter 'maltainfoguide'

 in the coupon box to get a 

5% discount

.

Secondly, select the number of adults (€20), teens (€12), children (Free).

The sightseeing tour can be done on 2 days. Under Additional Services you can select the 2-day ticket which is an additional €17 per person for an adult and €10 for a child.
After you have selected the information, click confirm selection.

The next step is to fill up the form with your accommodation and personal details.


Choose your 

payment method.

Then 

click Book & Pay

.





Secure Payments Guaranteed

Secure Payments Guaranteed
Enter 'maltainfoguide' in the coupon box to get a 5% discount
eTicket (Mobile Ticket) available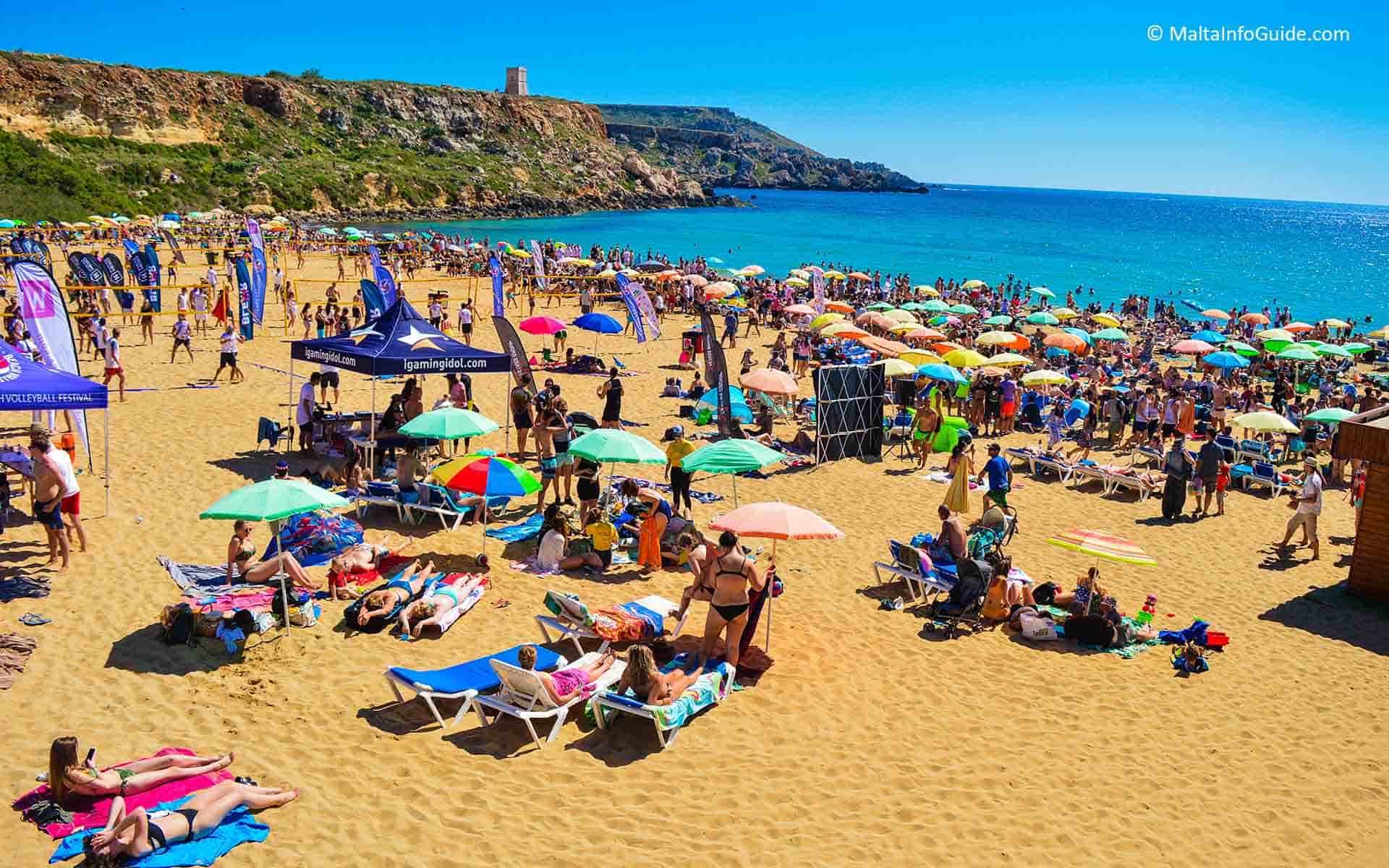 Golden Bay Beach. Click here to buy tickets PROMOTIONAL COUPON 'maltainfoguide' [-5%]
Localities The Tour Visit
Malta Sightseeing Tours
Sliema

Departure from Sliema Ferries (Malta Sightseeing Tours Terminus), located close to the bus stop of the Malta Public Transport buses and the boat tours departure area.

It is the heart of the business area. The majority of hotels restaurants and shops, are located here. It is a hive of activity for many during all day. Sliema is in the middle of a long stretch of promenade spanning from Ta' Xbiex, Gzira, Sliema, St. Julian's, Paceville and St. George's Bay. Sliema. All tourist cruises start and return from here.
Manoel island (passing)

Manoel Island is a small island located in the inner harbour area on the side of Gzira and Sliema. It was fortified by Grand Master Manoel de Vilhena and this is the reason why the island has been named after him.
Ta'Xbiex Harbour (passing)

Located along the sea shore with many old beautiful villas along the shoreline. It is the place of Yacht harbouring.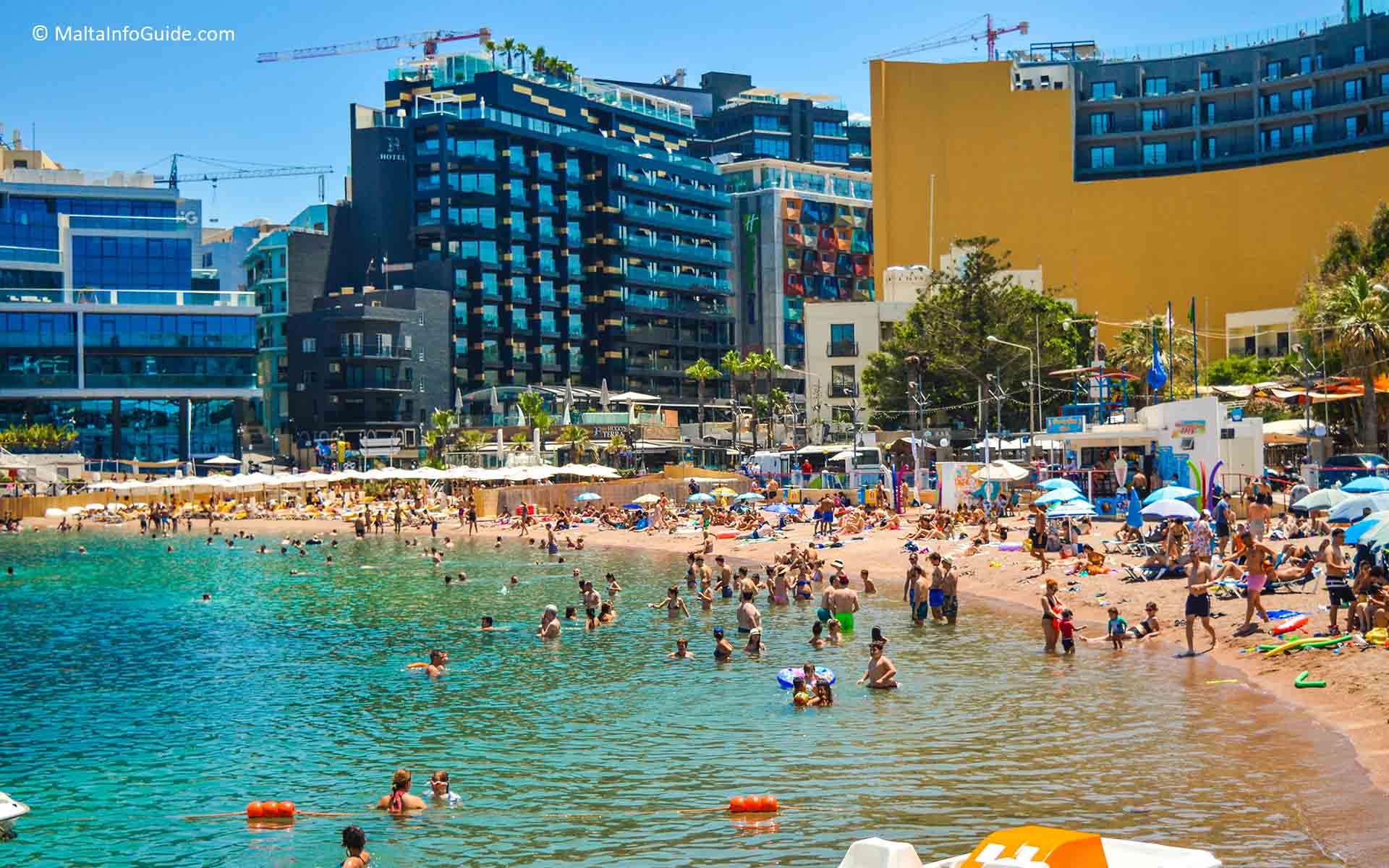 St. George's Bay. PROMOTIONAL COUPON 'maltainfoguide' [-5%]
Msida Yacht Marina

Msida Yacht Marina is also at Ta' Xbiex dotted with numerous white yachts, an attractive scene along the main road with hundreds of white boats with tall masts leaving an impressive appearance while driving past them.
Valletta

Valletta is the capital city of Malta built by the Knights of Malta as a forefront fortification of the time to withstand any massive attack from the Ottoman Empire. It is full of historical places to be visited apart from the stunning road network and fortification.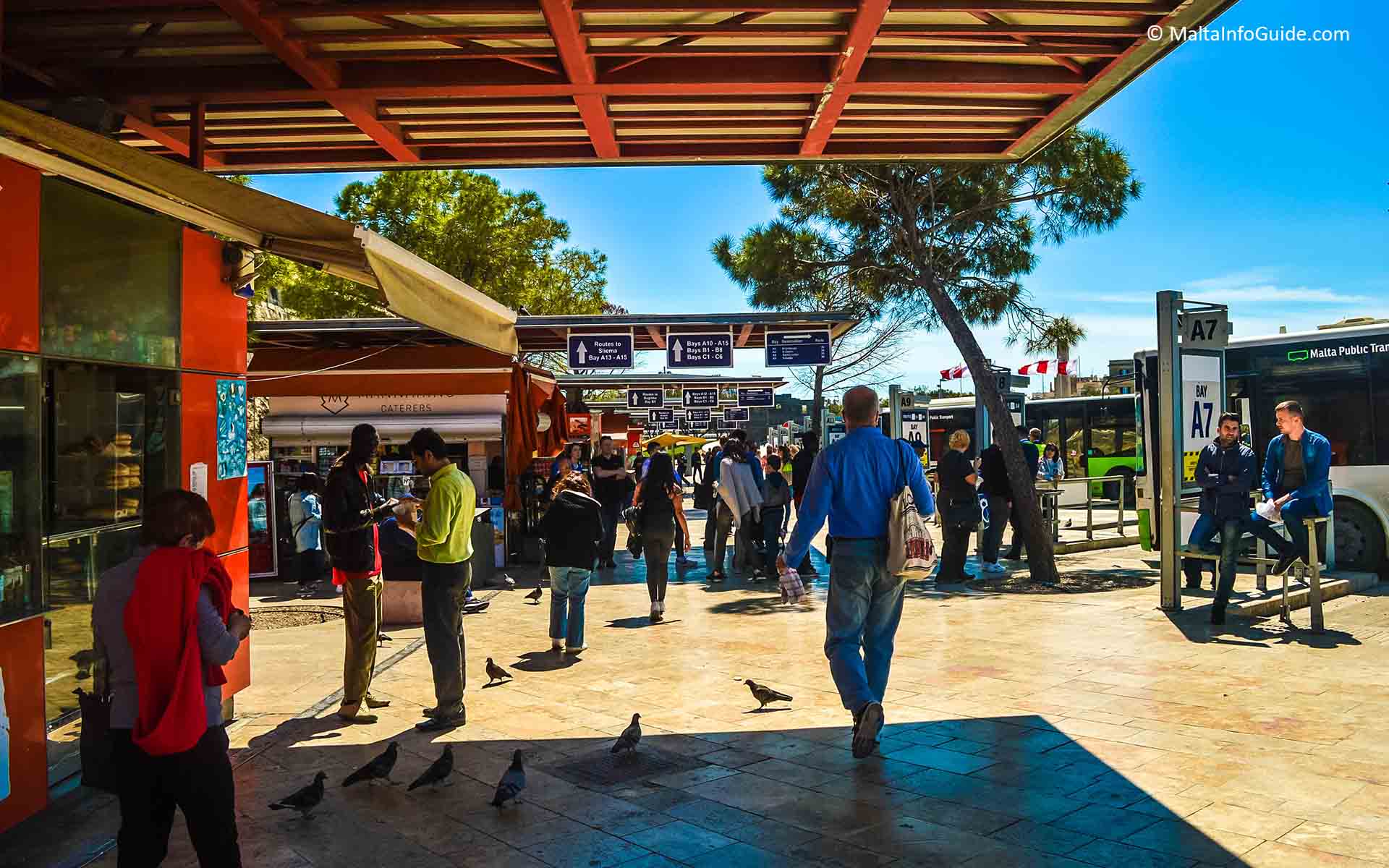 Valletta Bus Terminus. Buy tickets PROMOTIONAL COUPON 'maltainfoguide' [-5%]
Hamrun & St. Venera (passing)

Two villages full of vibrant life. The hop-on hop-off passes from the main central road which is packed with different types of shops and businesses. It is an opportunity to see the Maltese going about their daily life.
San Anton Garden

San Anton Garden was the summer residence for Grand Master Antoine de Paule. Today it is the residence of the President of Malta. The main garden is open to the public. The palace of the president is at back of the garden and can be seen from the outside.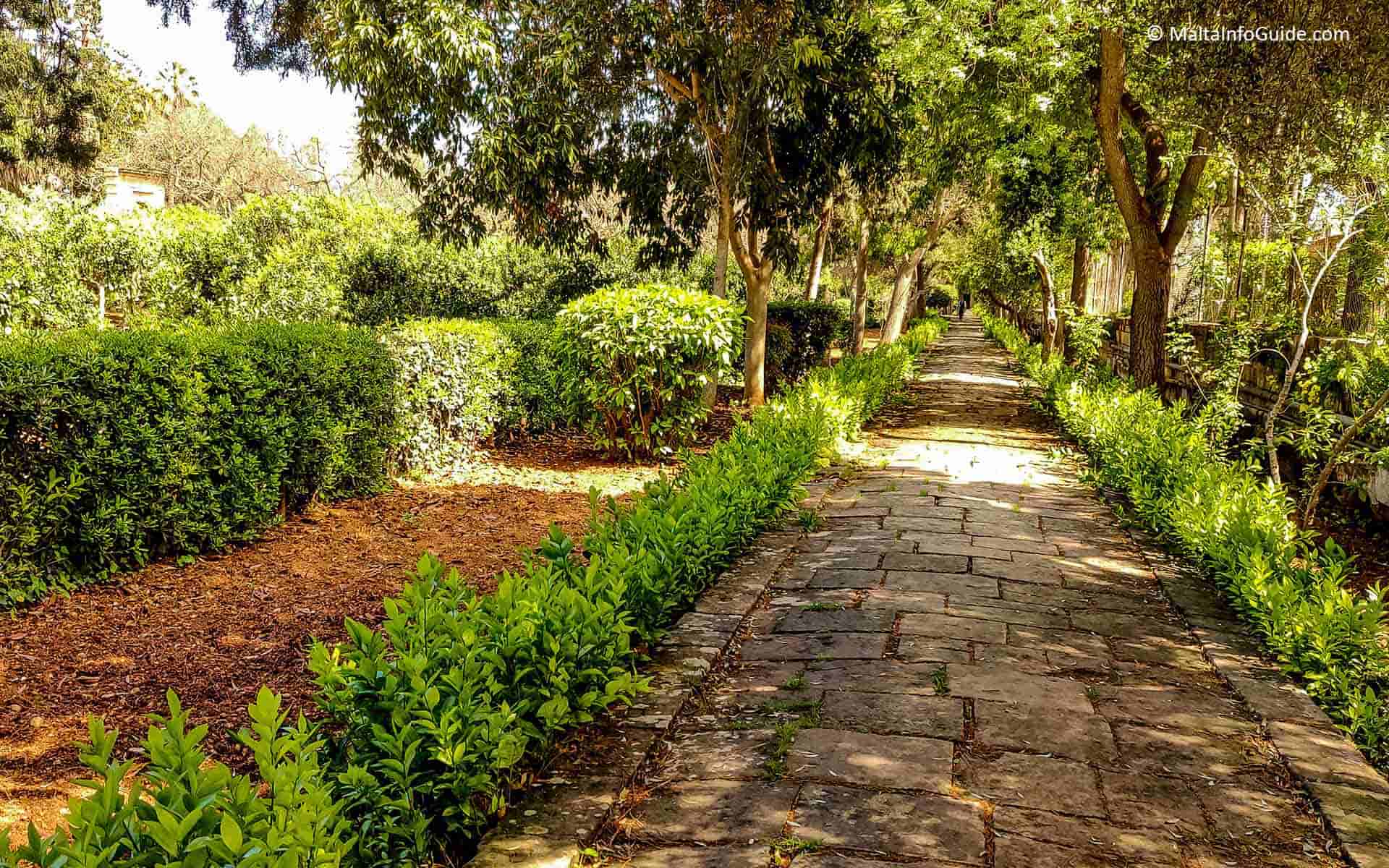 San Anton Gardens. Click here to buy tickets PROMOTIONAL COUPON 'maltainfoguide' [-5%]
Mdina Glass factory and shop at Ta' Qali Crafts Village

Mdina glass is Malta's showcase for glass blowing, glass fusion and lamp work, with a reputation for artistic innovation and quality. It a place where everyone looks forward to go and surely leaves with something in hand.
Ta' Qali Crafts Village

It is located at the former RAF wartime air-field. A creation of a Maltese crafts village where visitors can see the works being manufactured at the same time and one can buy many different items as a souvenir of Malta.
Aviation Museum Ta' Qali Crafts Village

The museum was opened by a group of enthusiasts. Now it has become one of the main museums in Malta with an extensive collection of wartime planes. It is located at the former World War ll military aerodrome which was extensively used during the war.
Mosta

The church of Mosta has the 4th largest church dome in Europe and attracts thousands of visitors a year for its architecture both internal and external. Also because Mosta is a an attractive old village to admire. It serves as a daily road link between Burmarrad and St. Paul's Bay leading to Lija and Valletta.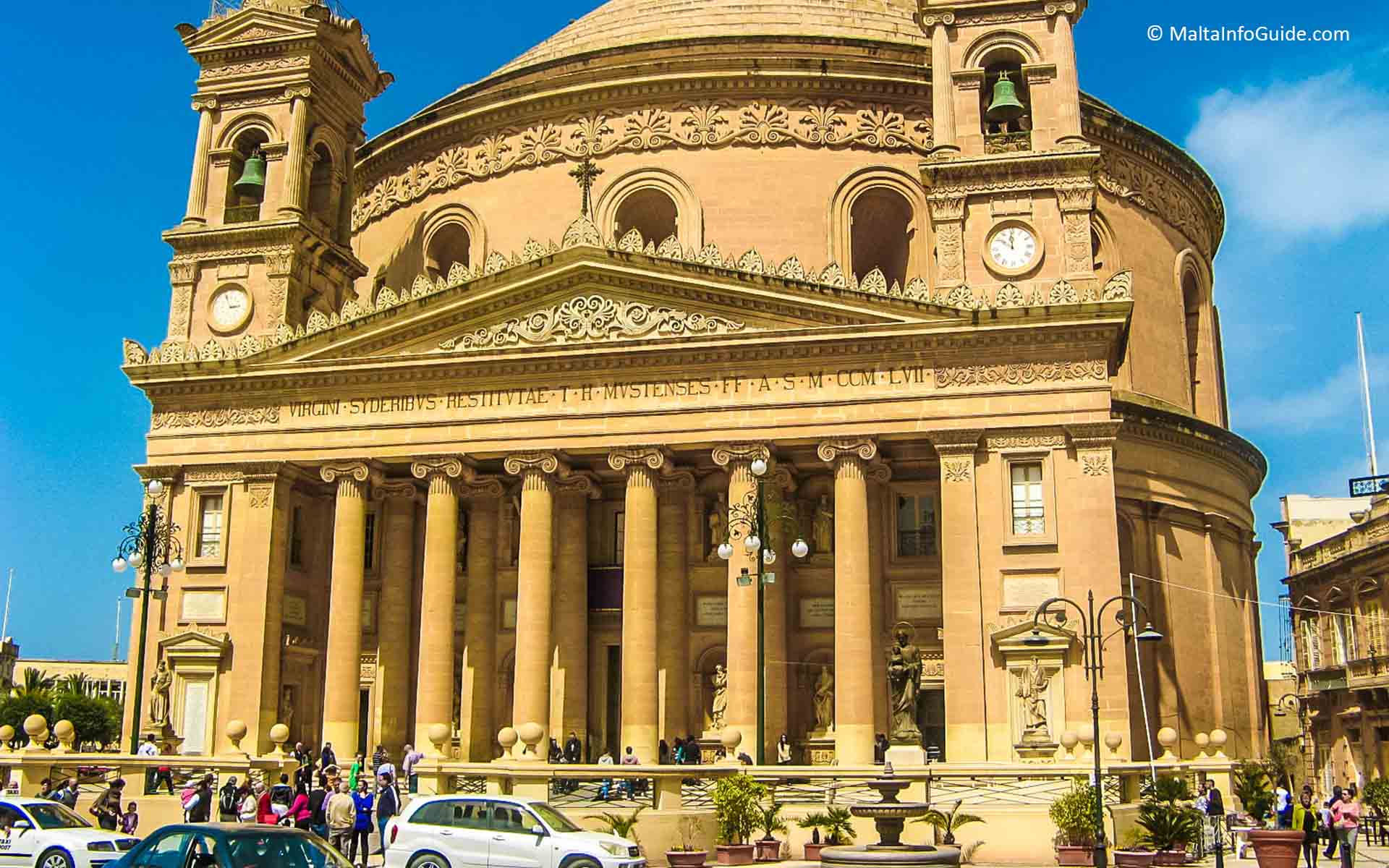 Mosta Dome Church. Click here to buy tickets PROMOTIONAL COUPON 'maltainfoguide' [-5%]
Mdina

Mdina – The old capital city of Malta. A medieval town a must visit.
Rabat

Rabat a typical Maltese village adjacent to Mdina. At the time of the Arabs, Rabat was the suburb of the old Mdina half of the present day village was part of the former Roman city of Melita.
The Domus Romana Museum

Here you find the Domus Romana or the Roman Villa - a unique attraction of the Roman era. It is open to visitors and is a must to see.
Bingemma (passing)

At Bingemma there are the defensive lines known as the Victoria Lines built by the British Services while in Malta between 1800 to 1979.
Mgarr

A typical rural village surrounded by fields cultivated by many farmers living within this area. A place to visit for its rural style, the church as well as the various surrounding locations like Gnejna bay, Bingemma, Wardija and Fom ir-Rih. Two Neolithic temples are located here, Ta' Hagrat and Skorba.
Golden Bay

The beach that is very much loved and frequented by both Maltese and tourists for its beauty. Its adjoining bay Ghajn Tuffieha is very beautiful.
St. Paul's Bay

An old fishing village located opposite St. Paul's islands. It is a quiet location. Now it has become attached to Bugibba due to the development into vast accommodation for tourists.
Bugibba Square

Bugibba, Qawra and St. Paul's Bay are along the shore line of northern Malta. This location is dotted with hotels, restaurants and cafes.
Malta Sightseeing Terminus in Bugibba (near Santana Hotel)

Located at the centre of Bugibba from where you can take other Malta Public Transport bus routes.
Qawra Palace & Suncrest Hotel

These hotels are located within Bugibba/Qawra area along the shoreline.
Splash and Fun Park Mediterraneo Marine Park

Located between Bugibba and St. Julian's, it is the place where adults and children can enjoy themselves at the Mediterraneo Marine Park and interact with Dolphins, Sea Lions. Parrots, Inguanas. At the same time at the Splash and Fun there is the wave pool, lazy river, exciting water slides and others attractions.
St. George's Bay

Located beside Malta's entertainment area known as Paceville. The sandy beach offers a fantastic location for elaxation with plenty of restaurants and cafes to complete your day.
Malta sightseeing tours stop at St. Julian's bay where you find many restaurants, bars and a concentration of entertainment up to late night.

St.Julian's

St. Julian's was originally a fishing village. By time it became a summer residence for local wealthy Maltese people. Now it has developed with the surrounding Paceville, and Sliema into a high end residential area, incorporating most of the newest hotels. Numerous restaurants, of different nationally food offered, cafes, bars and night life entertainment close by at Paceville.
Spinola Bay

Spinola Bay forms part of the St. Julian's area. Various Maltese fishing boats decorate the blue sea in the bay, with a lovely effect on the surrounding restaurants and bars.
Balluta Bay

Balluta Bay is the next small bay further towards Sliema. Still dotted with bars and restaurants, character of this area is dominated by the Carmelite Church, the Victorian Balluta Buildings and the 5 star hotel Le Meridien.
Malta sightseeing tours returns to Sliema Ferries at the end of each tour.