Malta Carnival Photos
Photos From Il-Karnival Ta' Malta
Malta carnival photos are the occasion where we share with you an idea of what you can expect at our carnival in Malta and Gozo.
Disclaimer: On our website, you will find affiliate links from which we receive a small commission.
Carnival is an important event for many Maltese and Gozitans. Many months before preparations are started on the colourful floats, costume making and preparations of various dances.
what does carnival mean?
It is a yearly event held in most Roman Catholic countries during the week before lent. 

The word carnival comes from the Italian word carne vale, which means eating of meat is valid. After the last day of carnival, the forty (40) days of lent starts. It is the time of fasting before the Good Friday week and Easter Sunday. Carnival is a time of merriment and enjoyment, letting your hair loose.

when is carnival in malta
Carnival in Malta is a yearly festival held typically around the end of February, always five (5) days before lent. There is an entire program planned out every year. Click here to see more details.

where is carnival held in malta?
Valletta is the place where the main activities are held. Colourful floats are paraded round various streets starting from near the Prime Minister's office, the Auberge de Castille, down Merchants Street proceeding to Republic Street and exits Valletta.

Other locations in Malta, namely St. Julian's, Ħamrun, Żabbar, Għaxaq, Qormi, Dingli and Naxxar were the local councils to organise carnival for the local villagers. Dancing, floats, beautiful costumes, children wearing costumes too in the streets brings a certain enjoyment in Malta. 

You must not forget the famous Nadur carnival in Gozo, where merriment and funny moods take place. In fact, many youngsters enjoy a wild weekend in Gozo. The carnival in Gozo is held at the capital, Victoria, where the floats can be enjoyed along the main road and at the Independence Square where all the companies present their dances. 
If you like carnival come and visit and see for yourself our famous traditional merriment.
Malta Carnival Photos
floats at carnival in malta during the night
The Palace Square in front of the Presidents Palace in Valletta. It is the area where all the dancing and excitement builds up and where we suggest it is best to go. One can also book tickets for a comfortable seat, then see all the displays.
A beautiful carnival float lit up with LED and spot lights looks very attractive.
Related: Photos of Valletta Malta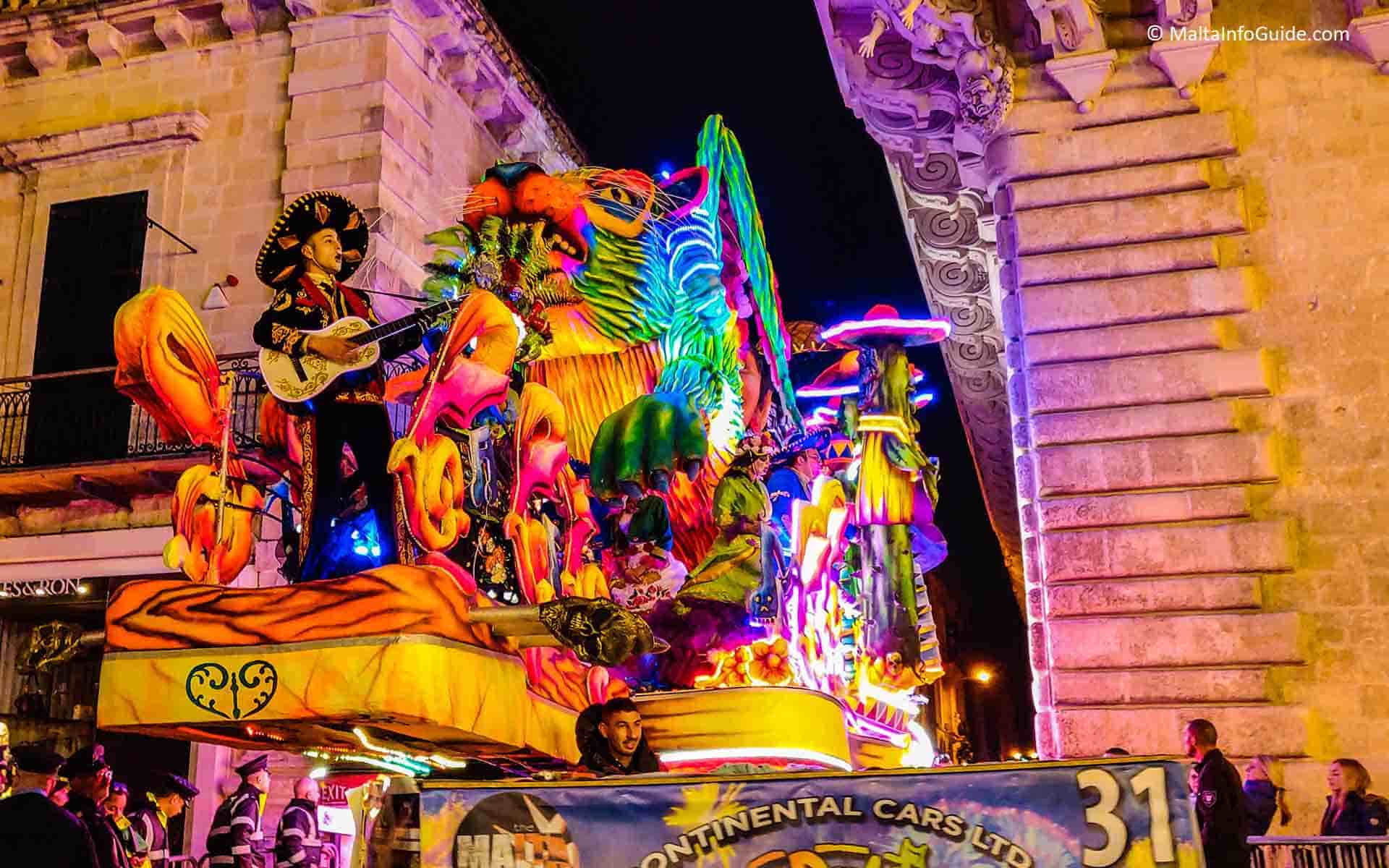 One of the carnival floats arriving at St. George's Square
valletta carnival floats
The carnival floats going uphill into Valletta from the main Girolamo Cassar street towards Auberge de Castille. It is from here that the parade starts its way into Valletta with the King Carnival float.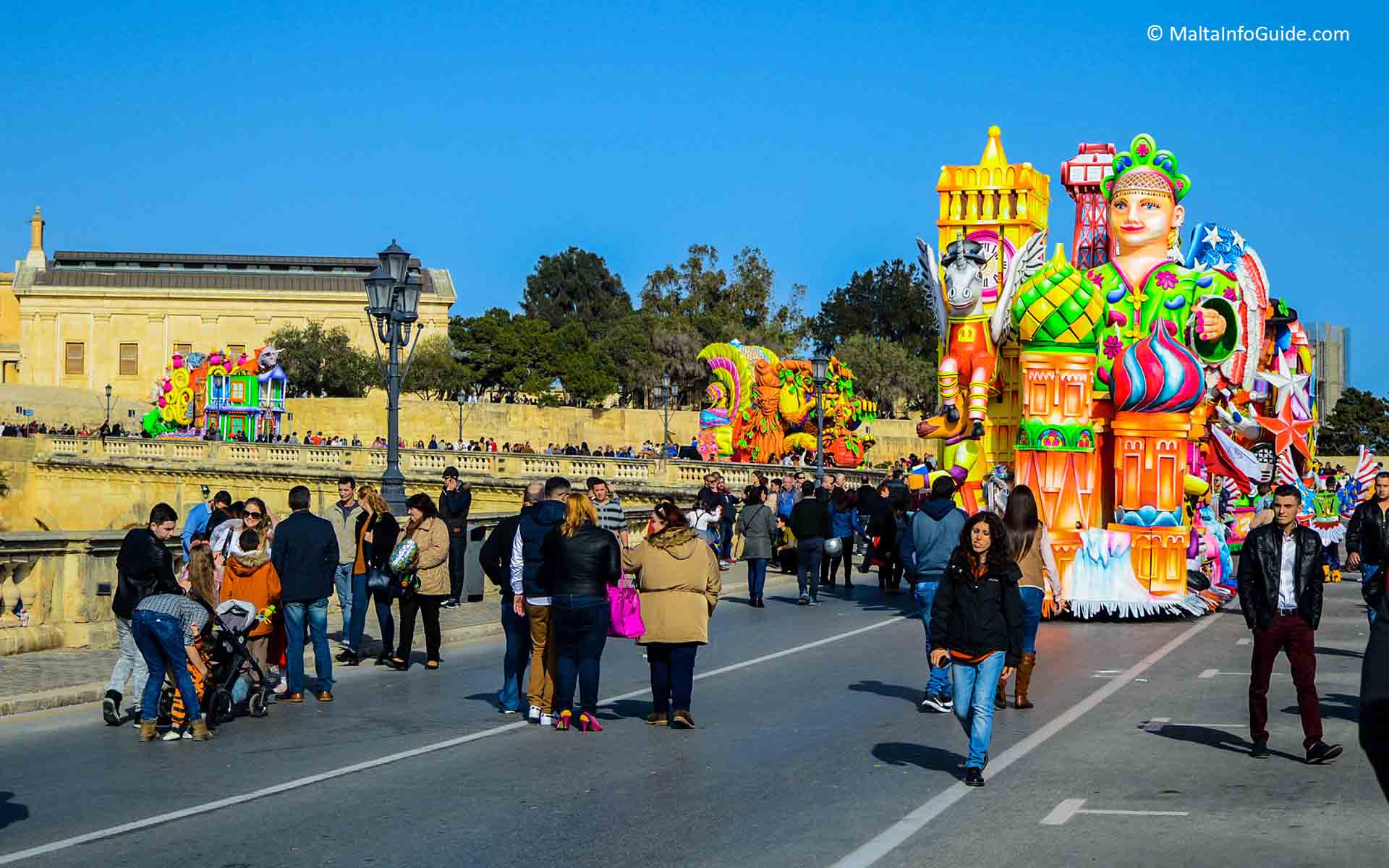 The carnival parade starting from Girolamo Cassar street
carnival in valletta
A colourful carnival float passing through Merchants street Valletta during the afternoon parade.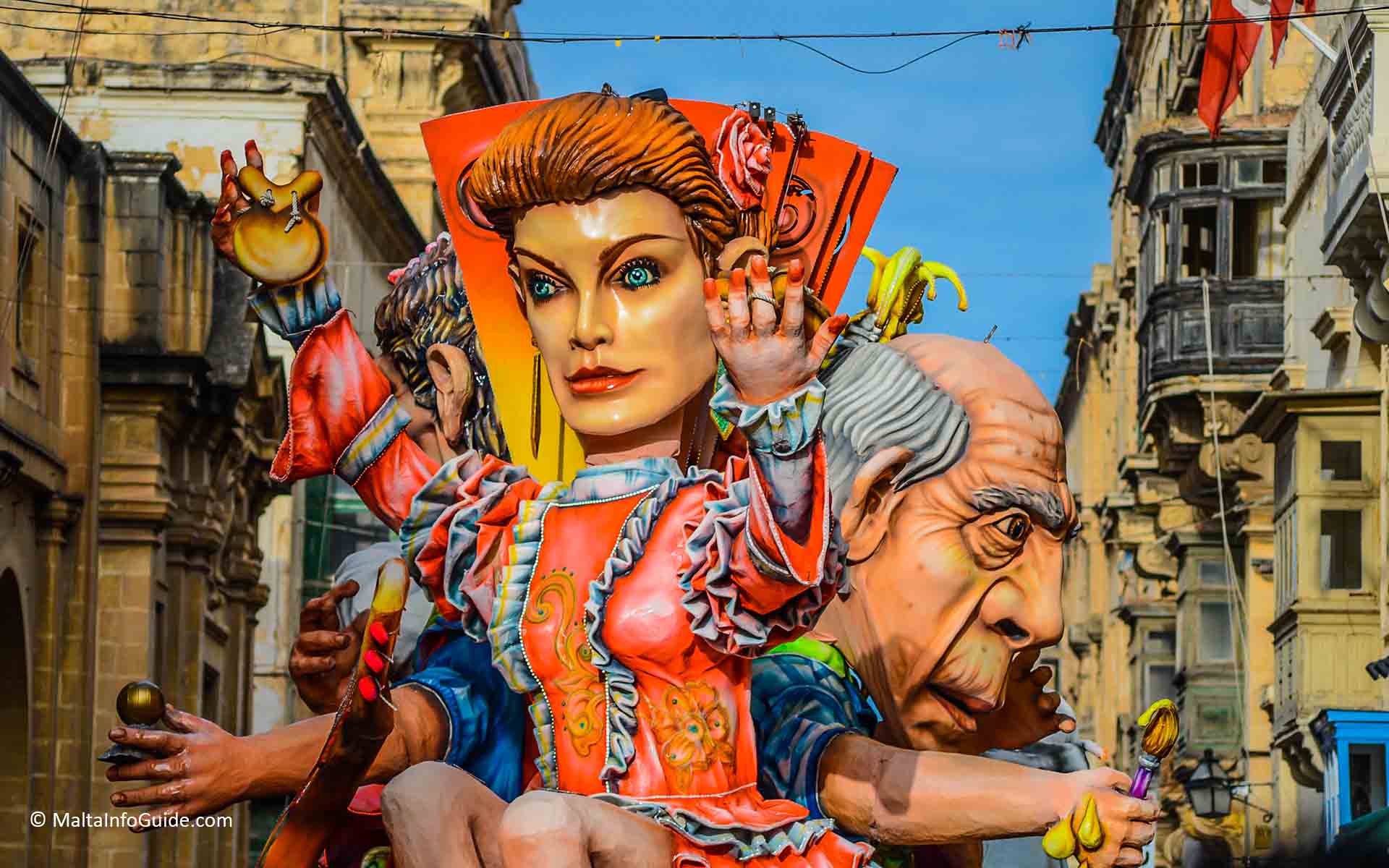 The defile in Merchants Street Valletta
malta carnival defile
One float in Republic street Valletta. Here the photo shows the area beside the law courts. People line up the streets with the participants of each float wearing extravagantly coloured costumes walking in front of the float.
Related: See Stunning Photos Of The Island Of Malta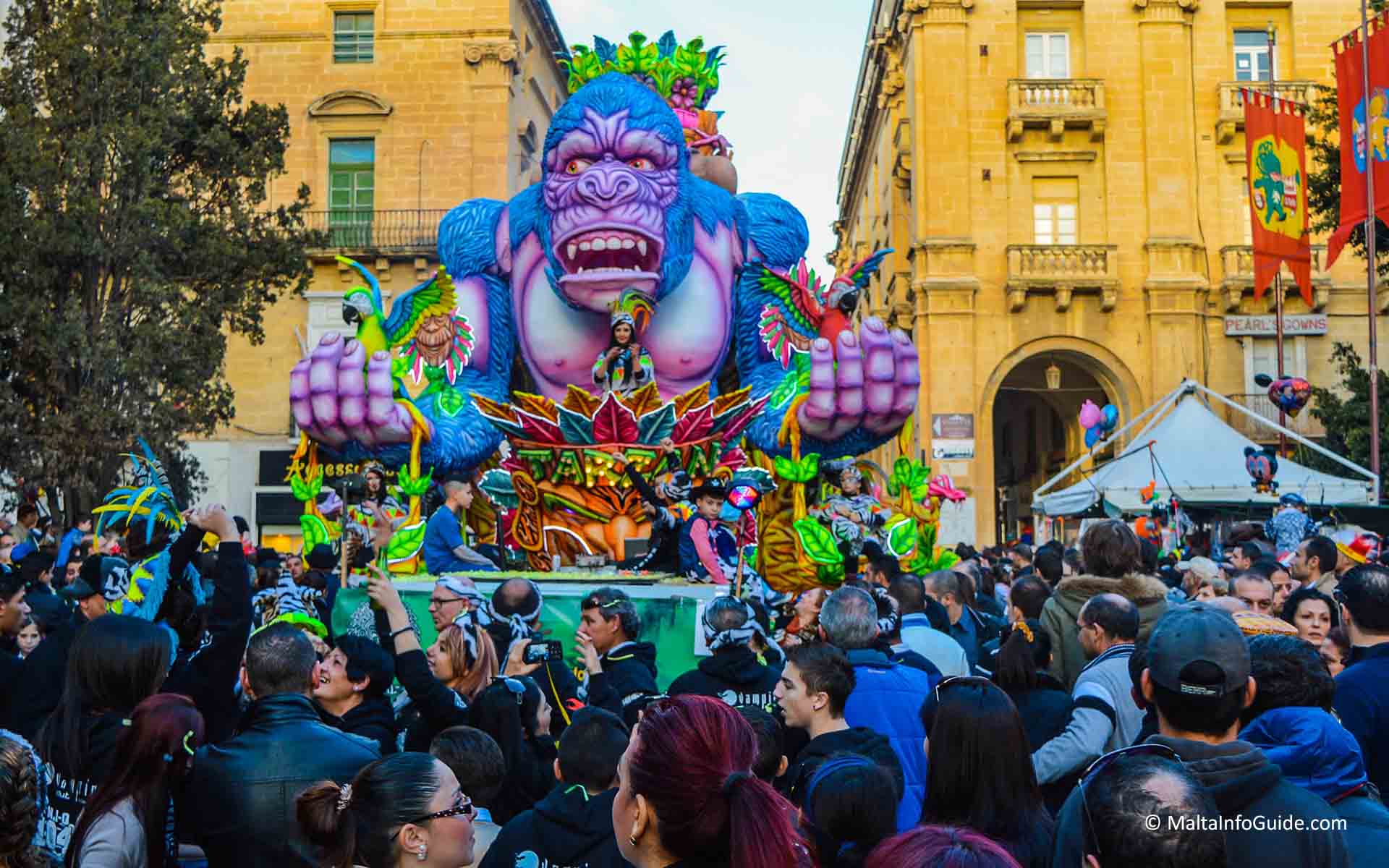 The biggest crowds gather all along Republic Street to see the defile
close-up of a carnival float
Preparations start from many months before even much earlier to re start the ideas mature and develop the theme of the next carnival season.
Within the same company there will be around 70 persons with different responsibilities, the float builders from the main steel frames to the float papier mâché formation and the artist painters. These also include the costume designers and the various persons that sew the elaborate costumes for all the participants.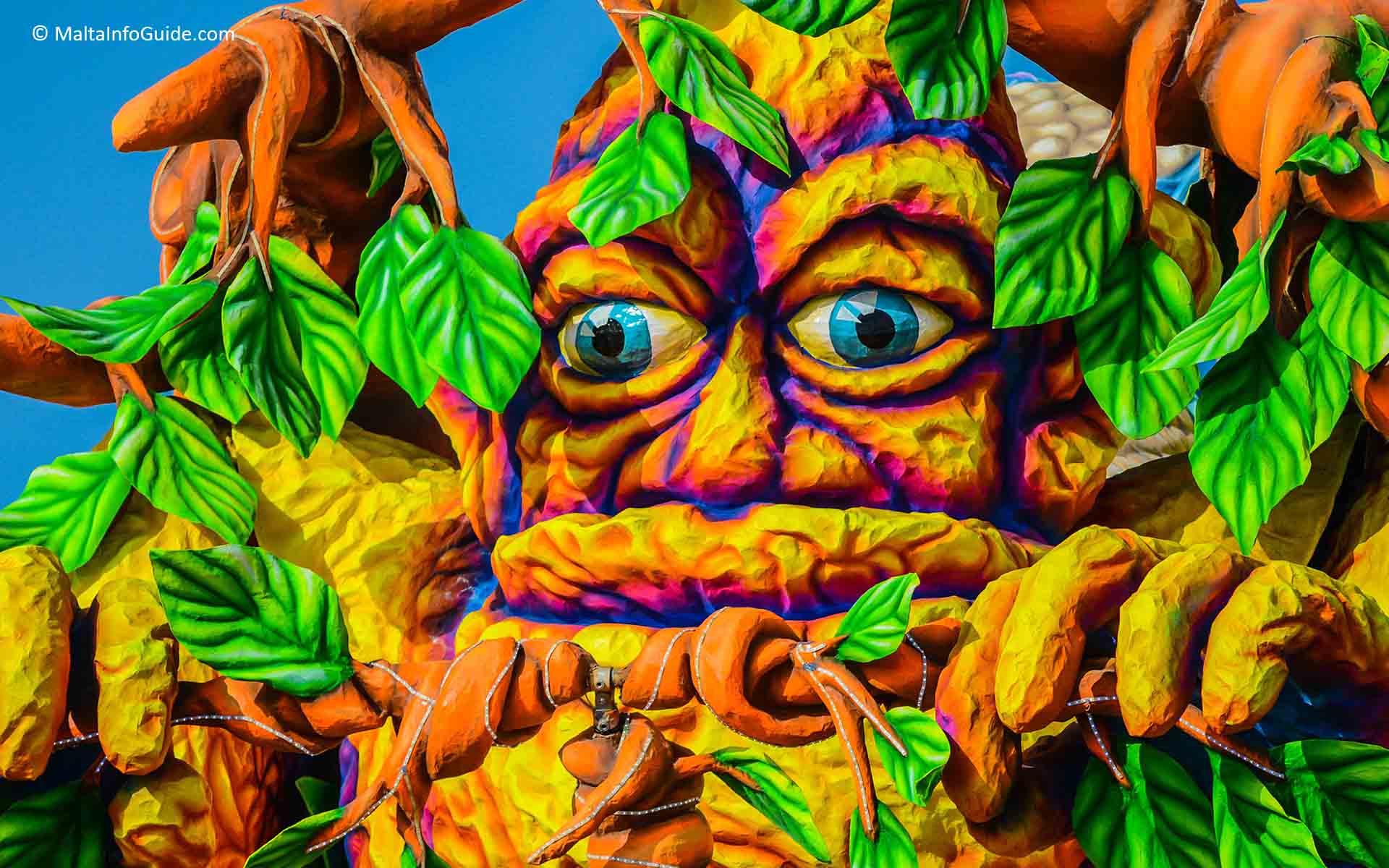 A detail of a carnival float
two ladies dressed in carnival costumes
Two dancers dressed up in costume. They start with dance rehearsals from many months before, as they will compete against other participating companies.
Republic Street is packed with people and several dressed in costumes along with participants dressed with their extravagant float costumes. The Maltese carnival is organised by the Malta Council for Culture and the Arts. One of the most celebrated events in Malta.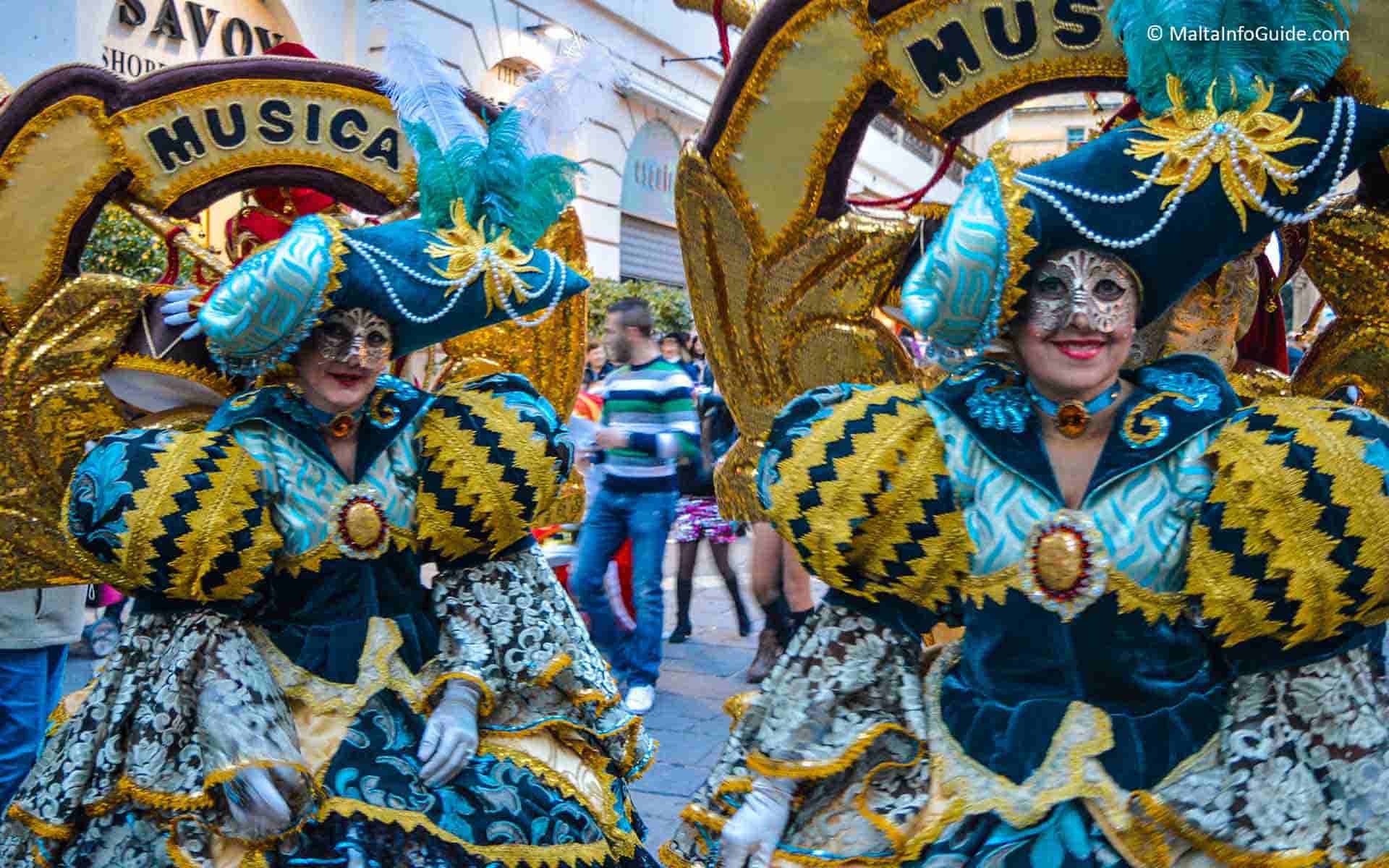 Two adults from a participating company dressed with their elaborate costumes
malta carnival costume
Stunning costumes during carnival in Malta at night. This event keeps going from early morning to late night. Shoot some stunning Malta carnival photos while you are there.
Related: Why Not See How Malta Is During Christmas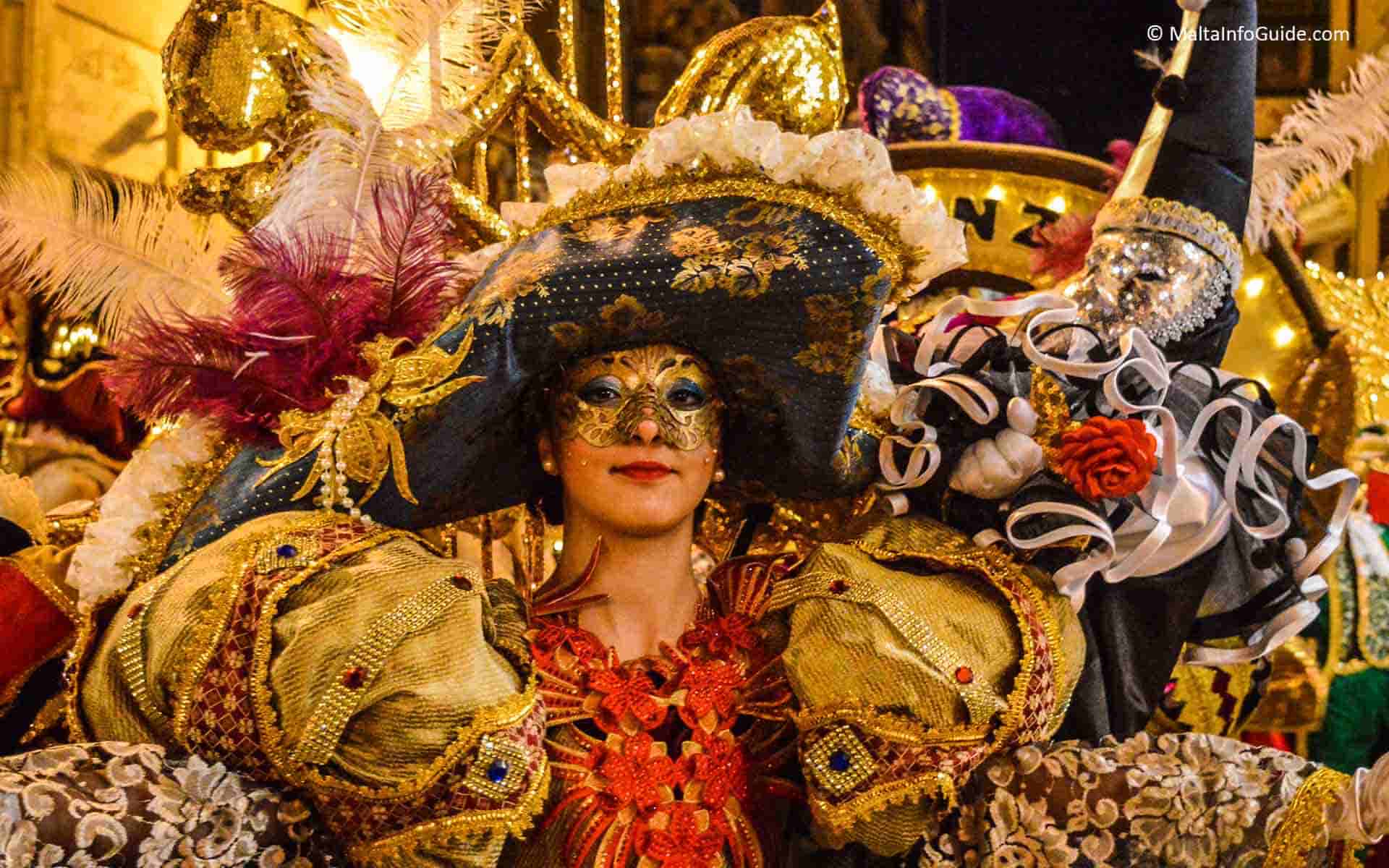 A participant posing for one of our photos
Prizes are awarded for the best artistic dances, costumes, floats and grotesque masks. The Maltese Carnival does not, however, consist only of these floats. Throughout the five days of merrymaking, many activities take place throughout the island.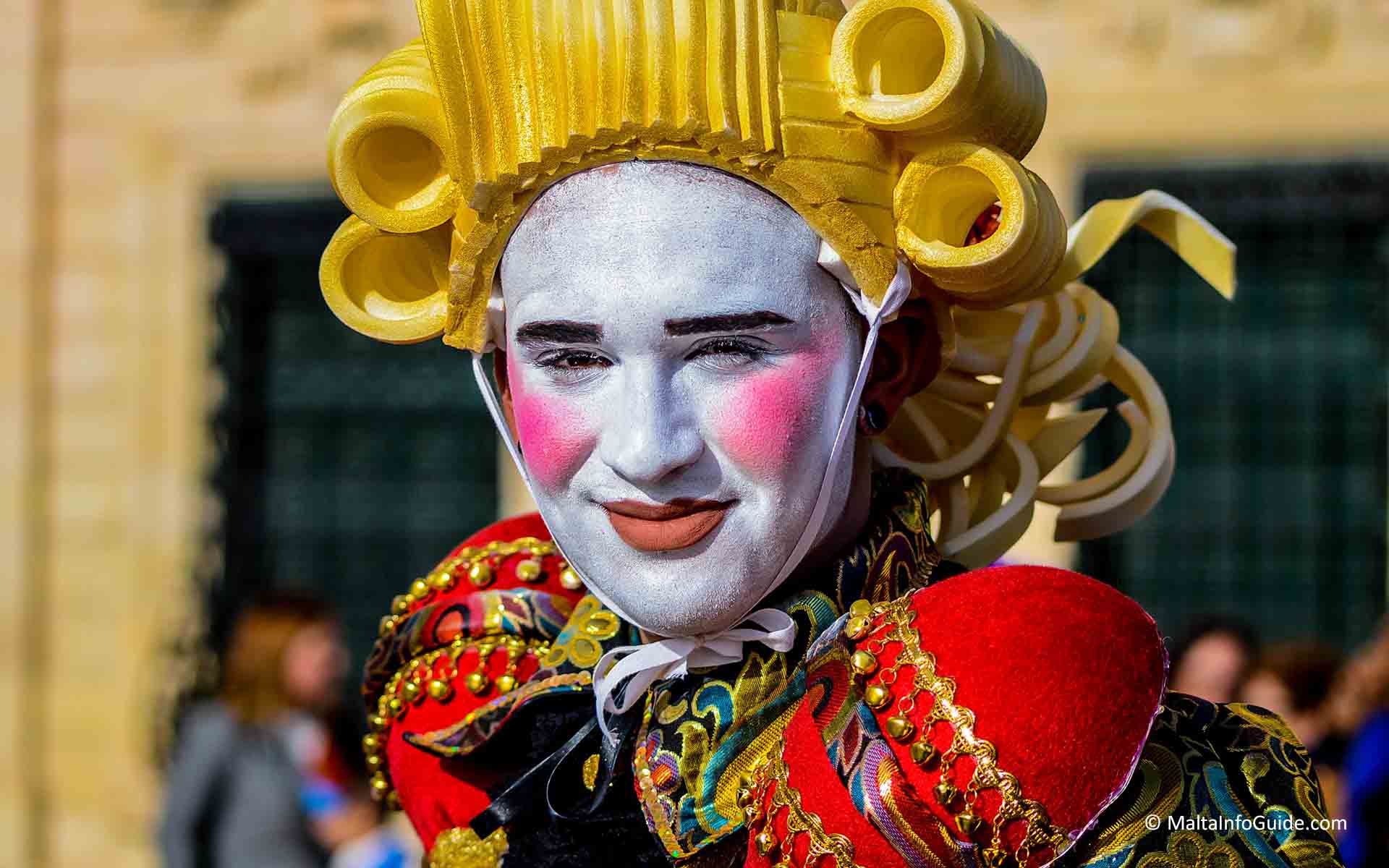 Incredible make-up and costume. He was happy to pose for our photo
children during carnival
A boy dressed in carnival costume, not part of the parade but dressed by his parents. It is a custom that parents dress up their children and take them to Valletta to see the parade or to one of the various occasions organized in local villages, including those in Gozo at Victoria and Nadur.
Related: Citadel Malta Photos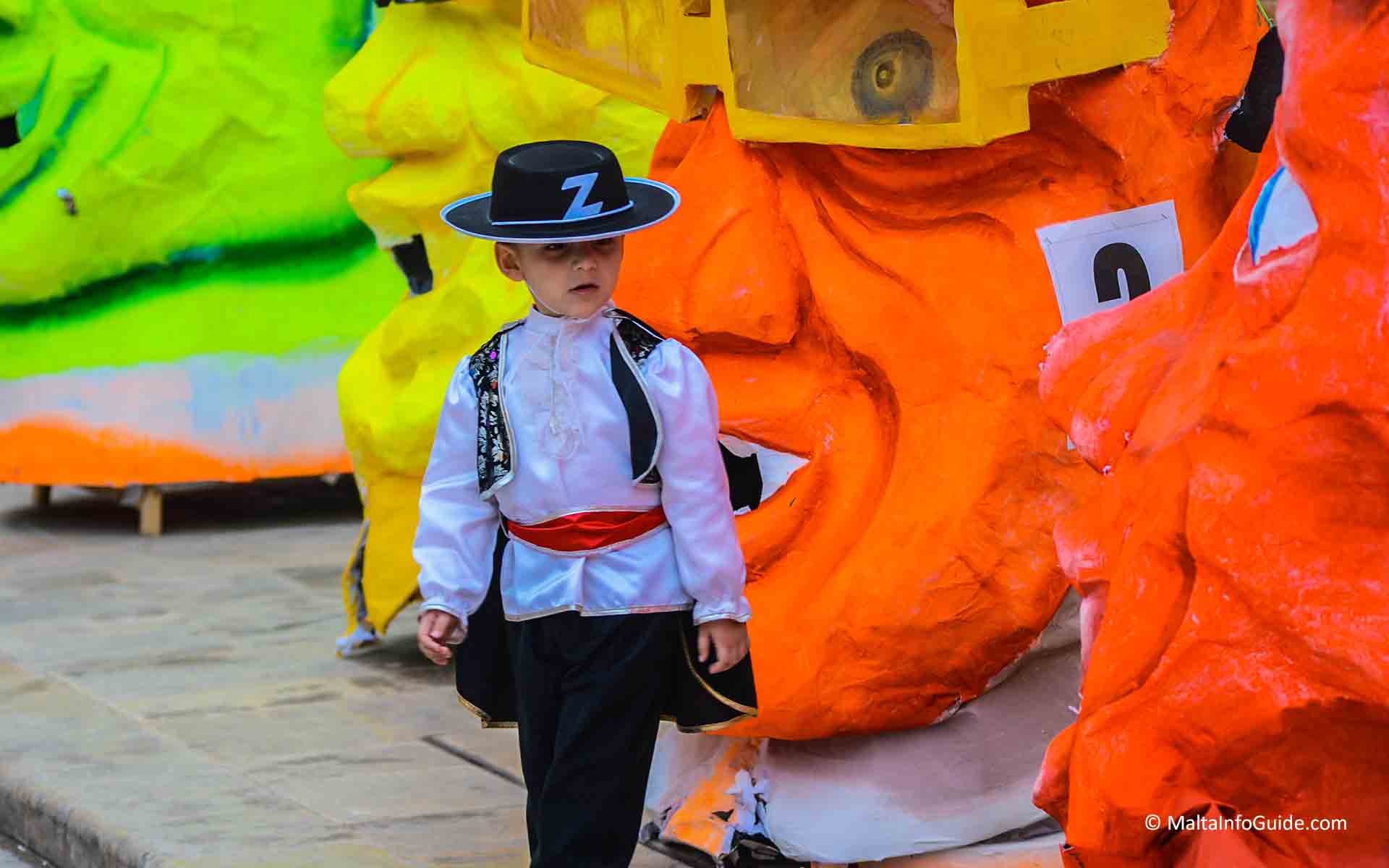 floriana carnival malta
A big defile on Floriana's central road, accompanied by a fireworks display, will bring the curtain down on this year's celebrations. For the various categories prices are awarded for best dances, costumes, floats and grotesque masks afew days after carnival is over.
Tuesday the last day of carnival where the big final defile is held at Floriana's main road which accommodates all the parade floats on both sides of the road with a final display of fireworks bringing to an end these celebrations.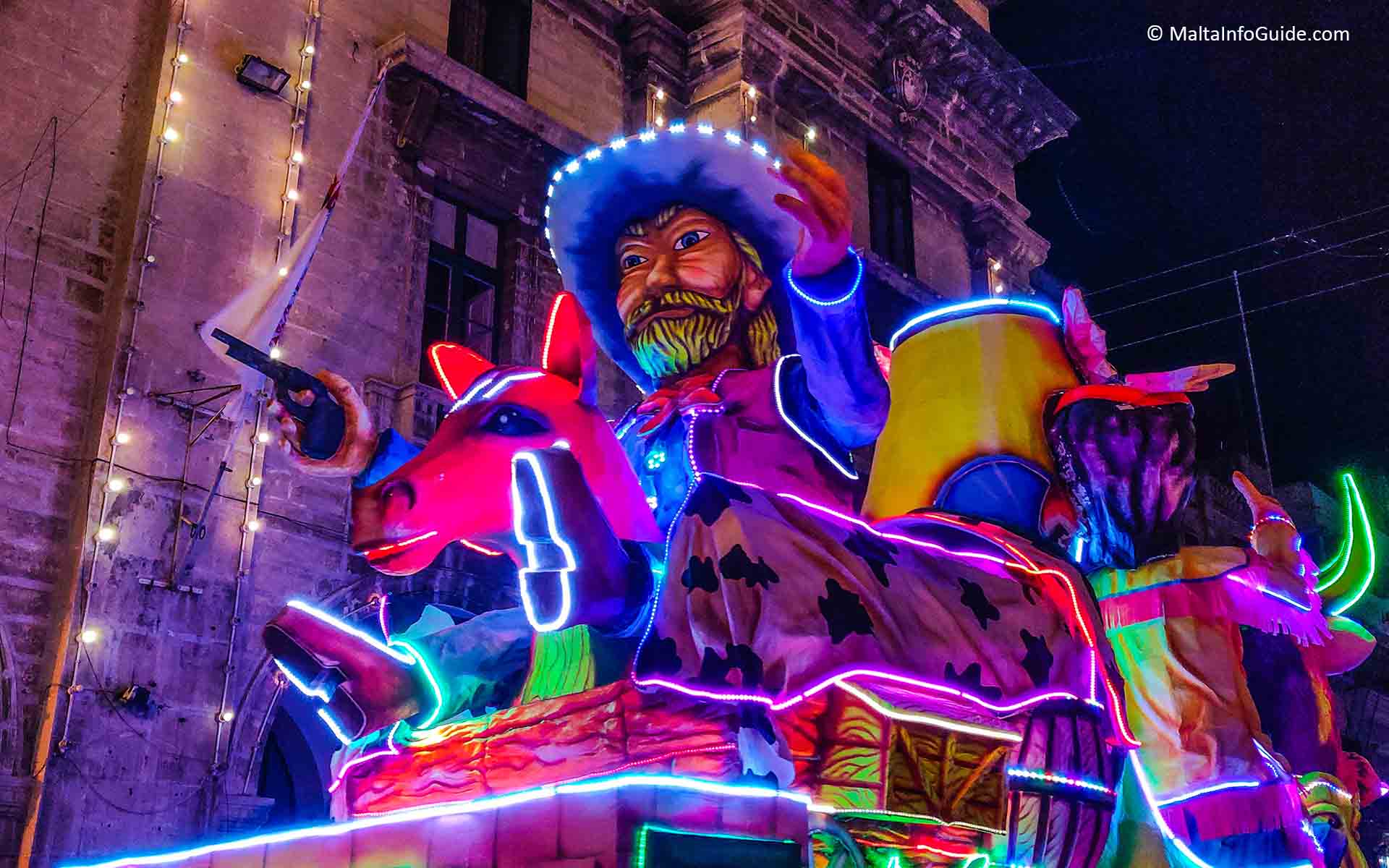 A large float lit up with LED coloured lights
Historically in Malta, this entertainment goes back to the early 1400s where we find the Universita' issuing directives about the selling price of meat during carnival.

want to rent a car in malta?
We have used Discover Cars every time we rented a car. We highly recommend them due to their good service and good prices.
Get The Best Rates On Your Car Rental Now!
need to book a hotel for your malta visit?
Using Booking.com, enter your travel dates and number of occupants then rates will be available for hotels and apartments during your visit to Malta 
Book Your Hotel In Malta on Booking.com for the Best Rates!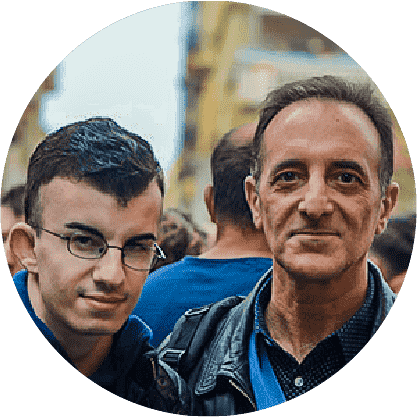 By Albert and Benjamin Magro