Carnival Malta 2021
Who Else Wants To Enjoy Il-Karnival Ta' Malta
Date Last Updated: 27th May 2020

Carnival Malta is the oldest historical festival during the month of February, which is usually always held during this time as is the custom.

It is well expected by numerous enthusiasts, cause for several months before artistic companies prepare their extravagantly artistic coloured floats which are erected on lorries and trailers, costumes and dances. It is a deep traditional merry making aspect of the population that attract your attention with their artistic imagination and colours apart from the mingling of ideas interwoven within the same float.

In the evening during the defile' another aspect of the floats emerge when they are lit up with LED lighting changing the dimension of the float to a different atmosphere of colours.

You will notice several people especially children dressed in fancy costumes and adults impersonating popular characters attracting the attention of the crowd making the atmosphere livelier.
Three main venues are held across the islands where it is celebrated in the streets of Valletta, Nadur, and Victoria Gozo.
Take the opportunity to enjoy these occasions with your family especially with your children.
Carnival Malta Date: Friday 12th to Tuesday 16th February 2021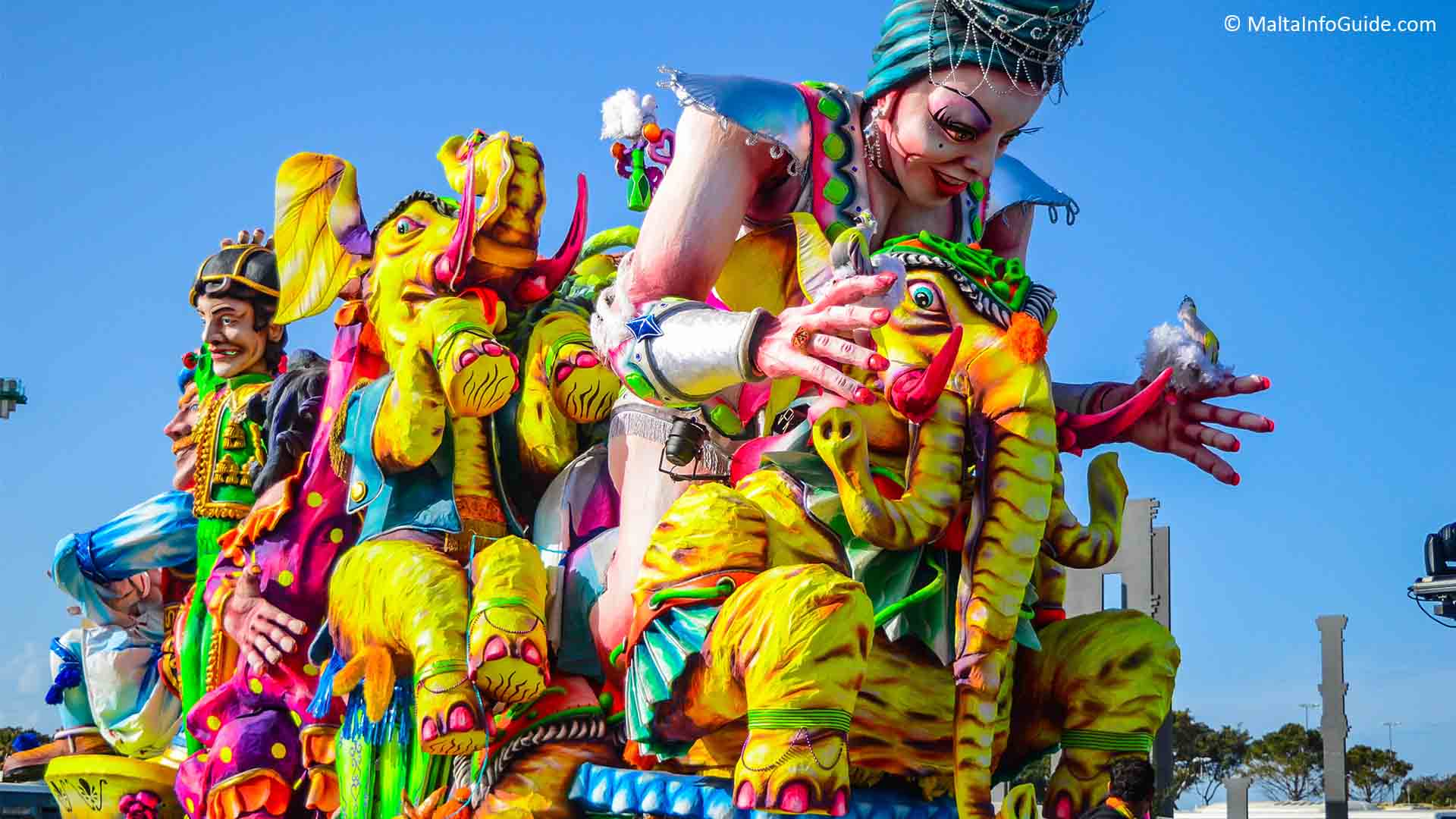 Carnival Malta Program 2021
PROGRAM TO BE ADDED WHEN PUBLISHED TOWARDS CARNIVAL MALTA 2021 
Questions about Carnival in Malta
When is Carnival celebrated in Malta?

Carnival Malta is always celebrated before Ash Wednesday. It always starts the Friday before till the Tuesday before Ash Wednesday.
What is Malta's popular sweet during carnival?

During carnival you will find what is called a Prinjolata coming from the word Prinjol meaning Pine Nuts. It is a famous delicious Maltese dessert cake especially prepared for these occasions.
Where is Carnival Malta celebrated?

There is the Valletta Malta carnival. You can also go to Gozo where you can visit the village of Nadur which is popular for its spontaneous carnival. At Rabat Gozo there are also a full program of activities along the five days of the activities.
What does Carnival mean?

Carnival is a festival that happens yearly, always before Lent commences. It is a festival where people dress up in colourful costumes.
What is the meaning of Carnival?

The name carnival is derived from the Italian phrase 'Carne vale', which means 'meat is allowed'. Since up to the day before lent meat could be consumed, then during the forty days of lent, meat was not consumed during meals.
Capital City, Valletta

Venue: At the capital city Valletta which is the biggest celebration on the islands
Location: Performances / stage / seating area – Palace Square in Republic Street
Valletta Defile: It starts from the road leading to Auberge de Castille moves along Merchant Street, turns to Archbishop street, then to Republic street where it continues all along up to the Triton Fountain outside of Valletta fortification walls.
Floriana Defile: Grand final is held on the last day in St Anne's Street.
Participation: Free for everyone along all the streets while the defile is in progress.
Tickets: The dance performances of each float company takes place at the Palace Square where one has to buy tickets for the seating around the square.
Parking: You can go to the MCP car park, or find parking in Floriana.
Rabat & Victoria, Gozo

Venue: Rabat Gozo
Location: Independence Square and nearby streets.
Participation: Free for everyone.
Tickets: For the dance performances held at the Independence Square, one has to buy tickets to be seated.
Parking: Around the streets of Rabat or in its vicinity.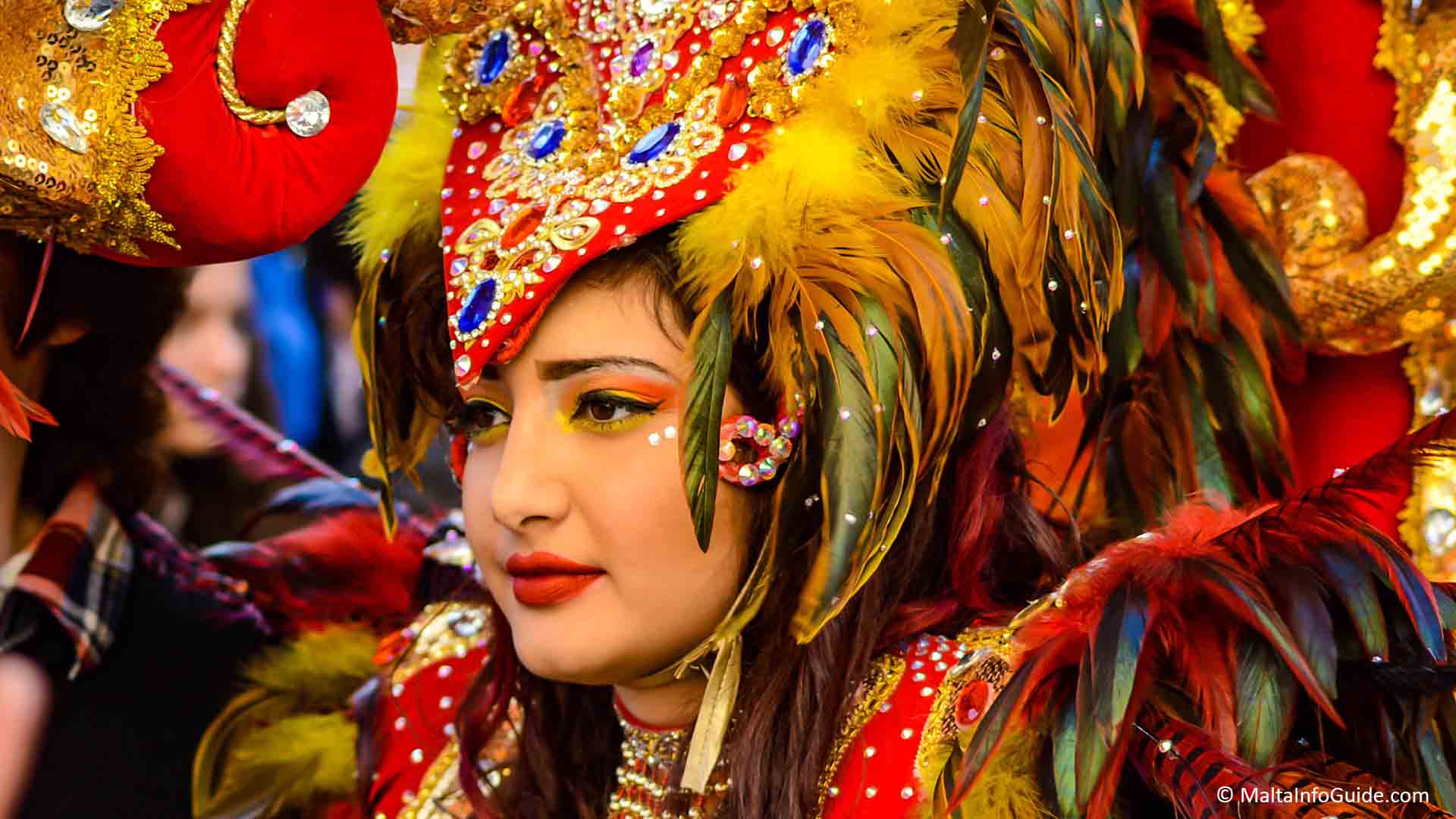 Nadur Village, Gozo

Venue: Nadur village, Gozo
Location: Main village square
Program: There us a variety of activities from children to adults. Link to program.
Parking: Nadur might be closed, so you will need to find parking around the outskirts of Nadur or some parts where it will be open.
Transport for both Rabat and Nadur: If you are coming from Malta you have to prepare to come early with the ferry. Be prepared to queue for the boat for quite some time.
malta february carnival map
Carnival Theme Parties
PARTIES AND OTHER EVENTS RELATED TO CARNIVAL WILL BE PUBLISHED TOWARDS CARNIVAL MALTA 2021 

Malta Carnival 2021

Location: Malta & Gozo (Most popular areas are in Valletta and Nadur)
When: Friday 12th to Tuesday 16th February 2020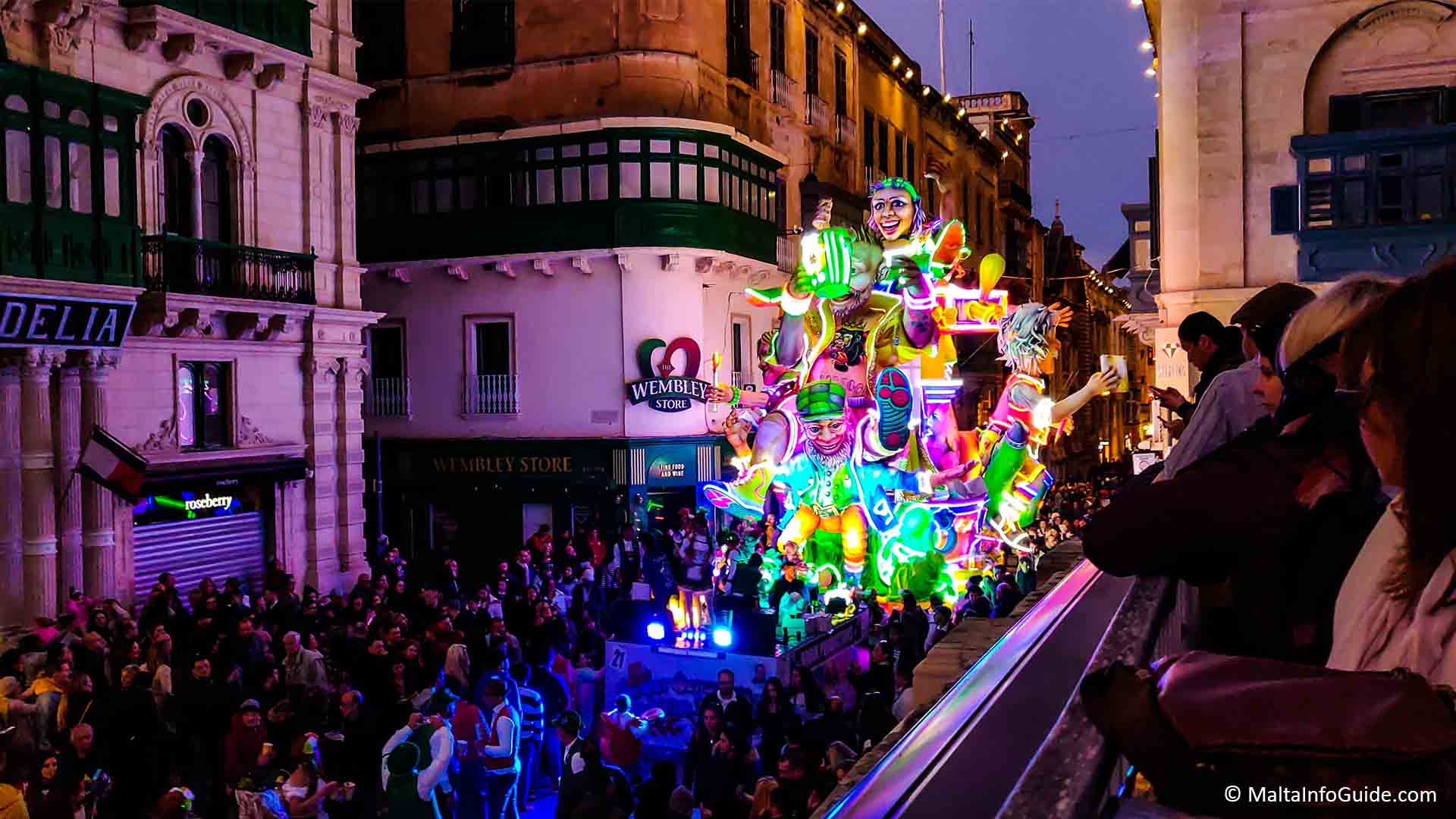 The origins of Carnival

Carnival Malta dates back to the time of the Knights of St. John when Grand Master Pietro de Ponte in 1535, just five years when they arrived in Malta making this festival almost 500 years old. It is always held during the week just before Ash Wednesday.
It is also said that back to the early 1400 carnival was celebrated locally. There are records showing directives issued by the Universita' authorities about the prices of meat to be sold during carnival.
But then during the time of the Knights it started to be held officially at Birgu since the knights had their Auberges and administrative buildings located here.
Nadur Carnival Gozo

Nadur Spontaneous Carnival is held every year attracting around 25,000 visitors especially youths who come over from Malta. The most popular is the spontaneous defile' held after sunset where everyone can participate and dress in all sort of costumes made up from any materials to imaginative ideas. The streets are thronged with people wearing funny, grotesque masks to macabre masks and costumes.