Comino Island Malta Photos
comino island malta photos
An Instagram Hotspot For All Travellers
Find the best Comino Island Malta photos right here, but before we start here is an introduction about this tiny island.
Seeing Comino Island from the ferry that crosses the channel between Malta and Gozo is hard to imagine. There are cliffs, caves, three small sandy beaches, a nature reserve, and a natural cliff coast that make this a great place to go swimming, snorkeling, diving, or just hiking. With a size of only 3.5 square kilometers and only two residents, Comino is a car-free island.

The Blue Lagoon Malta is the island's main attraction.
The Maltese archipelago is a great Mediterranean holiday destination.

Disclaimer: On our website, you will find affiliate links from which we receive a small commission.
The Island of Gozo From Blue Lagoon Comino Malta
From the lagoon, Gozo is closer to Comino than Comino is to Malta. The shoreline can also be seen from this point.
A boat operator operates between the three main islands all year round, depending on the weather conditions, and the trip is very easy and short.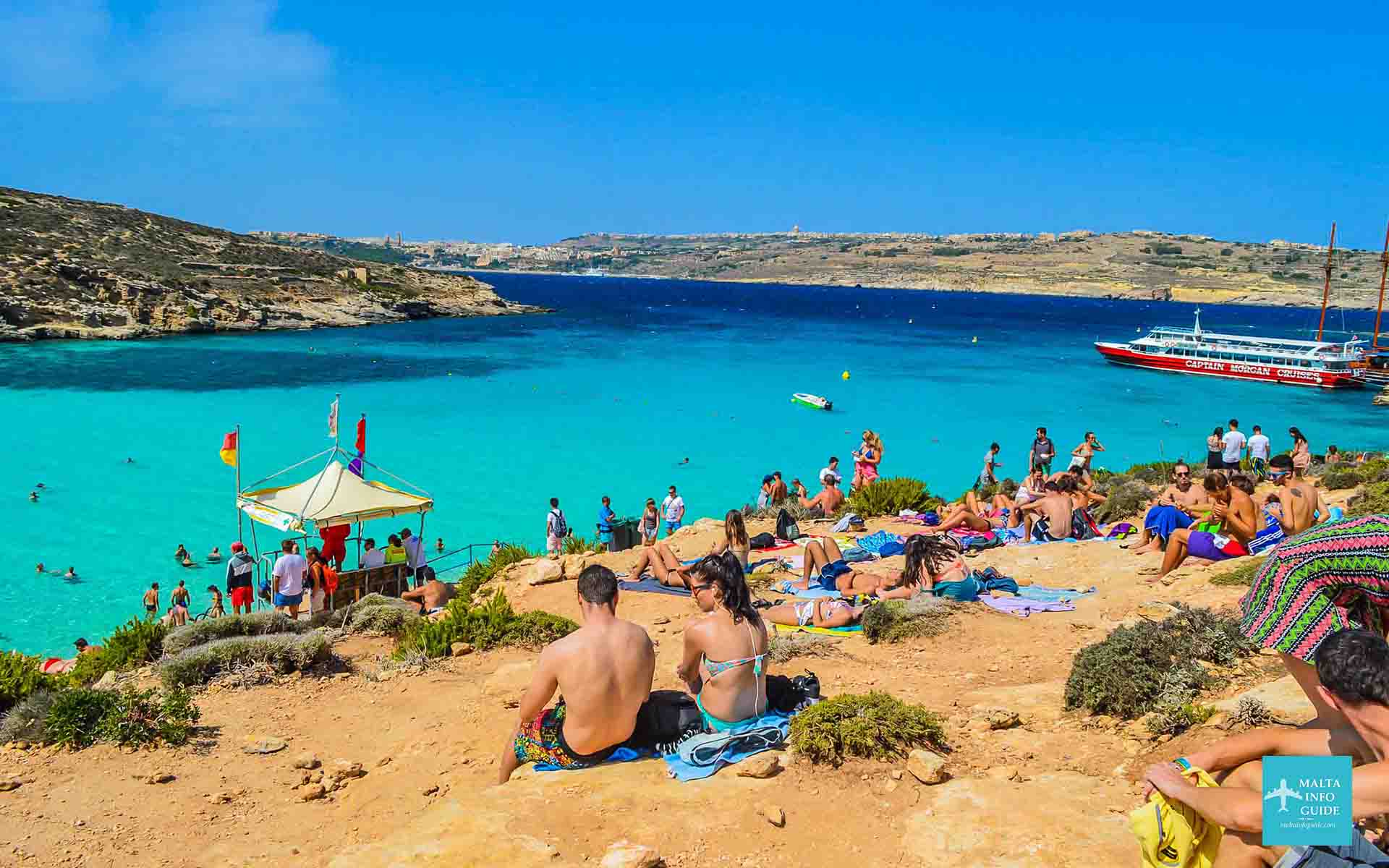 A View of Gozo Island
Crystal Lagoon Malta
Crystal Lagoon is more exclusive than other lagoons. Due to the surrounding high cliffs, it is only accessible by boat. It is one of Malta's most beautiful lagoons. The turquoise water is pristine and crystal clear which makes snorkeling truly enjoyable.
This beautiful Crystal Lagoon was the location for the filming of the Count of Monte Cristo in 2002.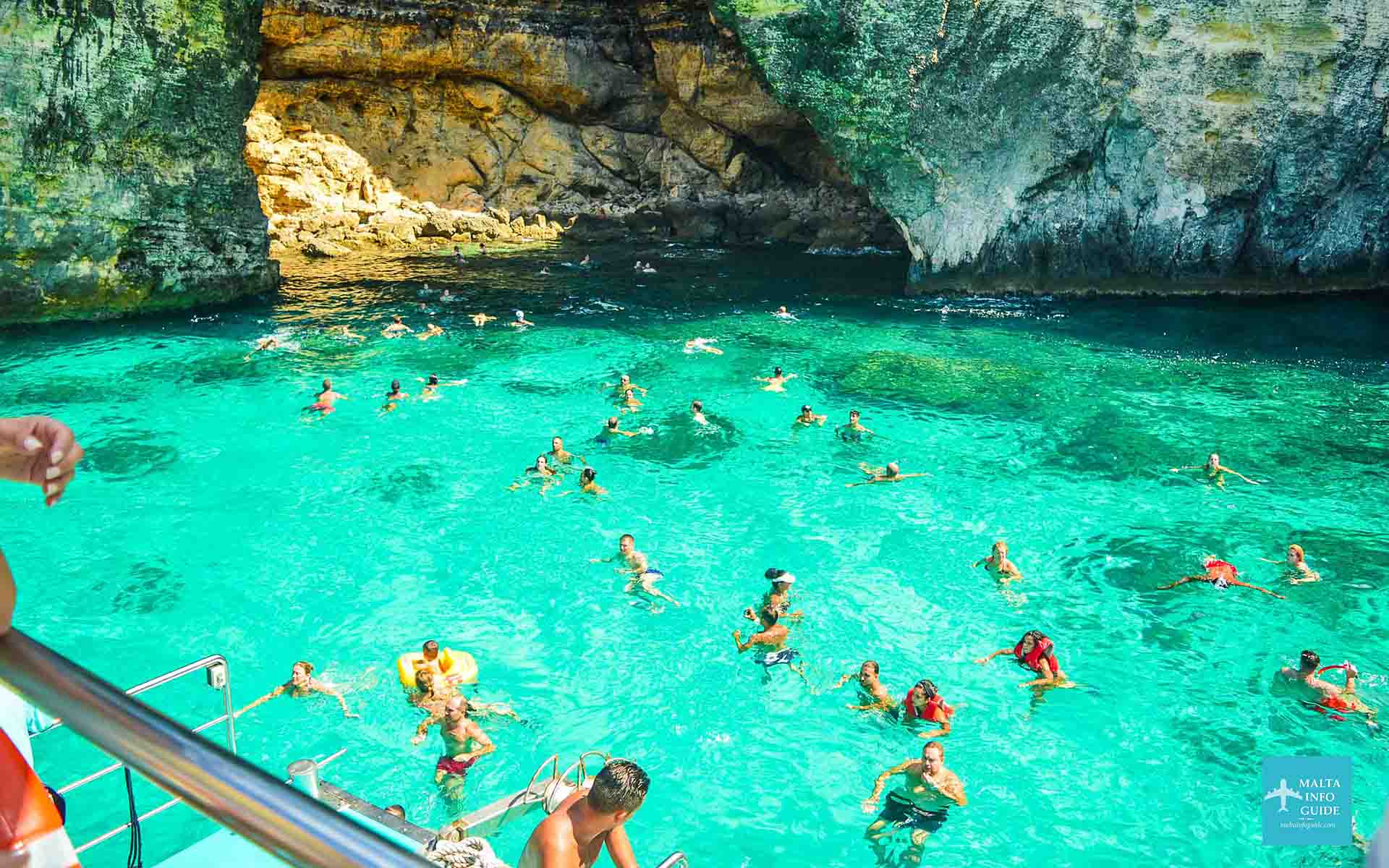 Crystal Lagoon Comino
Diving In Comino
On the island of Comino, you have the opportunity to explore the exciting underwater world. Known for its spectacular dive sites, including the caves of Santa Marija, as well as its coral reefs. Come over to Comino and enjoy the natural beauty of the underwater world.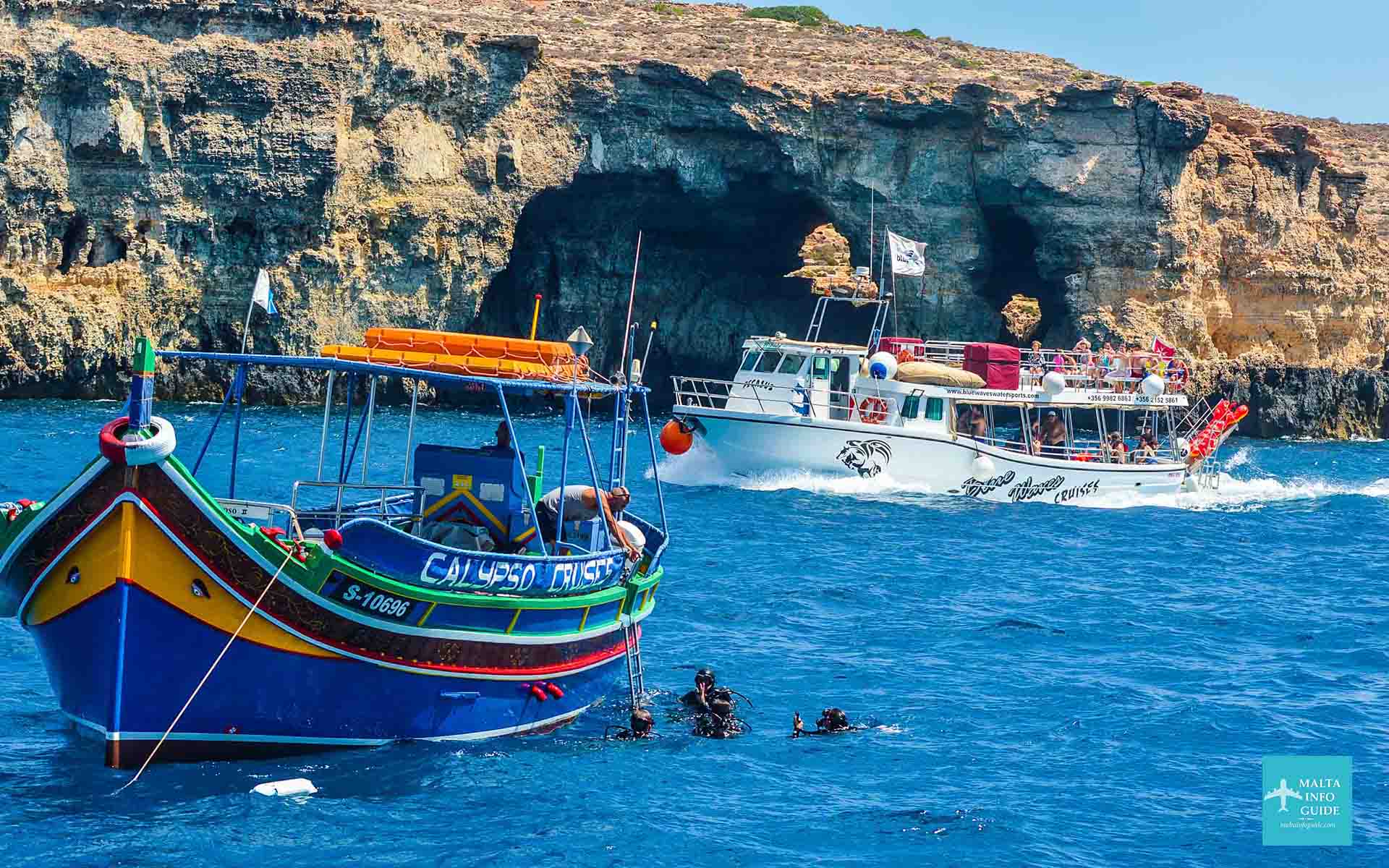 Diving Near The Island of Comino
Fernandes Tour To Comino Island
Two Turkish Gullets sail from the Sliema Ferries Marina to the island of Comino especially during the summer season. The Fernandes and Fernandes II are both 38 metre long, two-masted gaff rigged vessels that anchor in secluded bays in Gozo.
Related Tour: Book your Gozo, Comino tour with the Fernandes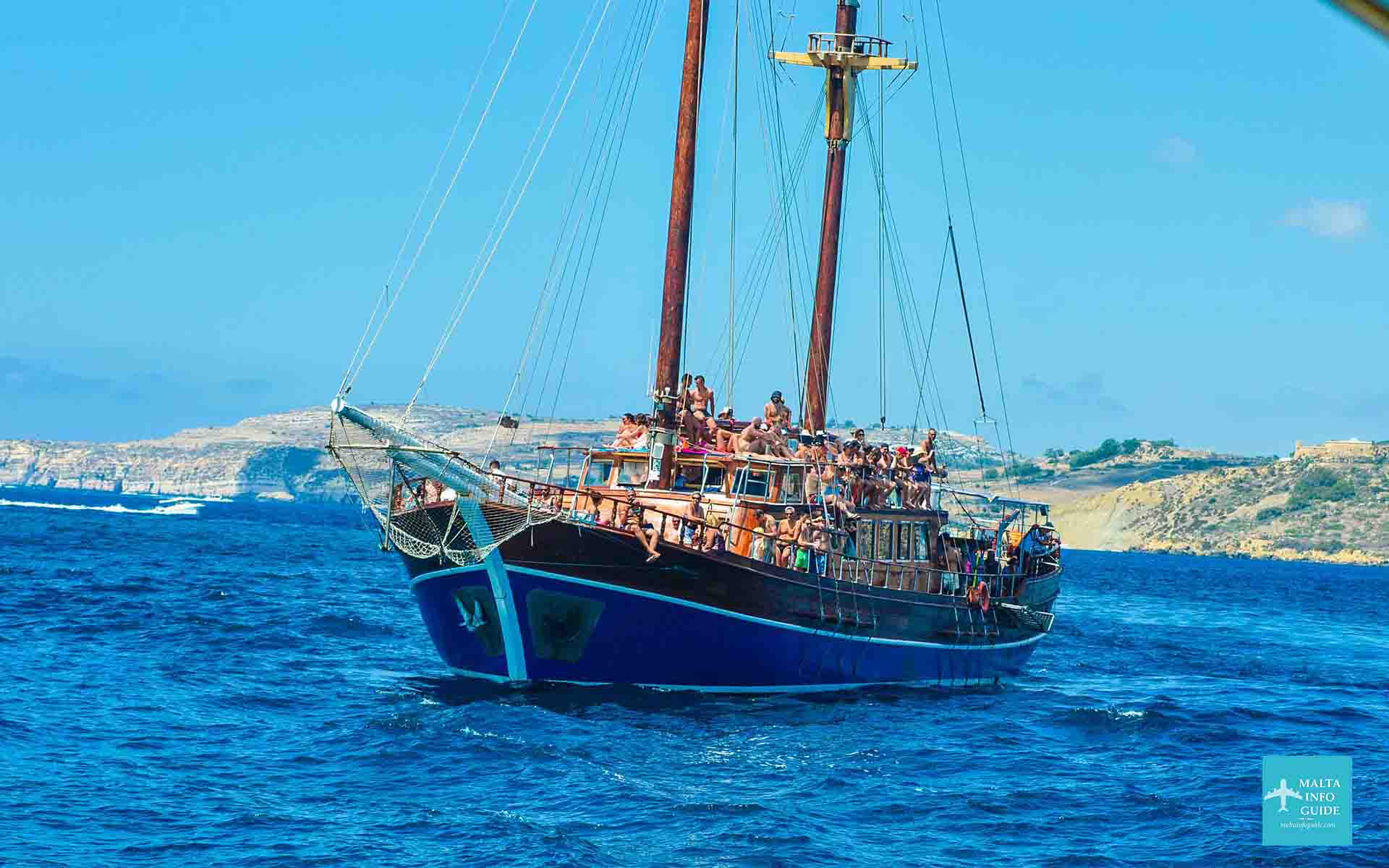 Fernandes Tour To Comino Island Malta
Swim at Santa Marija Bay
Without tourists and crowds, you can enjoy Santa Maria Bay to its fullest. There's a little beach tucked into the rugged north coast of Comino. Located next to the small police station and St. Mary's Chapel. Unlike the breathtaking Blue Lagoon, one of the Island's most secluded spots offers even more secluded swimming.
Other Related Pages: Citadel Gozo Photos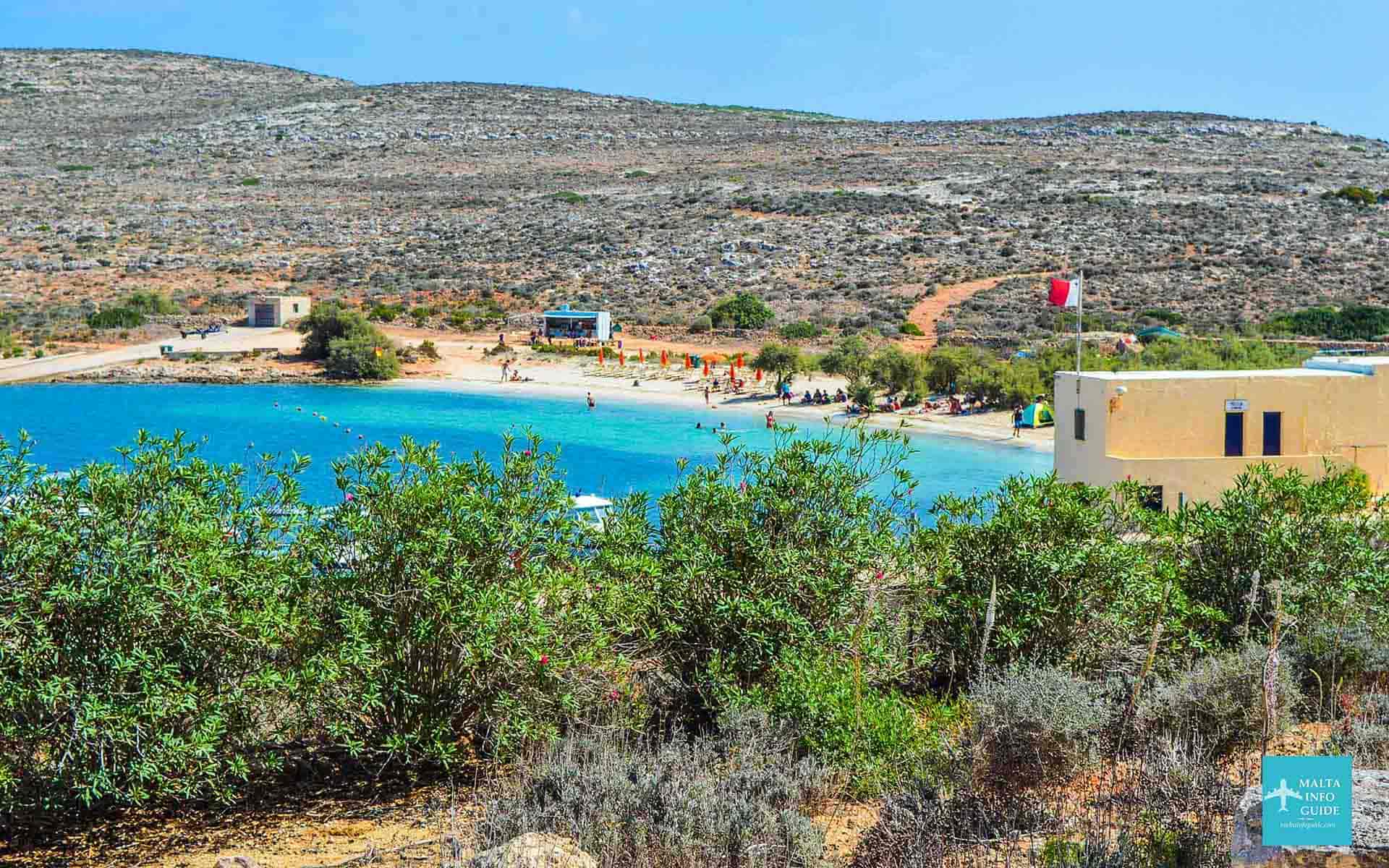 Santa Marija Bay
Sea Adventure Excursions Tour
Blue Lagoon tours are provided by Sea Adventure Excursions. Comino Island is an undeniable paradise. Our experience with this company was one of our best ever, where they provided excellent service throughout the day.
Related Tour: Book the Sea Adventures Tour from here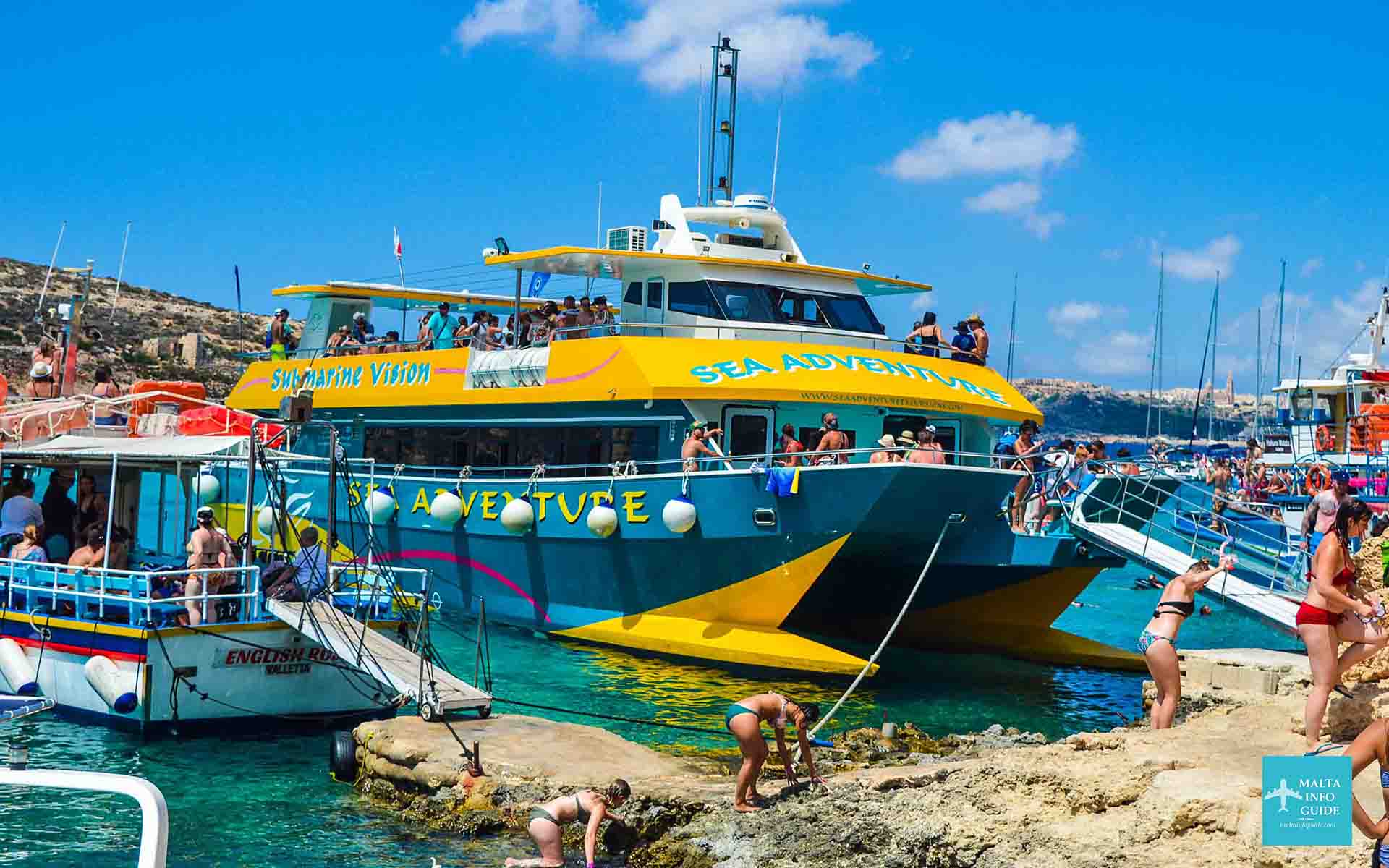 Sea Adventures Excursions Comino Malta
The Blue Lagoon Comino Malta
On the island of Comino, between Malta and Gozo, is the Blue Lagoon Malta, a small lagoon with a turquoise blue sea, perfect for your Malta vacation. Young kids can wade and swim safely in the shallow sea close to the sandy beach.
Related: Find The Beaches On The Island Of Gozo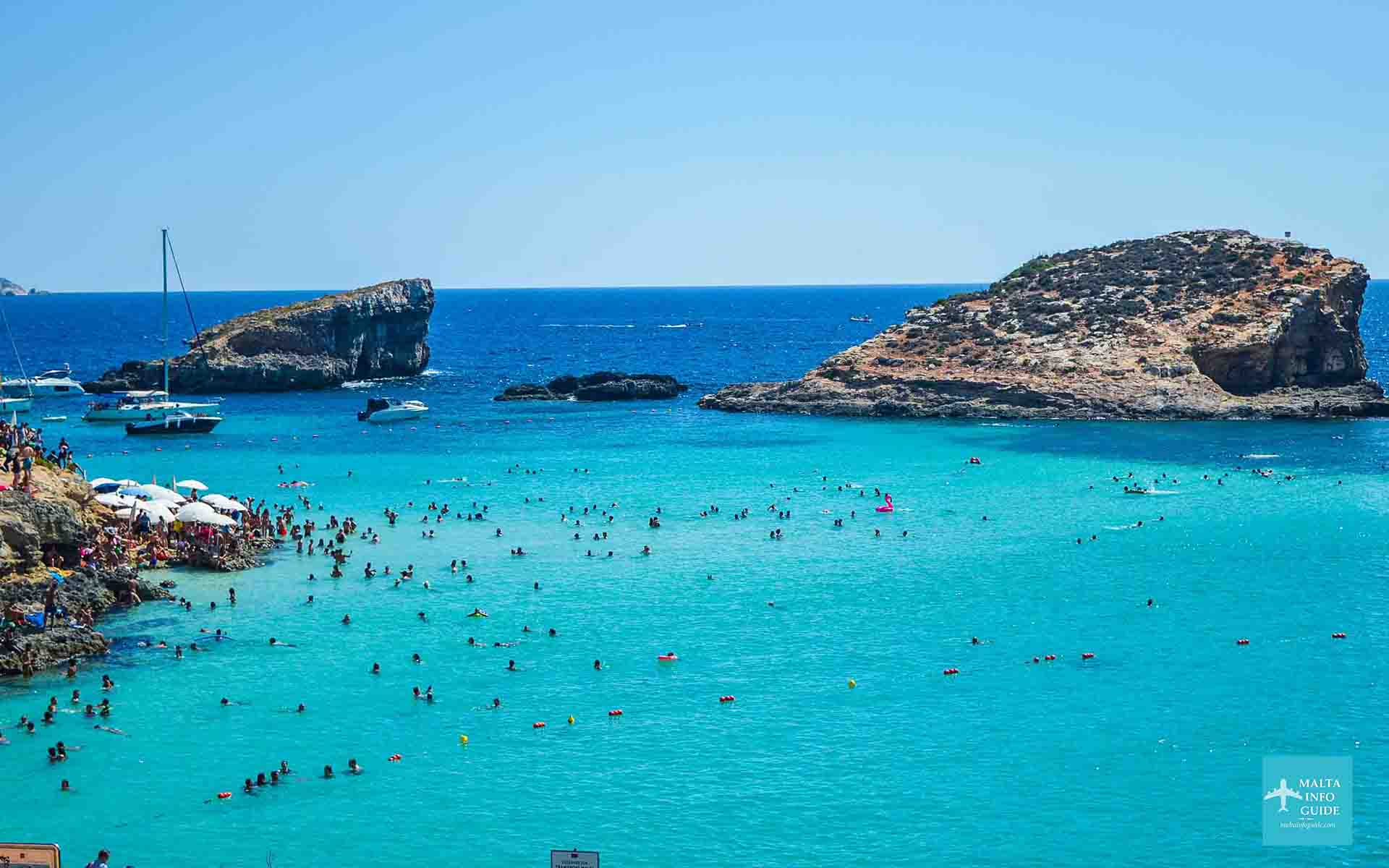 The Blue Lagoon Malta Beach
The one and only Chapel
The small chapel is dedicated to the Return of Our Lady from Egypt and it is opened for weekend services only is a Roman Catholic church.
Located besides St. Mary's Bay, besides the police station and the campsite. The chapel was first built in 1618 but has been restored many times since then.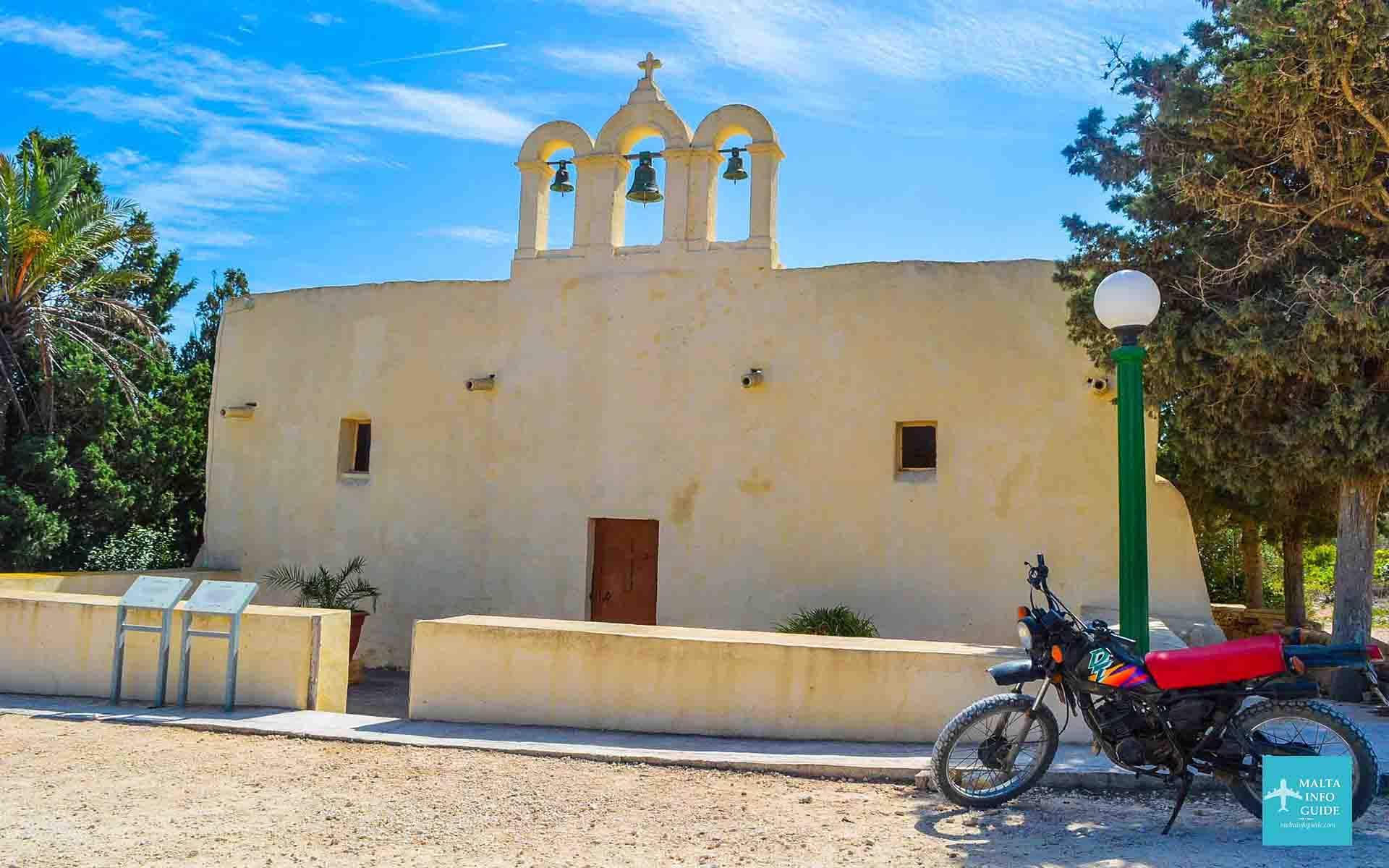 Chapel on the Island
Camping on the island of comino
It is possible to set up a tent and stay overnight at Tal-Ful Camping Site. However, you must follow certain rules and regulations before you start camping. A complete list of the rules were issued June 2022.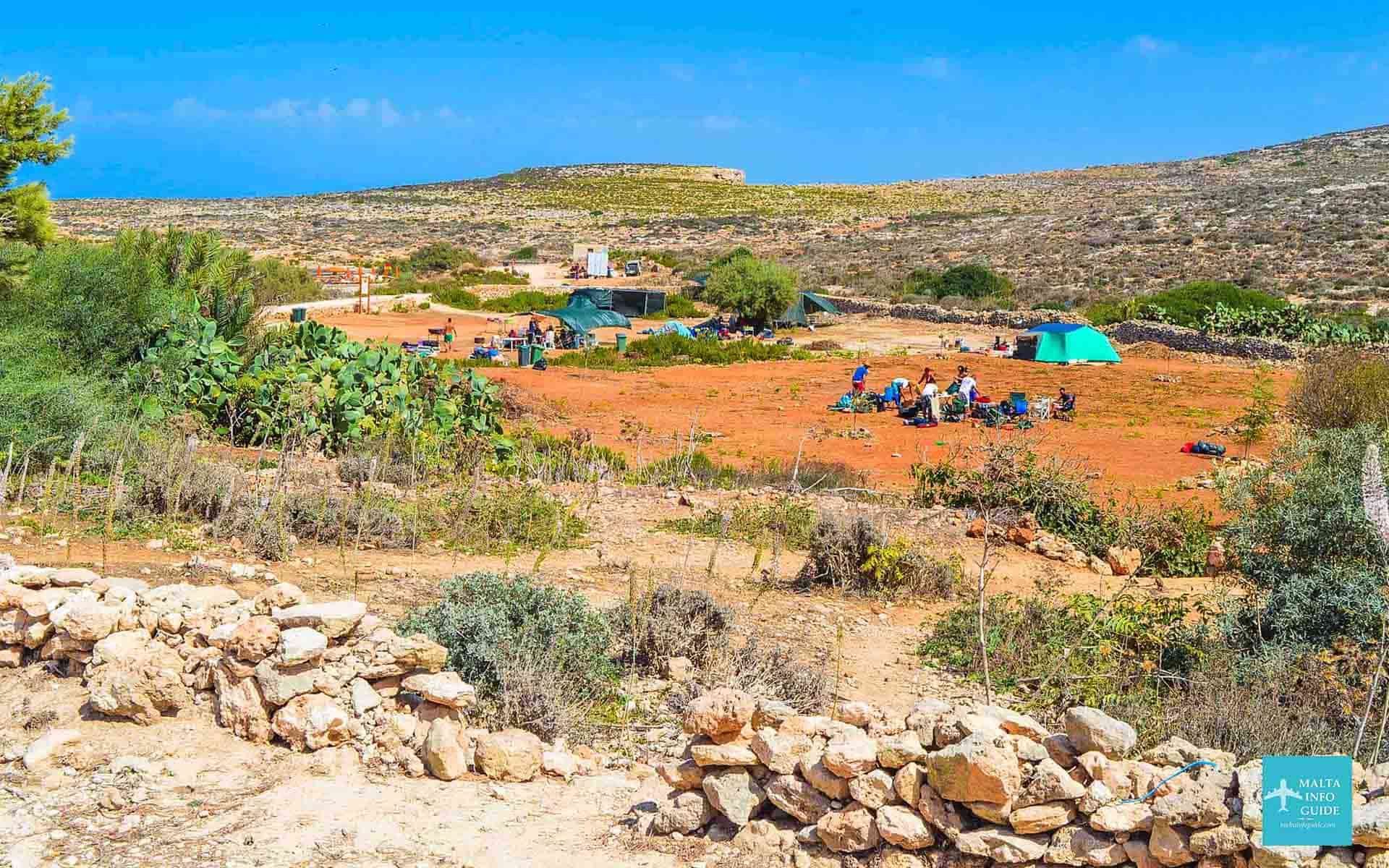 Tal-Ful Camping Site Comino
Swim and sunbathe at St. Nicholas Bay
Although St. Nicholas Bay is not as popular as its neighboring Blue Lagoon, it is still a popular bathing spot. You can spend a relaxing day here snorkeling in the clear waters while enjoying the surrounding quiet scenery.
With shallow water and sand areas for perching your towel, the beach is suitable for families. It's about 20 minutes by foot from the Blue Lagoon.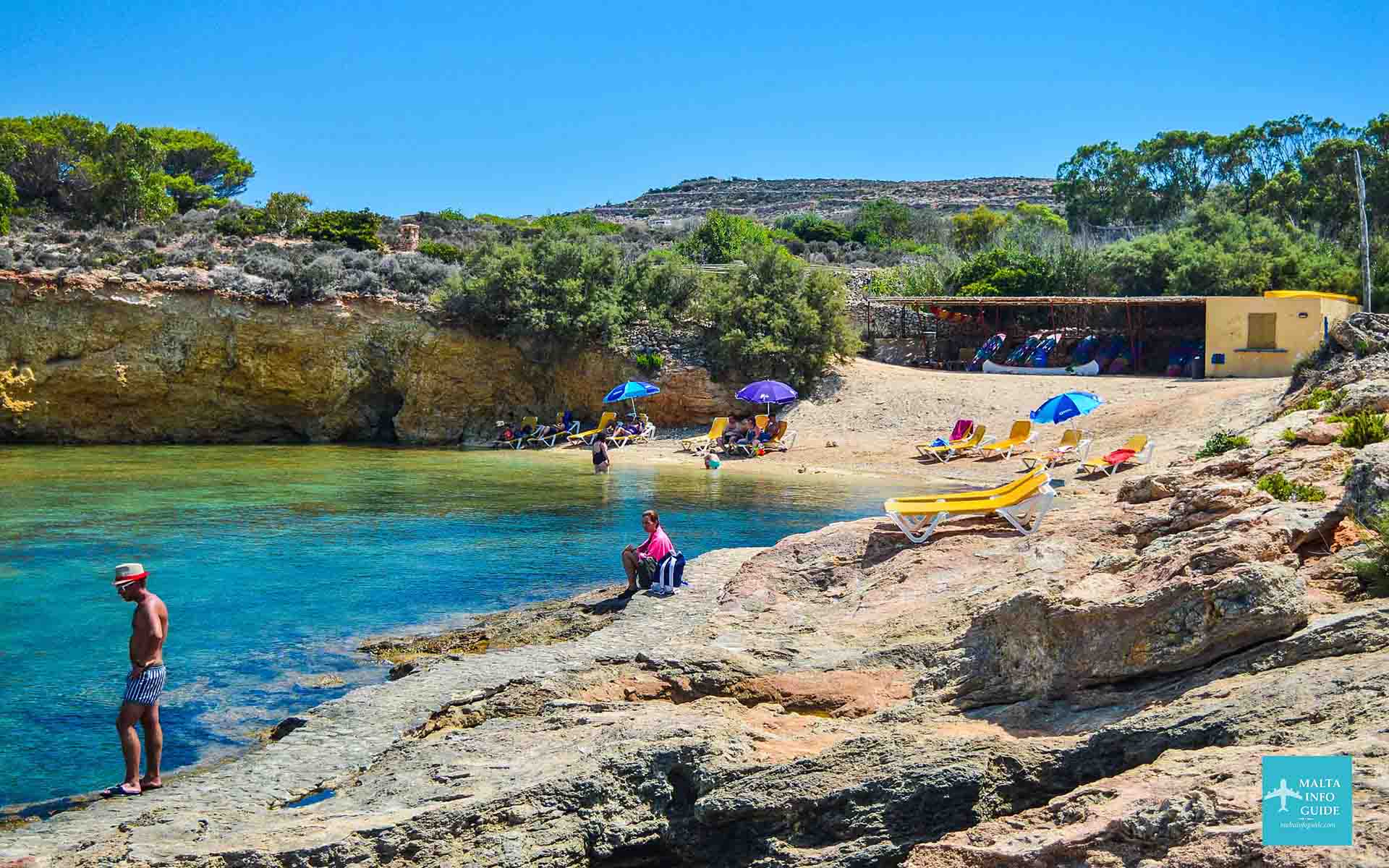 St. Nicholas Bay Comino
Santa Maria Tower
The Santa Marija Tower is Comino's most impressive historical structure. This tower was part of a system of towers constructed by Grand Master de Wignacourt between 1618 and 1641 to provide defense and communication between Mdina and Cittadella.
Related Page: 7 Ramla L-Hamra Bay Gozo Photos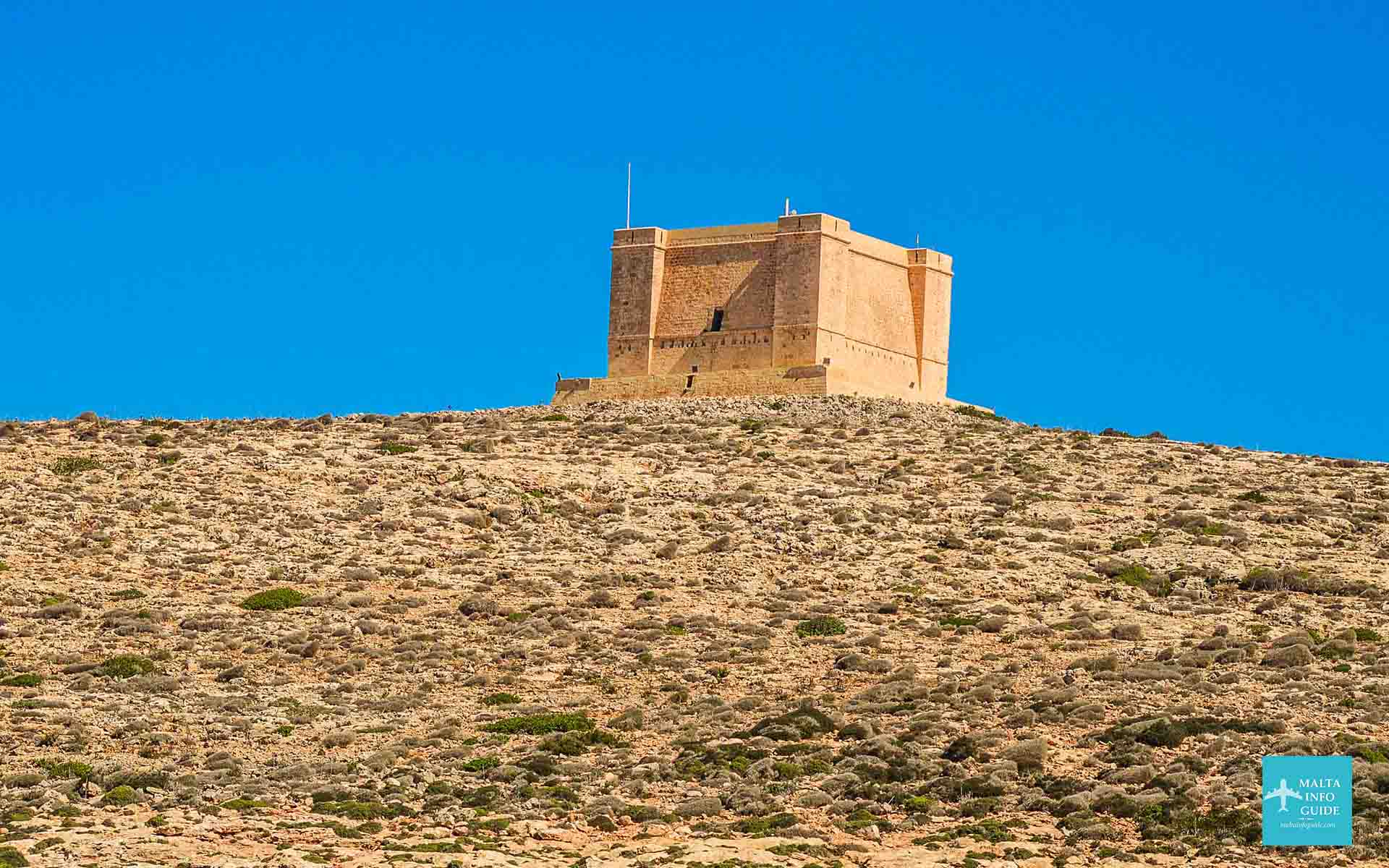 Santa Marija Tower Comino
Comino Island Malta Photos
The cliffs of Comino rise vertically from turquoise water. They reach a height of 68 metres above sea level. This rugged coast line is characterized by limestone cliffs dotted with caves. There are plenty of opportunities for walking when the weather is not too hot.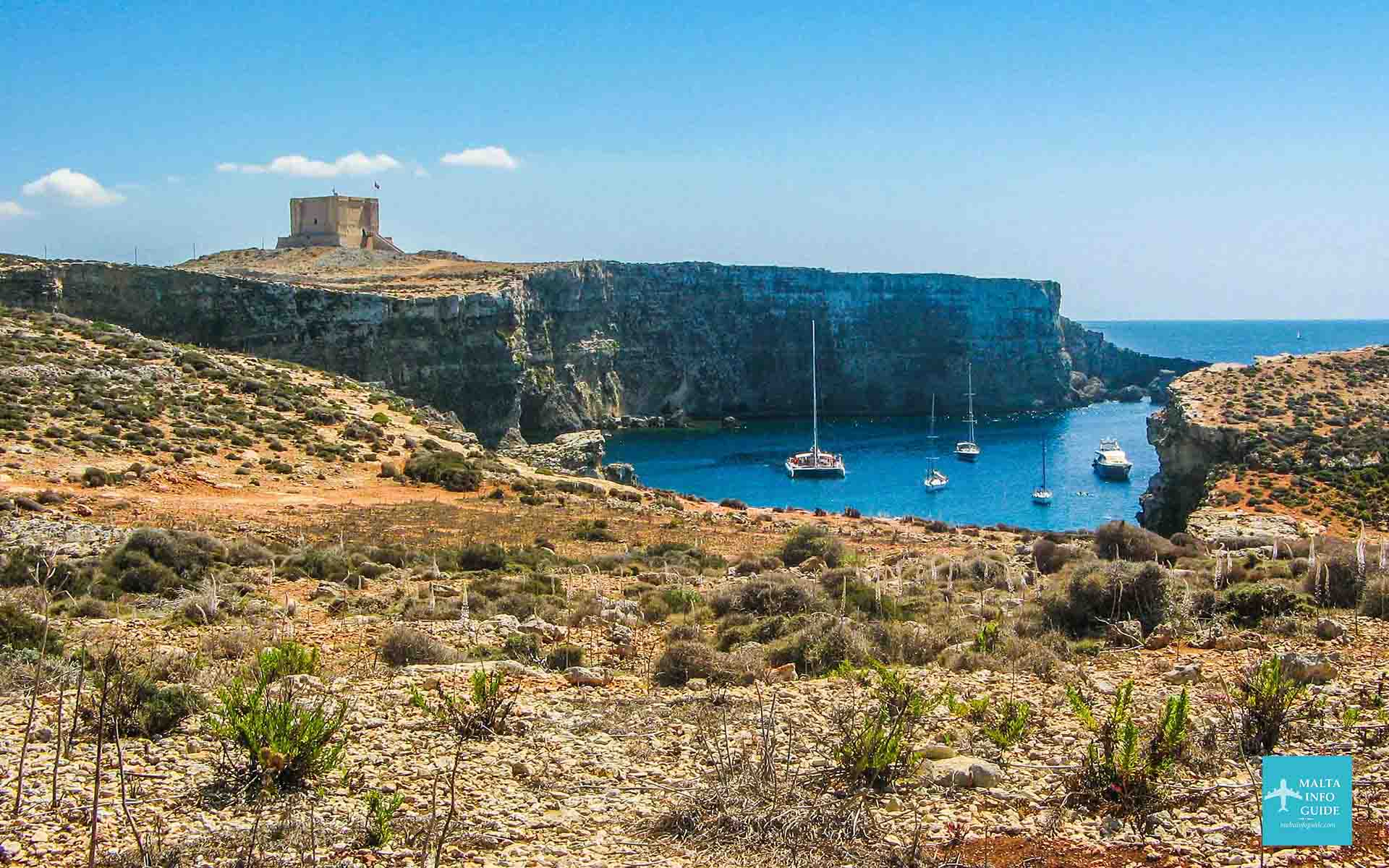 Cliffs of Comino Malta
The Island of Cominotto
There is an island called Cominotto on the other side of the Blue Lagoon. You can swim across the channel to reach it. The Maltese call it Kemmunett. If you are with a small boat you can easily land on the beach of Cominotto, which is very small and sandy. It is totally uninhabited.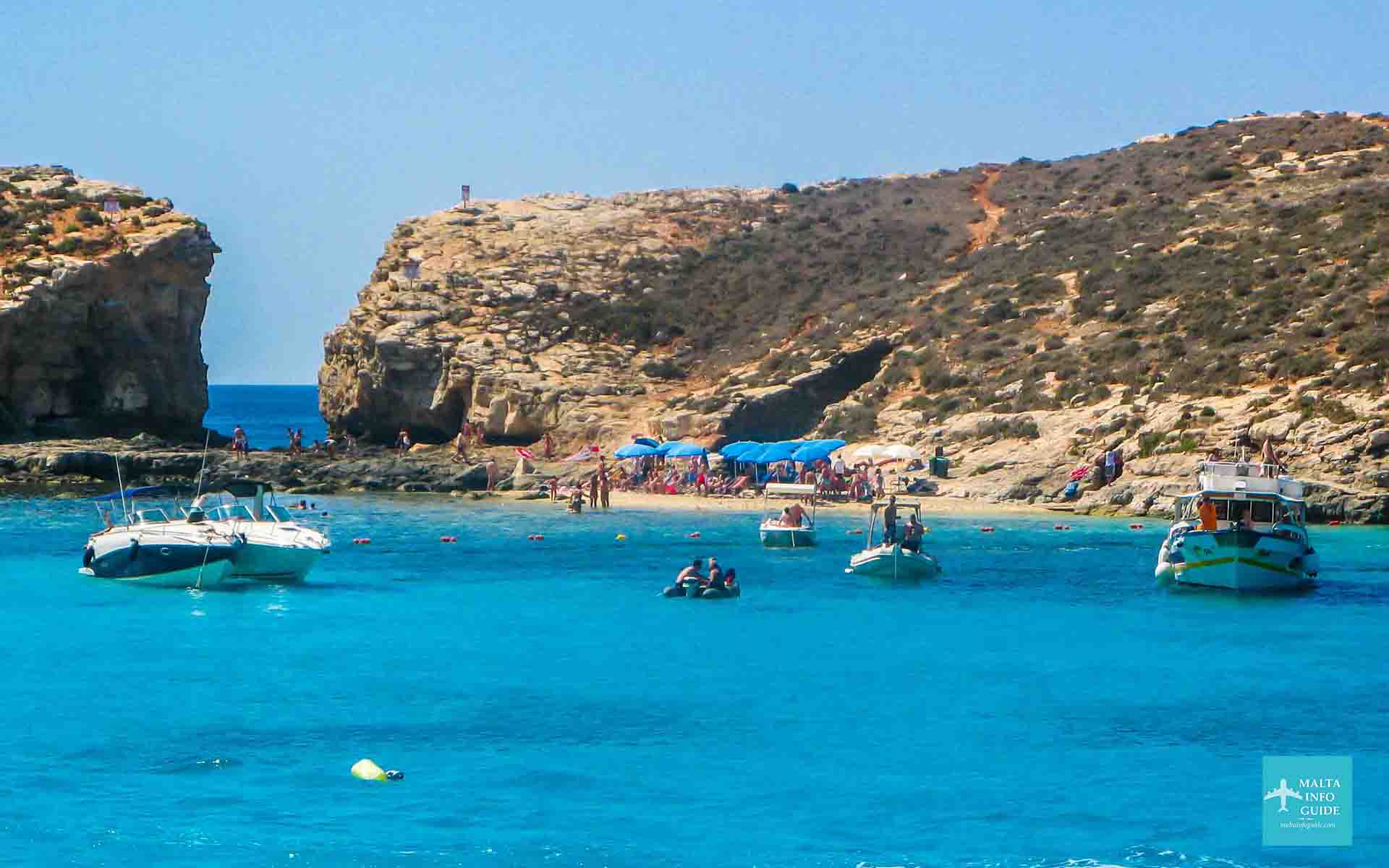 Island of Cominotto
want to rent a car in malta?
We have used Discover Cars every time we rented a car. We highly recommend them due to their good service and good prices.
Get The Best Rates On Your Car Rental Now!
need to book a hotel for your malta visit?
Using Booking.com, enter your travel dates and number of occupants then rates will be available for hotels and apartments during your visit to Malta 
Book Your Hotel In Malta on Booking.com for the Best Rates!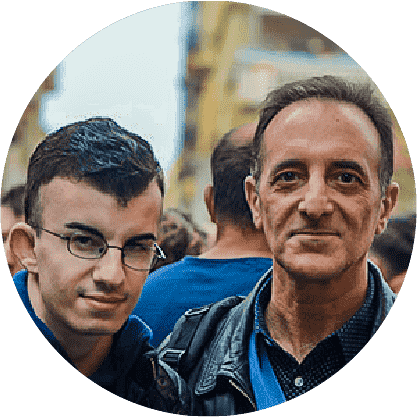 By Albert and Benjamin Magro