stunning photos of malta beaches
nine pictures that will make you want to visit and swim in Malta
We have some astonishing photos of Malta beaches and here they are to prove it. Our island has some of the best beaches in Europe. Here are the top nine best beaches in Malta.
Disclaimer: On our website, you will find affiliate links from which we receive a small commission.
Best Photos of Malta Beaches
paradise bay beach malta
Paradise bay is a stunning beach, secluded in the northwest of Malta. Many foreigners and locals visit the bay daily, especially during summer. The bay is at the bottom of a hill, hence you have many steps till you arrive.
You pass through The Beach club and then onto the beach where you can rent an umbrella. On the side terraces you can also rent sun loungers with umbrellas from early morning till 18.00. Go early if you wish to rent the best places on the terraces. Parking is very easy as there is a large car park at the top of the bay. The parker will expect a tip.
Opposite to the bay there is the Paradise Bay hotel. Further back the Cirkewwa Ferry Terminal where you find the ferry boat for Gozo.
Related: Other Photos Of The Island Of Malta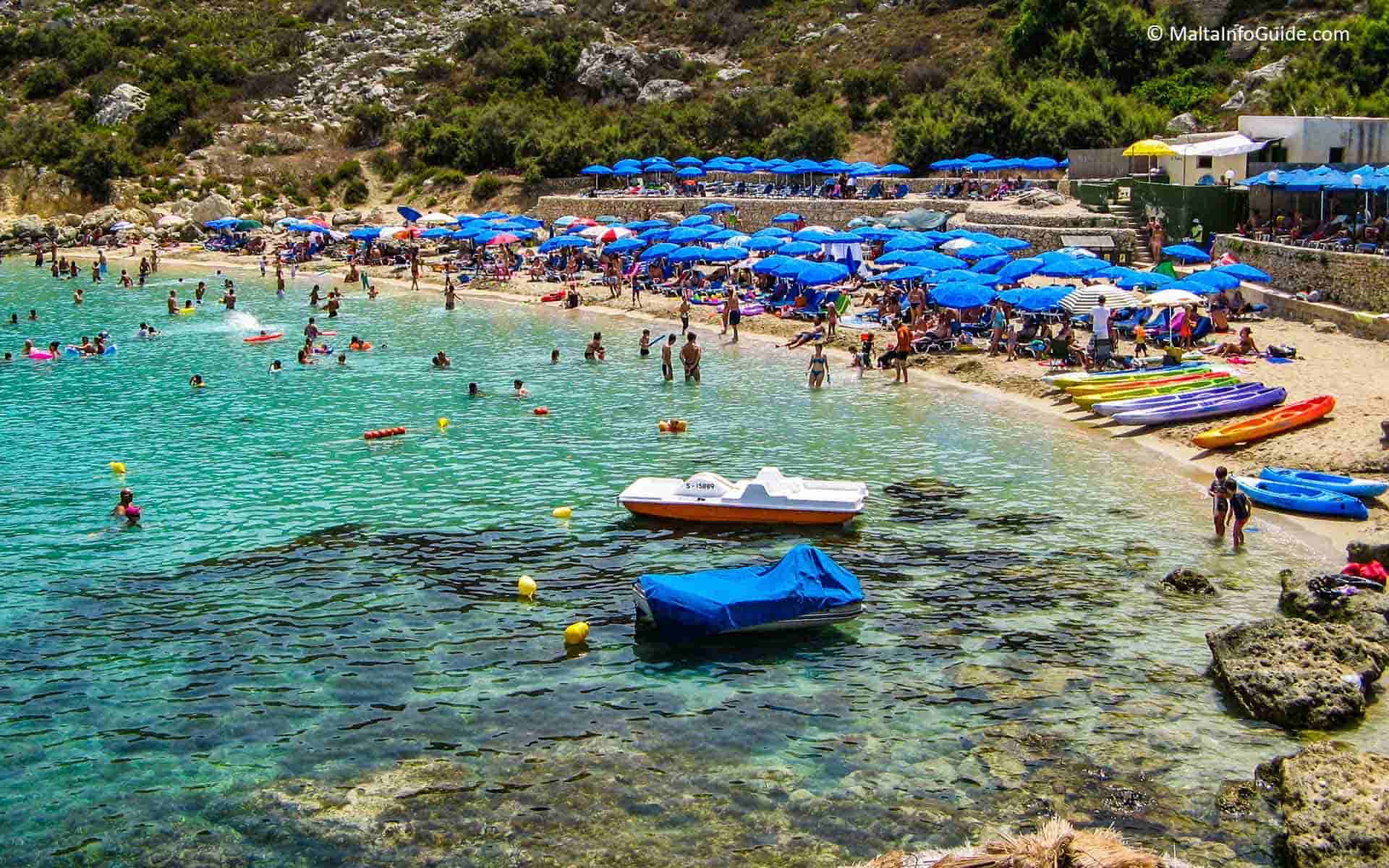 Paradise Bay Beach Malta
golden bay malta
Many tourists claim that Golden bay is the best sandy beach as the sand has a golden touch to it. Golden bay is one of Malta's popular beaches. It neighbouring bay the Ghajn Tuffieha bay, one can arrive by car and descend the staircase. With a five-star hotel located on the right of the bay, this make it the only bay on the island with a five-star hotel just beside a beach.
There is parking available just beside the bay and hotel. It gets full quickly during summer. A downside to this bay is that it experiences dangerous currents when the sea is rough. A red flag shows dangerous currents. Lifeguards are present at the beach during the summer months.
The Radisson Blu Resort and Spa dominates the side hill of the bay. The service is wonderful at the seaside restaurant. The beach club offers the best for an enjoying a day at the sea including water sports.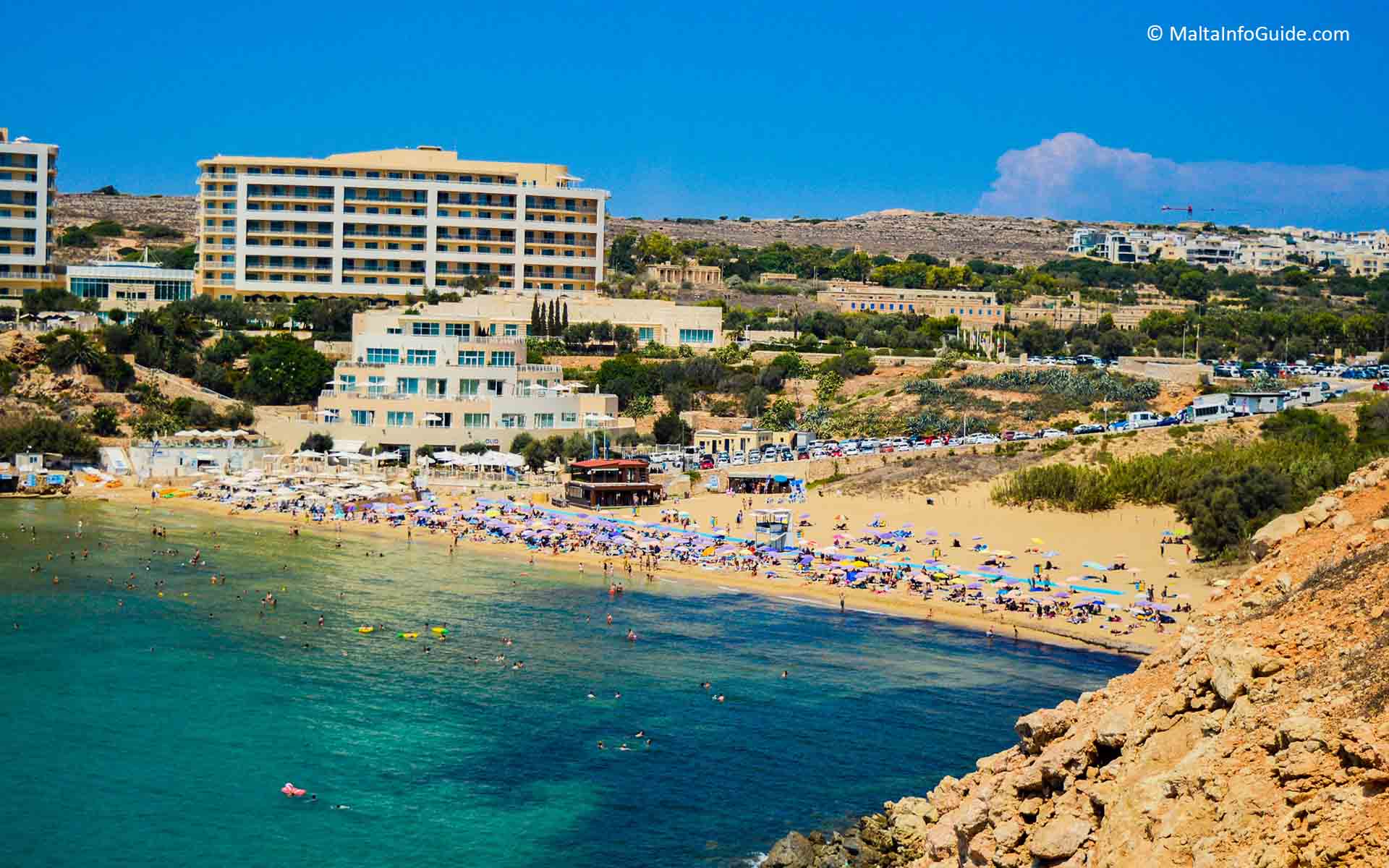 Golden Bay Malta
mellieha bay malta
Mellieha bay is one of the largest beaches on the island. The beach is naturally in tree areas. It is the best ideal beach for families with young children as the sea is very shallow and need to swim out for the deep sea.
You arrive to Ghadira Bay passing through the village of Mellieha. Then at the bay everyone parks the car along the main road, a few steps and ramps access the many entrance points onto the sandy beach area.
There is a four-star hotel just beside the beach. It is a very popular hotel where many Maltese go for long weekend breaks. 
There are six beach rental operators that line the long beach. Since the beach is long there are various sections where you can stay. At every section there are sunbeds and umbrellas for rental. Also various snack bars, ice cream parlours and restaurants are available along the beach.
Water sports facilities are available at various points and small water sports facility out at sea around some 100 metres from the sandy beach.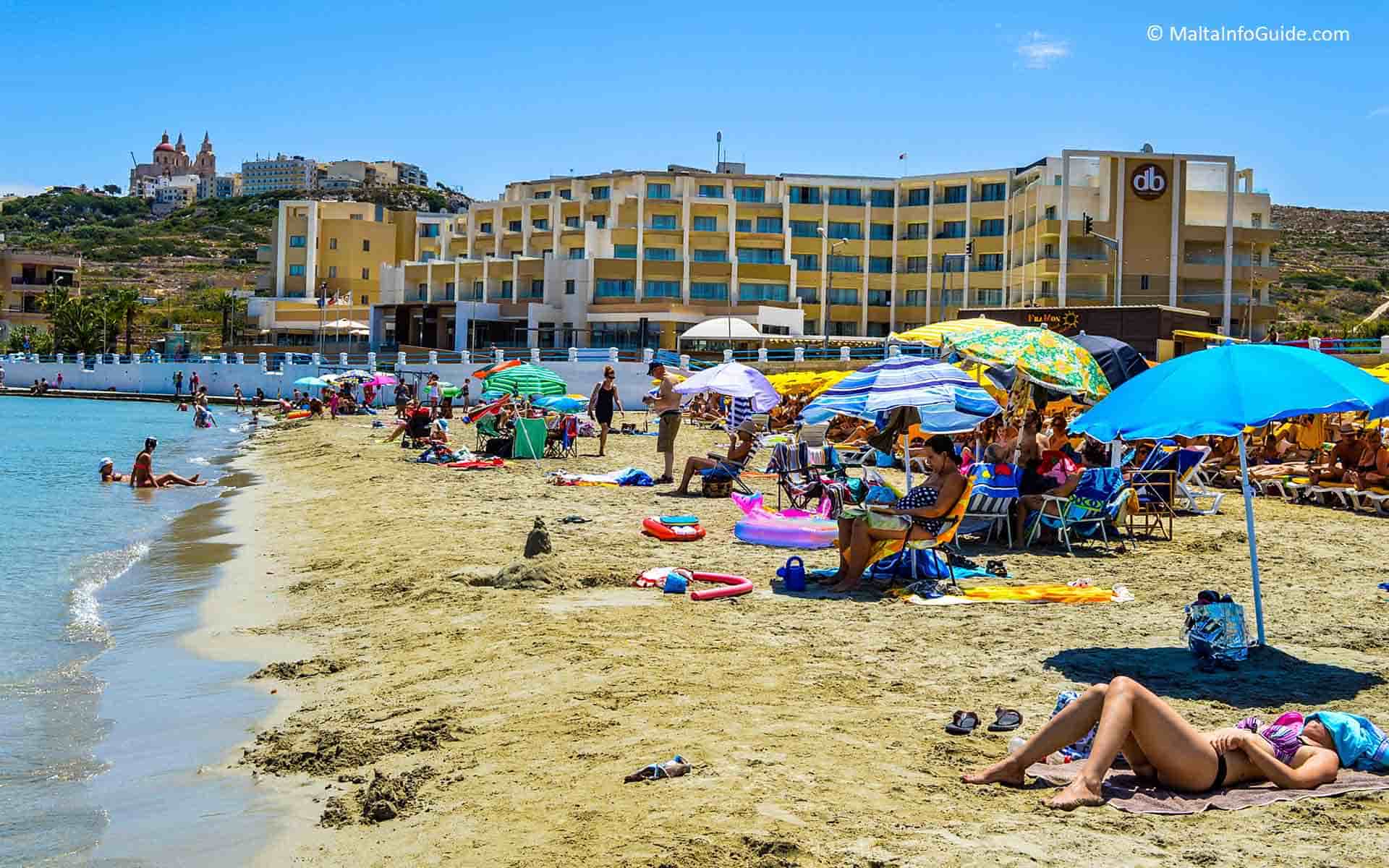 Mellieha Bay Malta. In the back ground the db Seabank Resort & Spa
ghajn tuffieha bay malta
Ghajn Tuffieha bay also known as Riviera Martinique. It is a fabulous beach very much frequented by locals and tourists but not as much as Golden bay which is only one kilometer away.
Ghajn Tuffieha is a smaller and narrower sandy beach surrounded by high rock formations on the sides, making it very attractive because of the formation of the rocks and vegetation. A small downside is that there are around 100 steps from the top of the hill to the beach. It will be all worth as you will forget all the world around you being so much cut off from everything.
The beach offers a restaurant, rentals of sunbeds and umbrellas and other facilities. This beach is very popular for its sunsets, where people stay till late evening and watch the sun go down while relaxing on the sand.
Related: Beaches In Gozo Island Photos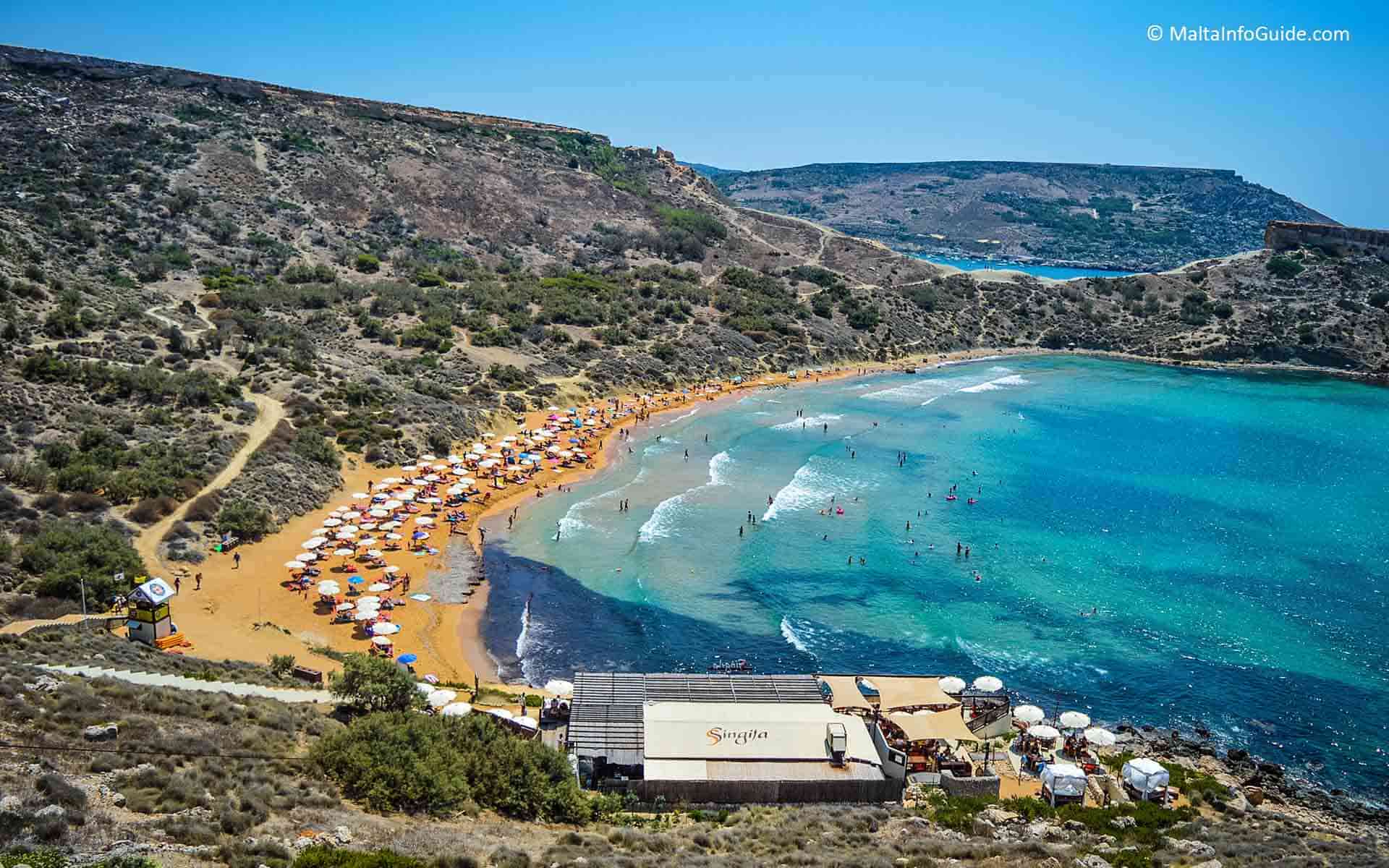 Ghajn Tuffieha Bay Malta also known as Riviera Martinique
gnejna bay beach
Gnejna bay is adjacent to Riviera Martinique with high hills separating it. A very quiet location and picturesque ideal for a quiet day away from the hustle of everyday life.
It is ideal for children at the sand beach but parts of the shallow sea have several stones which makes it difficult to walk over until you reach deeper sea level. The rocky side especially the right side is well frequented by swimmers. This area is also popular by nudist swimmers which is much further in.
It is located at the end of a long road proceeding from centre of Mgarr village then down the hill up to the end of the valley where you find this splendid bay. There is substantial parking just beside the sandy beach.
A snack bar is located on the beach serving food and rents sun loungers with umbrellas.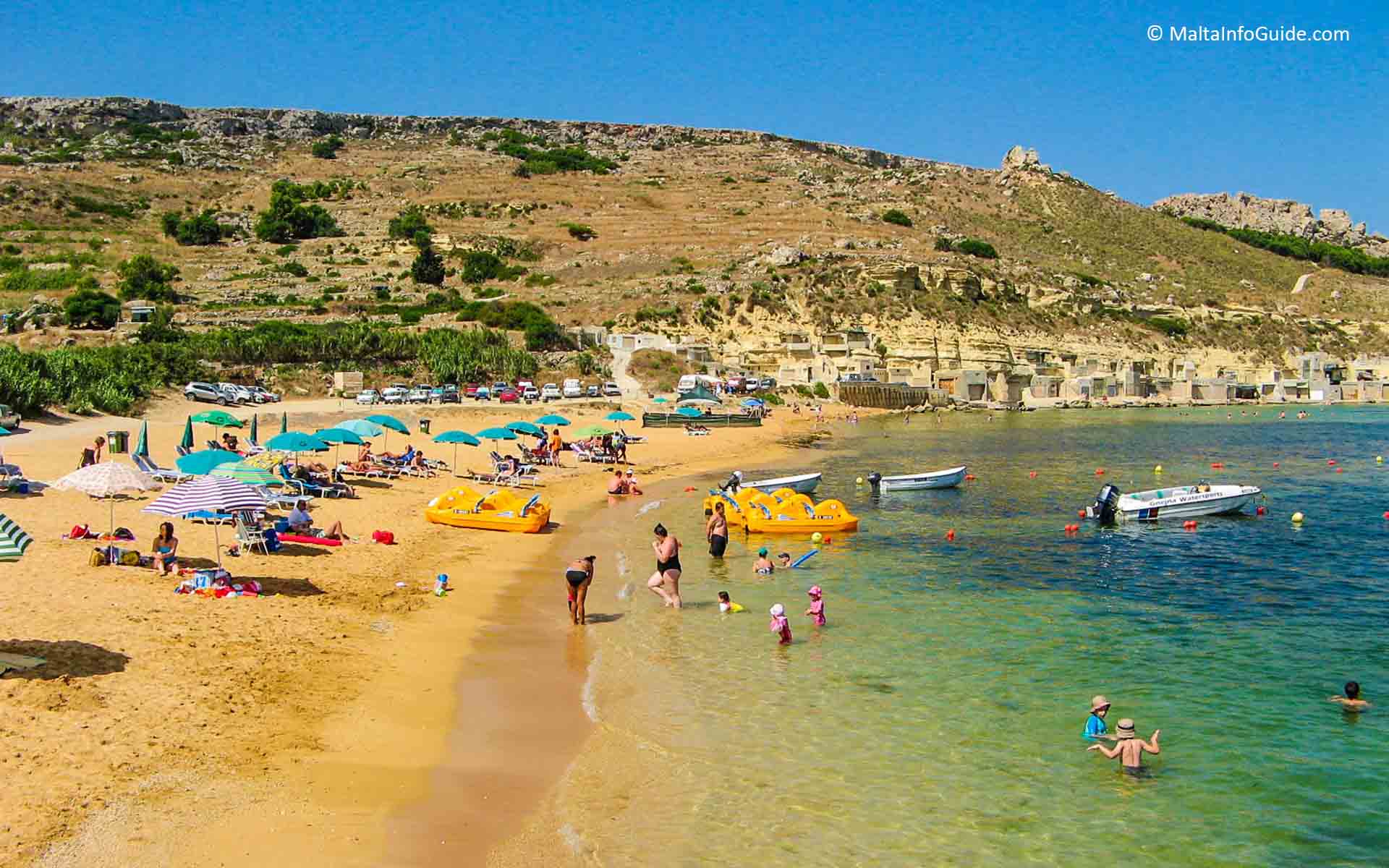 Gnejna Bay Beach is unique for its unusual clay slopes and limestone cliffs
armier and little armier bay
Armier and Little Armier bay are two small sandy beaches located close to each other. They are at the northwest point of Malta, further up than Mellieha bay on the other side of Cirkewwa Ferry Terminal.
These bays are very much visited by locals and tourists. The area over here is quiet as it is completely cut off from the daily life. There is a bus stop just beside Armier bay. This bus is only available during the summer months.
Here you find two beach clubs offering services from food to sunbeds and umbrellas. 
Many mobile and small homes surround these bays where many Maltese live during the summer months. Armier bay is very close to the Malta Camp site located around 10 minutes by car.
Related: See What Village Feasts Are Like During Summer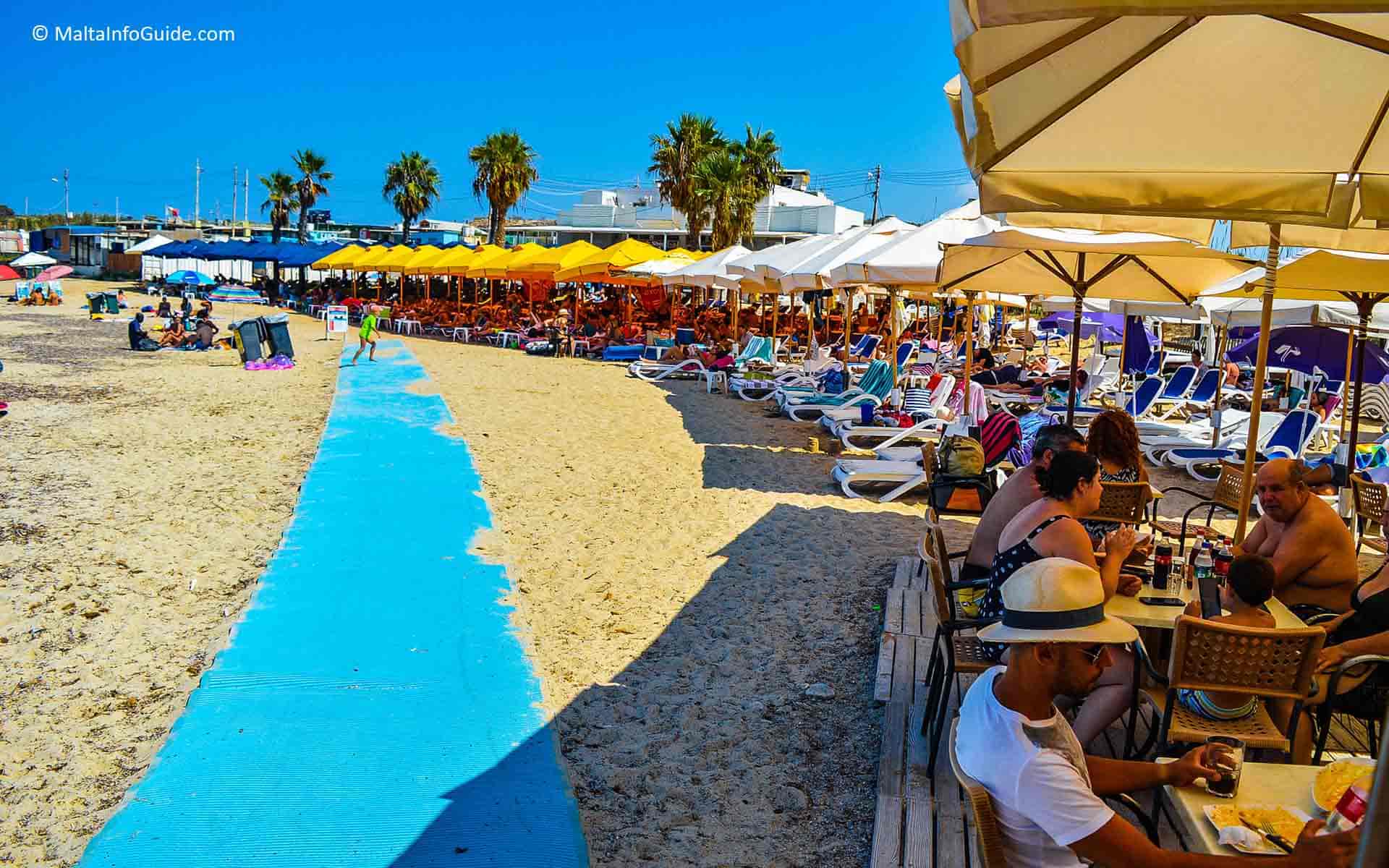 Armier and Little Armier Bays
st. george's bay
St. George's bay is at the side of Paceville entertainment area and with 4 -5 star hotels. Especially during summer, the bay is very popular with foreign students who come to Malta for international studying programs. Also during winter on beautiful sunny days, you find many students sunbathing on the sand.
Late at night during summer, the sandy beach is usually packed with people sitting on the sand and having a drink. There is a restaurant on the sand which is very popular. The Intercontinental hotel has a beach club Paranga on the side of this beach. You can rent sun loungers, umbrella and caters with good quality food.
Water sports are available from the other side of the bay. A few restaurants are on the beach side, well attended throughout the year. Just next to here, there is a shopping complex, cinema, casino and other entertainment establishments.
Related Page: Another Sandy Beach In Gozo, Ramla Bay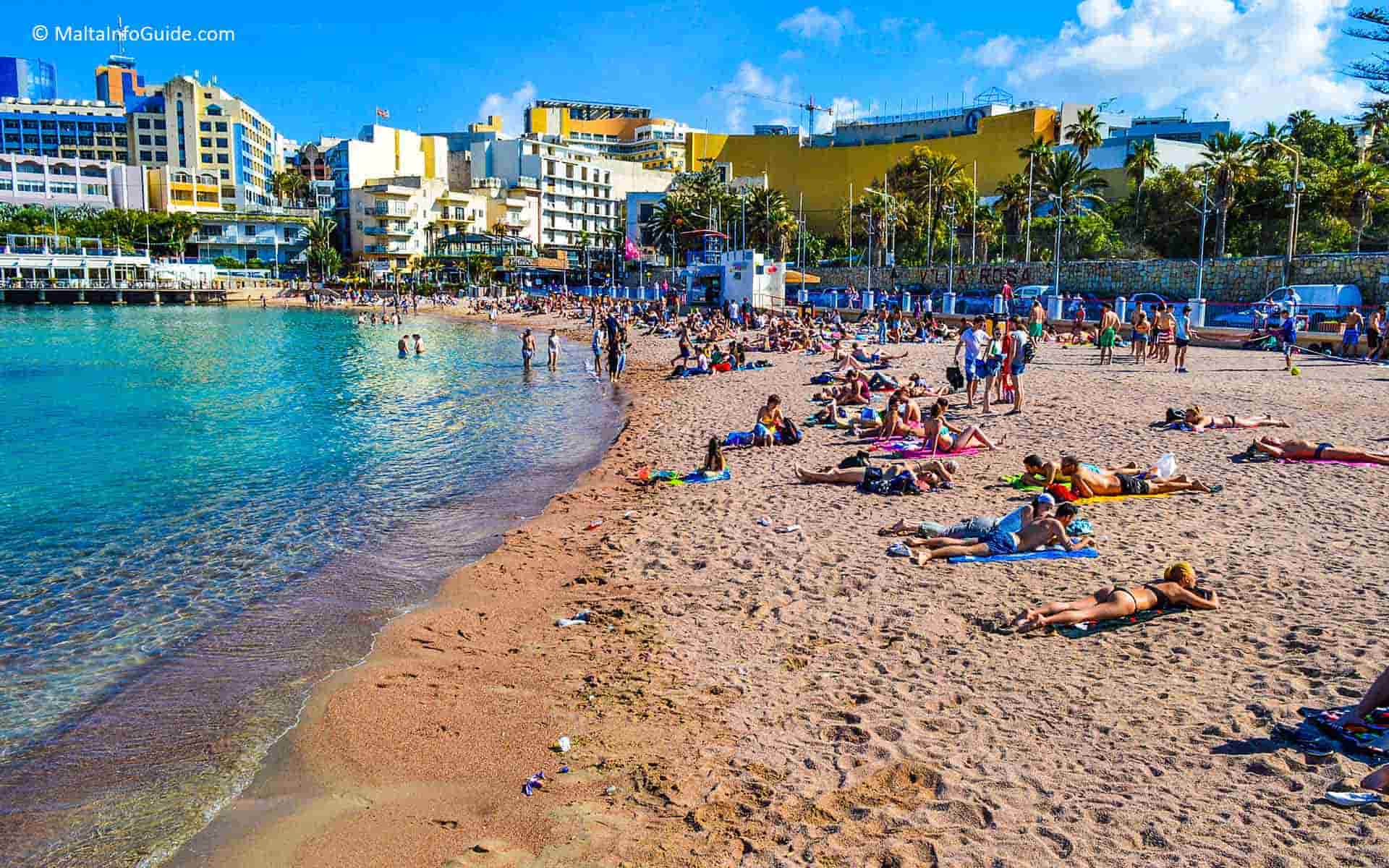 St. George's Bay in St Julian's in the middle of the main entertainment hub
balluta bay beach
Apart from being a pleasant place for long strolls along the promenade, Balluta bay is also a beach that makes it a favourite spot amongst locals and tourist during Malta's warm months.
You will see many people who walk from St. Julian's to Sliema as it is a lovely walk with restaurants along the way for a bite to eat. Many people do this walk from before sunrise till late in the evening.
There are no rentals of sunbeds and umbrellas. The bay offers a fantastic view of the surroundings. The bay is very well frequented during summer. The bay has a swimming zones to guide you where to swim.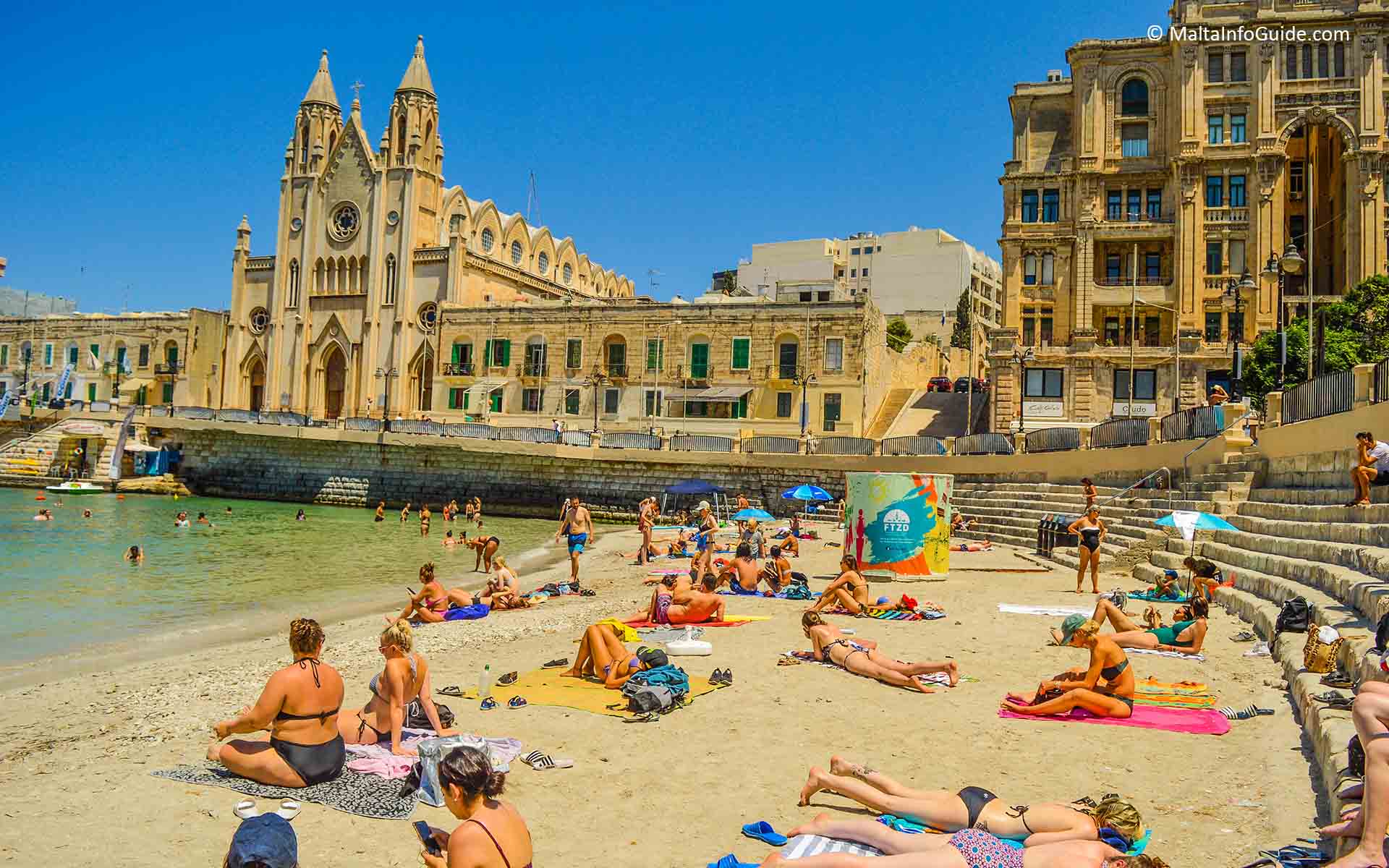 Balluta Bay beach at St. Julian's
st. peter's pool malta
St Peter's Pool at the outskirts of Marsaxlokk and close to Delimara is the ideal rocky beach, a nature's masterpieces within itself. This place is amazing! The water is stunning. You jump from high rocks down into the deep. The area around St. Peter's Pool is completely cut off from village life and so is ideal for quality time surrounded by nature.
In summer during certain days it gets fairly crowded but the area is big and visitors can spread on the rocky beach which is mostly fairly flat where you can open your towel and lie down. During the summer months there is usually a snack van offering basic food and drinks.
No transport links to here, so a taxi is one option to get here. It is only 30 to 40 minutes walk from Marsaxlokk. Many in fact walk it all the way. It is good to take a hat and cover yourself well against the heat to protect yourself, especially during the summer hot months. Parking is further explained in St. Peter's pool page.
St. Peter's Pool Malta
want to rent a car in malta?
We have used Discover Cars every time we rented a car. We highly recommend them due to their good service and good prices.
Get The Best Rates On Your Car Rental Now!
need to book a hotel for your malta visit?
Using Booking.com, enter your travel dates and number of occupants then rates will be available for hotels and apartments during your visit to Malta 
Book Your Hotel In Malta on Booking.com for the Best Rates!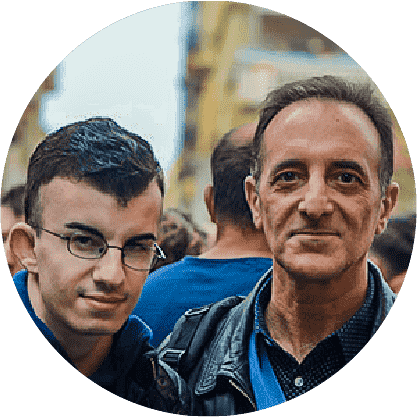 By Albert and Benjamin Magro