Weather in Malta in December

The Cold Is With Us
If you are coming to Malta in December you will surely find what to do. By now the weather is cold and windy. Morning and evening are surely fresh. Expect rain. If the weather is fine during the day it can also be very warm so expect beautiful sunny days too.
It is one of the best periods to come over. It is Christmas time. Many things to organise and do. You can go to the city in Valletta to feel the Christmas spirit, Christmas shopping and also Christmas markets in certain localities where you find a present to buy for your loved ones. Plan and book so you will not be disappointed.
Here is what you need to know

- A glance to the weather in Malta for December – You will read about it and much more…
- What should I pack? What should I wear?
- Is it worth visiting Malta in December?
- Is it worth visiting Malta in spring?
- What are the things to do in Malta for December?
- Where to go on a Sunday in December?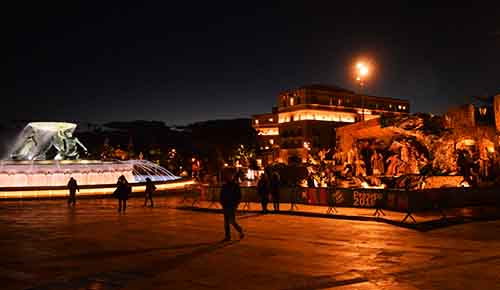 Statistics for Weather in Malta in December
- Highest Recorded 25°C (77°F) | Lowest Recorded 4°C (39°F)
- Highest Daily Average 17°C (63°F) | Lowest Daily Average 12°C (79°F)
- Daylight Hours Of Sunshine 5.2
- UV Index 0 to 2
- Rainfall 108mm (4.6")
Malta Weather Compared to European Countries
- Austria: 2°C | 36°F
- Belgium 4°C | 39°F
- France 5°C | 41°F
- Germany 2°C | 36°F
- Ireland 5°C | 41°F
- Italy 8°C | 46°F
- Netherlands 4°C | 39°F
- Poland 1°C | 34°F
- Sweden -12°C | 10°F
- Spain 10°C | 50°F
- Switzerland 1°C | 34°F
- United kingdom 5°C | 41°F
Weather in Malta in December - What Should I Wear?

- In December the Maltese dresses winter clothes. It is not unusual to see persons with tee shirts in late morning afternoon when the weather is clear, with no wind and sunny.
- We always recommend to pack a sweater, warm jacket, preferably various layers that will give you the possibility to dress according to the weather conditions.
- Water tight closed shoes and walking shoes. There are many historical locations that you can visit and we suggest that summer filflpos and sandals are not adequate.
- A portable rain cover and umbrella are necessary.
- During this time you do not need any swim wear for the beach unless you will be using the amenites of your accommodation.
Suggestions of Things To Do in Malta During December

- December is an ideal time to come to Malta especially closer to Christmas day.

- Christmas time is special. The Maltese are fond of decorating, buying presents. An important time to be with family and friends. Take your time to visit Valletta and be part of our daily life. Food has an important place in family lives with lovely dinners and parties. It is a Christian feast well embedded in our culture. You can visit various locations to see the Christmas exhibits and see what the Maltese people have to offer.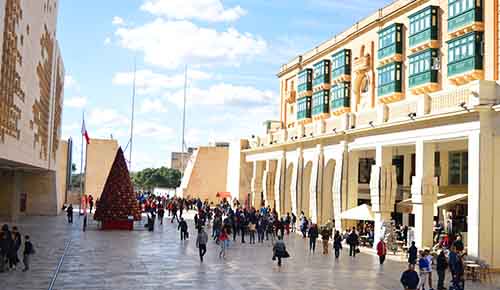 - Do find time to take walks in the country side or drive around the many intricate narrow roads within villages like Mqabba, Siggiewi, Lija, Attard. Observe the architecture and life within the village cores.
- A good way to entertain your children is to organise a visit to the Popeye Village fun park at Mellieha especially at this time with Christmas activities.
- If the weather is not ideal you can always go to the Eden Superbowl for a game of bowling or to the 16 cinemas at the same complex. Adjacent there are numerous restaurants. Close by at Bay Street a shopping mall with a games room and food for all ages, various shops for your needs.
- Visit the country side and the islands. Enjoy the fresh air and relaxing atmosphere around you. There are many areas to go and everywhere is close to the sea.
- A visit to the capital city Valletta is essential as it encloses many heritage monuments that you should see. We suggest St. John's Co-Cathedral, The Grand Master's Palace and the armoury of the knights of Malta, a 16th century palace Casa Rocca Piccola where a nobile Maltese family used to live.
- Another visit in Valletta: The Upper Barakka Gardens with a lovely awesome view of the Grand Harbour. We suggest if you have time to visit the viewing balcony both during the day and an evening visit, sitting on a bench admiring the view.
Tours & Cruises
Cruises Around The Islands

Malta Cruises:

- Round Malta Day Cruise
- Harbour Cruise - Malta's Galant History | Departure daily from the Sliema Marina.
- Mysteries of the Grand Harbour | Departures Monday, Wednesday & Friday all month
- Sunday Special | Departures on on Sunday

Gozo & Comino Cruises:
- Comino & The Blue Lagoon
- The Best of Gozo and Comino

All other cruises start around March when the weather is more settled.
Popular Tours

Full Day Tours:
- Discover Gozo - Full Day | Departures Monday, Thursday & Saturday
- Malta Prehistoric Temple Tour Full day | Held on Friday
- Mdina & Malta Highlights Full Day | Operates Tuesday & Friday
Half Day Tours:
- Majestic Valletta Half Day | Operates Monday, Wednesday & Thursday
- Malta Prehistoric Temple Tour Half day | Held on Saturday
- The Three Cities Tour Half Day (Morning) | Operates only on a Wednesday
- Blue Grotto and Marsaxlokk Extended Half Day (Morning)| Operates only on a Sunday
Sicily Tours:
- Sicily Mt. Etna and Modica | Operates Wednesday, Friday & Sunday

Jeep Tours:
- Malta Jeep Safari Tours | Operates Monday to Saturday all year round
- Gozo Jeep Safari Tours | Operates Monday to Sunday all year round
- Defender Jeep Safari Tours: Malta | Gozo | Operates Monday to Saturday all year round
Family Tours:
- Dolphins Swimming
- Malta Film Tour
- Segway Tour in Malta
- Hypogeum in Malta
- Sightseeing in Malta | Sightseeing in Gozo
- Night tour through Valletta, Mosta and Mdina | Operates on a Tuesday

Other Tours:
- Diving for Beginners
- Malta Private Tour
- Fishing Trips / Deep Sea Fishing / Deep Sea Angling in Malta
- Dinner & Show | Held on Wednesday & Friday
- Malta in One Day | Operates on Wednesday & Friday
Quick December - Weather Malta Taughts

- December is winter time and is a bit less wet than November but not the coldest although it can be cold and rainy.
- This month is quite warm during the day and better in the afternoons when the sun is felt warmer. Surely not during the early morning and evening as it can be very fresh. But when it is windy, cloudy, rainy weather, the temperatures decrease considerably.
- It is not unusual that temperatures remain fairly warm during this month and get colder during the last days of the year towards beginning January. The cold temperatures are not comparable to central northern Europe but due to humidity they are felt more cold.
- The sea will be more rough. You will see no one swimming. The weather is not warm enough to stay on the beach especially if it is windy or cloudy.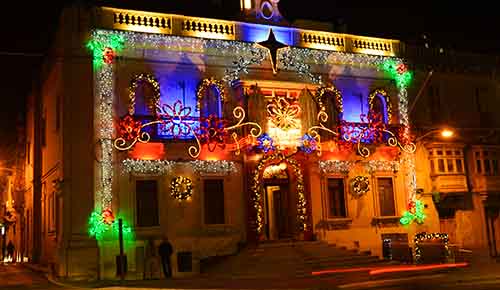 - During December there is a bigger risk of bad weather. The temperature usually under 20°C. It is not unusual for bad storms for a few days. On the other hand the temperatures rarely fall below 10°C.
- Daylight in winter is with an average sunshine hours of 5 to 6 hours. Considering Malta is very attractive for a holiday during this time compared to the general weather conditions in most European countries.