Petrol Service Stations
24 Hours Dispencing Service, Petrol Costs,
Petrol Prices Displayes At All Stations
All eighty nine petrol service stations are equipped with automated fuel dispensers which operate on 10 and 20 Euro notes only. It is important to follow the instructions displayed on the automatic fuel dispensers and one is strongly advised to keep the receipt in case any problems are encountered. The stations provide diesel, unleaded petrol and leaded petrol.

The stations open all day long - Monday to Saturday from 7.00 a.m. to 6.00 p.m. where attendants are available to fill up your car tank with fuel.
Service stations do not operate on Sundays and public holidays however the automatic fuel dispensers are operational from 6.00 p.m. till the next morning during week days and round the clock on Sundays and public holidays.

Three types of fuel are sold: unleaded petrol, lead replacement petrol (LRP) and diesel. Fuel prices are shown on the pumps themselves and are the same all over Malta and Gozo. We have no discounts on fuel and there is no need to compare fuel prices.
Most petrol stations are also equipped with basic requirements for the car. Most would also be equipped with vending machines dispensing cigarettes and soft drinks although not all service stations provide this service.
The Most Popular Tourist Attractions Malta Offers
Spirit of Malta
From: €64
Duration: 8 Hours
Departs: Sliema Marina
An action day of sailing to the islands of Comino and Gozo. More info»
For those who will be collecting their rented car from the airport, there is a petrol service station at the airport adjacent to the Mc. Donald's outlet from where to take fuel.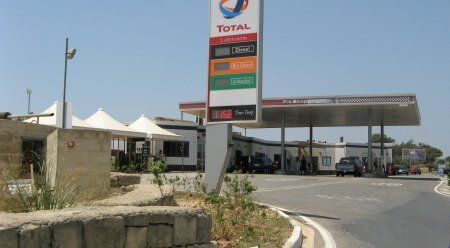 It is good to note some important basic points to drive in Malta
Driving is on the left side of the road.
First of all a valid driving licence is necessary.
The minimum age to drive is 18 years of age and this is applicable for all types of vehicles.

Any person from any EU country with a valid driving licence can drive in Malta without requiring to obtain a local driving licence.
If you intend remaining here for more than a year and hold an EU driving licence, after that you have to obtain a Maltese driving licence.
Enjoy you holiday in Malta and Gozo. Petrol service stations are everywhere ask and be helped to find one near you.